This post may contain affiliate links which won't change your price but will share a commission.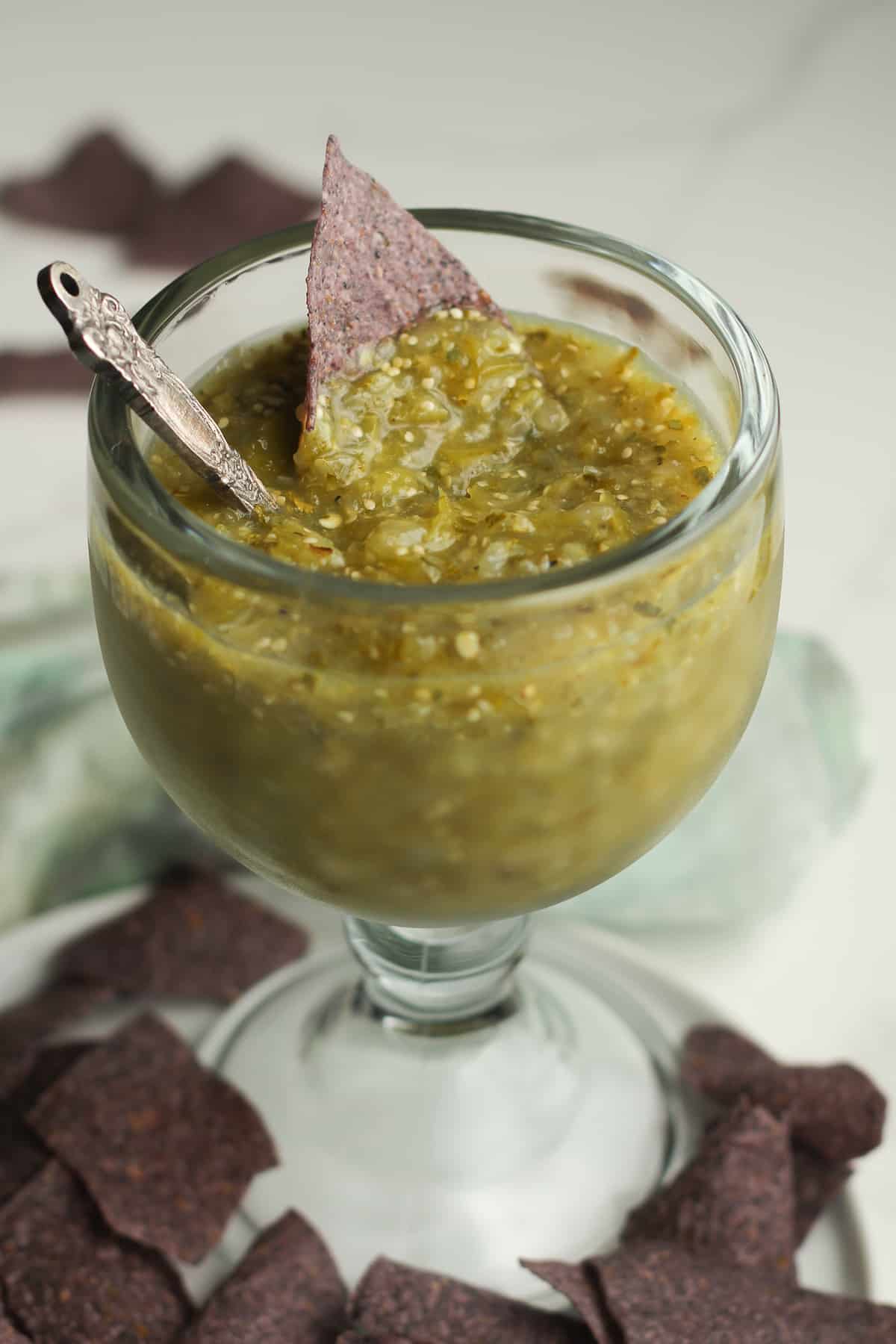 Green Salsa
Salsa verde (aka green sauce) is a type of spicy, green sauce in Mexican cuisine based on tomatillo and green chili peppers.Some say it's milder than a regular salsa, but It depends on the jalapeños used (whether or not seeds and ribs are used, and how much).
The primary difference between regular salsa and salsa verde is that tomatillos are used (instead of red tomatoes) in green salsa. Due to the tomatillos, salsa verde has a tangy, zesty flavor with hints of roasted green chiles and onions.
We are huge Tex-Mex fans (hello, we're from Texas) and when I'm not dreaming up a new spicy dish to share, we're hanging out at one of the many Tex-Mex joints in the area. In addition to the salsas, we love sampling ALL of the things – like spicy margaritas, quesadillas, fajitas, tacos, chips and salsa, and anything and everything.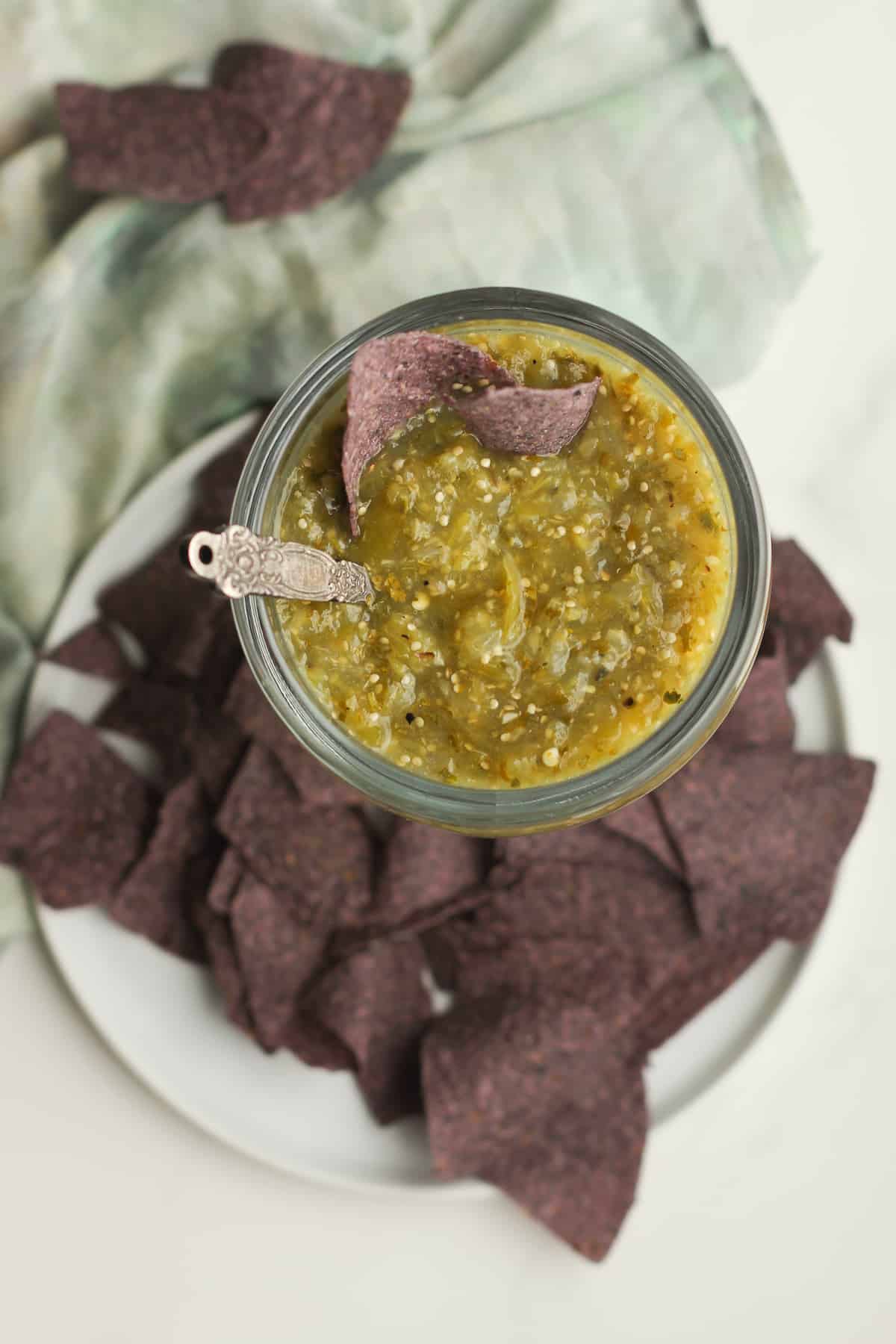 What are tomatillos?
Tomatillos are fruits that are native to Mexico. They are sometimes called husk tomatoes, and look like small green un-ripe tomatoes with a dry, leafy husk that wraps around the outside.
Tomatillos have a more acidic flavor than regular tomatoes, and are slightly less sweet. They are also more dense and less watery. Roasting them, as in this case, mellows out the acidity a bit, while still bringing out an amazing flavor. You can also eat them raw if preferred.
Ingredients Needed
Tomatillos – You'll need just over a pound of tomatillos for this recipe. Make sure you peek under the husk to make sure it's plump and not discolored in any way.
Jalapeno – I used one for my recipe, but you could use more for extra heat, or remove the ribs and seeds for less heat.
Onion – One half of a medium onion was the perfect balance for me. I occasionally roast them along with the tomatillos and jalapeño, but it's not required.
Garlic – A couple of cloves of garlic is a nice amount.
Cilantro – The cilantro is such an important ingredient, but if you dislike the taste, parsley could be substituted (even though it's not my favorite).
Lime – You'll need to freshly squeeze one large lime. If the lime isn't producing much juice, use another!
Salt – Kosher salt is my go-to.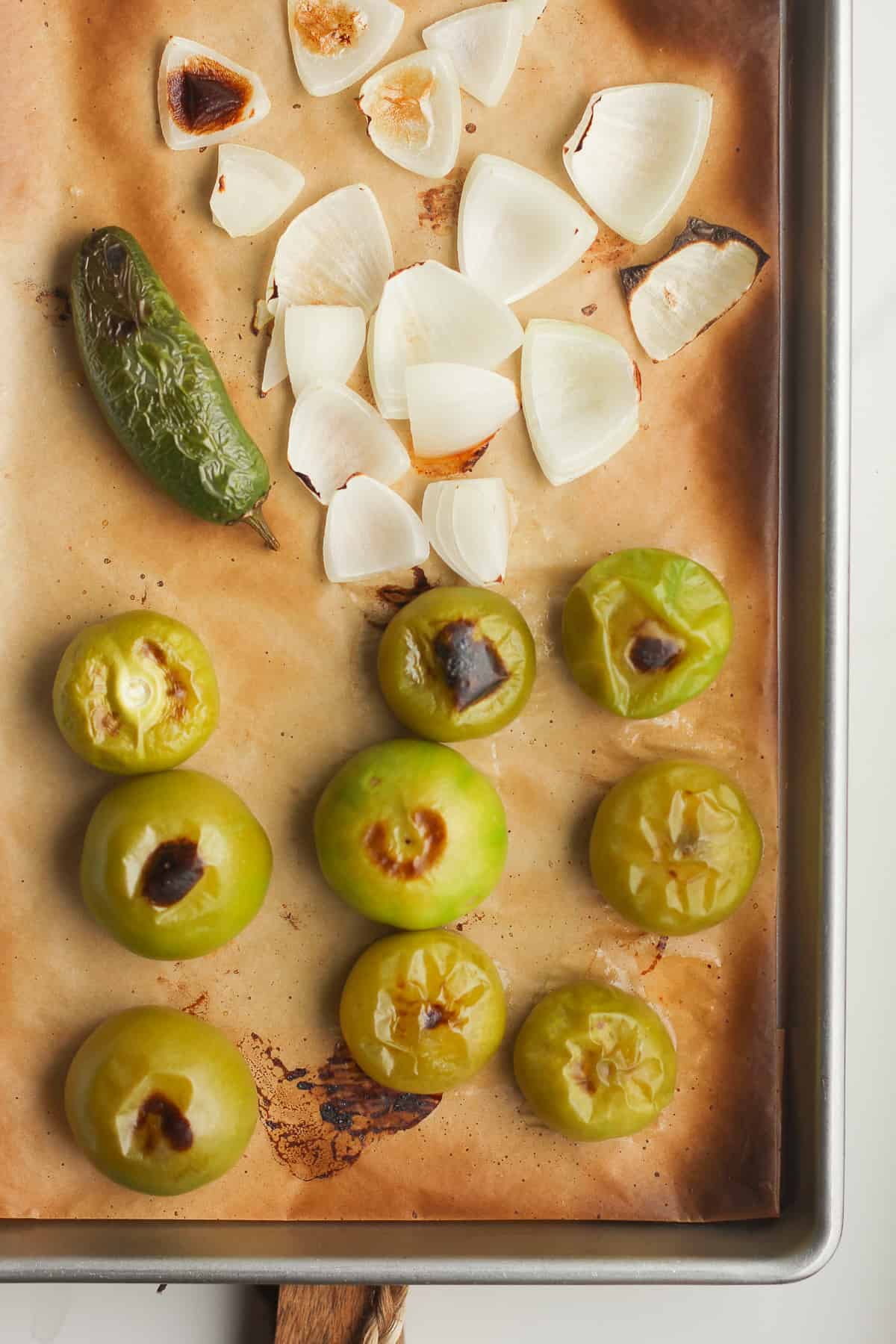 How to make the BEST Homemade Salsa Verde
YOU can have fresh salsa in under 30 minutes, friends!
Prep tomatillos. Remove the husks from the tomatillos. Rinse them in water, and use a paper towel to remove the stickiness.
Broil veggies. Place the tomatillos, jalapeño, and chopped onion on a baking sheet lined with parchment paper. Broil (on high) in the oven for about 5 minutes, carefully turn the veggies over and broil again. Watch closely so that the veggies don't burn. Some browning is good, but burnt is not! Let the veggies cool slightly.
Combine. Combine all ingredients in a food processor – the roasted tomatillos, jalapeño, and onion, as well as the garlic, cilantro, lime juice, and salt. Pulse until well blended.
Cool. Pour the salsa into a bowl and refrigerate until cool.
Serve. Serve the freshly salsa with some chips of your choice. We like the blue chips! You can also add it to a variety of Tex-Mex dishes. See list below!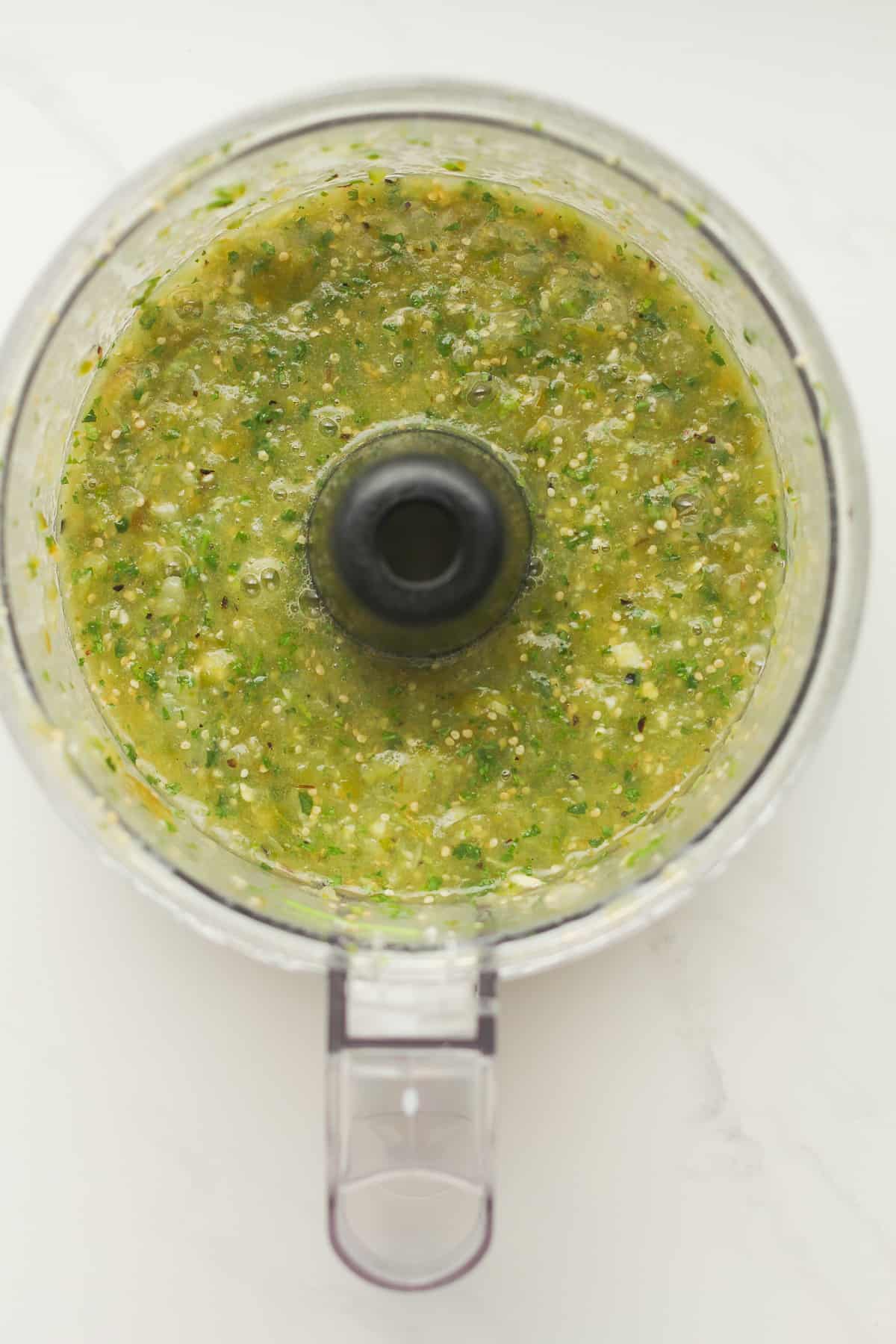 Possible Variations
Don't be afraid of adapting this recipe to fit your taste preferences. Here are a few ideas.
Roast the tomatillos or not.
Add the spice level you like. Use jalapeños, serranos (five times as spicy as jalapeños), or just leave out the seeds and ribs of the peppers for a milder flavor.
Use a little bit of onion and garlic, or more.
Adjust the amount of cilantro. We LOVE it, but not everyone does!
Lime Juice – a big squeeze or just a little bit.
Add salt plus additional spices, if preferred. Red pepper flakes and/or cumin would also be good.
Storing Salsa Verde This salsa lasts at least a week in the refrigerator. Make your own today, and experience how much more flavor is in your homemade version.
Are you heading to an outdoor party soon? Whip up some Salsa Verde and pour it into a pretty mason jar. Makes a terrific hostess gift!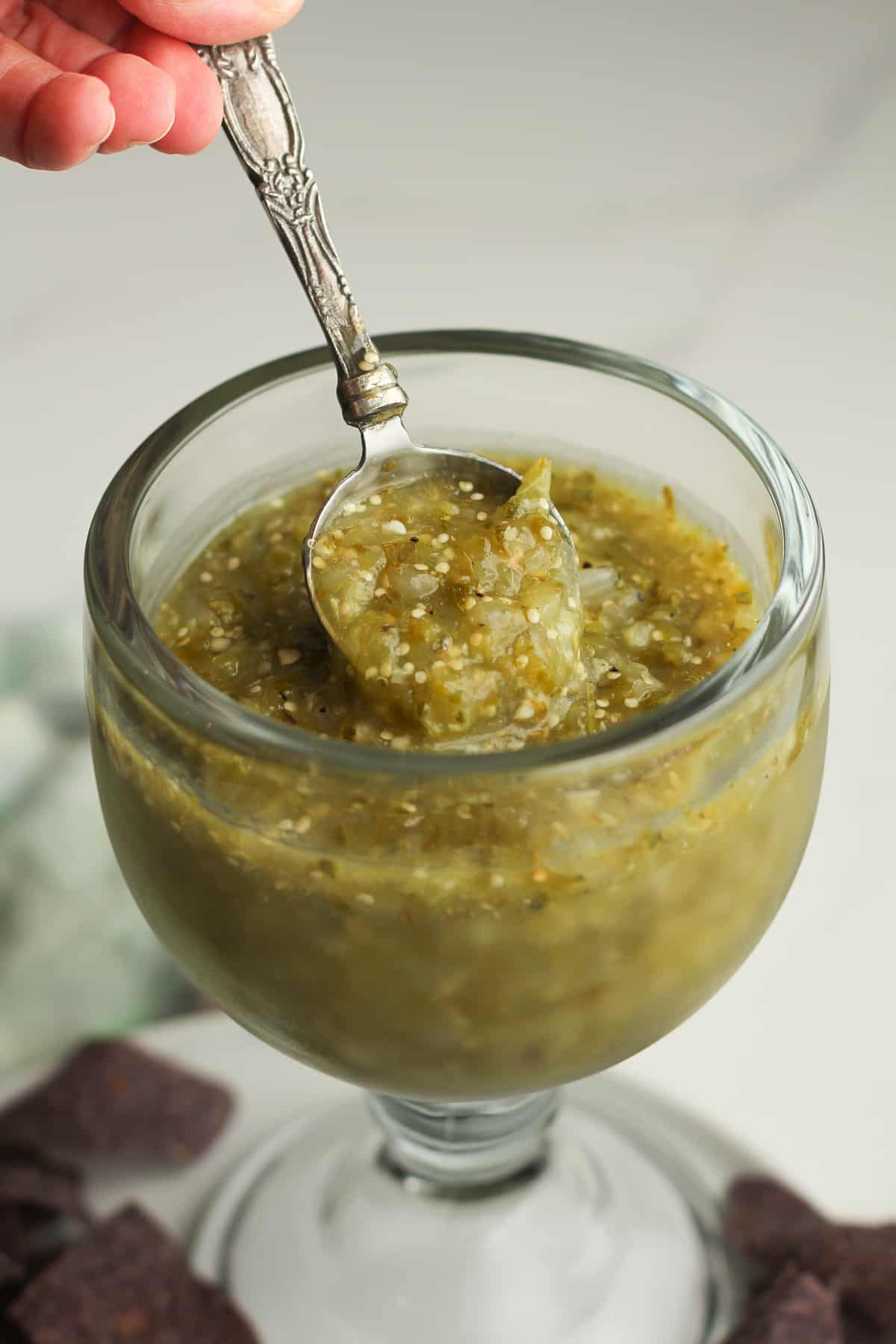 Ways to Enjoy Salsa Verde
Enjoy!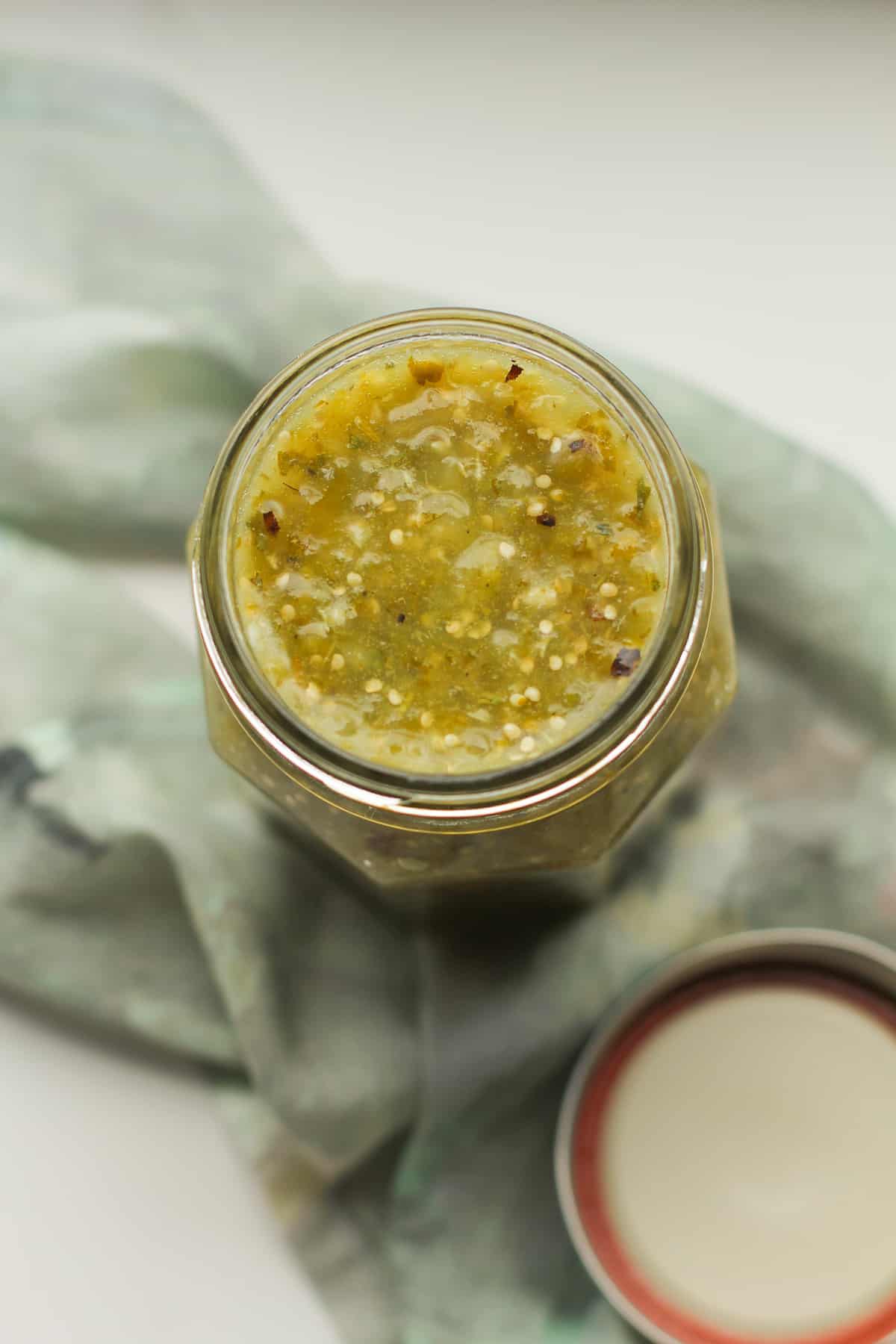 Kitchen Tools used for this recipe:

(Affiliate Links)

Please let know if you try this recipe. Be sure to comment and leave a review on the blog so I can see what you think. You can also like my Facebook Page, follow me on Pinterest, and catch me on Instagram.

xoxo ~Sue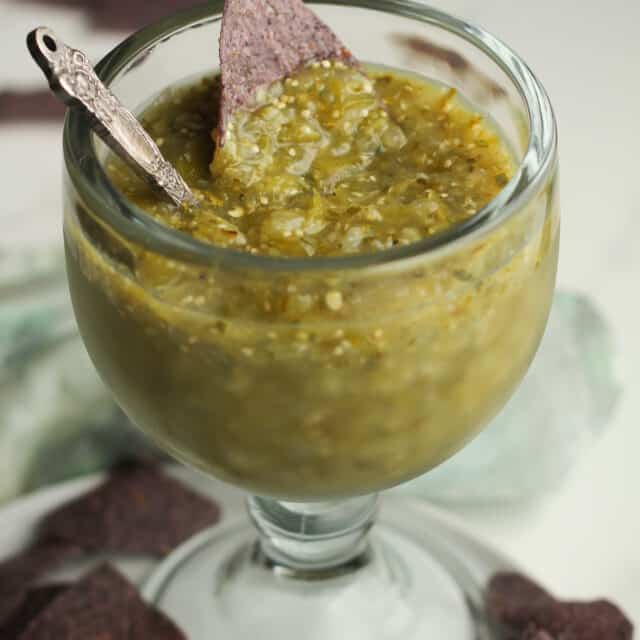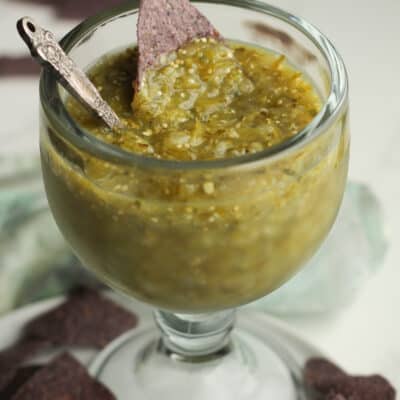 Homemade Salsa Verde
Homemade Salsa Verde is a simple seven ingredient salsa. Roasting the tomatillos, jalapeño, and onion gives this salsa an amazing flavor. Serve it with chips, or add it to any Tex-Mex dish!
Print
Pin
Rate
Servings:
8
servings (1/4 cup each)
Ingredients
1 1/4

pounds

tomatillos

– roasted

1

large

jalapeno

– roasted

1

clove

garlic

1/4

cup

onion

1/3

cup

cilantro

1

medium

lime

– freshly squeezed

salt

– to taste
Instructions
Preheat oven broil on high.

Hull and rinse the tomatillos. Lay on prepared baking sheet lined with high-heat tolerant parchment paper (or tin foil works too). Add jalapeno pepper and chopped onions to pan, and broil for 5 minutes on one side and then flip to broil the other side. Cook until veggies are slightly charred.

Let cool slightly, and add to food processor. Add garlic, onion, cilantro, the juice from one lime, and kosher salt to taste. Pulse until smooth.

Refrigerate until cool, and then serve with chips.
Notes
Storing Salsa Verde This salsa lasts at least a week in the refrigerator. Make your own today, and experience how much more flavor is in your homemade version.
Nutrition
Calories:
25
kcal
|
Carbohydrates:
4
g
|
Sodium:
1
mg
|
Potassium:
197
mg
|
Fiber:
1
g
|
Sugar:
3
g
|
Vitamin A:
125
IU
|
Vitamin C:
9.1
mg
|
Calcium:
5
mg
|
Iron:
0.4
mg