It's Tuesday ya'll! And you know what that means…Taco Tuesday. Or in this case, it's Chicken Burrito Bowl Tuesday. We've got the right cuisine here anyway.
So when you were growing up…did ya'll have a meal-of-the-week night? Like chicken on Mondays, tacos on Tuesdays…? The only thing I remember about meal-of-the-week was that we ate a lot of fish on Fridays during Lent. And we, often times, made homemade pizza on the weekends.
Back to tacos and burritos. Ever since Chipotle made it's entrance to the restaurant chain business, we've been hooked. And now it seems, taco and burrito places are popping up EVERYWHERE! I'm not even complaining because we love Tex Mex. SO much.
We grill a TON of chicken at our house. And when we grill, we make extra so I can convert it into another meal of some kind…like chicken paninis, chicken quesadillas, chicken tacos, and chicken burrito bowls. This chicken, however, has a special marinade on it – so it's perfect for Tex Mex. It has a nice spicy kick and the marinade makes the chicken tender perfect. I also use this marinade on flank steak for fajitas or tacos.
The other thing that makes this chicken delicious is our BIG GREEN EGG!! We love this grill BIG time. It gives the meat a nice smokey flavor even when we don't use the low and slow smoking method. If you are have started making your Christmas wish list, you might consider adding a BGE. It's the best.
When Josh graduated from high school, I was insistent on making pulled pork for his party. So I talked Mike into getting the large BGE. Now we use it almost exclusively and barely touch our big gas grill. Mike has even recently said that he wishes we had the XL BGE.
Hmmmm. Maybe someday. Like when the boys are out of college. 🙂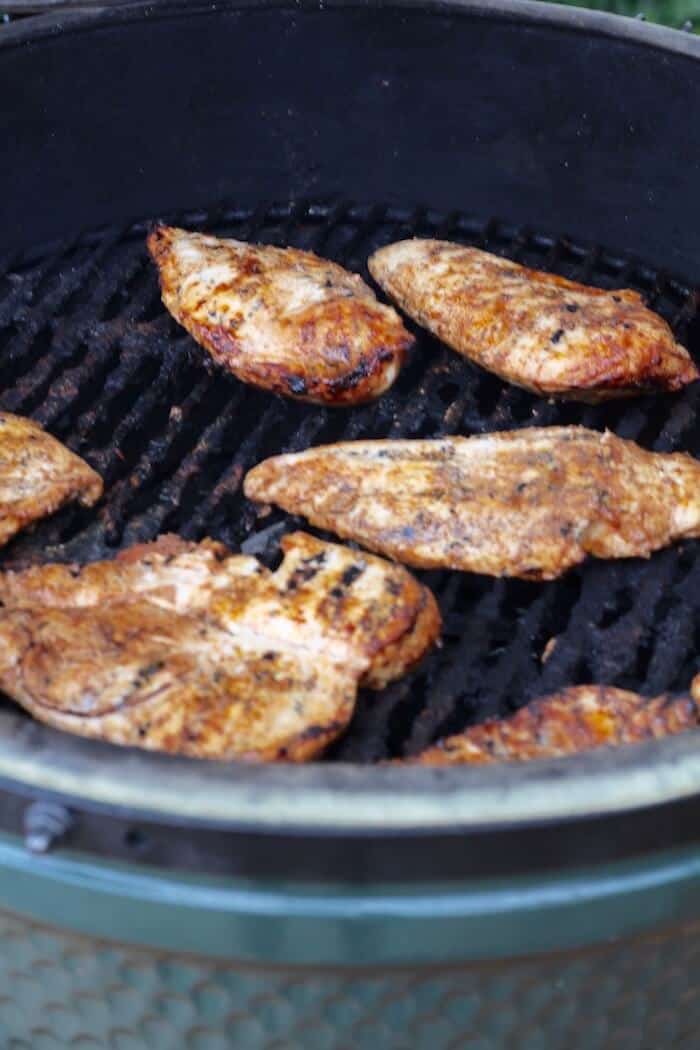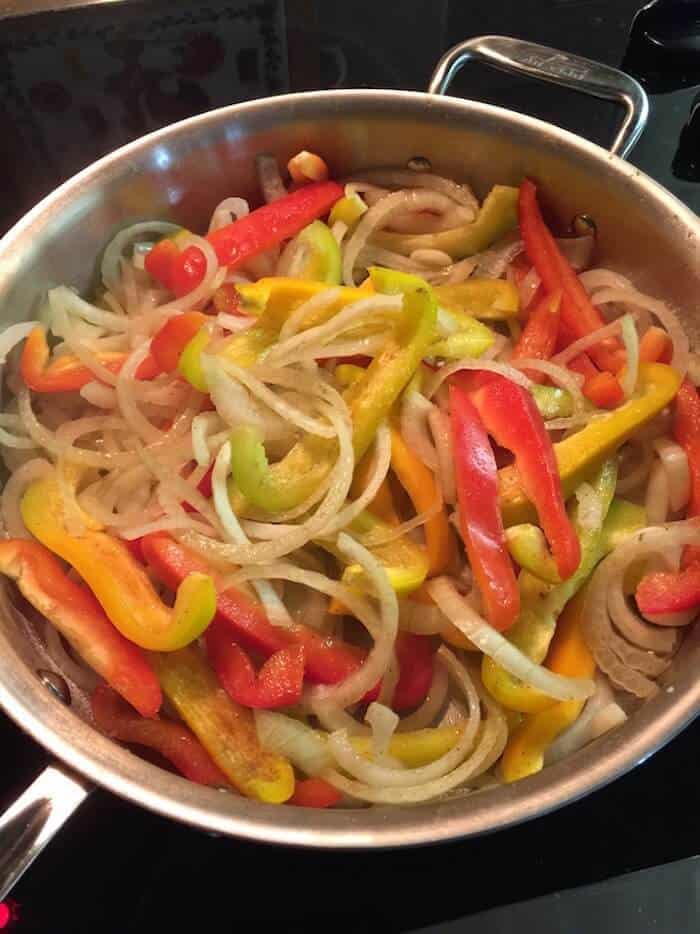 I often make my Spanish Rice, with these Grilled Chicken Burrito Bowls, instead of the regular brown rice. It has the beans and tomatoes already in it, so it saves you a couple of steps. And don't skip the grilled onions and peppers. They totally make this meal.
Dig in!!
Grilled Chicken Burrito Bowls
a delicious combination of marinated grilled chicken, rice, beans, peppers, onions, and toppings
Ingredients
For the chicken marinade:
3 - 4

pounds

chicken breasts

1/2

cup

olive oil

3

Tablespoons

Worcestershire Sauce

1

teaspoon

garlic powder

1

Tablespoon

chili powder

1

Tablespoon

cumin

1

teaspoon

red pepper flakes

1

teaspoon

kosher salt

1

teaspoon

black pepper

1

Tablespoon

sugar

1

fresh

lime

squeezed
For the peppers and onions:
1

large

onion

sliced

1

red pepper

sliced thin

1

yellow pepper

sliced thin

2

Tablespoons

olive oil

1

Tablespoon

ground cumin

salt and pepper

to taste
For the rice:
1 1/2

cups

brown rice

2

Tablespoons

butter

3

cups

water

1

cube

chicken bouillon

salt

to taste
For the remaining side ingredients:
2

cans

black beans

rinsed and drained

1

can

Mexicorn

1

cup

plum tomatoes

sliced in half

2

avocados

sliced

shredded Mexican Cheese

sour cream

salsa
Instructions
Butterfly the chicken breasts and put into freezer bag. Combine all ingredients for the chicken marinade and pour into bag with the chicken. Zip the bag tight and massage the marinade around into the chicken. Store in refrigerator for 4 - 6 hours. You can also freeze this for a quick future meal.

Light an outdoor grill (or can be done indoors) and regulate heat to approximately 375 degrees. Grill chicken for approximately 20 - 25 minutes or until done. Let meat sit on kitchen counter for 15 minutes and then slice into strips or bite-sized chunks.

Slice peppers and onions and saute in olive oil until soft. Season with cumin, salt, and pepper.

Combine rice, butter, water, chicken bouillon, and salt in medium saucepan. Bring to boil and then reduce heat to simmer until liquid is well absorbed. Set aside.

Drain and rinse black beans. Drain corn. These ingredients should be heated up right before serving.

Prepare tomatoes by slicing in half. Slice avocado and lightly season with salt (optional).

Before you begin grilling, you should have the rice, and the peppers and onions, cooked. Set out all remaining ingredients so when the chicken is done, the meal can be ready to serve.
SHARE THIS POST TO YOUR FRIENDS: