Welcome to SueBee Homemaker! I'm here to help you get comfortable in the kitchen, learn to try new recipes to both nourish and treat your family, all on a reasonable budget. While I consider myself a "healthy'ish" cook when it comes to meals, I love the art of baking bread – especially sourdough, and also never turn down dessert on special occasions. Grilling is an event, often in memory of my dad (with a G&T – always), and so we usually save that for weekends when at least two people can participate!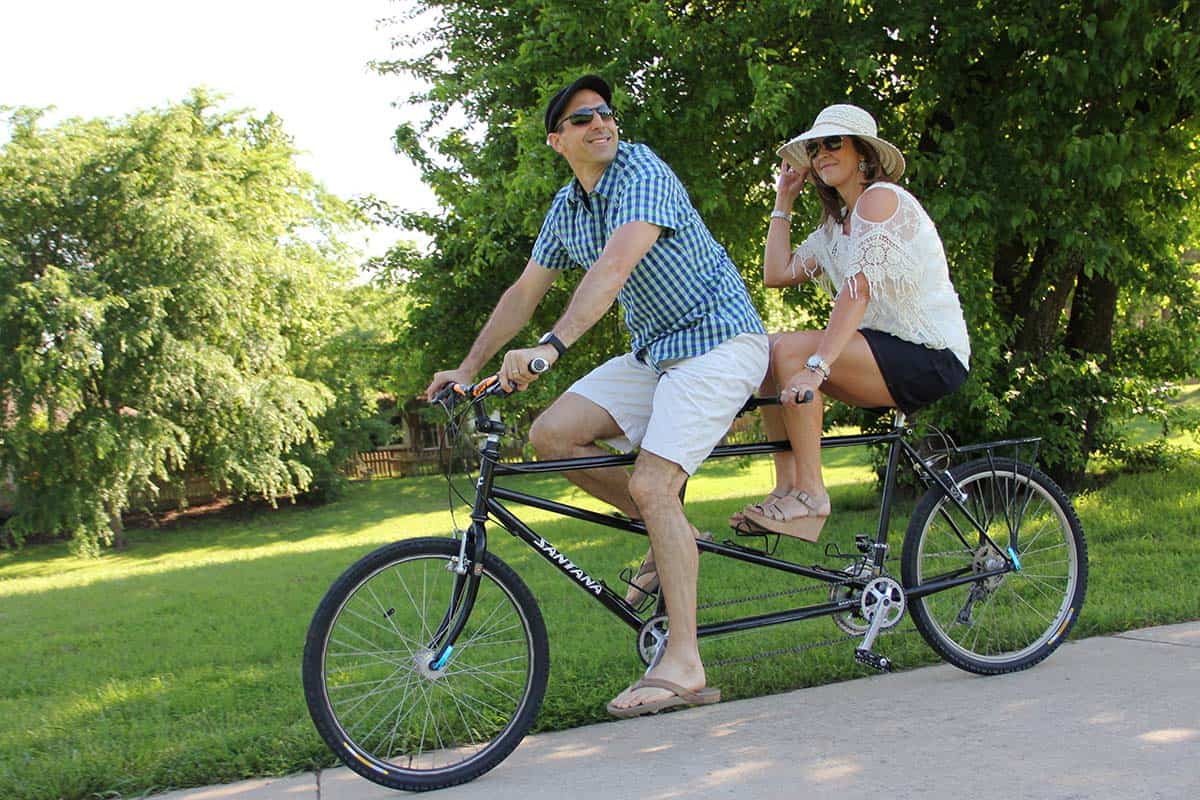 Deciding to Start a Blog
I started this blog on my 50th birthday, in October of 2016, after several months of contemplating what my "next phase" in life would look like in our soon to be empty nest. The idea occurred after numerous friends planted the seed…"you should start a blog", "you should open a bakery". Yikes. The first one seemed easier. 🙂
The name of my blog is pretty simple. Susie Homemaker was already taken so my husband suggested SueBee, an old nickname that seemed right. I bought my domain name, found hosting, and was off to the races. Never in my life did I imagine what the world of food blogging would entail. What a fun, exhausting, competitive, rewarding, and mind-boggling ride!
My logo is based on the picture above that our youngest son took in May of 2016, and explained in my blog post, "Life is a Beautiful Ride".
My Inspiration
My mom was one of 14 children, nine girls and and five boys. She lost her dad when she was 16 years old, and her brothers and sisters all helped her mother farm and raise the family. They made everything from scratch and I grew up watching my mom cook and bake with her sisters. She was active in her church and seemed to frequently be the head of one dinner or another, or involved in the production of a church cookbook (where she did most of the typing). I currently own three versions.
My mom is the inspiration for so much of my cooking. Some of my fondest memories involve sitting in the kitchen while Mom was making three or four things at one time. Her bread making was her art, and she loved spoiling her family with good food.
My mother passed away in April of 2019 from complications of Alzheimers, and I wrote a tribute to honor her. I miss her so much! Norma Jean's Kitchen is the section on my blog dedicated to her recipes, and I'm so very proud to share them with you.
My Recipe Testers
My husband Mike and I are high school sweethearts and parents to two young men, Josh and Zach, and to our Shih Tzu, Theo. All three of my boys (plus Tiffany and Kirsten) are my main recipe testers in my kitchen, where I have experienced numerous hits and just as many failures. I'm glad to have them as 'my people' as well as honest and hungry recipe testers.
I love trying new recipes and try to cook with seasonal ingredients and with as much fresh produce as possible. While I cook fairly healthy, I'm a sucker for a great cookie, or muffin, or loaf of bread, or…well, you get the point. My mantra is "Everything in moderation!", so the majority of my baked goods go to Mike's work, our neighbors, friends, or the freezer. 🙂
The boys are all grown up. Josh is married and Zach has a steady girl. Mike and I are enjoying this new phase of our lives – especially the travel part! Life is Good, and while we've had our obstacles to face, we're pretty dang blessed.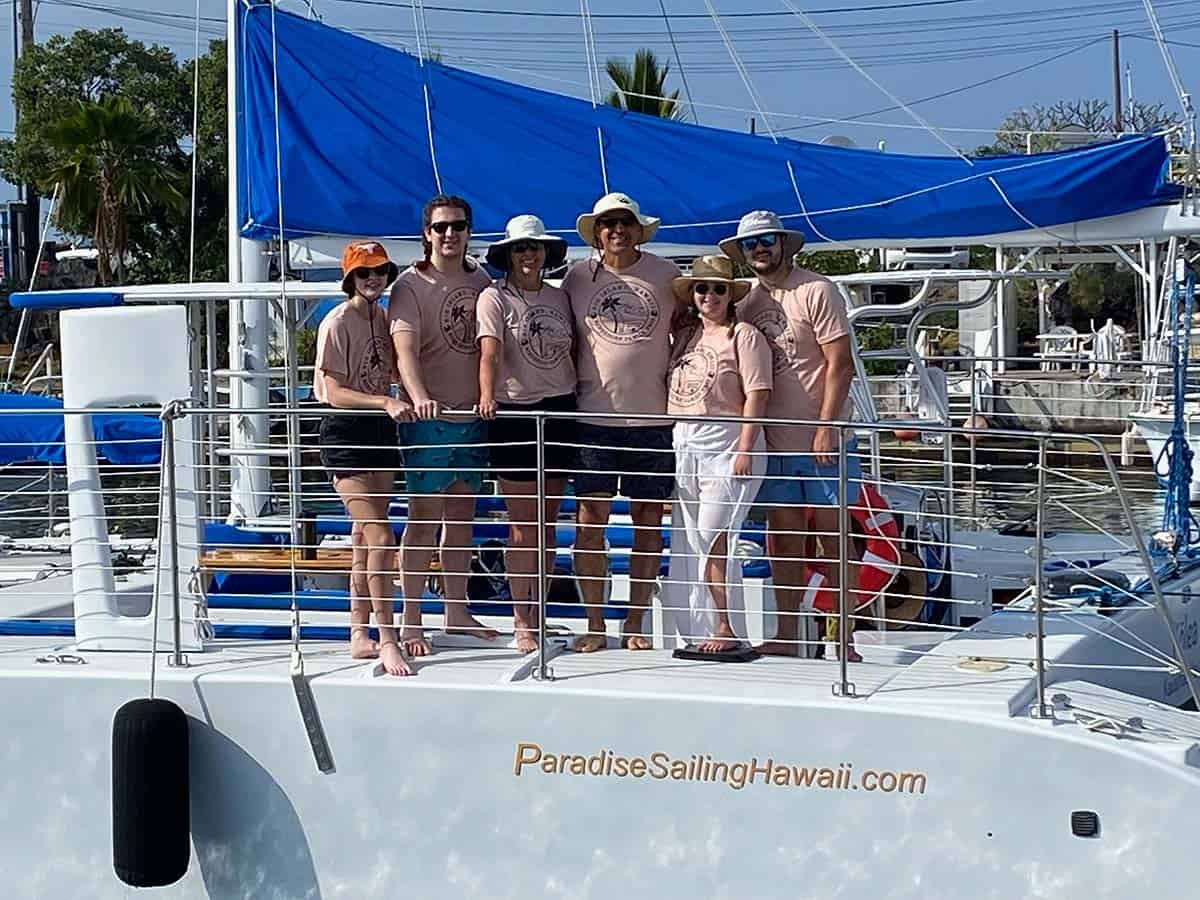 More Tidbits About Me
I graduated from Iowa State University in 1989 with a Finance Degree. While I worked in the corporate world for 13 years, I've finally come to understand that I HATE NUMBERS. Oops, that's what happens when a creative tries to figure out how to earn an income (back in the 80's)!
I met Mike in the 3rd grade when his family was "new in town". I still remember some of the velour shirts he wore and how he swiped his hair out of his eyes. Yes, he had hair! And yes, I was CRUSHIN'! We actually played together as children at my cousin's house (who lived next door to him) – "kick the can" and "hide and seek". Oh the fun!
Since my mom and dad are both from such large families, I have over 100 first cousins and who knows how many second cousins. Reunions and name tags go hand in hand.
Family is extremely important to me and I'm proud to be the 5th of six children (Lauri, Jackie, Dave, Shari, then me, and Rob). We grew up in a healthy home with two loving parents and were blessed to begin life with solid midwest roots.
Mike and I graduated from college in May of 1989 and married the following month with barely a dime in our pockets. We started our married lives in the Twin Cities area, moved to Chicago, and then finally in Texas in 1993. We moved to our current "fixer upper" home in 2001 and have never stopped "fixing up" it seems.
I've suffered from chronic foot pain since I was 23 years old. It started with frequent cases of plantar fasciitis and has evolved into something more – maybe nerve issues or something else. I have roller coaster episodes and spent almost an entire year on a knee scooter IN the house back in 2017/2018. During that time, I figured out a way to cook and blog from a rolling chair. THANK GOD for Instacart and other delivery services. When we did our kitchen remodel in 2018, we made it more accessible for me and I'm so grateful.
We didn't grow up with pets of any kind and in fact, I was scared to death of dogs until we adopted Theo in 2010. It took me awhile to not be a little fearful of him (I mean, have you seen him?!?) but now he's the perfect little guy. In fact, his snoring actually puts me to sleep each night!
When our youngest turned three, I quit the corporate life and became a SAHM to Josh and Zach – the hardest but best job in the world. Some of my favorite memories include making them pancakes for breakfast, road trips to Iowa to see family, and taking photos of their dual dives into our swimming pool each summer. Below is the picture I'm most proud of and they like to tease me in that they needed Advil after so many dives in a row to get "just the right timing". True!
Craft beer has become a thing here and we are always on the hunt for a new brewery to try when we travel and when we go on our long bike rides. IPAs are our favorites – the hazier the better.
Now that we are empty nesters, Mike and I get away often and love to travel. Each summer we take a trip to do some bike riding (the one thing outdoors I CAN do for exercise) and to celebrate our anniversary. We also have fallen in love with Hawaii and are planning more frequent trips to experience the aloha life!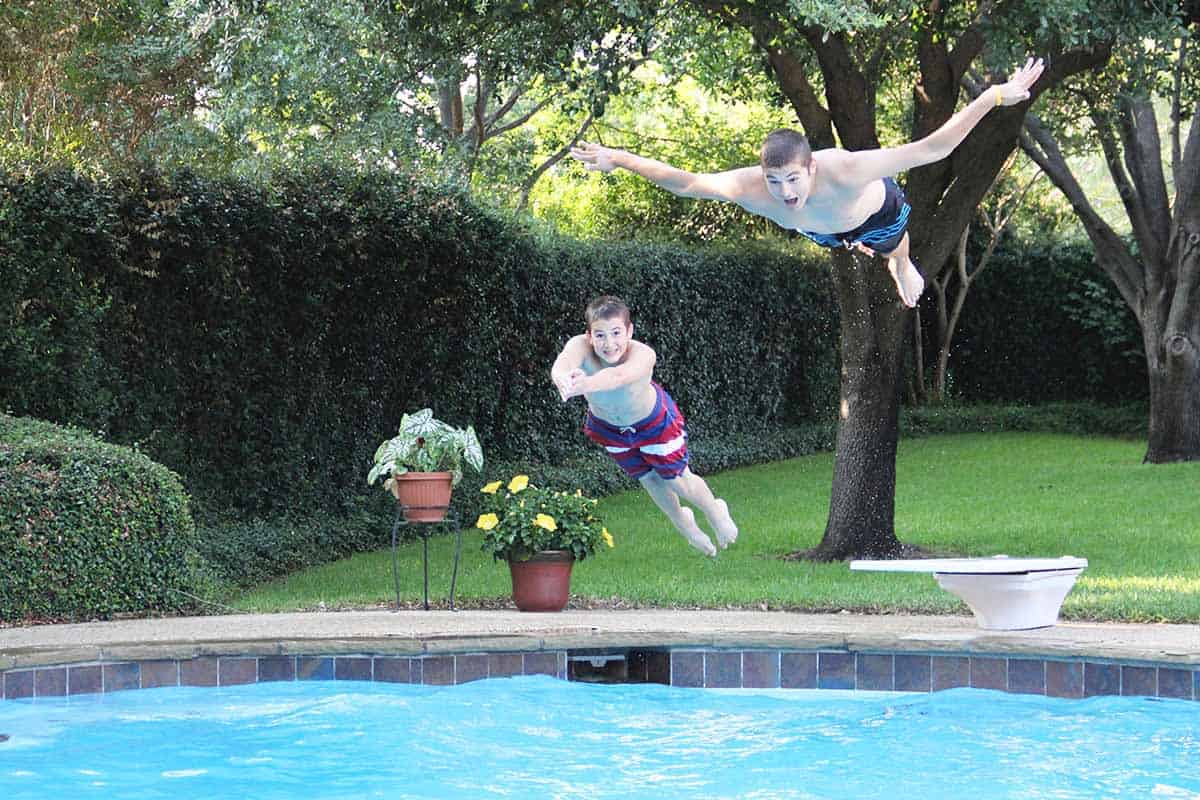 Favorite Foods (from the whole fam)