Hello and welcome to my blog! My little slice of the internet where I (over) share my thoughts, recipes, and fun adventures with my family.
Deciding to Start a Blog
I started this blog on my 50th birthday, in October of 2016, after several months of contemplating what my "next phase" in life would look like in our soon to be empty nest. The idea occurred after numerous friends planted the seed…"you should start a blog", "you should open a bakery". Yikes. The first one seemed easier. 🙂
The name of my blog is pretty simple. Susie Homemaker was already taken so my husband suggested SueBee, an old nickname that seemed right. It was a pretty "quick" decision with little to no research, aka "fly by the seat of my pants". Bought my domain name, found hosting, and I was off. My logo is based on a picture we took in May of 2016, and explained in my blog post, "The Wall".
Learning to Cook
In the early days, I mostly WATCHED my mom cook . She was a busy housewife and a mother to six children, who made us dinner every single night. We all had our place at the table and mine was right beside her (being #5 in birth order). Back in the day, there weren't a lot of fresh vegetables except for summertime, when our garden was over-flowing with lettuce, tomatoes, green beans, and radishes. We ate a lot of casseroles and meals that stretched to feed a family of eight. All prepared homemade by Norma Jean. We prayed before every meal and always left the table with full, happy bellies.
I really didn't LEARN to cook until after I left home, and it was a slow process. I basically cooked three meals. Rice Krispie Chicken, Grilled Chicken, and Stir Fry Chicken. That's a lot of chicken! And definitely PRE-internet.
Most of my learning occurred over the phone with my mom, or when I went "home" to visit, or when she traveled to visit us. I spent a lot of time in the kitchen with her whenever I could, asking lots of questions and jotting down her recipes. Early on, I was mostly interested in learning to bake bread and rolls – and I mastered that pretty quickly, even selling baked goods at the Christmas Bazaar at work (at Southwest Airlines) one year. I've slowly enjoyed experimenting in the kitchen with new recipes, thanks to the help of the internet and The Pioneer Woman. And because we really love good food.
My Inspiration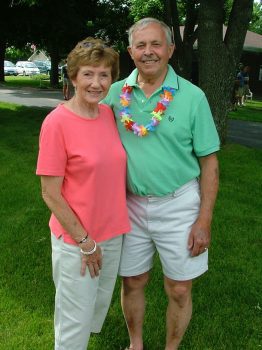 My mom is one of 14 children, nine girls and and five boys. She lost her dad when she was 16 years old, and her brothers and sisters all helped her mother farm and raise the family. They made everything from scratch (homemade) and I grew up watching my mom cook and bake with her sisters. She was active in her church and seemed to frequently be the head of one dinner or another, or involved in the production of a church cookbook (where she did most of the typing). I currently own three versions.
My mom is the inspiration for so much of my cooking. She is now in the middle stages of Alzheimers, and lives in a Memory Care Facility in Iowa. It saddens me to know how much she used to love to cook, and now has so little desire for her craft. Norma Jean's Kitchen is the section on my blog dedicated to her recipes, and I'm so very proud to share them with you.
My Recipe Testers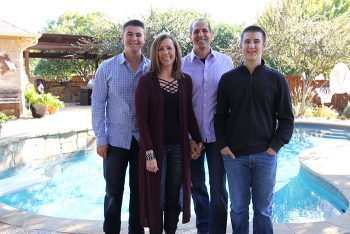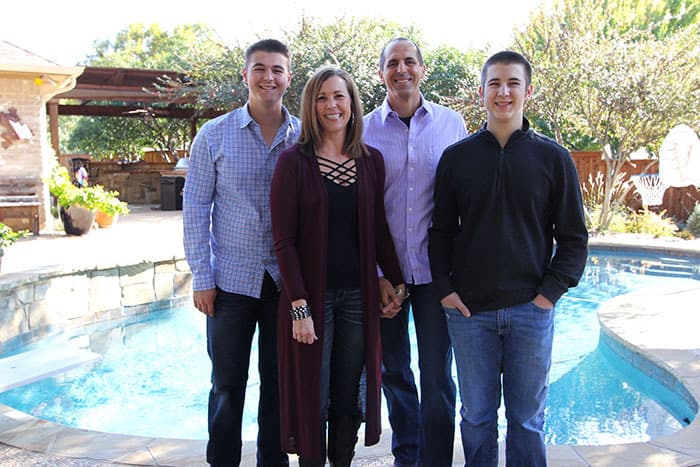 My husband Mike and I are high school sweethearts, and parents to two young men, Josh and Zach, and to our Shih Tzu, Theo. All three of my boys are my main recipe testers in my kitchen, where I have experienced numerous hits and just as many failures. I'm glad to have them as 'my people', as well as honest and hungry recipe testers.
The boys are growing up and we'll soon have an empty nest. Mike and I are enjoying this new phase of our lives – especially the travel part (not the college tuition payment part). I've blogged about a few of our trips, both in Texas, and outside of Texas – but have several more to update. Please follow along if you'd like.
A few of

my favs

and other fun facts about me:
fav splurge: pizza and ice cream
most used kitchen tools: food processor and Bosch mixer
fav cocktail: Wine and Blood & Honey (beer)
fav TV show: Grey's Anatomy and This is Us
daily fix: coffee
favorite color: pink and sky blue
favorite childhood memory: Lake Okoboji with my fam
over-used word: so
fav veggie: asparagus
fav emoji: ????
my love/hate: exercise 5-6 days a week (so I can eat bread!)
avg hours of sleep: 7-8
fav music: country
pet peeve: tardiness
fav thing to cook: bread 
dream home: a house on a white sandy beach
fav dessert: brownies and ice cream
what I hate: cancer and alzheimers
biggest shocker: we have a dog!
something you don't know about me: I used to be afraid of dogs!
fav weekend activity: riding bikes and drinking coffee
dream vacation: Switzerland
food I won't eat: raw fish
fav movie ever: The Shawshank Redemption
3 things I can't live without: God, my family, our pup