This post may contain affiliate links which won't change your price but will share a commission.
Chipotle Ranch Dressing combines Greek yogurt and light mayo with all the southwest flavors. This dressing is the perfect topper for salads, tacos, burrito bowls, and even for dipping fries and veggies!
While this chipotle ranch is perfect for all the Tex-Mex Recipes, I have other delicious dressings you should try too. My Light Honey Mustard Dressing and Honey Balsamic Vinaigrette are classic recipes that go great on most salads. For a fruity flavor, try my Strawberry Salad Dressing too!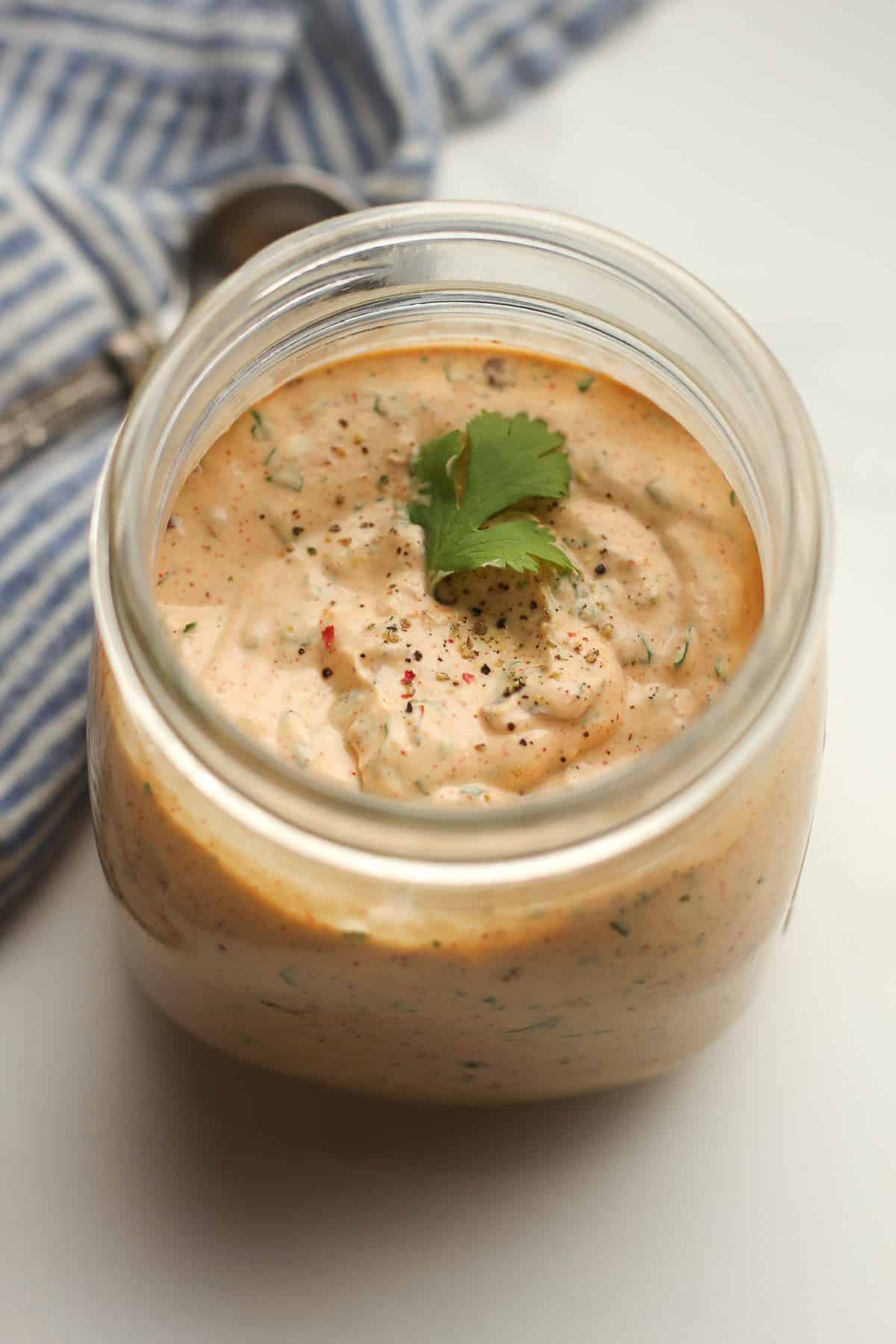 Chipotle Dressing
Y'all. We are OBSESSED with this dressing. I've been making it regularly…like weekly. Because it's not only great on everything, but it's pretty light too. Take a quick peek at the nutrition label below!
My Tex-Mex obsessions continue, and when you find THAT dressing (or sauce), you want to share it with the world. Because hello, it makes everything taste better without being overly indulgent.
Ways to Adapt this Recipe:
Use a different ratio of yogurt to mayo. Depending on your taste buds, change the ratio. The yogurt tends to be healthier but thicker and the may tend to be more oily and thinner.
Spice it up as you like. For those of you that don't like spicy, use adobe sauce only and avoid the actual pepper with seeds. If you are like me and like spicy, use all the peppers with seeds. I tend to use more than the recipe calls for, but have to be careful depending on how I'm feeding!
Adjust the cilantro. I feel like the cilantro makes this dressing, but if you aren't sure about it, just use less. A little will go a long way.
Use more or less lime. The lime adds a zesty taste, so feel free to adjust as needed. It also helps to thin out the dressing, but you can use cold water instead (or in addition to).
Adjust the seasonings. My base seasonings of onion powder, paprika, salt and pepper can be adjusted. Use what you like!
Use water to thin. After a few comments from readers and from my family (who also loves it), I knew I needed to explain a good way to thin the dressing. Just use cold water as needed and whisk to combine.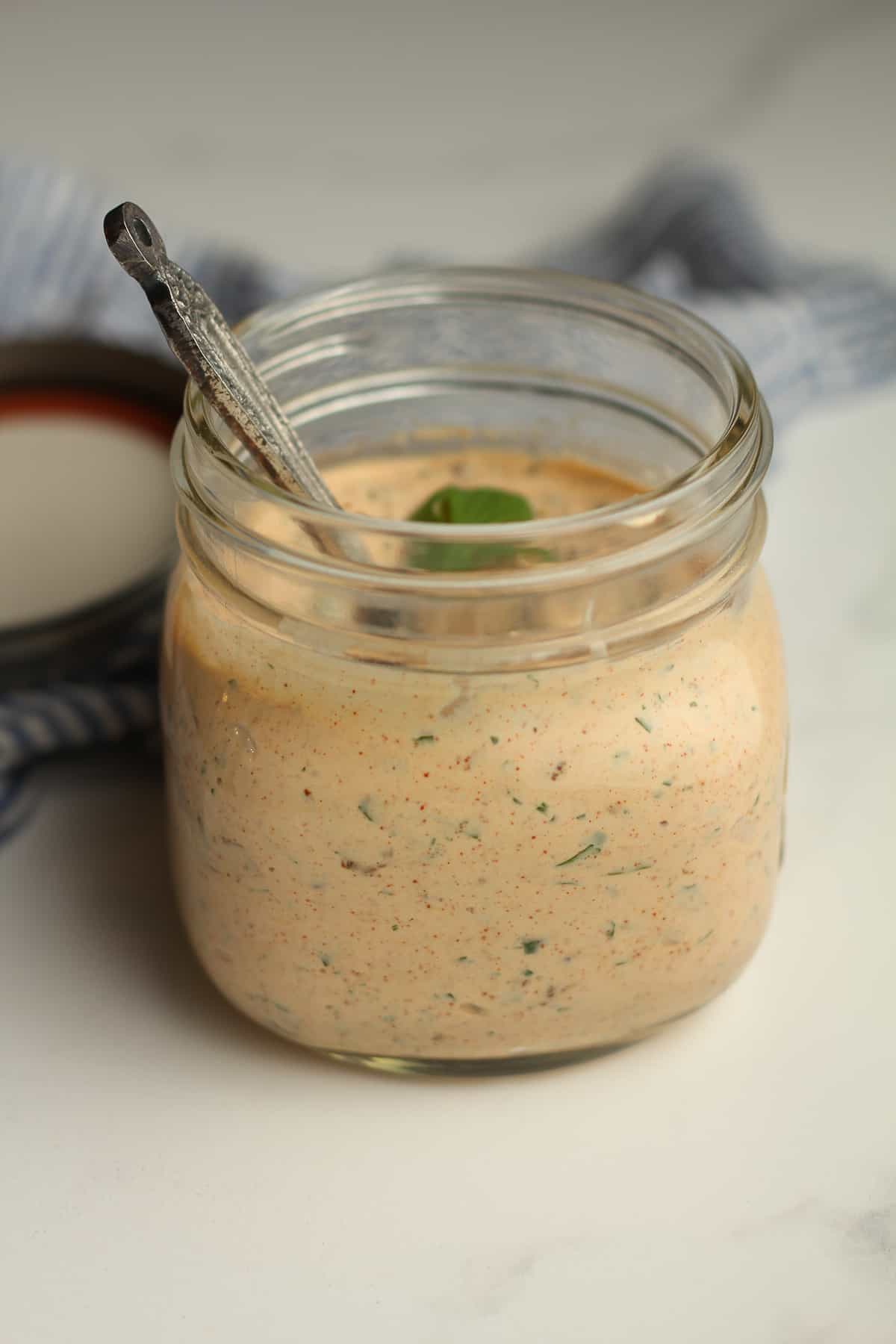 Ingredients Used
Let's go shopping. You should be able to find all of these ingredients at your regular grocery store.
Greek Yogurt – Grab some plain Greek yogurt. I usually buy two of the 5.3 oz. containers.
Mayo – Go with whatever mayo you prefer. I like the mayo with olive oil.
Cilantro – You will need one bunch, but won't use it all.
Chipotle Peppers – You can buy the whole chipotle peppers with adobe sauce (in a can) and de-seed them, or just buy the diced chipotles in a jar. I occasionally buy La Costena Diced Chipotle Peppers and keep them on hand for a lot of other recipes. If using whole peppers, I usually use one small pepper (with seeds) and then a tablespoon of just the adobe sauce.
Lime – Use more if you like a more liquid dressing, and less if you like it thicker.
Spices – All you need is paprika, onion powder, salt, and pepper.
Cold Water – I almost always use some cold water to thin the dressing. Just add until you get the consistency you desire.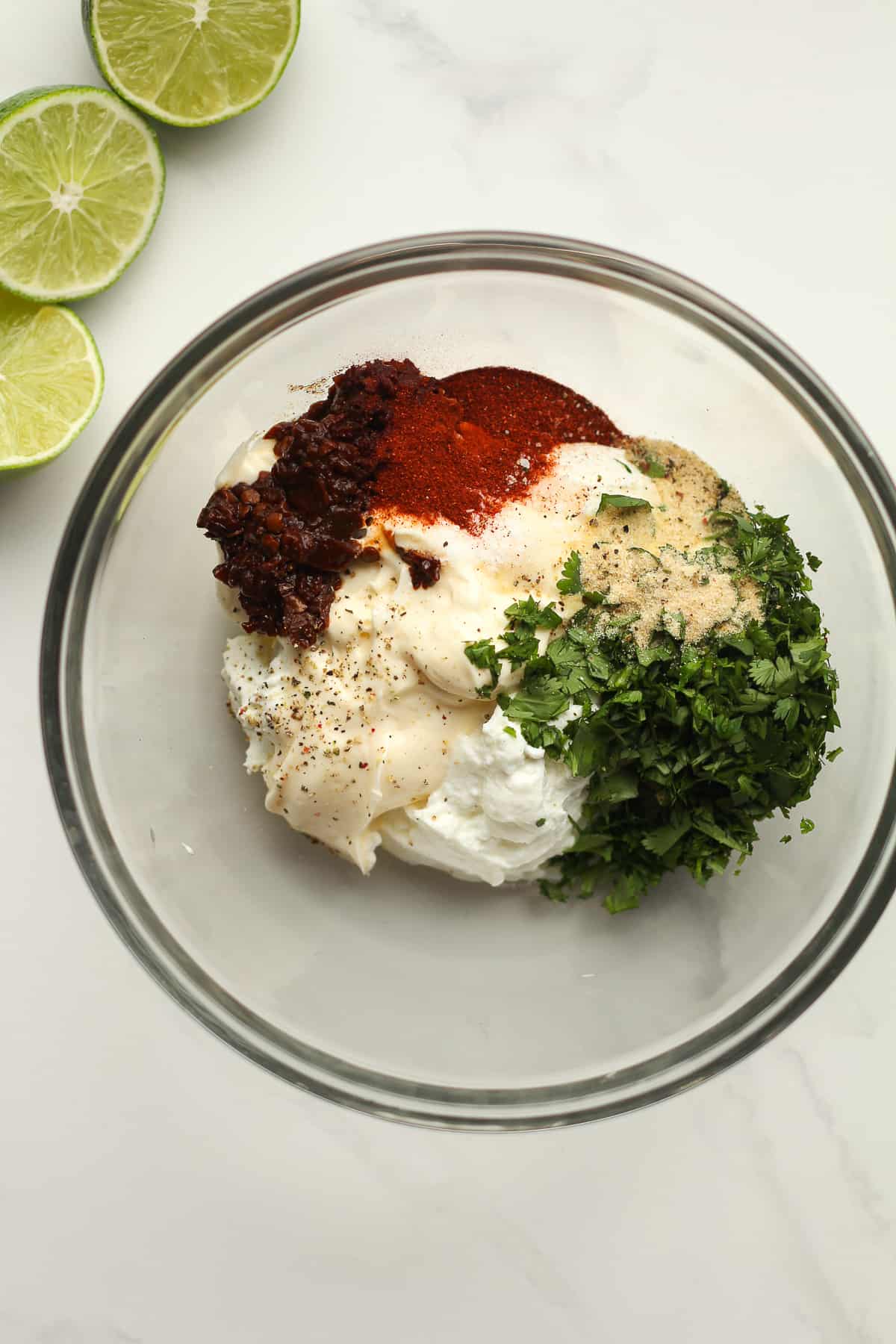 How to make Chipotle Ranch Dressing:
This is a simple 10 minute recipe that will change your life! Trust me, friends!
Combine ingredients. In a small mixing bowl, combine the Greek yogurt, mayo, and diced chipotles.
Regarding the chipotles. If using the whole chipotles, slice them in half, and remove the seeds. Then dice them up, and spoon some of the chipotles and some sauce into the bowl. (I like this a bit spicier, so I use the seeds.)
Chop the cilantro finely. Chop cilantro until you get about 1/3 cup. No need to be too exact. We love cilantro in this dressing!
Add the seasonings. To the bowl, add the smoked paprika, onion powder, kosher salt, and freshly ground black pepper.
Add lime juice. Squeeze the lime(s) over the bowl, using your hands or a citrus press.
Whisk and add water. Whisk ingredients. Check consistency and add cold water until you get your desired consistency. When I'm using this as a dressing, I add extra water. When I use it as a dip or a bowl topper, I add a bit less. Use whatever you need to work for the dish you're making.
Store. Spoon the dressing into a mason jar. Store in the refrigerator for up to 4-5 days.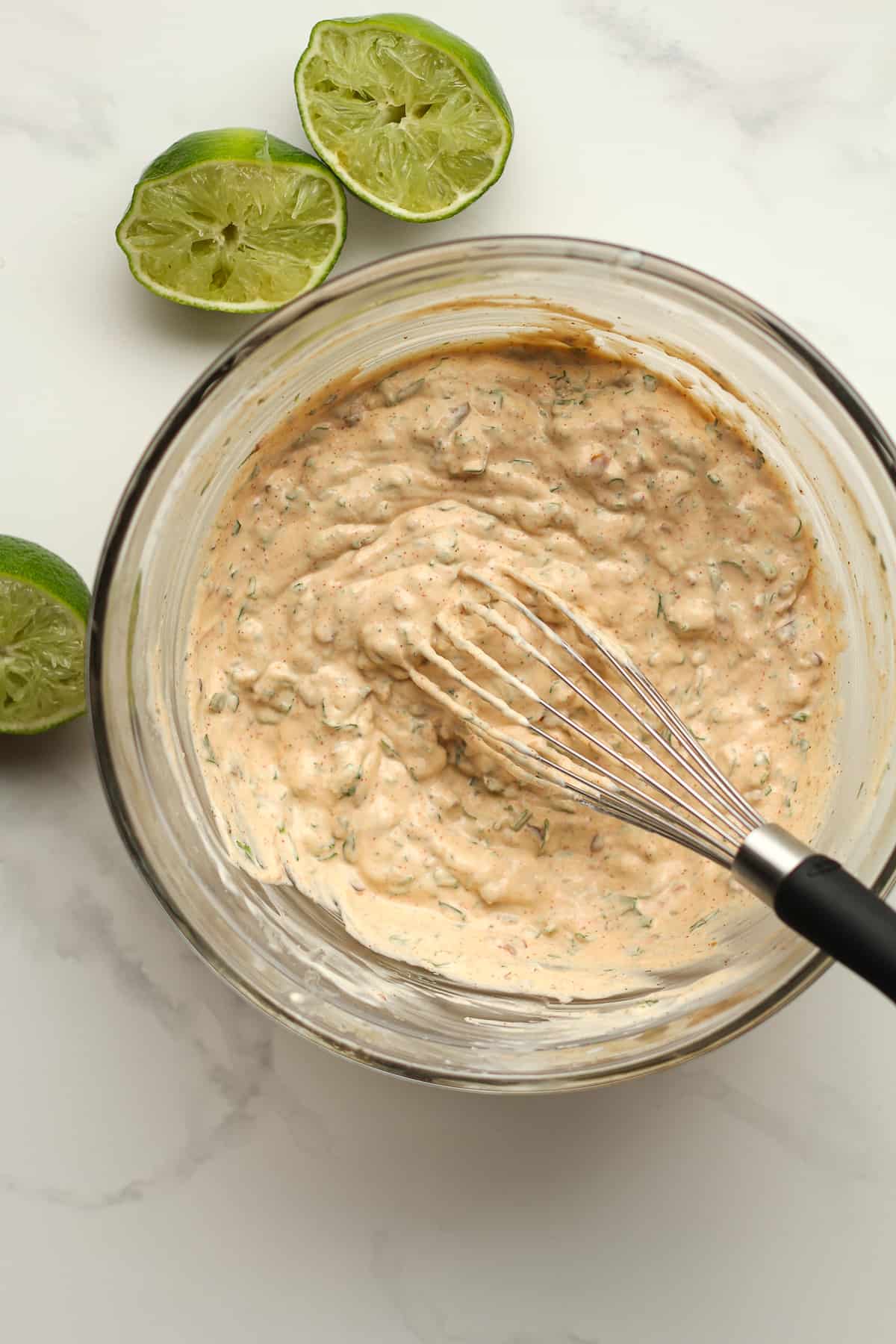 Pro-Tip: Make up a batch of this dressing, and try it on all the things! Then make an extra batch and give it to your next-door neighbor, friend, or coworker. They will love it too.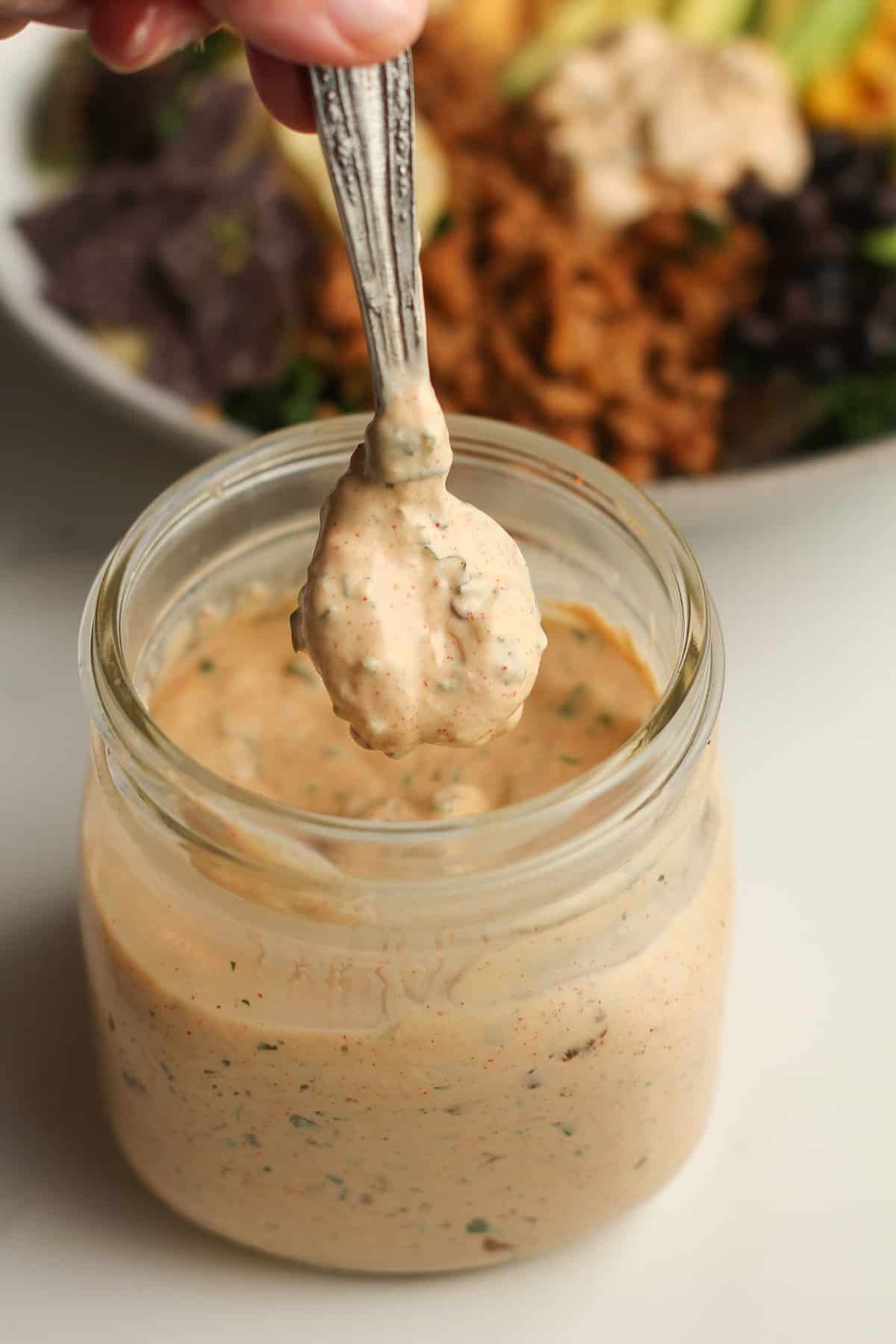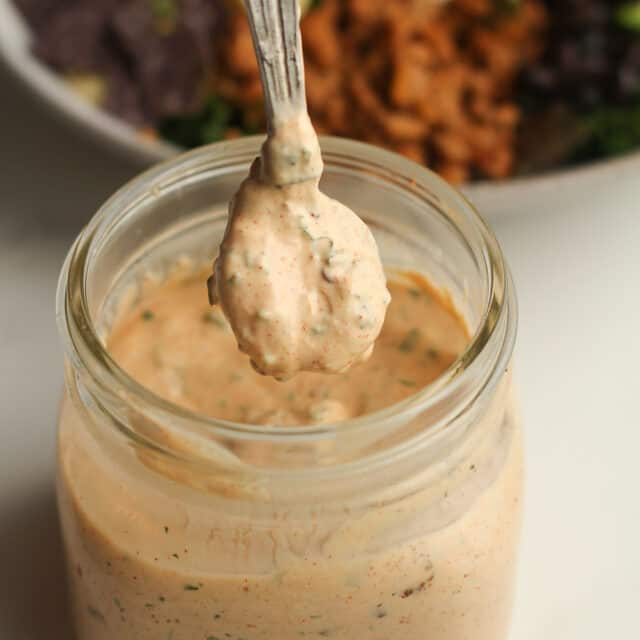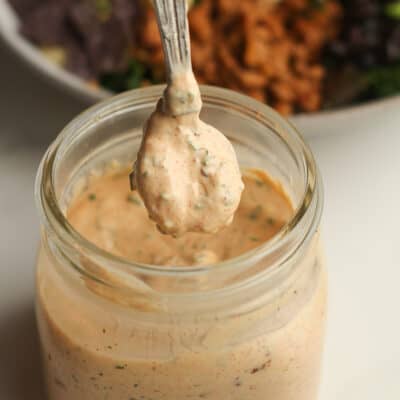 Chipotle Ranch Dressing
Chipotle Ranch Dressing combines Greek yogurt and light mayo with all the southwest flavors. This dressing is the perfect topper for salads, tacos, burrito bowls, and even for dipping fries and veggies!
Print
Pin
Rate
Ingredients
10

oz.

plain Greek yogurt

1/3

cup

light mayo

1/3

cup

finely chopped cilantro

– packed

2

Tablespoons

chipotle peppers (in adobe sauce, seeds optional)

– finely diced (or use food processor)

1

large

lime (or more)

– freshly squeezed

1

teaspoon

smoked paprika

1/2

teaspoon

onion powder

salt and pepper

– to taste

cold water

– use water to thin the dressing, especially if used on salads.
Instructions
Combine all ingredients in a mixing bowl, and stir well.

Store in an airtight container, or mason jar, in the refrigerator for 4-5 days.
Notes
Pro-Tip: If the dressing is to thick and you want to drizzle it on a salad, you can thin it with extra lime juice or even some cold water.
We love this dressing over salads and burrito bowls, as a dip for crunch wraps and sweet potato fries, a sauce for fish tacos, and so many other things. Enjoy!
Nutrition
Calories:
49
kcal
|
Carbohydrates:
3
g
|
Protein:
3
g
|
Fat:
2
g
|
Cholesterol:
3
mg
|
Sodium:
130
mg
|
Potassium:
64
mg
|
Sugar:
1
g
|
Vitamin A:
360
IU
|
Vitamin C:
2.6
mg
|
Calcium:
42
mg
|
Iron:
0.2
mg