Our Top 10 Recipes of 2019!
This post may contain affiliate links which won't change your price but will share a commission.
Our Top 10 Recipes of 2019 are the ones we eat on a regular rotation! THESE are some of our favorite recipes from SueBee Homemaker, and you should try them too!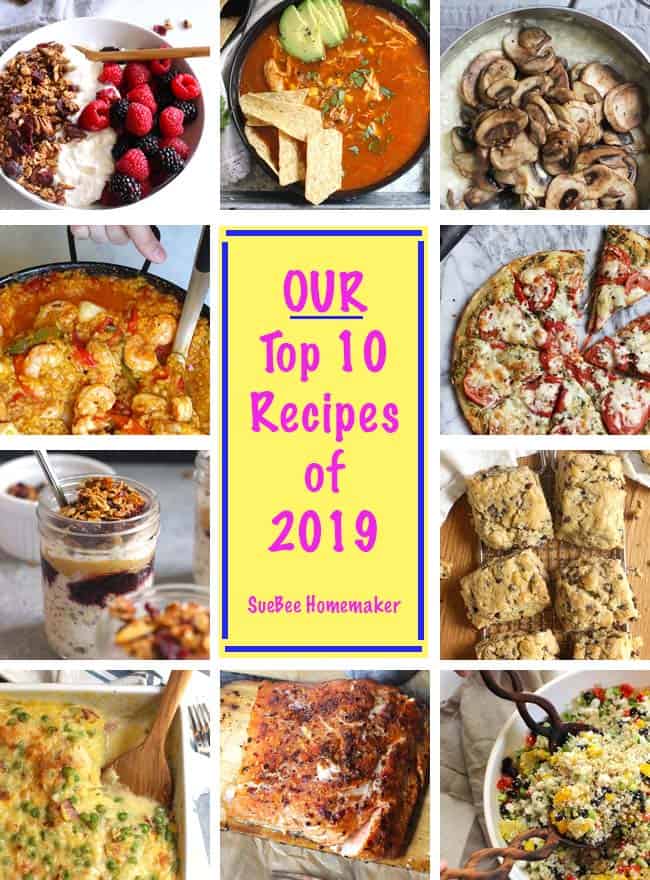 I recently shared YOUR Top 10 Recipes of 2019 – the ones that are viewed most out of all of my recipes. Most of these views come from google when folks like you are trying to find a certain kind of food to cook. While I enjoy those recipes too, THESE are the recipes we (my hubby and I) love most (in no particular order). Choosing just ten was difficult, because we love a lot more of them, particularly the Cold Brew Coffee, Peanut Butter Ice Cream, Fish Tacos, Rigatoni Pasta, all the Tex-Mex, so many cocktails, and the soups…the soups! Did I cover everything? 😀
Enjoy!
———-
Homemade Cranberry Nut Granola combines old fashioned oats, pecans, sunflower seeds, and dried cranberries – with a simple mixture that makes it slightly sweet, without refined sugars. A healthy, delicious granola that we eat on the daily, and you should too!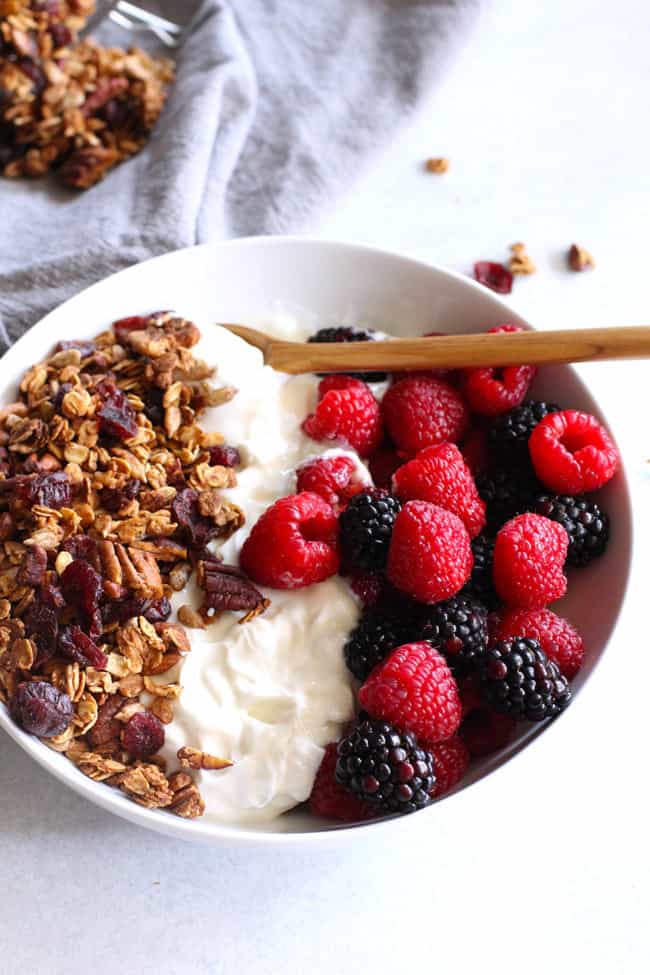 ———-
My Chicken Tortilla Soup combines shredded chicken, corn and beans, with a delicious broth that incorporates homemade enchilada sauce and chicken broth. Adjust the spices to your liking, and add all the toppings, including cilantro, jalapeño, avocado, and tortilla chips!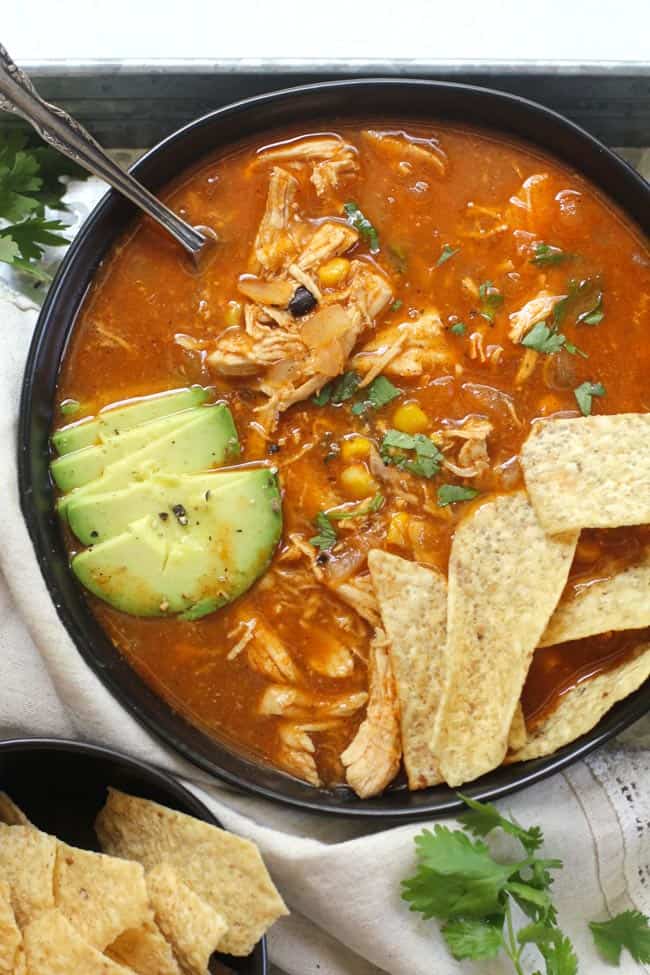 ———-
My simple eight ingredient Creamy Mushroom Risotto is gonna shock all you rice lovers out there. The Arborio rice is a key component, but the process is equally important. So creamy and delicious!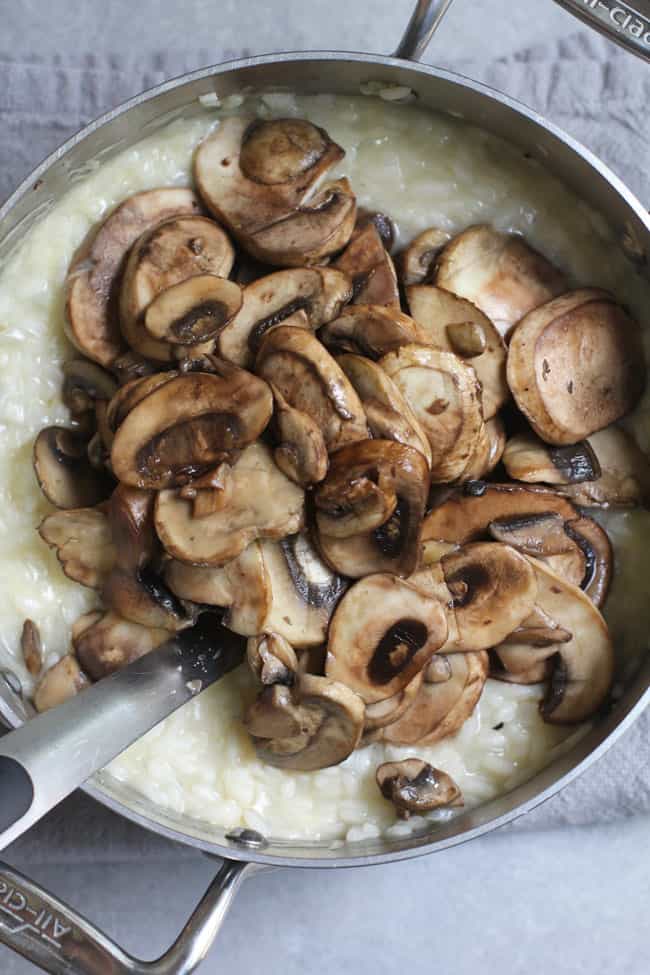 ———-
Best Spanish Seafood Paella combines shrimp and scallops with paella rice, saffron, veggies, and a tomato broth. Perfect for seafood lovers, this dish is healthy and packed with flavor!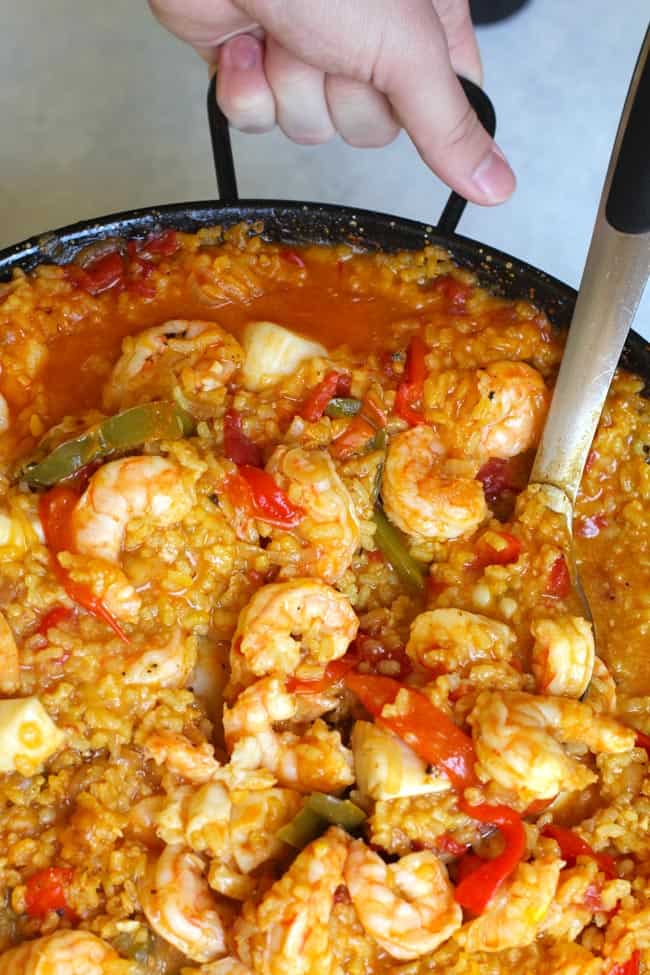 ———-
Skillet Pesto Tomato Pizza combines the BEST homemade crust along with pesto sauce, roma tomatoes, and mozzarella cheese. This meatless recipe is a favorite combo at our home!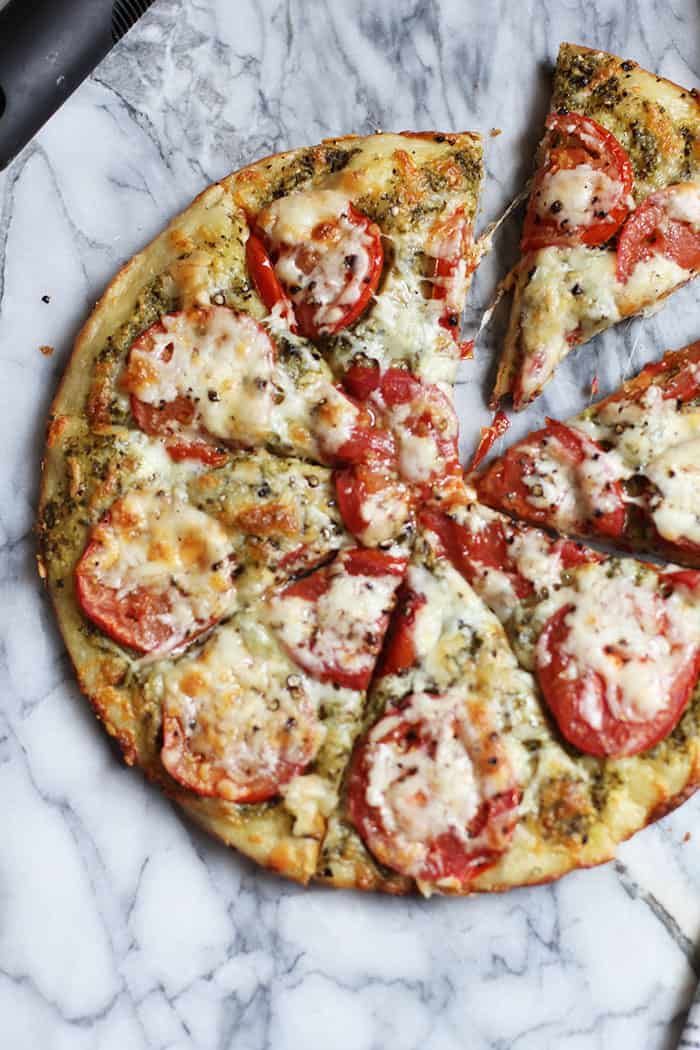 ———-
Peanut Butter and Jelly Overnight Oats are the perfect make-ahead breakfast or snack, perfect for busy families. This version combines old fashioned oatmeal, chia seeds, and milk – with peanut butter and jelly. Top them with granola, sliced bananas, or eat them plain.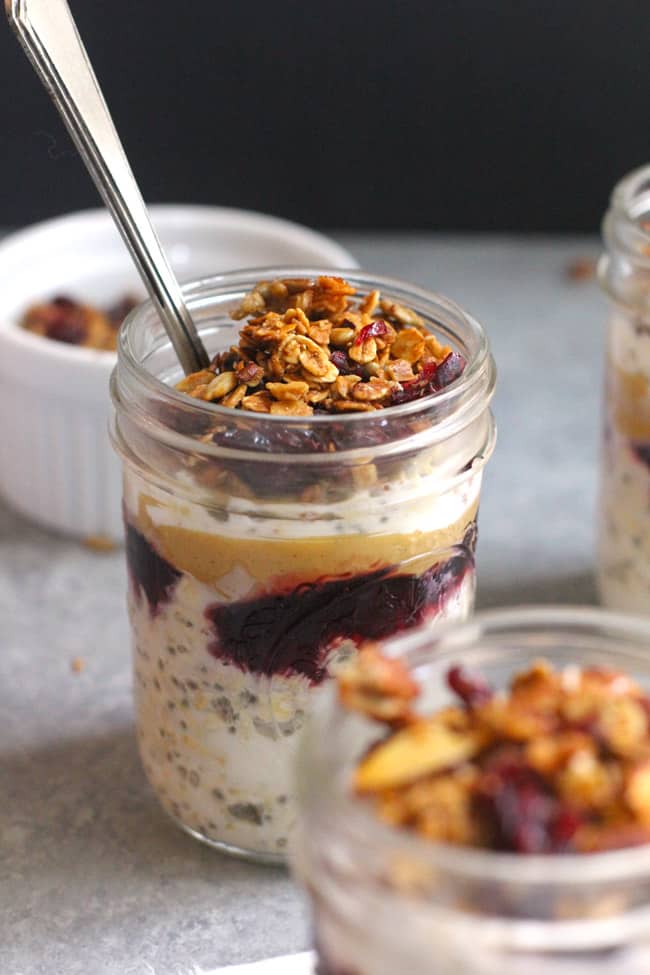 ———-
Seriously Crumbly Chocolate Chip Scones are the perfect treat to accompany your morning coffee. These are seriously CRUMBLY, just like any great scone should be!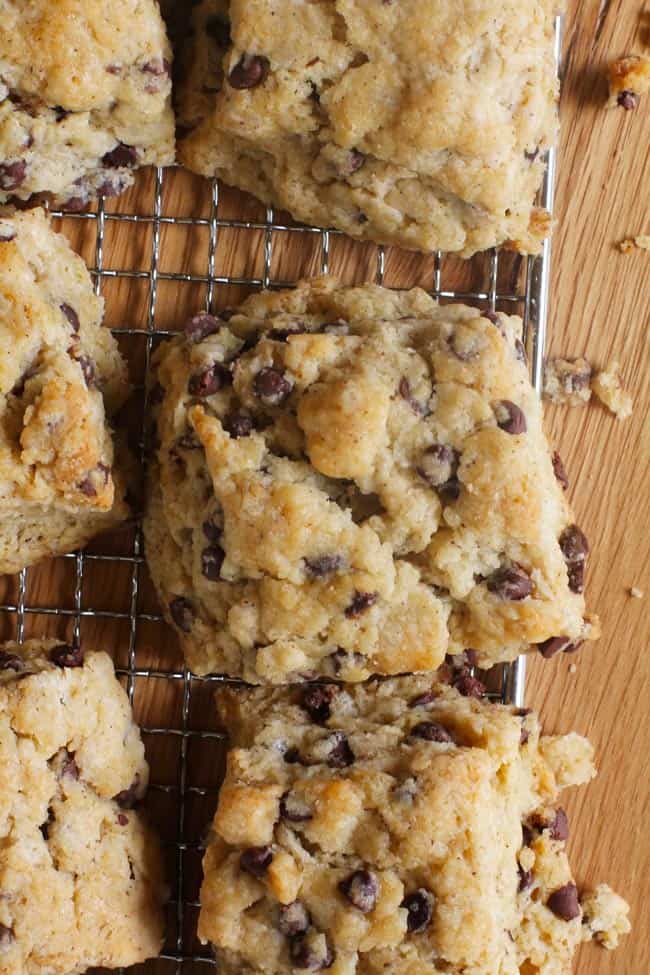 ———-
Baked Spaghetti Squash and Cheese is a lower-carb version of Mac and cheese, and so unbelievable tasty. Roast the spaghetti squash, make a quick roux, and then add in cheddar cheese, parmesan cheese, frozen peas, and bacon. So delicious!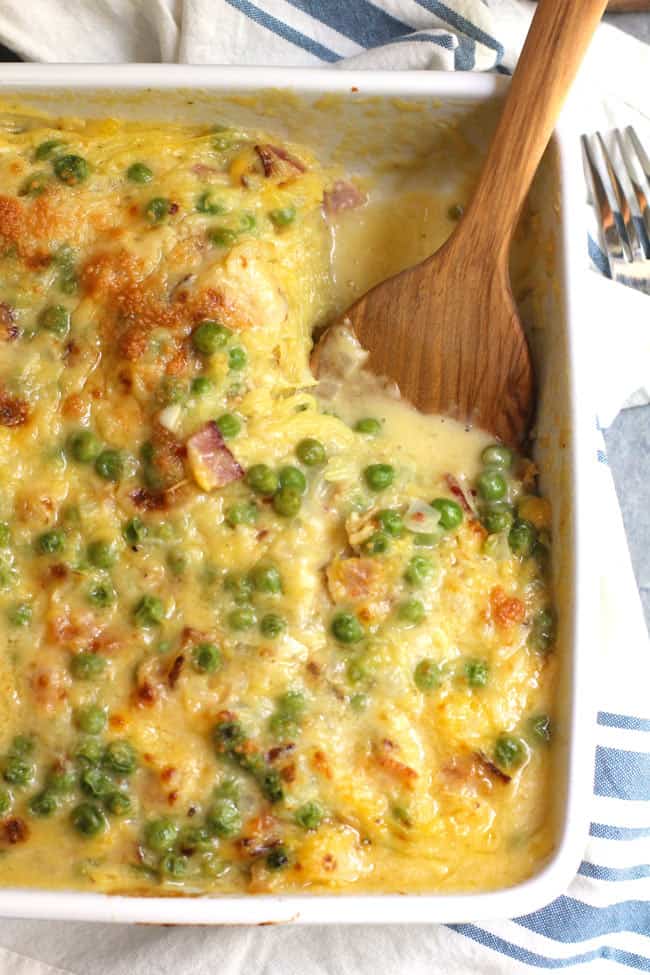 ———-
Grilled Cedar Plank Salmon cooked on an outdoor grill is one of the tastiest ways to enjoy this omega-3 rich fish. The spice rub is an easy combo of salt, pepper, red pepper flakes, garlic powder, and paprika, and pairs perfectly with the smoky flavor from the cedar planks!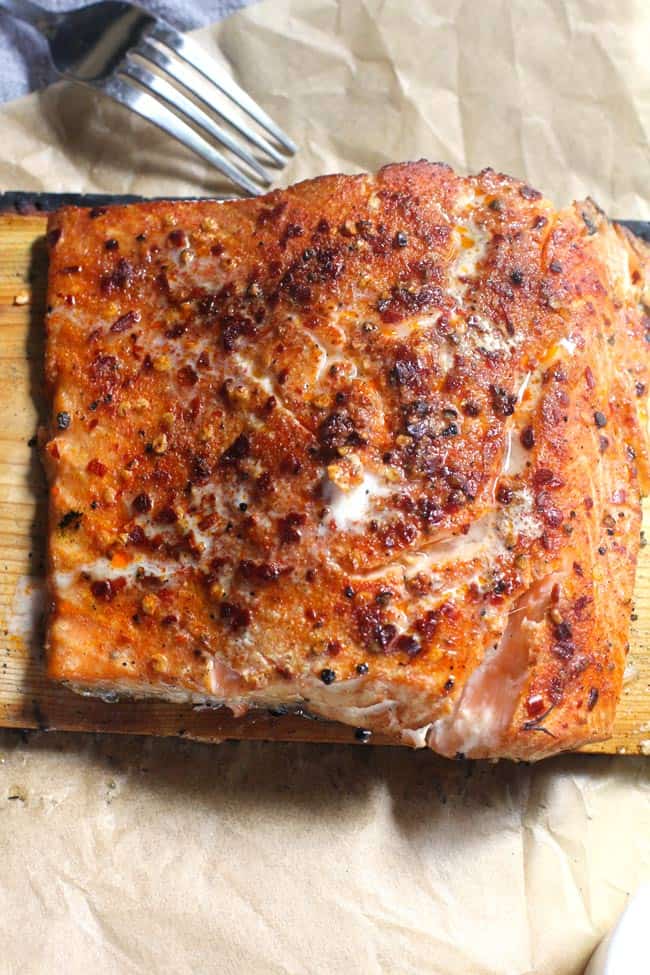 ———-
Add Mexican Quinoa Salad to your next meal plan. This recipe is protein packed combining two cups of quinoa with black beans, bell peppers, jalapeños, green onions, fresh corn, and Cotija cheese. Top it with Avocado Crema or just a drizzle of olive oil!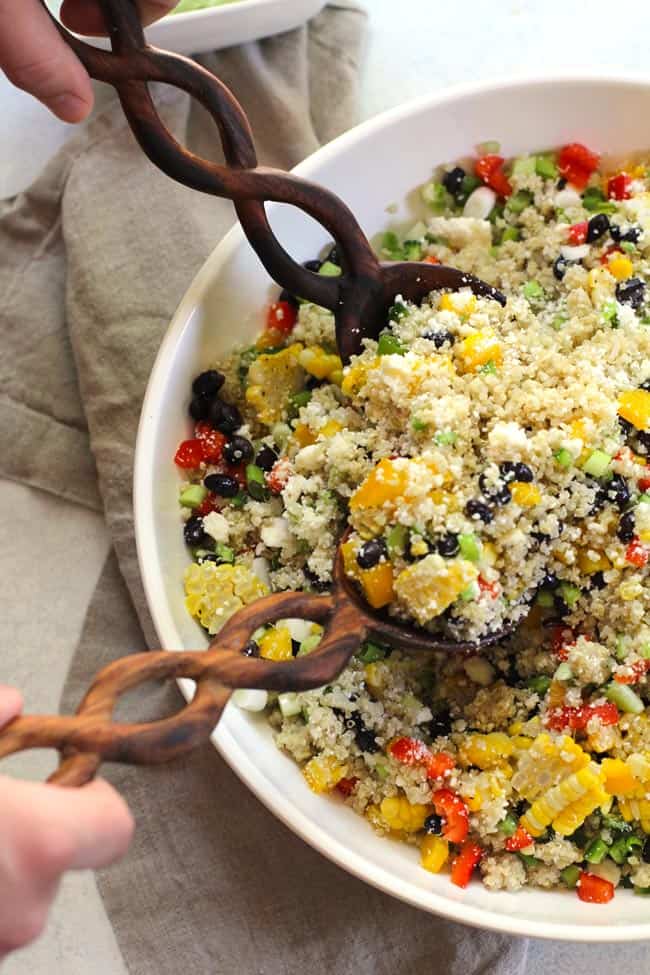 ———-
Now, may I ask you…what are some of your favorites that didn't make either list? And what would you like to see more of in 2020? I'd love to know, so that I can serve you better!
Enjoy!
xoxo ~Sue