Homemade Pizza Dough cannot be replaced with store-bought, after you've tasted it. The process isn't all that difficult, and it makes pizza one of our favorite meals to eat!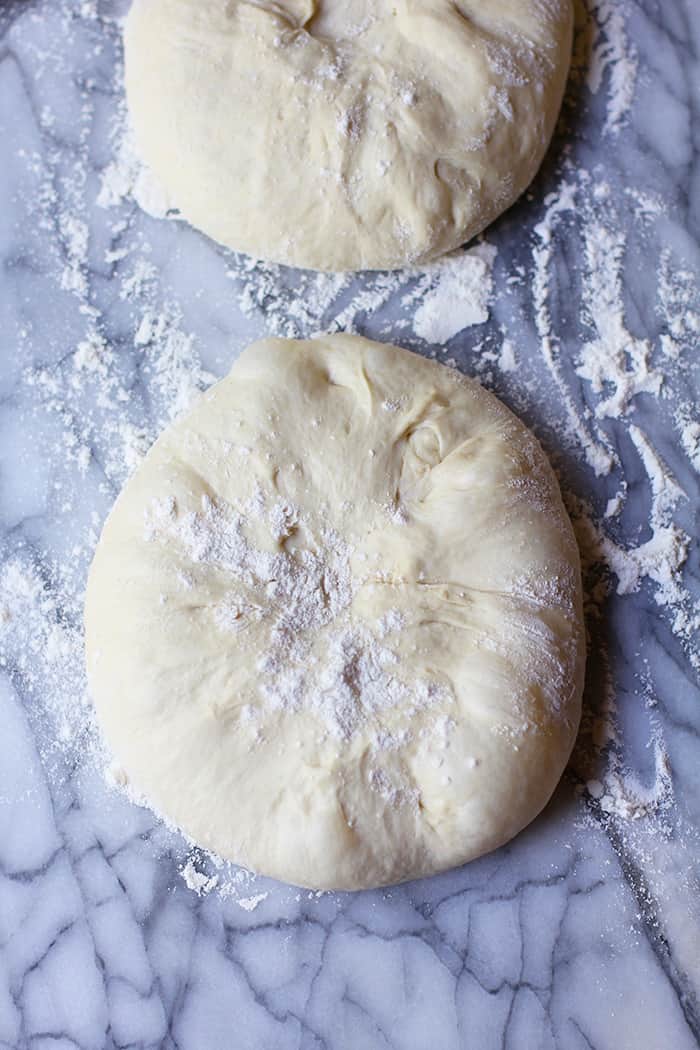 Pizza is our favorite meal. What's yours?
Mike and I were recently talking about our fav meals (cuz that's what you do when you've been married forever and are 98% empty nesters), and agreed that pizza is top of the list. Like tip top!
We still like to go out for pizza, as well as order in. But making it homemade is about as good as it gets. Sometimes we make it on our BGE (Big Green Egg), which is pretty fun as a family event. But we also love it in our cast iron skillets
. I've got a bunch of them, after years of collecting, and I'm using them more than ever for my blog.
I started this blog post eons ago, and decided it's time to share. Maybe past time. I've shared it with several people already, and they've all been pleased.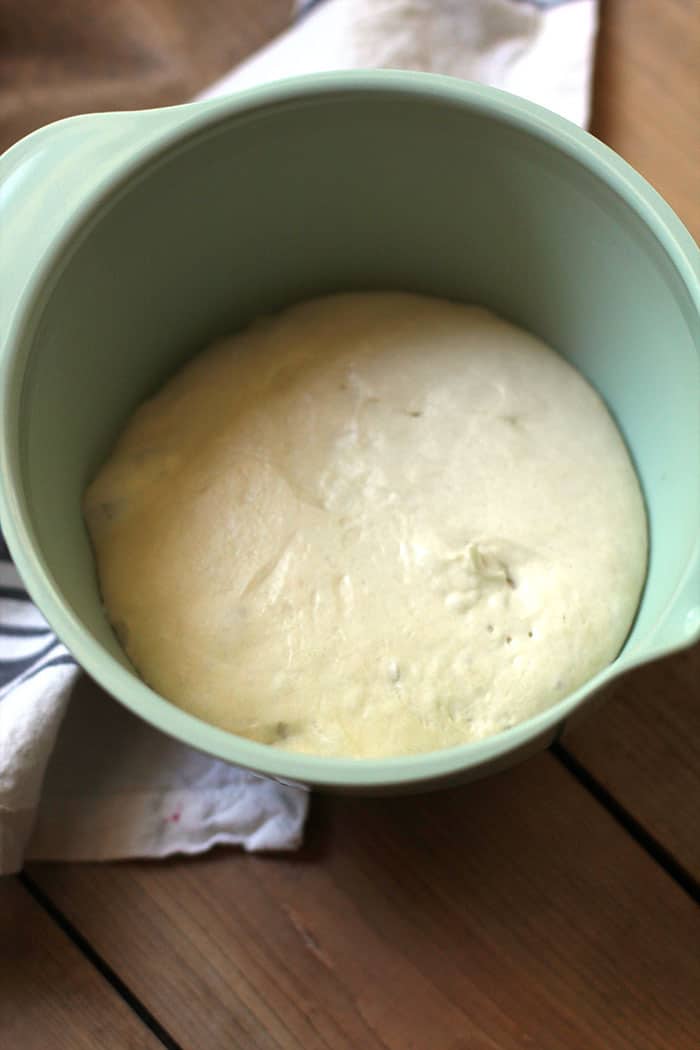 This recipe consists of only six ingredients – yeast, sugar, water, salt, olive oil, and bread flour.
Here are a few tips for making the most EPIC pizza dough.
When you add the warm water to the yeast and sugar – be careful to use WARM water, not hot. If the water is too hot, the yeast will disappear and you can't make pizza dough without yeast. Also, do not use cool water because it won't activate the yeast.
Don't add all the flour at once because every baking day is different. Some days you will need a bit more flour and some days, you will need less.
The dough shouldn't be overly sticky when ready. It should bounce back slightly to the touch. Over time, you will learn exactly how much flour is needed to make the ultimate pizza dough.
Unlike french bread and cinnamon rolls, this dough only needs to rise once.
When done cooking, the bottom of the crust should be slightly brown and crunchy.
This dough can easily be frozen in individual rounds. See more below.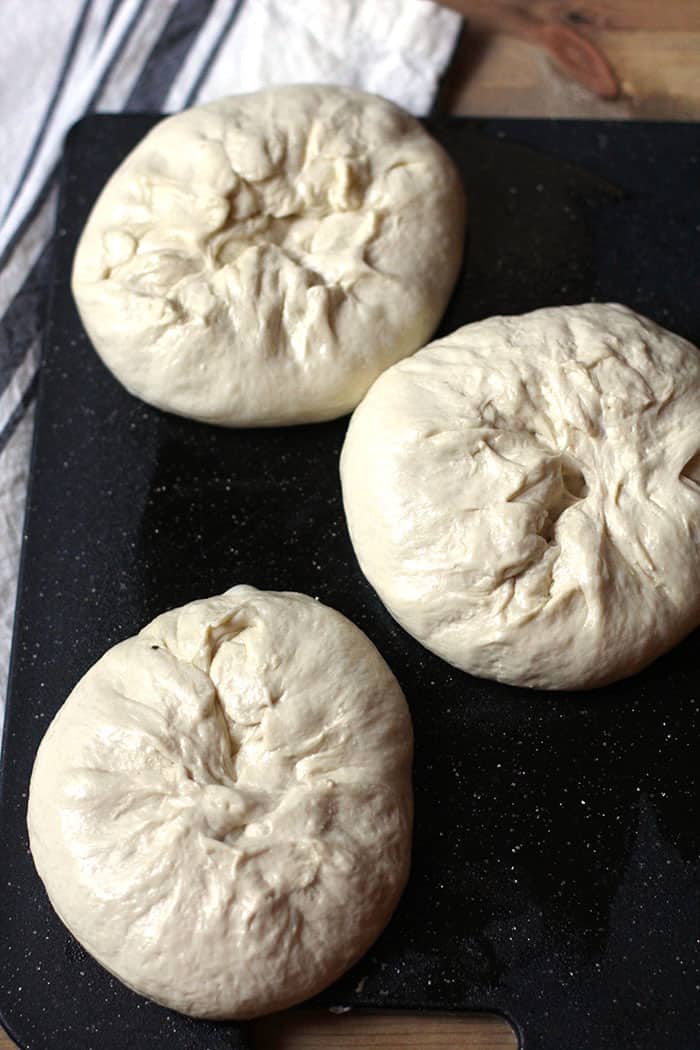 Tips for freezing the dough for a rainy day.
I love making a batch (or two) of this homemade pizza dough, and storing the majority of it in the freezer. Here's how I do it.
Make the dough.
Instead of pressing the dough into a skillet or pizza stone, form into balls and wrap in press-n-seal.
Place dough rounds in freezer bag, and freeze immediately.
The night before you make pizza, place as many rounds in the refrigerator (from the freezer) as you intend to make.
* A few hours before baking, take the dough out of the wrap, and place in greased bowl. Cover with a clean dish towel, and let rise.
When dough has doubled in size, press into pizza pan.
* Note: Depending on where you live, the temperature outside your house and/or inside your house, you may need more or less time for the dough to rise. Experiment a bit, and if the dough is ready too far ahead of time, place it in the refrigerator for awhile. If it's not ready to bake when you want it, place the bowl over another bowl of warm water for awhile. Alternatively, you could start the oven on a low temp, turn it off, place the dough in the oven for a bit to get it moving along.
Happy pizza making! 🙂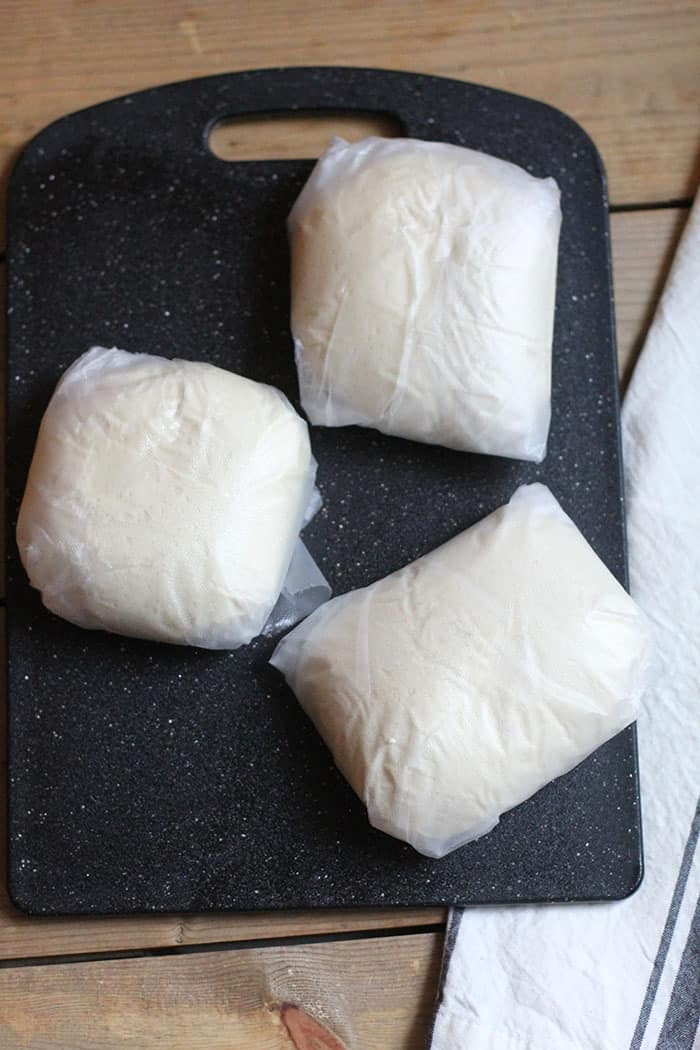 Make this pizza with the dough: Skillet Pesto Tomato Pizza
You can stay up-to-date with SueBee Homemaker by:
signing up for post updates (top right-hand corner of my blog)
liking my Facebook Page
and following me on Pinterest
I'm also sharing tidbits of my life on Instagram.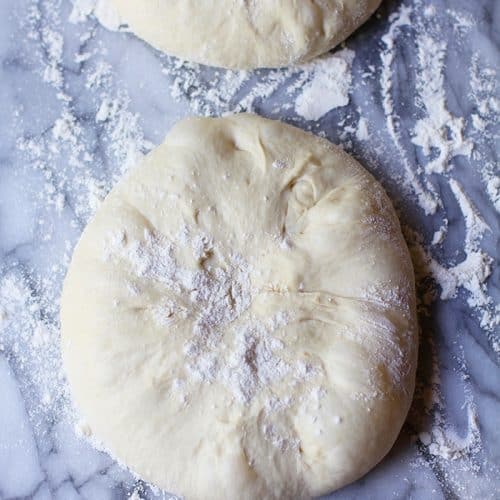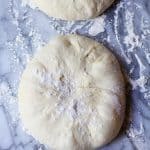 Homemade Pizza Dough
An easy six-ingredient pizza dough, that's easy to make ahead and freeze for a rainy day.
Prep Time
1
hour
30
minutes
Total Time
1
hour
45
minutes
Ingredients
1

Tablespoon

yeast

- I use Red Star

2

teaspoons

sugar

1 1/2

cups

warm water

- not hot, not cold

1

teaspoons

kosher salt

2

Tablespoons

olive oil

3 1/2

cups

bread flour
Instructions
In a large standing mixer, combine yeast, sugar, and warm water. Be careful to use WARM water, not hot. If the water is too hot, the yeast will disappear and you can't make bread without yeast. Mix and let sit for about 15 minutes to get the yeast working. You should see little bubbles in the water.

Add the oil and salt and stir with spatula. Attach dough hook to mixer and add about half of the flour. Start the mixer and let the flour absorb.

Gradually add more flour, a little bit at a time until the dough is less sticky and pulls away from the sides of the mixer. You want the bread dough to be slightly sticky, but not too much. When you touch the dough, it should bounce back slightly. Be sure to leave the mixer on for several minutes after you get the right consistency.

Grease a large bowl with canola oil. Add dough to the bowl, making sure you smooth it into a ball, by punching it down - starting in the center of the dough. Place dough with smooth side up and cover with a clean towel. Let the dough double (approximately) in size.

Once doubled, divide it into three sections. Grease cast iron skillets (or any pizza pans), and flatten dough into crust, smoothing it and pushing it up the sides of the pans part way. Cover with towel and let the dough sit for 20 minutes before adding pizza toppings.

Bake pizzas in hot oven - 450 degrees - for about 15 minutes or until done to your desire.
Recipe Video
Recipe Notes
The pizza dough can be made up ahead of time and frozen into individual pizza doughs. Just wrap the dough tightly and seal in freezer bags. Set them in a bowl on the counter the morning of your baking, and keep them in a warm place until ready to bake. If they are taking too long to rise, you can start oven and place pans inside for a few minutes.
Nutrition Facts
Homemade Pizza Dough
Amount Per Serving
Calories 623
Calories from Fat 99
% Daily Value*
Fat 11g17%
Sodium 778mg34%
Potassium 158mg5%
Carbohydrates 108g36%
Protein 18g36%
Calcium 22mg2%
Iron 1.3mg7%
* Percent Daily Values are based on a 2000 calorie diet.