My simple seven ingredient Creamy Mushroom Risotto is gonna shock all you rice lovers out there. The Arborio rice is a key component, but the process is equally important. So creamy and delicious!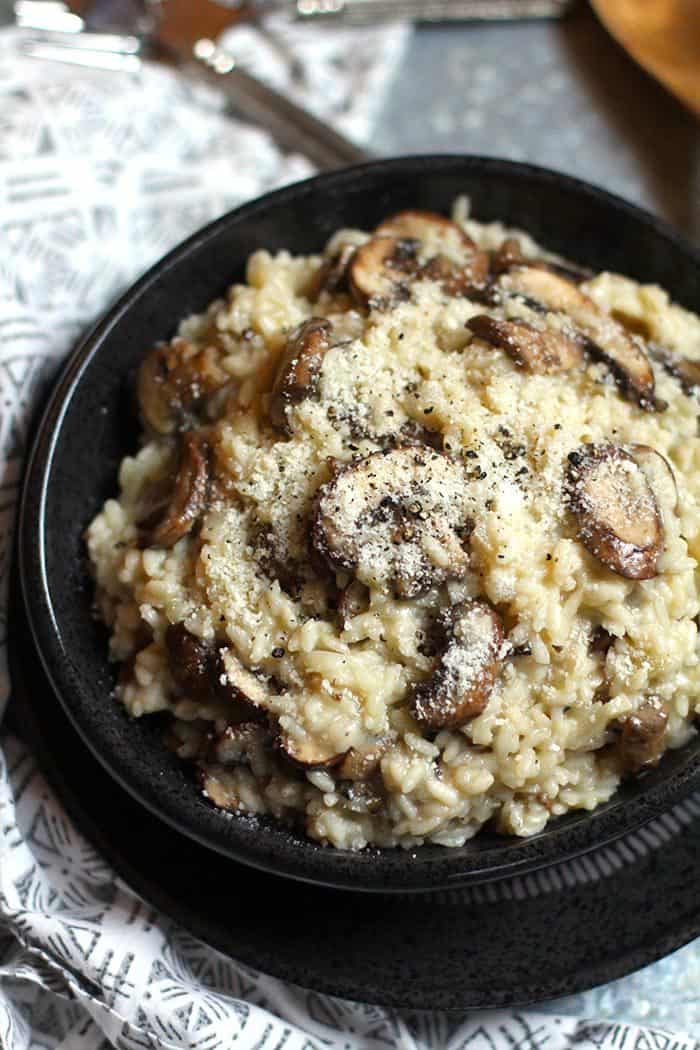 Risotto has always seemed like "fancy food" to me. You know, dishes that only Giada de Laurentiis would prepare. So when I ordered this Arborio Rice
on Amazon LAST summer, I tucked it away in my pantry. Well, what can I say. I keep asking myself, "What took you so long to experience THIS?" So when I say try it, I mean TRY IT NOW.
Like right NOW. Don't get the rice and let it sit in your pantry for almost a year!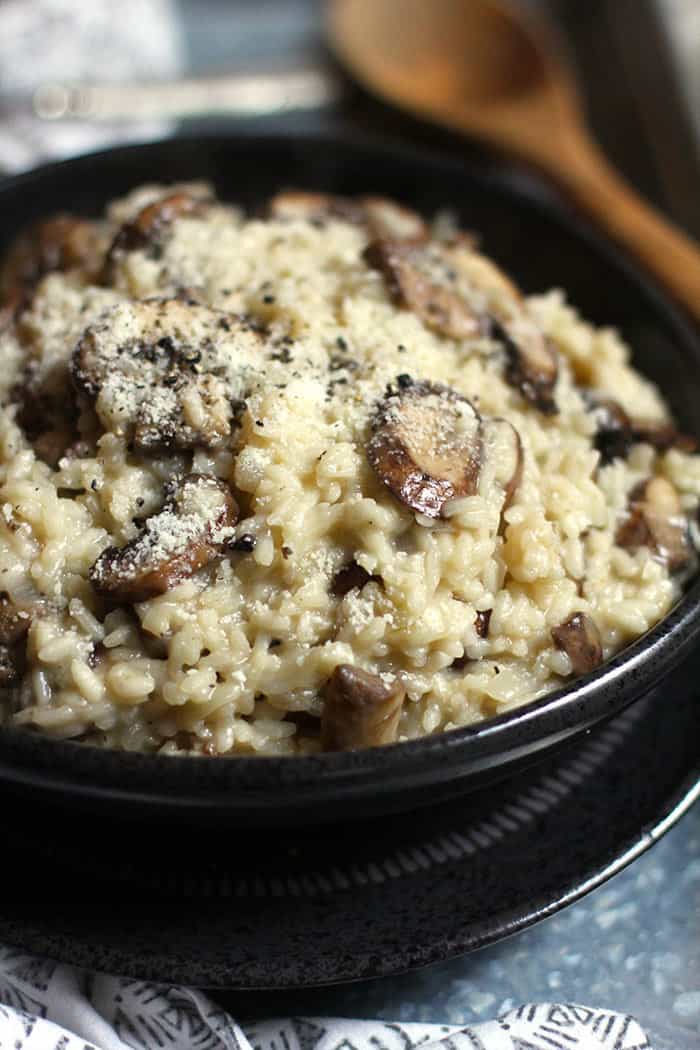 There are only seven ingredients in my Creamy Mushroom Risotto (plus the salt and pepper). It's not difficult to make, and you should totally try it.
Arborio Rice
Bella mushrooms
parmesan cheese
onion
garlic
chicken broth
olive oil (plus s & p)
The first time I made it, I only used one package of mushrooms. The second time I used two, which is now what I use all the time. We adore mushrooms at our house.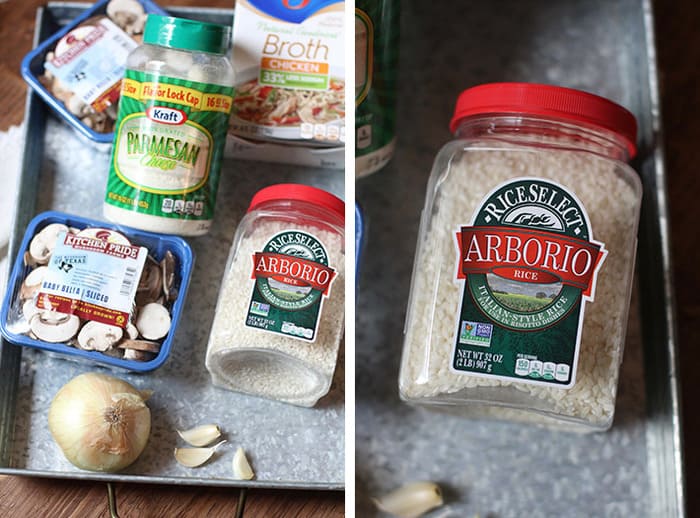 What is Arborio Rice?
Arborio Rice is a variety of short-grained rice. It retains more of it's natural starch content due to less milling (than ordinary long-grained rice). The slow cooking process (and the technique below) releases this starch, giving risotto it's creamy consistency.
How to make risotto.
For my Creamy Mushroom Risotto, begin by cooking the mushrooms in olive oil. When done, remove from pan.
Using same pan, sauté the onion until soft.
Add garlic and Arborio Rice, and stir for about two minutes.
Add one cup of chicken broth, and cook until it is absorbed.
Then add 1/2 cup of chicken broth at a time, waiting until each portion is absorbed before adding more. Season with salt and pepper.
When all the broth is absorbed, add the parmesan cheese and the mushrooms back.
EAT!
In steps number 4 and 5, you are adding the broth slowly, and the risotto is becoming creamy. If you add all the broth at once, you'll get a completely different consistency and very little creaminess.
This creamy risotto, along with some shrimp and broccoli, has been our dinner two Fridays in a row. However, I could easily skip the shrimp and broccoli, and eat this as a main dish.
I'm currently dreaming up several other kinds of risotto. Broccoli Cheddar, Butternut Squash, Parmesan Bacon, and so on. Do you have a favorite? If so, please let me know in the comment section below.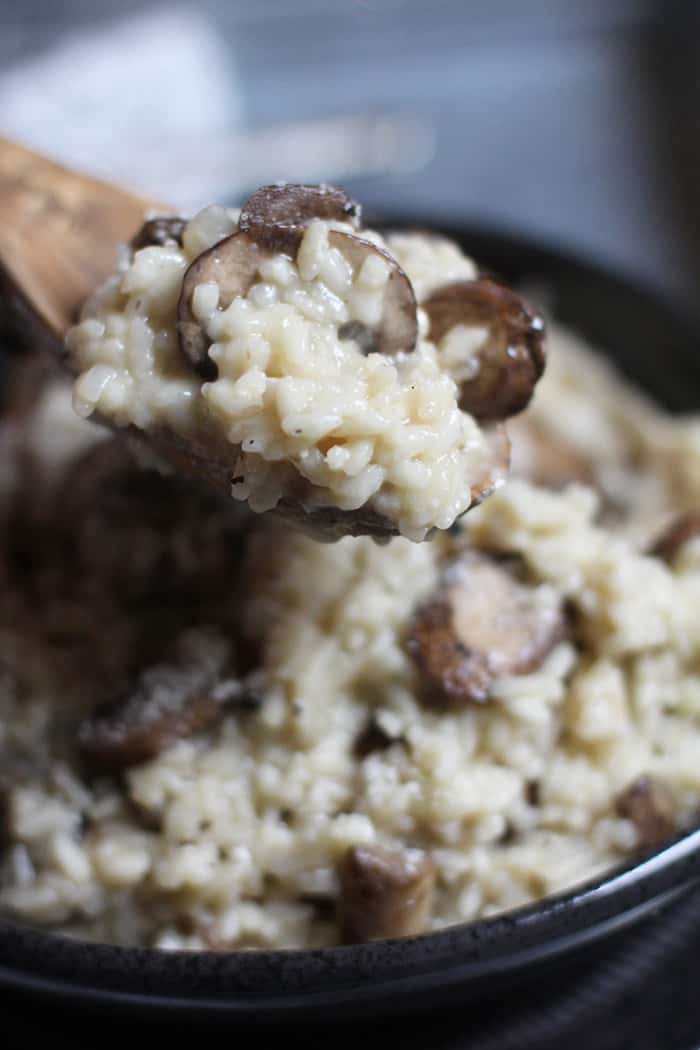 What I posted one year ago: Classic Skinny Margaritas
Please let know if you try this recipe. Be sure to comment and leave a review on the blog so I can see what you think. You can also like my Facebook Page, follow me on Pinterest, and catch me on Instagram.
xoxo ~Sue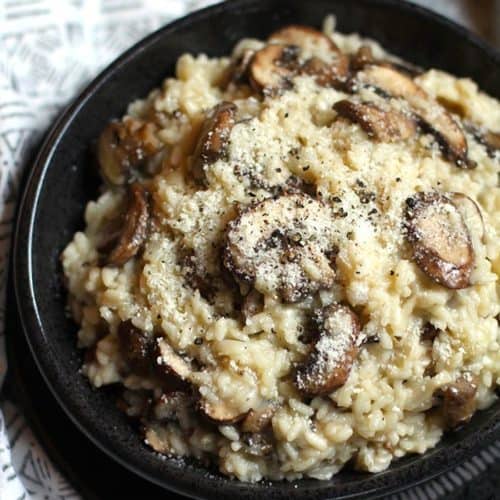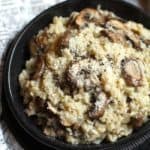 Creamy Mushroom Risotto
A creamy side dish of Arborio rice cooked low and slow, and topped with roasted mushrooms and parmesan cheese. It's so good and we even eat it as a main dish!
Keyword:
creamy risotto, mushroom risotto
Ingredients
4

Tablespoons

olive oil

16

oz.

sliced Bella mushrooms

1

medium

onion

- chopped

3

cloves

garlic

- minced

1 1/2

cups

Arborio rice

4 1/2

cups

chicken broth

kosher salt and freshly ground black pepper

- to taste

3/4

cup

grated parmesan cheese
Instructions
Using a medium saucepan, heat two tablespoons of olive oil over medium-high heat. Add mushrooms and sauté until done, approximately 5-6 minutes. Remove mushrooms to a separate bowl.

Using same saucepan, heat remaining olive oil. Add onion and sauté until soft, approximately 5 minutes. Add garlic and rice, and stir. Cook for about two minutes to slightly brown the rice.

Add one cup of chicken broth, and cook until absorbed. Then add 1/2 cup at a time, waiting each time until the broth is absorbed. This will take 20-25 minutes.

When broth is absorbed and rice is cooked, remove from heat and add salt, pepper, and parmesan cheese. Stir until well combined. Add mushrooms and stir again.
Recipe Notes
Slowly adding the broth to the risotto is the KEY to creamy risotto.
The entire process may take from 25 - 35 minutes.
You can use white wine in place of the first cup of broth.
Leftovers are great, up to four days.
Nutrition Facts
Creamy Mushroom Risotto
Amount Per Serving
Calories 333
Calories from Fat 117
% Daily Value*
Fat 13g20%
Cholesterol 11mg4%
Sodium 837mg36%
Potassium 227mg6%
Carbohydrates 43g14%
Protein 9g18%
Vitamin A 110IU2%
Vitamin C 14.2mg17%
Calcium 156mg16%
Iron 2.7mg15%
* Percent Daily Values are based on a 2000 calorie diet.
Did you make this recipe?
Tag @suebeehomemaker on Instagram and hashtag it #suebeehomemaker