Skillet Pesto Tomato Pizza combines the BEST homemade crust along with pesto sauce, roma tomatoes, and mozzarella cheese. This meatless recipe is a favorite combo at our home!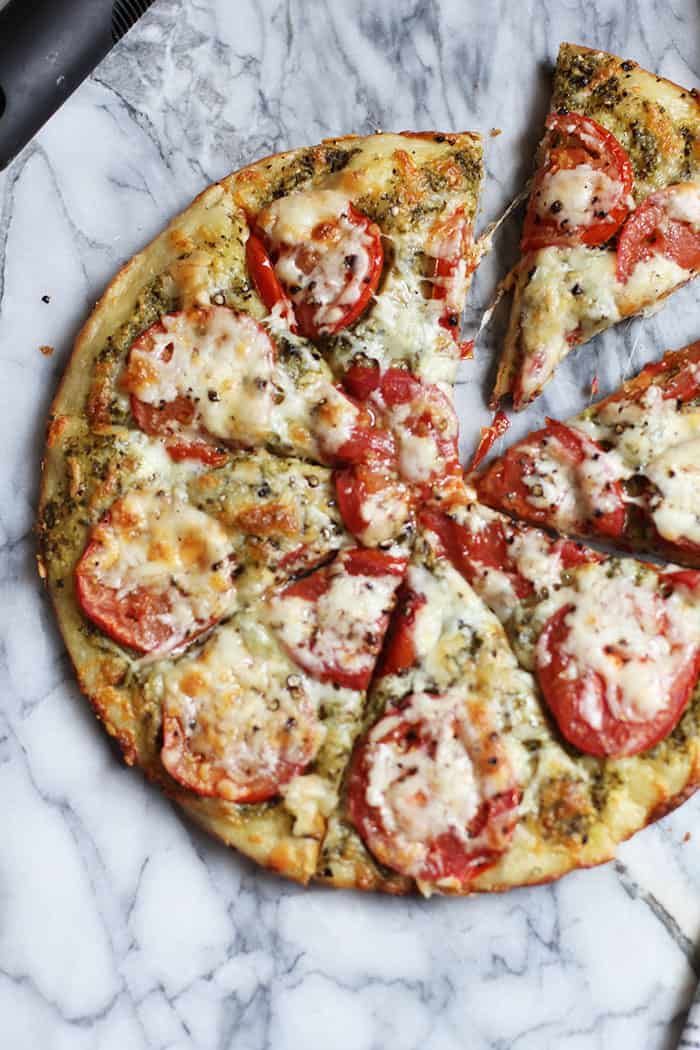 I've been making homemade pizza forever. We grew up making it as kids, and it was our Saturday night meal to go with "Donnie and Marie". Yea, I'm old.
The difference between then and now, is 1) we didn't make homemade crust back in the day, 2) we loaded the pizza with raw ground beef (ewww) so the pizza was greasy after it cooked, 3) we knew nothing about the fantastic sauce that is PESTO, 4) we used about 5 pounds of cheese that we sliced (shredded cheese wasn't a thing), and 5) we were young and could eat unlimited slices without worrying about our waist lines.
I'm having visions of ALL of that right now!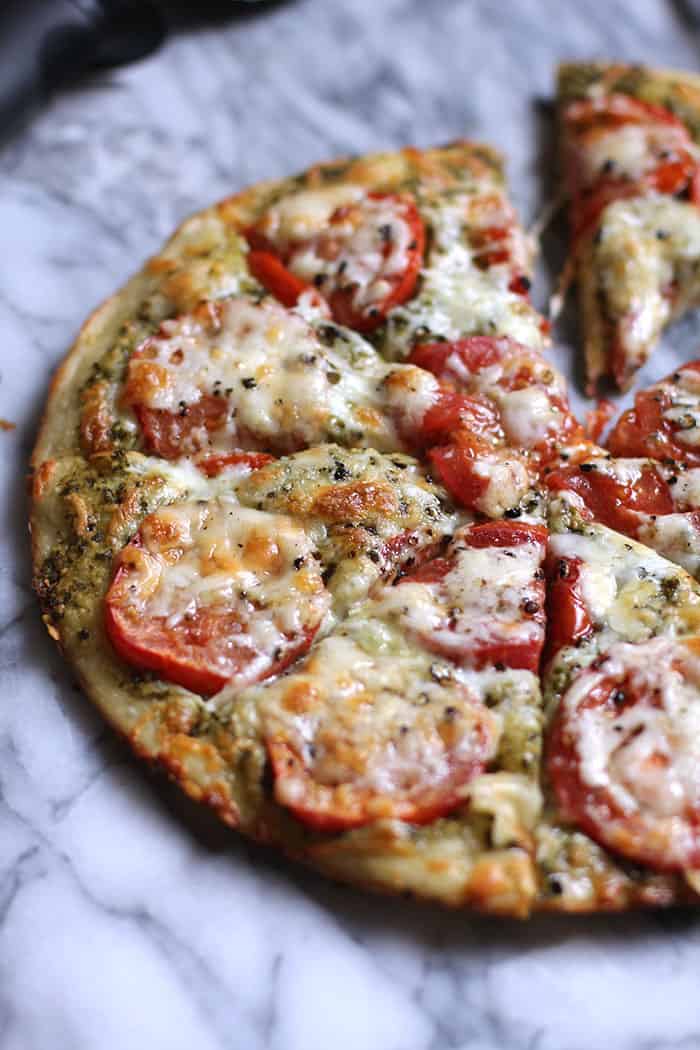 THIS pizza combo is one of our favs.
homemade pizza dough – the BEST
homemade pesto sauce – ummm, also the best 🙂
Roma tomatoes – sliced thin
shredded mozzarella cheese (plus some shaved parmesan)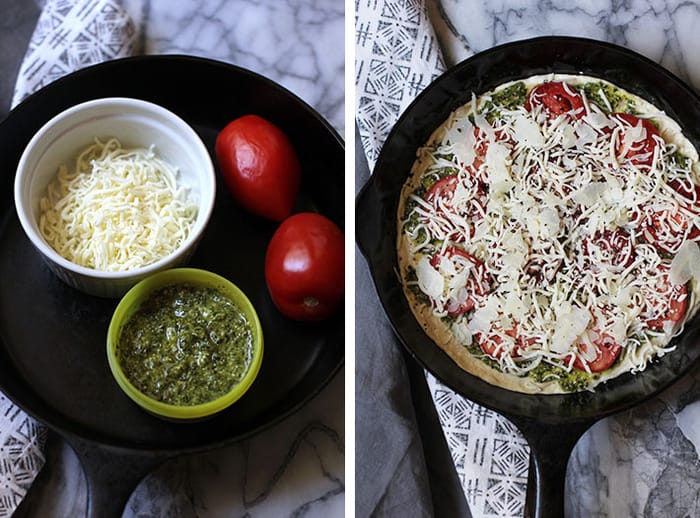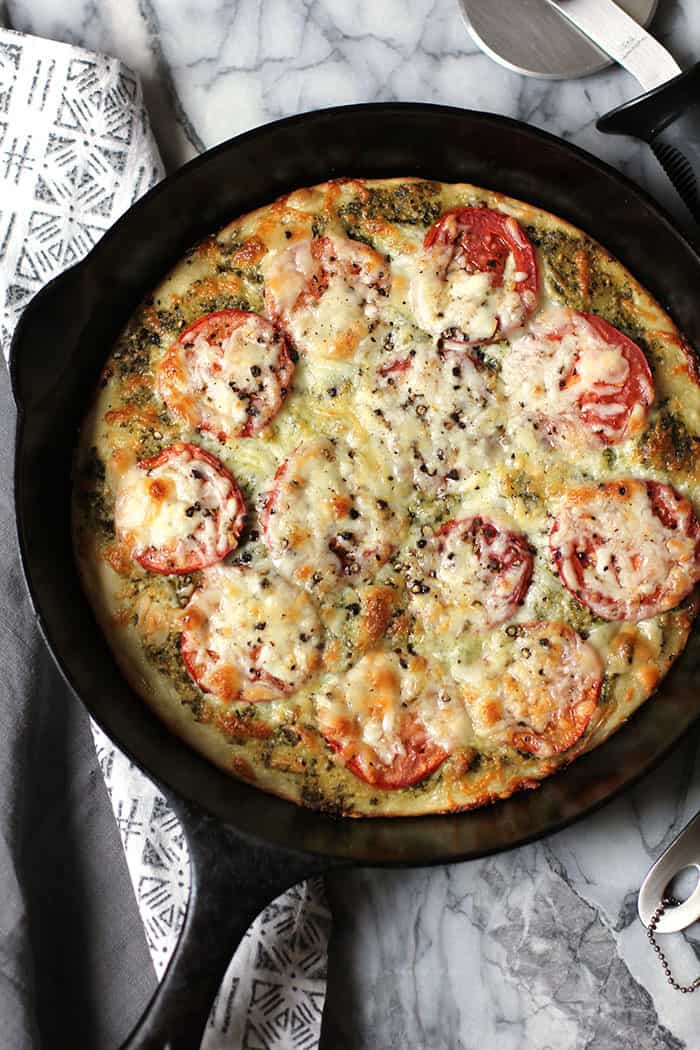 Be sure to read the tips in my homemade pizza dough recipe, including how to freeze individual pizza dough rounds for any day of the week. It's pretty nice to be able to cook only one pizza at a time, especially now that we're "almost empty nesters".
BTW, you can use any kind of pesto sauce, but homemade is best. In addition to my original recipe, I've soon be sharing my Spinach Walnut Pesto Sauce recipe, and it is great too!
Hand model below is my high school senior, who isn't usually home (which is why we're 98% empty nesters), but IS around when I make Skillet Pesto Tomato Pizza! Haha. 🙂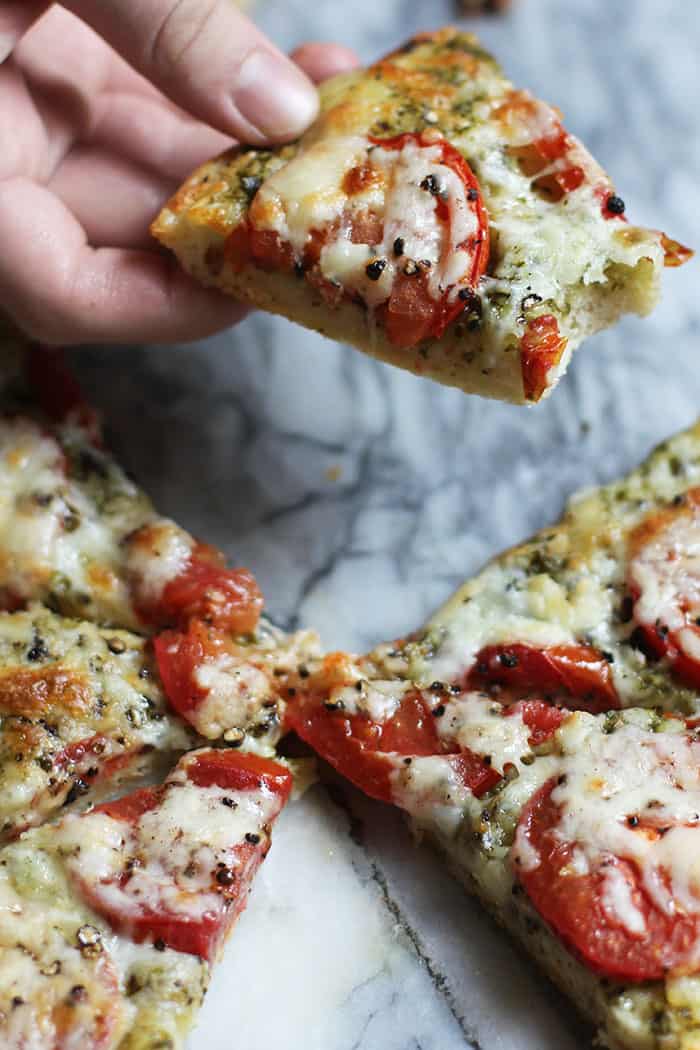 Please let me know if you try this Skillet Pesto Tomato Pizza, and how you like it!
You can stay up-to-date with SueBee Homemaker by:
signing up for post updates (top right-hand corner of my blog)
liking my Facebook Page
and following me on Pinterest
I'm also sharing tidbits of my life on Instagram.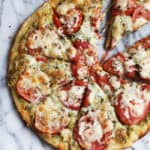 Skillet Pesto Tomato Pizza
Ingredients
1

medium

homemade pizza dough

- from my site

1/3

cup

homemade pesto sauce

- from my site

2

medium

roma tomatoes

- sliced thin

1

cup

shredded mozzarella cheese

1/4

cup

shaved parmesan cheese
Instructions
For the dough, use 1/3 recipe of my homemade recipe for one skillet pizza. I make my dough ahead of time, and wrap dough sections separately. Remove dough the night before you need it, and place it in the refrigerator. About three hours before you bake the pizza, place dough in greased bowl and cover with a cloth. Read more in the blog post.

Preheat oven to 450 degrees. Grease the skillet, and spread dough in the pan, pushing it to all sides of the skillet.

Top the dough with pesto sauce, then sliced tomatoes, and top it with mozzarella and parmesan cheese.

Bake for approximately 15 minutes, or until golden on top. Slice and serve immediately.
Recipe Notes
There are many more tips and details in my blog post.
See my homemade pizza dough and my homemade pesto sauce.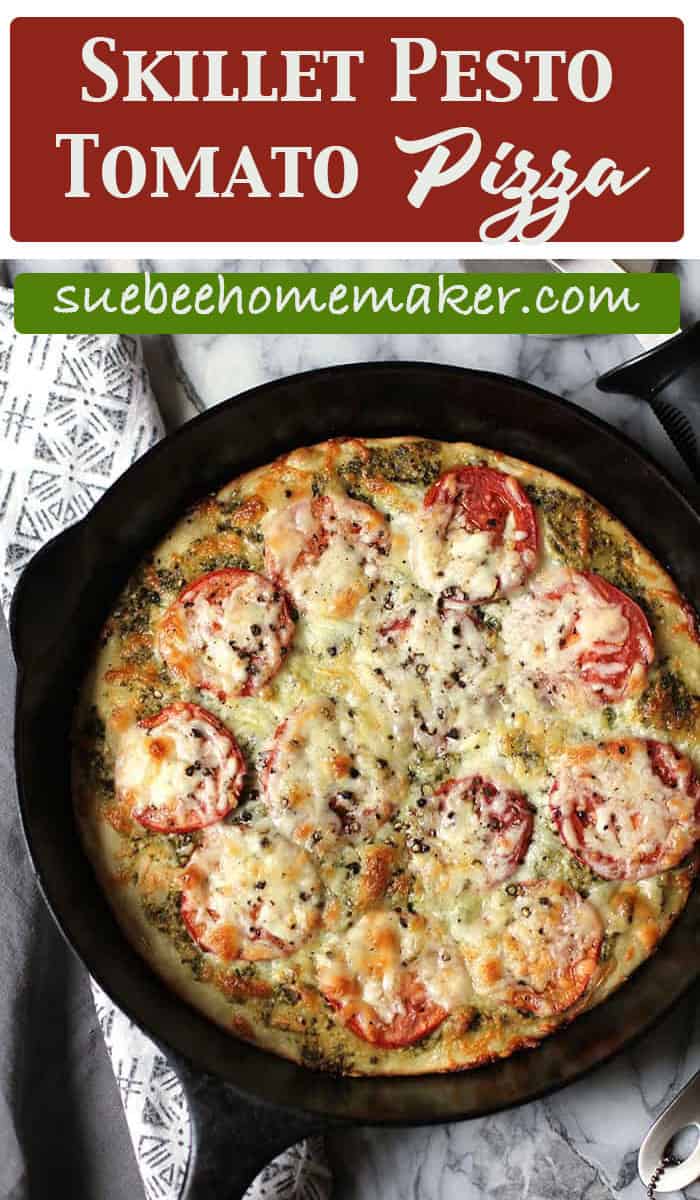 SHARE THIS POST TO YOUR FRIENDS: