Italian Hearts of Palm Salad – fresh and vibrant and full of greens, cherry tomatoes, cucumber, red onion, black olives, hearts of palm, and a red wine vinaigrette!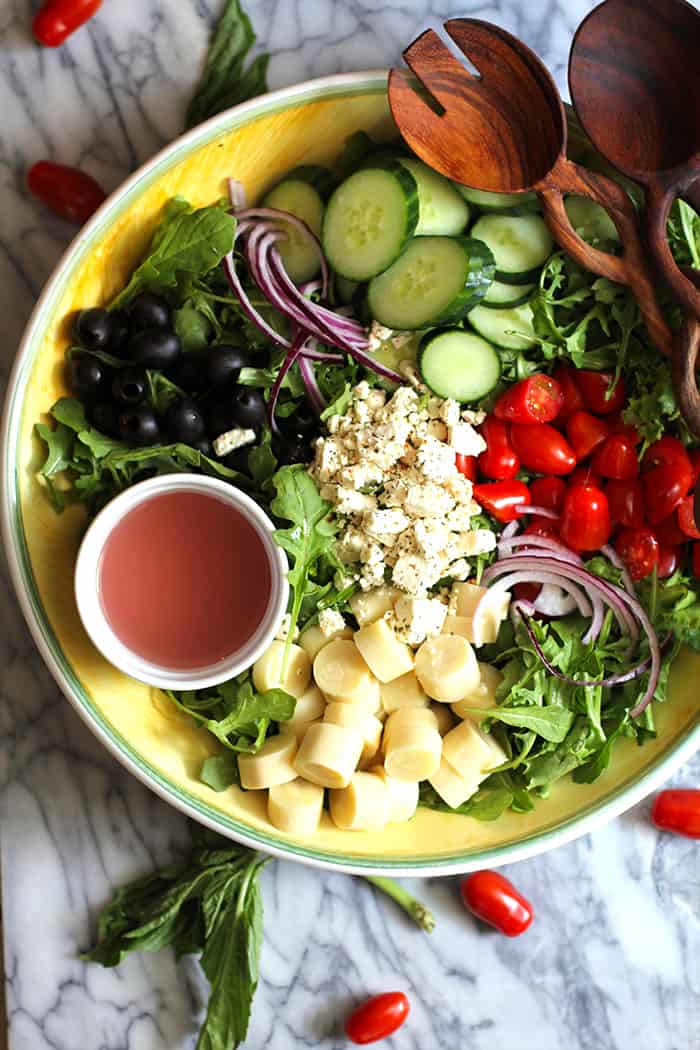 You know what I love most about this salad? The COLOR! It screams summer to me and who doesn't love summer? Even though it's super hot here in Texas during the summer months, summer will always be filled with happy memories for me. Memories of my youth when my family spent some of our best times at Lake Okoboji in Iowa. Memories of swimming and playing outside. More recent summer memories include watching our oldest son play baseball, and pool parties with the boys and their friends.
swimming
boating
biking
grilling
baseball
Ahhhh, summer!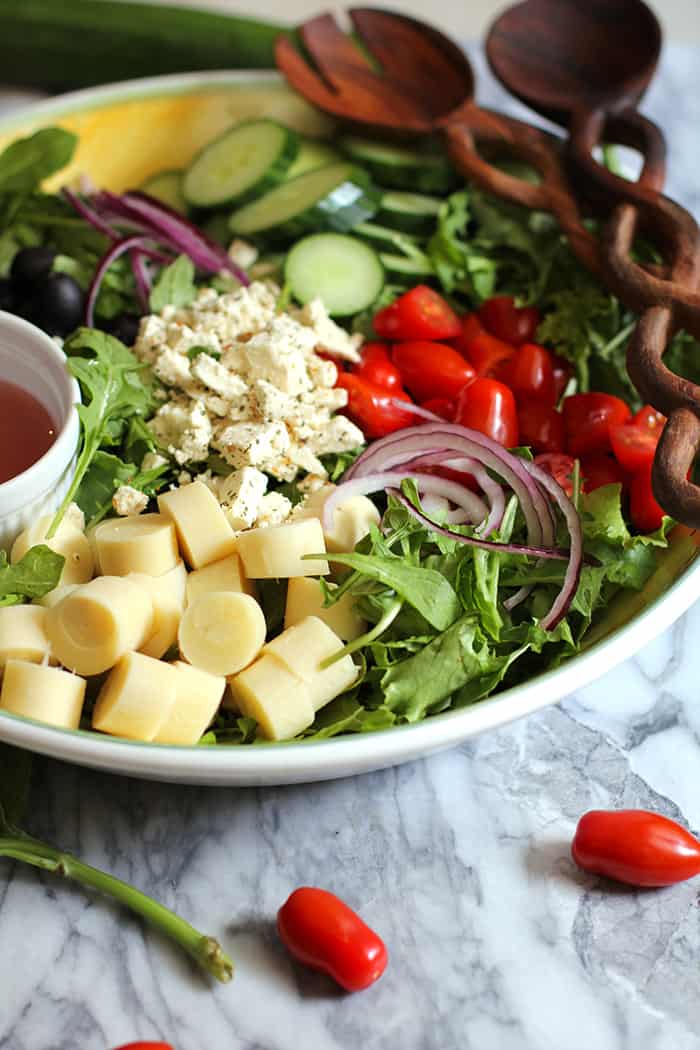 The other thing I love about Italian Hearts of Palm Salad is the TASTE! Oh yes. There is that.
Do you see that baby arugula below? It's my new obsession. I love the peppery taste it gives to salads, and if you haven't tried it, DO!
The hearts of palm are the main feature in this salad. They are a crunchy vegetable that are harvested from the center of the cabbage palm tree. The taste resembles an asparagus/artichoke combination. It's kind of hard to describe but they really add something special to a fresh salad.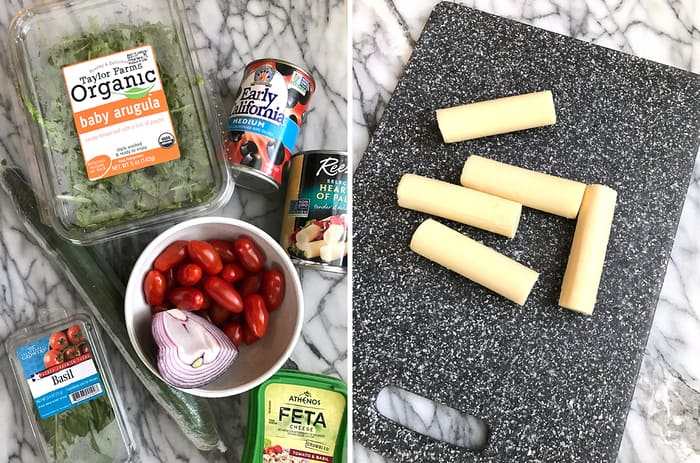 The red wine vinaigrette dressing takes the taste of this Italian Salad to a new level. Oh hey, and it's PINK! It's also tangy and slightly sweet, thanks to the honey in it. Homemade salad dressings are totally the way to go, especially when you have a couple of these salad dressing shakers
. You can whip up just enough for dinner (and leftovers), and not clutter up your fridge with bottles of dressing that end up expiring.
BTW, there is one serving left from dinner last night and it's got my name on it for lunch today. Oh happy day!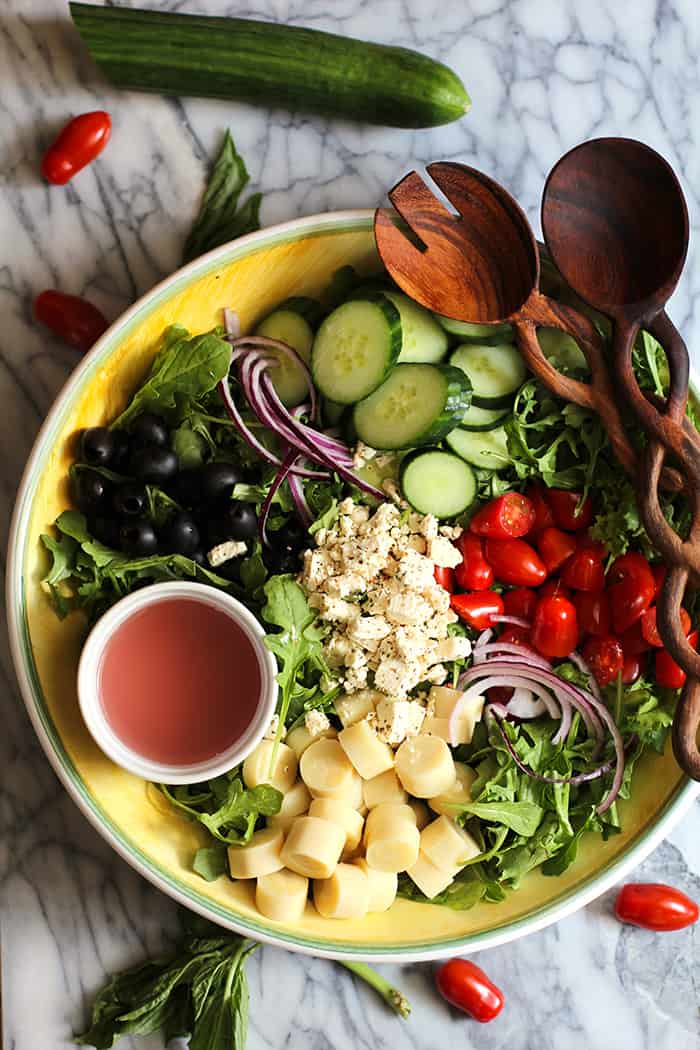 Please let me know in the comment section below if you make this Italian Hearts of Palm Salad, or any of my recipes! I love to hear from my readers. You can also tag me on social media! I'm on Facebook, Twitter, Pinterest, Instagram, Bloglovin', and Yummly. 🙂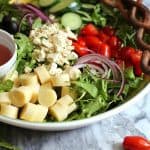 Italian Hearts of Palm Salad
A fresh and vibrant Italian salad, full of greens, cherry tomatoes, cucumber, red onion, black olives, hearts of palm, and a red wine vinaigrette!
Ingredients
For the salad:
10-12

cups

lettuce greens

- I used arugula and green lettuce leafs

1

cup

cherry tomatoes

- sliced in half

1/2

whole

English cucumber

- sliced

1/4

cup

red onion

- thinly sliced

1

cup

feta cheese

- crumbled

1/2

cup

black olives

- drained

15 oz.

can

hearts of palm

- drained and sliced

basil leaves

- for topping
For the red wine vinaigrette:
2

Tablespoons

red wine vinegar

6

Tablespoons

olive oil

1

Tablespoon

honey

salt and pepper

- to taste
Instructions
Arrange salad ingredients in large bowl.

Prepare dressing by mixing the vinegar, olive oil, honey, and salt and pepper. Poor over salad to serve.

SHARE THIS POST TO YOUR FRIENDS: