We are almost to the New Year and I'm in limbo between Christmas over-indulging and detox mode. It's a love/hate relationship. I love to splurge over the holidays, but then I hate detoxing.
Actually, I don't do detox mode. Nope. Never. All those crazy juice fasts and diets are exactly that. CRAZY.
I believe in "everything in moderation." If you have tons of weight to lose or just 5-10 pounds, you still need moderation. Be good MOST of the time. Eat tons of fruit and vegetables, lean proteins, and exercise five days a week. Have a splurge meal on the weekend and even a cookie. But don't go on one of those crazy diets.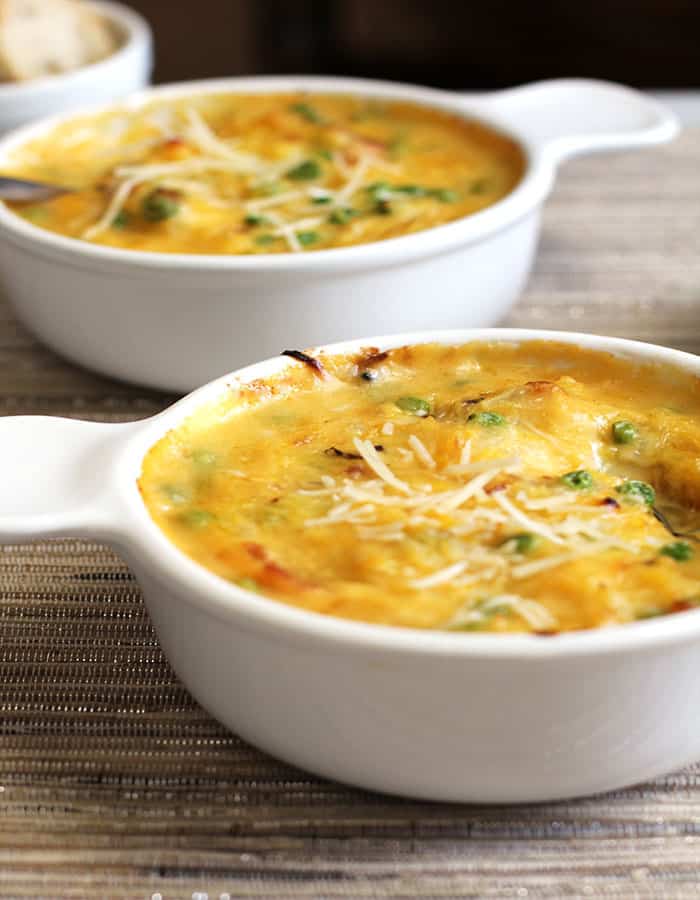 This Spaghetti Squash and Cheese is a perfect example of moderation. It's not butter and carb laden like the cheesy potatoes and mac and cheese we all ate at Christmas time. But it has a moderate amount of fat and calories in it. It is pretty healthy AND it tastes good great. This version has peas and bacon in it. I've also made it with spinach, ham, and broccoli.
My family loves this dish. In fact, we sometimes fight over the last helping. For real. But I always let my men win because I love that they love spaghetti squash. I use it often as a substitute for pasta and we've grown to favor it.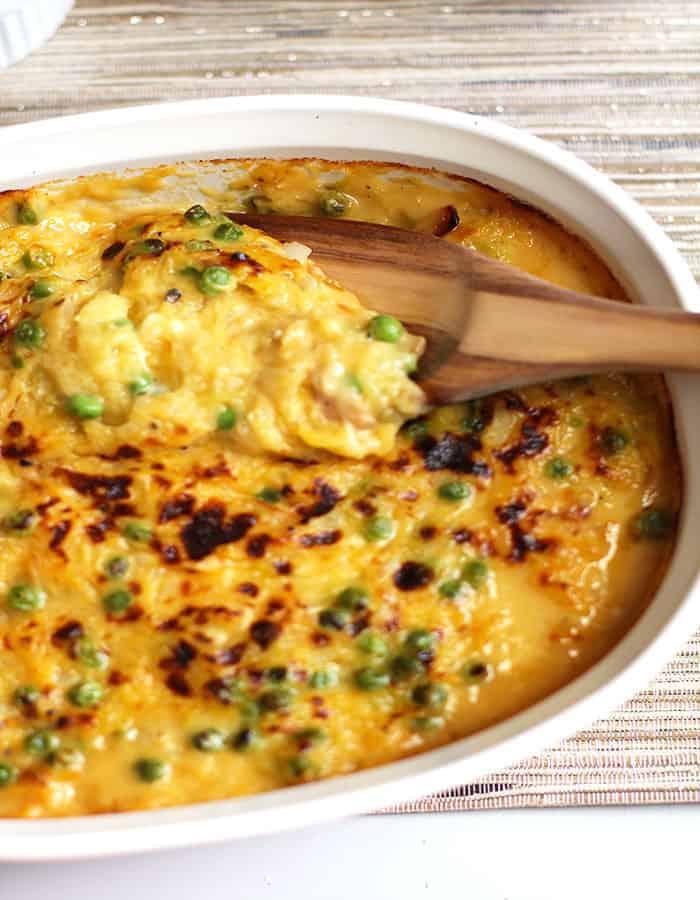 You can definitely make this Spaghetti Squash and Cheese lighter than the recipe states. Here are a few ideas.
Use half the butter.
Try a lower fat cheese.
Skip the bacon.
Use skim milk instead of 1%.
If you've never made a spaghetti squash, it's easy and SO dang good. Just cut a large squash in eight chunks and spoon out the seeds. Then drizzle with olive oil and sprinkle with kosher salt and freshly ground pepper. Bake on 400 degrees for 45 minutes or more, or until it is fork tender. Cool slightly and then use a fork to comb out the strands of spaghetti squash.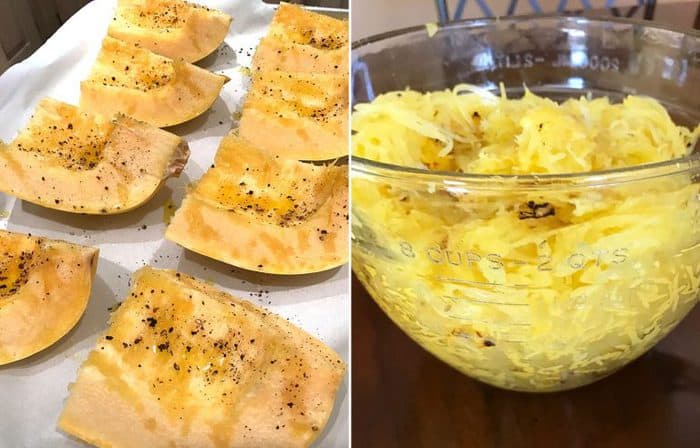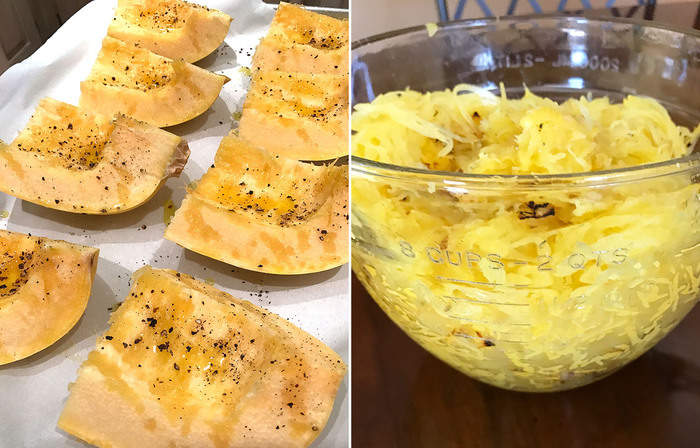 I'm pretty excited to share some of my other healthy recipes that I love to make throughout the year, including several other recipes with spaghetti squash. Believe me, the cookie baking needs to slow down. It's fun for awhile, but after a point, I start to crave anything green.
Green salad. Green beans. Green peas. Gimme some GREEN!
Oh. But first we have a birthday. A BIG birthday. 🙂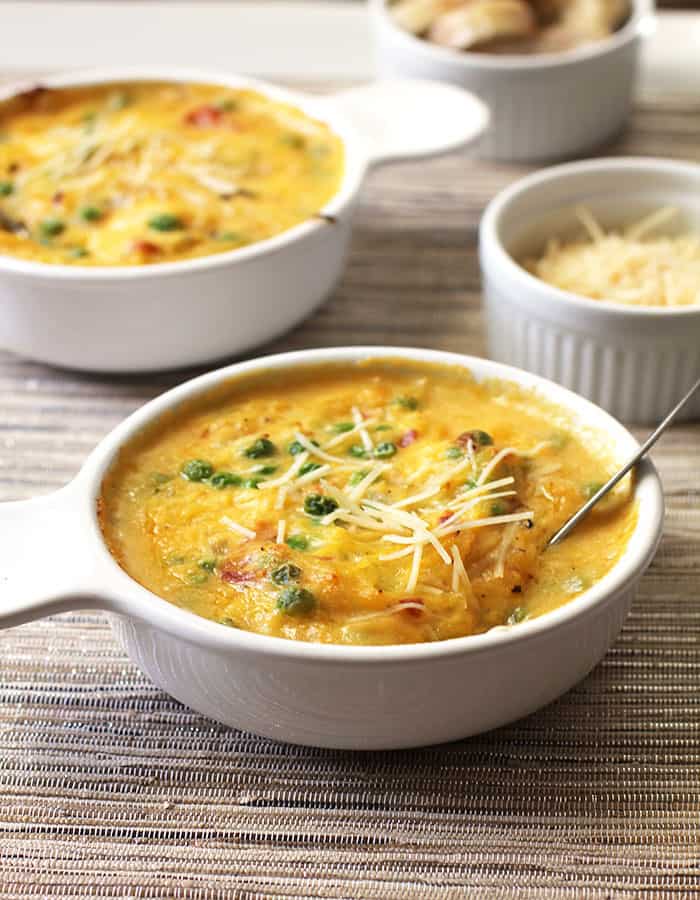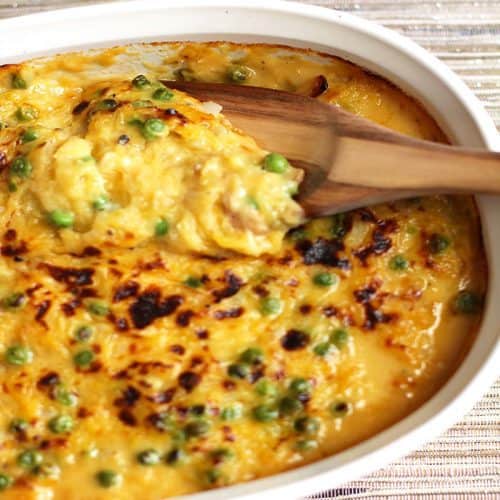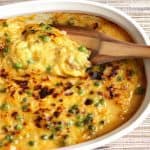 Spaghetti Squash and Cheese
a healthier version of mac-n-cheese, made with spaghetti squash, and peas and bacon
Ingredients
1

large

spaghetti squash

or about 8-10 cups

3

Tablespoons

olive oil

3

Tablespoons

unsalted butter

1/2

large

onion

diced

2

cloves

garlic

minced

1/4

cup

flour

1 1/2

cups

chicken broth

1 1/2

cups

1% milk

8

oz.

shredded sharp cheddar cheese

1/2

cup

shredded parmesan cheese

10

oz.

frozen peas

8

slices

pre-cooked bacon

diced

kosher salt and pepper

to taste
Instructions
Preheat oven to 400 degrees. Cut the spaghetti squash in eight pieces and remove seeds. Arrange on baking sheet lined with parchment paper and drizzle with olive oil, kosher salt and freshly ground pepper.

Bake until tender, approximately 45-50 minutes. Let cool slightly, and then "comb" the strands out of the peel with a fork. Set spaghetti squash aside.

Heat a large saucepan over medium heat. Add butter and when melted, add diced onion. Sauté for 5-6 minutes or until soft. Add garlic and stir for another minute.

Stir in flour and combine, stirring constantly for a few minutes. Then turn heat up slightly and add chicken broth and milk. Continue whisking until the mixture becomes thick, approximately 10 minutes. Add salt and pepper to taste.

Remove pan from the heat and add cheddar cheese and parmesan cheese. Stir until melted.

Add frozen peas, bacon, and spaghetti squash and mix together. Pour all into a greased baking dish. Bake uncovered until golden brown, approximately 30 minutes. Serve immediately.
Did you make this recipe?
Tag @suebeehomemaker on Instagram and hashtag it #suebeehomemaker