Grilled Cedar Plank Salmon
This post may contain affiliate links which won't change your price but will share a commission.
Grilled Cedar Plank Salmon cooked on an outdoor grill is one of the tastiest ways to enjoy this omega-3 rich fish. The spice rub is an easy combo of salt, pepper, red pepper flakes, garlic powder, and paprika, and pairs perfectly with the smoky flavor from the cedar planks!
Salmon is a go-to here because it's healthy and cooks so fast! When we're not grilling, we love to make it indoors. Our Baked Asian Salmon in Foil and Blackened Salmon Burgers with Avocado Crema are also easy to make. I recently shared my Blackened Salmon Tacos as well!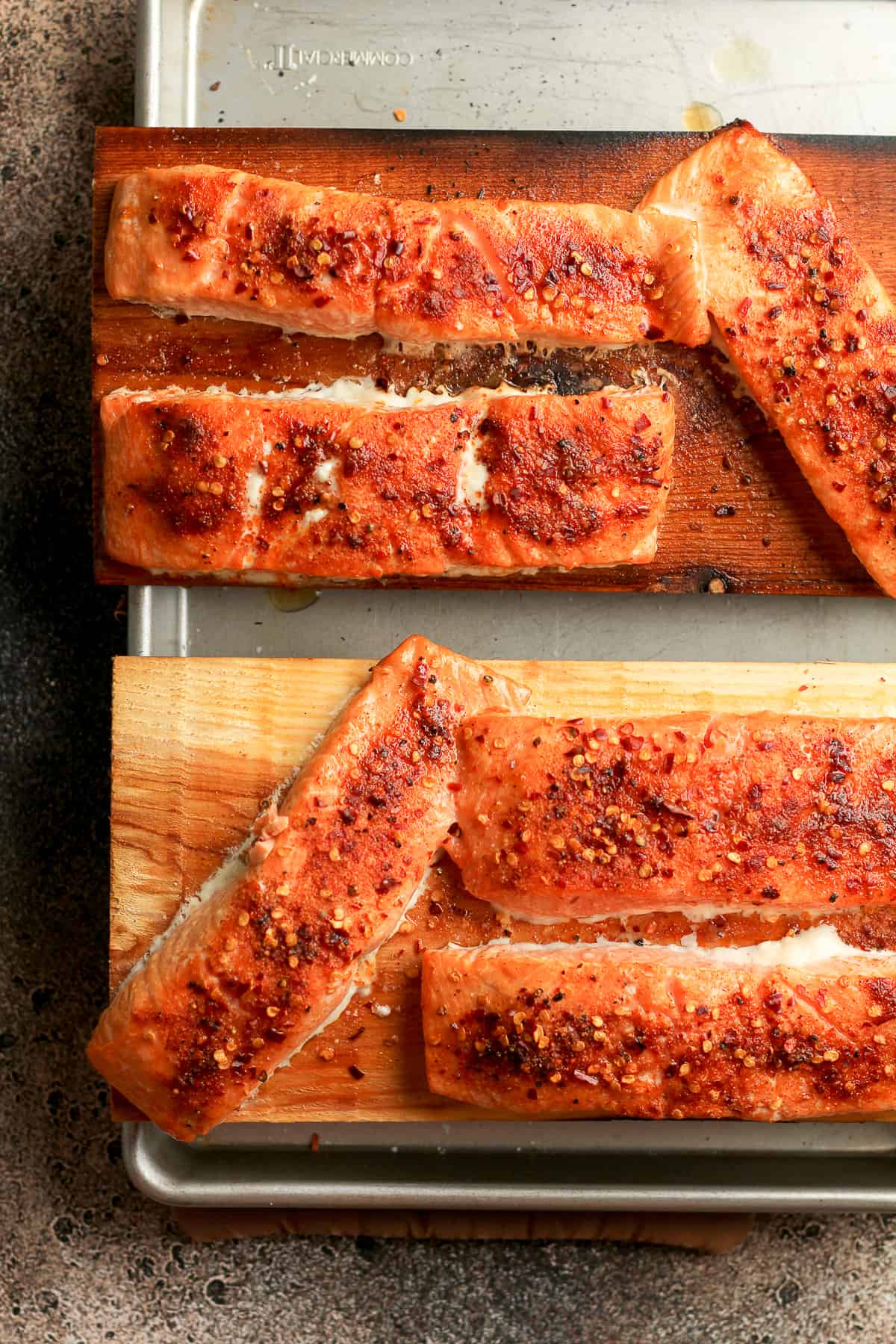 Big Green Egg Cedar Plank Salmon
We are salmon lovers, and since it is on the healthy list, I try to make it at least every other week. During our kitchen remodel, Mike and I ate it EVERY week, because the grill was one of our main cooking resources (along with the instant pot that I used in the hall bath). 😀
I was first introduced to Cedar Grilling Planks while visiting my sister and fam in Colorado. They made the BEST cedar plank salmon for our large extended family during one of our many trips to visit them. Jackie and Craig really know how to entertain, (the beautiful mountains also help!) and they prove that easy is usually best. THIS recipe is exactly that…easy.
We also love grilling this on our Big Green Egg, as it provides amazing taste. We love to throw on a few smoked chips as well to give it a smoky flavor. Really nothing better! If you are shopping for a grill, I highly recommend the BGE!
How to use leftover salmon?
I've got THE perfect solution to this question. Make my Salmon Quinoa Salad STAT! It's healthy and a delicious way to use leftovers.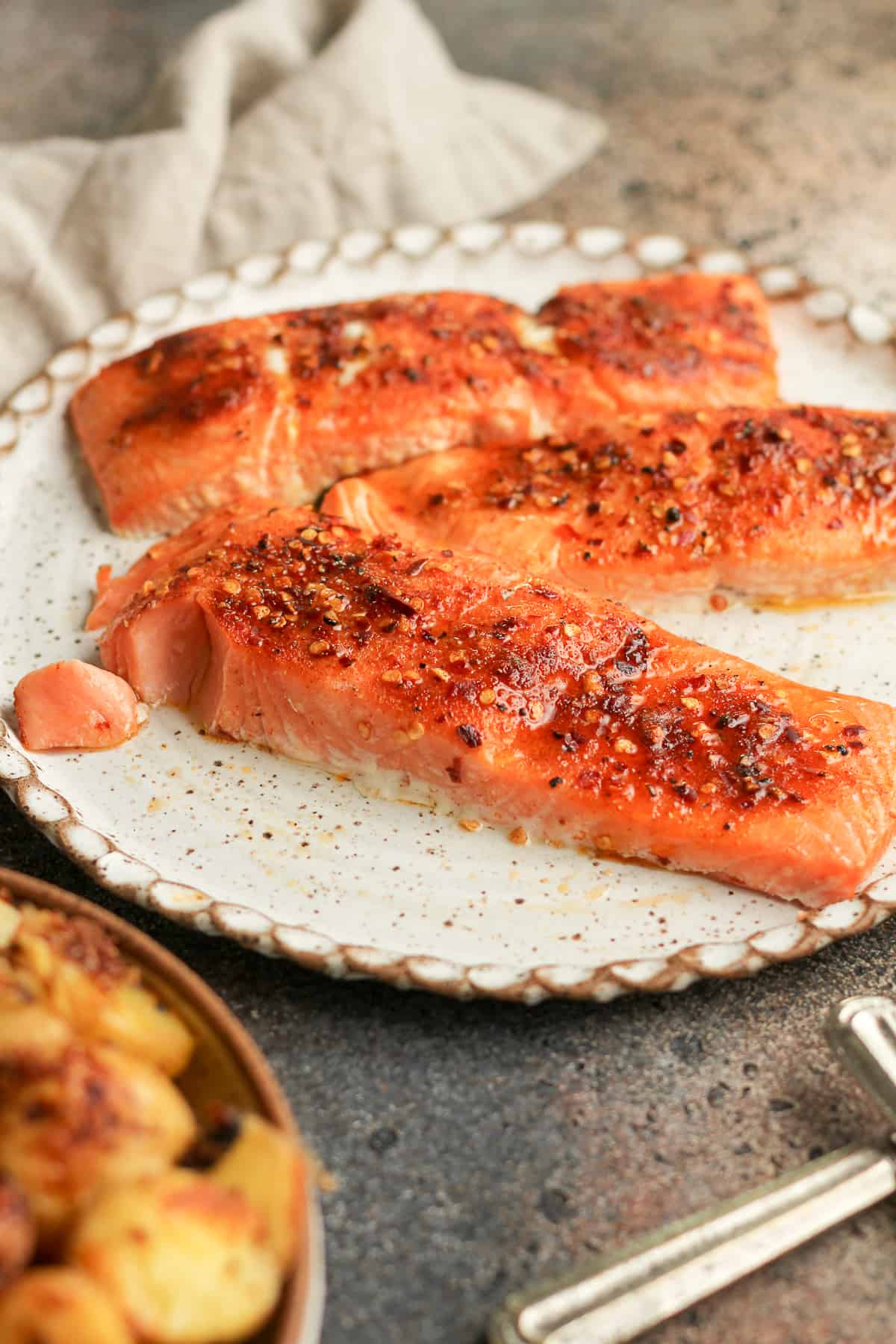 How to prepare cedar grilling planks:
I buy my cedar grilling planks on Amazon, and this one comes as a 12-pack. It's very important to prepare the planks.
Prep in advance. Several hours before meal time, take out the amount of planks needed for the amount of salmon you are cooking. I pretty much always use two of them for our family.
Soak in cold water. Fill your sink, or a bucket, with cold water. Place the planks inside, making sure they are fully immersed in water. Make sure they are not sticking together. You may have to use some sort of a weight (like a jar or other kitchen item) to keep them from floating to the top.
Don't skimp. Let them soak in water for at least 3-4 hours before using. Don't rush it. Trust me on this.
Pat dry. Pat them dry when ready to use on your grill. You'll want to use some paper towels to rid the cedar planks of excess moisture.
Add oil. Brush the smooth side with oil before placing the salmon on top. This is important to make sure the salmon doesn't stick to the planks when grilling.
We recently had a minor emergency situation while making cedar plank salmon. I didn't listen to my own instructions when soaking the planks, and they started on FIRE while cooking on our BGE. Mike was there for the rescue operation, and was able to get the fire out before the salmon was ruined. WHEW. My guy really is a super hero!
Moral of the story. Make sure you soak the planks for AT LEAST 3-4 hours, and don't let them stick together during that time. Lesson learned!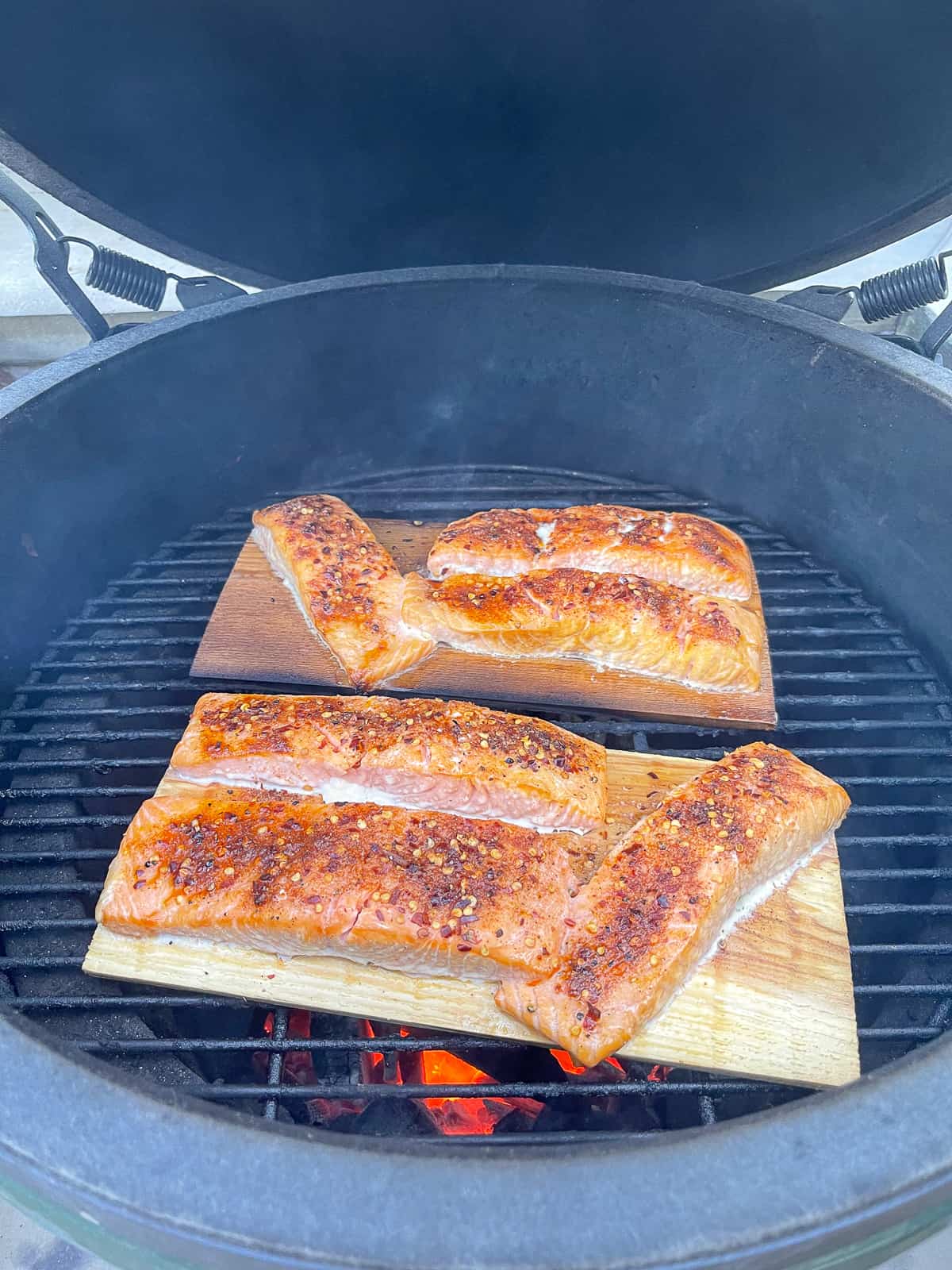 Grilled Cedar Plank Salmon Ingredients:
The spice rub is just a simple mixture of five ingredients. You most likely already have them in your pantry!
kosher salt
freshly ground black pepper
red pepper flakes
garlic powder
paprika
Plus about two pounds of salmon (preferably with skin on). Plus olive oil, for coating the salmon.
How to make Cedar Plank Salmon:
Step 1
Soak the planks. Several hours before grilling salmon, soak the cedar planks in cold water, making sure that they are fully submerged. Try to make sure they don't stick together in the water. Soak the planks for at least 3-4 hours.
Step 2
Prepare planks. After the allotted time, remove planks from the water, and pat dry. Brush a little olive oil over the smooth side of the planks, and place on a baking sheet to take outside.
Step 3
Prepare grill. Preheat outdoor grill to 450 – 500 degrees. We also like to include some wood chips in our BGE.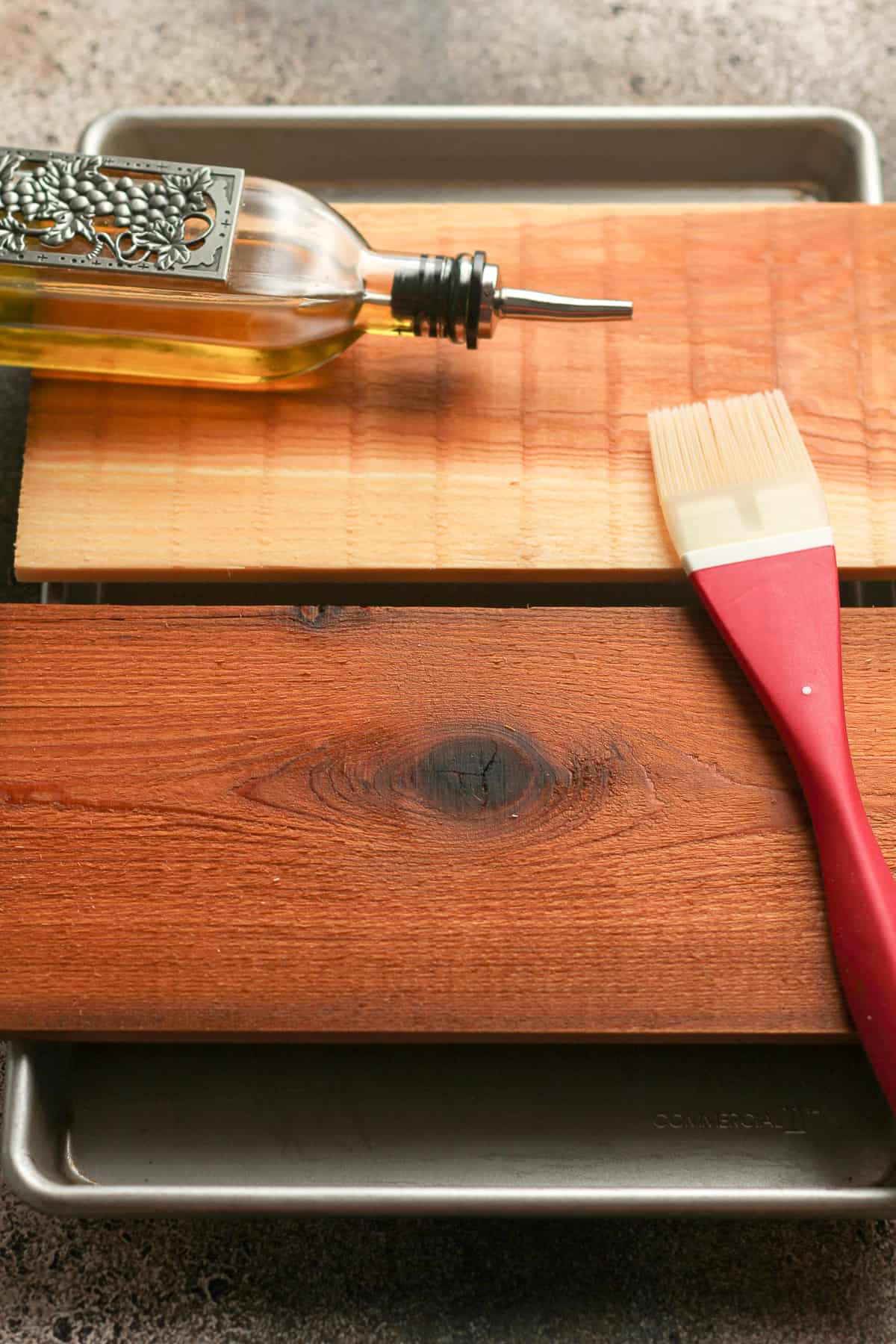 Step 4
Prep the salmon. Place salmon on the planks in whatever direction works best, or cut your salmon to fit. Brush the salmon with a thin layer of olive oil.
Step 5
Add spices. Mix spice rub together in a small bowl. Using your fingers, sprinkle the rub over the top of the salmon. Massage it in a bit with your hands.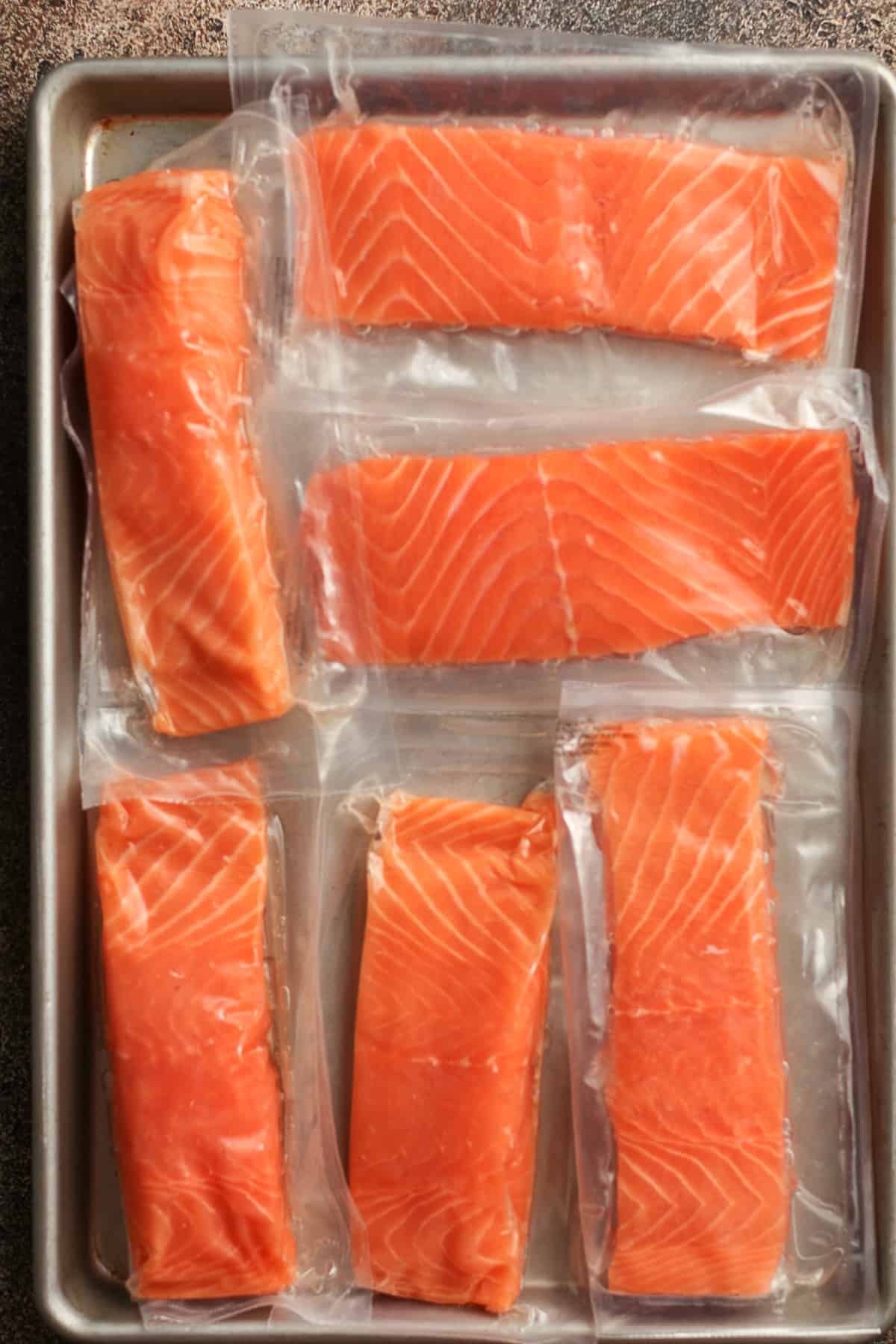 Step 6
Grill the salmon. When your grill has reached the correct temperature, place cedar planks on the grates and close lid. Check the salmon for doneness after about 10 minutes.
When it flakes easily with a fork, it's done. You may need additional time depending on the thickness of your salmon and/or the heat of your grill.
Step 7
Serve. Remove planks from your grill. Let salmon sit for about five minutes before serving.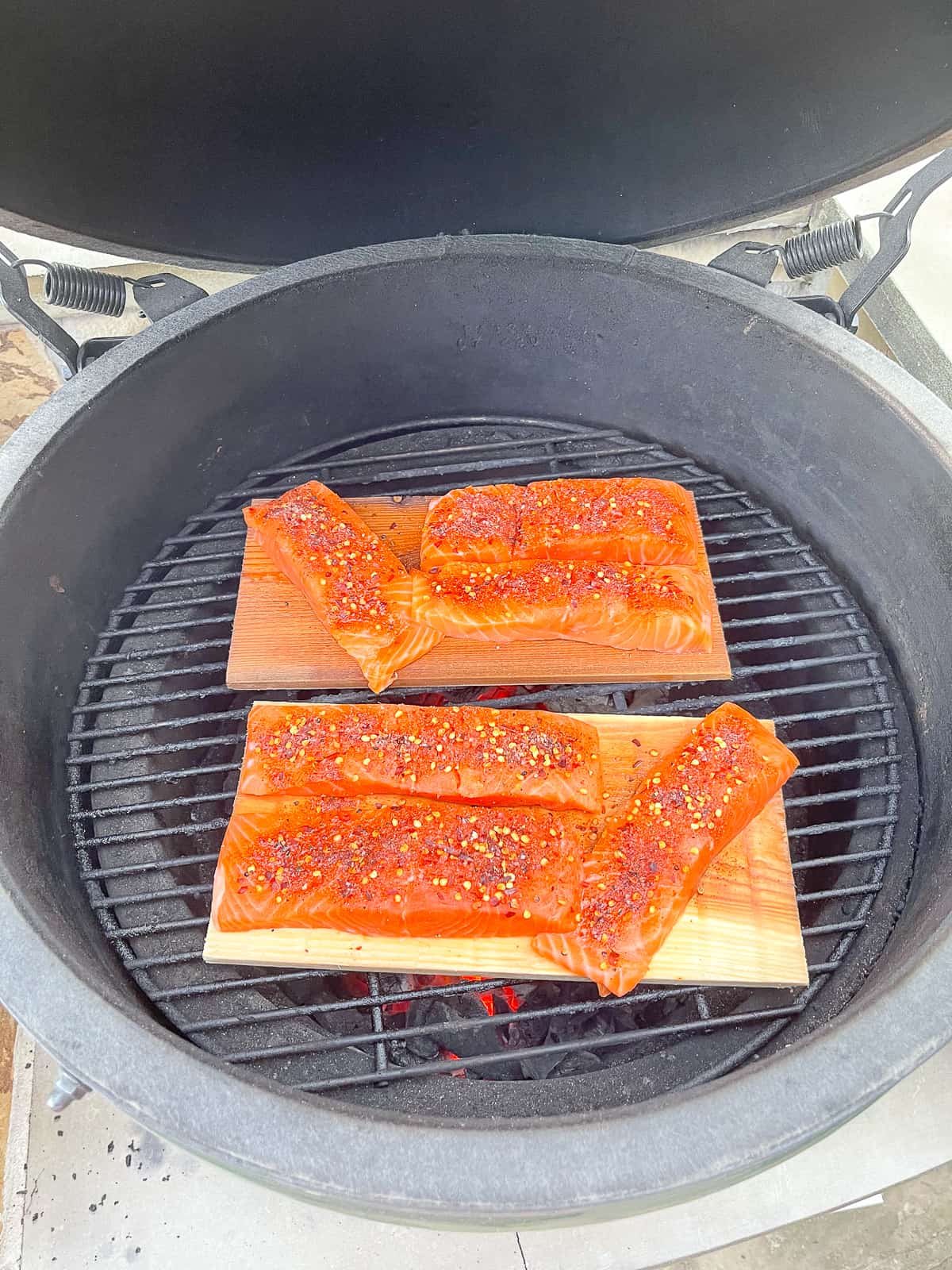 What to serve with Salmon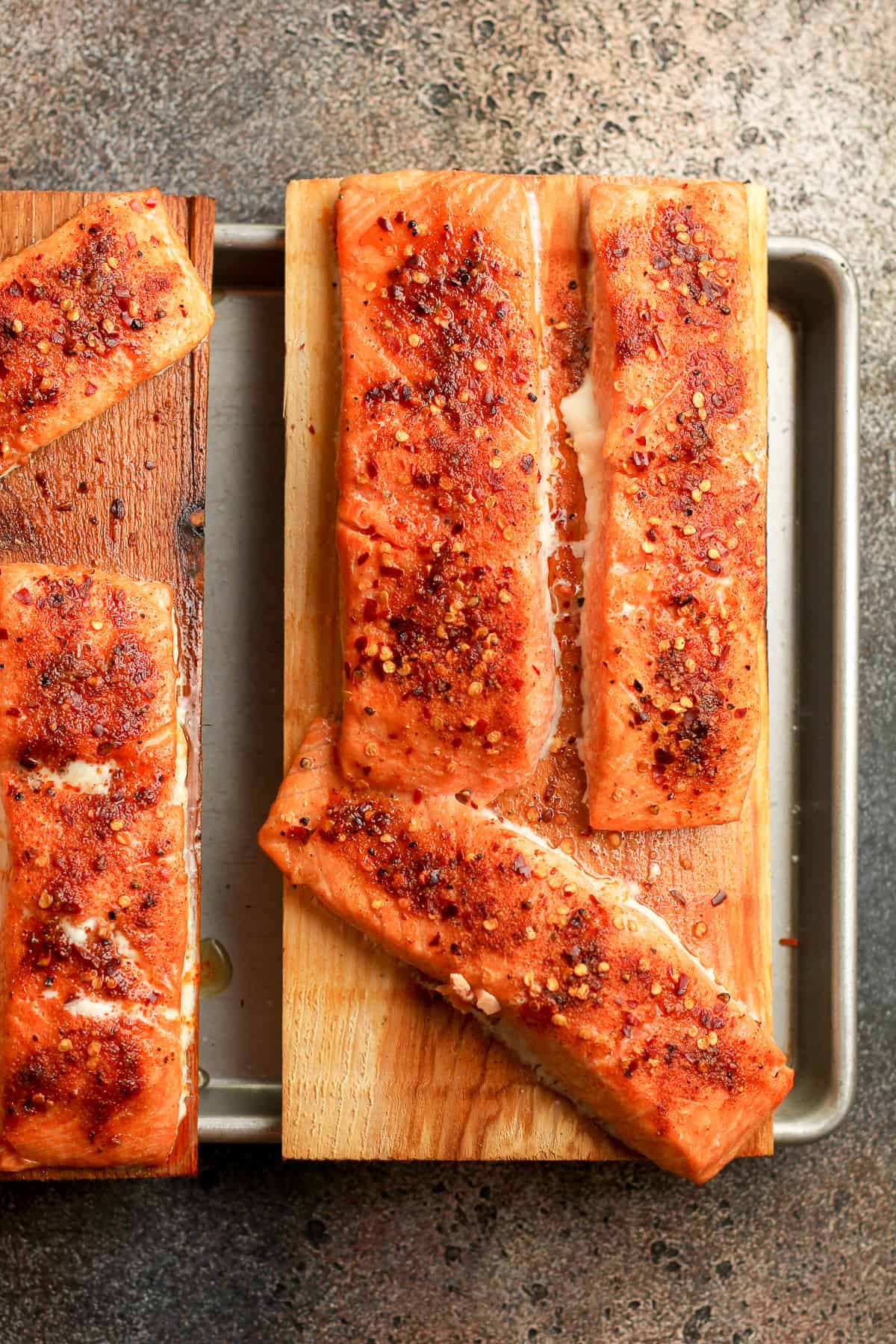 Which varieties of salmon are available to buy?
There are many types of salmon available to buy in the U.S., including: Atlantic, Chinook, Chum, Coho, Pink, and Sockeye Salmon. All but the Atlantic salmon are harvested from wild fisheries in the Pacific Ocean, while the Atlantic salmon is primarily farm raised.
What is the best type of salmon to eat?
Wild-caught Pacific salmon are typically considered to be the healthiest salmon to eat. Both are fine to eat, but you should understand the differences in how they are raised and decide what is best for you.
According to livestrong.com, wild salmon swim between freshwater and the open ocean, consuming a varied diet of zooplankton and smaller fish. Farmed salmon are raised in pens and fed fishmeal, fish oil, and other protein-rich foods. While both types are rich in omega-3 fatty acids (which are healthy unsaturated fats), farmed varieties typically have larger amounts of unhealthy saturated fats over their counterparts.
We have just recently started to buy Pacific salmon instead of farmed versions, and are surprised to find that they are still very tasty. In fact, we are starting to prefer it.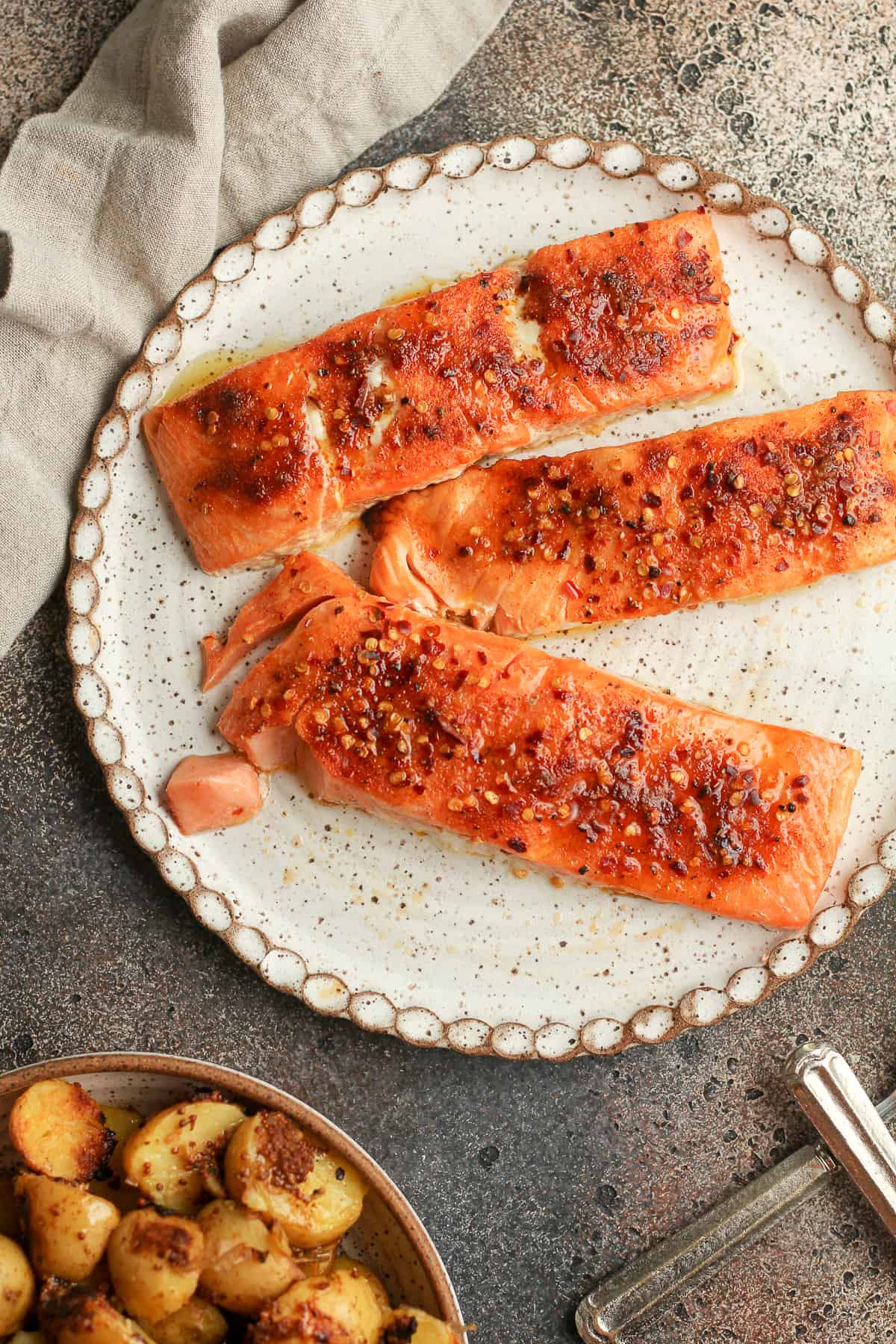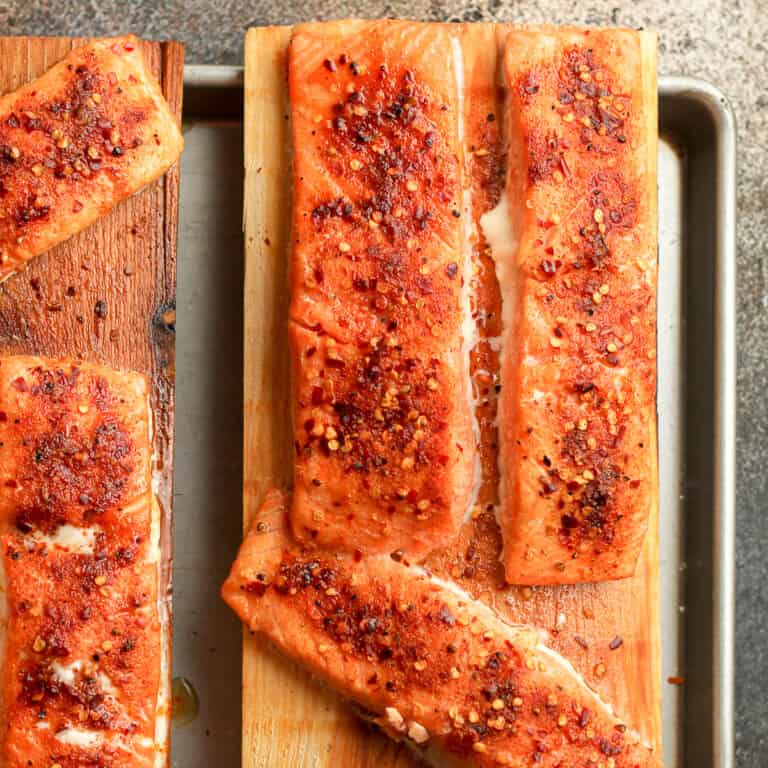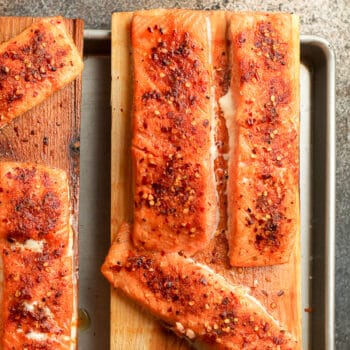 Grilled Cedar Plank Salmon
Grilled Cedar Plank Salmon cooked on an outdoor grill is one of the tastiest ways to enjoy this omega-3 rich fish. The spice rub is an easy combo of salt, pepper, red pepper flakes, garlic powder, and paprika, and pairs perfectly with the smoky flavor from the cedar planks!
Print
Pin
Rate
Ingredients
2

pounds

salmon

– skin on, preferred

2

Tablespoons

olive oil

1

teaspoon

kosher salt

1

teaspoon

freshly ground black pepper

1

teaspoon

red pepper flakes

1/2

teaspoon

garlic powder

1/2

teaspoon

paprika

you will need 2 cedar planks
Instructions
Soak the cedar planks in cold water for several hours (or at least 3-4 hours) prior to using. Make sure they are fully submersed, and not sticking together.

Preheat an outdoor grill to about 450-500 degrees. Mix up the seasoning, by combining the salt, pepper, red pepper flakes, garlic powder, and paprika.

Dry off the cedar planks, and place on baking sheet, with SMOOTH side up. Brush a little bit of olive oil on the planks, lay salmon on top, and then brush some more olive oil on the salmon.

Liberally sprinkle the seasoning mix on top of the salmon.

Place cedar planks on a hot grill. Close lid, and check salmon after 10 minutes. Salmon should flake easily, using a fork. If it's not done, close lid, and check about every two minutes. The time to cook will vary based on your grill, and the thickness of the salmon.
Nutrition
Calories:
259
kcal
|
Protein:
30
g
|
Fat:
14
g
|
Saturated Fat:
2
g
|
Cholesterol:
83
mg
|
Sodium:
459
mg
|
Potassium:
747
mg
|
Vitamin A:
240
IU
|
Calcium:
18
mg
|
Iron:
1.3
mg