Fresh blueberries, freshly squeezed limes, good quality tequila and orange liqueur, and plenty of ice – make up this super simple, belly-slimming, party cocktail! No need for added sugar with all the fresh and quality ingredients for my Blueberry Lime Margaritas!! Party on. 🙂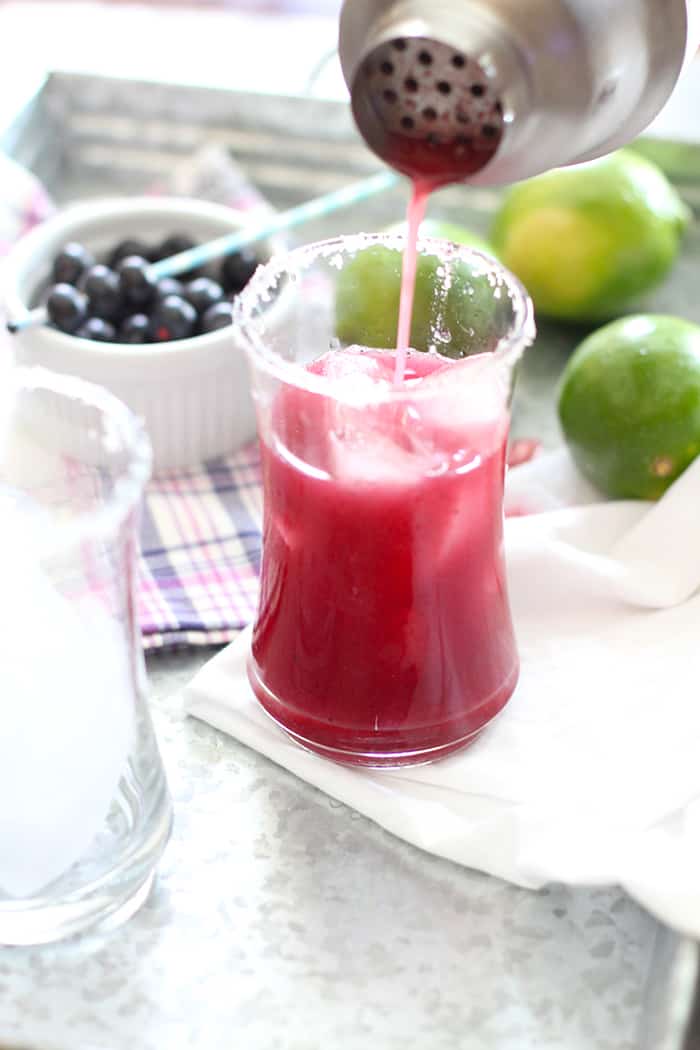 Part Two of my Memorial Day Weekend menu has arrived! If you didn't get a glimpse of part one, you should totally get the ingredients for my Chilled Black Bean Dip too, because it's super 1) easy 2) healthy, and 3) cheap to throw together!
Before I talk about the ingredients for my Blueberry Lime Margaritas, I need to mention the tools you will need on hand to make these cocktails.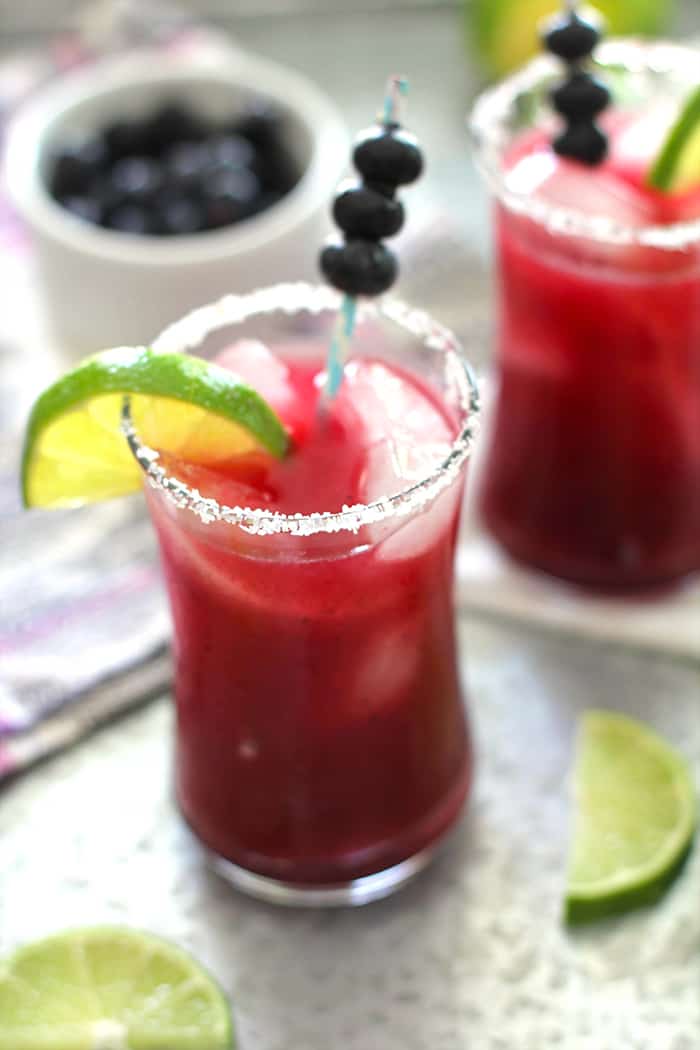 You can see below the ingredients I used for my margaritas. Make sure you buy good quality liquor, or you'll pay later in the form of a headache. Oh, and don't drink too many either – unless you want MORE than a headache! 🙂
Fresh blueberries give these cocktails that really fresh summer flavor. BUT, you must strain out the pulp (and discard it). It takes a little bit of patience, but isn't hard at all. You just pour some of the puree into a fine mesh strainer, and push down with a spoon so that the juice gets separated out into a jar.
When I made these, I prepared in advance and put everything in the refrigerator ahead of time so I had super cold ingredients. I even measured out the liqueur and got that good and cold too, as well as the glasses I used for serving.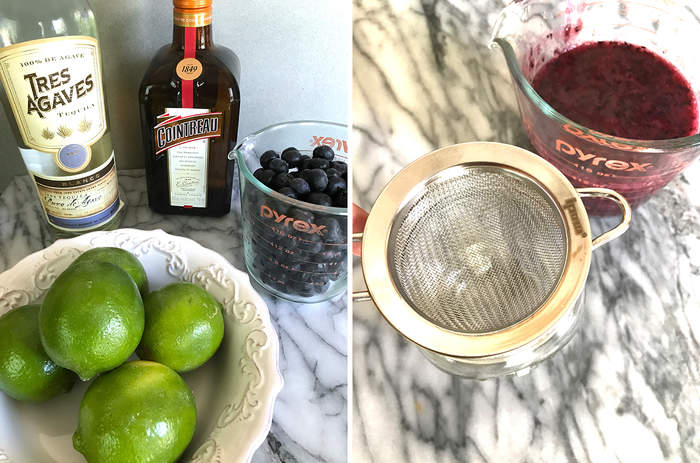 I love long weekends. Especially when I have my chores done ahead of time. Well, I still need to grocery shop (AGAIN), but the house is clean (for a minute) and the laundry is done (for a minute). Wait. I guess I'll have plenty of chores to do. Life. 🙂
Do you ever feel like you are in constant motion? I do. So I'll dream about the next get-away, to NOT having to do grocery shopping, house cleaning, and laundry. Maybe a white sandy beach and a good book. And one two of these Blueberry Lime Margaritas.
Cheers, friends! 🙂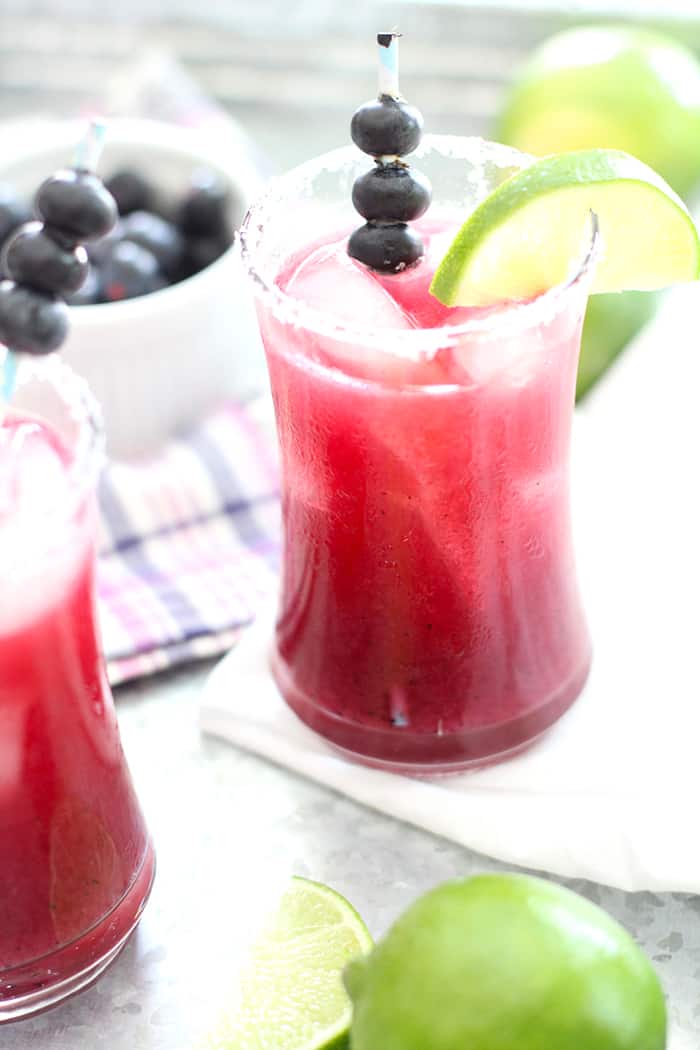 Please let me know if you try these Blueberry Lime Margaritas, and how you like them (or not)! You can stay up to date with SueBee Homemaker by signing up for post updates (top right-hand corner of my blog) or liking my Facebook Page. I'm also sharing tidbits of my life on Instagram. 🙂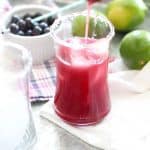 Blueberry Lime Margaritas
Ingredients
2

cups

blueberries

6

oz.

freshly squeezed lime juice

8

oz.

tequila

- use good quality

4

oz.

orange liqueur

- use good quality

lime wedges

- for serving

kosher salt

- for rim of glasses
Instructions
Prepare 4 small (or 2 large) margarita glasses by rubbing lime along the rims and dipping them in a bowl of kosher salt. Fill glasses with plenty of ice.

Using a blender, puree blueberries with about two ounces of lime juice. Strain out the juice through a fine-mesh strainer, and discard the pulp.

Fill a cocktail shaker with ice. Add half of the tequila, orange liqueur, blueberry juice, and remaining lime juice - and shake vigorously.

Pour into two margarita glasses and garnish with lime. Repeat for remaining two glasses, and serve.

SHARE THIS POST TO YOUR FRIENDS: