This post may contain affiliate links which won't change your price but will share a commission.
My blog is TWO today – and if we're doing math, that means I'm 52 today as well. It's been quite the year, a rollercoaster of sorts, and I'll share a little of the good and the little of the hard. I've learned SO much, about the world of blogging, and mostly, I've learned a ton about myself.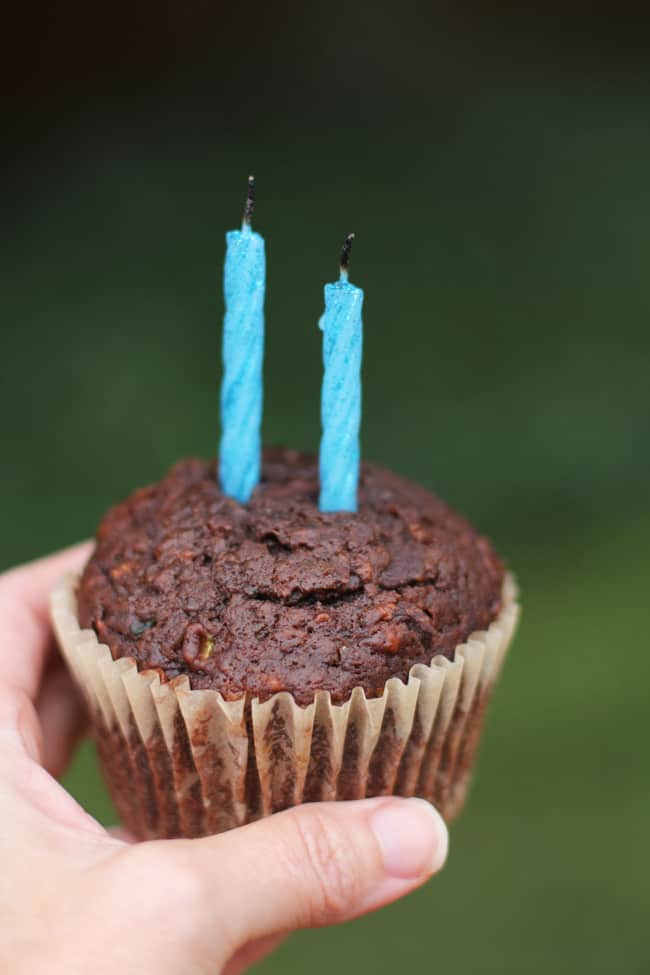 What I've learned.
About blogging. The world of blogging is pretty crazy and amazing and frustrating all at the same time. This year has been a year of growth for me. I've learned a crazy amount, and I still have so far to go. My ideas are abundant, but there is so much that is involved in creating a good recipe, and even more to share it in a meaningful and helpful way. I'm still learning every day, and hope to inspire others on this journey.
About myself. My year has been an ongoing journey. I've struggled greatly with chronic pain this year, (and for over half of my life), but I've realized that I'm still building MY story. Don't get me wrong, sometimes pain gets the best of me. But it hasn't stopped me from going forward with my blog and enriching my relationships. I'm focusing on what I CAN do, and less on what I can't. The compassion I've seen from my three boys (and from so many others) is nothing short of amazing, and for that, I'm beyond thankful.
The Blog.
As I continue to create and share new recipes with you, I can't help but to look at the stats and notice what y'all enjoy eating AND drinking!
My momma's Chewy French Bread continues to lead the pack of ALL recipes. That makes me pretty happy, and if she only knew how she has impacted so many. She'd be proud, as I am of her.
From the looks of it, all you really need is one good main course, three healthy sides, and a big helping of homemade ice cream. Yes, that's YOU. Throw the pork shoulder in the oven all day, get the veggies going, and talk the kids into churning something sweet. I like it. I like it A LOT!
Boozy Cocktails…y'all like your beverages! Three of them made the list, and I'm in love with all of them. Cool and refreshing, and oh so pretty.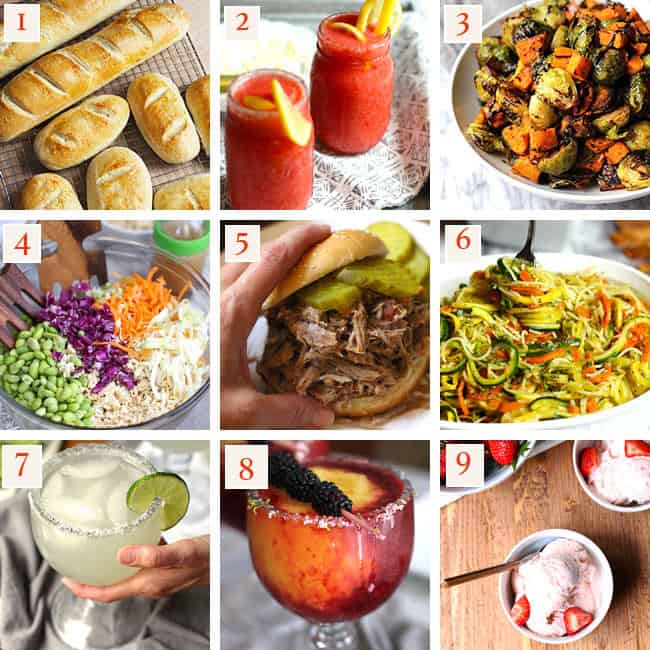 Here are my top nine recipes for year two!
A couple of other nerdy stats for my fellow geeks.
My blog has grown in views by 350% over last year!
In terms of geography, the U.S. makes up about 83% of my audience, while Canada holds about 7.5%, the UK and Australia at almost 2% each, and the remaining 5.5% spread among the remaining countries.
Age-wise, the 25-34 range is my largest audience (hello Gen Y!), followed by 35-44, and then 55-64. My range gets skipped in order, go figure. 😀
As I guessed, women log in about 83% of the time, while men do about 17%. Women ROCK! But ok ok, men do too. 🙂
Want to know what I make most at my home? (None of these are in my top nine!)
Mike is a huge fan of my Peanut Butter Power Balls and my Cinnamon Nut Granola, so I make sure we NEVER run out of these. NEVER.
We make daily smoothies at home almost year-long. It all started with my Orange Julius Smoothies and has continued to so many other varieties.
Our passion for seafood has prompted two of our favs, specifically my Skillet Blackened Tilapia and my Baked Asian Salmon in Foil. So dang good every time! I even keep a large batch of the blackening seasoning in a mason jar.
We've always made a ton of chicken, so my Grilled Chicken Burrito Bowls are a no-brainer. The marinade has its own recipe now, because we use it for steak too, and make it often.
For soups, it's a huge toss-up between my Creamy Wild Rice Soup and my Chicken Tortilla Soup. I LOVE soup season and am constantly whipping up a huge pot of something hearty and filling.
We also roast a ton of veggies, and my current go-to is my Roasted Brussels Sprouts with Bacon. You shave the Brussels sprouts very thin, and then mix it with a small amount of crispy bacon. Perfection.
Lastly, my Creamy Mushroom Risotto is a clear fav. I personally think it's a show stopper, which is great for when company is over for dinner.
Looks like I almost skipped the SWEETS! I'm currently in pumpkin mode, but I'm also a scone girl. My Maple Oat Pecan Scones are Mike's favorite and Zach prefers my Petite Vanilla Bean Scones. I love them both!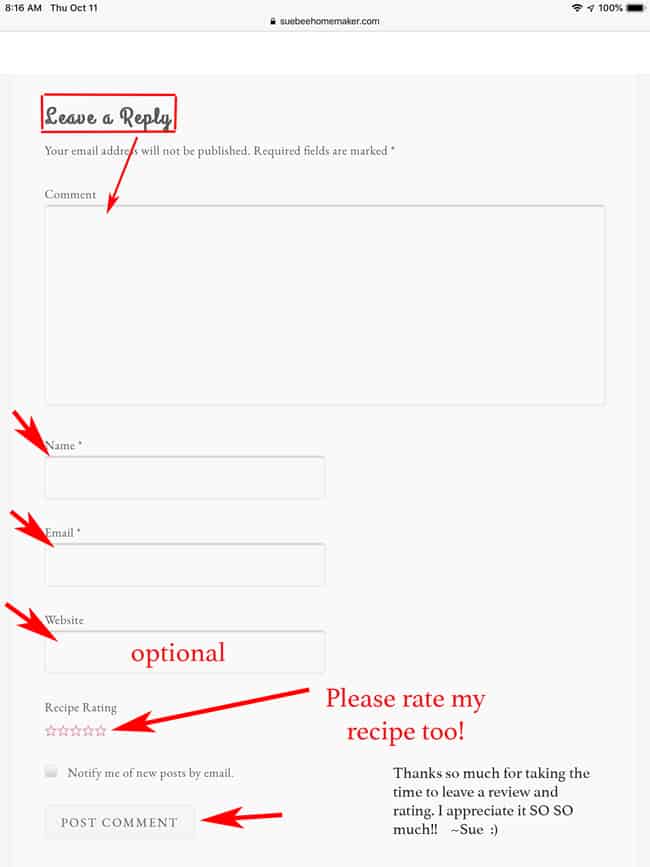 Can we chat?
Blogging can be a lonely gig, and while I love it most of the time, I'd love it more if we could chat. If you don't mind, and if you've ever made one of my recipes (or even tasted it), could you scroll down to the bottom of that post and give me a review? Please? And then I'll comment back. We can chat.
I'd love your feedback. What do you enjoy most about my blog? Do you have any suggestions, changes, additions, etc.? What kinds of recipes are you looking for? More cocktails? 😀 Healthy dishes? Pumpkin anyone?
And lastly, I want to thank you.
Thank you, each and every one of you, who have ever googled a recipe at suebeehomemaker.com, signed up for my email updates, or followed me on Pinterest, Instagram, Facebook, etc. Thanks for sharing my blog with your friends and family, co-workers, church acquaintances, and neighbors.
It is my goal to connect with all of you while sharing with you all the comforts of a home-cooked meal. Food is more than nourishment. It paves a way to gather with those you love and to share good conversations around your table. It is my hope that you build relationships through food.
xoxo ~Sue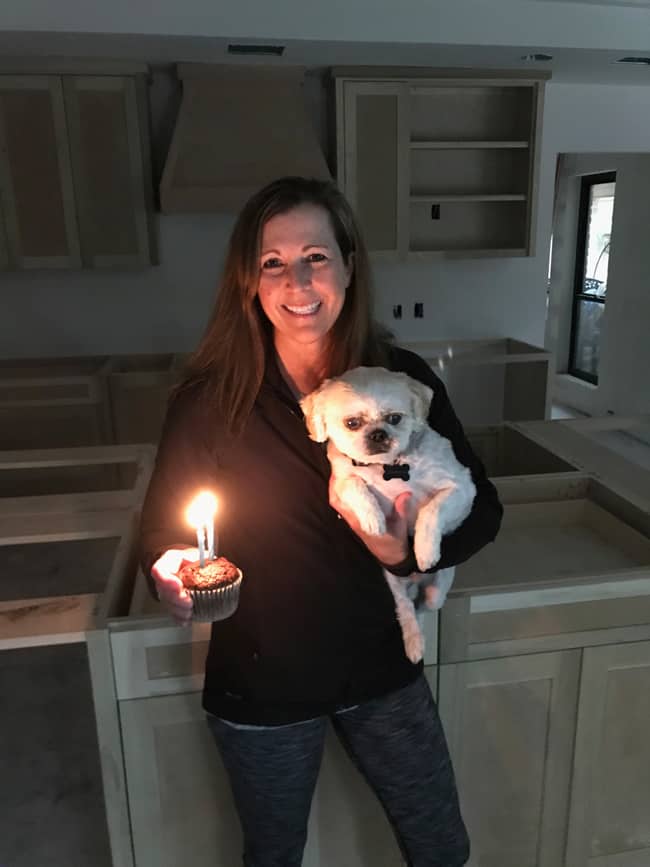 P.S. Remodel Update! As many of you know, our kitchen and family room are getting a major facelift. Demo started in early September, and we now have a new ceiling in the kitchen, beautiful new cabinets and beams in both rooms, booth seating in our kitchen nook, and so many other little things. It's exciting to watch it all happen, and we are beyond ready to move out of the little man cave we are calling our office, TV room, and kitchen. Lots more work is ahead, but it's going to be so amazing. I'll share all of it with you in the upcoming months.