Homemade Strawberry Ice Cream is creamy, fresh, and delicious! Heavy whipping cream, milk, pasteurized eggs, sugar, and vanilla are all you need to make the best tasting ice cream at home.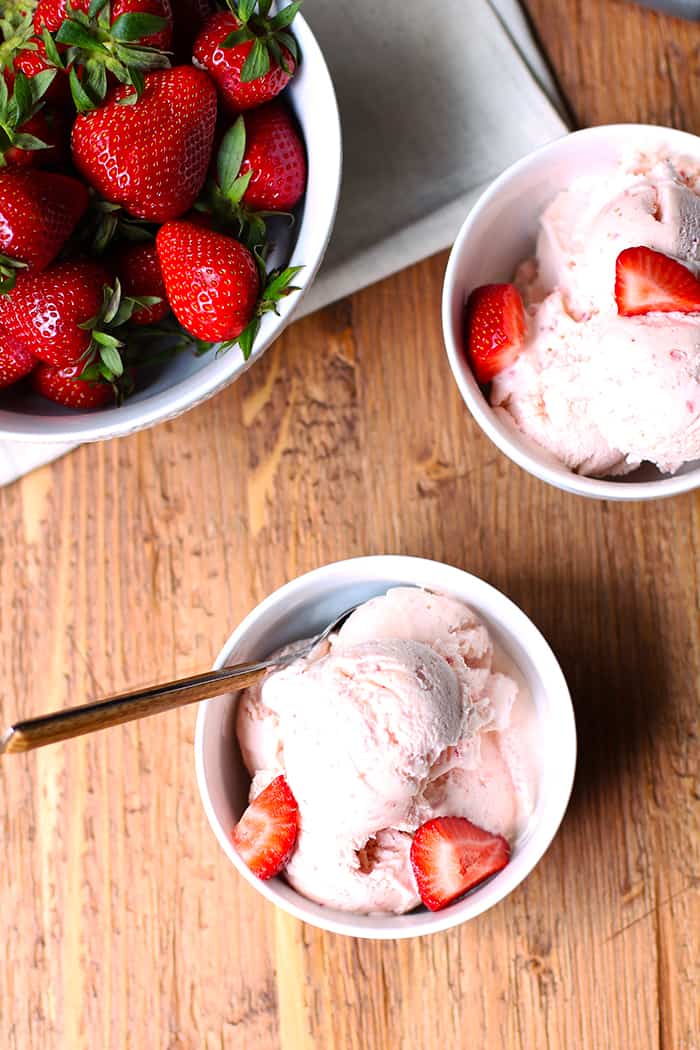 ** I've recently made another strawberry ice cream version, called Very Berry Strawberry Ice Cream. It's another great ice cream recipe!
_____
A flashback to my childhood. It's Saturday night. Mom's making homemade pizza. Dad's making homemade ice cream. And Donnie and Marie are on the tube.
The ice cream maker we used in the old days was a hand crank. Dad made it in the basement, and used snow (during the winter months) instead of ice to make it freeze. I remember running around him while he was cranking, and being utterly excited about the prospect of homemade ice cream, as he was. Dad would rotate between making vanilla and chocolate, vanilla being my favorite and chocolate being his. I have no idea what everyone else liked best. But both flavors were delicious.
Another vivid memory I have is Dad eating his chocolate ice cream WITH saltine crackers. A little strange, if you ask me.
A bite of a cracker, and a bite of ice cream –> repeat 🙂
The strawberries are so good this time of year, as are all fresh berries.
The addition of strawberries to ice cream is easy.
Clean and pat dry the strawberries.
Trim the stem, and dice.
Add sugar and let sit for a couple of hours.
Use blender to puree.
Add to ice cream mix.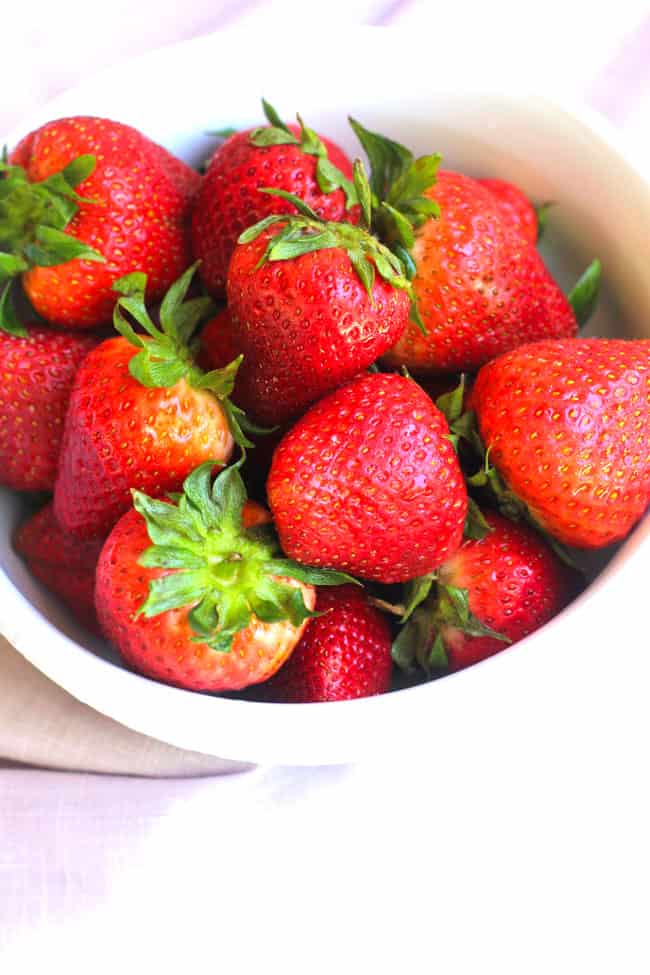 I don't use a hand crank ice cream maker, but instead bought this Nostalgia Electric Ice Cream Maker
on Amazon recently, after our old one died. It's a four quart canister, and works great with this recipe. In fact, Zach made this batch as he is now our official "ice cream maker". 🙂
Here are a few tips to making great homemade ice cream:
Use a combination of heavy cream and milk to get a creamy consistency. Using half and half is also an option, but the leftovers will have an icier texture.
Pasteurized eggs are a must for safe consumption, especially if you or your loved ones have any health conditions. If you can't find them, you'll need to temper your eggs.
Watkins Vanilla is key to get the best ultimate taste. It's hard to describe the difference between Watkins and other off-brands, but I know it's substantial. Use it and you will be glad you did.
If you are using fruit, mix it in with the base BEFORE you start. If using candy or cookies, mix them in AFTER you make the ice cream.
Don't overfill the ice cream canister!! Fill to about 2/3 full so your ice cream has room to expand. If you over-fill it, your ice cream won't freeze and you will be left with a sweet milk.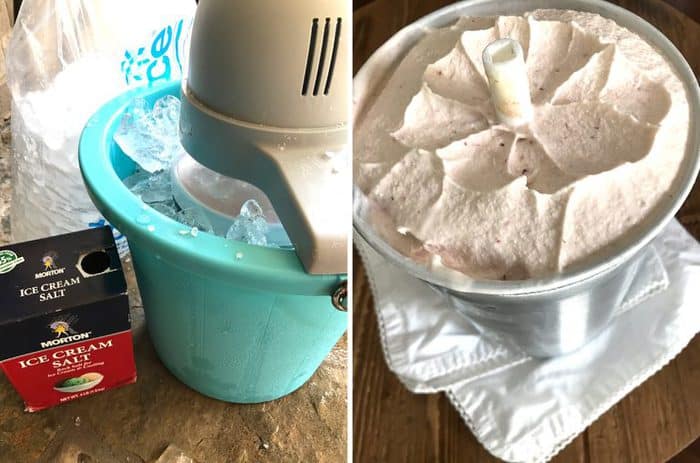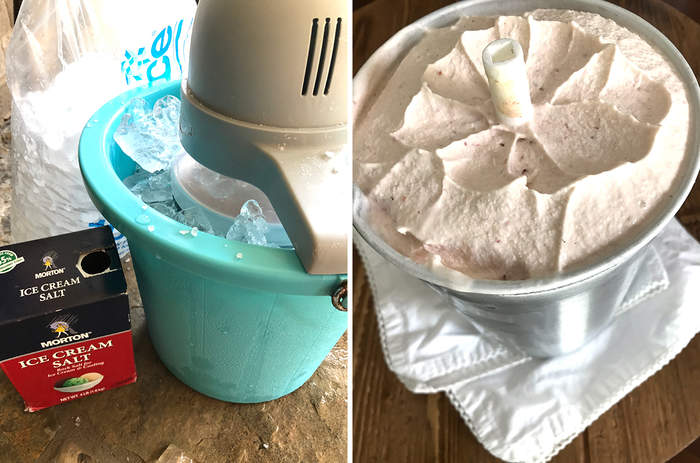 Norma Jean's recipe was different than this one. She used half and half and heavy cream, instead of the milk and heavy cream in this recipe. Both are good, but using milk instead of half and half makes the leftovers better. I'm guessing that back in the day, we didn't have many leftovers after a family of eight devoured large bowls of chocolate or vanilla ice cream. And Dad might have had extra. 🙂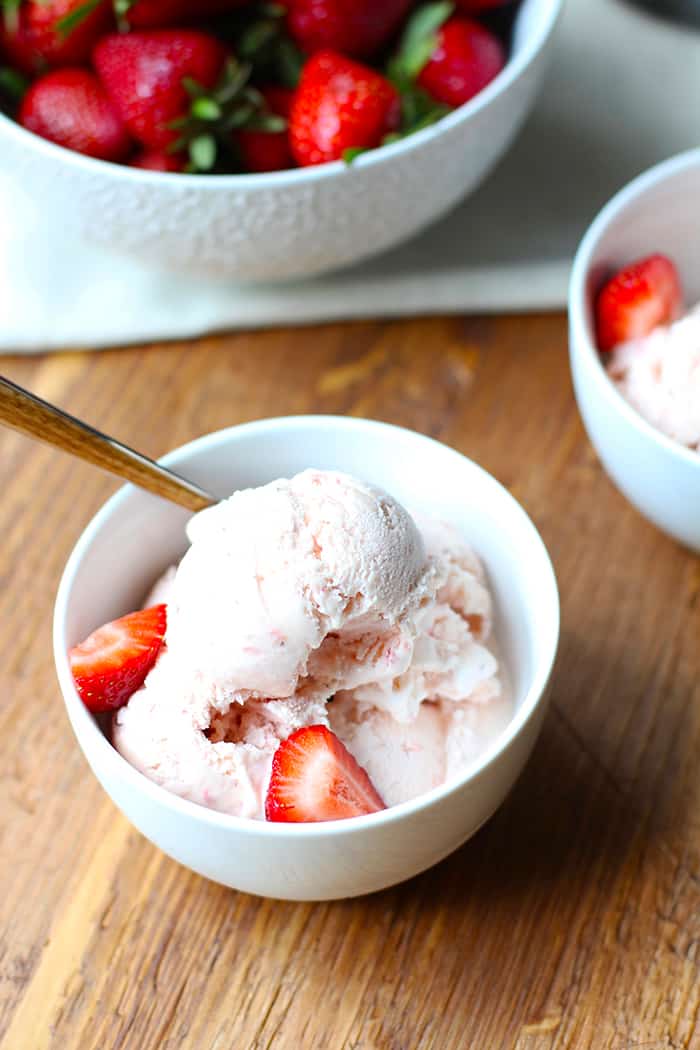 Make this ice cream next: Double Chocolate Ice Cream
You can stay up-to-date with SueBee Homemaker by:
signing up for post updates (top right-hand corner of my blog)
liking my Facebook Page
and following me on Pinterest
I'm also sharing tidbits of my life on Instagram.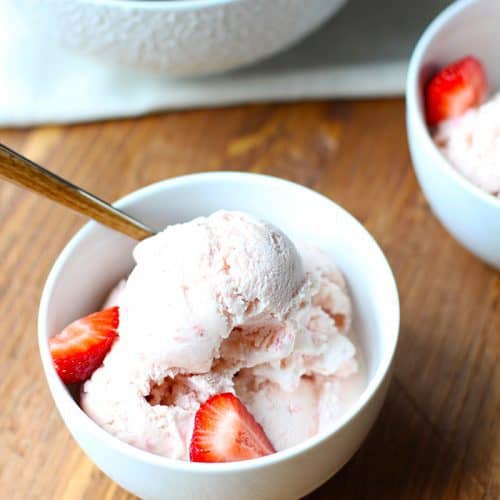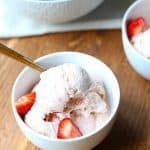 Homemade Strawberry Ice Cream
Heavy whipping cream, milk, pasteurized eggs, sugar, and vanilla are all you need to make the best tasting ice cream at home.
Keyword:
homemade ice cream
Ingredients
4

large

pasteurized eggs

- or one cup of liquid pasteurized eggs

1 1/2

cups

sugar

4

cups

heavy whipping cream

2

cups

milk

- I use 1%

3

Tablespoons

Watkins Vanilla

1 1/4

pounds

fresh strawberries

1/2

cup

sugar

1

box

rock salt (not used in actual ice cream!)

- this is for the ice cream process only - you won't use it all
Instructions
Two hours before (or more) ice cream is prepared, clean and chop fresh strawberries. Add 1/2 cup of sugar to strawberries and store in refrigerator.

After two hours, pour strawberry mixture into blender and puree. Set aside.

Using a large mixing bowl, whip pasteurized eggs and sugar until well blended. Add heavy whipping cream, milk, and Watkins Vanilla. Stir until well combined. Add strawberry mixture and whip again.

Pour into 4-quart canister of ice cream maker. This should fill to about 2/3 - 3/4 full. DON'T OVERFILL or ice cream can't expand!! Place into ice cream maker, and layer ice and rock salt all around canister. Fill all the way to the top of barrel and start.

As ice melts, continue adding more ice and rock salt. When you see ice cream rising to the top of the canister, and ice cream maker starts to slow down, the ice cream should be done. This process may take anywhere from one to two hours. If ice cream is still too soft, continue to churn.

When ice cream is done, pour it into a tupperware container with a lid. Store in freezer.
Recipe Notes
NOTE: Pasteurized eggs are sometimes hard to find, but they are safe to eat in raw form. If you can't find them, you will need to temper your eggs.
Nutrition Facts
Homemade Strawberry Ice Cream
Amount Per Serving
Calories 471
Calories from Fat 288
% Daily Value*
Total Fat 32g 49%
Cholesterol 181mg 60%
Sodium 75mg 3%
Potassium 222mg 6%
Total Carbohydrates 42g 14%
Protein 6g 12%
* Percent Daily Values are based on a 2000 calorie diet.
Did you make this recipe?
Tag @suebeehomemaker on Instagram and hashtag it #suebeehomemaker