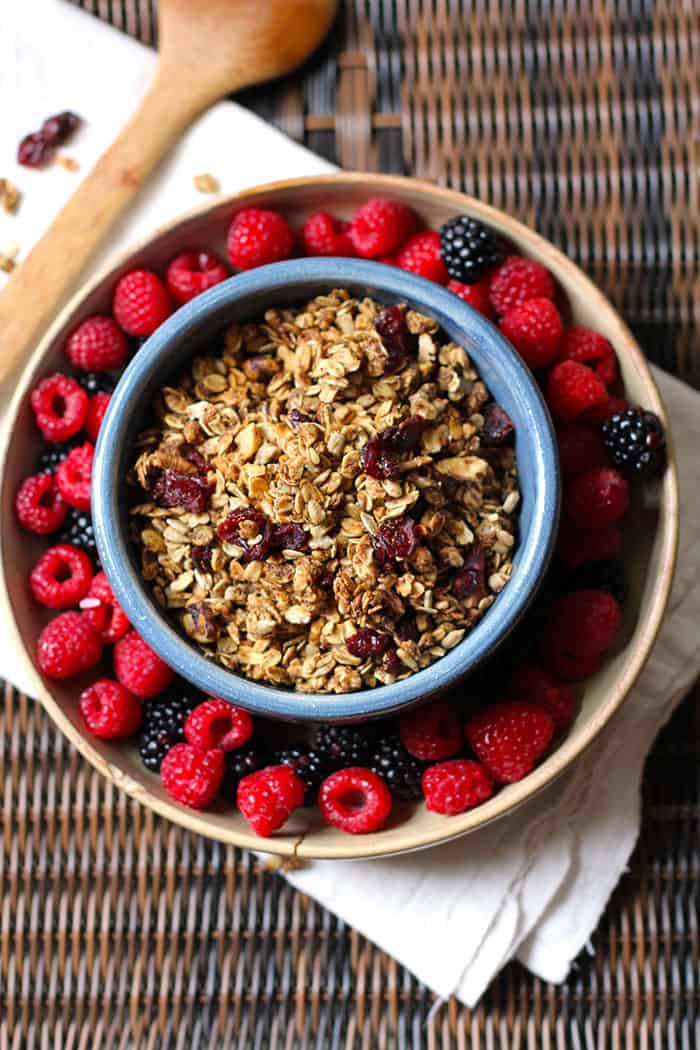 Granola sounds so wholesome and natural. Don't you think? When I hear that word, I think of people who grow their own veggies, dress in recycled clothing, and wear their hair long and straight with little fuss. Natural everything. No nips, tucks, or any other tricks to outward appearance.
Is that a good thing? Well, yes, I think so. Similarly, I want to be aware of what goes in the food that I prepare for my family. I want it to be wholesome and as natural (like my Loaded Veggie Quinoa Salad) as possible. It's the new year and it's time to clean up our eating. No crazy diets or fads here, but just being more intentional. I'm still gonna bake cookies and cupcakes and eat red meat and put butter on my toast and drink coffee with cream. But a bit less of that and more of the healthy. More green, less sugar. More natural fruits, less processed food.
So waaa-laaa…my homemade granola.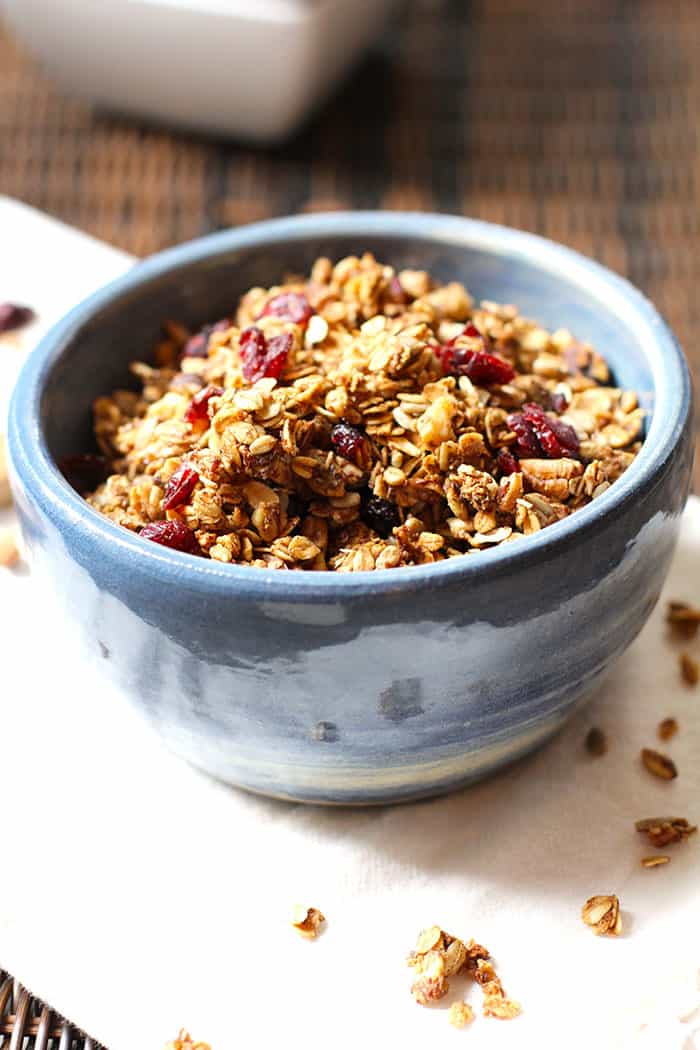 No more packaged granola. This stuff is made with tons of old fashioned oatmeal, pecans, walnuts, pumpkin seeds, sunflower seeds, flax seed, dried cranberries, wheat bran, and cinnamon. Topped with a mixture of honey, oil, maple syrup, vanilla, and applesauce. Did I just say applesauce? Yes, I did. Cinnamon applesauce. It replaces half of the oil in this recipe.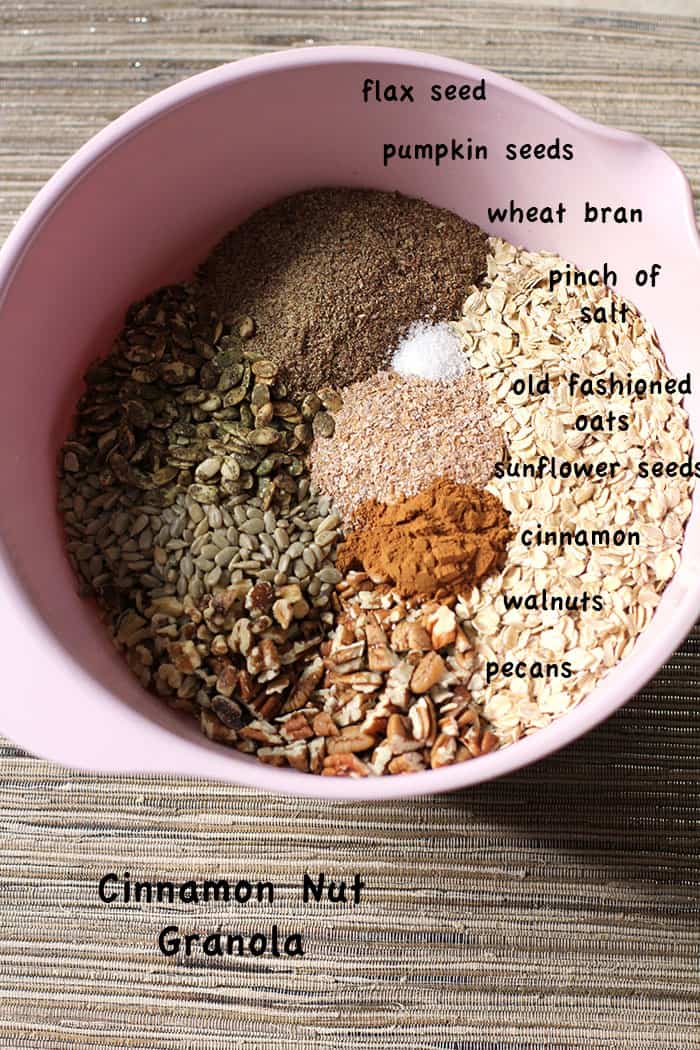 The pictures below are what the granola looks like BEFORE you put it in the oven. It will crisp up while baking and get nice and crunchy. Some pieces will stick together, giving you clusters of granola. Yum.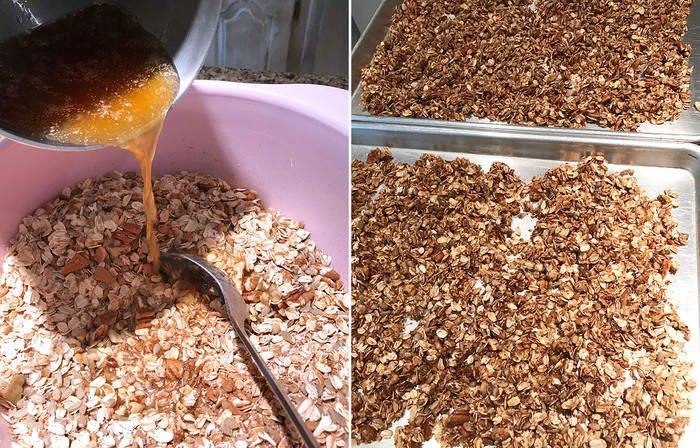 There are so many things you can do with granola. You can sprinkle it on oatmeal, or eat it with milk as a bowl of cereal, or top your ice cream with it. You can eat it with your yogurt, or your fruit and yogurt – or just eat it by the handful. So many options to enjoy this crunch of deliciousness.
Just a quick shout-out to my 17 year-old son for making me both of these bowls in his Ceramics class. I love them and I think they are great for photographing food. We make a good team. Yay Zach! 🙂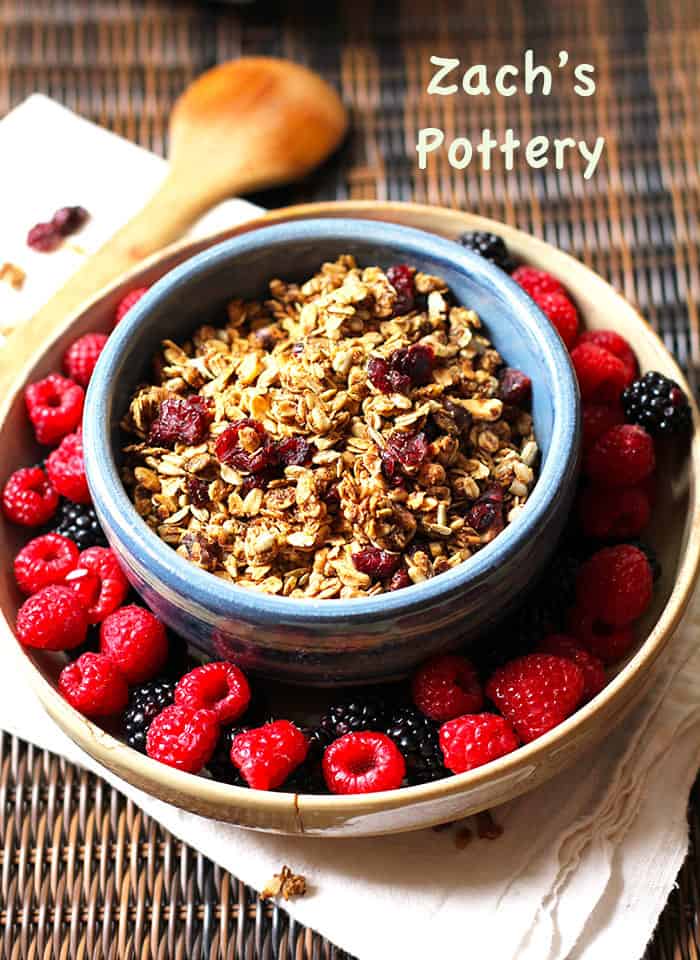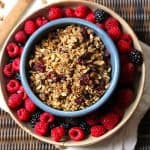 Cinnamon Nut Granola
a crunchy cinnamon granola loaded with nuts, oats, pumpkin seeds, and dried cranberries
Ingredients
4

cups

oatmeal

1

cup

sunflower seeds

1/2

cups

flax seed

1/2

cup

chopped pecans

1/2

cup

chopped walnuts

1/2

cup

pumpkin seeds

cinnamon flavored

1/4

cup

wheat bran

1

Tablespoon

cinnamon

1/2

teaspoon

salt

1/2

cup

pure maple syrup

1/4

cup

canola oil

1/4

cup

applesauce

cinnamon flavored

1/4

cup

honey

2

Tablespoons

water

1

Tablespoon

vanilla

1

cup

dried cranberries
Instructions
Preheat oven to 300 degrees.

In a large mixing bowl, combine all dry ingredients - oatmeal, sunflower seeds, flax seeds, pecans, walnuts, pumpkin seeds, wheat bran, cinnamon, and salt.

In a small saucepan, combine all wet ingredients - maple syrup, canola oil, applesauce, honey, water, and vanilla. Bring to boiling and stir for 30 seconds. Remove from heat and pour over dry ingredients, stirring to coat.

Divide between two baking sheets, and spread in an even layer. Bake for 45 minutes, stirring every 15 minutes.

Remove and let cool in pans. Add the dried cranberries and store in airtight container or freezer bag.

Granola will stay fresh on counter for several days. It also freezes well.
SHARE THIS POST TO YOUR FRIENDS: