Summertime is better with Strawberry Lemonade Vodka Slushies! Fresh strawberries and freshly squeezed lemons, combined with vodka, ice, and a little bit of sugar, make these drinks the hit of the party! Skip the vodka for virgin slushies! 🙂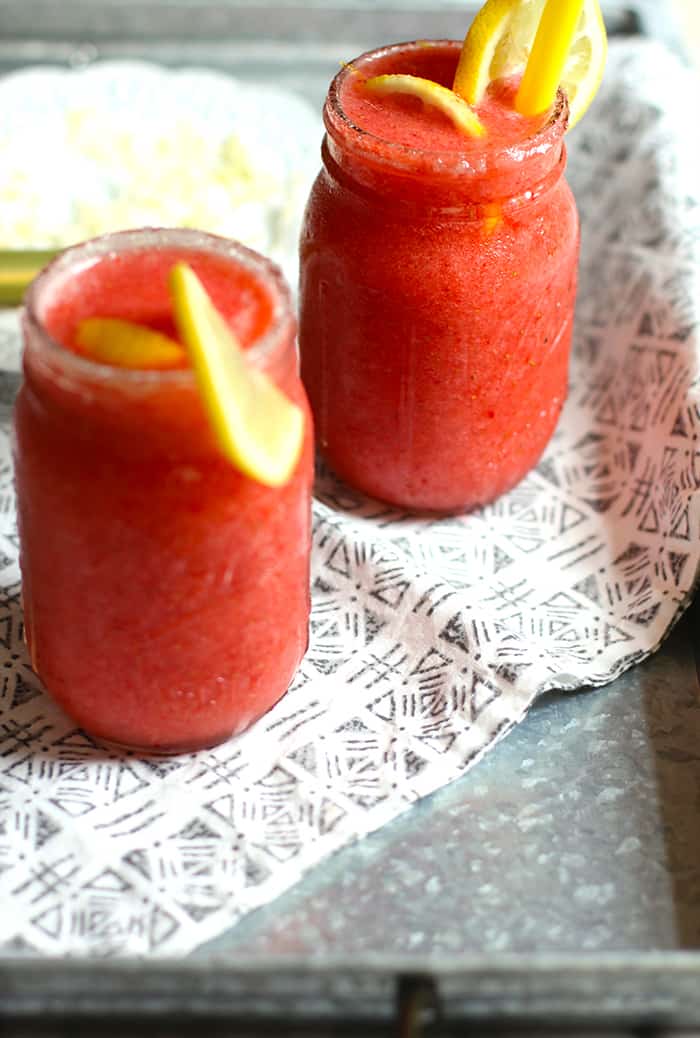 I'm not gonna lie. I like my fruity drinks. But the reason I don't drink them very often, is because they are LOADED with sugar. I usually stick with beer and wine when we go out on the weekends, because I'm afraid I'll get some on-tap sugar zapper. You know, the margaritas or daiquiris or sangrias that are in those machines – and they crank them out one after another. "Here's your blood-sugar-buster ma'am."
No thanks. I'll make my own at home.
It's Memorial Weekend and it's time I crank out a few lower-sugar belly-slimmer drinks of my own.
Yes please.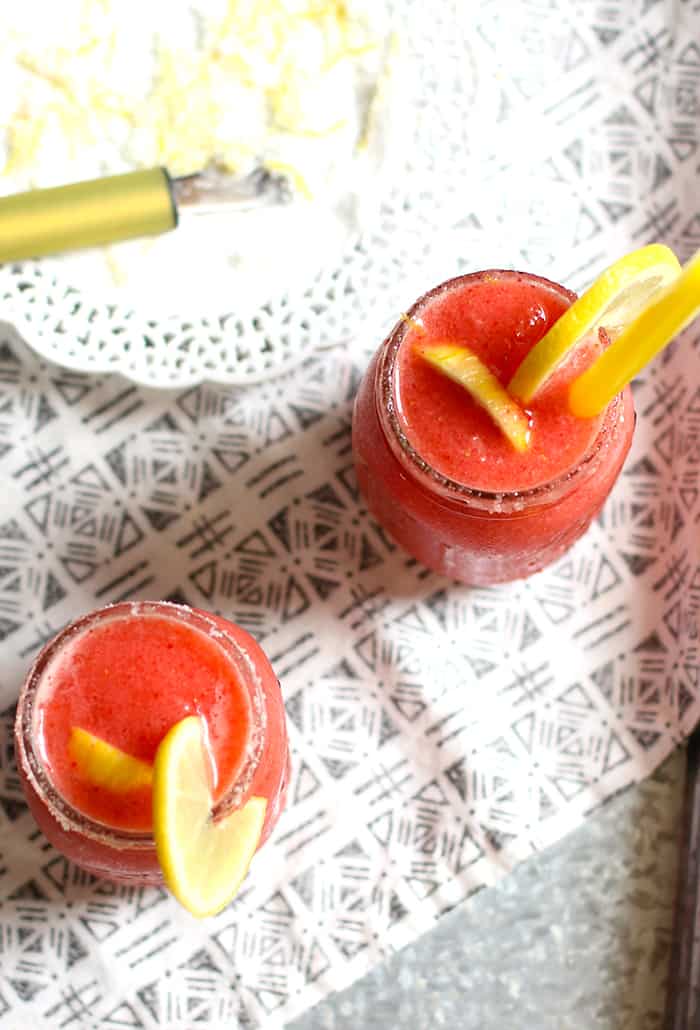 You can see below, that there are fresh fruits in these Strawberry Lemonade Vodka Slushies. And there are also four steps you should do a couple of hours BEFORE your party or gathering.
Clean the strawberries and cut in halves. Add 1/3 cup of sugar, stir, and place in refrigerator.
Juice 5 – 6 lemons into a jar, and store in refrigerator.
Pour one cup of vodka into measuring glass or jar, and store in refrigerator.
Mix lemon zest with additional 1/4 cup of sugar, and muddle together. Set aside.
It will make a huge difference if you prep in advance and make sure all ingredients are cold. You can even put your glass jars (or whatever glasses you are using to serve these cocktails) in the refrigerator.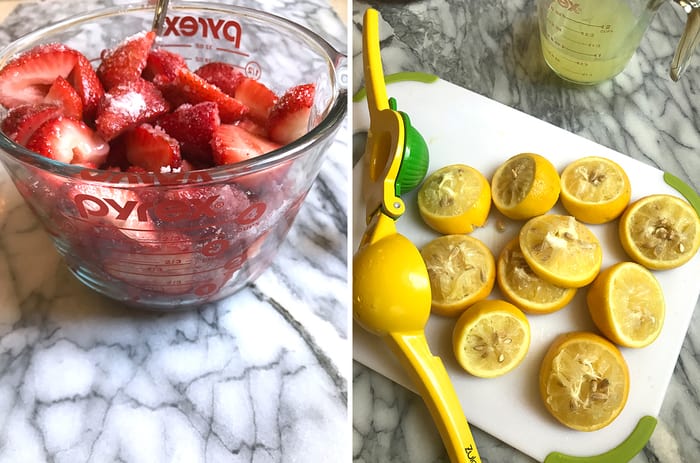 I've been buying a lot of lemons at Sam's Club lately. I love how large and juicy they are for these cocktails (not to mention, I use them for my Perfect Lemon Cupcakes and my Lemon Poppyseed Muffins). Fresh lemons are key to this recipe, and if you use a juicer (mine is found under MY KITCHEN TOOLS, under FOOD PREP), you will save yourself from a lot of squeezing.
Don't forget to reserve a few lemon slices for serving. So pretty.
If you have kiddos at home, this drink can easily be made virgin style. Just skip the vodka, and you have a perfect kid-friendly drink.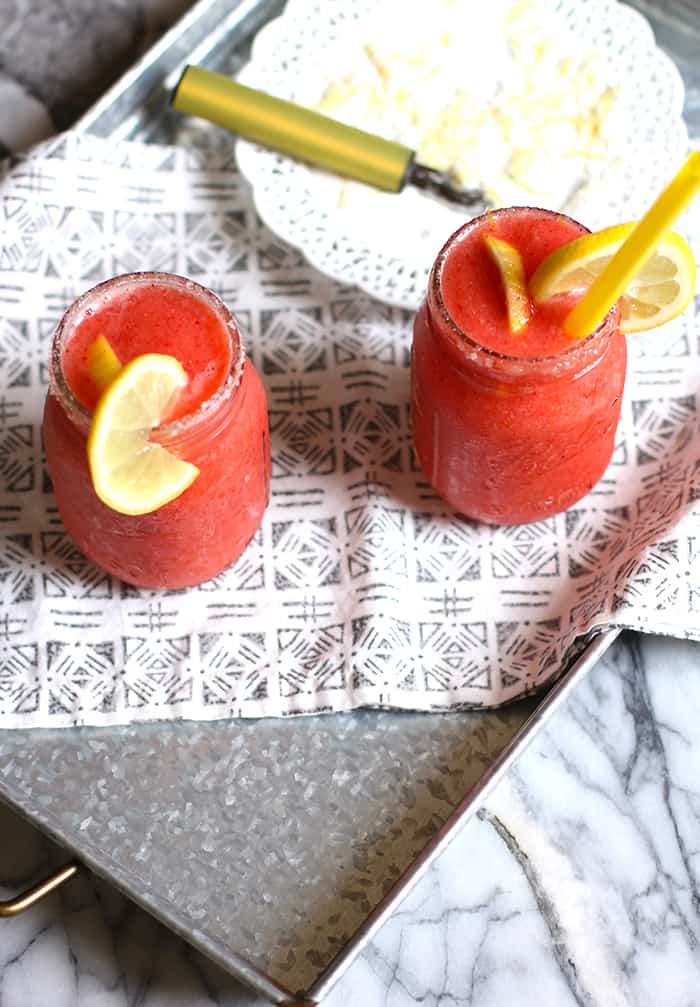 Holidays are a perfect excuse to try something new. So stock up on strawberries and lemons and make sure you have some good vodka at home.
If you prefer a classic drink, try my Classic Skinny Margaritas, or for another frozen drink, Norma Jean's Green Tea Vodka Slushes are great too. Please stay tuned for some more fruity-not-so-sugary cocktails coming soon. Your bellies will thank you!
Oh, and when your college kid comes home, he can serve you on a pretty tray. Thanks Josh! 🙂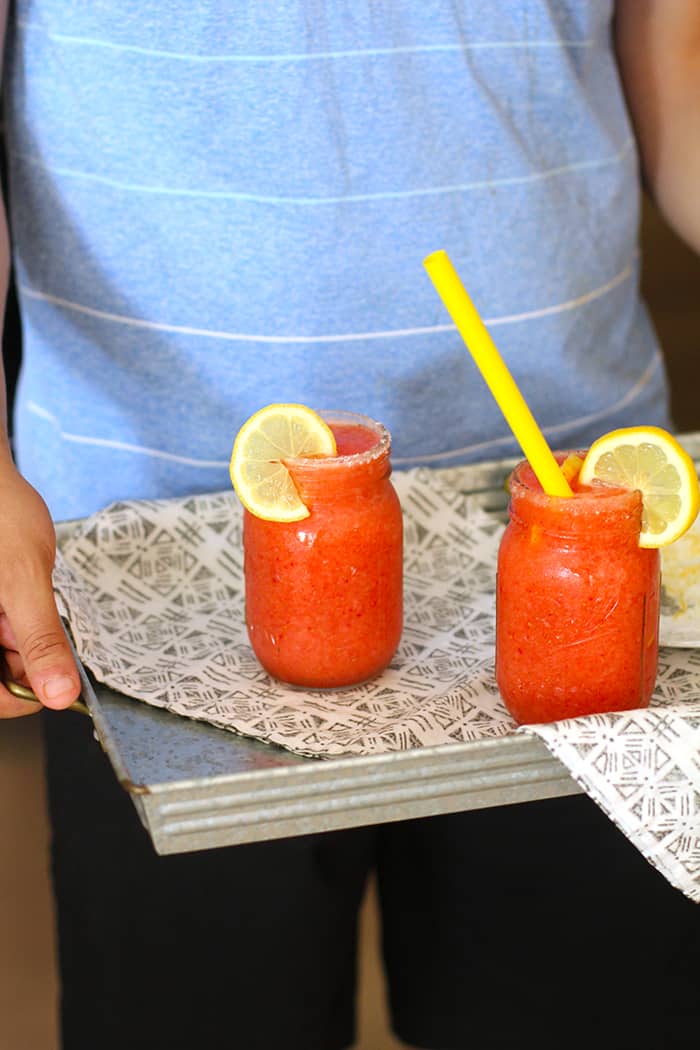 If you want to stay up-to-date with the latest, please like my Facebook Page!! 🙂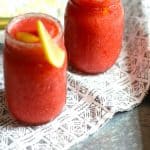 Strawberry Lemonade Vodka Slushies
Ingredients
4

cups

strawberries

- hulled and sliced

1/3

cup

sugar

6-7

large

lemons

- freshly squeezed (should make 3/4 cup)

8-10

cups

ice

1

cup

vodka

- I used Absolute

1

Tablespoon

lemon zest

- to rim glass

1/4

cup

sugar

- to rim glass
Instructions
At least two hours before your party, clean the strawberries and add sugar. Also squeeze the lemons and store the fresh juice in a glass jar. Store both of these in the refrigerator, along with a cup of vodka.

At the same time, combine 1 Tablespoon of lemon zest with 1/2 cup of sugar and put on glass plate. Stir and press spoon into the zest to absorb flavors into sugar. Set aside until party time.

To make slushies, add strawberries, lemon juice, ice and vodka to blender and puree until smooth. You may need to do this in two batches if your blender isn't large enough.

To serve, take a lemon slice and and rub around rim of four glasses. Take each glass and dip in the lemon zest/sugar mixture. Add lemon slice to edge of glass, and pour slushie mixture. Enjoy!

SHARE THIS POST TO YOUR FRIENDS: