Frozen Vodka Slush Recipe
This post may contain affiliate links which won't change your price but will share a commission.
Frozen Vodka Slush Recipe is a family favorite from way back in the day. This simple recipe combines frozen orange juice and lemonade, sugar, green tea, and vodka. A perfect cocktail to prepare ahead of time, and so refreshing for warm nights on the patio!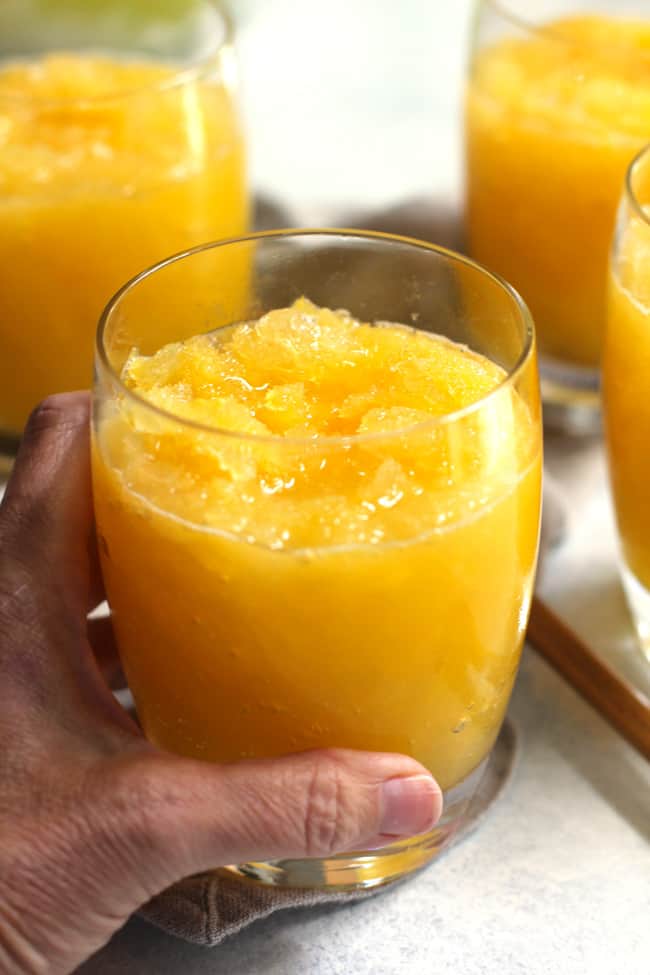 I should have called this recipe the "Reding Family Holiday Slush". Because that's basically what it is. For as long as I can remember, we drank vodka slush at our family gatherings, and we still do. Thanksgiving, Christmas, Easter, graduations, birthdays…meant vodka slush. Mom almost always had a "bucket" of slush in her freezer for when we all gathered. I'm pretty sure I drank it in high school (or before) WITH my family. Hello, I'm Catholic, and drinks are welcomed. 😀
The weirdest thing is that we rarely drank slush in the summertime. But I'm putting an end to that here and now, because a frozen slushy concoction is BEST when it's warm outside, don't you think?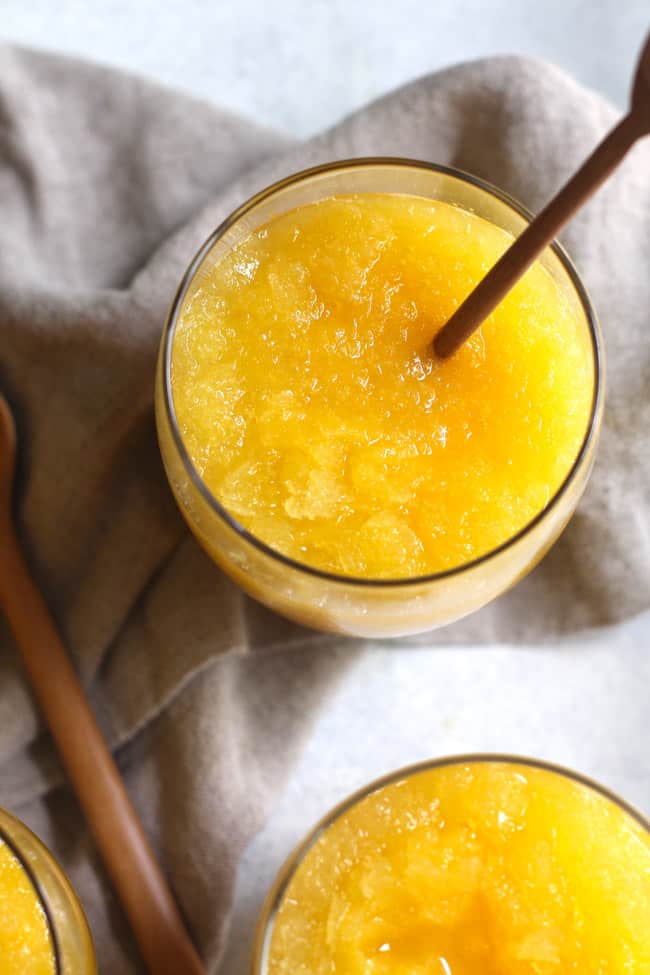 Ingredients needed for Frozen Vodka Slush Recipe:
Frozen Items – You'll need one large can of both frozen orange juice and frozen lemonade. The orange juice is what gives this drink that lovely bright yellow color!
Simple Syrup – This version is far less sweet than normal simple syrup versions. Just a bit over one cup of sugar to 7 cups of water.
Green Tea – You'll need green tea bags and two cups of water.
Vodka – Use a good quality vodka, as always, for best results (and easier on the body too).
Sprite – This is optional, but a splash to serve gets the frozen cocktail to melt slightly, and makes it easier to drink. You can also skip it, and just wait for it to become slushy.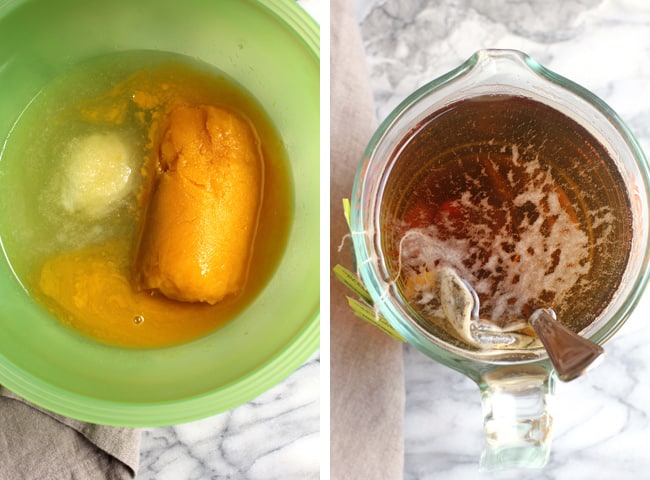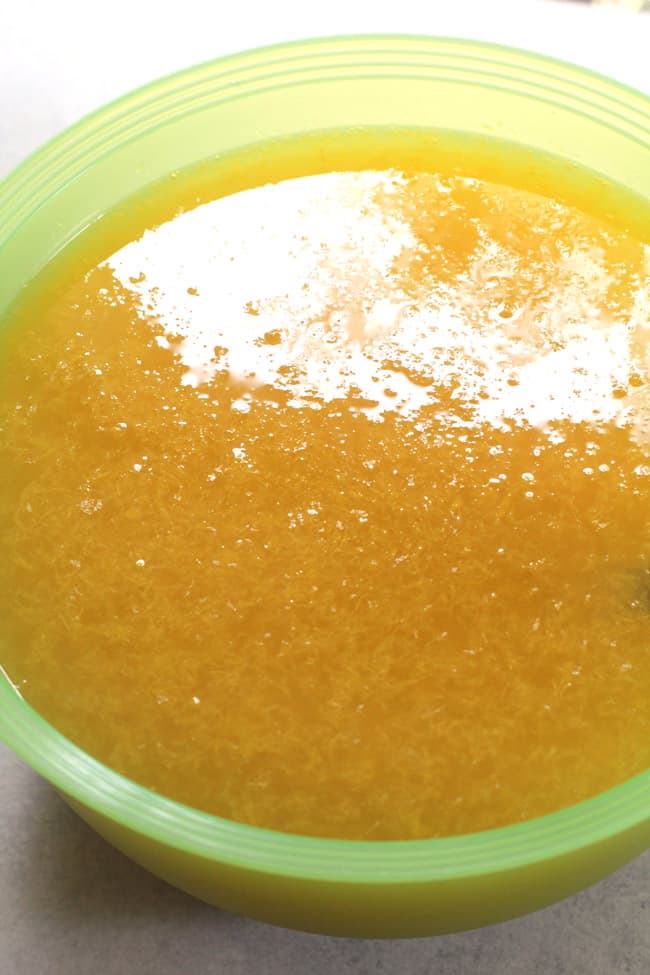 If you have 15 minutes, that's all you'll need to make vodka slush. Very simple to make and super handy to have available in your freezer for last minute happy hours or just because.
How to make this Frozen Vodka Slush Recipe:
Prepare by setting out all ingredients. You'll need a large Tupperware container with a lid, along with the recipe ingredients listed above (and below in the recipe).
Empty the frozen products in the container. Take the orange juice and lemonade and empty it into the large container.
Make the simple syrup. You can make the simple syrup on the stovetop or the microwave. You want to combine the water and sugar, and simmer until the sugar is fully dissolved. Pour this over the frozen juice.
Steep the green tea. Boil the two cups of water and add the bags of green tea. Let it steep and then combine with the other ingredients. Stir well.
Add vodka. Don't forget to add the vodka! 😀
Freeze. After the mixture has cooled off, place the container in your freezer for approximately 24 hours.
Serve. To serve, set the slush out on your counter, and let it slightly soften. Spoon slush into glasses, add a splash of Sprite, and serve with a spoon or a straw. Enjoy!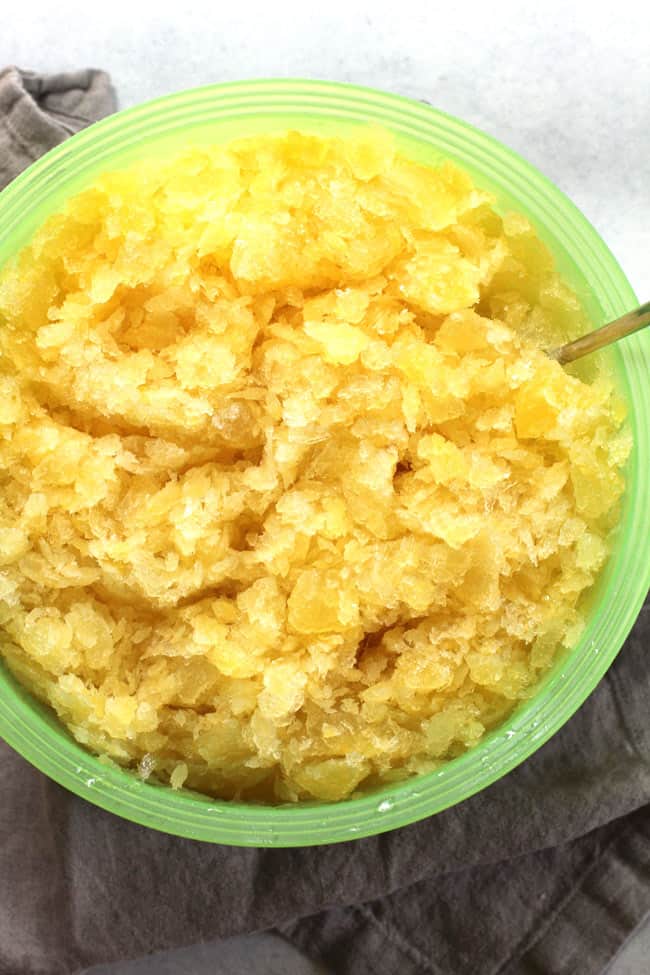 What kind of vodka is best for Frozen Vodka Slush?
I have passed this recipe on to many friends and this is what they normally ask me. You can use any vodka you have on hand BUT just be wary if it is super cheap. Cheap alcohol equals headaches even if you don't over-drink. I usually use a fairly good quality vodka. Just head to the liquor store and ask the staff.
Is green tea required for vodka slush?
The simple answer to this question is absolutely not. You can skip the green tea if you want. However, I feel like it adds to the taste, and it's easy to keep green tea in the pantry.
How long does Frozen Vodka Slush keep?
This is a tricky question. My mom often kept "buckets" of slush in the freezer for months if it didn't get consumed at our holiday gatherings (which was rare). It was still good! But for best results, I recommend drinking it by the end of three months.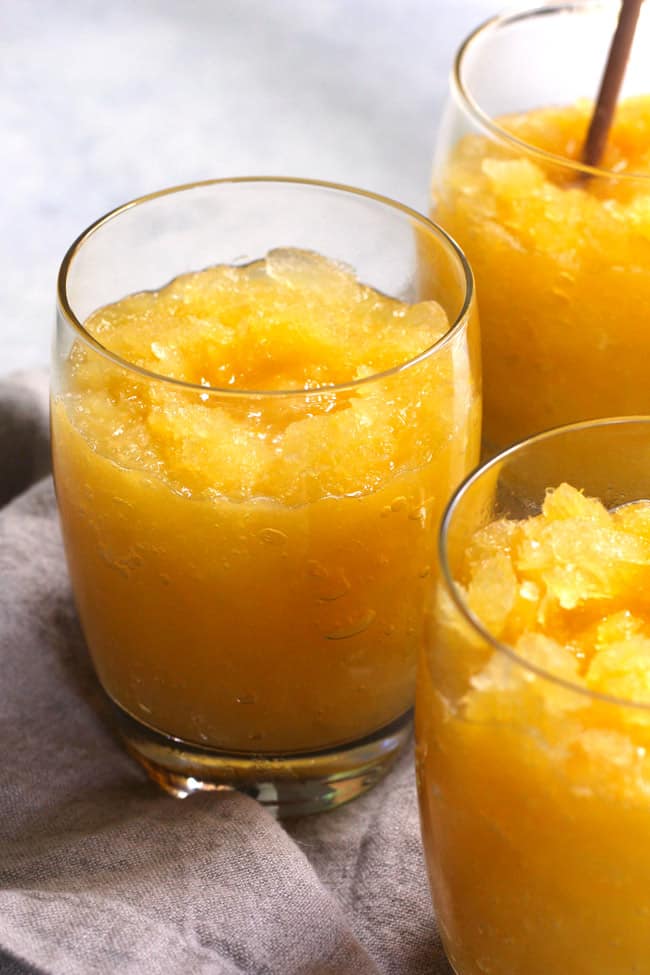 Snacks to serve with your happy hour:
As with all happy hours, it's best to eat while drinking. You've come to the right place for that, and I'll share a few of my favorite recipes to munch on while slushing. 😀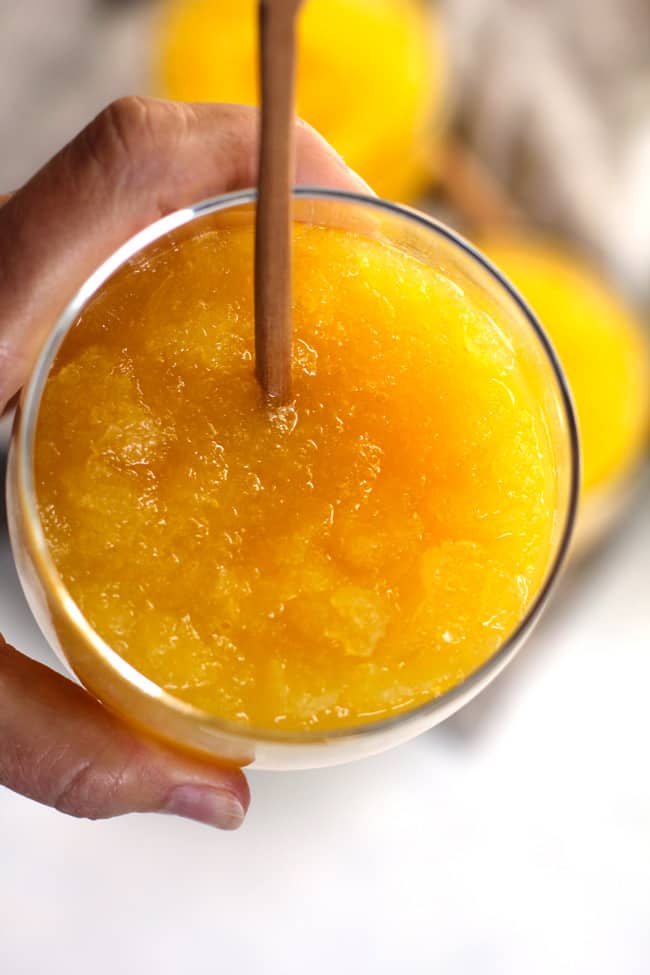 Try these summertime cocktails next!
Please let know if you try this recipe. Be sure to comment and leave a review on the blog so I can see what you think. You can also like my Facebook Page, follow me on Pinterest, and catch me on Instagram.
xoxo ~Sue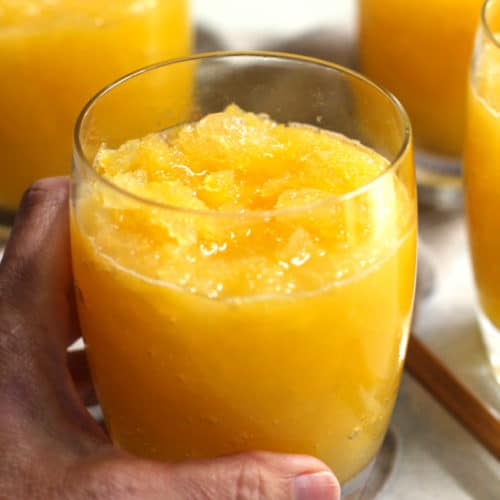 Frozen Vodka Slush Recipe
Frozen Vodka Slush Recipe is a family favorite from way back in the day. This simple recipe combines frozen orange juice and lemonade, sugar, green tea, and vodka. A perfect cocktail to prepare ahead of time!
Print
Pin
Rate
Ingredients
12

oz.

frozen orange juice

12

oz.

frozen lemonade

7

cups

water

1 ¼

cups

sugar

2

cups

water

4

bags

green tea

1

fifth

good quality vodka

= 25 ounces

Sprite to serve

– optional
Instructions
Using a large airtight container, add the orange juice and lemonade and let sit until soft.

Boil seven cups of water with 1 1/4 cups of sugar until sugar dissolves. Add to container.

Boil two cups water, remove from heat, and add the green tea bags. Let it seep for 10 minutes, remove bags, and then add liquid to container.

Add vodka and stir. Freeze for at least 24 hours.

Serve slush with chilled Sprite.
Notes
One fifth of vodka equals approximately 25 ounces.
Use a good quality vodka for best results.
Nutrition
Calories:
218
kcal
|
Carbohydrates:
55
g
|
Protein:
1
g
|
Fat:
1
g
|
Saturated Fat:
1
g
|
Sodium:
15
mg
|
Potassium:
254
mg
|
Fiber:
1
g
|
Sugar:
53
g
|
Vitamin A:
130
IU
|
Vitamin C:
51.4
mg
|
Calcium:
20
mg
|
Iron:
0.1
mg