This post may contain affiliate links which won't change your price but will share a commission.
Pine Nut Hummus combines toasted pine nuts with garbanzo beans, tahini paste, garlic, lemon, and spices. Taking the skins off the garbanzo beans is worth the time because it gets ultra creamy!
Looking for other versions of hummus? Learn how to make the BEST Hummus and try my Roasted Red Pepper Hummus. We also LOVE using hummus in my Mediterranean Grain Bowls with Chicken!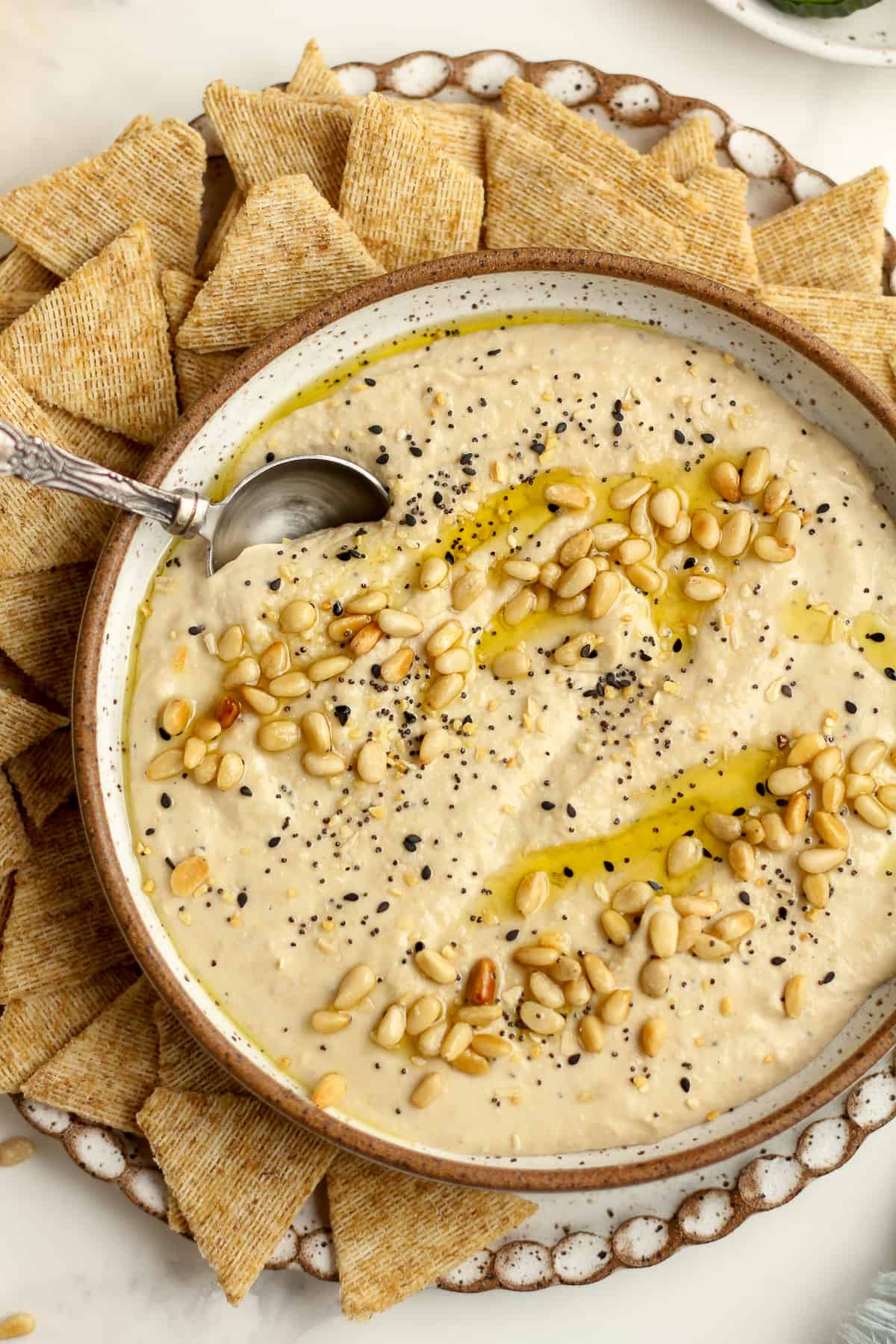 Homemade Hummus
I've been making my own homemade hummus for several years now. I'm always surprised at how much better it is than store-bought, and it's fun to try new ingredient combinations.
Why this recipe works
SO creamy
easy to adapt after testing
crazy amount of ways to make it different
you know EXACTLY what's in it
For other party appetizers, try my Cowboy Caviar, some Chunky Guacamole, my blog-fav Baked Artichoke Dip, or some Hot Jalapeño Corn Dip!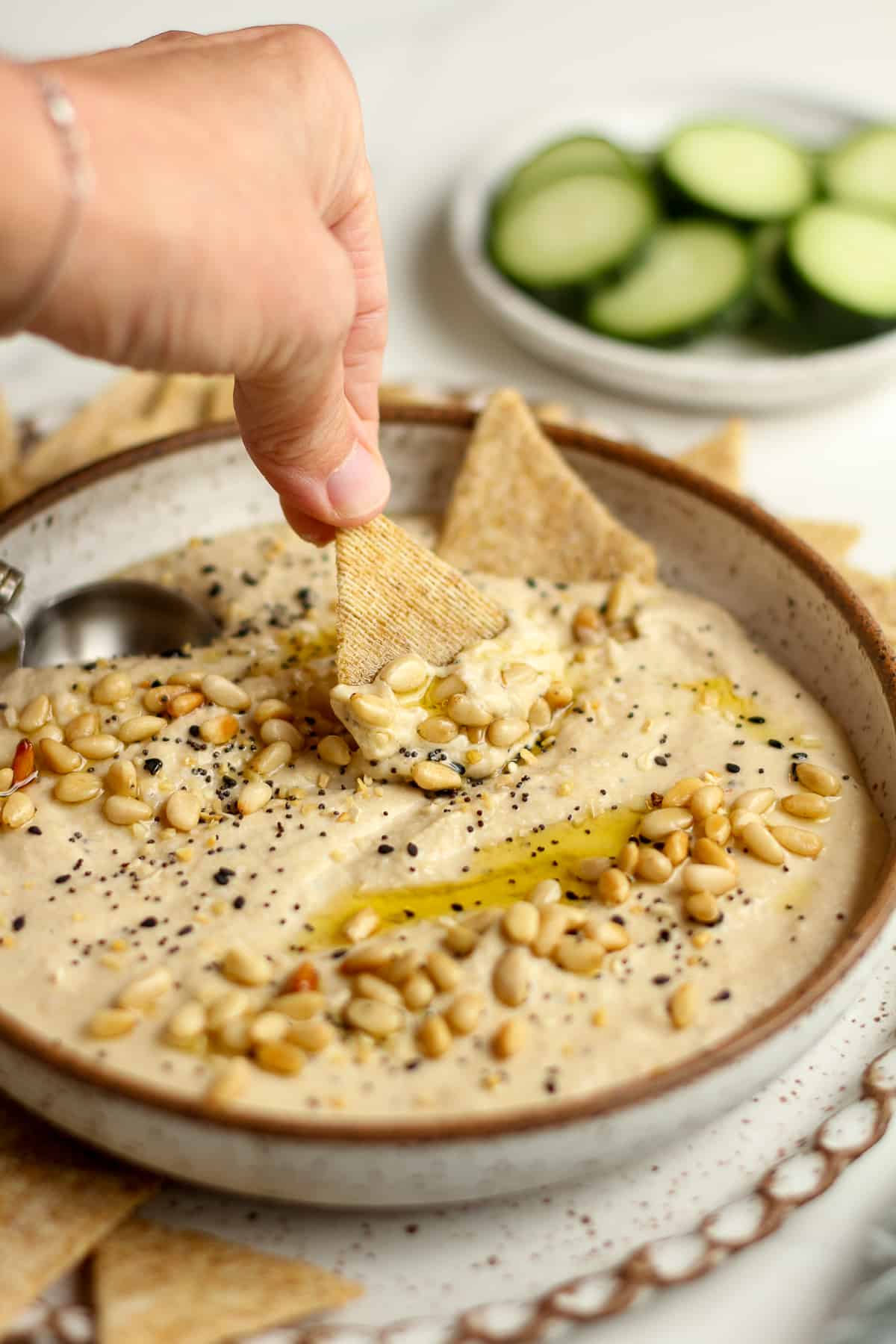 Ingredients:
Garbanzo Beans (chickpeas) – One can, peels removed!
Garlic – One clove of garlic is generally enough for me. Use more if you like an extra strong garlicky taste.
Tahini Paste – Make sure you stir it up well, so that the oils are well combined.
Lemon Juice – A little bit of lemon adds freshness to hummus
Cold Water – You'll need to add cold water to get your hummus creamy. Just add a little at a time.
Seasonings – Including salt, pepper, onion powder, & Everything Bagel Seasoning.
Toasted Pine Nuts – The key ingredient to this recipe.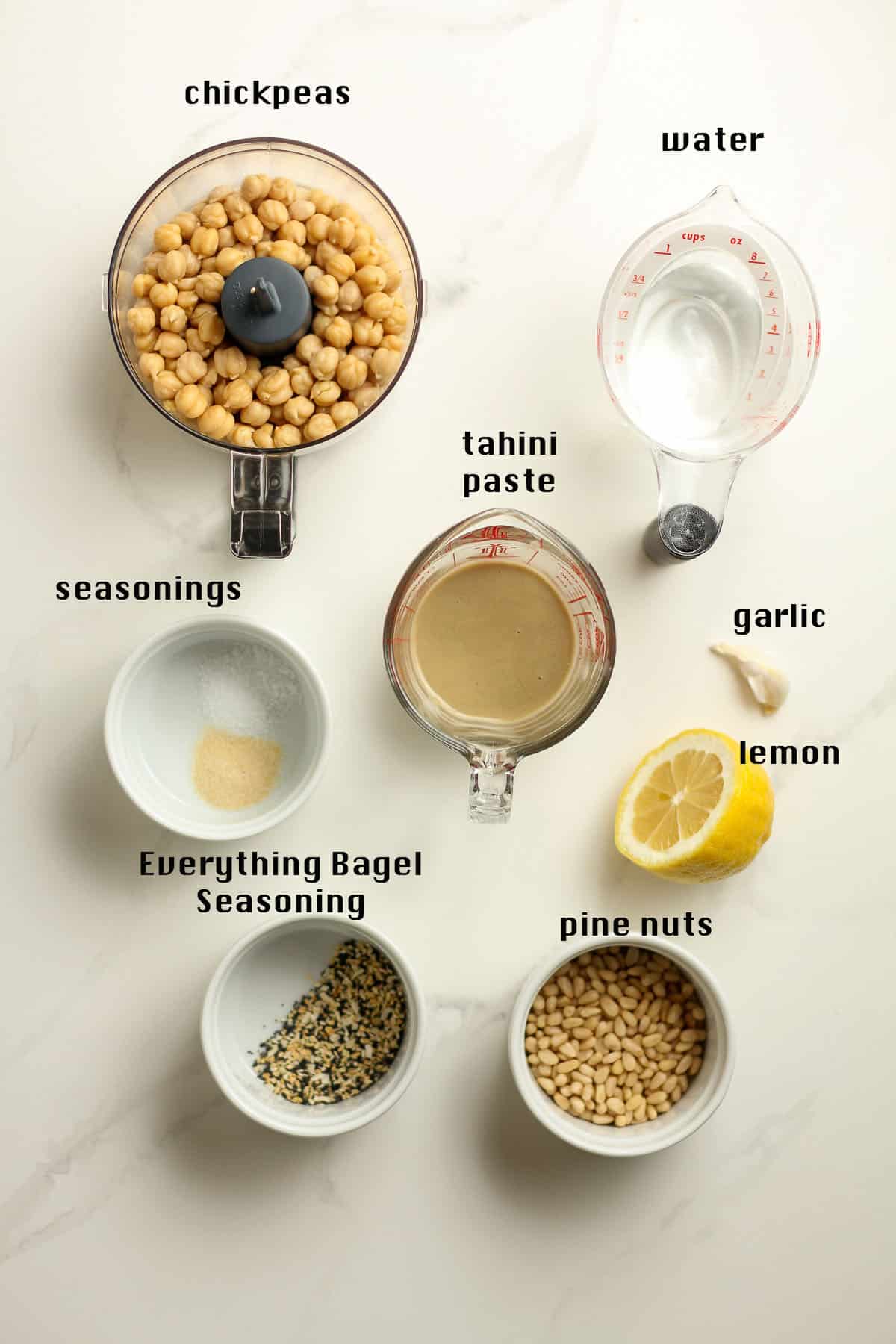 This is the PERFECT party appetizer, and a great one to bring somewhere because it can all be made up ahead of time. You could also make a couple of different kinds (using one can of garbanzo beans for each).
How to make Toasted Pine Nut Hummus
Step 1
Toast the pine nuts. In a medium skillet, toasted the pine nuts over medium heat until fragrant and just browned.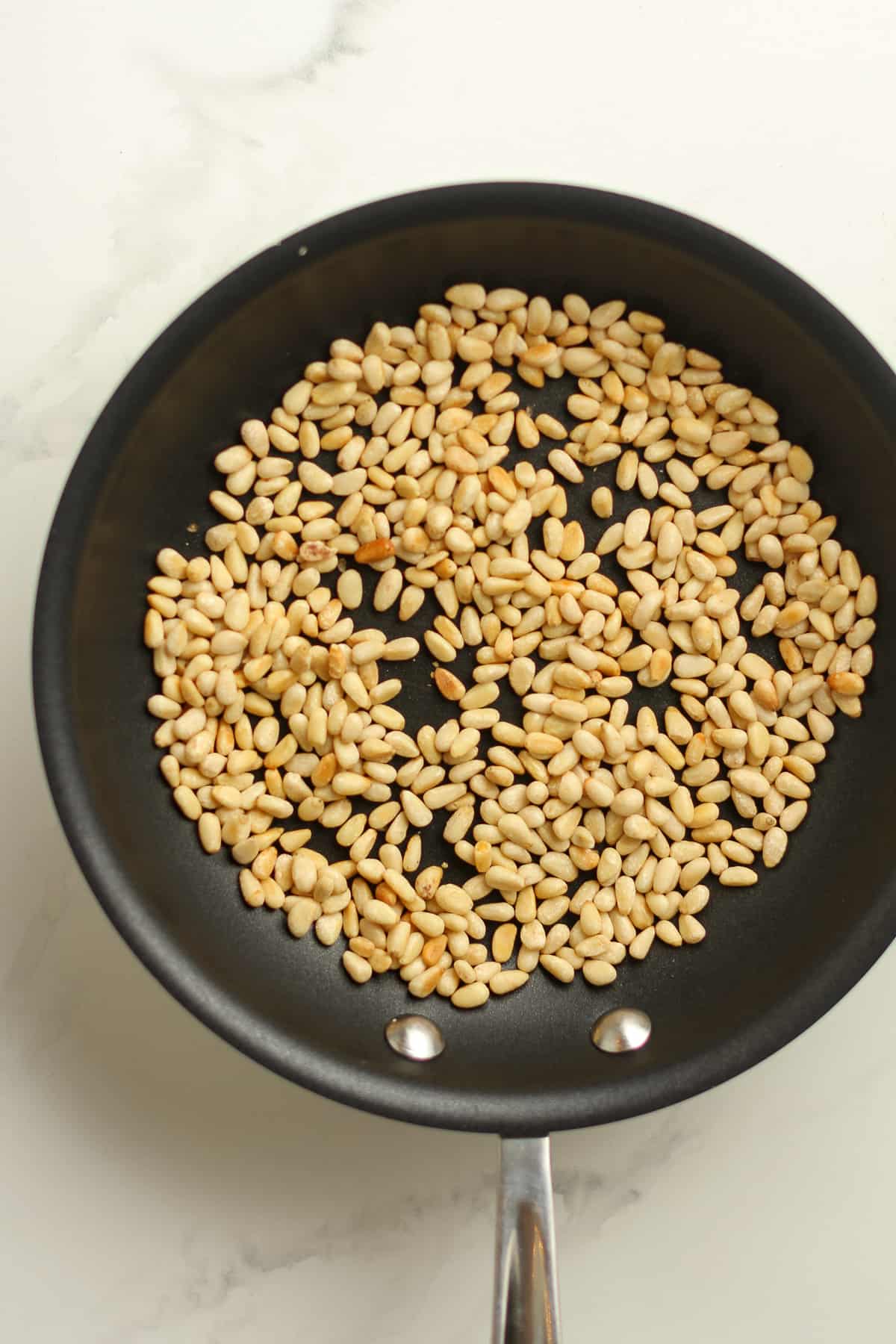 Step 2
Remove skins. Sit down on a bar stool by the kitchen counter (watching the Food Network or some other show) 😀 and remove the skins from the garbanzo beans. Add to a food processor.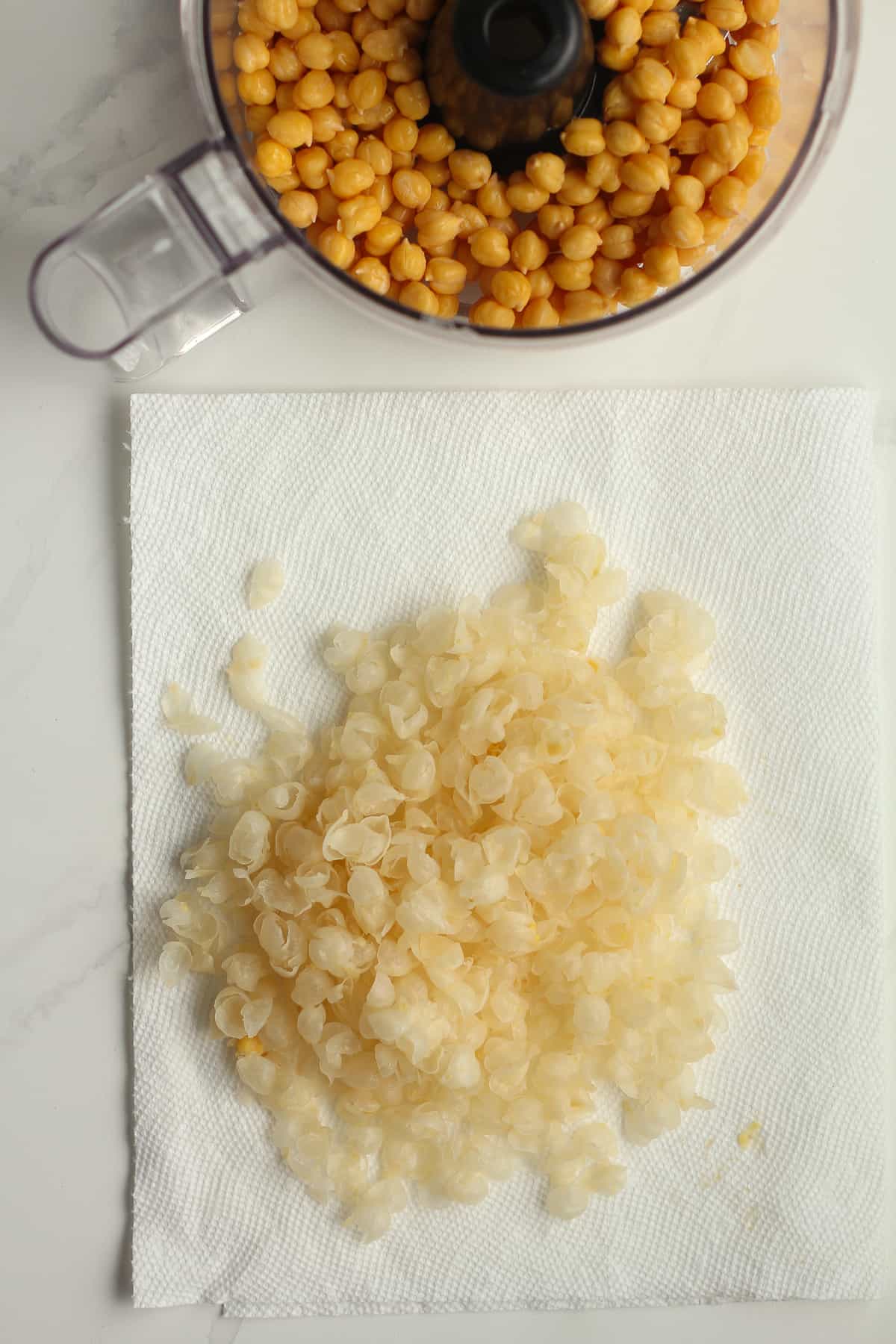 Step 3
Combine ingredients. To the food processor, add garlic, tahini paste, lemon juice, spices, some of the pine nuts, and about half of the cold water.
If you get a chance to make your own Everything Bagel Seasoning, I highly recommend it!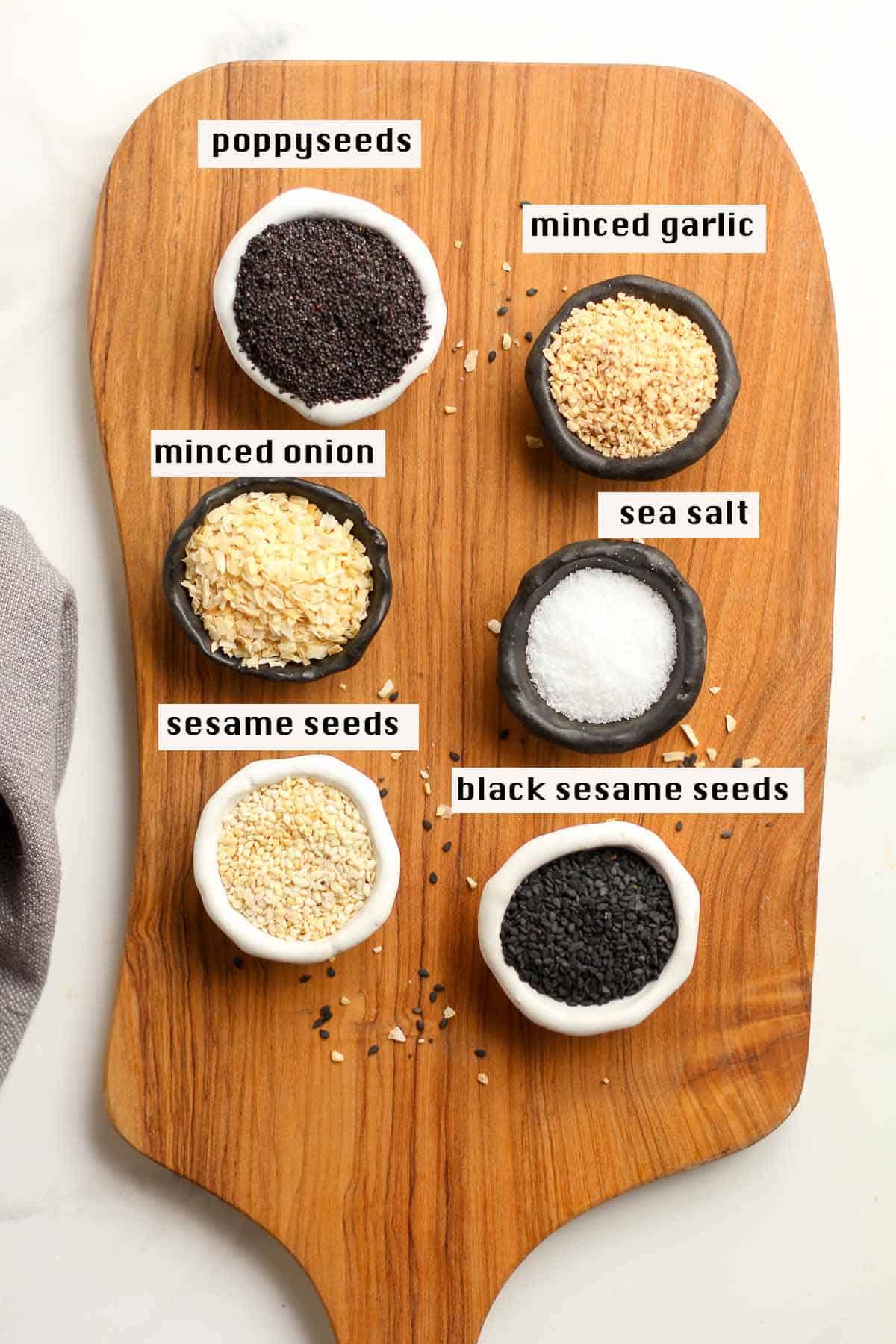 Step 4
Pulse. Pulse ingredients until well combined. It will be thick and clumpy at this point.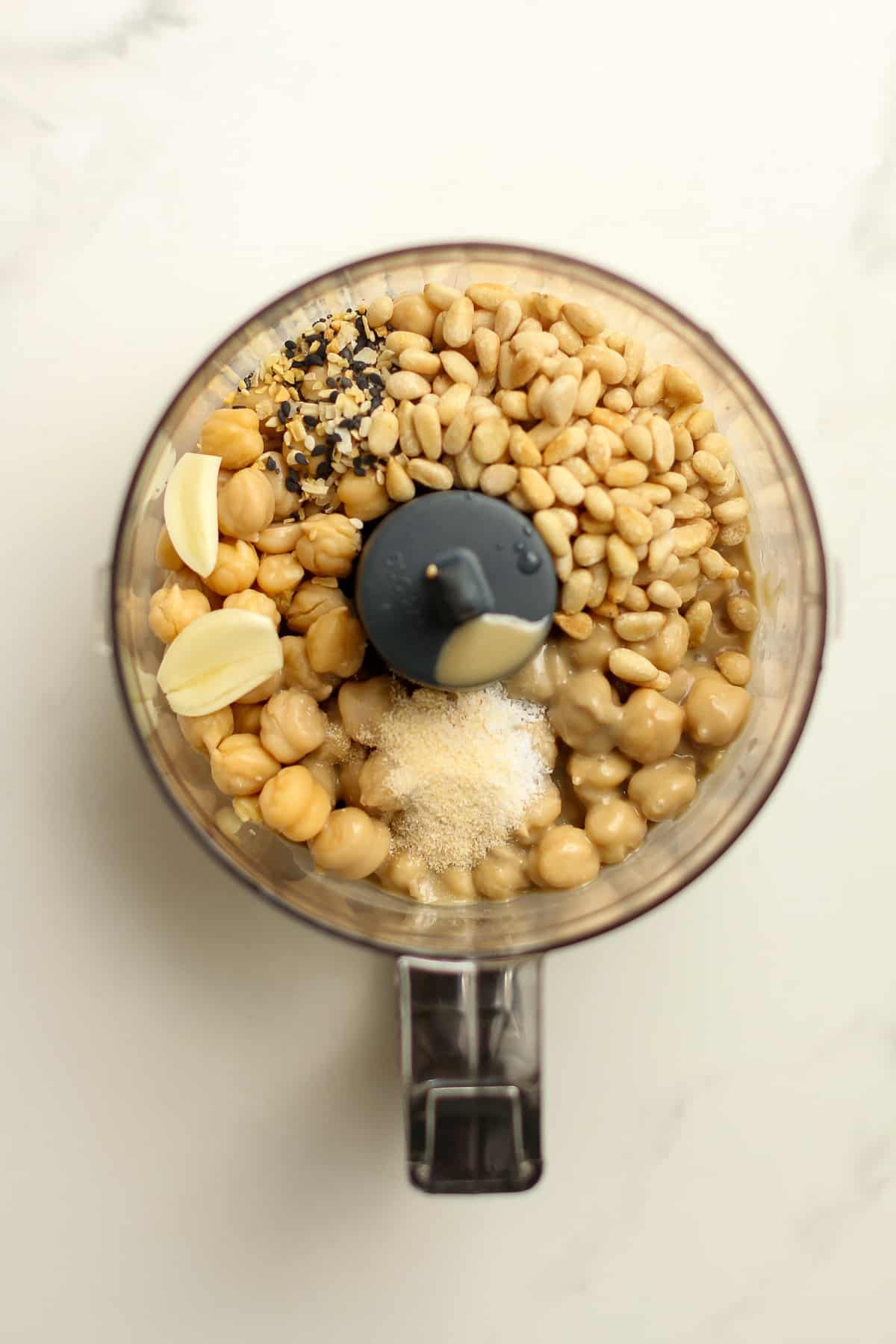 Step 5
Add additional water. Then add more cold water while processing, until you get the right consistency. Add a tablespoon at a time, until really creamy. I used about 8-9 Tablespoons of water in total.

Step 6
Finish. Spoon hummus into a pretty bowl, top with more toasted pine nuts, a swirl of olive oil, and some additional Everything Bagel Seasoning.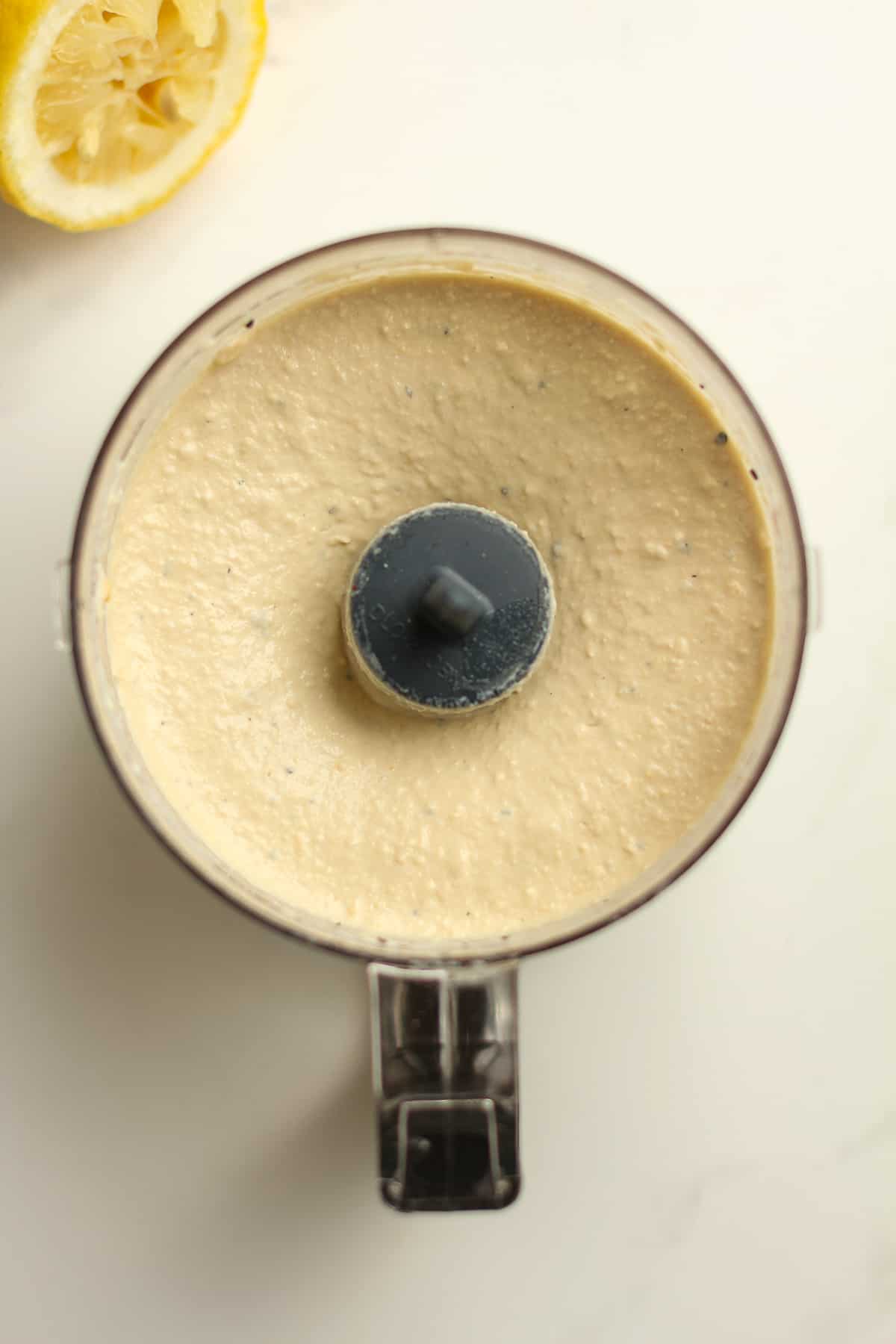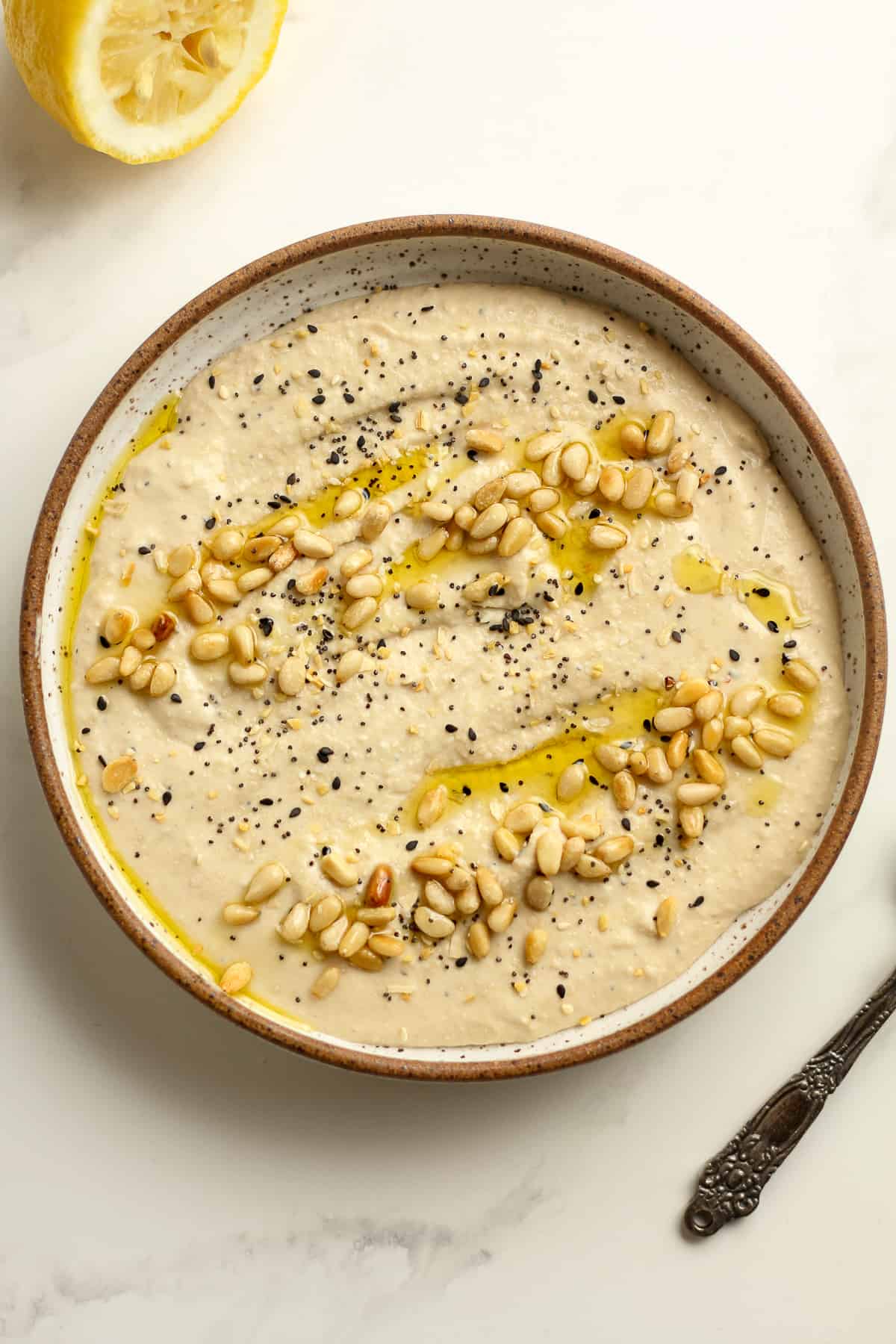 Recipe Tips
There are several factors to getting the creamiest, dreamiest hummus. I'm going to summarize them here. 😀
Peel the chickpeas. This process is KEY. If you remove the peels, the hummus will be unbelievably creamy. It takes a little bit of time, but it's worth it. I find it to be calming, in fact!
Use a good tahini paste. Make sure you use a decent quality tahini paste, and stir it up. The oils tend to float to the top, so you'll want to make sure you get it well combined before using for the hummus.
Add plenty of seasoning. Seasoning adds FLAVOR, so don't be shy when using seasoning. Good hummus includes a fair amount of salt. Test it and see if it needs more.
Use cold water to get the perfect texture. This is the other main KEY to making the best hummus. You'll want to use just the right amount of water – too little will be firm, and too much will be watery. Add a little at a time, and stir in between until you get the right amount.
Don't use too much garlic. This is personal preference here, but using too much garlic will have you dragon breathing on your friends. No thanks!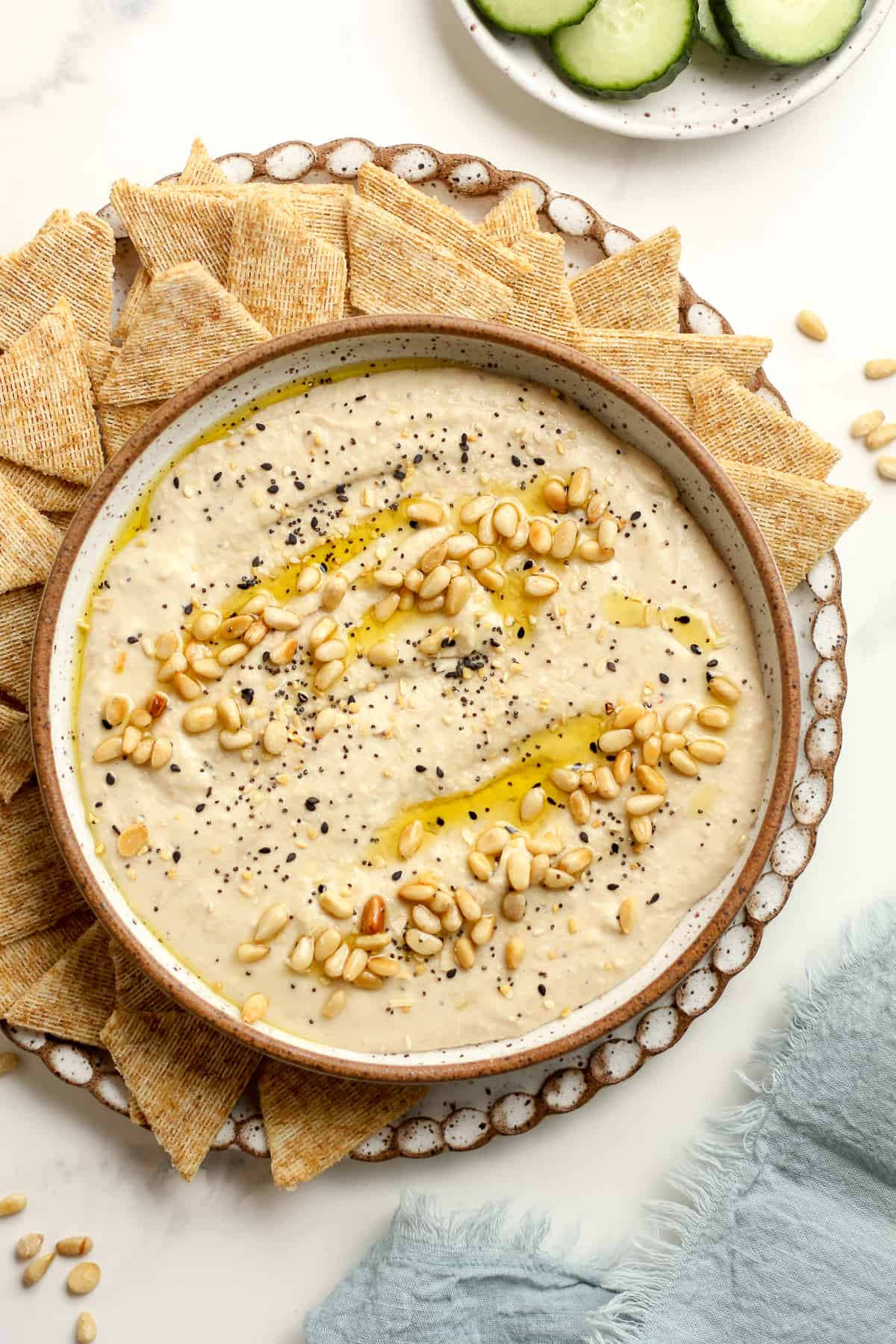 What to serve with Hummus
Crackers – I like Triscuit crackers, pita chips, or pretzel crisps.
Toasted Pita Chips – Just take some pita bread, brush lightly with olive oil, sprinkle with your choice of seasonings (I used salt, onion powder, and paprika), and bake for 10 minutes. WAY better than store-bought pita chips.
Veggies – Like sliced cucumbers, sliced red bell peppers, carrot and celery sticks, zucchini, mushrooms, and tomatoes.
Hummus Toast – Smear some of this hummus on some toast for the ultimate breakfast!
Enjoy! 😋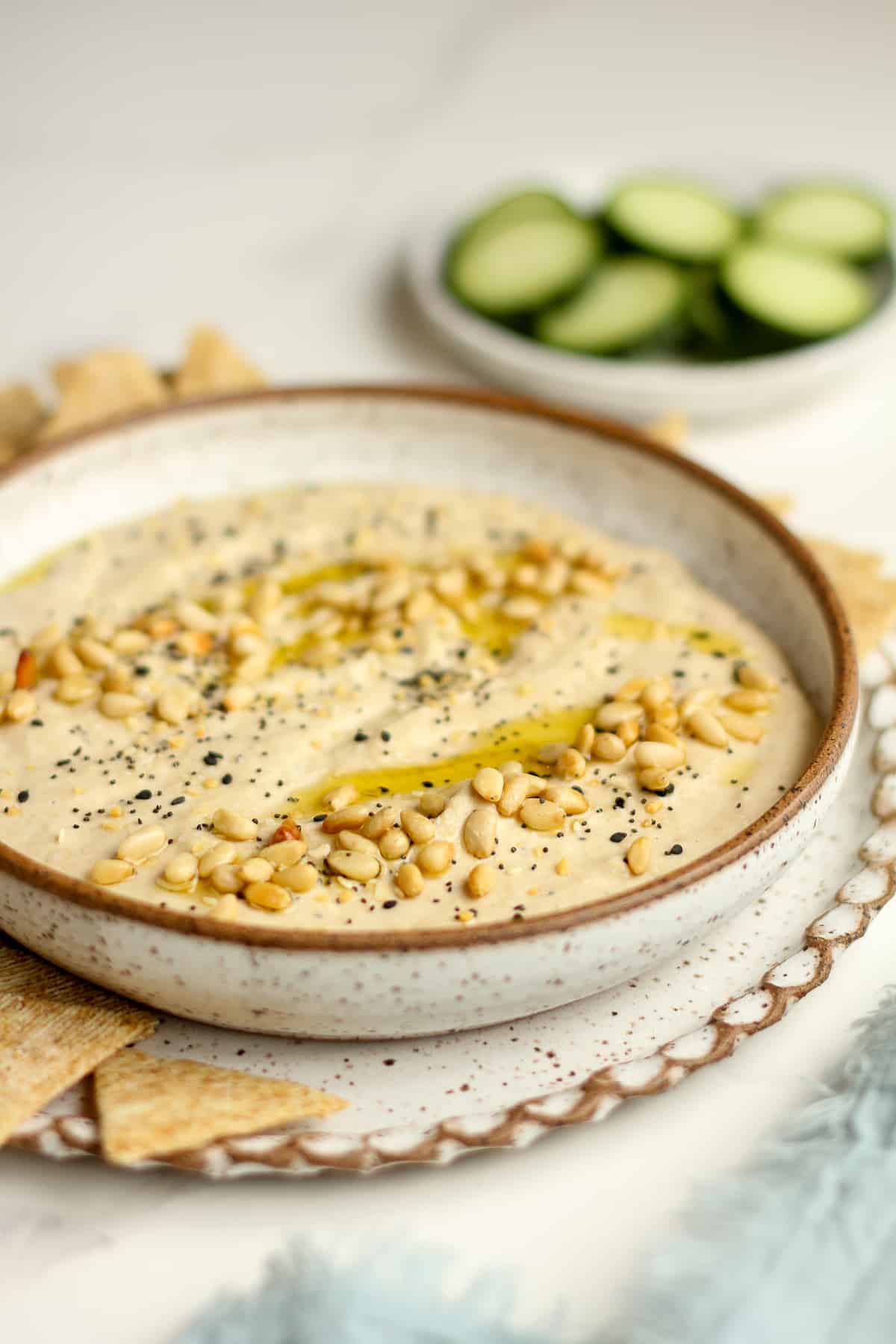 Make this appetizer next: Mexican Black-Eyed Pea Dip
xoxo ~Sue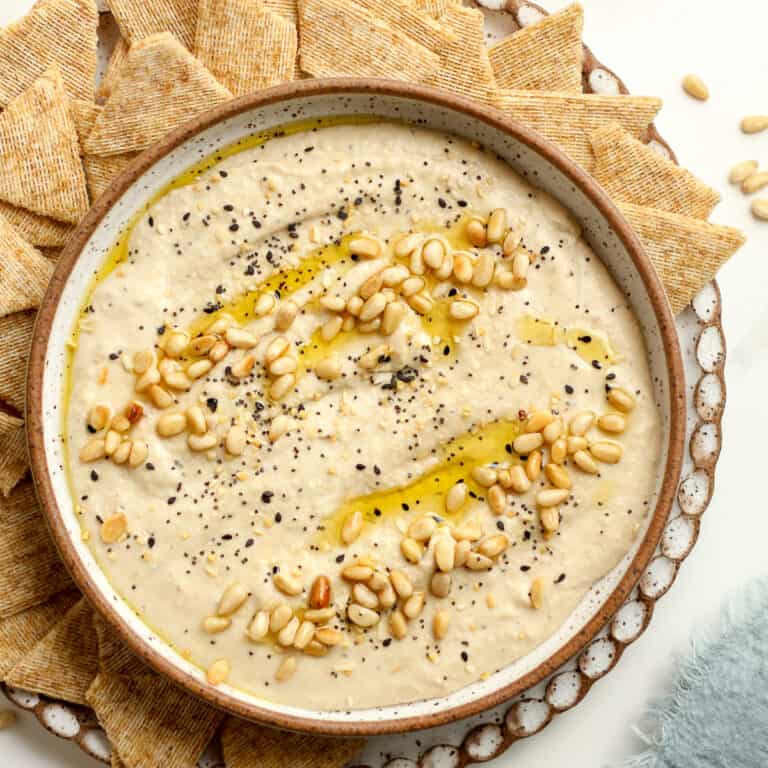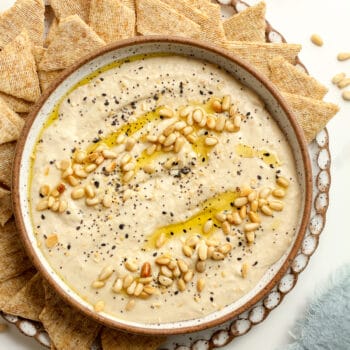 Pine Nut Hummus
Pine Nut Hummus combines toasted pine nuts with garbanzo beans, tahini paste, garlic, lemon, and spices. Taking the skins off the garbanzo beans is worth the time because it gets ultra creamy!
Print
Pin
Rate
Ingredients
15

oz.

garbanzo beans

– drained and peeled

1/3

cup

tahini paste

– well stirred

1/2

large

lemon

– freshly squeezed

1

clove

garlic

1

teaspoon

kosher salt

1/2

teaspoon

onion powder

4 – 6

Tablespoons

pine nuts

– toasted, divided

1-2

teaspoons

Everything Bagel Seasoning

2

teaspoons

olive oil

8-9

Tablespoons

cold water

– or more

swirl of olive oil

– to serve

freshly ground black pepper

– to taste

crackers or toasted pita chips, misc veggies

– to serve
Instructions
Drain the garbanzo beans. Peel the skin off one at a time (using your thumb and first two fingers), and add beans to food processor.

Add tahini paste, freshly squeezed lemon juice, garlic, salt, onion powder, 2 Tablespoons of the pine nuts, a teaspoon of the Everything Bagel Seasoning, and about half of the water. Pulse until smooth.

Add water as needed to thin. I ended up using more water than I thought I would need, because I like it really smooth.

Spoon hummus into a bowl to serve. Give the top a couple of swirls of olive oil, and then top with the remaining pine nuts plus more of the Everything Bagel Spice.

Serve hummus with crackers, pita chips, and/or veggies.
Notes
Peeling the skin off of the garbanzo beans is necessary to get a creamy texture.
Adding the cold water is what makes the hummus ultra creamy and light. Use the amount that makes the consistency right for you.
You can adjust the spices to your liking, or add others.
Reserve some toasted pine nuts for the top.
Nutrition
Calories:
361
kcal
|
Carbohydrates:
35
g
|
Protein:
14
g
|
Fat:
20
g
|
Saturated Fat:
2
g
|
Sodium:
305
mg
|
Potassium:
460
mg
|
Fiber:
9
g
|
Sugar:
5
g
|
Vitamin A:
40
IU
|
Vitamin C:
2.2
mg
|
Calcium:
80
mg
|
Iron:
4.5
mg