I LOVE sweet potato fries. The end.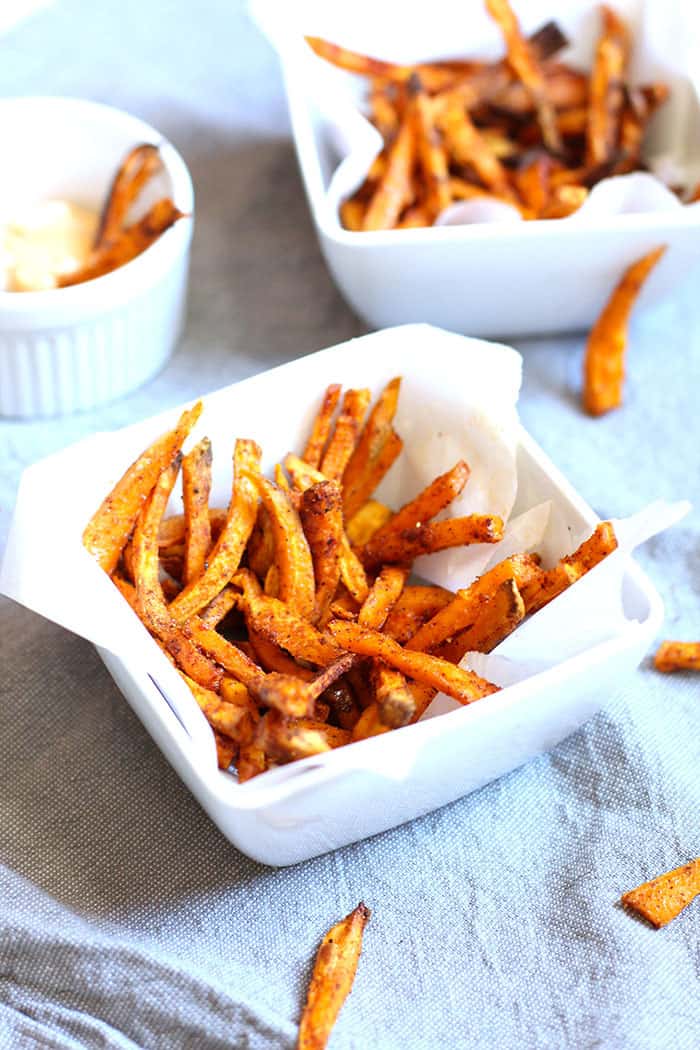 Ummm…not the end.
Sweet potatoes are one of my great loves…food wise. Not only are they super delicious, they are super healthy. I like it when that happens.
Sweet Potatoes have over 400% of your daily needs for vitamin A in one medium spud, as well as loads of fiber and potassium. They have more grams of natural sugars than regular potatoes but more overall nutrients with fewer calories.
We eat them every week, in one form or another. And that's why you will see many sweet potato recipes on this blog! It's good to shake it up and try new ways to prepare this super spud.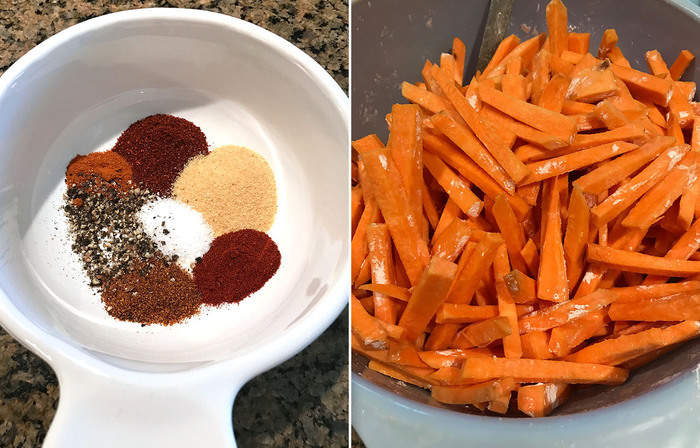 When we go out for burgers, we're always frantically searching the menu for sweet potato fries instead of regular fries. Because you know. We're healthy people looking for healthy food. Ok, I know I know that the restaurant fries – BOTH regular and sweet potato – are not so healthy. But we can pretend. And there IS that Vitamin A we so desperately need.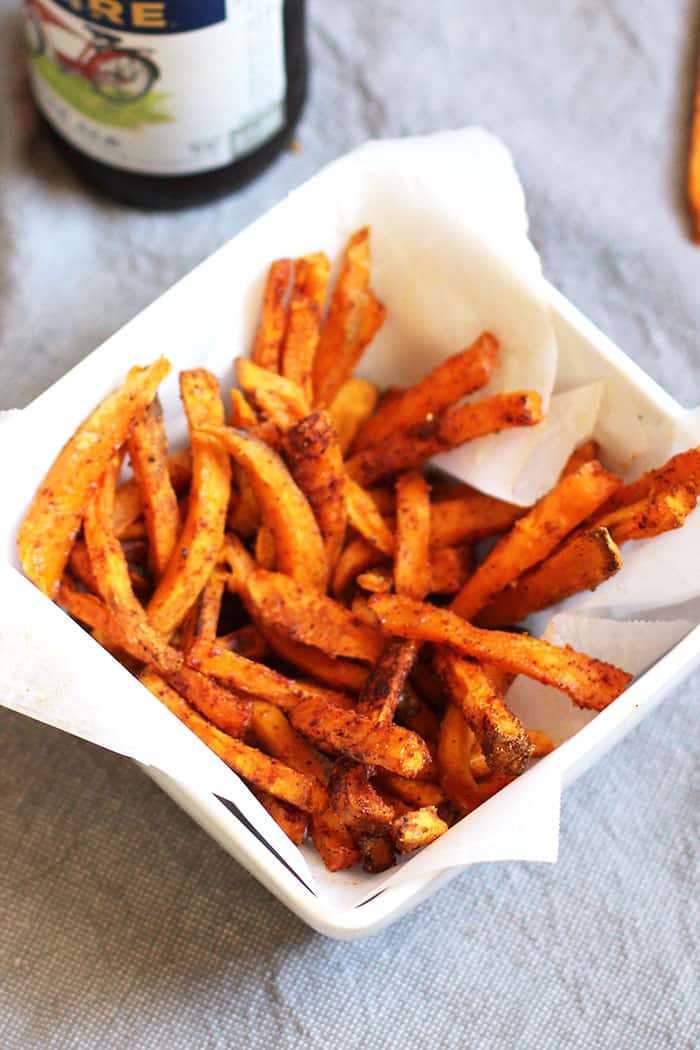 Baking fries is a little trickier than frying them. Be sure to use the following tips to ensure crispy fries. 1) Slice your potato in thin strips. 2) Soak fries in cold water for at least an hour before baking. 3) Don't crowd the baking pans (I used one pan for each large potato and used two ovens). 4) Bake at a high temperature. 5) Leave potato fries in oven for 20 – 30 minutes after you turn oven off (but watch them so they don't burn!).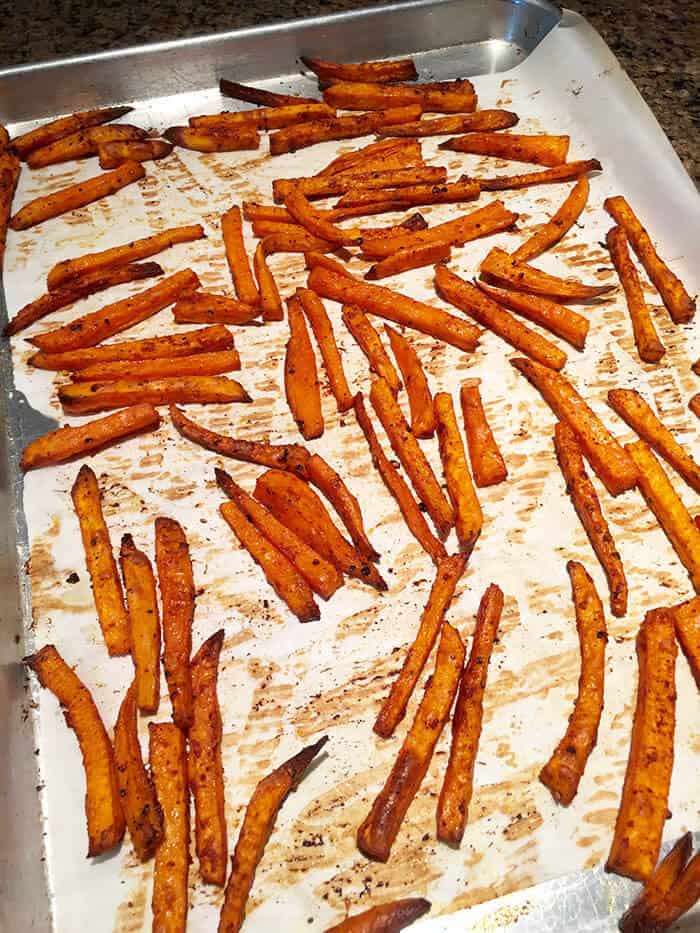 You can use whatever spices you like on these sweet potato fries. I went the spicy route again, and used chili powder, paprika, cayenne, garlic powder, kosher salt, and freshly ground pepper. If you don't like spicy, omit the chili powder, paprika and cayenne.
The dip is just a combination of mayo and Sriracha Sauce. SPICY!! You might need a beer with these.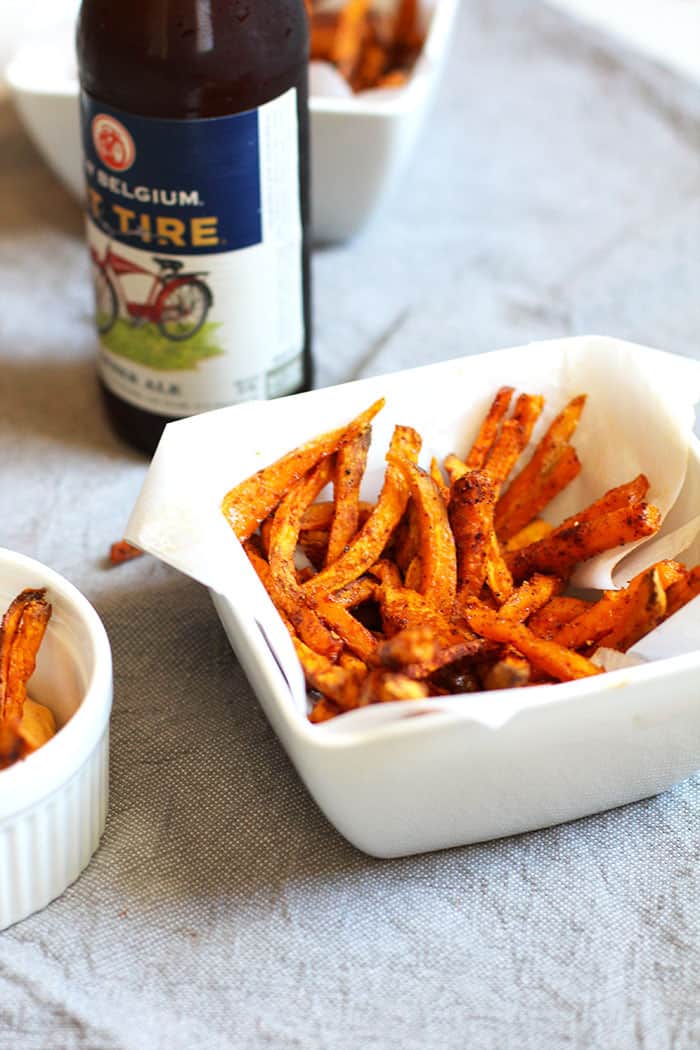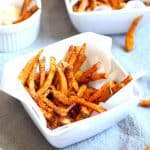 Spicy Baked Sweet Potato Fries
crispy, spicy fries, baked to perfection and healthy too
Ingredients
For the fries:
2

large

sweet potatoes

2-3

Tablespoons

olive oil

2

Tablespoons

corn starch

1

teaspoon

chili powder

1/2

teaspoon

garlic powder

1/2

teaspoon

paprika

1/4

teaspoon

cayenne

or more if you like spicy!

1/2

teaspoon

kosher salt

1

teaspoon

freshly ground pepper
For the dip:
1/4

cup

mayo

1

Tablespoon

Sriracha Sauce
Instructions
For the fries:
Peel sweet potatoes and cut into thin strips. Soak in cold water for at least an hour. Drain and pat dry with a clean towel.

Put strips in large bowl and drizzle with olive oil. Mix until well coated. Add corn starch and mix. Add all remaining seasonings and mix thoroughly.

Arrange fries on two baking pans lined with parchment paper. Put in ovens on top shelf. If you have only one oven, you can just put both pans in and rotate shelfs throughout cooking process.

Bake at 425 for 15 minutes. Flip fries and bake another 15 minutes. Check fries and you may need to bake another 15 mins. Turn off oven and let them sit in the oven for 20 to 30 minutes to further crisp up (but be careful not to burn them).
For the dip:
Combine mayo and Sriracha Sauce until well mixed.
SHARE THIS POST TO YOUR FRIENDS: