Kale and Quinoa Salad combines kale and quinoa with all the tasty things, including apple slices, dried cherries, sliced almonds, and the best Honey Dijon dressing. This powerhouse salad packs a serious flavor punch, and the leftovers are great as well!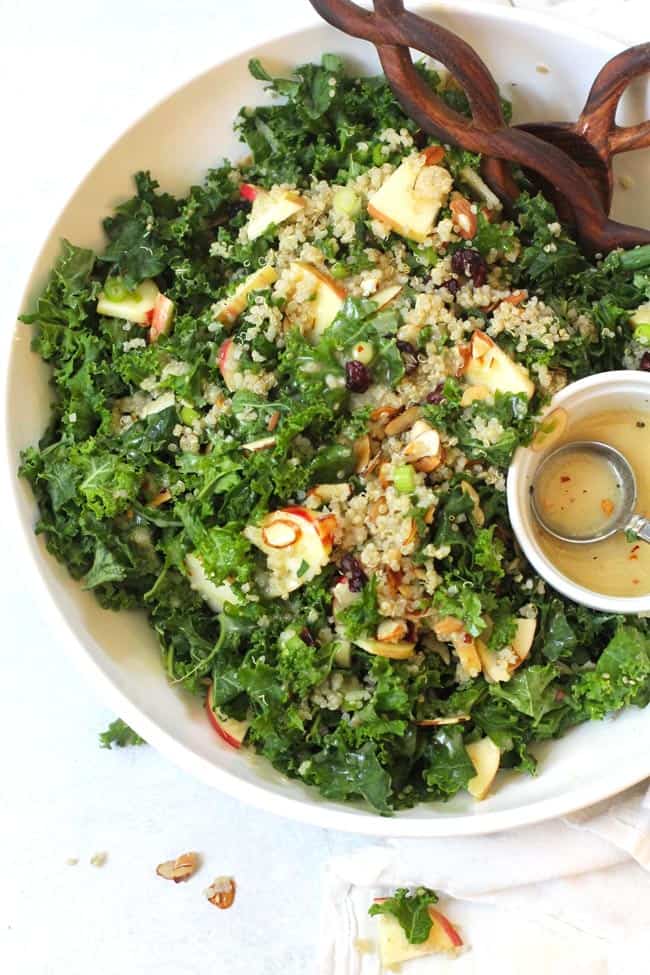 Here's a funny story for you. 😀
Mike and I recently took Josh and his girl, Tiffany, on a little adventure. We were looking for a quick place to eat lunch, and ended up in a rather sad joint, thanks to me, after refusing to eat in a "chain" type of restaurant that Josh had selected. BTW – I apologized profusely for my lack of sense.
Anyway, Tiffany and I each ordered kale and quinoa salads, instead of the rather disgusting looking biscuit sandwiches that this place is known for, apparently. So when they served our lunch, we both noticed that our kale and quinoa salads were missing the quinoa. :/ We asked the young girl in the front, and then the manager came out to explain that they "ran out of quinoa".
Moral of the story. Don't go to restaurants that serve you (and charge you) for salads with only half of the primary components. ARGH.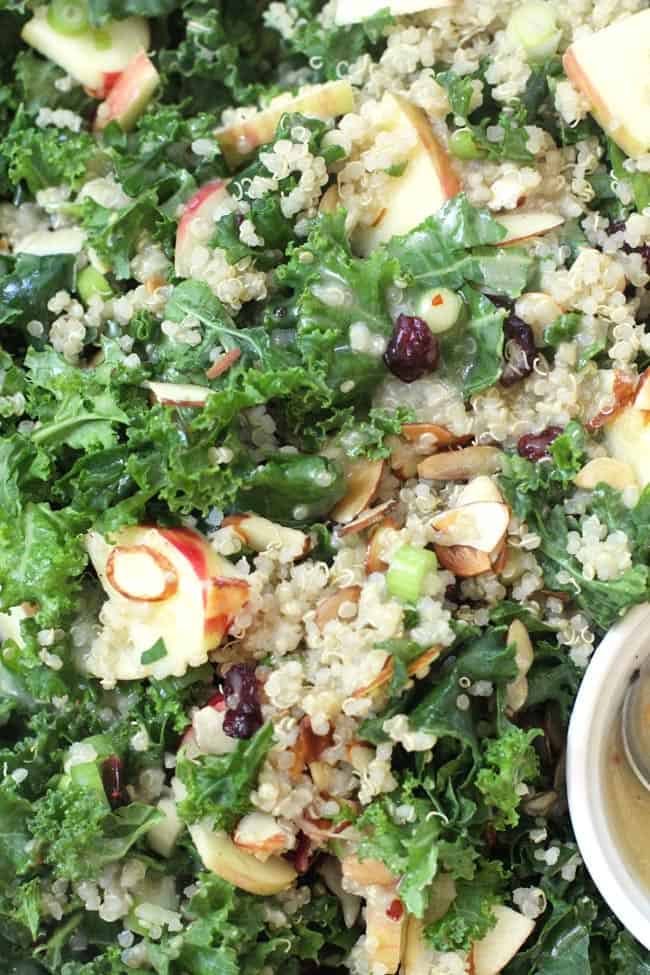 So…what did I do? I came home, ordered the ingredients from the store, picked them up, and made a LEGIT kale and quinoa salad. And yes, I did NOT forget the quinoa. LOL.
THIS salad is full of super foods, packed with nutrition and so many good-for-you ingredients.
Kale. One of the most nutrient-dense foods on the planet, kale is loaded with antioxidants, vitamins and minerals. Google it, and you'll see what a powerhouse this vegetable really is.
Quinoa. This plant food is naturally gluten-free, high in protein, and contains all nine essential amino acids. There are so many benefits to incorporating quinoa into your diet, which is why I now buy it in bulk.
Before I started this blog, I hadn't touched either of these super foods. Now? They are on the regular, and guess what? They taste good if properly prepared.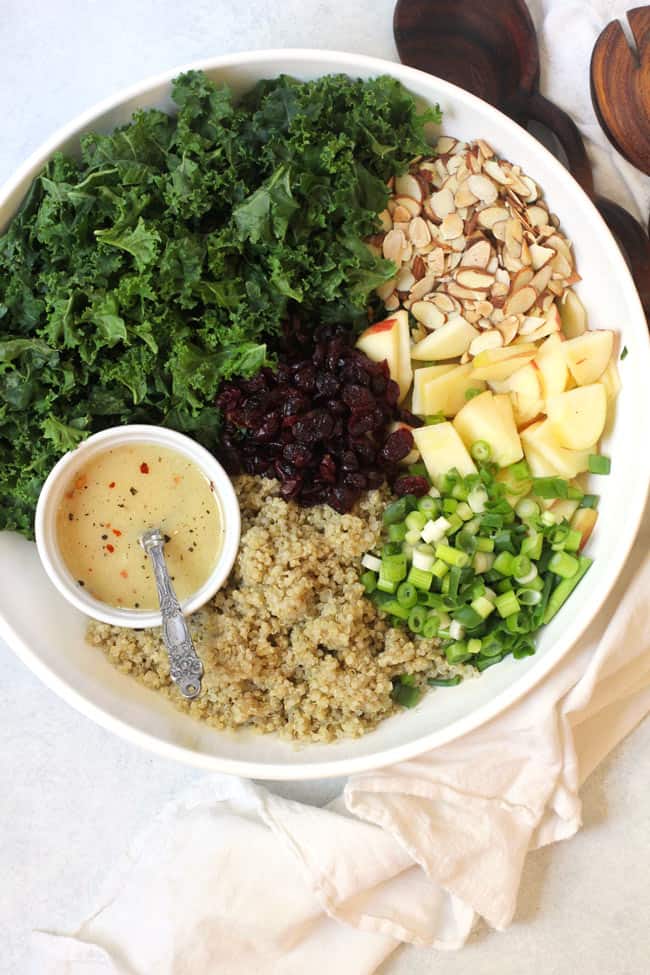 Let's shop!
Kale and Quinoa Salad Ingredients:
Kale. I like to buy the fresh stalks of curly kale, instead of the bagged.
Quinoa. I buy mine in bulk on Amazon, because we eat it every single week.
Green Onions. You could use red as well.
An Apple. I used a honey crisp because I had it on hand. Feel free to use anything you like to eat.
Dried Cherries. Such a great flavor in this salad, but you could use any dried fruit.
Sliced Almonds. A great protein boost, and we can't get enough of them. You could use any kind of nut here.
Honey Dijon Dressing Ingredients:
You probably have these ingredients in your pantry, but here is a quick list.
olive oil
apple cider vinegar
honey
dijon mustard
red pepper flakes
s&p
Pro-Tip: Massage your kale! First, sprinkle it with salt. Then drizzle with olive oil, and massage. This will do two things:
Your kale will turn a bright, beautiful shade of green.
It will be tender, and not bitter to the taste.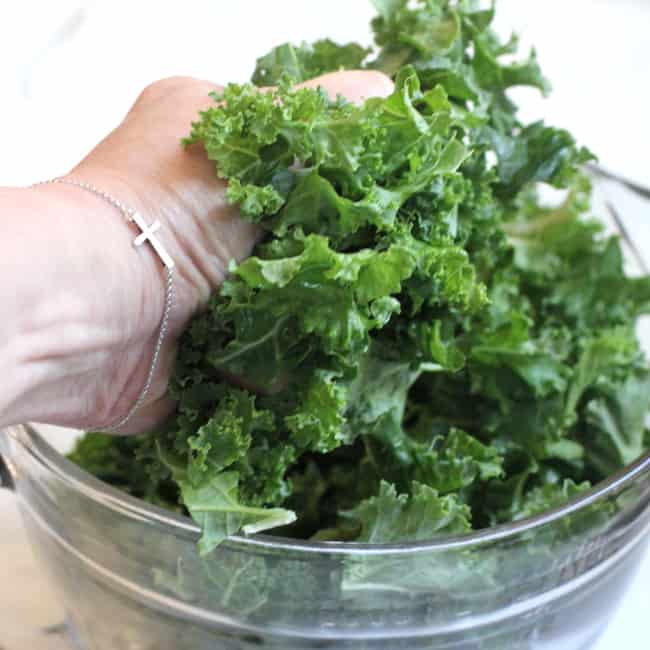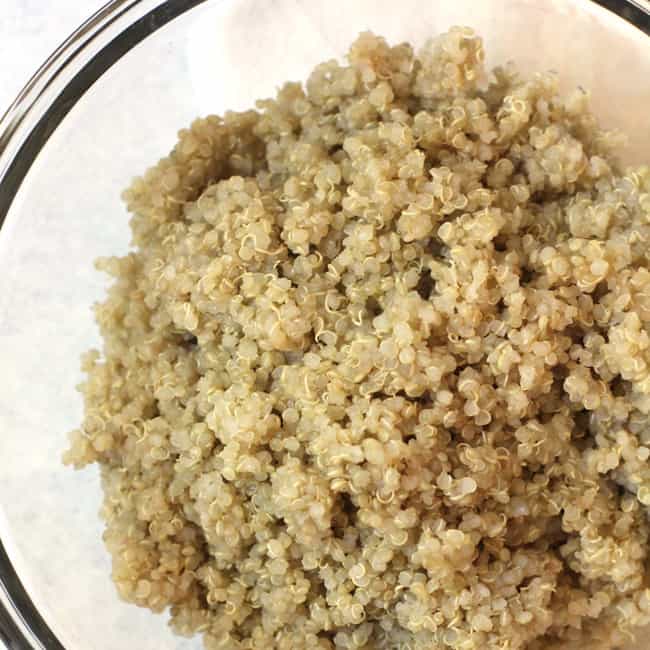 How to make Kale and Quinoa Salad:
Make your quinoa. You can make it on the stovetop or in an instant pot. I've been making it in my instant pot. So easy.
Prepare the kale. Make sure you remove the stems, and break apart in bite sized pieces. Then sprinkle with salt and olive oil, and massage!
Dice the green onions. So much flavor in these onions.
Prep the apple. Thinly slice the apple, and add a squeeze of fresh lemon juice to preserve the color.
Toast the almonds. Just cook over medium heat until fragrant and lightly browned in places.
Add the dried cherries. Or any dried fruit.
Make the dressing. Shake all the salad dressing ingredients in a mason jar, and drizzle some on the salad. (You may not need all of it, or you can add more later.) I like to add the dressing an hour or two in advance, to really let the flavors absorb.
This recipe makes approximately six servings as a side salad. I like to eat it as a main course, and in that case, it makes three large servings.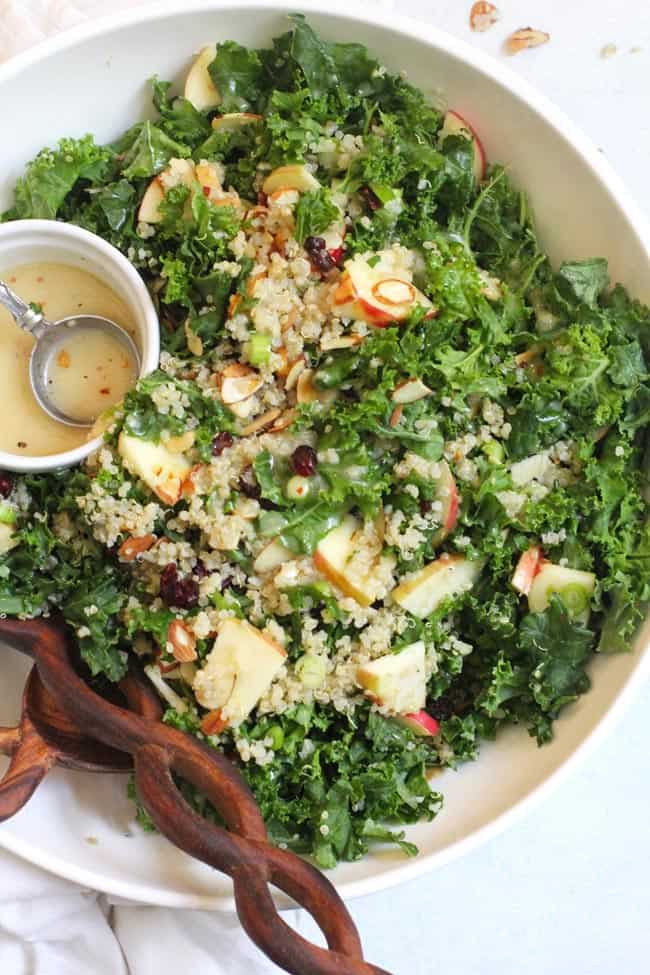 Make this soup salad next: Classic Wedge Salad with Blue Cheese Dressing
Please let know if you try this recipe. Be sure to comment and leave a review on the blog so I can see what you think. You can also like my Facebook Page, follow me on Pinterest, and catch me on Instagram.
xoxo ~Sue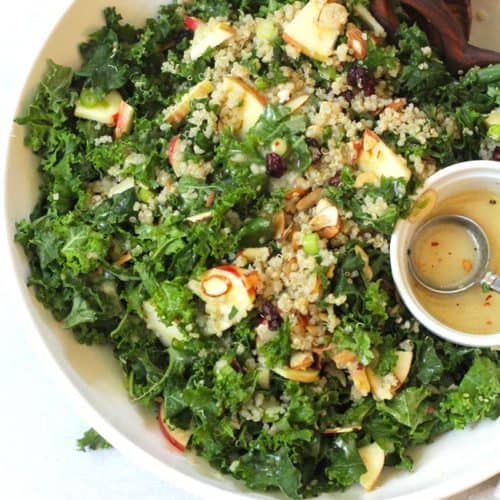 Kale and Quinoa Salad
Kale and Quinoa Salad combines kale and quinoa with all the tasty things, including apple slices, dried cherries, sliced almonds, and the best Honey Dijon dressing. This powerhouse salad packs a serious flavor punch, and the leftovers are great as well!
Print
Pin
Rate
Ingredients
For the salad:
8-10

cups

(packed) kale leaves

- de-stemmed and massaged

1

cup

quinoa (3 cups cooked)

- rinsed and drained

2

cups

lower-sodium chicken broth

1/3

cup

green onions

- diced

1/2

cup

sliced almonds

- toasted

1/2

cup

dried cherries

- or any type of dried fruit

1

large

apple

- sliced thin

1

medium

lemon

- freshly squeezed over the apple slices
For the dressing:
6

Tablespoons

olive oil

3

Tablespoons

apple cider vinegar

1

Tablespoon

honey

1

Tablespoon

dijon mustard

1/2

teaspoon

red pepper flakes

kosher salt and freshly ground black pepper

- to taste
Instructions
Remove the stem from the kale, and break into bite sized pieces. Place in large bowl, sprinkle with salt, drizzle with olive oil, and massage the kale with your hands. You will see it turn dark green as you do so.

Rinse the quinoa, and place in small pan with the chicken broth. Cook on medium, covered, until broth is absorbed, about 15 minutes. Remove from heat, and let it rest for 5-10 minutes. Fluff with a fork and cool in the refrigerator.

Toast the sliced almonds over medium heat, and then set aside. Slice apple and top with a squeeze of lemon, to preserve the color.

Make the dressing by combining all ingredients in a small mason jar, and shake vigorously.

To serve, divide kale and quinoa in bowls. Top with green onions, slivered almonds, dried cherries, and sliced apples. Drizzle with with dressing.
Notes
Massaging the kale is key to great color and taste.
You can make the quinoa on the stove top, or in an instant pot.
Any kind of dried raisins work for the dried cherries.
Add the dressing about an hour or two before serving, for best results.
This recipe makes six salads for a side, or three larger salads for a main course.
Nutrition
Calories:
384
kcal
|
Carbohydrates:
39
g
|
Protein:
12
g
|
Fat:
21
g
|
Saturated Fat:
2
g
|
Sodium:
93
mg
|
Potassium:
744
mg
|
Fiber:
4
g
|
Sugar:
8
g
|
Vitamin A:
9390
IU
|
Vitamin C:
108.2
mg
|
Calcium:
187
mg
|
Iron:
3.5
mg