Mexican Chicken and Sweet Potato Casserole is a healthy Tex-Mex dish, combining sweet potatoes with shredded chicken, black beans, and Mexicorn – plus a spicy chipotle sauce and Mexican cheese. This is a family favorite and makes great left-overs!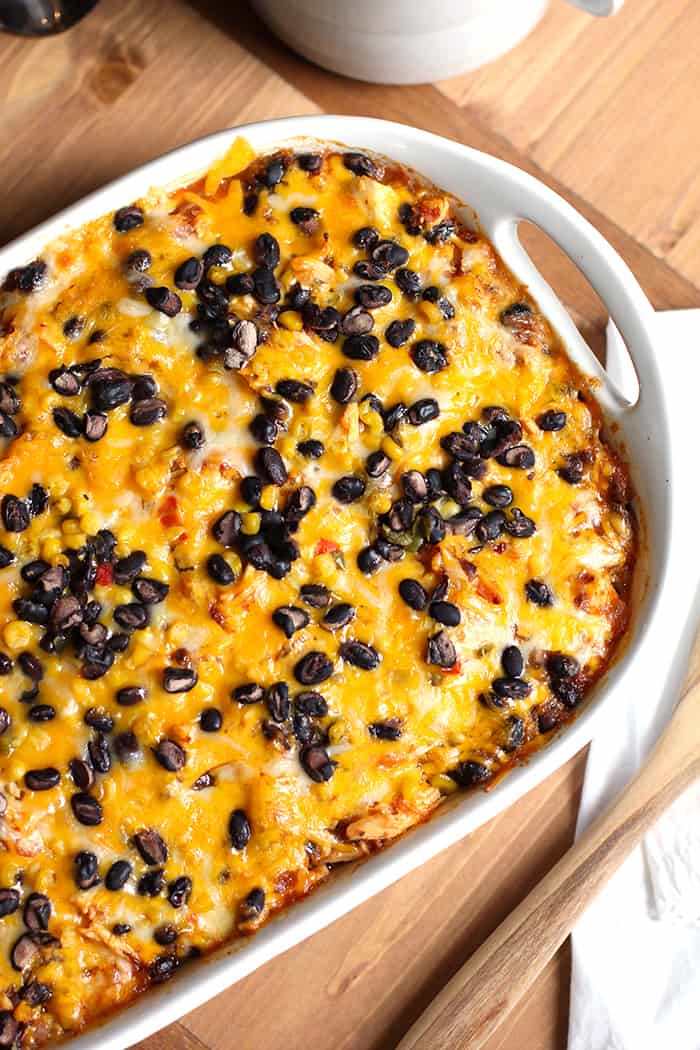 Sweet potatoes are a popular food around here. They are most definitely one of my hubby's favorite foods. And why not? They are a major super food. So while he rarely requests anything special for dinner (except maybe this and this), he does request sweet potatoes A LOT. Especially since his health kick a few years ago, when he lost 40 pounds and gained a six-pack. For realz.
And I'm the first to say we need to bump up the healthy foods, and save all of this and this for special occasions. Or maybe just have less special occasions. JK. I'm all for celebrating because we only get one earthly life. Let's say it together…
BALANCE. 🙂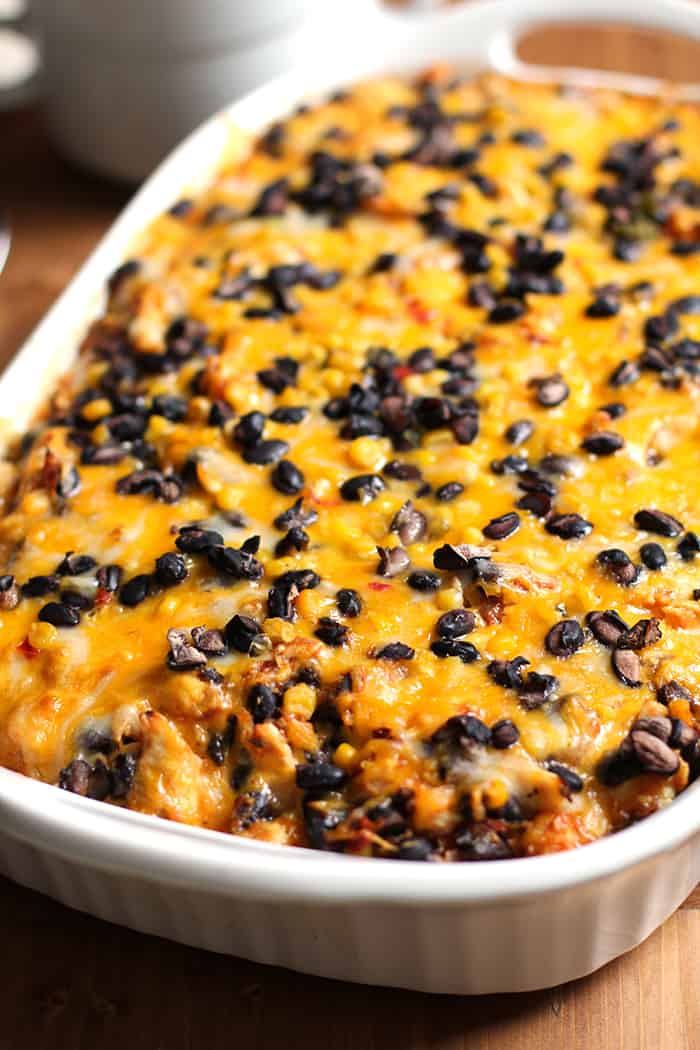 I know I'm overloading ya'll with recipe ideas, but I need to remind you of the OTHER fabulous sweet potato recipes on SueBee Homemaker.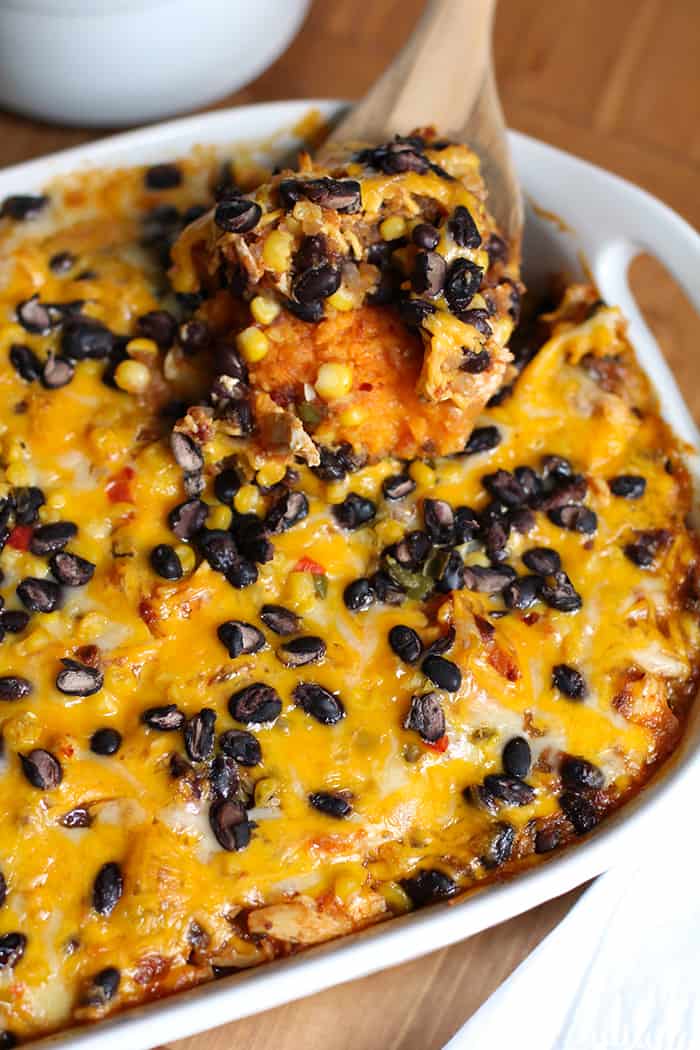 Now that I've covered the bottom of this casserole, let's talk about the top. It's called Tex-Mex, consisting of:
shredded chicken – you can bake your own or buy rotisserie chicken
black beans
Mexicorn
a spicy sauce – you can use as many chipotle peppers as you like, according to your spice tolerance
Mexican cheese
This casserole has a few more steps than some of my recipes, which is why buying the rotisserie chicken is a smart time-saver. Another tip is to boil the sweet potatoes and shred the chicken in advance. The sauce is best done the day you bake it, and again, use as many chipotle peppers as you like.
Personally, I like MORE, because MORE > less in this instance. But sometimes LESS is more. You get me? 🙂 (Sometimes I confuse myself.)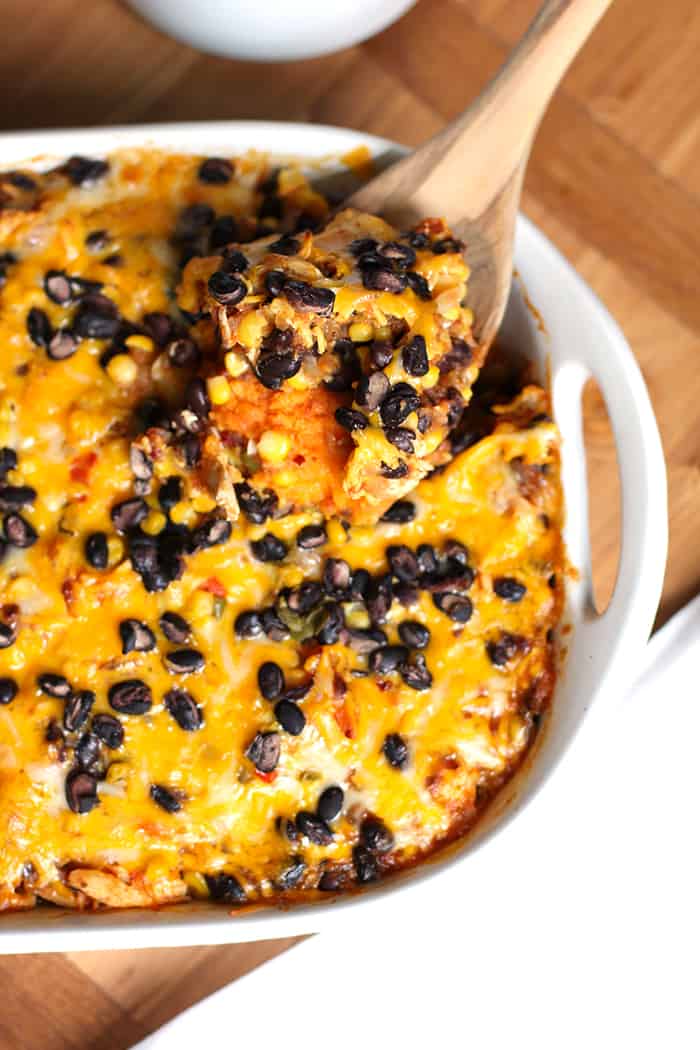 I'm not sure if you noticed or not, but I've got a "new" TEX-MEX category under my RECIPES menu. And I'm working on another one that I tested out at Easter time, and then again last week. It starts with an E and ends with an A. Any guesses? I've also just concocted another fun margarita recipe – Blueberry Lime Margaritas! – because of how much I enjoyed making my Classic Skinny Marg with my sis. Oh, and we enjoyed DRINKING them too. Just a little bit.
But remember. BALANCE. 🙂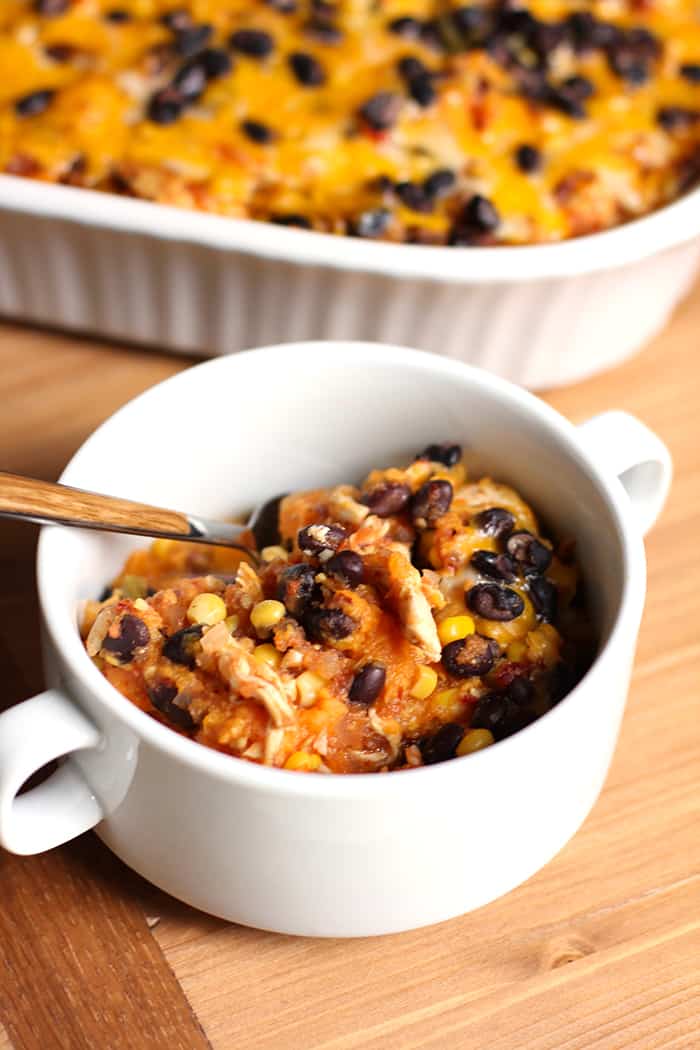 If you made it to the bottom of this recipe, I CONGRATULATE you! I know I can ramble at times. But thank you for listening.
Just a few more things.
Could you let me know if you make this recipe? Or any others? I'd LOVE for you to rate my recipes and leave a comment!
Would you like to be on my blog post email distribution (at the top of my home page)? You will get notified of my posts, and never miss a post update. 🙂
I'd love for you to follow me on social media. You can like my Facebook page from the home page on my site. I'm also on Instagram and Twitter.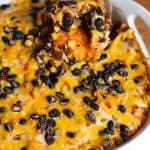 Mexican Chicken and Sweet Potato Casserole
Ingredients
4

cups

shredded chicken

- can make it or use rotisserie chicken

3

large

sweet potatoes

4

large

tomatoes

- you can also use 2 cans of diced tomatoes instead

2

Tablespoons

olive oil

1

large

onion

3

cloves

garlic

1

7 oz.

can chipotle peppers in adobe sauce

- I used 2/3 of the can. Adjust to your liking.

2

15 oz.

cans black beans

- drained and rinsed

1

15 oz.

can Mexicorn

- drained

1

Tablespoon

ground cumin

salt & pepper to taste

8

oz.

Mexican cheese

- or use pepper jack
Instructions
Start by peeling and chopping three large sweet potatoes. Cover with water and boil until soft. Remove from heat and drain. Than mash and place in 9x11 casserole dish.

For the chicken, use either rotisserie chicken or make your own. I baked mine: butterfly the chicken, drizzle olive oil and season with salt and pepper. Bake at 300 degrees for 25-30 minutes, or until cooked through. Shred when slightly cooled and set aside.
For the sauce:
Place 4 large tomatoes in boiling water for approximately 10 minutes. Remove with a slotted spoon, remove the skin, and transfer to a blender. If you want a shortcut here, use 2 cans of diced tomatoes instead.

Sauté onion and garlic cloves in olive oil and cumin until soft. Add to the blender.

Open a can of chipotle peppers in adobe sauce. I used about 2/3 of the can but adjust accordingly to how spicy you like your food.

Blend onion, garlic, tomatoes, and chipotle peppers until it becomes a sauce. If you like extra sauce, you can add diced tomatoes to the blender or just extra adobe sauce.
To assemble the casserole:
Add the sauce to a bowl with the drained and rinsed black beans and the Mexicorn. Add shredded chicken and mix.

Layer the chicken mixture over the sweet potatoes.

Add 8 ounces of spicy Mexican cheese or pepper jack cheese. I also reserved some black beans and sprinkled them on the top for decoration.

Bake on 350 for 30 -40 minutes.


SHARE THIS POST TO YOUR FRIENDS: