Hello Meatless Monday! My second meatless main dish recipe and we are in love with it.
Our pesto love affair has continued with this Roasted Vegetable Pesto Panini. I can't stress how much we love this green sauce from Italy. It's unbelievable in every dish I use it in. I'm currently loving it as a pizza topping as well as in these sandwiches. Oh, and then there's the Shrimp Pesto Rice Bowls that I shared recently. One of my favorite meal creations since starting this blog.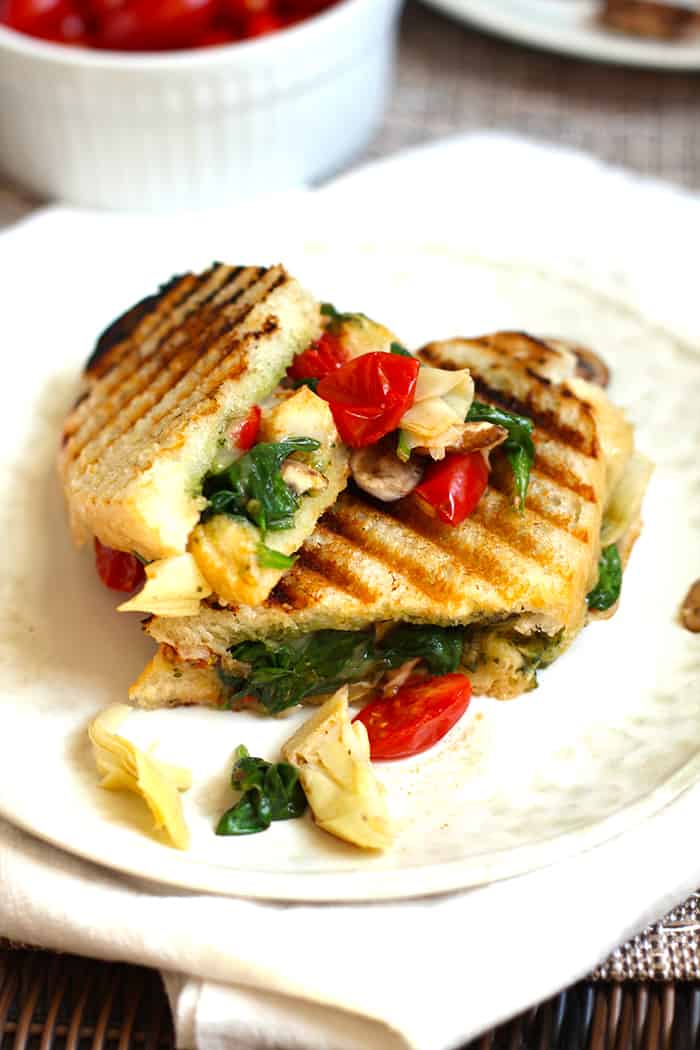 It's a good thing I just re-did my Pesto Recipe because my pictures were just not good. I think it was one of my first go-arounds at food photography, and I didn't get the lighting part AT ALL. The new pictures totally do it justice.
Gardening is on my summer to-do list because I need basil plants. Like really NEED. I buy the largest container at the store I can find, and it makes two recipes of my Pesto Sauce. I store the sauce in my freezer in small containers, because a little goes a long way. Except when you cook with it several times a week.
So back to this panini recipe. I got the idea to make it after eating the California Grille Panini at Corner Bakery. It's one of my favorite sandwiches there. So this recipe is basically a copycat. But Mike said mine was better. 🙂 I used my homemade french bread that I recently baked in a cast iron skillet. So the bread is round instead of oblong, which makes it easier to use for sandwiches. If you aren't up to baking bread, just buy any crusty bread that you like.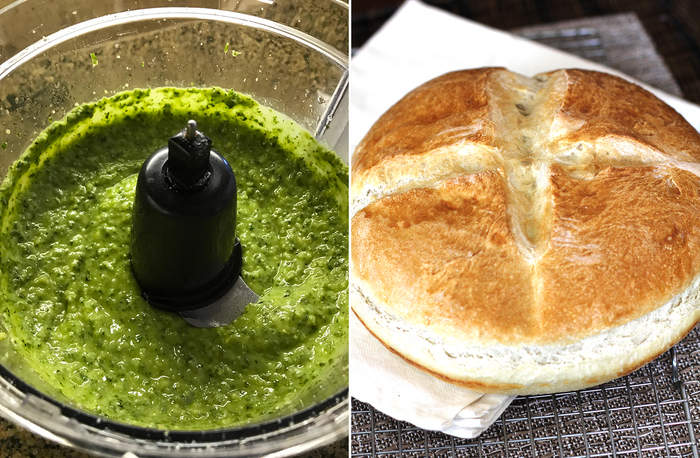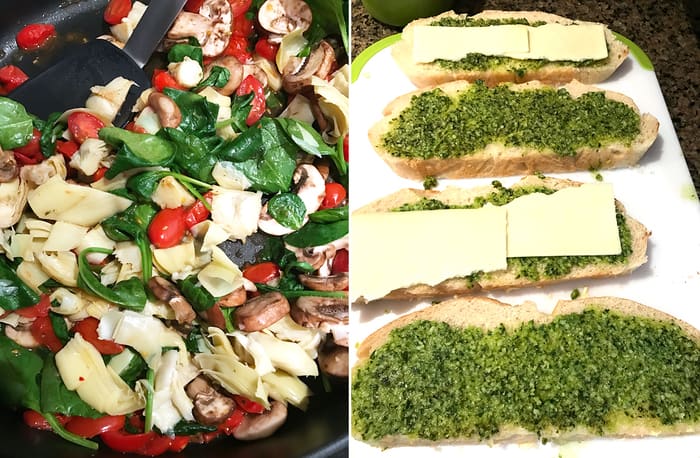 You can literally use any vegetable you want in the panini, but make sure you include artichoke hearts. I bought the marinated ones in the jars and just stirred them in with the roasted vegetables at the very end to get them warm. You can also use any cheese you like. I used monterey jack because I had it on hand.
I used my panini maker 
to toast this sandwich. It's one of my most used appliances in the kitchen, especially when Josh is home. Santa brought him a panini maker for Christmas before he went to college and he was so happy to get it. What college kid doesn't love an easy-to-make panini?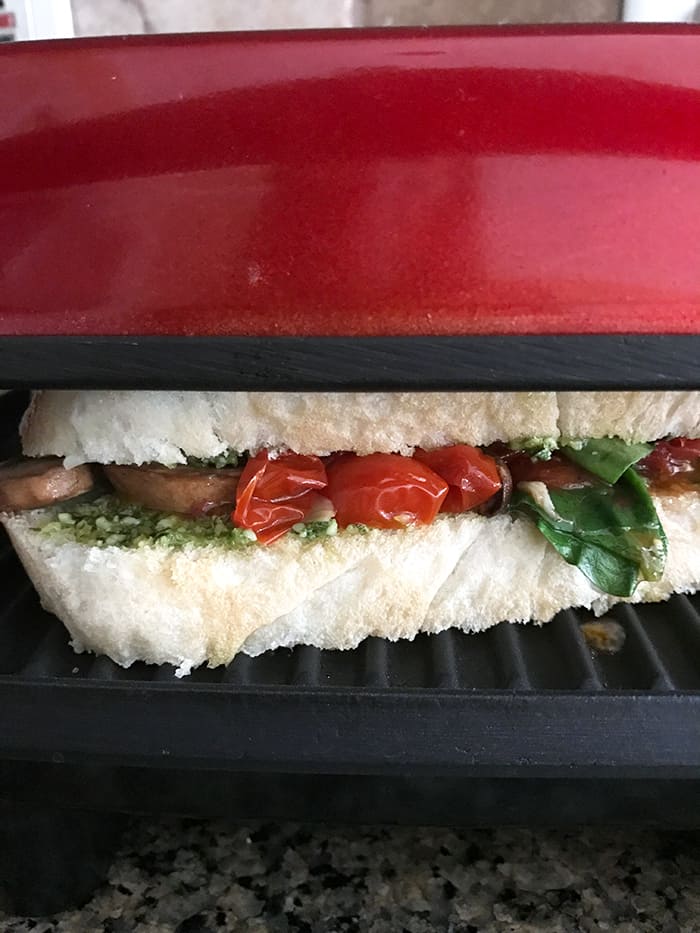 You won't miss the meat in this sandwich but you could definitely add it if you prefer. It's also a perfect weeknight meal to prepare quickly, as long as you have the ingredients on hand. And if you make your own pesto and/or bread, just make sure you've taken it out of the freezer ahead of time.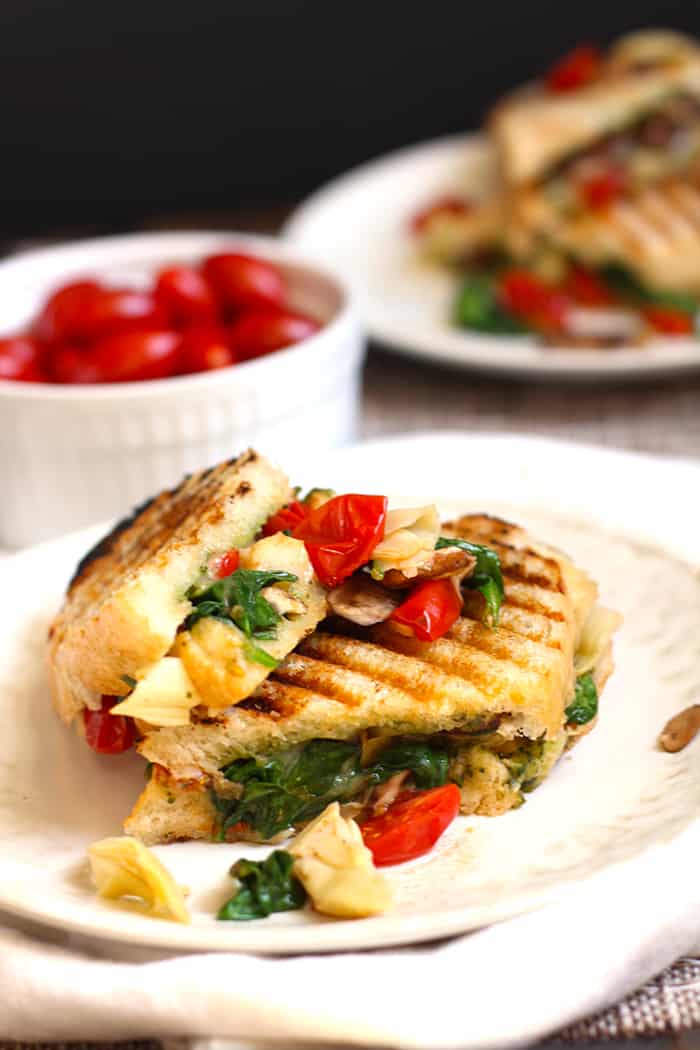 Kitchen Tools used for this recipe: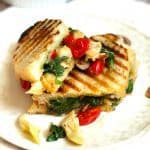 Roasted Vegetable Pesto Panini
a delicious sandwich, full of healthy roasted vegetables along with a spreading of pesto topped with monterey jack cheese
Ingredients
8

slices

crusty bread

- I use my homemade french bread on this site

1/2

cup

pesto sauce

- I use my homemade pesto on this site

2

Tablespoons

butter spread

4

slices

monterey jack cheese

4

cups

baby spinach

1 1/2

cup

plum tomatoes

halved

2

cups

sliced mushrooms

12

oz.

marinated artichoke hearts

2

Tablespoons

olive oil

salt and pepper

to taste
Instructions
In a medium saucepan, heat olive oil over medium high heat. Add spinach, tomatoes, mushrooms, salt and pepper - and cook until soft. Add artichoke hearts and remove from heat.

Meanwhile, heat panini grill (or can use a pan to grill). Take bread and spread butter on one side of the bread only. On the other side of bread, spread pesto sauce.

To assemble sandwiches, turn butter side down and arrange roasted vegetables on the pesto side of four of the slices of bread. Add cheese on top of vegetables, and then place other piece of bread on top, butter side up.

Place two sandwiches on the panini grill and cook until bread gets nice grill marks, and the cheese melts. Serve immediately.
SHARE THIS POST TO YOUR FRIENDS: