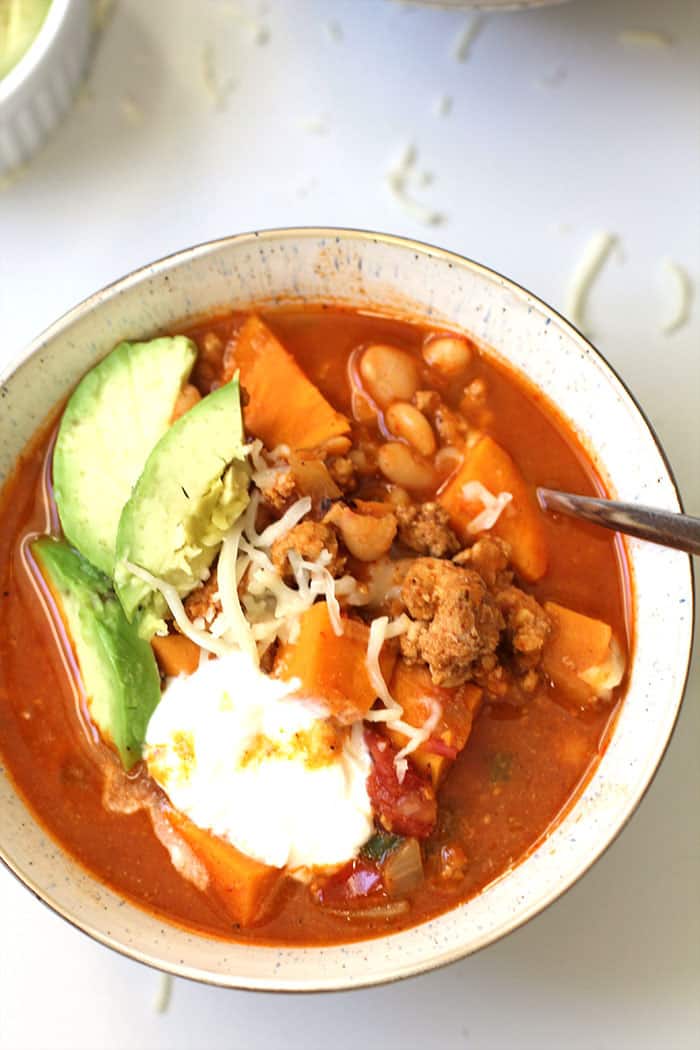 I don't think I really understood the food blogging world until I jumped right in. All these folks (and by all, I mean a TON of people) really enjoy food and cooking. Like me. I haven't always enjoyed it, to be honest. Especially when the kids were super active and we were all going in different directions every night of the week. It was like a tag team. I got the little one, you got the big one, (how do ya'll even cope with more than two?) let's meet back here at 9pm so we can inhale some food (eggs, pb&js, or leftovers) and say our bedtime prayers and go to sleep. Wow, that makes me tired just thinking about it.
Back to the food blogging. I've read TONS of blogs lately, trying to figure out how I should go about this new gig. And the Food Network is on pretty much 24/7. My boys love it…ha. 🙂 I have about a billion ideas circling around in my head at any given time. It's actually hard to shut it down. So I just take it one idea at a time. One recipe at a time. While keeping a three page idea list on my computer. 🙂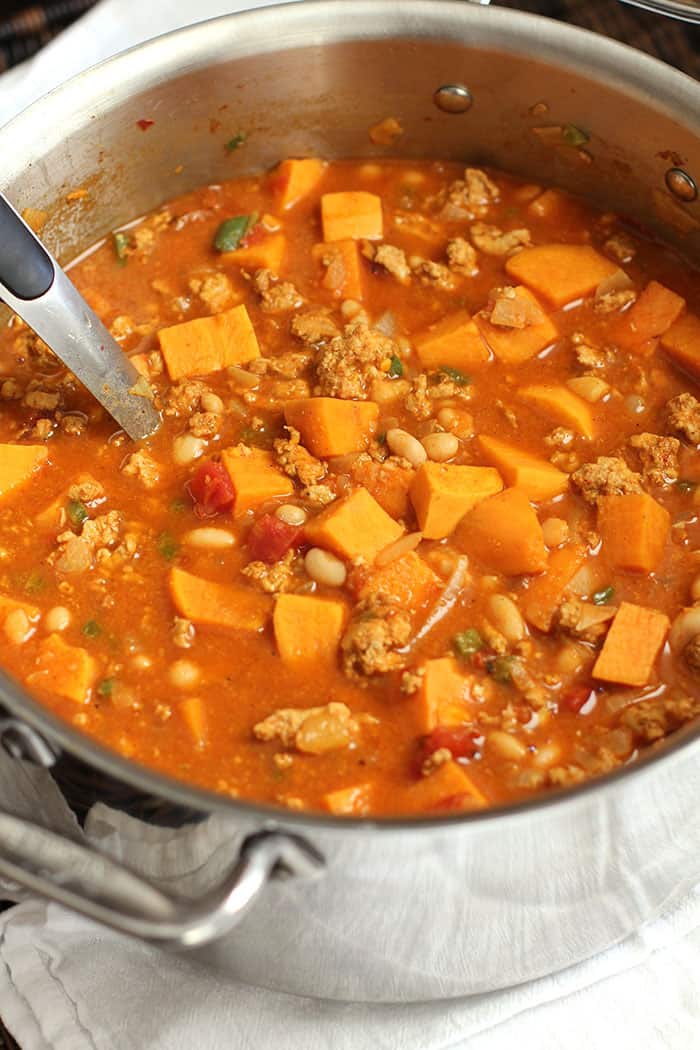 Today's Sweet Potato Turkey Chili recipe is sponsored by Jenni-O Turkey. They contacted me during the second week of my blog (surprise!) and asked me to use their products during 2017 and blog about them, in exchange for free product. I cook with Jenni-O all the time anyway so it was a no-brainer for me. They sent me lean ground turkey and so I created this Sweet Potato Turkey Chili, which is just an adaptation of my Easy Slow Cooker Chili. And I must admit. It's really good!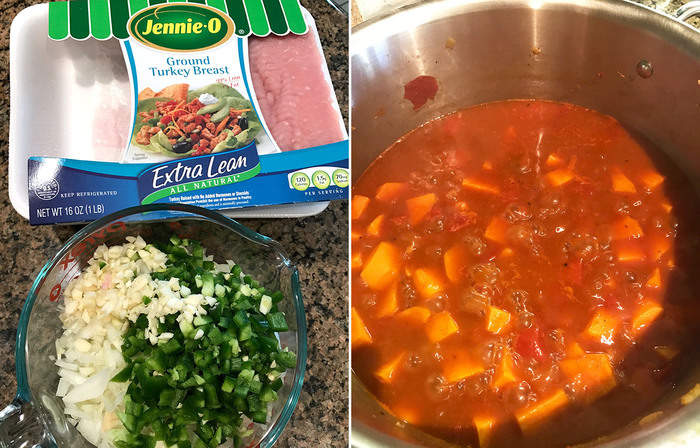 I've never actually purchased the 99% lean turkey because I like a little fat in the meat I cook with. But honestly, I'm so pleased with how this turned out, especially because it tastes great and is SUPER lean and healthy. I wouldn't use the super lean turkey to make a burger, but using it in chili is a win/win.
If you've never used sweet potatoes in your chili, I think you should try it. The sweet taste of the potatoes is a great contrast to the spiciness of the chili. You know how I love to use lots and lots of spice. This combination allows you to taste the spice and the sweet at the same time. So amazing.
Sweet potato lovers unite. 🙂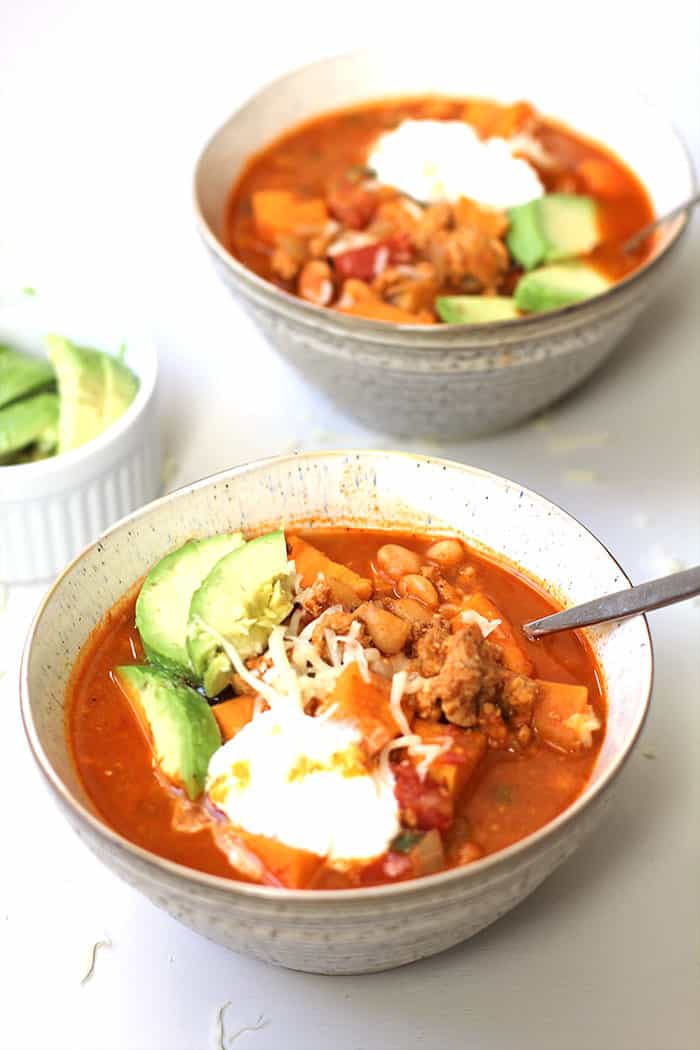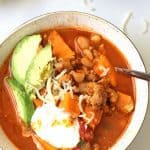 Sweet Potato Turkey Chili
a hearty and healthy chili, loaded with beans, tomatoes, sweet potatoes, and lean ground turkey - perfect for cold days
Ingredients
3

Tablespoons

olive oil

2

pounds

lean ground turkey

Jennie-O

1

large

onion

chopped

3

cloves

garlic

minced

2

large

jalapenos

diced (one de-seeded, one with seeds)

3

Tablespoons

chili powder

2

Tablespoons

cumin

salt and pepper

to taste

6

cups

chicken broth

may need to add more

1

15 oz.

can fire roasted tomatoes

4

Tablespoons

tomato paste

1

teaspoons

sugar

2

15 oz.

white chili beans

drained

4

medium

sweet potatoes

peeled and diced

shredded cheese

for serving

sour cream

for serving

avocado slices

for serving
Instructions
In large saucepan, heat oil over medium heat. Add ground turkey, onion, garlic, jalapeños, 2 tablespoons of chili powder, 1 tablespoon of cumin, and salt and pepper. Cook until turkey is browned and crumbled, and the onions are soft, stirring often. Remove from pan and set aside.

Add the diced sweet potatoes to the same pot along with the remaining chili powder and cumin (and more salt and pepper - to taste). Stir and brown slightly, then add the chicken broth, fire roasted tomatoes, tomato paste, and sugar. Cook until the sweet potatoes are soft and fully cooked.

Take an immersion blender and puree the soup until just about half the potatoes are pureed. Leave the remaining potato chunks in tact.

Add the beans and the ground turkey mixture back to the pan. Stir to combine and cook until the beans are heated through, about 5 minutes.

Serve chili with shredded cheese, sour cream, and avocado slices.
SHARE THIS POST TO YOUR FRIENDS: