A super easy 6-ingredient recipe makes this Chunky Guacamole the life of your next party, even if it involves a small party of two!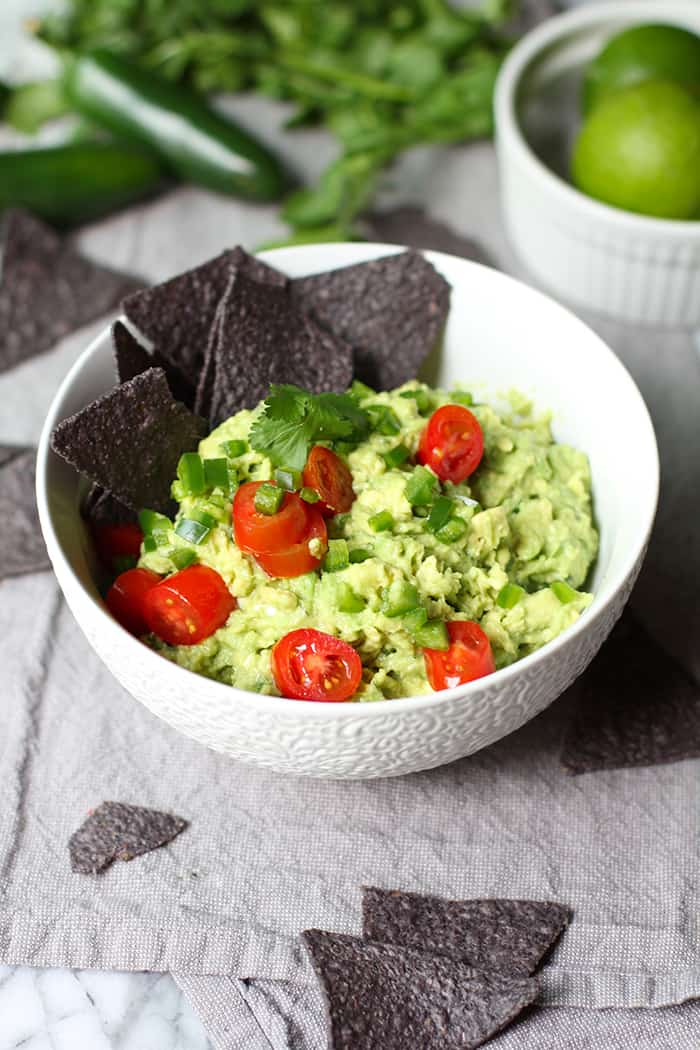 NOW we're talking my kind of Mexican food. Give me a bowl of this Chunky Guacamole and a margarita, and I'm in foodie heaven. These blue chips
 are also a key ingredient for this recipe. They are thick and crunchy, and you can actually scoop up a big chunk of guac easily. That's important, folks.
How do you like your guacamole? Chunky or creamy?
Obviously…I like mine chunky! And I'm here to convince you to NEVER (and I mean never) use a food processor to make your guac. It IS one of my fav kitchen appliances in my kitchen, but it is not recommended for guacamole, especially chunky guacamole.
So get out your fork and just mash those avocados into chunks.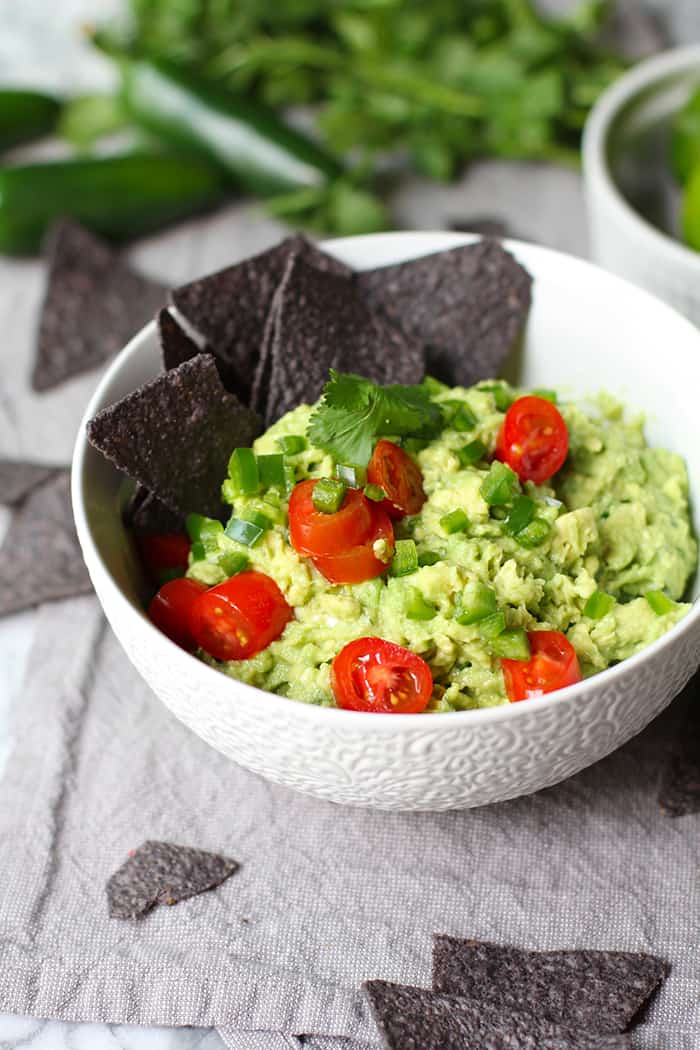 Ya'll know about my love affair with jalapeños, right? Well, now you know that guacamole is another great love of mine. I put it on toast, tacos, fish, chicken, eggs, and almost anything. The tricky part is getting avocados that are ripe when you want to eat them.
I hate to throw these precious fruit away. That's probably why I put them on anything and EVERYthing. If there is a ripe one on my counter and we're having fish instead of tacos, I just mash it into chunks and serve it up – on top of the fish.
Avocados are probably the most squeezed fruit in the produce section of any grocery store, because you have to squeeze them to determine if they are ones for you. They are also a super food.
Here's a low-down on this nutrient all-star (according to WebMD).
Avocados offer nearly 20 vitamins and minerals in every serving.
They are a good source of potassium (helps control blood pressure), lutein (good for your eyes), and folate (crucial for cell repair and for pregnant woman).
Avocados are a great source of B vitamins (which helps you fight off disease and infection).
They are rich in Vitamin C and E, and natural plant chemicals that may help prevent cancer.
They are low in sugar.
Avocados contain fiber, which helps us stay full longer.
They are high in fat – the "good" fat that helps lower bad cholesterol.
Avocados are also high in calories, and must be consumed in moderation.
Moderation is key here, friends, so make sure you share this Chunky Guacamole. Unless you are having a party of one. 🙂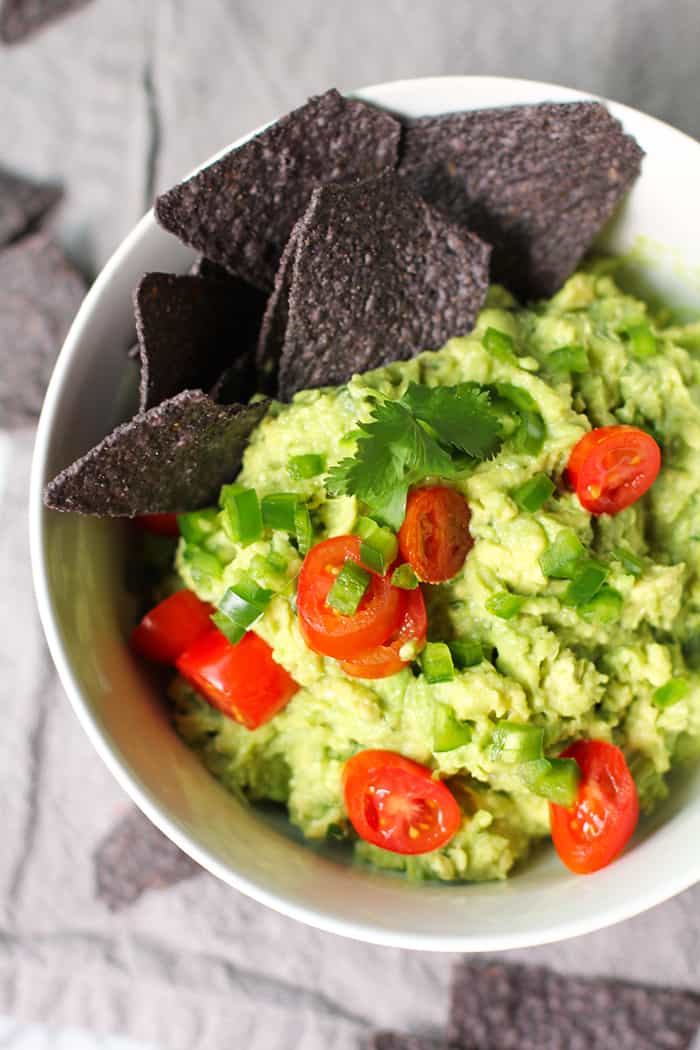 Make this snack next: Mexican Black-Eyed Pea Dip
You can stay up-to-date with SueBee Homemaker by:
signing up for post updates (top right-hand corner of my blog)
liking my Facebook Page
and following me on Pinterest
I'm also sharing tidbits of my life on Instagram.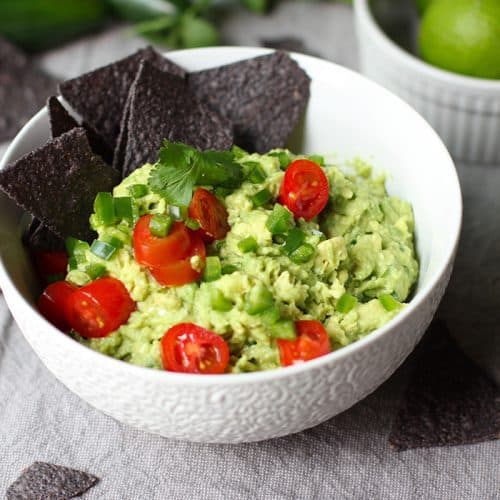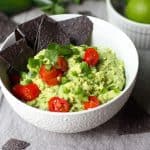 Chunky Guacamole
A super easy 6-ingredient recipe makes this Chunky Guacamole the life of your next party, even if it involves a small party of two!
Ingredients
2

large

avocados

1

whole

jalapeno

- 1/2 with seeds, 1/2 without

1/2

teaspoon

garlic salt

2

Tablespoons

cilantro

- chopped

1

whole

lime

- juiced

1/4

cup

cherry tomatoes

- chopped

blue chips

- for serving
Instructions
Using a fork, smash avocados, leaving some chunks in tact. Add to medium bowl.

Add half of the diced jalapeño (with seeds), cilantro, and garlic salt.

Squeeze lime until you get plenty of juice. Add it to bowl and stir, careful to not puree the avocado.

To serve, add the other half of the jalapeño and the chopped cherry tomatoes. Serve with blue chips (or any kind you like).
Did you make this recipe?
Tag @suebeehomemaker on Instagram and hashtag it #suebeehomemaker