This post may contain affiliate links which won't change your price but will share a commission.
Kielbasa and Sauerkraut is an easy one skillet meal that combines spicy sausage, buttery yellow potatoes, and briny sauerkraut. This Polish inspired recipe is the tastiest weeknight meal and your family will love it!
While this recipe is my first one with sauerkraut, it won't be the last. Sausage, however, is an ingredient in several of my recipes, include Crispy Sheet Pan Gnocchi with Sausage and Sausage Gnocchi Soup.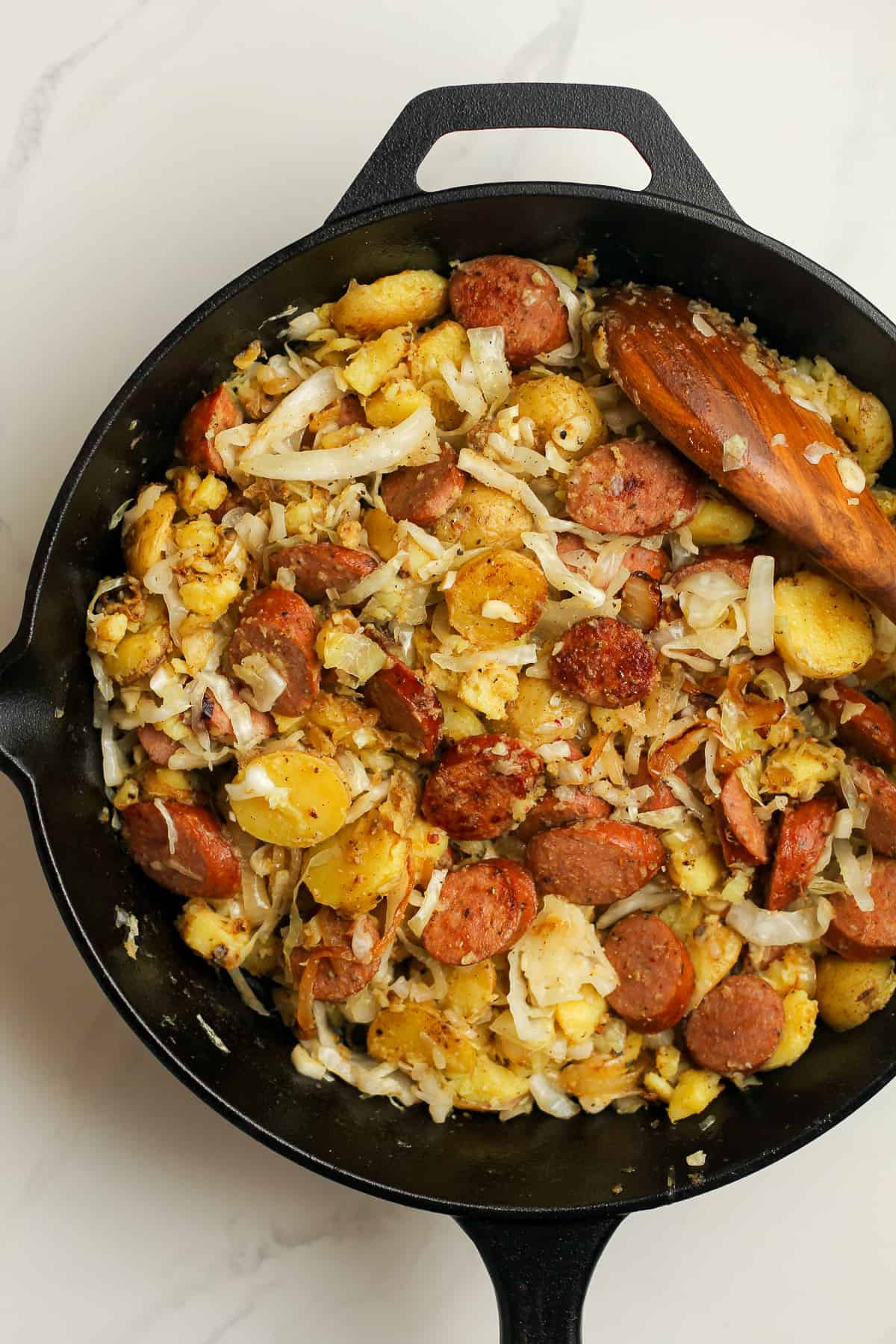 Kielbasa and Sauerkraut Skillet
Making this recipe in a cast iron skillet provides amazing flavor. I love how crispy the sausage and potatoes get, before adding the briny sauerkraut. Dinner time for the whole family just got tastier.
While you can buy the sauerkraut for this skillet meal, making your own is even tastier. A combo of cabbage and salt, homemade sauerkraut is a simple science experiment – in a foodie kind of way. Head to conduct your own little experiment and enjoy the fruits of your labor!
Why this recipe works
A Simple Recipe. This easy dinner recipe contains just a minimal number of ingredients. Sausage, potatoes, sauerkraut, onion, seasonings, and olive oil. Basic and a great reminder of meals of my childhood.
Includes sauerkraut. This is my first recipe that includes the briny cabbage and I love it. Tangy sauerkraut is something that reminds me of the days of old, and if you've never tried it, I highly encourage you to give it a whirl. you'll soon be a fan of sauerkraut too.
Makes great leftovers. This recipe is great leftover and even makes delicious meal prep for lunches.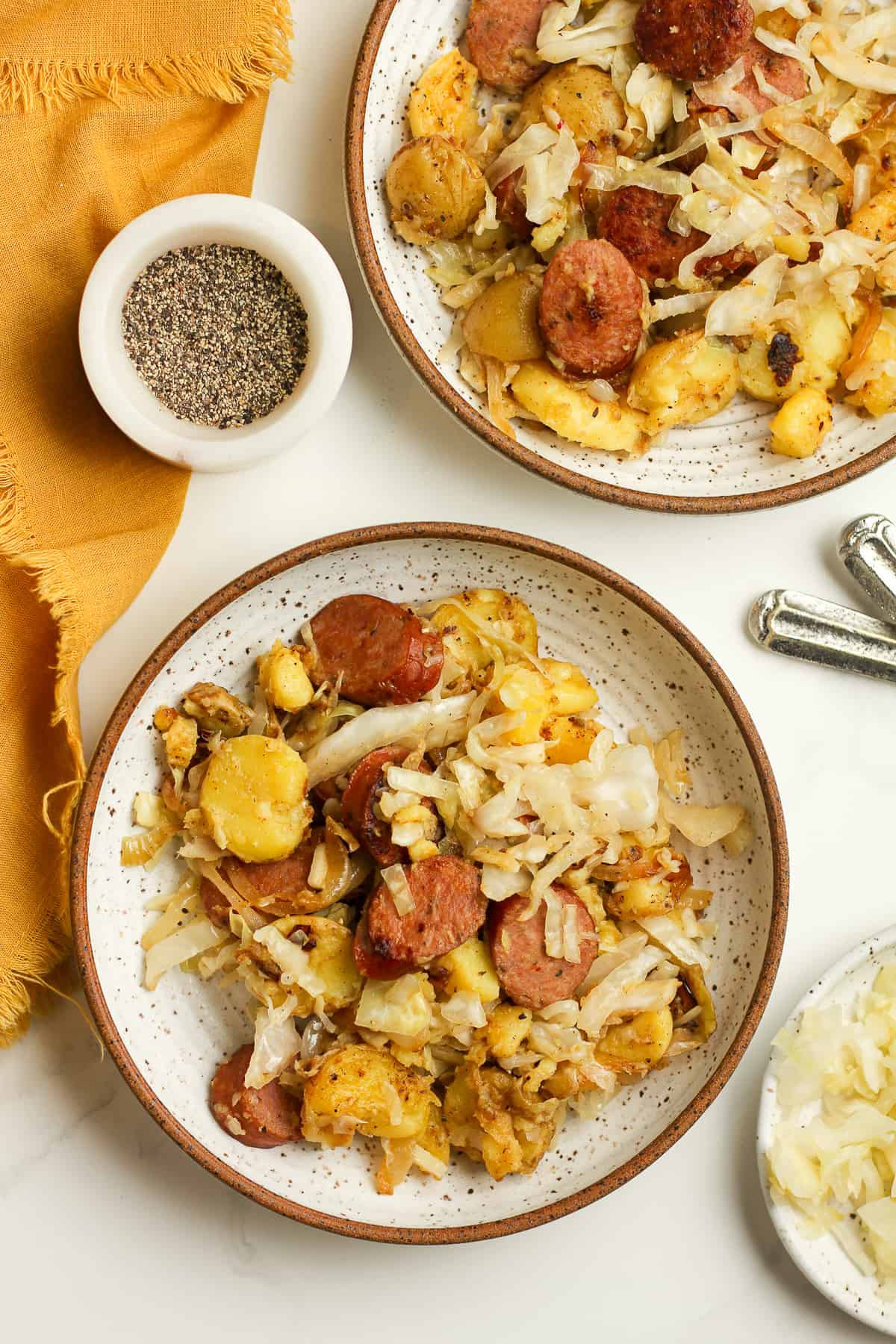 Ingredient Notes
Sausage – You can use kielbasa sausage or any other smoked sausage.
Sliced Onions – I normally buy yellow onion, so that's what I used here.
Potatoes – Buttery yellow potatoes are my favorite in this dish.
Sauerkraut – Make your own sauerkraut (it's easy, I promise!) or buy your favorite brand in the grocery store. The sour flavor combined with all of the other ingredients is a perfect balance of flavors.
Seasoning – Salt, black pepper, and a little bit of onion powder.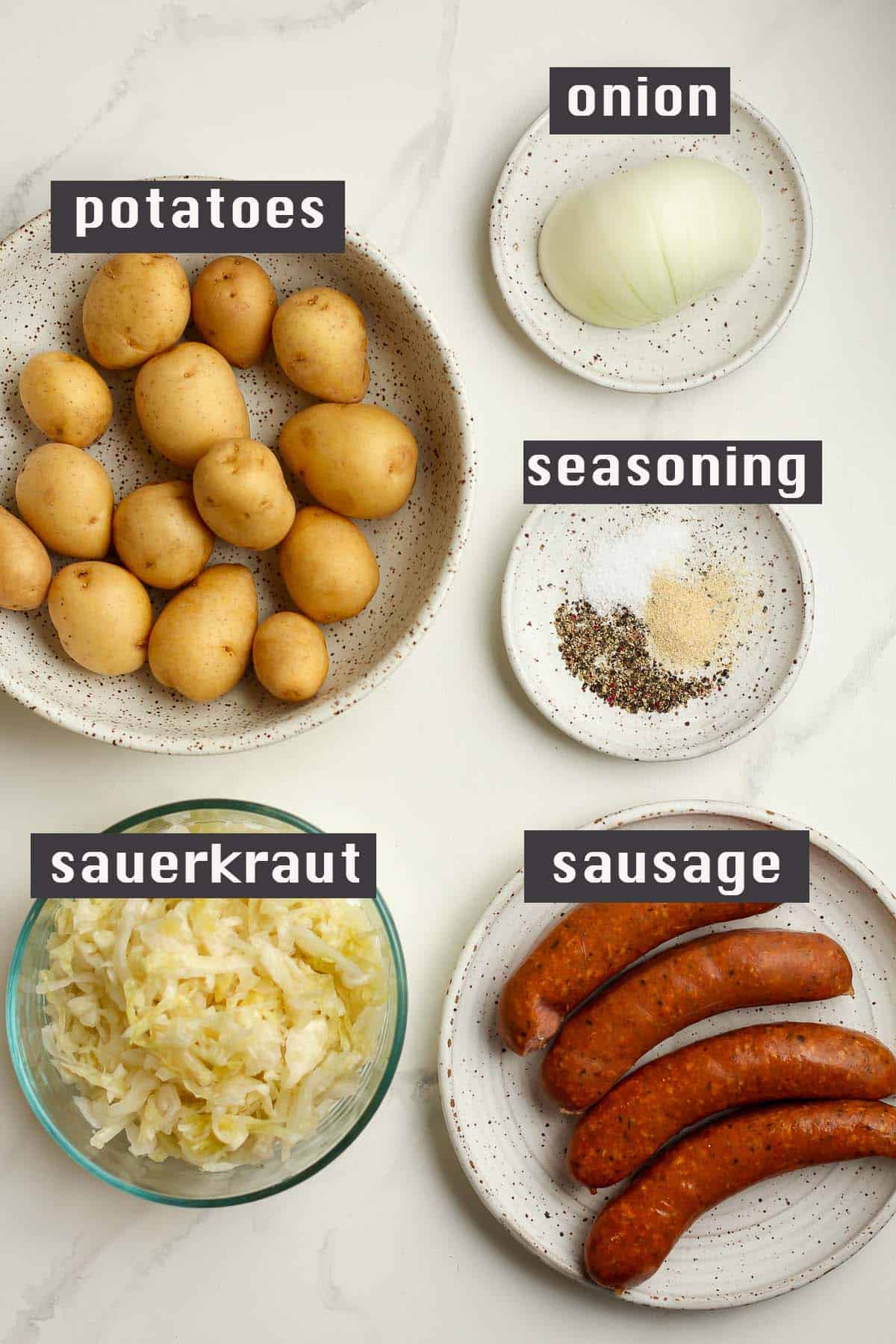 Step 1
Cook potatoes. Add potatoes to a stock pot and cover with water. Bring to a boil, add plenty of salt, and reduce heat to a medium heat. Cook until fork tender. Strain potatoes and set aside to cool slightly. Chop when they are cool enough to handle.
Step 2
Brown the sausage. Slice the sausage at an angle. Heat a large skillet to medium-high heat and brown on both sides.
Step 3
Add onions. Add a tablespoon of avocado oil and then add the sweet onions, stirring to soften. Remove mixture to a separate bowl.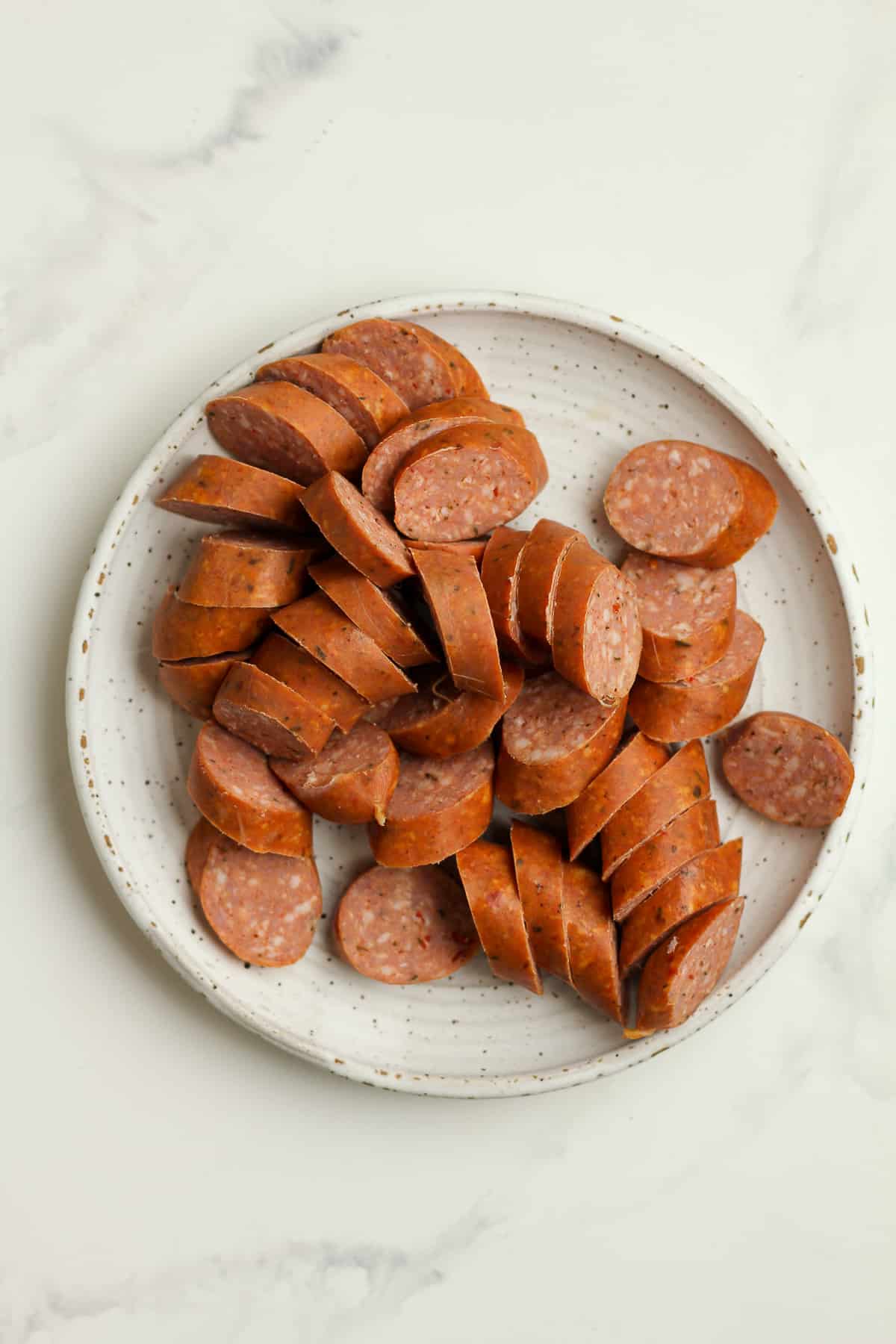 Step 4
Add potatoes. Drizzle remaining olive oil to skillet. Then add potatoes and seasonings, and cook to brown – stirring occasionally.
Step 5
Add sauerkraut. Then add the sauerkraut (and the sausage and onions back in). Stir and cook until heated through.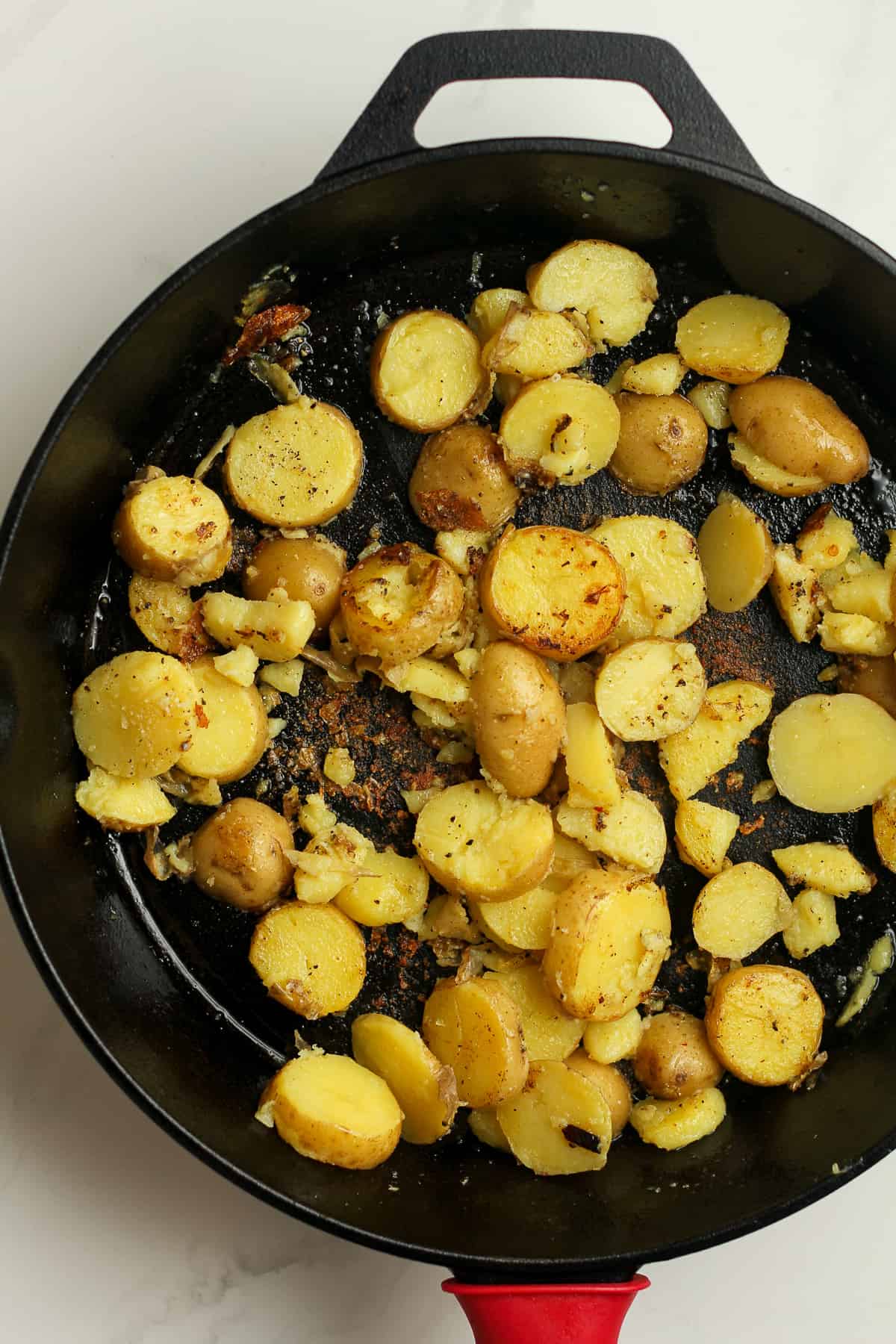 Step 6
Serve. Serve kielbasa and sauerkraut in individual bowls.
Store leftovers in an airtight container for up to three days. You can also add the leftovers to some rye bread (along with some dijon mustard) and eat it as a sandwich. An easy way to enjoy this kielbasa recipe.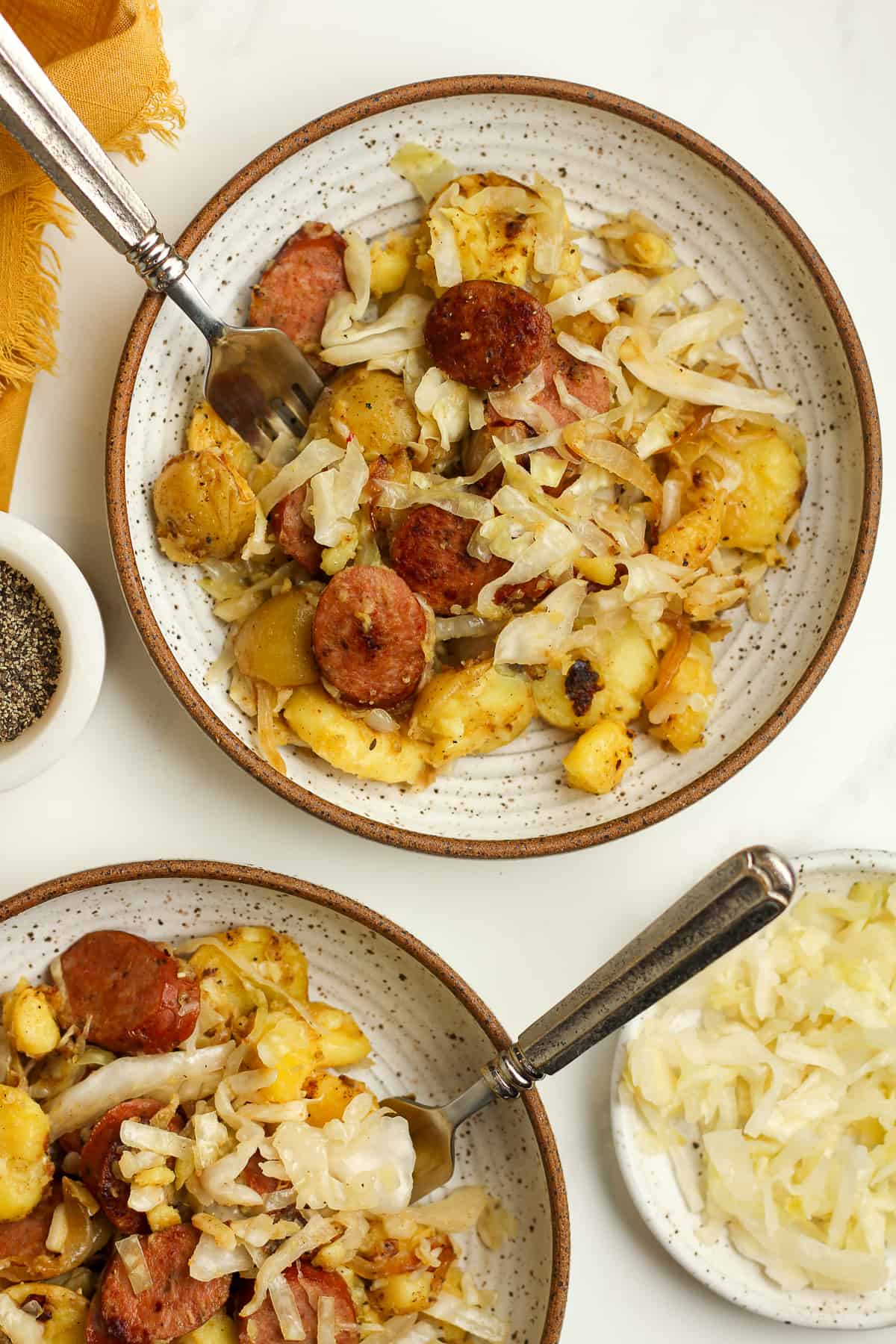 Recipe Variations:
Include other savory flavors like bell peppers, green beans, or minced garlic cloves.
Add some tart Granny Smith apples or some sweet apples (like honey crisp or Fuji).
Use a turkey kielbasa instead of a pork kielbasa.
Make it low carb and skip the potatoes.
Spice it up with some red pepper flakes to serve.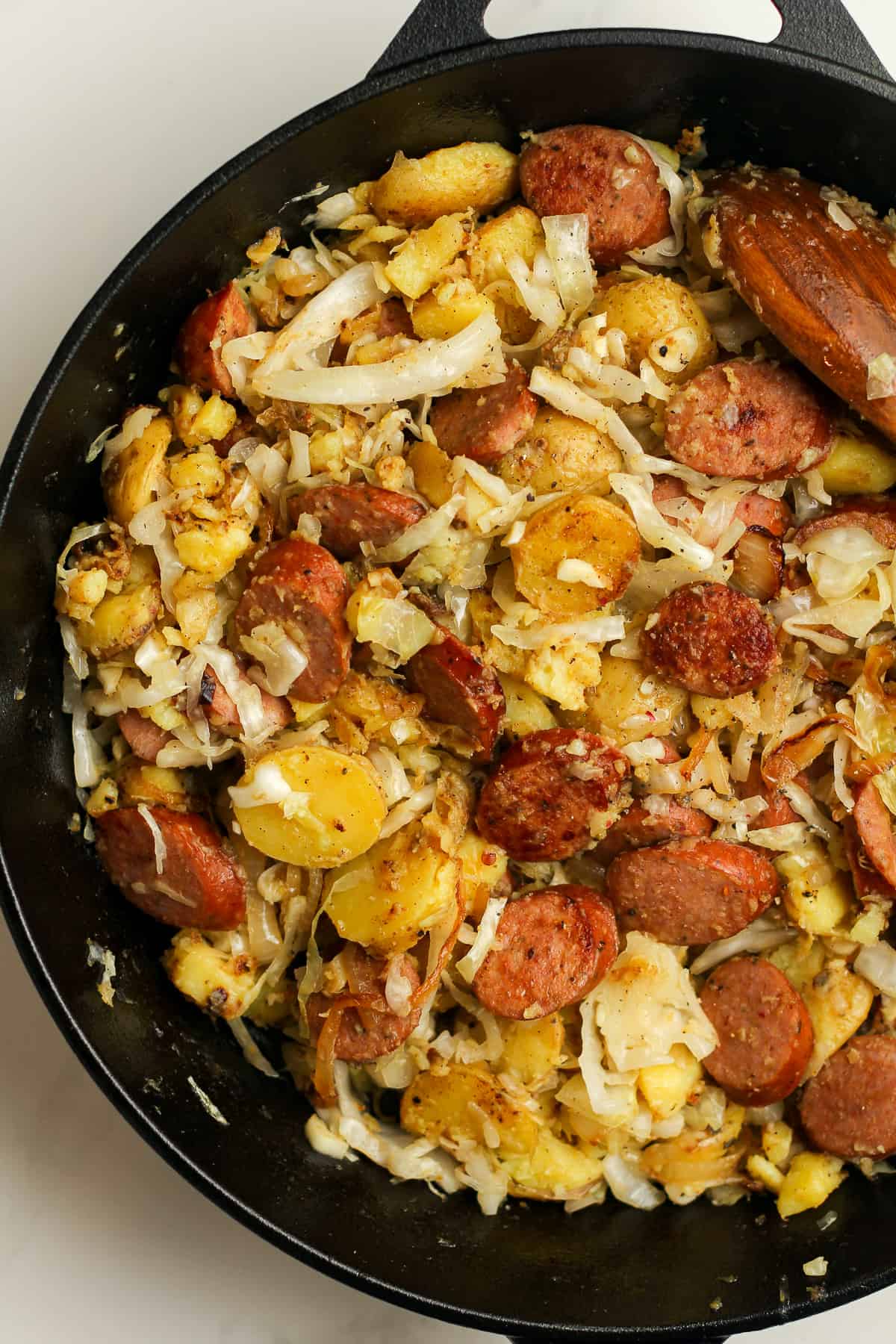 Side Dishes to Pair: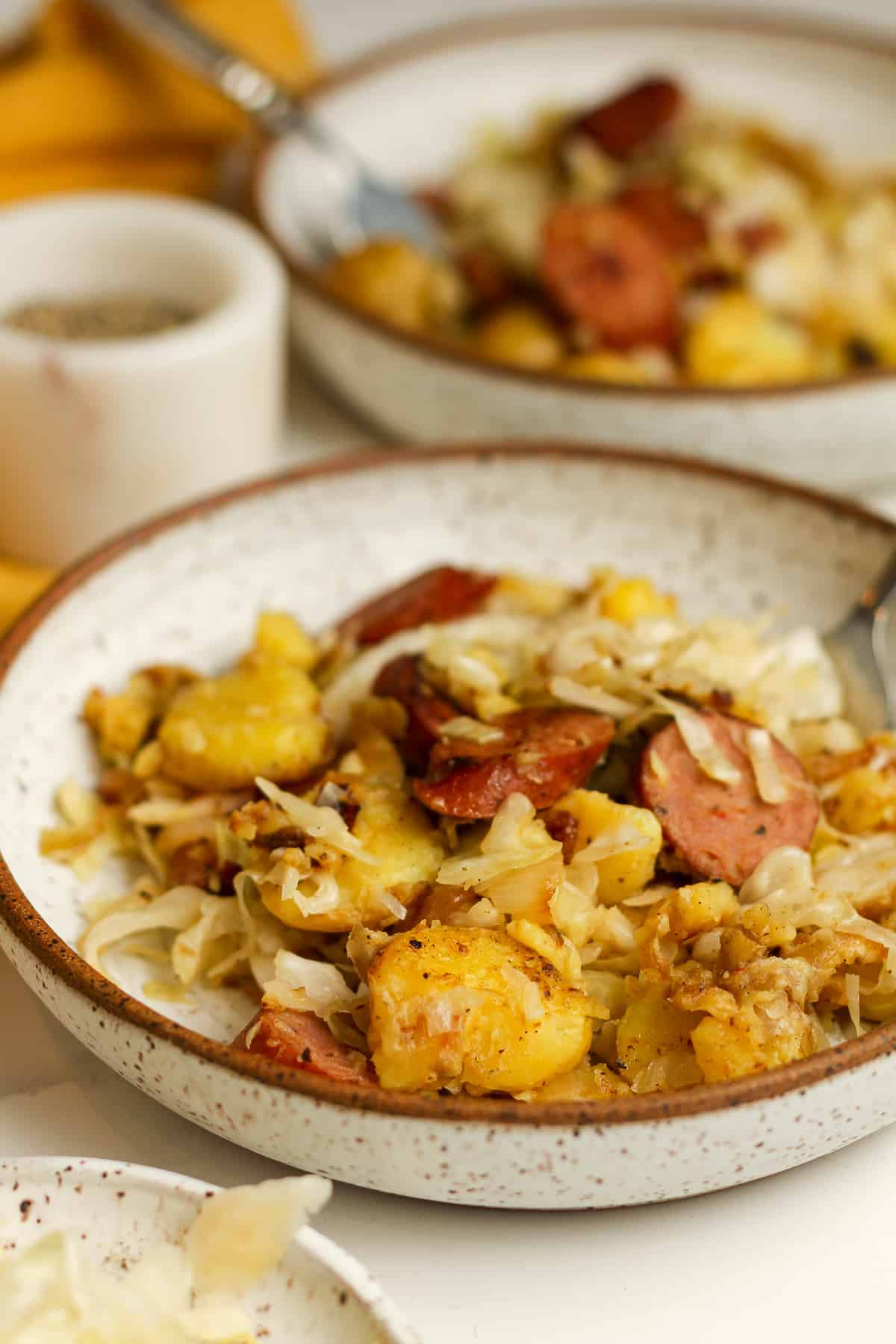 xoxo ~Sue