Migas (pronounced MEE-guz) is a traditional Spanish and Portuguese dish made with eggs and tortillas. Tex Mex versions are most often served for breakfast but we love it any time of day.
Breakfast, lunch, dinner….bring it on.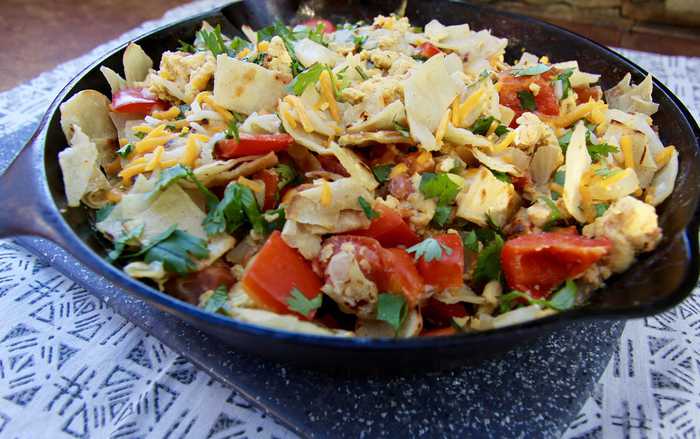 Mike and I fell in love (wait for it…) with Migas when we were in Austin a couple of years ago. Now we order it locally or cook it at home when we're in the mood for some Tex Mex, which is a lot these days. I think my fondness for spicy food has grown exponentially over the last several years and am slowly bringing my family on board.
What I really love about this meal is that it comes together so quickly. If you plan ahead, you can have it on the table in less than 30 minutes.
Black beans make a perfect side dish – and so simple too.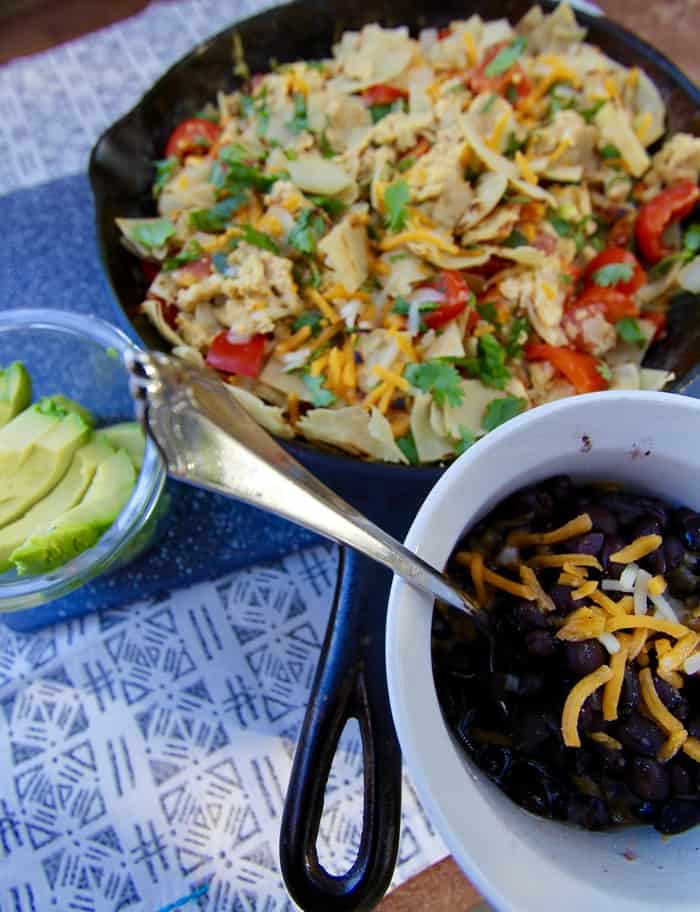 There are a couple of things to note if you want to make the perfect pan of Migas. 1) Make sure you get your tortillas nice and crunchy when cooking them. They should turn a little brown. 2) De-seeding your tomatoes will help to avoid excess moisture in the pan. Roma tomatoes work best for this. 3) Don't be afraid of spice. I used a whole jalepeno and some chili powder and cumin. 4) Make sure you have plenty of condiments handy. I think sliced avocado, shredded Mexican cheese, and some extra hot sauce are a must.
Try it. You'll like it!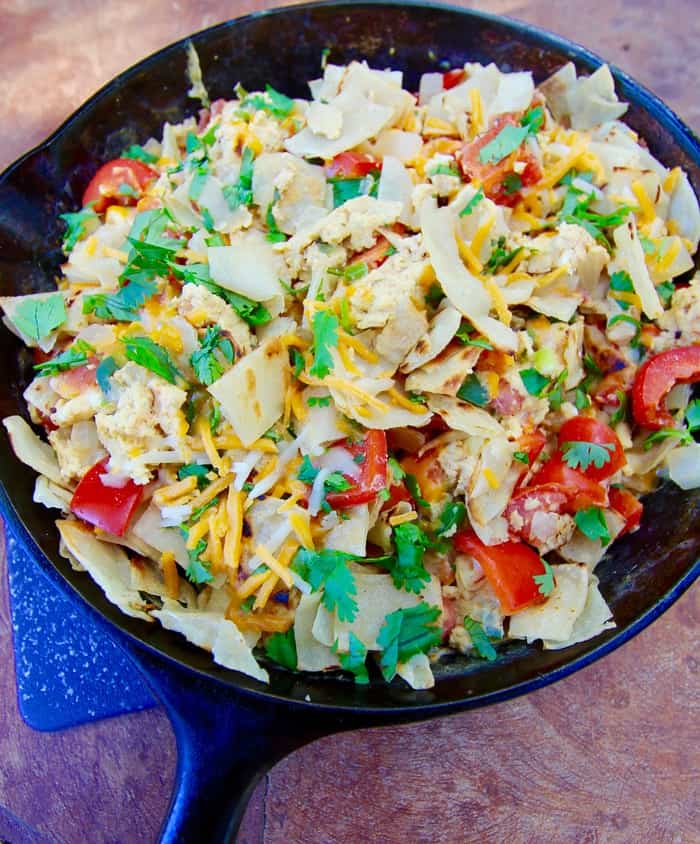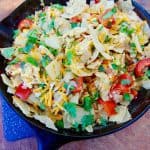 Migas
a Tex Mex dish of eggs and tortillas loaded with veggies and spices
Ingredients
For the Migas:
10

whole

eggs

1/4

cup

half and half

or milk or cream

5

corn tortillas

3

roma tomatoes

deseeded

1

jalapeno

with seeds

1

red pepper

1

medium

onion

2

cloves

garlic

3

Tablespoons

olive oil

1

teaspoon

kosher salt

1

teaspoon

freshly ground pepper

1

teaspoon

chili powder

1/2

teaspoon

cumin

1/4

cup

shredded Mexican Cheese

1/4

cup

cilantro

1

avocado

hot sauce

optional
For the black beans
1

can

black beans

drained

2

Tablespoons

water

1/2

lime

squeezed

2

Tablespoons

shredded cheese
Instructions
For the Migas:
De-seed the tomatoes and dice. Chop up the red pepper, onion, garlic and jalapeno. Set the vegetables aside in a medium bowl.

Whisk together the eggs and half and half. Set aside.

Heat up some olive oil in a cast iron skillet on medium high heat. Chop the tortillas into bite sized pieces. Add to pan and fry until crispy. Remove to a paper towel.

Add more olive oil to pan and add vegetables. Season with kosher salt, freshly ground black pepper, chili powder, and cumin. Cook until soft. Reduce heat slightly and add egg mixture and stir. Cook until well set.

Add corn tortilla bites back to pan and stir. Add chopped cilantro and shredded Mexican cheese.

Slice avocado, set out other condiments, and serve immediately.
For the black beans:
Heat up the black beans and water. Squeeze a half of lime to beans. Add shredded cheese to the top.
SHARE THIS POST TO YOUR FRIENDS: