Grilled Italian Zucchini Fritters are the perfect side dish to any Italian meal, especially this time of year when zucchini are plentiful. Combine shredded zucchini with eggs, bread crumbs, parmesan cheese, onion, and seasonings – and fry them up in a grill pan.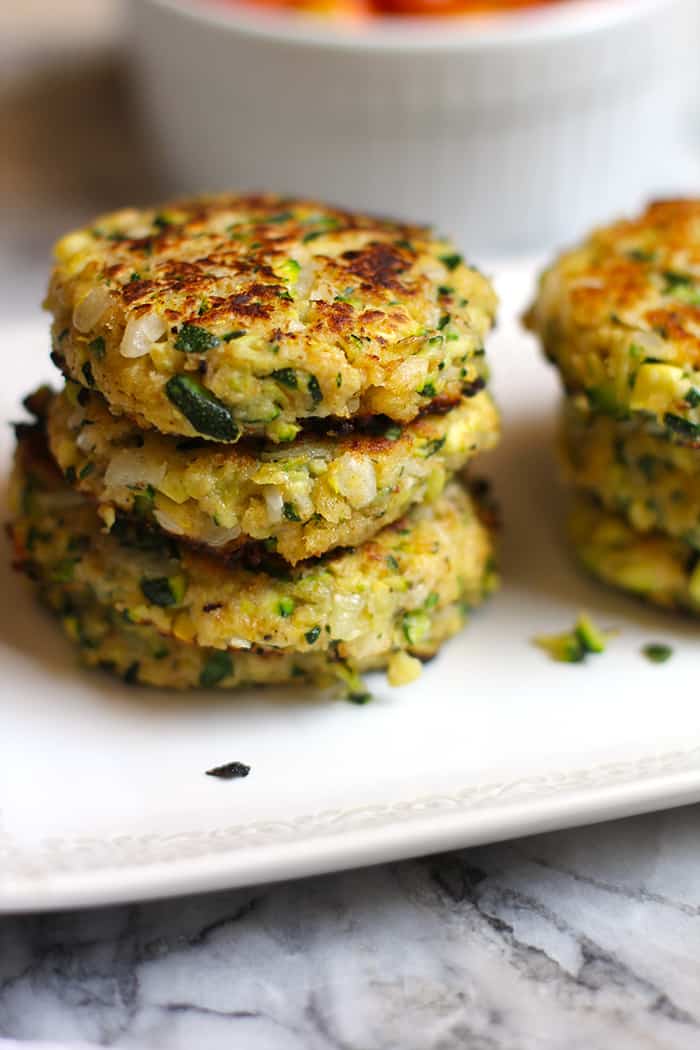 I'll admit. I've been on a bit of a zucchini craze lately. This is a perfect time to cook with this veggie because gardens are overflowing with them –> supply is up –> so price is down. (Just a little economics for ya'll.) 🙂
This is what I've been cooking up with zucchini squash as of late.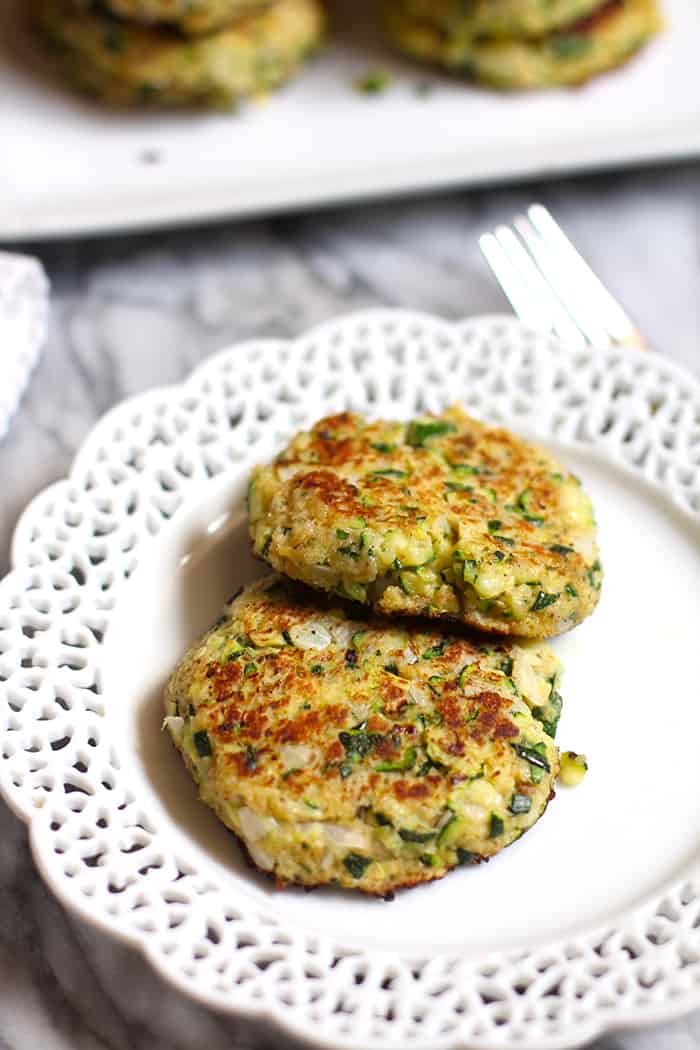 When I bake with zucchini, I don't squeeze the liquid out because it helps to make breads and muffins moist. When I cook with zucchini (like my Grilled Zucchini Turkey Burgers and this recipe), I try to get as much moisture out as possible so that the patties don't fall apart.
To get the liquid out, you follow just a few steps.
Grate the zucchini (including skins) using a food chopper.
Place in a bowl and add a couple teaspoons of salt – stir to combine.
Set aside for about 15 minutes. This draws out the liquid.
Take a double layer of paper towels (or a clean dish towel) and scoop some zucchini inside. Squeeze over the sink, until you can't get any more liquid out. You will want to squeeze liquid out in batches.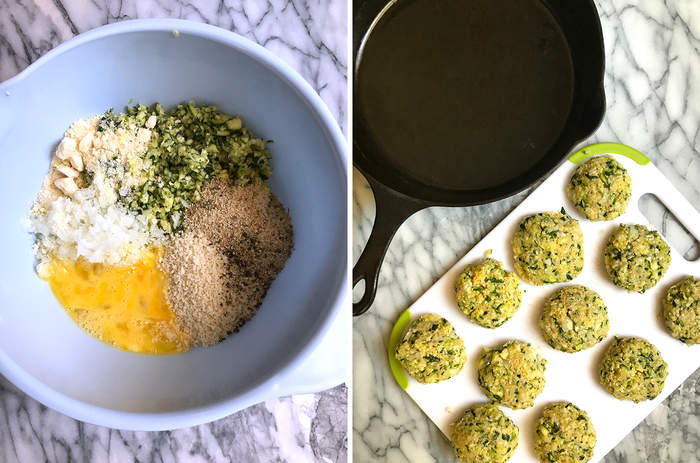 I made these for lunch recently, and paired them with a side of angel hair pasta with some store-bought pasta sauce. The boys loved them, and they didn't complain about not having meat with their pasta.
Next time your neighbor asks you if you want some of her zucchini harvest, say YES! 🙂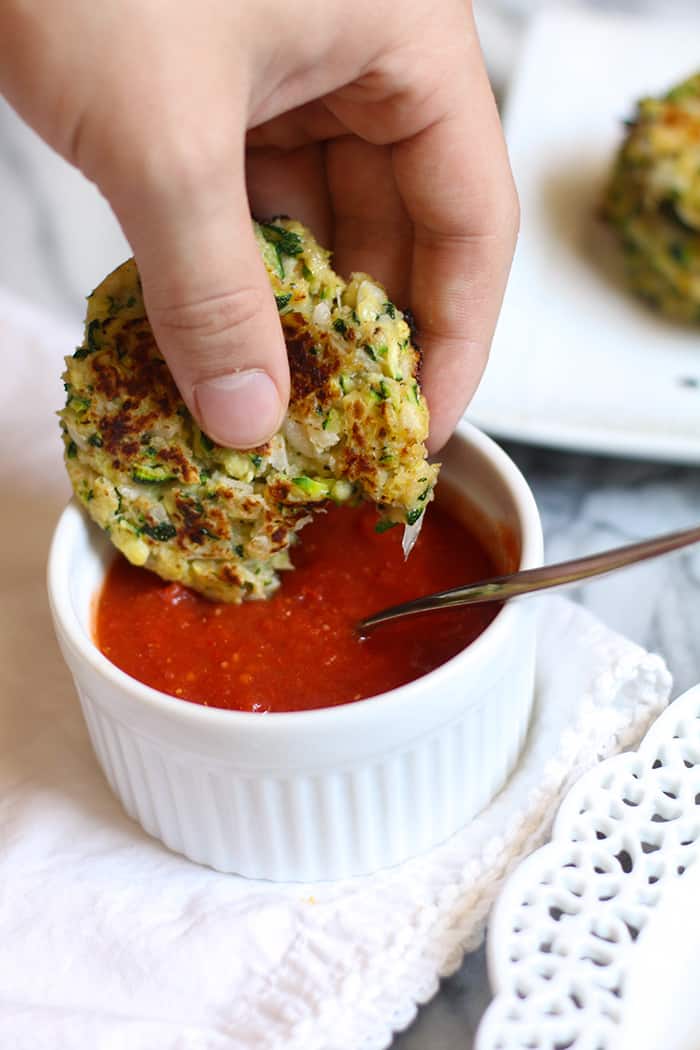 Please let me know if you try these Grilled Italian Zucchini Fritters, and how you like them!
You can stay up-to-date with SueBee Homemaker by:
signing up for post updates (top right-hand corner of my blog)
liking my Facebook Page
and following me on Pinterest
I'm also sharing tidbits of my life on Instagram. 🙂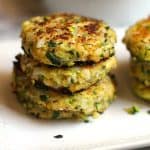 Grilled Italian Zucchini Fritters
Ingredients
3

medium

zucchini squash

- grated

2

teaspoons

salt

1/2

medium

yellow onion

- grated

1/2

cup

Panko bread crumbs

1/2

cup

seasoned bread crumbs

1/4

cup

parmesan cheese

2

large

eggs

freshly ground black pepper

- to taste

canola oil

- for grilling

pasta sauce

- I used store bought
Instructions
Cut the ends off the zucchini squash, and grate. Sprinkle salt on top, stir to combine, and set aside for 15 minutes. This will allow the liquid to be released.

Using a double layer of paper towel (or a clean dish towel), squeeze as much liquid out into the sink as possible. Remove zucchini into large bowl.

Grate onion and add it to bowl. Add bread crumbs, eggs, and parmesan cheese.

Mix well, and pat into small patties.

Preheat grill pan to medium high heat. Add canola oil to coat the pan, and cook fritters in batches.

Cook fritters for several minutes on each side, until done to your desired crunchiness.

Serve with a spoonful of pasta sauce, and another sprinkle of parmesan cheese.

SHARE THIS POST TO YOUR FRIENDS: