Spicy Chex Party Mix is a spin on the classic Chex mix, with the addition of a big hit of hot sauce. The added heat doesn't overpower the snack, but gives it a nice added flavor instead. Watch out, because this is totally addicting!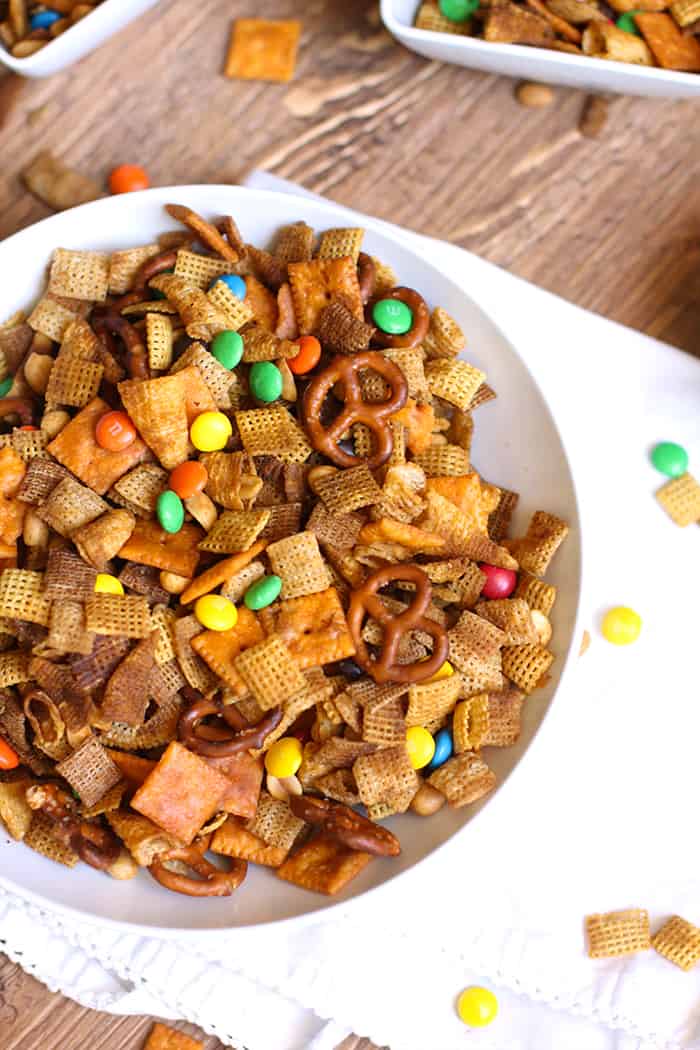 If you haven't noticed yet, foods have such a sentimental quality for me. I remember events by what I ate, or what I made, or what my mom made, or what was on the menu. Weird, I know. But I guess I know I'm in the right field when I can say that about food. Because when you think about it, food is life. Without it, we wouldn't be walking, talking, dancing, working, singing, and so on.
Food is life. I love life. And I love food. 🙂
So I know what you are thinking. How does this Spicy Chex Party Mix make me feel?
Two words –> Lake Okoboji.
My family always spent at least a week – usually more – at Lake Okoboji (in Iowa) every summer of my childhood and beyond, often times with some cousins, aunts, and uncles. Mom and Dad would rent a place and the eight of us would cram in and fully partake in life at the lake. We'd live in our swimsuits, turn bright red from the sun (in the days of no sunscreen), go boating for hours at a time (and swim off the boat/eat picnics in the boat). We'd cook breakfast on the grill, shop at the clubhouse ($1 per kid per day went a long way back in the day), play flashlight tag and kick the can, fish off the dock, swim in any water temperature, and end the day with a smear of sunburn ointment before collapsing in our beds each night.
And then there were the snacks that we couldn't get enough of. The twizzlers and lollipops, the cheesy meat dips and chips, veggie and cheese platters, and TUBS of party mix. Yes, we ate party mix out of old recycled ice cream tubs. Mom would freeze them weeks ahead of our trips in preparation. And we were so happy.
Because party mix meant lake vacations. And lake vacations meant warm sunshine, swimming, boating, and family time.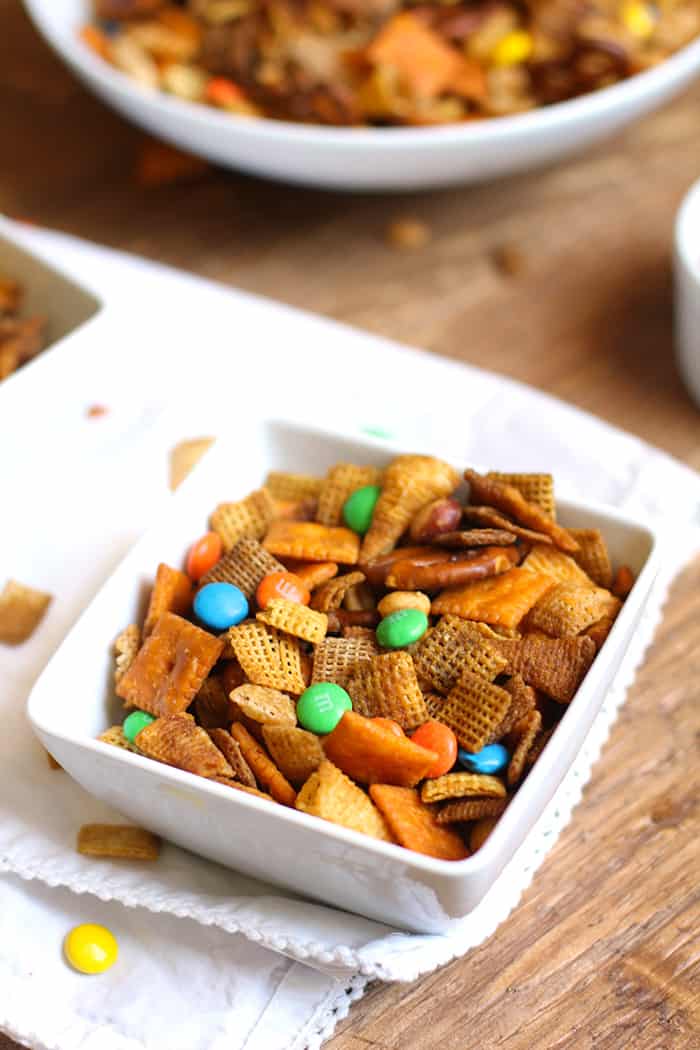 The only difference between my mom's party mix and mine is the hot sauce, and maybe some of the mix-ins. This recipe is really easy, and stays fresh in the freezer for several months.
The seasoning blend:
butter
Worcestershire sauce
hot sauce
seasonings – garlic powder & seasoned salt
The mix-ins (ANY combo):
Chex cereal – wheat, corn, rice combo
pretzels
peanuts
bugles
Cheese-Its
Wheat Thins
Top with:
M&Ms
raisins
Steps to make Spicy Chex Party Mix:
Take 13 cups of dry ingredients. You can use any snacks you like, but I used corn chex, rice chex, wheat chex, Cheese-Its, bugles, preztzels, and peanuts.
Combine the butter, Worcestershire sauce, hot sauce, and seasonings – and coat the dry ingredients.
Bake in 250 degree oven for an hour, stirring every 15 minutes.
Lay flat to dry on paper towels.
Repeat process until you run out of ingredients. I made six batches.
After mix is cooled, add M&Ms and/or raisins.
Store in airtight containers or freezer bags.
We still eat this snack at family gatherings thanks to my sister, Lauri. Our trips to Okoboji stopped several years ago when life got in the way, but I'm so ready to go back. One of these days it will happen.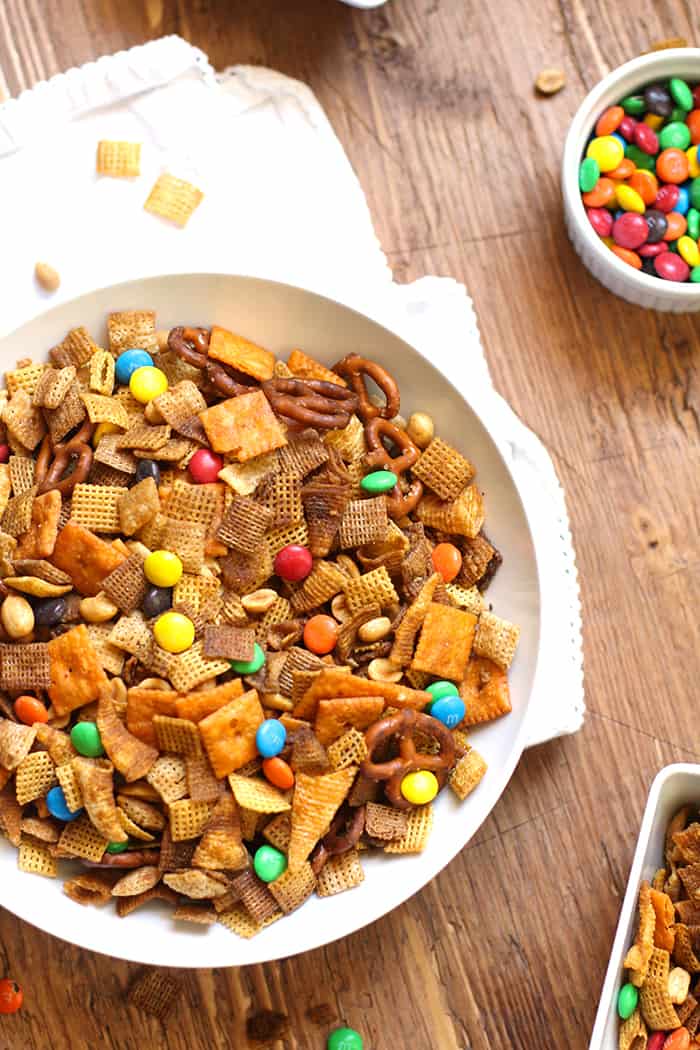 Make this addicting snack next: Easy Caramel Corn
You can stay up-to-date with SueBee Homemaker by:
signing up for post updates (top right-hand corner of my blog)
liking my Facebook Page
and following me on Pinterest
I'm also sharing tidbits of my life on Instagram.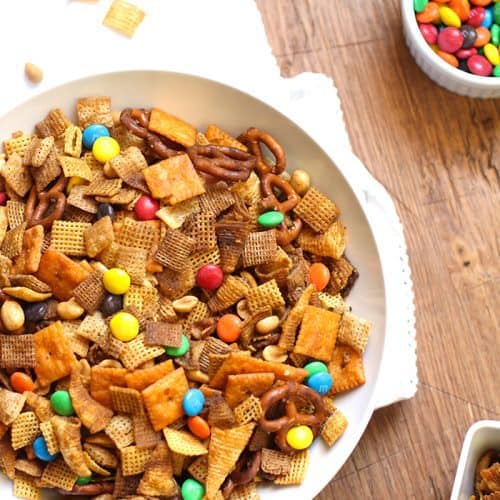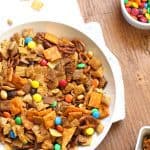 Spicy Chex Party Mix
Spicy Chex Party Mix is a spin on the classic Chex mix, with the addition of a big hit of hot sauce. A little bit spicy, and so delicious!

Keyword:
Chex Party Mix, easy snack recipe, spicy chex mix
Ingredients
13

cups

combination of snacks

- like Corn Chex, Wheat Chex, Rice Chex, Pretzels, Peanuts, Bugles, Wheat Thins, etc.

1

stick

butter

3

Tablespoons

Worcestershire Sauce

4

Tablespoons

hot sauce

- like Frank's

1

teaspoons

garlic powder

2

teaspoons

seasoned salt

- like Lawry's

M&Ms and/or raisins

- optional
Instructions
Take your own favorite salty ingredients and measure out 13 cups into a large mixing bowl. (For this go-around, I bought Corn Chex, Wheat Chex, Rice Chex, Pretzels, Peanuts, Cheese-Its, and Bugles.)

In a microwave-safe bowl, melt butter and add Worcestershire Sauce, hot sauce, garlic powder, and seasoned salt. Stir together and toss into the dry mixture. Mix until coated.

Transfer mixture onto a baking sheet and bake in a 250-degree oven for one hour, stirring every 15 minutes.

Cool on paper towels. Add M&Ms and/or raisins, and store in an airtight container or storage bag.

Make several batches until you run out of ingredients. This freezes well.
Recipe Notes
Change up the mix-ins according to what you like best!
Add more hot sauce if you like extra spicy!
This mix stores well on the counter top, in an airtight container, for up to five days.
You can freeze the party mix, up to six months.
** The nutritional content is based on 13 cups of Chex cereal, and doesn't include the M&Ms or raisins. 
Nutrition Facts
Spicy Chex Party Mix
Amount Per Serving
Calories 303
Calories from Fat 72
% Daily Value*
Fat 8g12%
Cholesterol 20mg7%
Sodium 965mg42%
Potassium 289mg8%
Carbohydrates 56g19%
Protein 6g12%
Vitamin A 955IU19%
Vitamin C 11.6mg14%
Calcium 150mg15%
Iron 20.8mg116%
* Percent Daily Values are based on a 2000 calorie diet.
Did you make this recipe?
Tag @suebeehomemaker on Instagram and hashtag it #suebeehomemaker