Eggcellent Breakfast Pizza
This post may contain affiliate links which won't change your price but will share a commission.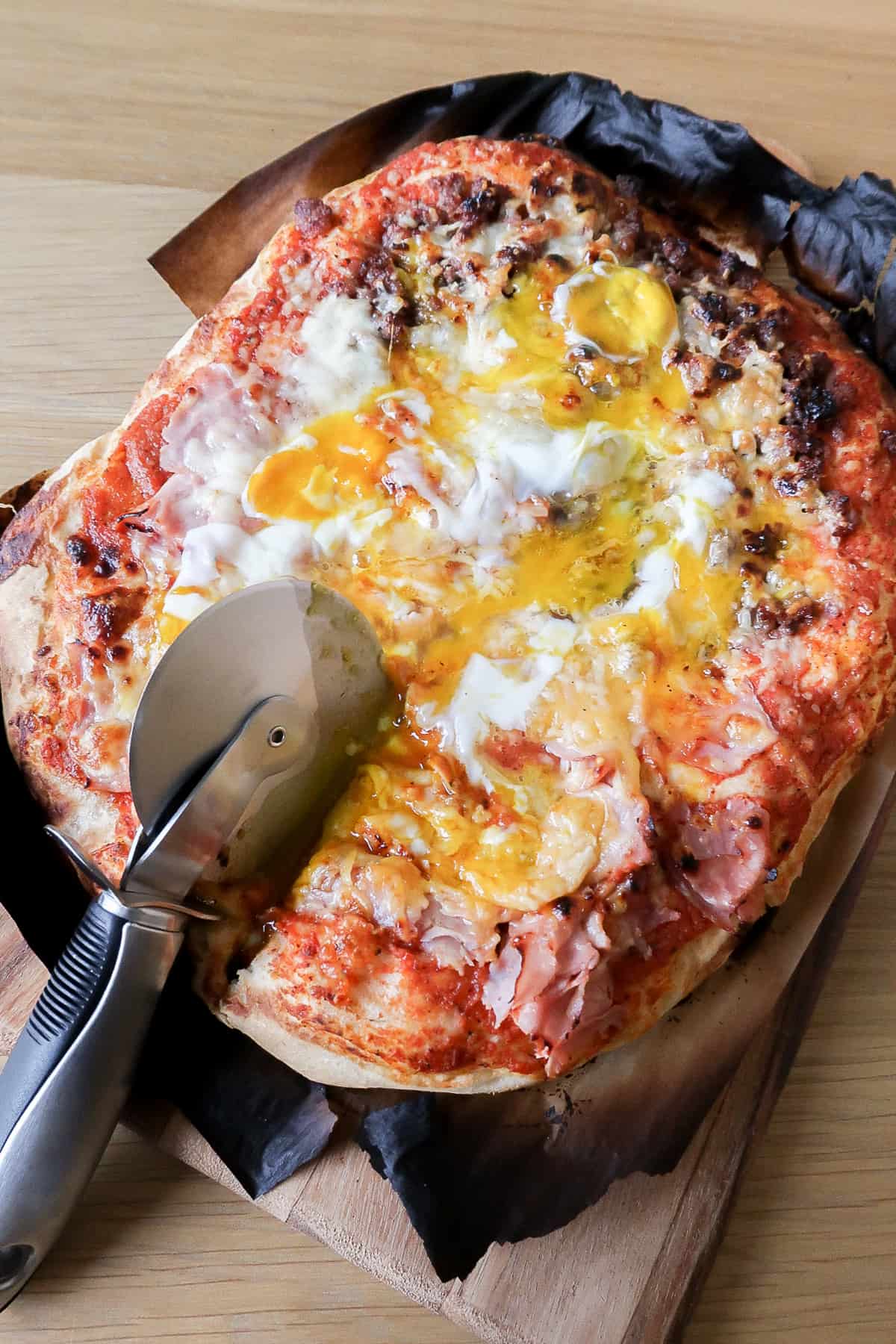 An Ode to Mother's Day
This year, we have decided to celebrate our mom (you know her as SueBeeHomemaker) a little differently. Whenever we celebrate Mom, she never asks for gifts or anything like that.. instead, we make it a point to celebrate our mom with quality time (which usually involves food & drinks).
So this year, we are both writing a blog post with a NEW recipe we hope y'all will enjoy! I must admit, there's more to it than I initially expected (which is probably what my mom has been saying for the last six years). We are so proud of our mom, she is always working on tweaking old recipes, coming up with new recipes, taking new pictures, going to seminars, you get the idea. Thanks for being the best mom (soon-to-be Grandma, or in our case "MuMu") we could ever ask for. We love our mom very much!
Our mom has always spoiled us with homemade meals such as homemade bread, fresh cookies/brownies, and of course homemade pizza! Mom's pizza has always been my personal favorite, and still is! I've had approximately 100,000 slices of homemade pizza over the last 26 years, but none have included…. EGGS!
So as I look back on all the family memories we have shared over pizza slices, here's to hoping the Eggscellent Breakfast Pizza begins to make its way into the rotation (I guess that's where your feedback comes into the equation) for future get-togethers!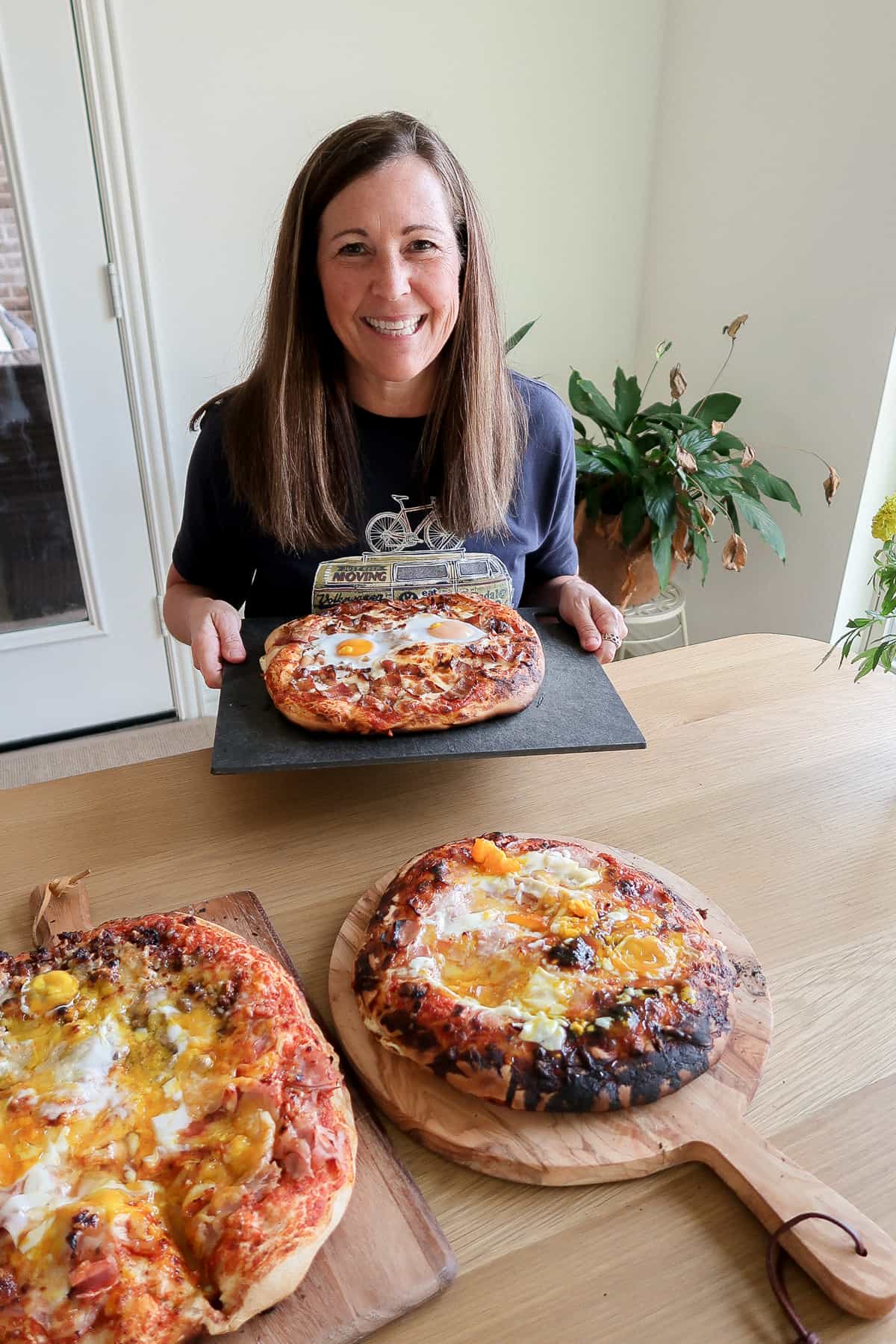 Ingredients you'll need for eggcellent breakfast pizza:
Homemade Pizza Dough (or use store-bought) – My homemade recipe is simple. I highly recommend!
Pizza Sauce from Scratch – My homemade pizza sauce has seriously elevated our zaaa game. It's super quick and you can choose to keep it chunky or blend it for smooth style!
Breakfast Classics – You can use freshly sliced ham, breakfast sausage, and/or bacon!
Honey – We use Hawaiian local honey from our recent trip, or use store-bought.
Sunny-Side-Up Egg – Crack egg as the last topping either as the pizza goes on the grill or right before placing the pizza in the oven.
Cheese – A combo of mozzarella, cheddar, and parmesan, or use whatever you have handy.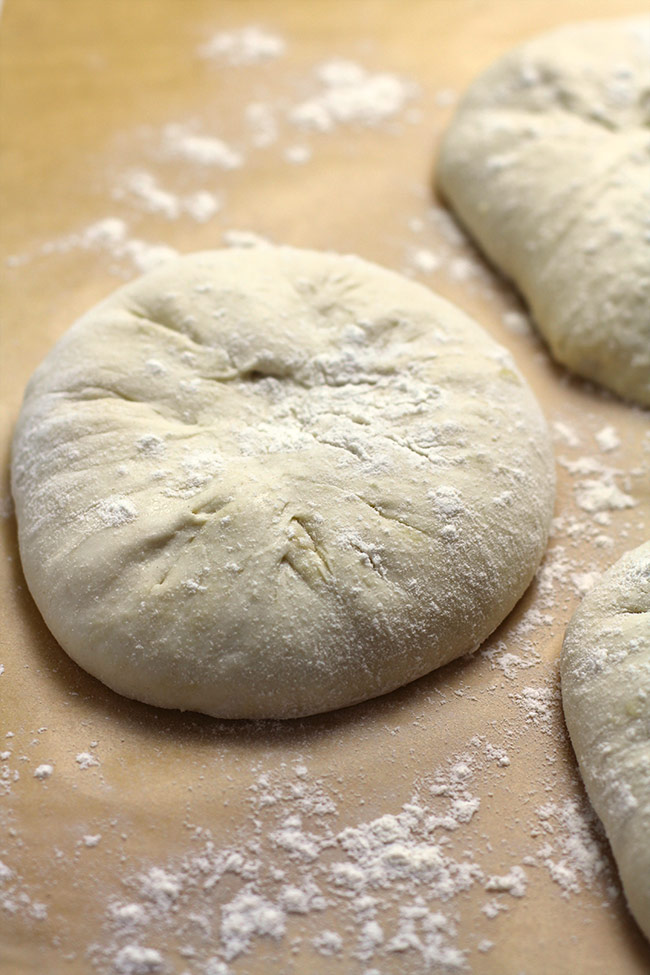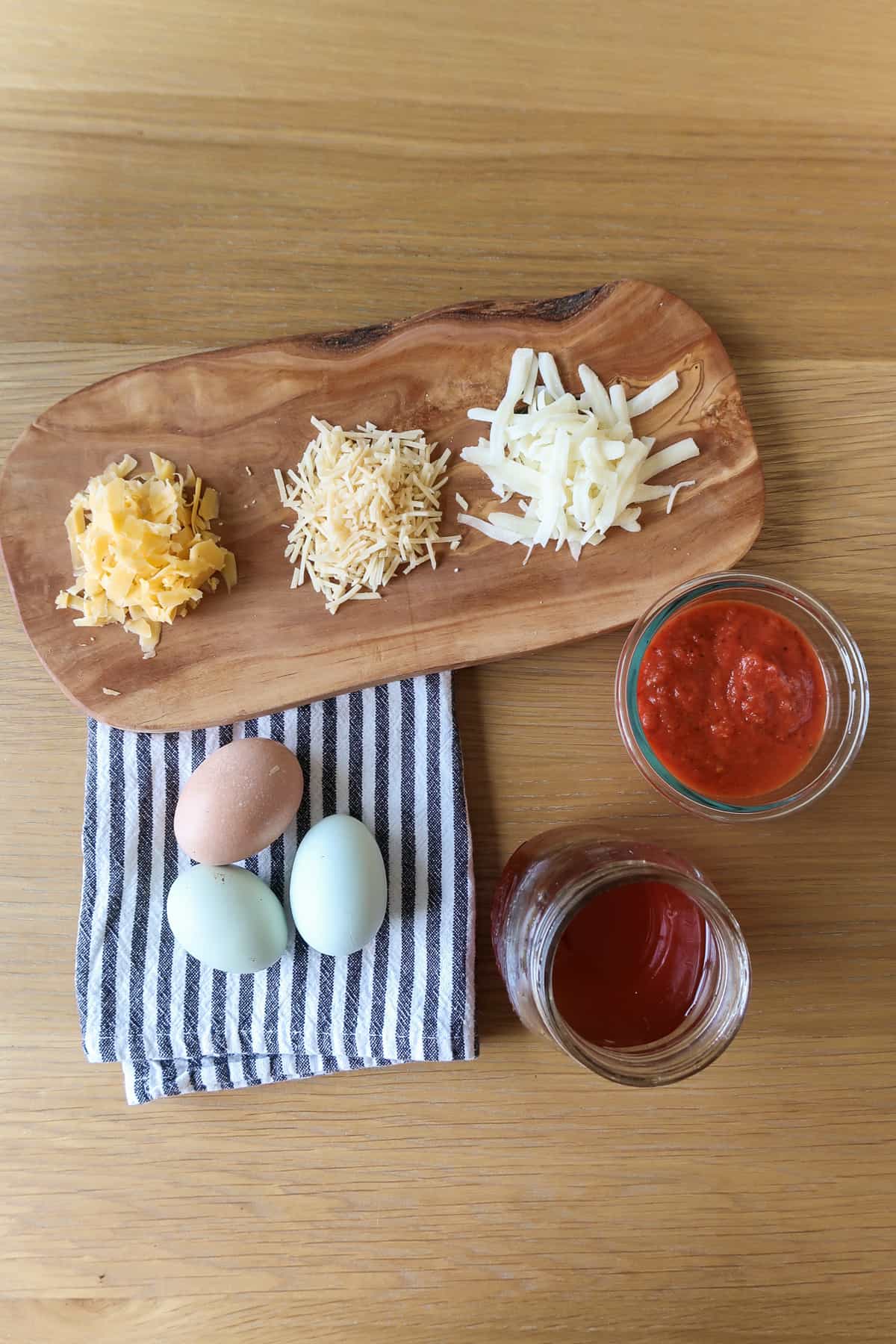 How to make eggcellent breakfast pizza:
Make dough. Use my homemade recipe to make the BEST DOUGH. Here in Texas, it doesn't take long for it to rise because of our warmer climate. My recipe makes three medium-sized pizzas, so I double it when I'm having company.
Make homemade pizza sauce. Use my homemade pizza sauce recipe. It is easy to make and will elevate your pizza.
Cook breakfast meats. Precook bacon, breakfast sausage, and cut freshly sliced ham into bite-sized pieces.
Arrange dough. To start, roll out the dough. For this occasion (pictured), we grilled the pizza on a stone on our smoker. You can also press the dough into cast iron skillets or use stones – and bake in your oven. You just want to cook at a high temperature.
Add toppings. Spread a generous amount of pizza sauce on the dough. Then add the honey, breakfast meat of your choice, and cheese. Lastly, add cracked eggs – if grilling crack the egg onto the pizza ON the grill. If baking the pizzas in the oven – add egg as the last topping and bake.
Bake (or grill) – Cook pizza at a high temp. We use 450 degrees in our oven or at least 500 degrees on our grill/smoker. The pizza is done when the crust is nice and browned on the bottom.
Serve – Serve pizza with a sprinkling of green onions, and a fresh drizzle of honey.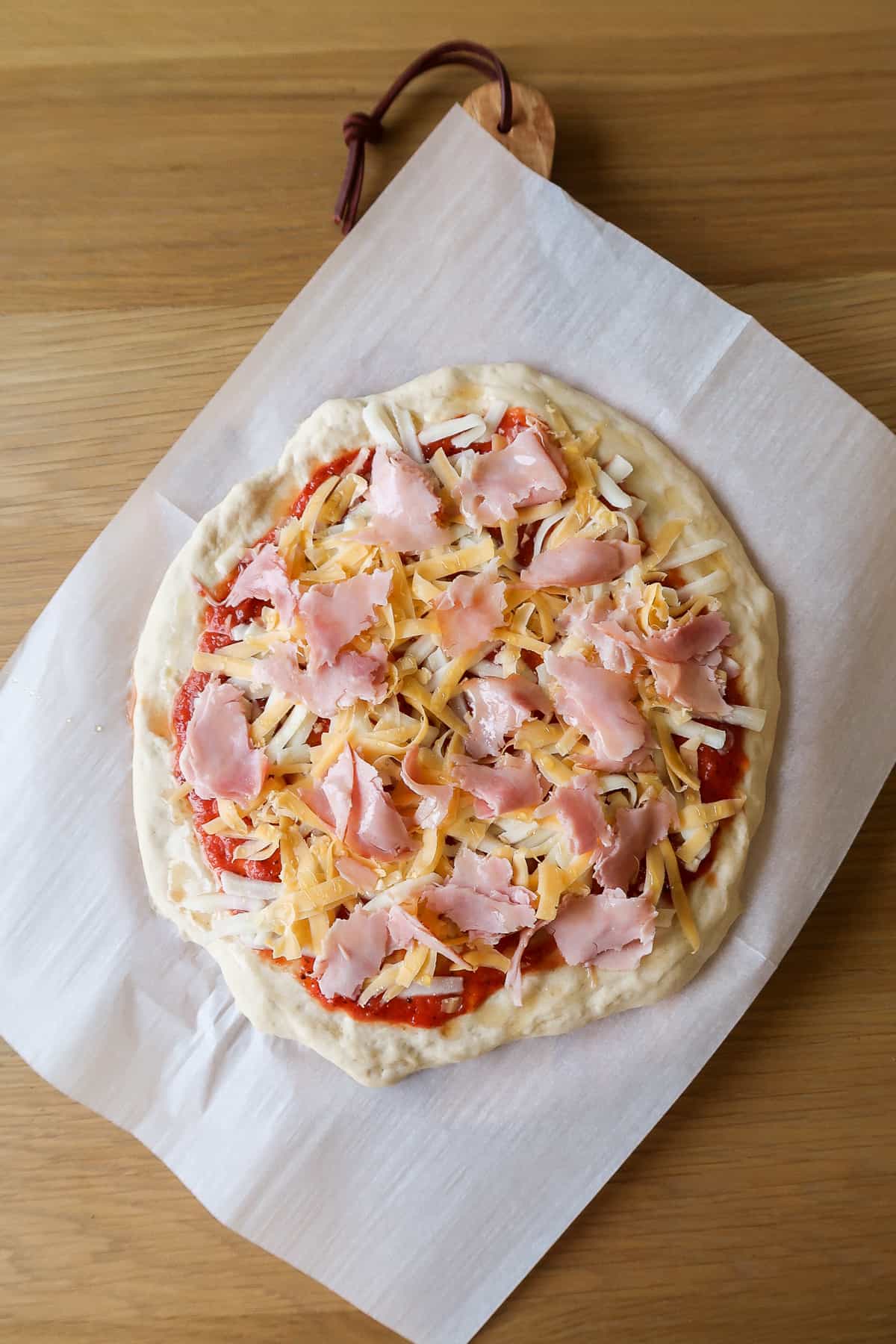 Frequently Asked Questions:
Is making homemade pizza dough worth it? YES! The secret to great pizza is the dough. My recipe is simple and delicious, and I've passed this recipe on to so many people.
Should I pre-cook the dough? I personally never pre-cook the dough. But if you want a thicker crust (using more dough than normal), then you should pre-cook it.
Can I make the dough in advance? Yes, you can make the dough several hours in advance and store it in the refrigerator. About an hour before using, remove it and let it come to room temperature before rolling out.
What pans can I use for homemade pizza? If grilling the pizza, you'll need either a pizza stone or a cast iron skillet. If baking in the oven, you can use a stone, a skillet, or even a baking sheet.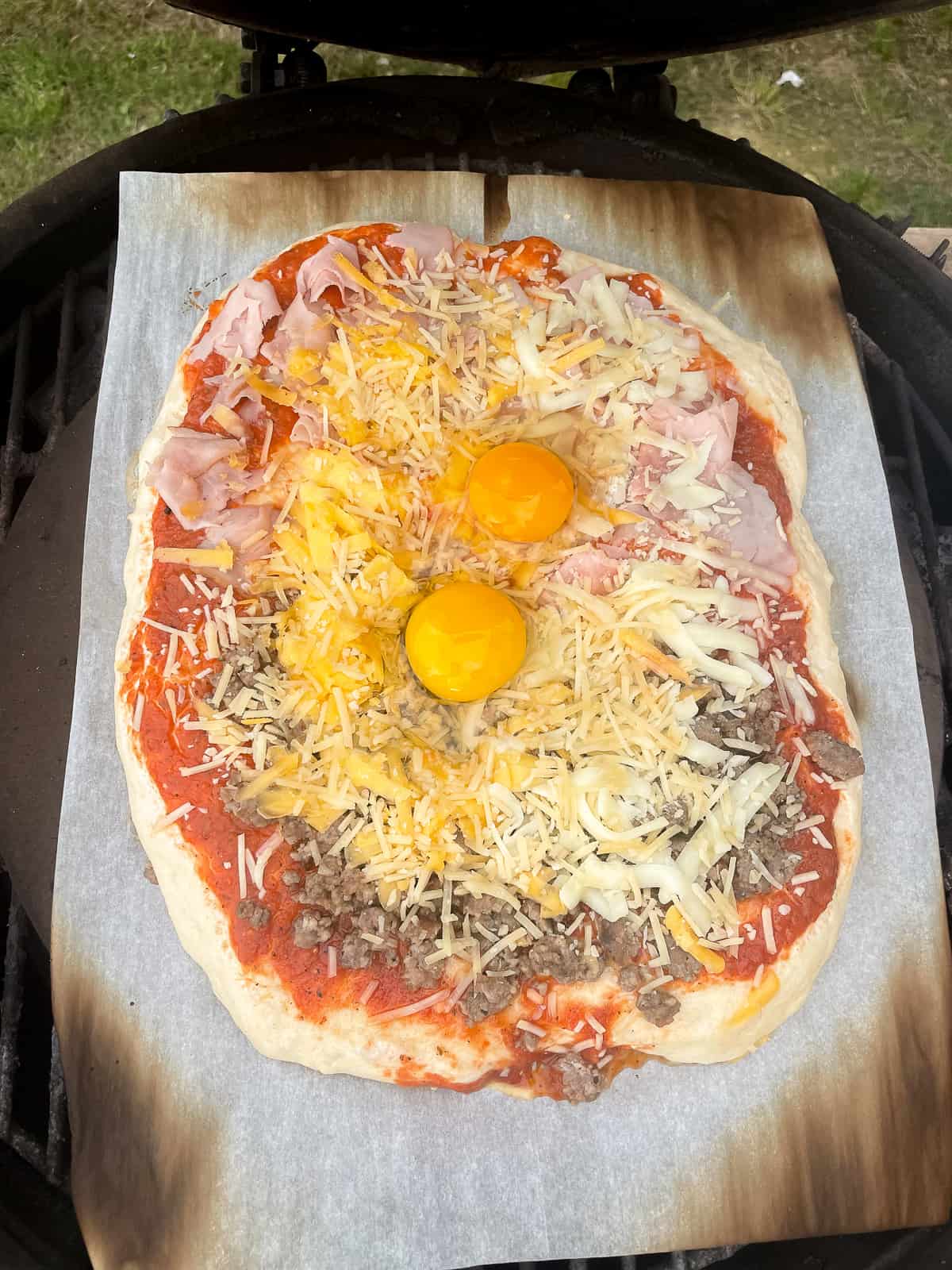 What to serve with homemade pizza:
My kids made these pizzas for me for Mother's Day dinner & it was delicious!!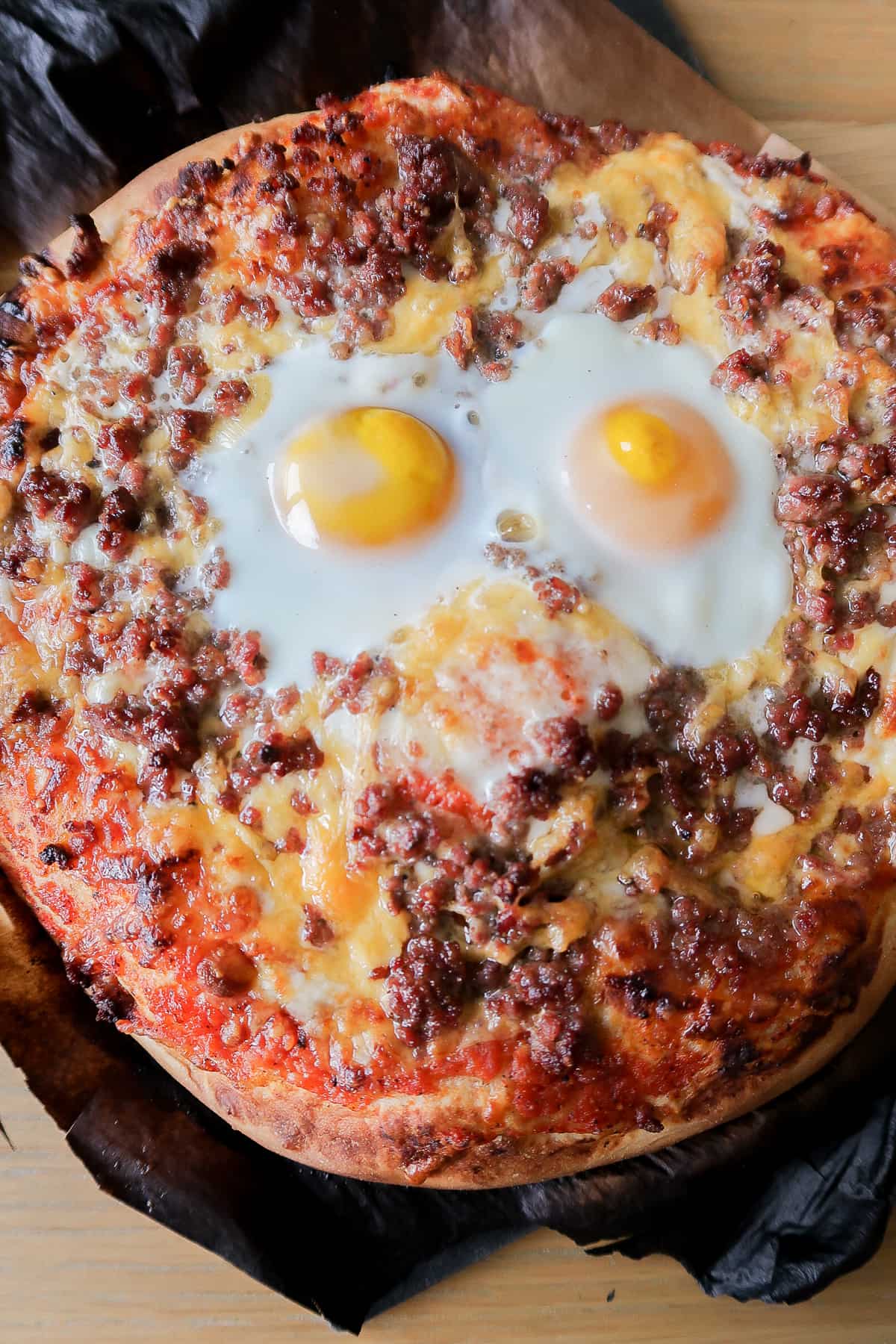 Kitchen Tools Used: (affiliate links)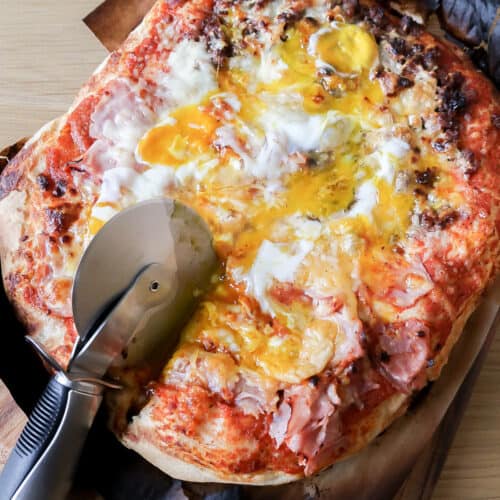 Eggcellent Breakfast Pizza
Eggcellent Breakfast Pizza combines homemade pizza dough with homemade pizza sauce, honey, sliced ham, and sunny-side-up eggs. Make it for breakfast, lunch, or dinner!!
Print
Pin
Rate
Ingredients
1

pound

breakfast sausage

– if making this recipe with sausage

5

slices

Bacon

– if making this recipe with bacon

1

pound

freshly sliced ham

– if making this recipe with ham

1/3

cup

homemade pizza sauce

– from my site (or use store bought)

1

medium

homemade pizza dough

– from my site (or use store bought)

4

tablespoons

honey

1/3

cup

shredded mozzarella cheese

1/3

cup

shredded sharp cheddar cheese

1/3

cup

shredded parmesan cheese

3

cracked eggs

– per pizza
Instructions
NOTE on dough: If making homemade pizza dough, follow my steps on that recipe. Or if preferred, use store bought dough.

Prepare my homemade Pizza Sauce. If you're making my homemade Pizza sauce, you can prep this ahead of time.

Prepare breakfast meat. If using Breakfast Sausage use a cast-iron skillet and cook until done (160 degrees Fahrenheit). If using bacon, bake in oven to your liking- we like ours crispy. If using ham, cut into bite-sized pieces.

Preheat oven to 450 degrees or a grill/smoker to 500 degrees or more.

Arrange dough. Press the dough out (or use rolling pin to flatten) on pizza stone or cast iron skillet. If using skillet, prepare with baking spray. If using pizza stone, use plenty of flour to roll out. I normally place pizza on parchment paper (for high heat).

Add toppings. Spoon pizza sauce on top of the dough. Drizzle with honey. Add prepared breakfast meat. Top with cheese.

Crack Egg. Bring eggs out to grill and crack them as soon as the pizza is on.

Or if baking is your baking method of choice, put eggs on the pizza before putting the pizza in the oven.

Cook pizza. Cook pizza until crust is golden brown on the bottom and cheese is melted. This will take approximately 15 minutes in the oven or 8-10 minutes on the grill. Serve with extra honey. Enjoy!
Notes
If grilling the pizza, you'll need either a pizza stone or a cast iron skillet. If baking in the oven, you can use a stone, a skillet, or even a baking sheet.
Nutrition
Serving:
6
g
|
Calories:
297
kcal
|
Carbohydrates:
13
g
|
Protein:
21
g
|
Fat:
18
g
|
Saturated Fat:
7
g
|
Polyunsaturated Fat:
2
g
|
Monounsaturated Fat:
7
g
|
Cholesterol:
63
mg
|
Sodium:
1140
mg
|
Potassium:
284
mg
|
Fiber:
0.2
g
|
Sugar:
12
g
|
Vitamin A:
212
IU
|
Vitamin C:
1
mg
|
Calcium:
133
mg
|
Iron:
1
mg