This post may contain affiliate links which won't change your price but will share a commission.
This Meatball Pizza Recipe combines homemade pizza dough and sauce with spicy meatballs, jalapeños, and ricotta cheese. Simple ingredients and perfect for pizza night at home!
Loving my pizza series and I hope you are too. Next time you plan a pizza party, try my Taco Pizza Recipe, this amazing BBQ Chicken Bacon Pizza, or my Homemade French Bread Pizza! Stay tuned for more recipes over the next several months!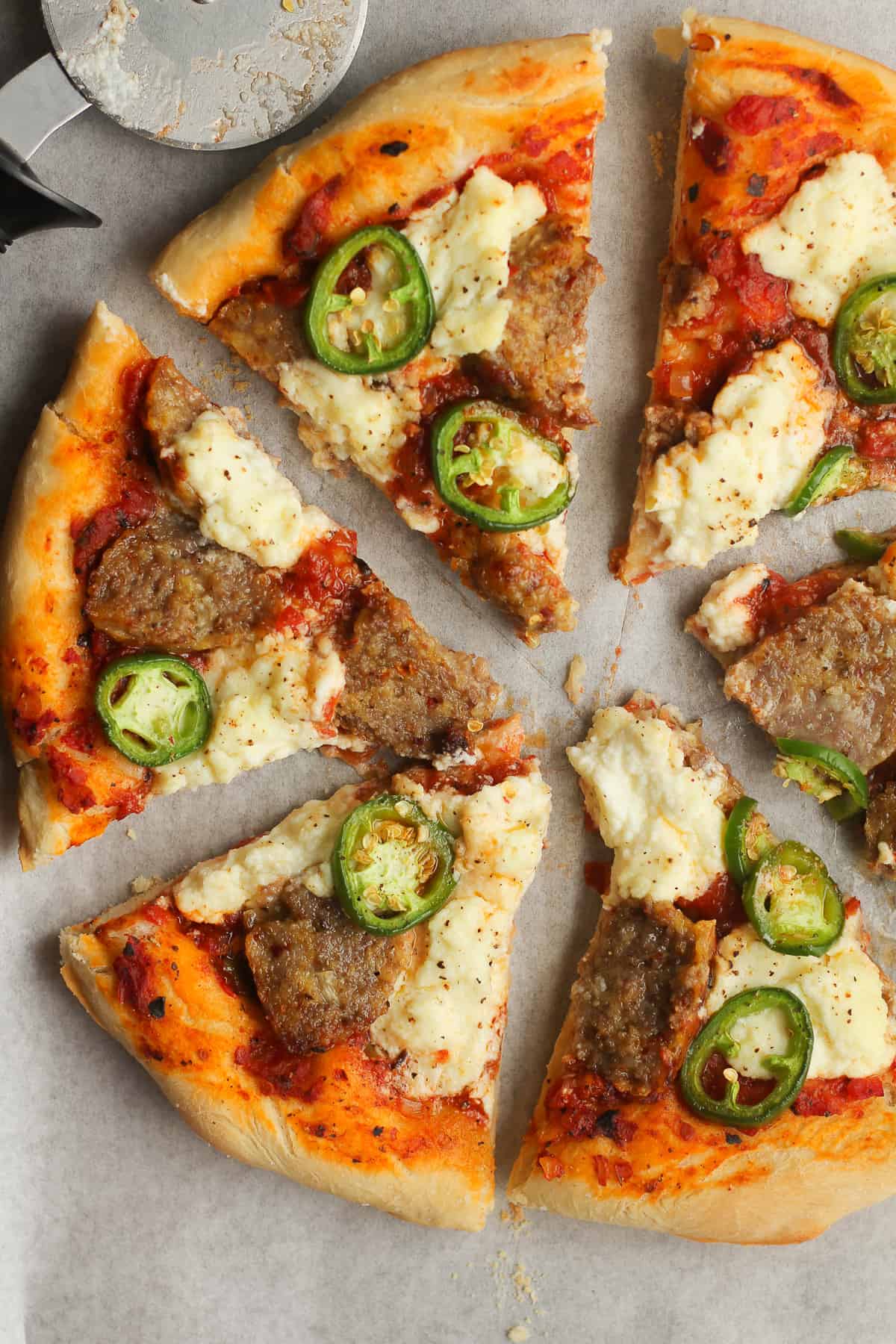 Meatball Ricotta Pizza
Ever since we ate the BEST meatball ricotta pizza in New York City (back in 2016), I've been trying to recreate it. VERY hard to do because NYC pizza is so amazing! So here we go. I've got all the delicious details for you!
There are three parts to a great pizza.
The pizza dough.
The pizza sauce.
The toppings.
I used homemade recipes for all three of these parts, but you could easily take a short-cut or two. However, I don't recommend buying the meatballs. My recipe is super easy and is the foundation for a great meatball pizza.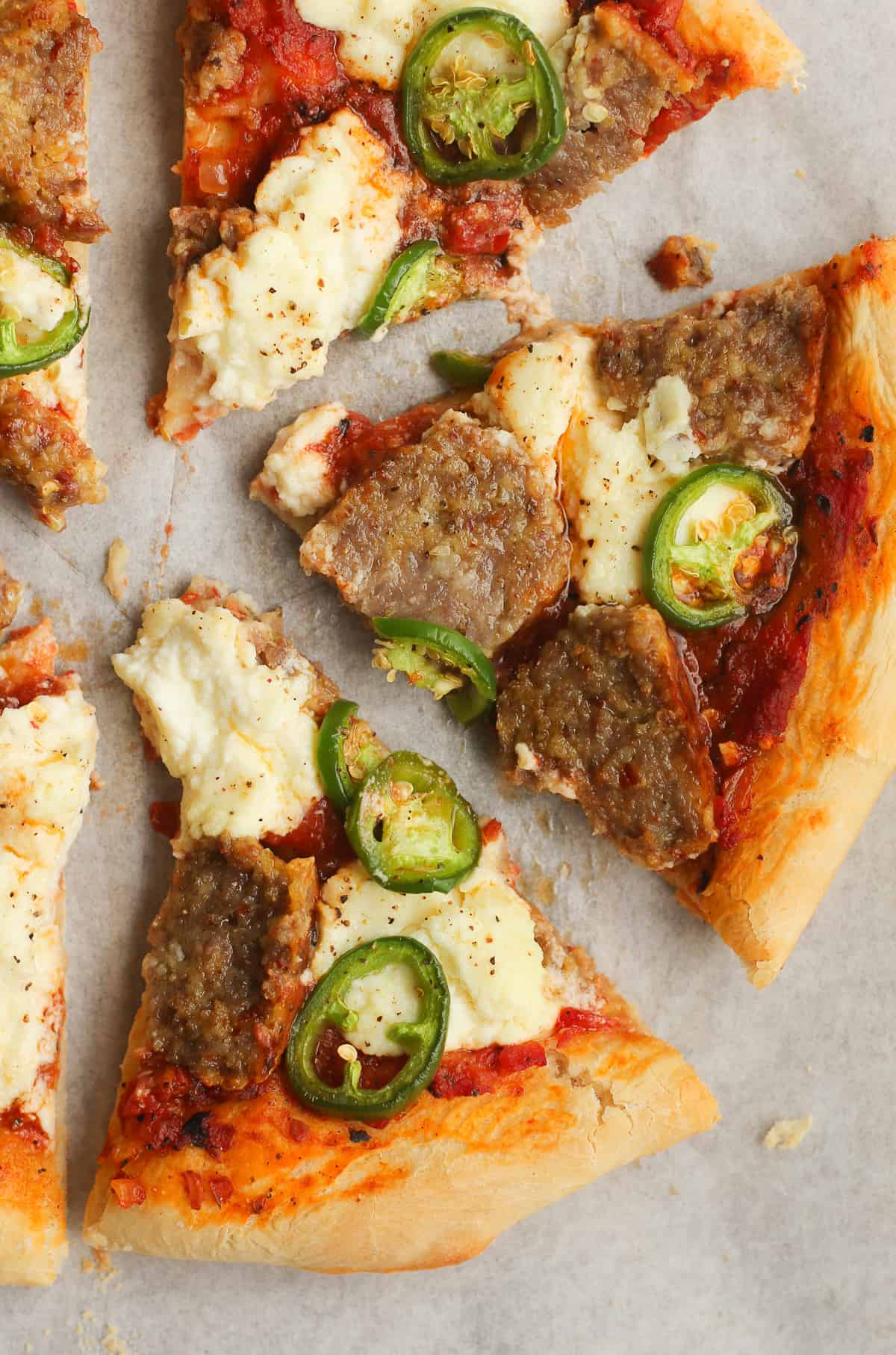 Ingredients you'll need for meatball pizza:
Pizza Dough – I used my regular homemade pizza dough but you could use store-bought too.
Pizza Sauce – My homemade pizza sauce has seriously elevated our zaaa game. It's super quick and you can choose to keep it chunky or blend it for smooth style!
Meatballs – I used my sausage meatball recipe. It's on the spicy side but feel free to tone it down.
Jalapeños – I used fresh jalapeños (FROM OUR GARDEN)! What? Yes, we have a mini garden this year and these jalapeños stole the show. If you don't like spicy, just leave out the seeds and ribs (or skip them altogether).
Cheese – Ricotta cheese is best for meatball pizza! Use a full-fat version for best results.
How to make meatball pizza:
1. Make the dough.
Follow my simple recipe for Homemade Pizza Dough. This dough is pretty quick, and you can mix it up about an hour before you start the pizza assembly. It really does make the BEST pizza!
If you want to make it ahead of time, you can mix the dough, let it rise, stick it in the fridge (covered), and remove it 30 minutes before assembly.
Use a baking mat and a rolling pin, with plenty of flour, and roll out the dough in a shape that works for you. If using a cast iron skillet, you'll want it to fit just right.
I've also tried my hand at spinning the dough around with my hands, but haven't perfected that YET. 😀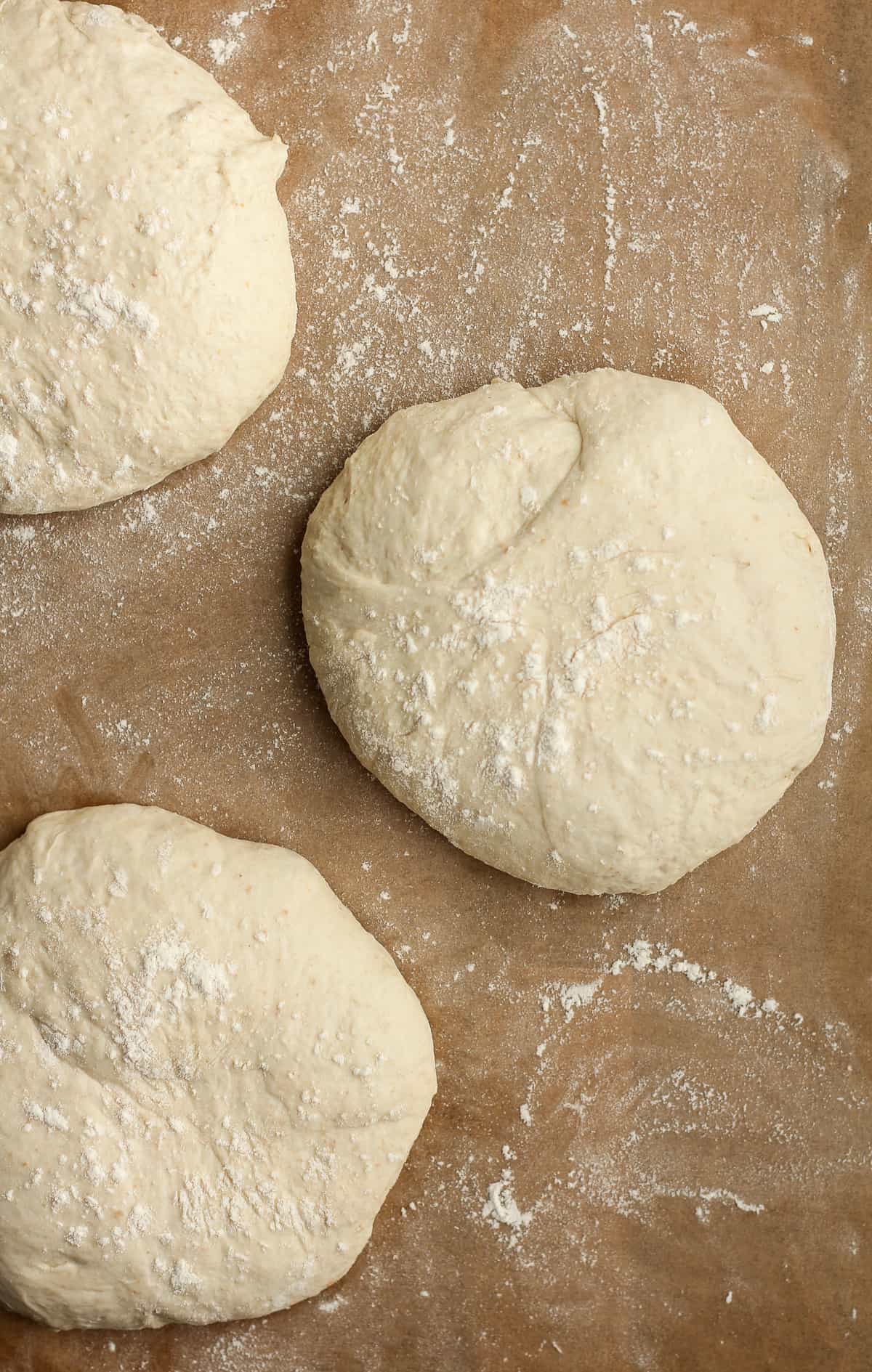 2. Make the sauce.
Follow my simple 20 minute recipe for Pizza Sauce From Scratch. It's a quick sauce and is SO MUCH better than store-bought.
Choose to make it chunky style or smooth!
This pizza sauce stores well in the refrigerator and freezes well too.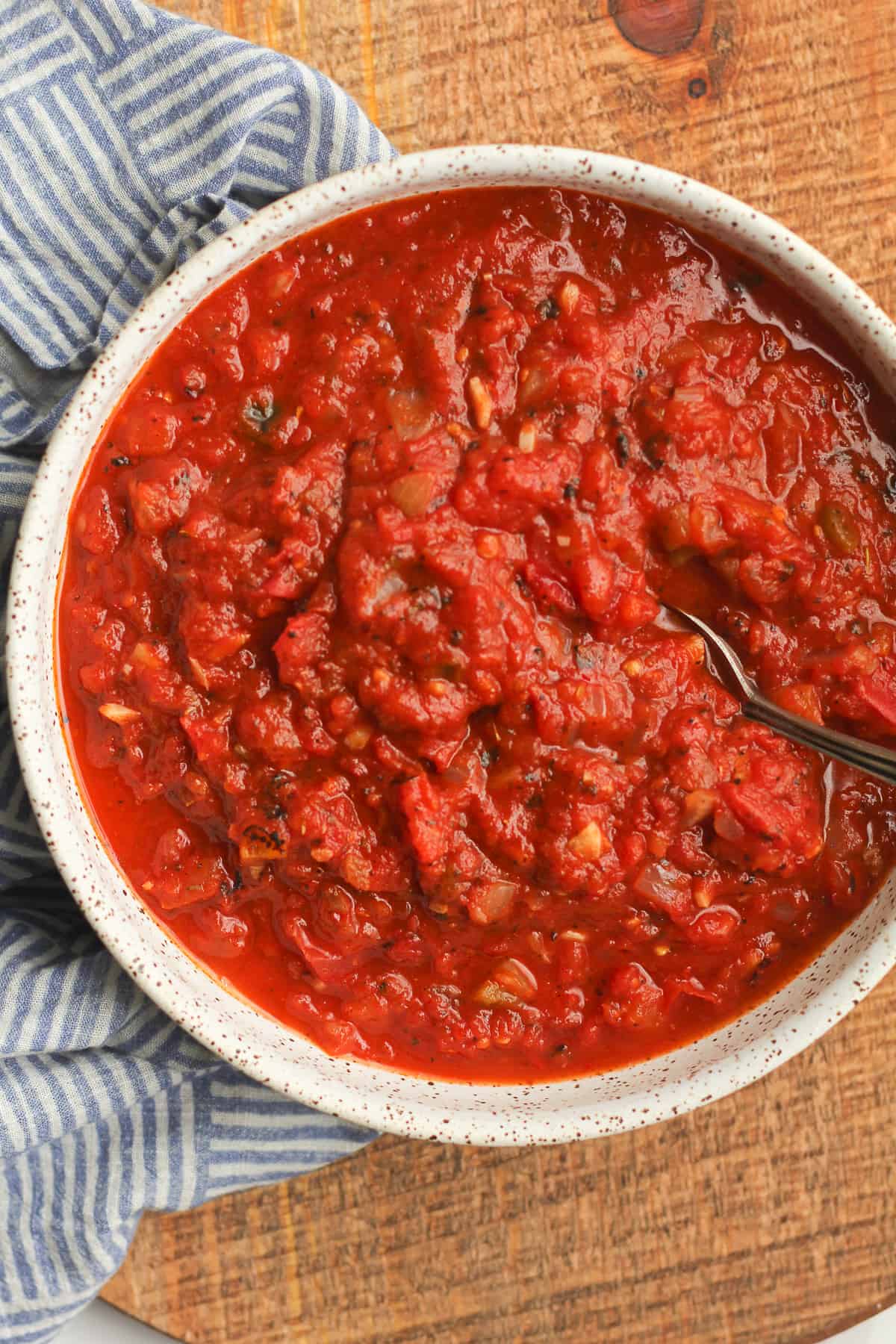 3. Make meatballs.
Combine the meatball ingredients in a mixing bowl. Use your hands to form into meatballs. For pizza, I like to make them bigger so that when I slice them, the chunks are larger. This recipe makes 8 large meatballs.
Place the meatballs on a baking sheet and bake at 400 degrees for 18-20 minutes. If they are a tiny bit pink inside, it's ok because they will continue to cook when baking the pizza.
Use a sharp knife to cut the meatballs into slices.
These meatballs can be precooked and frozen, or frozen raw.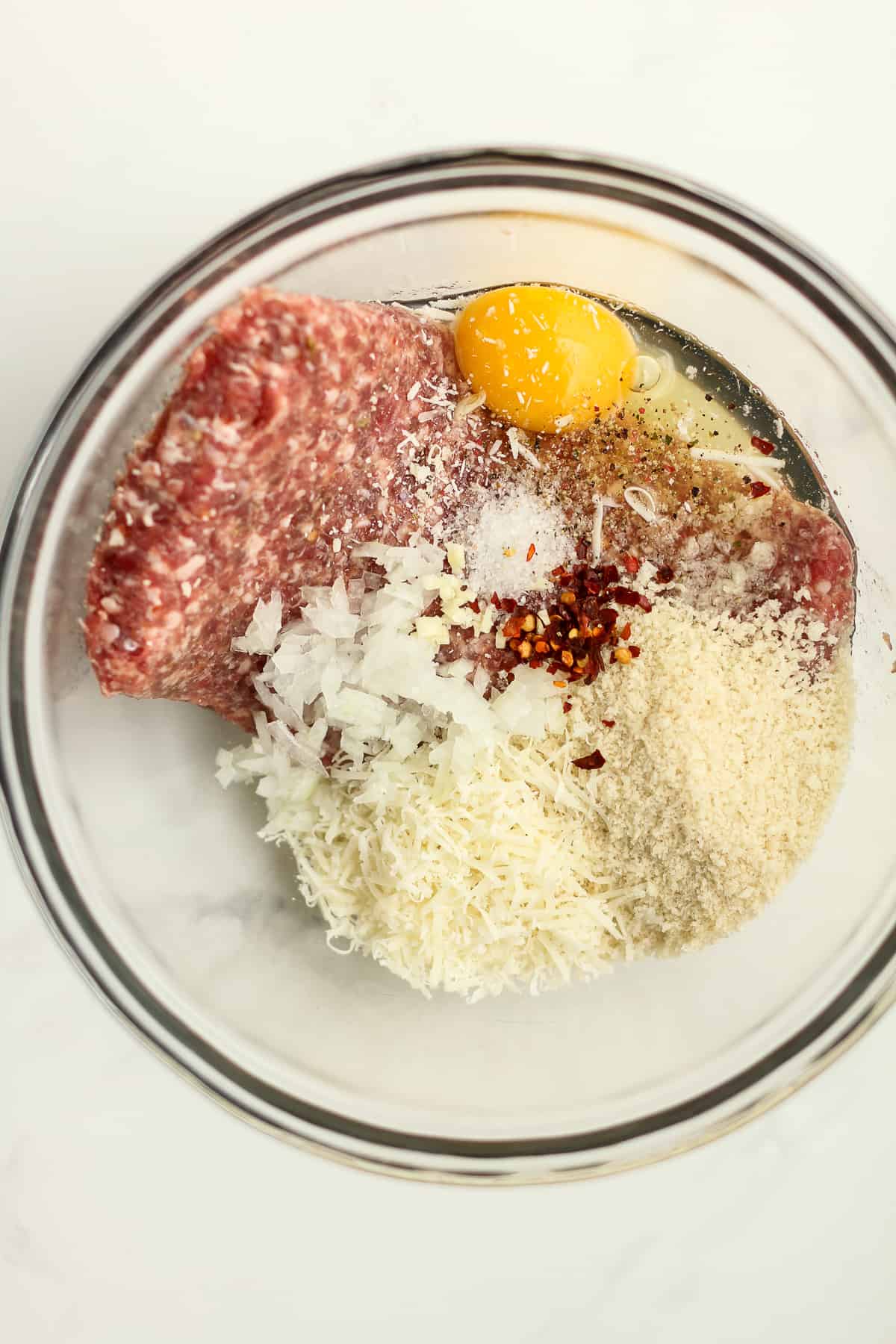 4. Assemble pizza.
For all of my pizza recipes, you can choose to bake them 1) in cast iron skillets in the oven or on a grill, 2) on baking sheets in the oven, or 3) on pizza stones in either the oven, grill, or smoker. We tend to rotate how we cook them based on the weather outside and how many people we are feeding.
Arrange dough. To start, roll out the dough. For this occasion (pictured), we cooked the pizza in a cast iron skillet.
Add toppings. Spread a generous amount of pizza sauce on the dough. Then add the sliced meatballs and jalapeños. Finally, add generous dollops of ricotta cheese.
Finish. Drizzle some olive oil over the ricotta cheese, along with some kosher salt and freshly ground black pepper (to taste). This really helps the ricotta to shine.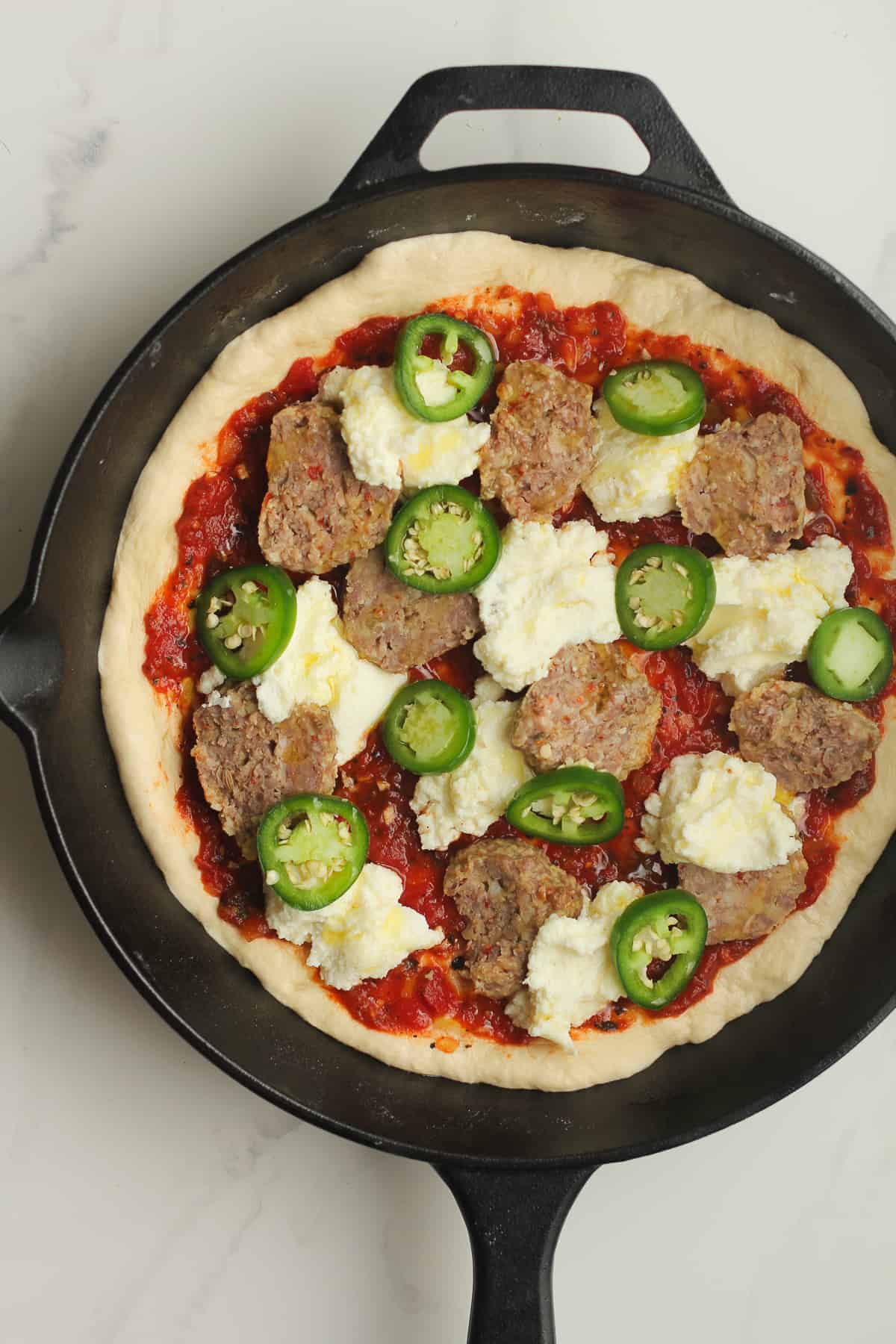 5. Bake.
Bake (or grill) – Cook pizza at a high temp. We use 450 degrees in our oven or at least 500 degrees on our grill/smoker.
The pizza is done when the crust is nice and browned on the bottom.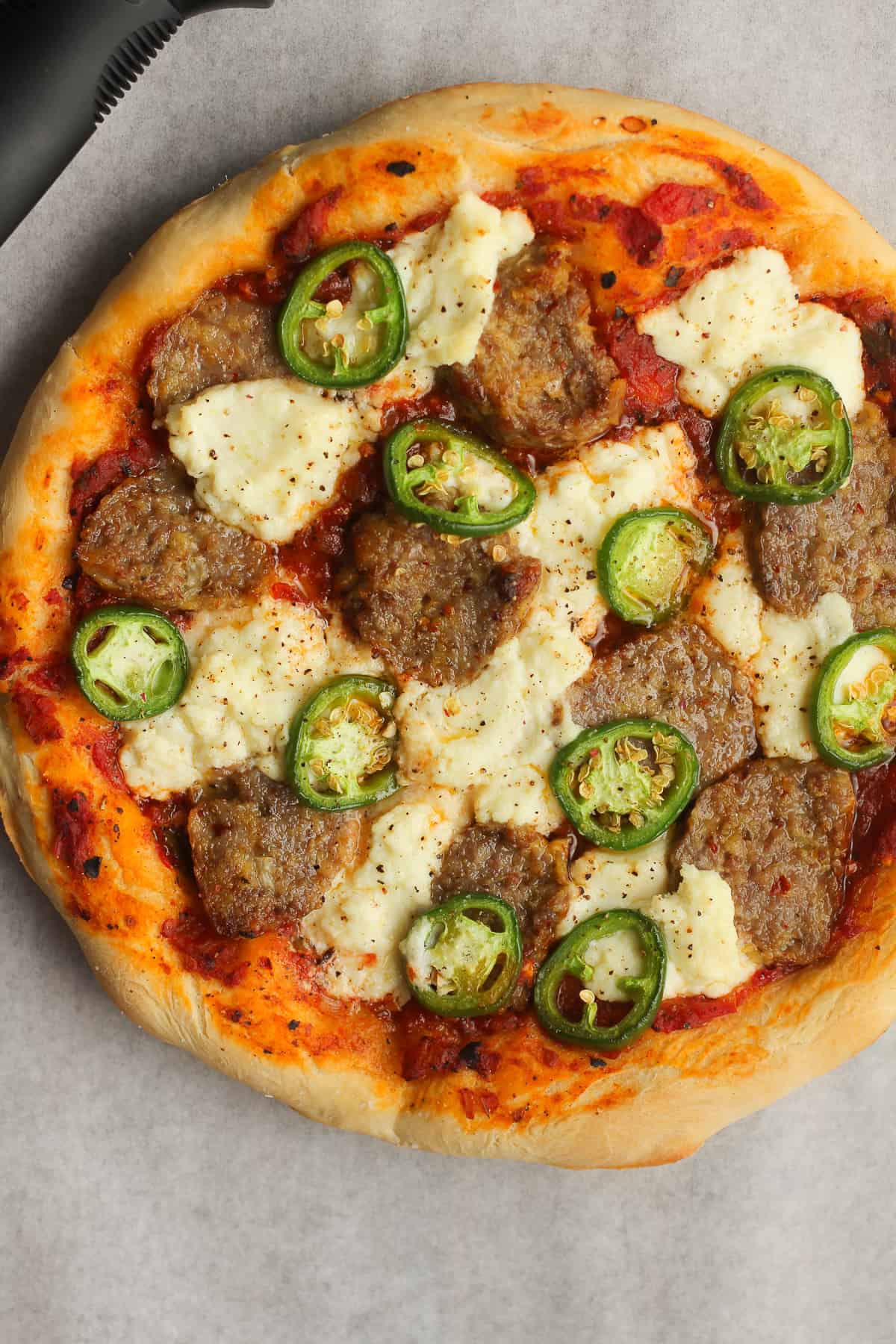 What to serve with homemade meatball pizza
Let's start out with some craft beer or red wine, shall we? OR you could whip up The Best Mai Tais or some Swirl Margaritas for something fun!
A simple green salad is all you really need with this hearty pizza. But you could also pair it with my Best Italian Chopped Salad which is a great salad to have in the refrigerator all week long.
Dessert anyone? I'm sharing a new ice cream recipe each month (in another series) so I've got some delicious recipes I'd love for you to try! Try my Blueberry Ice Cream Recipe or my Mint Chip Ice Cream, and let me know what you think!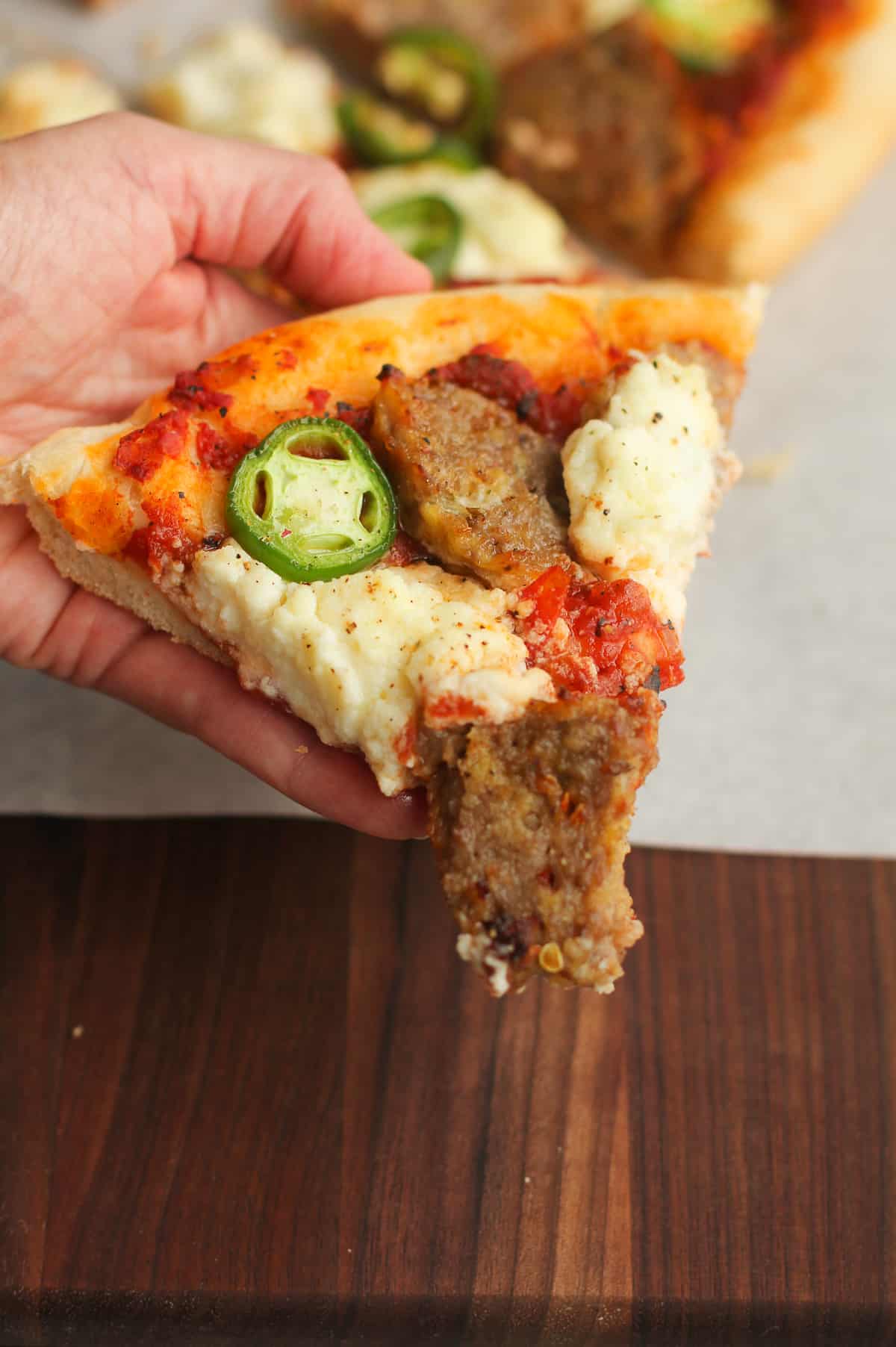 Kitchen Tools Used: (affiliate links)
Please let know if you try this recipe. Be sure to comment and leave a review on the blog so I can see what you think. You can also like my Facebook Page, follow me on Pinterest, and catch me on Instagram.
xoxo ~Sue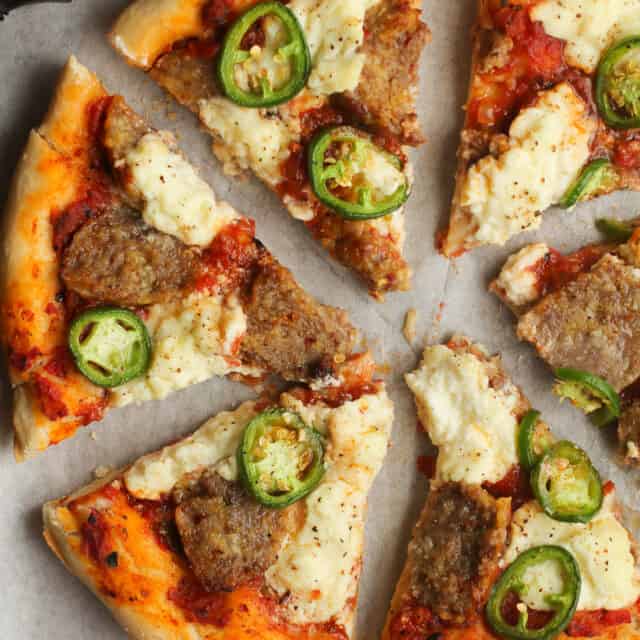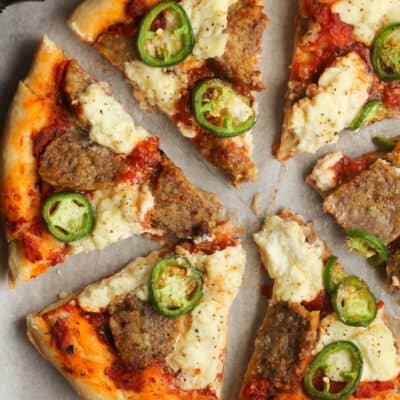 Meatball Pizza Recipe
This Meatball Pizza Recipe combines homemade pizza dough and sauce with spicy meatballs, jalapeños, and ricotta cheese. Simple ingredients and perfect for pizza night at home!
Print
Pin
Rate
Ingredients
1

batch

homemade pizza dough

– use any homemade or store-bought dough

1

cup

pizza sauce

– use my homemade version or store-bought sauce

1

medium

jalapeno

-sliced, with or without seeds and ribs

1 ⅓

cup

ricotta cheese

– or more
For the sausage meatballs:
1

pound

ground pork

– we use the HOT version

1

large

egg

1/4

cup

onion

– minced

1

clove

garlic

– minced

1/4

cup

parmesan cheese

– freshly shredded

1/3

cup

Panko breadcrumbs

1

teaspoon

red pepper flakes

kosher salt and freshly ground black pepper

– to taste

2

Tablespoons

cold water

– or a little more
Instructions
Make a batch of my homemade pizza dough or use store-bought.

Make my Pizza Sauce From Scratch or use store-bought. You'll need a little over a cup of sauce for this recipe (2 pizzas).

Make the meatballs. In a mixing bowl, combine all the sausage meatball ingredients. Use your hands to gently mix. Divide the mixture into 8 sections and gently form into meatballs. Use cold water for moisture, and add as you need it.

Bake meatballs in a 400 degree preheated oven for 18-20 minutes, or until done to your liking. For pizza, I under-bake slightly as the meatballs will cook more with the pizza.

Assemble pizza. Layer the homemade dough into two large cast iron skillets, baking sheets, or pizza stones. Use flour on a flat surface to roll dough out.

Add pizza sauce, jalapeno slices, and sliced meatballs to the sauce. Then add spoonfuls of ricotta cheese. Top with a drizzle of olive oil and salt and pepper (to taste)

Bake at 450 degrees for 16-20 minutes or until the bottoms are golden brown. If using a grill, cook at 500 degrees until done.
Nutrition
Calories:
1986
kcal
|
Carbohydrates:
185
g
|
Protein:
95
g
|
Fat:
93
g
|
Saturated Fat:
37
g
|
Polyunsaturated Fat:
9
g
|
Monounsaturated Fat:
39
g
|
Trans Fat:
1
g
|
Cholesterol:
348
mg
|
Sodium:
2401
mg
|
Potassium:
1606
mg
|
Fiber:
9
g
|
Sugar:
12
g
|
Vitamin A:
1886
IU
|
Vitamin C:
21
mg
|
Calcium:
613
mg
|
Iron:
7
mg