This post may contain affiliate links which won't change your price but will share a commission.
My Pressed Cuban Sandwiches combine pulled pork roast, deli ham, Swiss cheese, dill pickles, and a zesty mustard aioli – all piled high on top of crusty bread of your choice. A great sandwich for hungry peeps!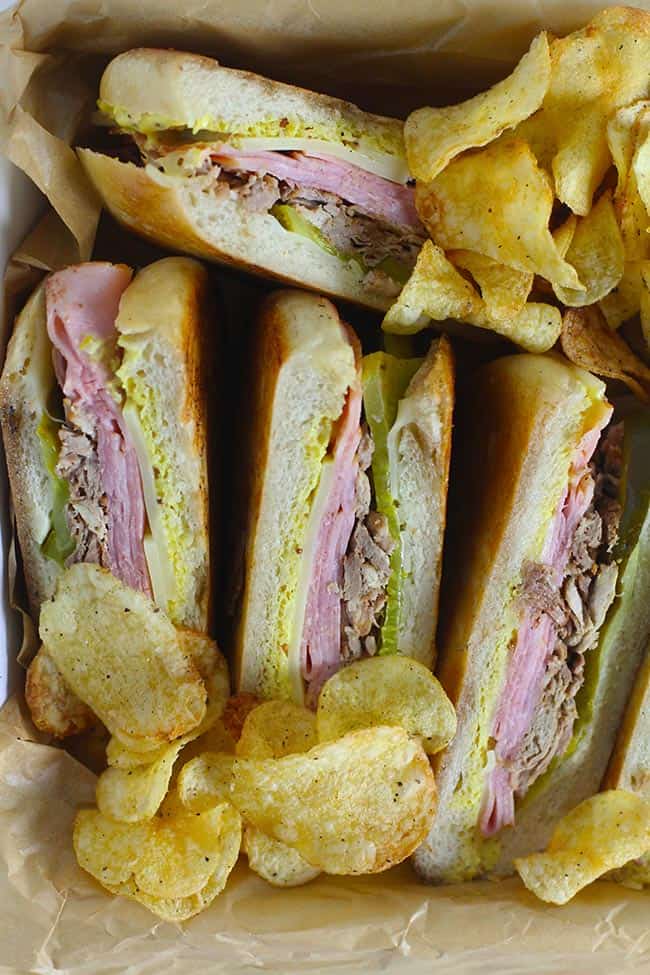 You can't beat a Cuban Sandwich. Especially if you love a good hearty meaty sammie with some interesting flavor profiles. This really is the ULTIMATE sandwich.
Meaty – Perfect for pork lovers. Lots of smoky pulled pork and salty ham that fills you up.
Classic – The only thing that differs here is the mustard aioli, which I personally think is the "bees knees"! Gotta try it for this recipe.
Pressed – Use some melted butter and two cast iron skillets (one smaller than the other) to press the sandwich to perfection. Use some arm muscles to get it as flat as you like.
Makes great leftovers – Make plenty of pork and you can enjoy these sammies for days on end.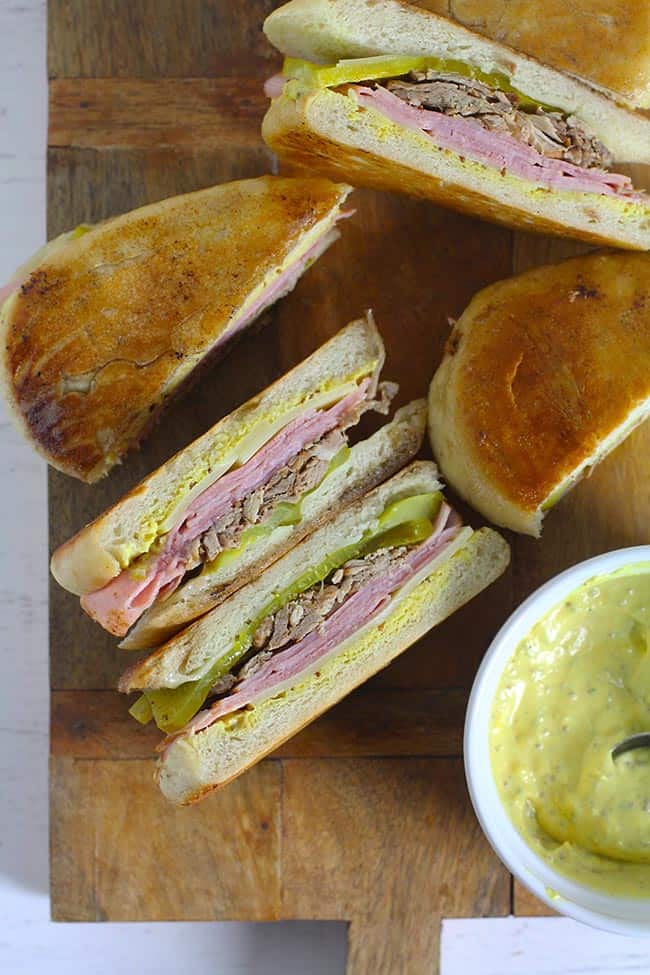 How to make the pulled pork for Cuban Sandwiches:
Make it in the Instant Pot. Use the method I use for my Crispy Carnitas Recipe, the quickest way to cook pork, and my favorite.
Bake the pork in the oven. Follow my Slow-Baked Pulled Pork Recipe for a simple "make it while you sleep" method.
Smoke it. My son, Josh, loves to make a pork butt on the grill. Stay tuned for a delicious recipe for his method.
Ingredients needed for Pulled Pork:
If making the pork in the instant pot, like I did in this recipe, here's what you need:
Pork Shoulder – I bought an 8 pound pork shoulder and cut it into chunks. I cooked part of it and froze the rest for the next time we get a craving for Cuban Sandwiches.
Seasoning Mix – A simple mixture of sugar, kosher salt, black pepper, smoked paprika, cayenne pepper, and garlic powder. You can also mix up a large batch of my Dry Rub Seasoning and keep it handy for all of your needs.
Broth – I like to combine chicken broth with some citrus – like a lime and an orange. All of this gets added to the instant pot after searing the seasoned pork.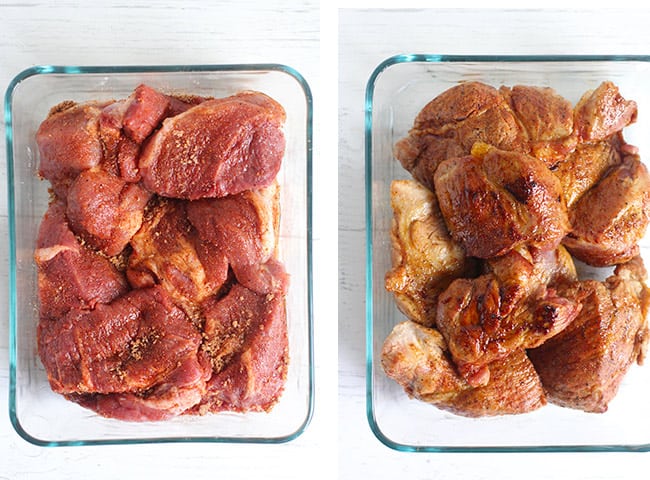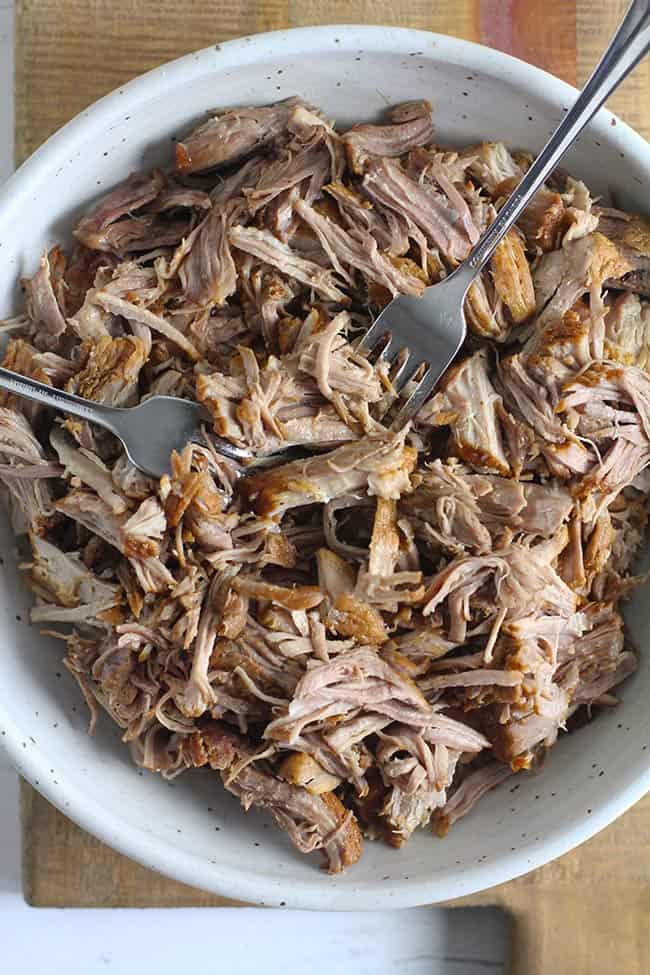 Ingredients for a zesty mustard aioli:
Garlic – Sauté some minced garlic in a bit of olive oil. You want to stir constantly, and cook until JUST fragrant, about 1-2 minutes.
Mayo – I prefer to use a mayo with olive oil added in. But any mayo works fine.
Stone Ground Mustard – You can use a whole grain mustard or a stone ground mustard.
Yellow Mustard – A couple tablespoons of yellow mustard is needed as well.
S&P – Kosher salt and freshly ground black pepper, to taste.
Lemon – Finish the aioli with a squeeze of lemon.
Mix the aioli ingredients together and store in the refrigerator. You can use this for several days. I also like it on a burger or a simple deli sandwich!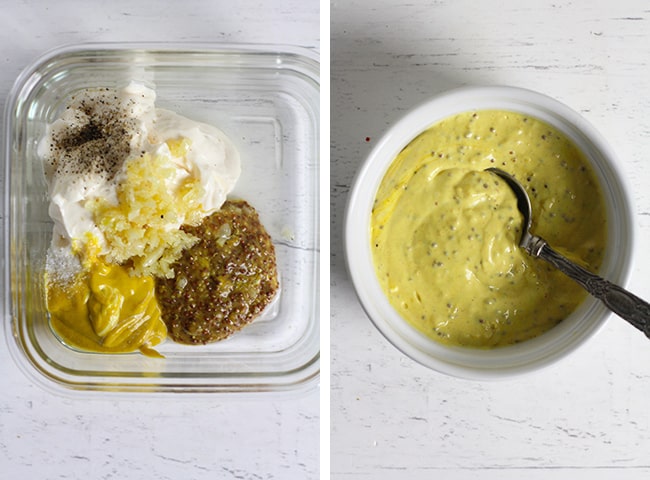 Other ingredients for Pressed Cuban Sandwiches:
Hoagie Rolls – I've got my homemade version on the blog, or you can definitely buy your own bread/rolls. However, if you are a bread baker, these are pretty easy and work the extra step. They freeze well too!
Deli Ham – Use your favorite deli ham. I usually go with Boar's Head Tavern Ham.
Swiss Cheese – I prefer thinly sliced baby Swiss cheese.
Dill Pickles – Using the pickle stackers are the easiest to use in these pressed sandwiches. Make sure you pat them dry before adding them to sandwiches.
Butter – You'll need some butter to get a nice golden crust when pressing the sandwiches in your cast iron skillet.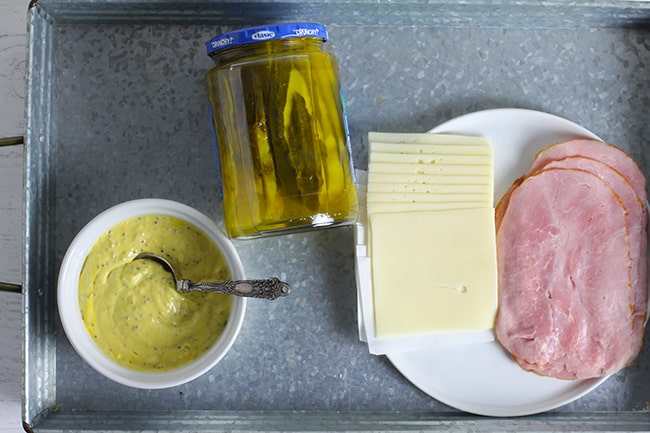 These simple hoagie rolls use the dough for my Chewy French Bread, a simple 5-ingredient recipe. The only difference is how you shape and bake them. SO easy to make. You should really try it. Of course, you can use store-bought bread in it's place.
5-Ingredients:
Yeast – I use Red Star Active Dry Yeast. (This is a very large amount. I keep a bunch in the freezer, and it lasts a long time.) We have perfect bread-making weather here in Texas, and my bread always rises pretty quickly. You may need a Quick Rise Yeast, depending on where you live.
Sugar – Just a little bit of sugar is needed to help activate the yeast.
Water – It's very important to use warm water. I test it with my finger, and make sure it's not too hot, and not cold either.
Salt – I like kosher salt, but you can use regular salt as well.
Flour – For best results, use all-purpose flour.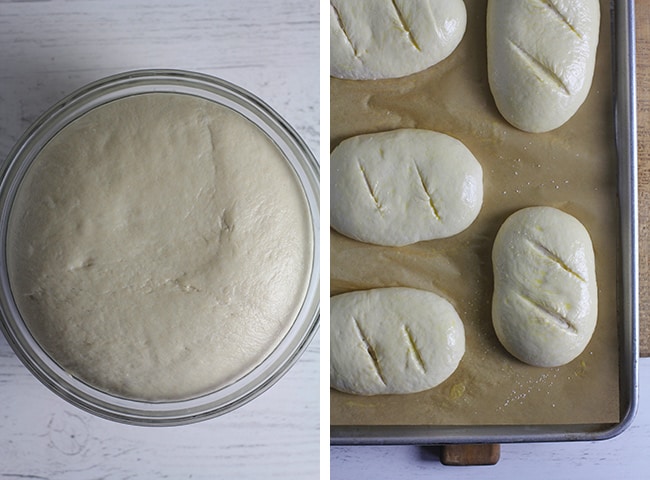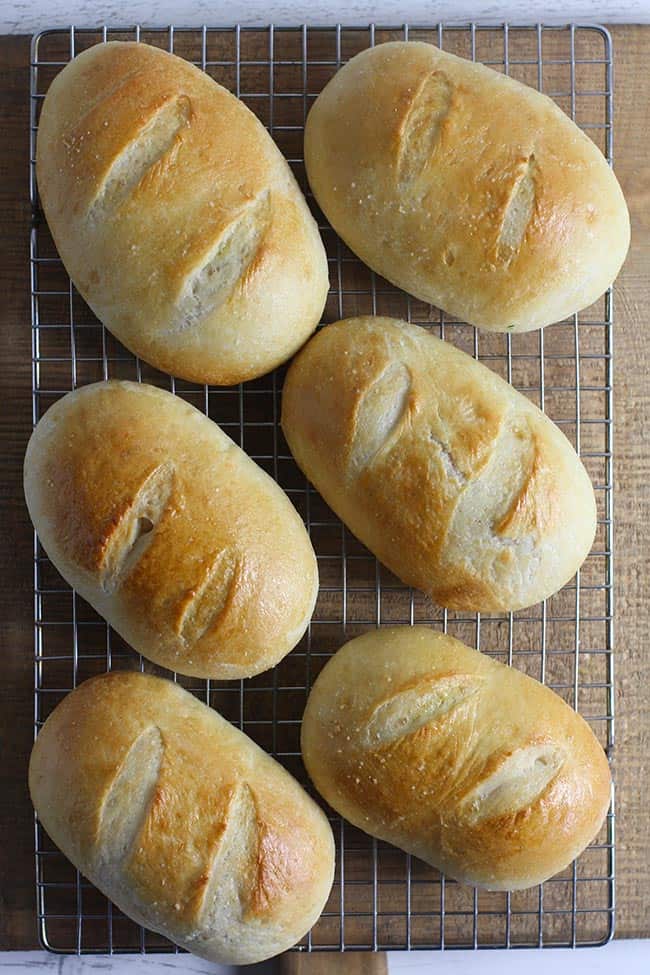 Other delicious sandwiches you should try next: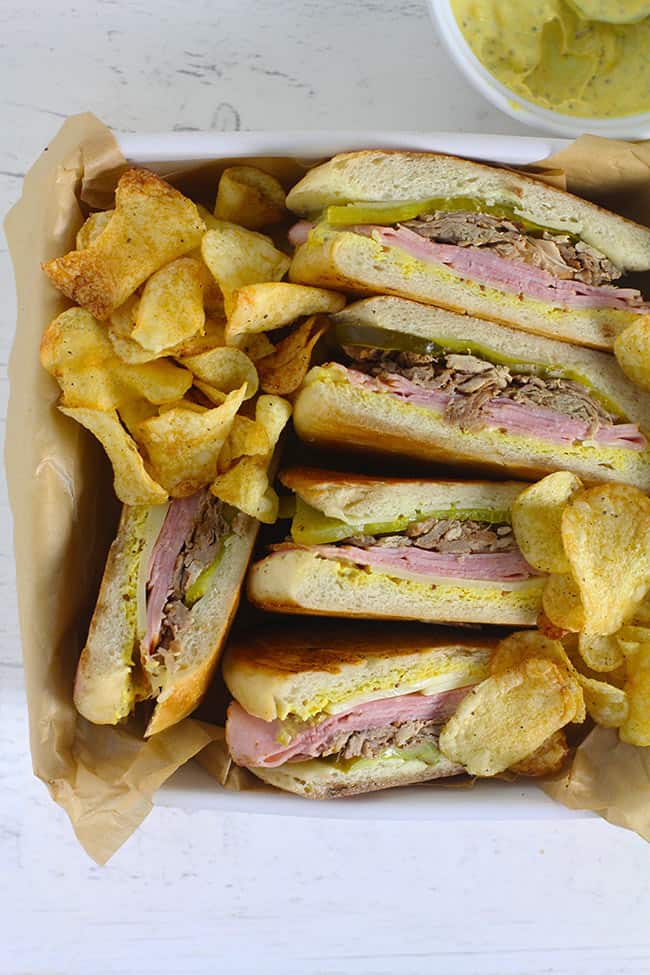 Kitchen Tools used for this recipe:

(Affiliate Links)

Make these sandwiches next: Slow Cooker Beef Au Jus Sandwiches

Please let know if you try this recipe. Be sure to comment and leave a review on the blog so I can see what you think. You can also like my Facebook Page, follow me on Pinterest, and catch me on Instagram.

xoxo ~Sue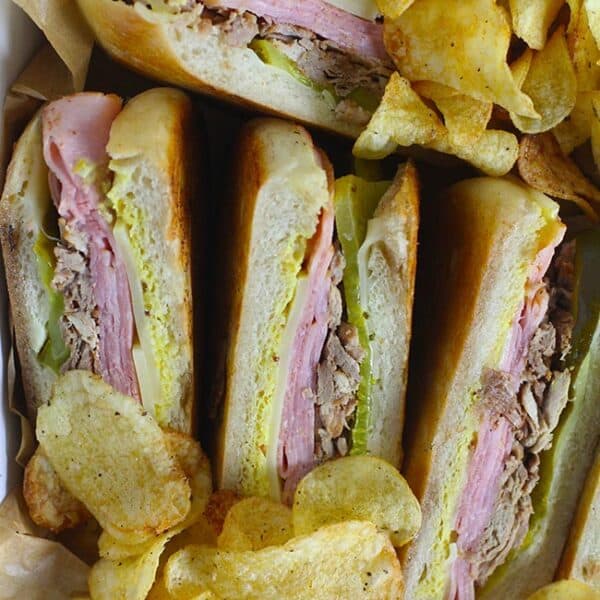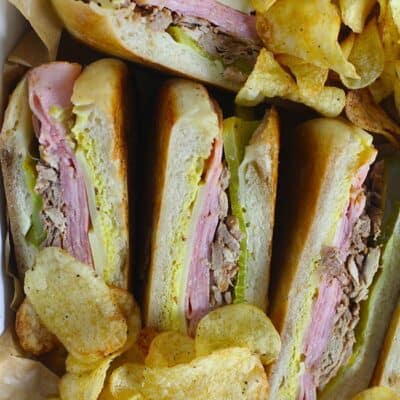 Pressed Cuban Sandwiches
My Pressed Cuban Sandwiches combine pulled pork roast, deli ham, Swiss cheese, dill pickles, and a zesty mustard aioli – all piled high on top of crusty bread of your choice. A great sandwich for hungry peeps!
Print
Pin
Rate
Ingredients
For sandwiches:
8

french bread buns

– or any crusty bread

16

slices

deli ham

8

slices

swiss cheese

8

large

dill pickles

– sliced thin

butter

– for cooking in skillet

mustard aioli

– see below
For pulled pork:
2

pound

pork shoulder

– cut into 3 inch chunks

2

Tablespoons

sugar

1

teaspoon

kosher salt

1/2

teaspoon

black pepper

1

teaspoon

smoked paprika

1/4

teaspoon

cayenne pepper

1

teaspoon

garlic powder

some barbecue sauce

– add some sweet bbq sauce to the finished pork for another flavor punch!
For the Mustard Aioli:
3

cloves

garlic

– sauteed in a bit of olive oil

1/2

cup

mayo with olive oil

2

Tablespoons

stone ground mustard

2

Tablespoons

yellow mustard

kosher salt & freshly ground black pepper

– to taste

a squeeze of lemon juice
Instructions
For the pulled pork:
Make the dry rub by combining the sugar, salt, pepper, paprika, cayenne, and garlic powder. Mix ingredients and coat liberally over the pork shoulder chunks.

For instant pot: Sear the pork shoulder in some neutral oil (like avocado oil or canola oil) in the instant pot on "SAUTE" function. Brown it on all sides – you may need to do this in batches. Then pour in the chicken broth and juice from the citrus. Clear instant pot and change setting to "PRESSURE COOK". Set it at 45 minutes. When the 45 minutes are up, let it do a natural release for 15 minutes. Then release the pressure carefully, and remove the pork from the IP. Shred the pork when it's cool enough to handle, and then pour a bit of the cooking liquids over top (for storing purchases).

You can also make the pulled pork in the oven, slow cooker, or on the grill.
For the mustard aioli:
Saute the garlic and let cool slightly. Then mix it with the remaining ingredients – the mayo, stone ground mustard, yellow mustard, salt, pepper, and a squeeze of lemon. Keep refrigerated until ready to use.
For the sandwiches:
You can make your own hoagie rolls for these sandwiches, or use store bought bread. See blog post for the details for how to make the bread!

Make the sandwiches. Take a hoagie roll and slice in half. Add a smear of mustard aioli, followed by a couple of slices of deli ham, pulled pork, some dill pickle slices, swiss cheese, and the top half of the hoagie. Repeat with remaining sandwiches.

Heat up a cast iron skillet over medium-high heat. Melt some butter in the skillet and place the sandwich in the middle of the skillet. Place a smaller skillet on top, and use your hands to press down. Cook for a few minutes, or until golden brown. Then Flip the sandwich (carefully) and repeat. You may need to add a bit more butter. Repeat.

Serve the sandwiches with some extra mustard aioli and some classic salt and pepper chips!
Notes
If you want to add another flavor punch, add some sweet barbecue sauce to the finished pulled pork!
Nutrition
Calories:
547
kcal
|
Carbohydrates:
43
g
|
Protein:
37
g
|
Fat:
25
g
|
Saturated Fat:
9
g
|
Cholesterol:
99
mg
|
Sodium:
2704
mg
|
Potassium:
558
mg
|
Fiber:
3
g
|
Sugar:
10
g
|
Vitamin A:
547
IU
|
Vitamin C:
2
mg
|
Calcium:
218
mg
|
Iron:
13
mg