This post may contain affiliate links which won't change your price but will share a commission.
Shrimp Pesto Flatbread combines the BEST homemade crust along with homemade pesto sauce, chopped shrimp, and fresh arugula. So many great flavors in every bite!
For other pizza topping combinations, try my White Sauce Pizza, our family favorite Taco Pizza, or a Meatball Pizza! Or try our delicious Margherita Flatbread!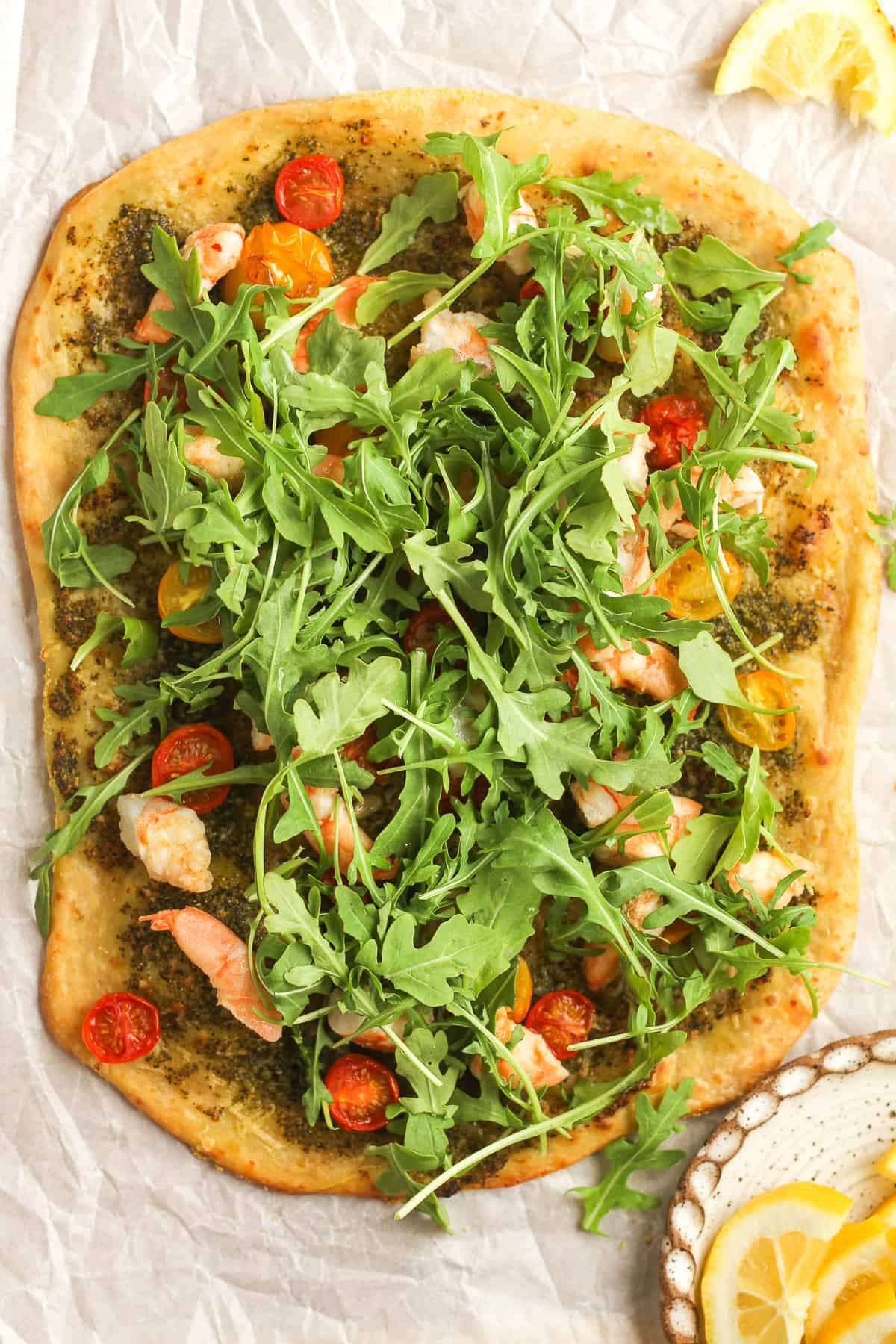 Pesto Flatbread Pizza
Homemade pizza is definitely a long-time favorite at our home. Over time, I've gotten braver and have tried many different combinations. Thankfully, my guys aren't the "pepperoni only" type of pizza lovers.
Even though we love deep dish pizza (we DID live in Chicago for a year – back in the day), we seem to prefer thin or just medium crust. Less dough but more toppings. Enter…flatbread pizza!
Flatbread Layers
The dough. The flatbread dough starts with my original flatbread recipe with some parmesan cheese and red pepper flakes added in. Its simple and delicious, and should definitely be on your menu soon!
The pesto sauce. Use my homemade basil pesto or your favorite jarred version. My homemade version is delicious and we freeze it for using all year long.
The toppings. I like to mix it up and try new combinations almost every time I make pizza or flatbread. Shrimp and arugula are both simple and fresh, and you'll be surprised at how tasty it is, especially with a squeeze of lemon on top!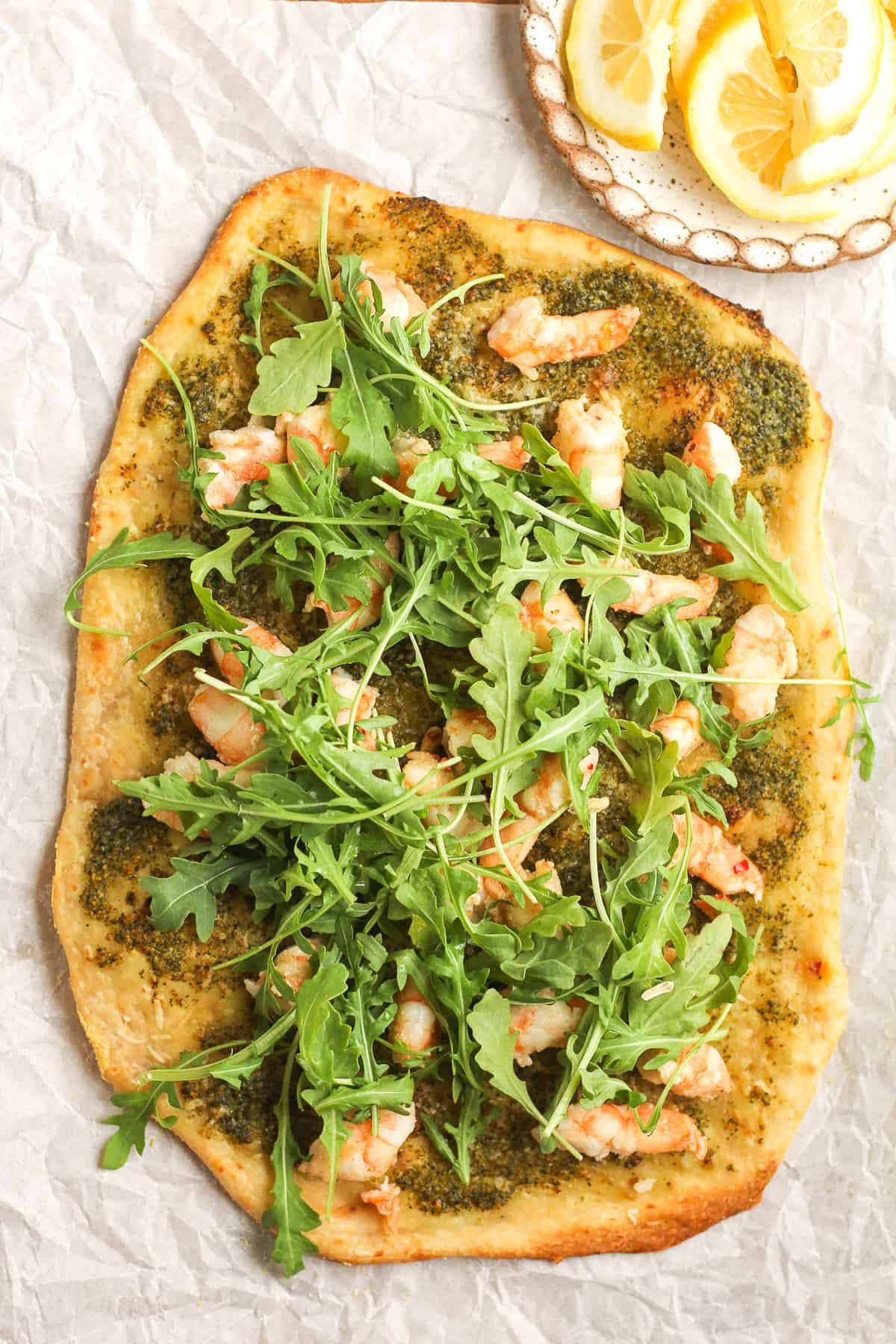 Ingredients Needed:
For the flatbread dough – You'll need a simple combo of flour, salt, red pepper flakes, freshly grated parmesan cheese, olive oil and water. This dough comes together in just minutes!
Pesto – Make your own using my simple homemade recipe, or store-bought works too.
Parmesan – I highly recommend shredding your own parmesan cheese. Don't use that powdered stuff!
Shrimp – We prefer using a wild caught shrimp. Just pan-fry it for a few minutes using salt and pepper (or a combo of your favorite seasonings). Chop it up for topping the pizza.
Arugula plus lemon – Some fresh arugula does wonders for pizza! Squeeze some lemon on top for a bright and fresh combination!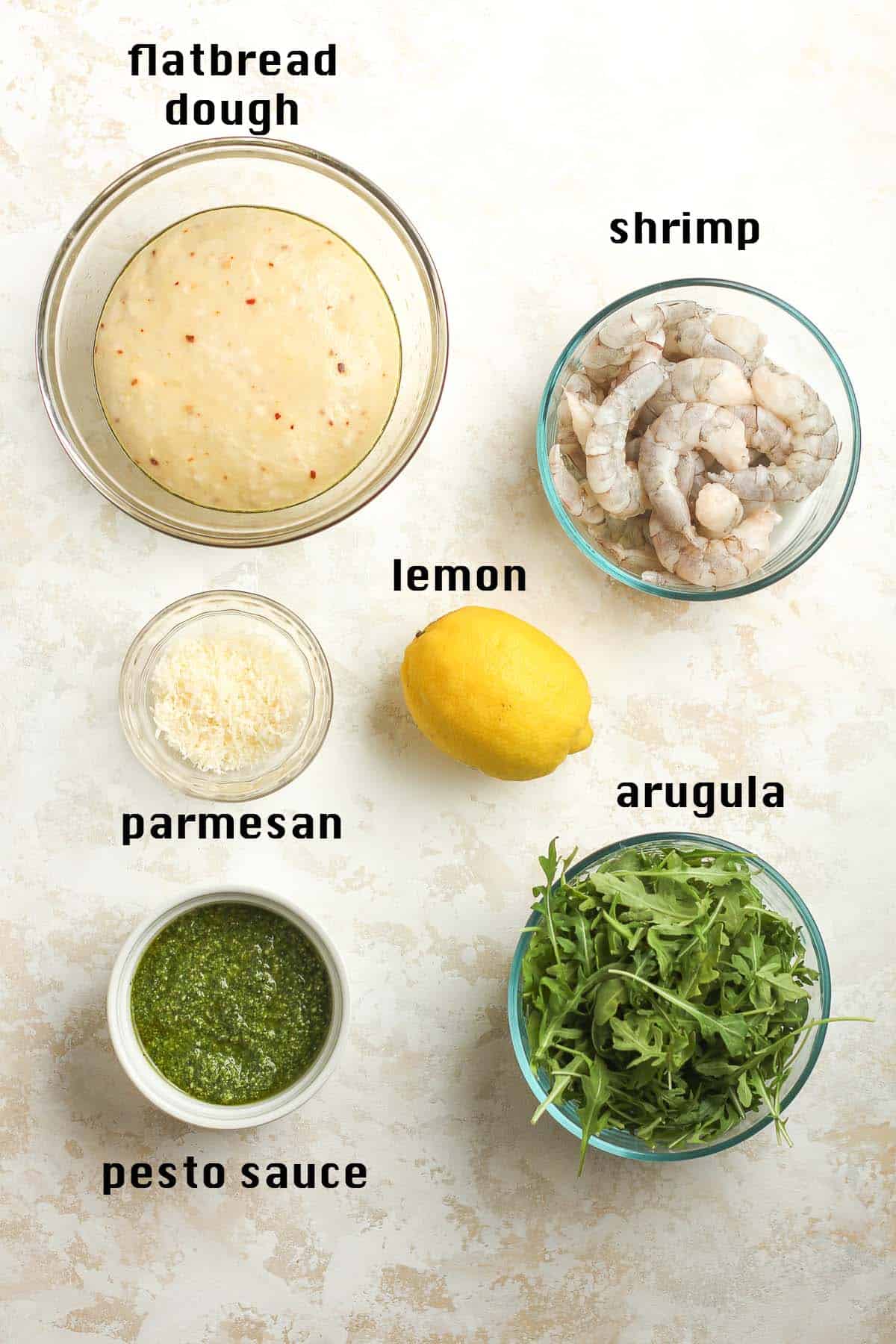 How to make Shrimp Pesto Flatbread:
Step 1
Make the flatbread. In a food processor, combine the dry ingredients – the flour, salt, red pepper flakes, and parmesan cheese. Pulse until combined. Then add the olive oil and hot water and pulse again.
The flatbread will push to one side of the food processor after only a few seconds of pulsing. Let it run for about 10 seconds and it's ready to go.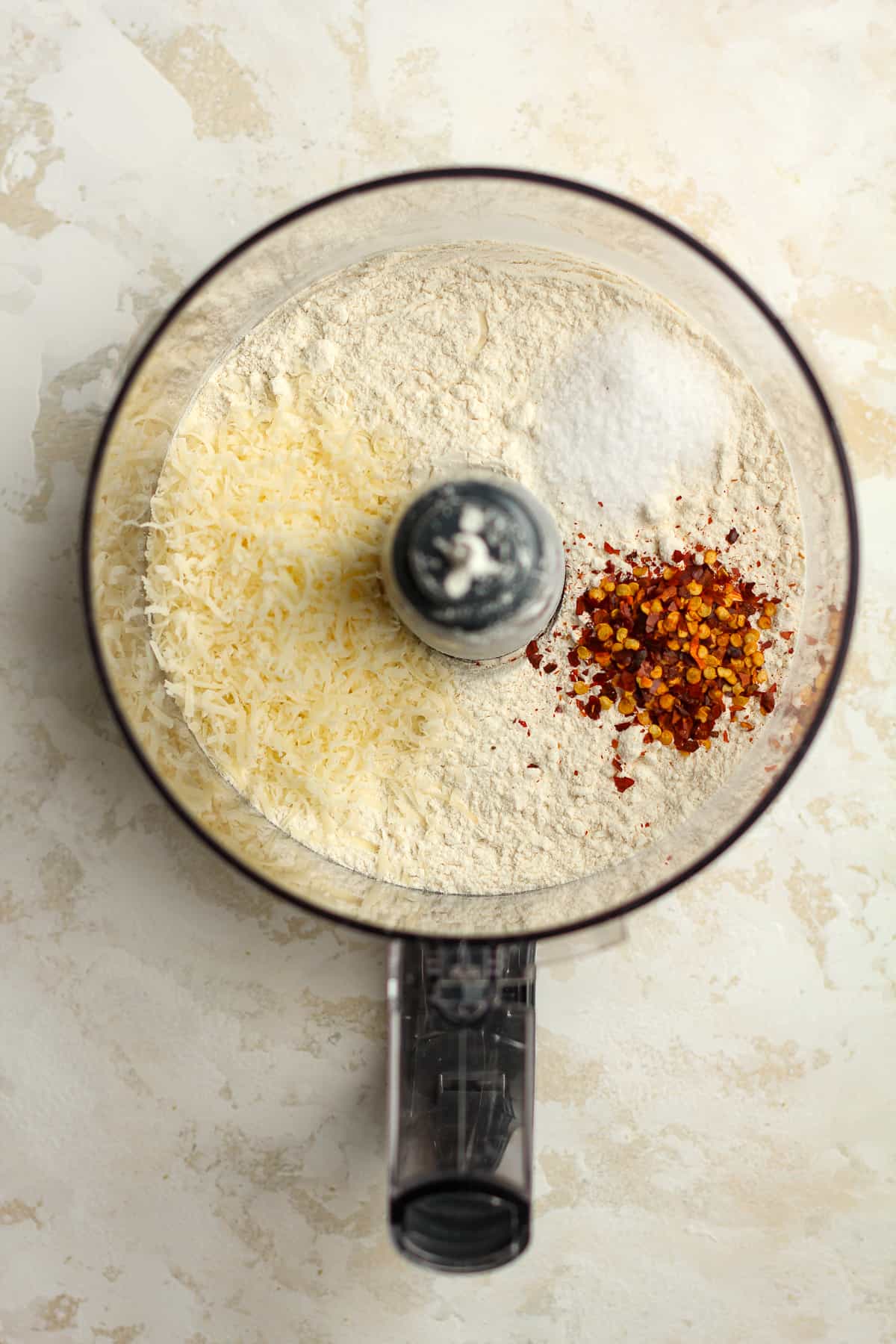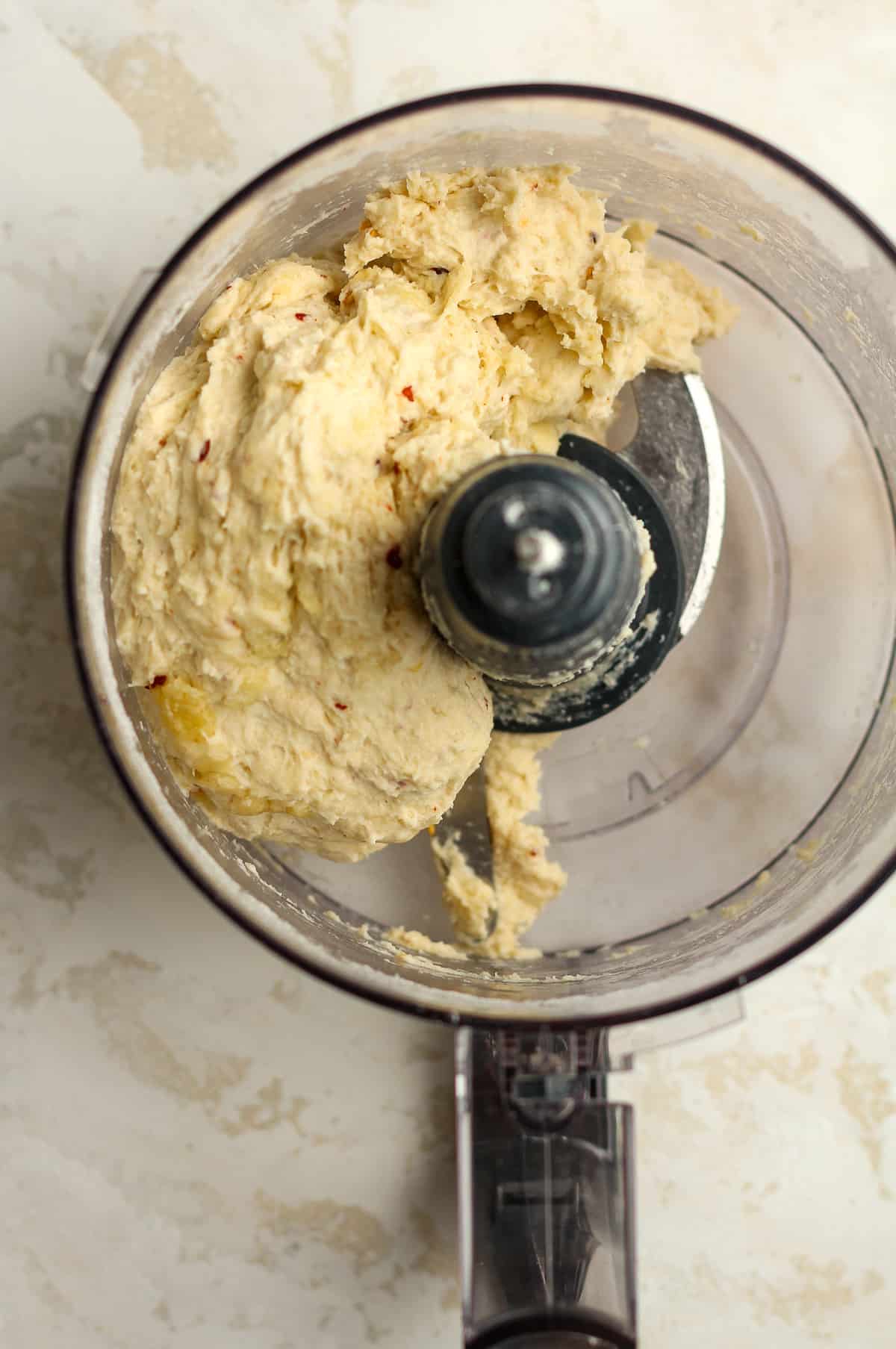 Step 2
Let the flatbread rest. Remove the flatbread to a lightly floured surface. Kneed it for about 30 seconds, and then form into a ball. Place the dough into a greased bowl and cover with a damp towel.
You can use the flatbread after resting for only 15 minutes if you'd like. I usually make it early in the day and let it rest for the entire day before using it. It won't act like a yeast dough and will get just slightly puffy.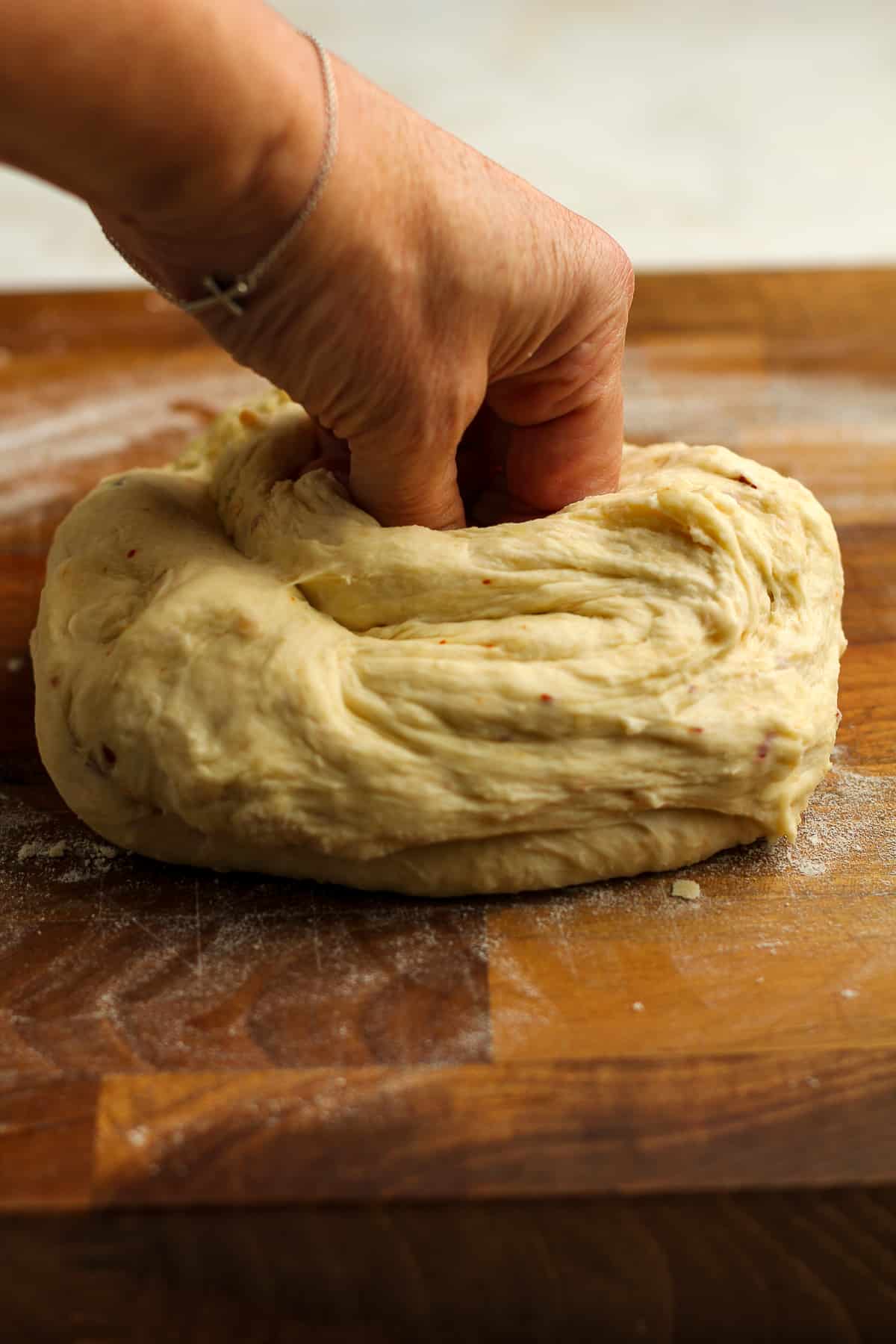 Step 3
Roll out the flatbread. Cut the flatbread dough in half and use a rolling pin to roll out each flatbread pretty thin. Each of mine took up a large portion of a baking sheet.
Use a fork to poke holes in each flatbread. This will help prevent it from getting too puffy as it bakes. Then brush a light coating of olive oil on top of the flatbread.
Step 4
Par-bake flatbread. Preheat oven to 475 degrees. Par-bake the flatbread for about 8-9 minutes. This will help the thin crust support the toppings.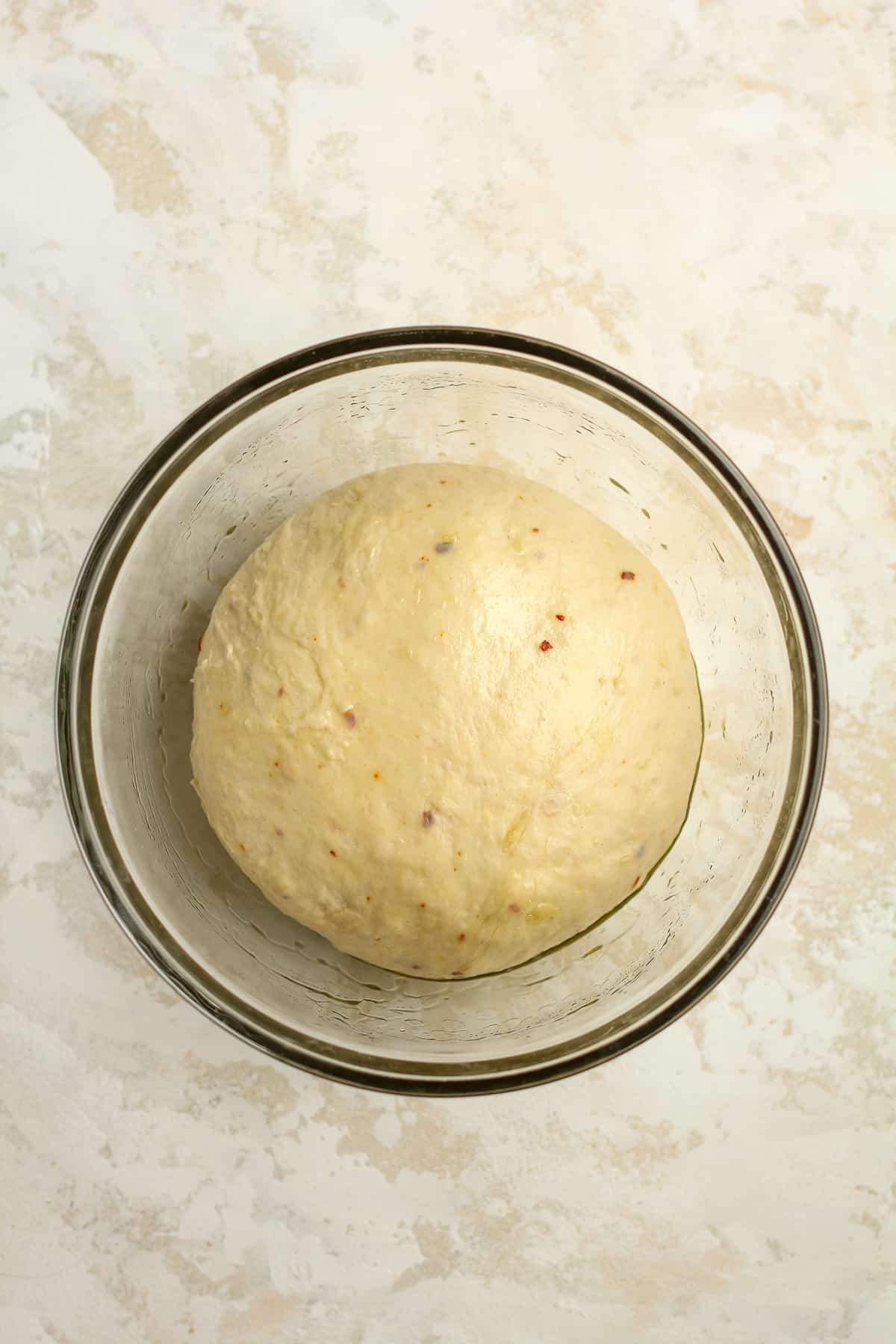 Step 5
Make pesto (or use store-bought). Meanwhile (or I make mine ahead of time), make the pesto sauce. Just combine the fresh basil, garlic, parmesan cheese, toasted pine nuts, and salt in a food processor. Process and then drizzle olive oil as the food processor continues to run.
I recommend making a large batch of pesto and use it for this flatbread pizza, as well as other recipes. Try using it in my Italian Minestrone Soup with Pesto, Pesto Vegetable Pasta, and a Creamy Pesto Pasta Salad.
Step 6
Finish baking. Add pesto sauce to each par-baked crust, along with other toppings – like tomatoes and more parmesan cheese – in this example. Finish baking the crust for approximately 8 more minutes, or until it's as crunchy as you'd like.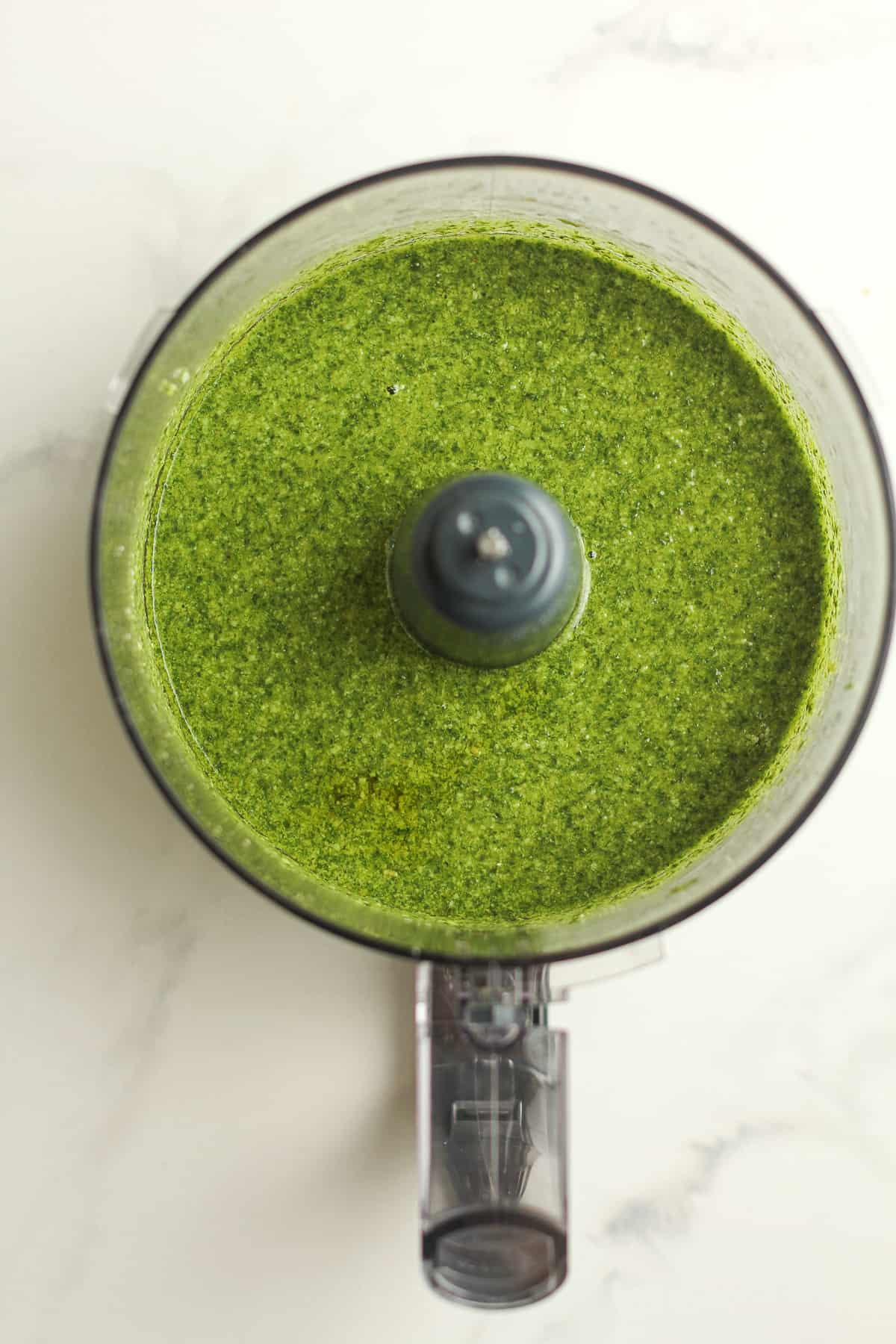 Step 7
Make shrimp. Meanwhile, sauté the shrimp in some olive oil in a skillet. Add seasonings of your choice. Chop shrimp into bite sized pieces.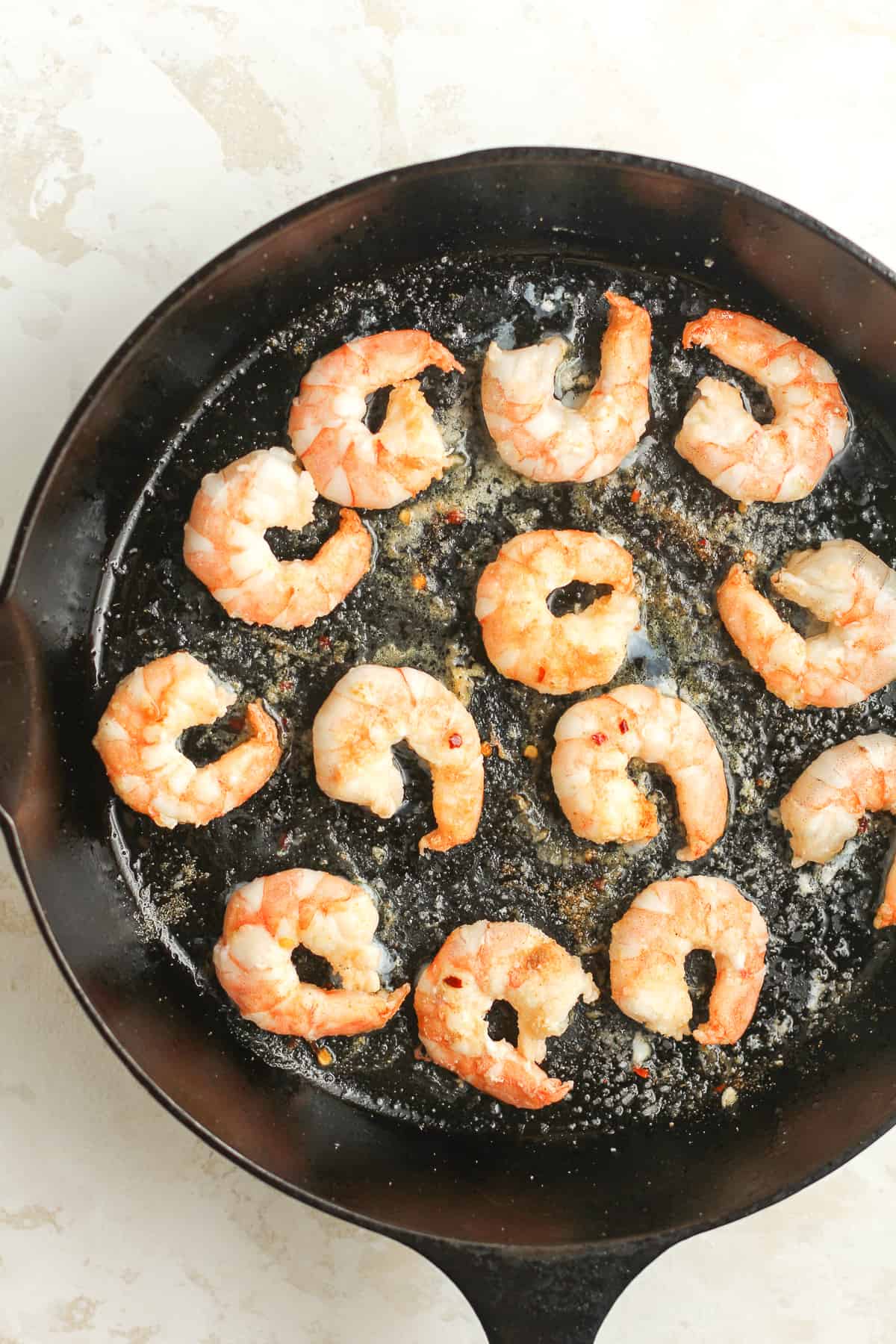 Step 8
Add toppings. When flatbread crust is done, add the chopped shrimp, some fresh arugula, and a squeeze of lemon.
Step 9
Slice and serve. Slice the flatbread pizza and serve immediately!
Recipe FAQs
How is flatbread different from pizza?
There is normally no yeast in flatbread. We aren't looking for a thick, puffy crust, so that's why this works. The flatbread crust will puff up a little bit even without the yeast. Think thin and crispy instead of thick and fluffy!
How is naan different from pita bread?
Both naan bread and pita bread are known as flatbreads. However, each have yeast raised dough. The difference between the two is that Naan is usually made with a yogurt base that thickens and gives it a different texture when cooking.
How is flatbread different from pita bread and naan bread?
Flatbread is a flat, thin, bread that is used as a staple food in many cultures. Pita and naan are both a soft, slightly leavened flatbread that is used in Mediterranean cuisine. The key difference between pita, naan, and flatbread is that flatbreads are often unleavened whereas pita and naan are slightly leavened.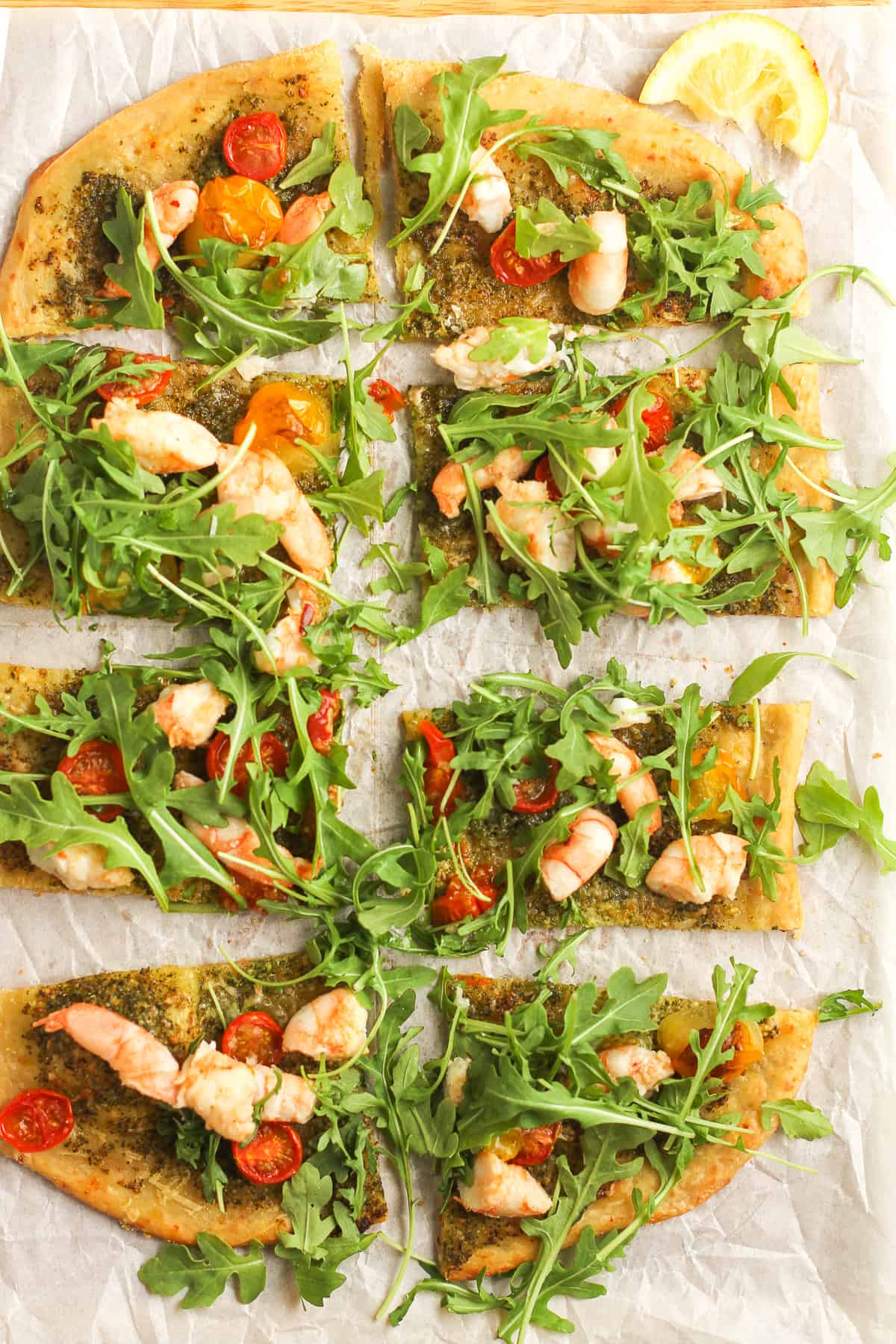 Expert Tips
Roll it to your desired thickness. While flatbread is pretty thin, you can leave it a little thicker if that's what you prefer. Make sure you roll it on a surface that is lightly dusted with flour.
Make sure you par-bake the flatbread. Since this dough is thin, you'll want to par-bake it to make sure it doesn't get soggy after the toppings are added.
Don't overload the flatbread. If you add too many toppings, the crust will take longer to bake and may not be crispy!
Bake at a hot temperature. Use a temperature of 475-500 degrees when baking. Think crisp!
Make your pesto sauce ahead of time. Freezing it is 100% worth it!
Shrimp and arugula (along with lemon) are delicious toppings, so don't hesitate in making this combo!
Storing and Baking
Storing – Store leftover flatbread (with toppings) in the refrigerator for up to three days.
Freezing – You can freeze the par-baked flatbread for a month or so (tightly wrapped). Just remove it and let it completely thaw out before adding toppings.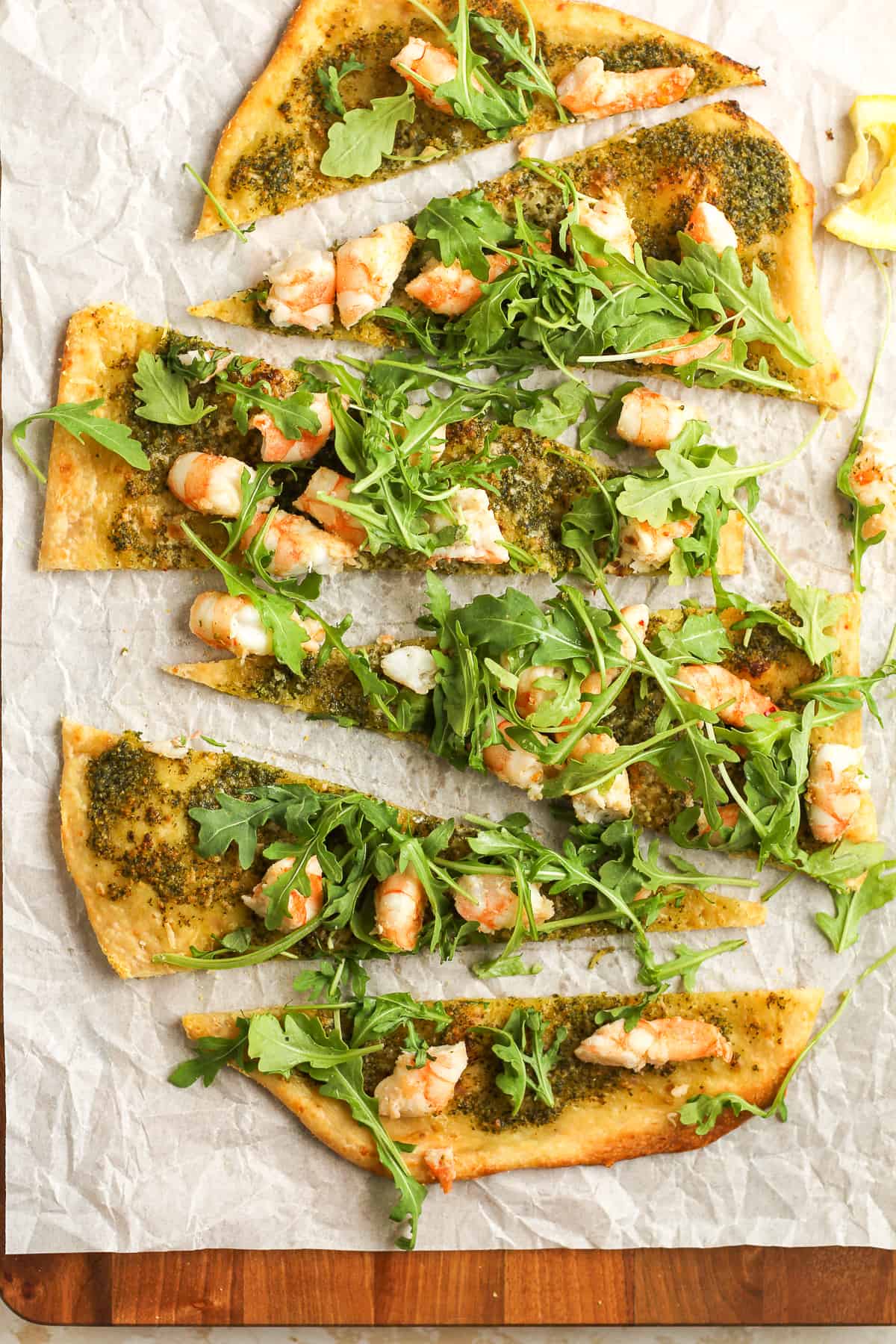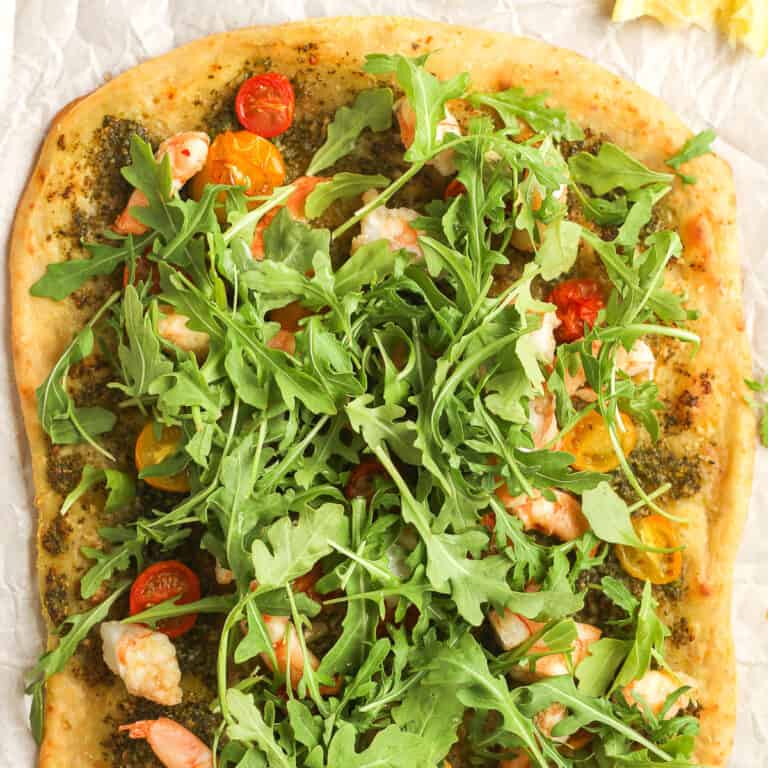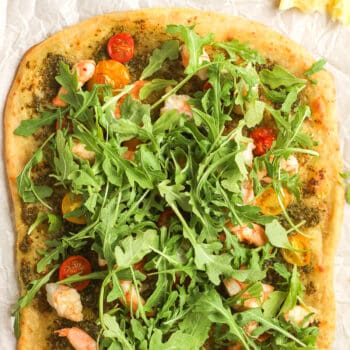 Shrimp Pesto Flatbread
Shrimp Pesto Flatbread combines the BEST homemade crust along with homemade pesto sauce, chopped shrimp, and fresh arugula. So many great flavors in every bite!
Print
Pin
Rate
Ingredients
For the flatbread:
2 ½

cups

bread flour

1/2

cup

all-purpose flour

1/3

cup

parmesan cheese

1 ½

teaspoons

kosher salt

1

teaspoon

red pepper flakes

¼

cup

olive oil

1

cup

warm water
For the topping:
1/4

cup

parmesan cheese

1/2

cup

pesto sauce

– use my homemade version

1 ½

pounds

raw shrimp

3-4

cups

arugula

chopped tomatoes

– optional
Instructions
Use a food processor to mix up the crust. Start by adding the flour, parmesan cheese, red pepper flakes, and salt, and then pulse to mix well. Add olive oil and water, and pulse again.

Turn the dough out on to a clean surface lightly dusted with flour. Kneed the dough for a minute or so, and form it into a nice smooth ball. Let it rest for 10 minutes.

Divide the dough into two equal shapes. Then use a rolling pin to roll out each one into a thin shape. You can make it into any shape you prefer.

Transfer shapes on to prepared baking sheets dusted with cornmeal. Brush some olive oil lightly over the tops of the dough. Then use a fork to poke holes throughout.

Sprinkle some parmesan cheese on both flatbreads. Then spread them with pesto sauce.

Meanwhile, cook the shrimp. In a cast iron skillet (or a grill) cook the shrimp until done (or they turn pink) – just a few minutes. Remove and chop into smaller pieces.

Preheat oven to 500 degrees. Bake flatbreads for approximately 8-10 minutes, or until done. Remove from heat and add the chopped shrimp and arugula.
Notes
For best results, use my homemade dough and pesto sauce recipes. Links are on my site. However, you can certainly use store bought too.
I keep small portions of homemade pizza dough and homemade pesto in my freezer. See blog post on further notes re this method.
To get a crispier crust, pre-bake it for 5-10 minutes before adding toppings.
You can change the toppings to whatever you like best. Ideas for these are on the blog.
Nutrition
Calories:
214
kcal
|
Carbohydrates:
24
g
|
Protein:
6
g
|
Fat:
10
g
|
Saturated Fat:
2
g
|
Polyunsaturated Fat:
1
g
|
Monounsaturated Fat:
4
g
|
Cholesterol:
4
mg
|
Sodium:
179
mg
|
Potassium:
58
mg
|
Fiber:
1
g
|
Sugar:
1
g
|
Vitamin A:
415
IU
|
Vitamin C:
1
mg
|
Calcium:
87
mg
|
Iron:
1
mg