Best Thanksgiving Side Dishes
This post may contain affiliate links which won't change your price but will share a commission.
Today I'm sharing my Best Thanksgiving Side Dishes. These are my go-to sides, and you have a wide variety to choose from. From mashed potatoes to Brussels sprouts to salads, I've got tons of ideas for the biggest meal of the year!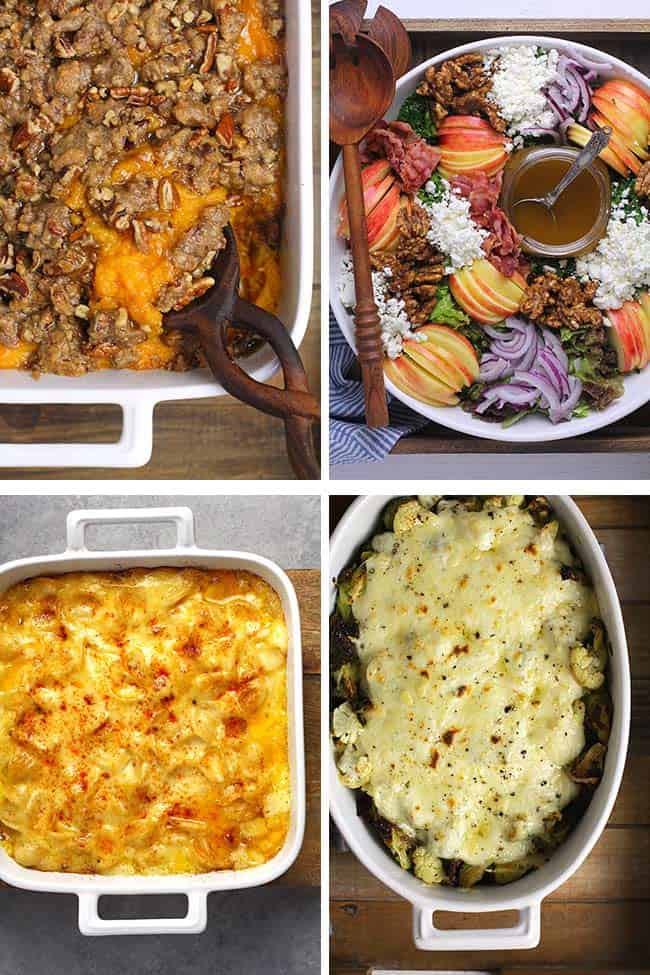 ---
Let's make this Thanksgiving the tastiest EVER. We're all staying at home, and I suggest getting your family to pitch in and make some side dishes for the best meal of the year.
Here are the categories of food I prioritize for Thanksgiving dinner:
Main Dish – Turkey and/or ham. We occasionally grill our bird but last year I did a dry brine and roasted it in the oven. It was delicious!
Potatoes – You must have both regular mashed potatoes and sweet potatoes. I almost always to a cheesy or buttery mashed potato (with no gravy). Still working on that. But our favorite is the sweet potato dish included below.
Veggies – We love a simple green been dish (with bacon and mushrooms AND butter) but I normally do something with Brussels sprouts. I've got two versions below, but there are more on the blog.
Salad – Making a big salad is priority for me. I think it's important to balance out all the buttery, cheesy dishes. Three ideas below!
Other – For the kids or picky eaters, I normally do a Mac and Cheese. The one included in this post can be made in advance and baked before meal time. We also love a corn casserole or something with butternut squash (see below).
Traditional Dishes ( that I don't always make) – Stuffing (my mom's recipe that is NOT yet on the blog, cranberries, and gravy.
Bread – You can make the bread ahead of time. My suggestions are 1) Chewy French Bread, 2) Homemade Brioche Rolls, 3) Mom's Dinner Rolls, 4) Soft Pretzel Rolls. Instead of a recipe using yeast, you can make the best cornbread recipe or some buttermilk biscuits.
Dessert – So many ideas for you. A great pie is always delicious, like my French Silk Pie or my Pumpkin Ice Cream Pie. I also recommend a bundt cake, like my Apple Pie Banana Bundt Cake or my Pumpkin Streusel Cake. Also, you can NEVER go wrong with homemade ice cream.
---
Special occasion dinners call for Sweet Potato Casserole with Pecan Crumble Topping! This slightly indulgent side dish is a family favorite, and goes great with turkey or any protein.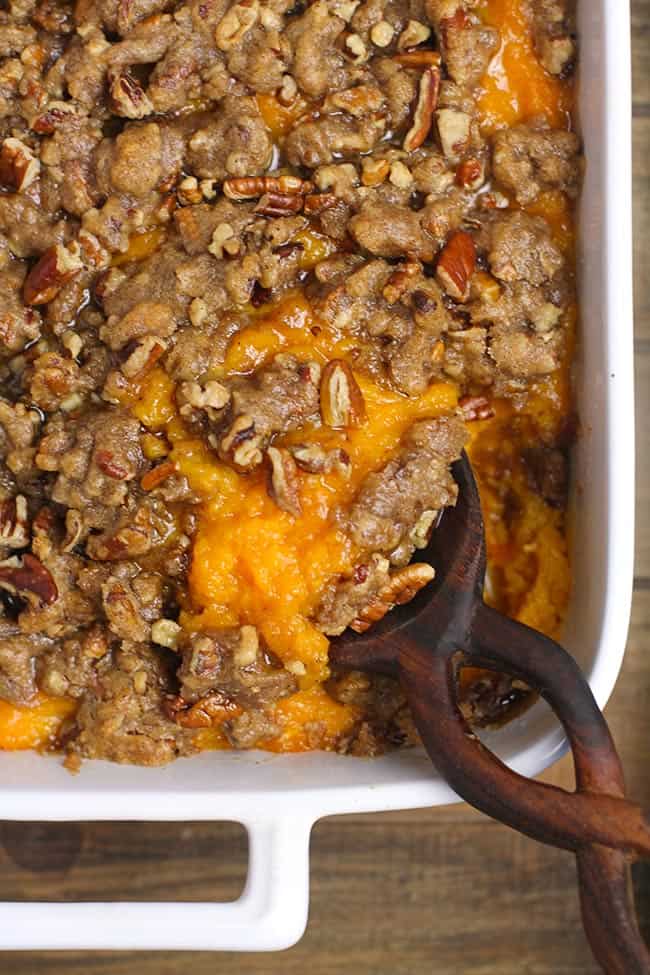 ---
Make Ahead Creamy Mashed Potatoes are the perfect Holiday side dish. Ultra indulgent, sooo creamy, and delicious. Plan ahead and make it a day in advance. You'll be happy you did!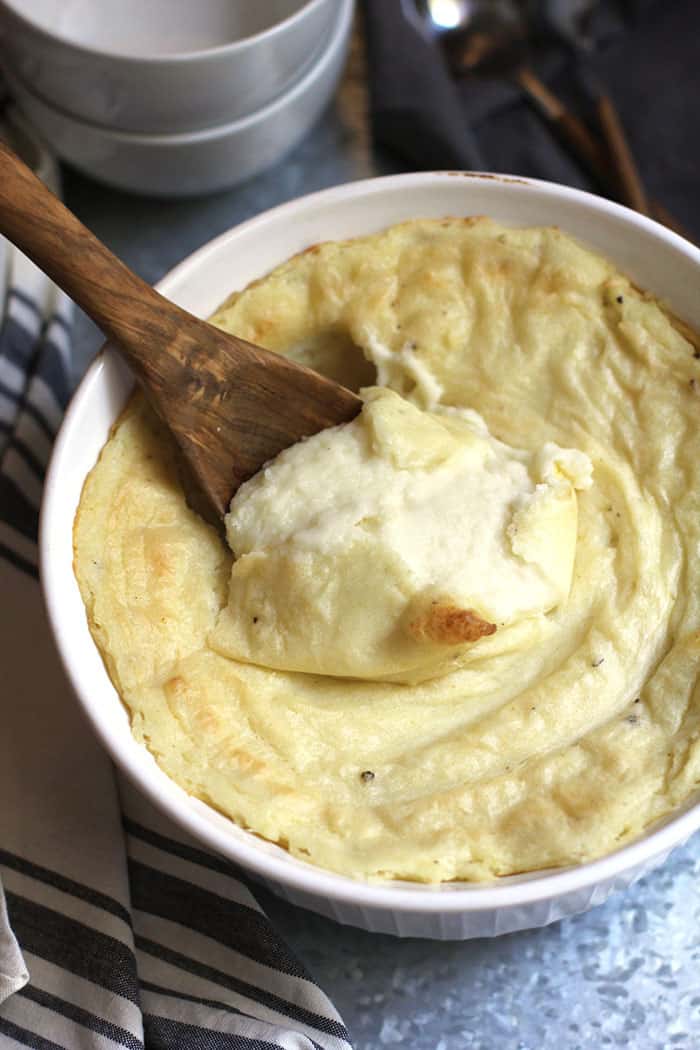 ---
Cheesy Hasselback Potatoes with Bacon are an easy but impressive potato dish to serve at special occasion dinners. Tailor them to your own tastes by choosing different types of cheese and other toppings.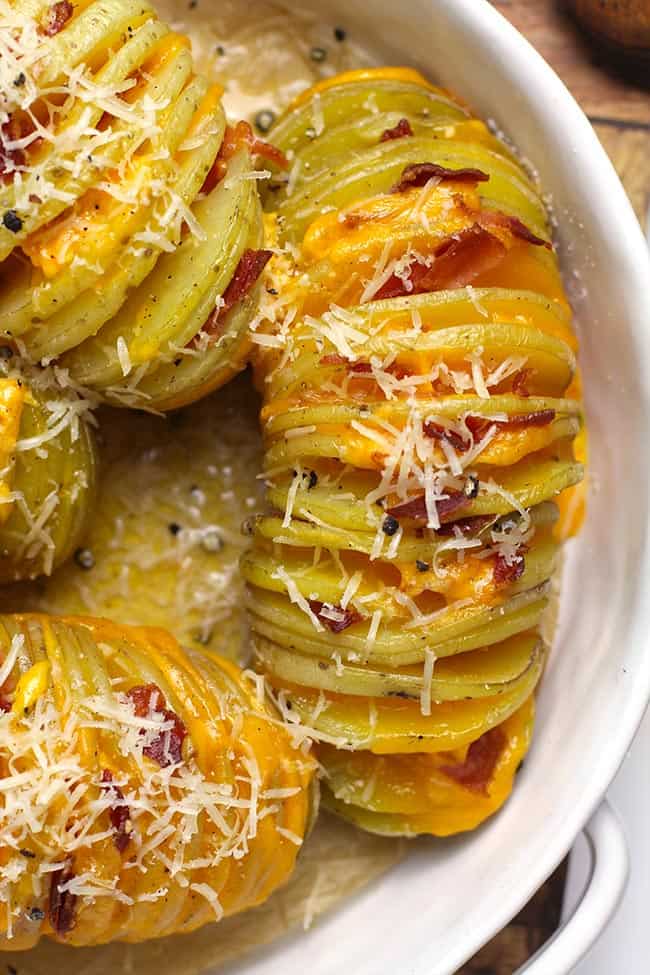 ---
Loaded Fall Harvest Salad with Balsamic Dressing combines lettuce greens with bacon, candied walnuts, goat cheese, red onion, honey crisp apple slices with a delicious balsamic dressing. The perfect fall salad with bursts of flavor in every single bite!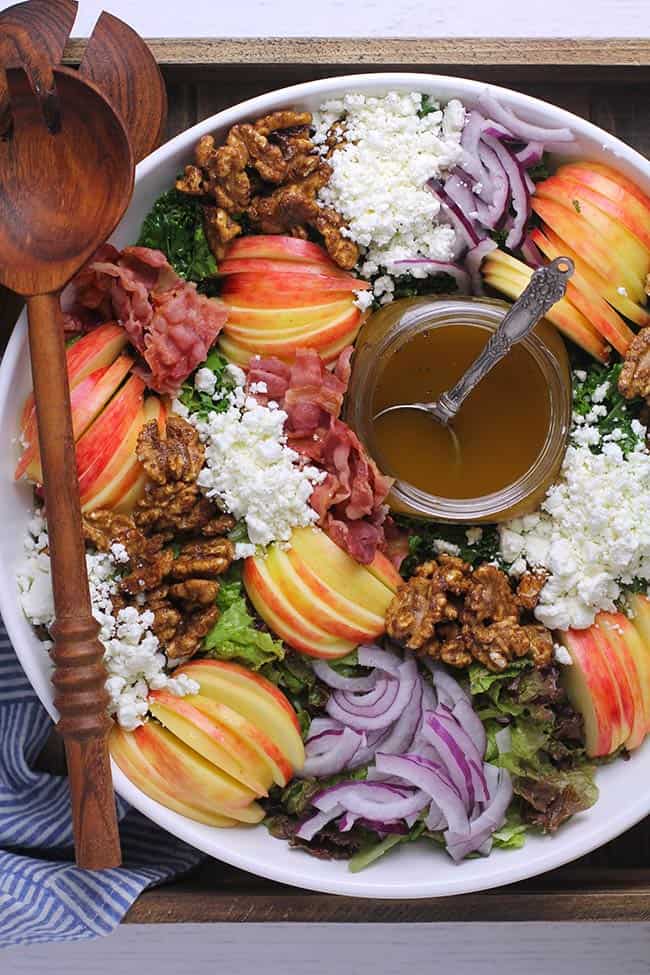 ---
Spinach Salad with Honey Dijon Dressing is the perfect salad for entertaining or for any weeknight meal. Easy to prepare, hearty enough for the biggest appetite, and the tangy dressing adds an extra punch of flavor. I've been making this for several years and it never gets old!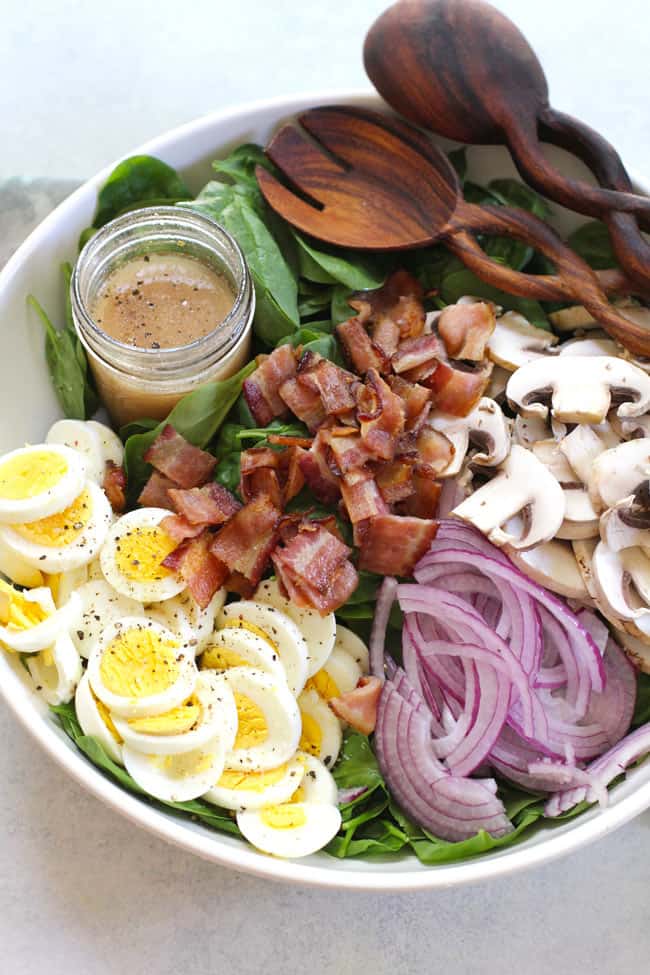 ---
Brussels Sprouts Gratin with Gruyere Cheese combines roasted Brussels sprouts and cauliflower with a creamy gruyere cheese sauce. A perfect holiday side dish that your family will love!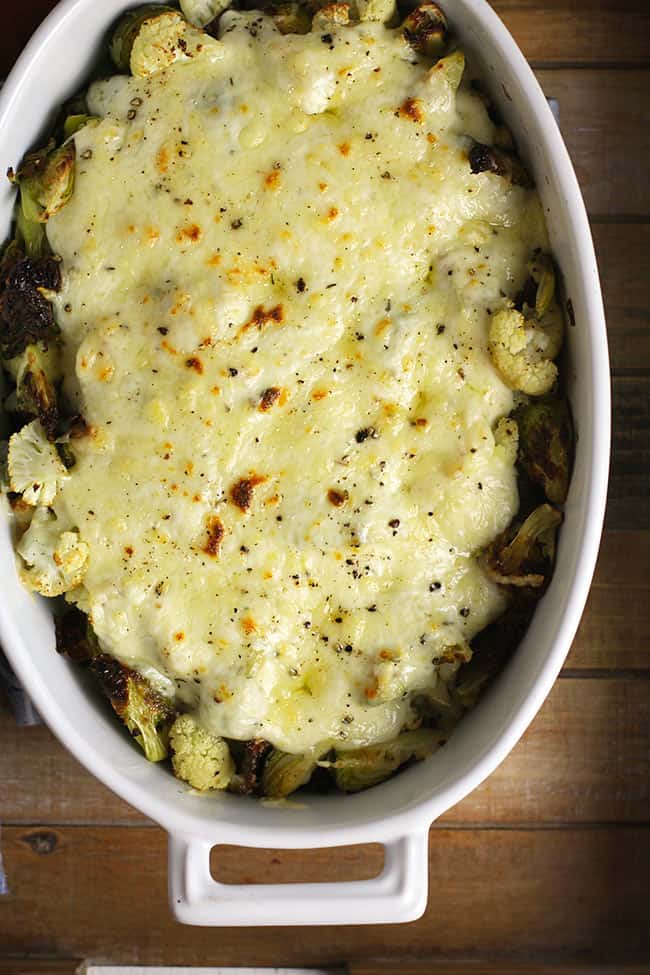 ---
Balsamic Glazed Brussels Sprouts and Sweet Potatoes are perfect for both entertaining or for any weeknight dinner. This colorful side dish combines roasted Brussels sprouts and sweet potatoes, crispy bacon, and a delicious Balsamic drizzle.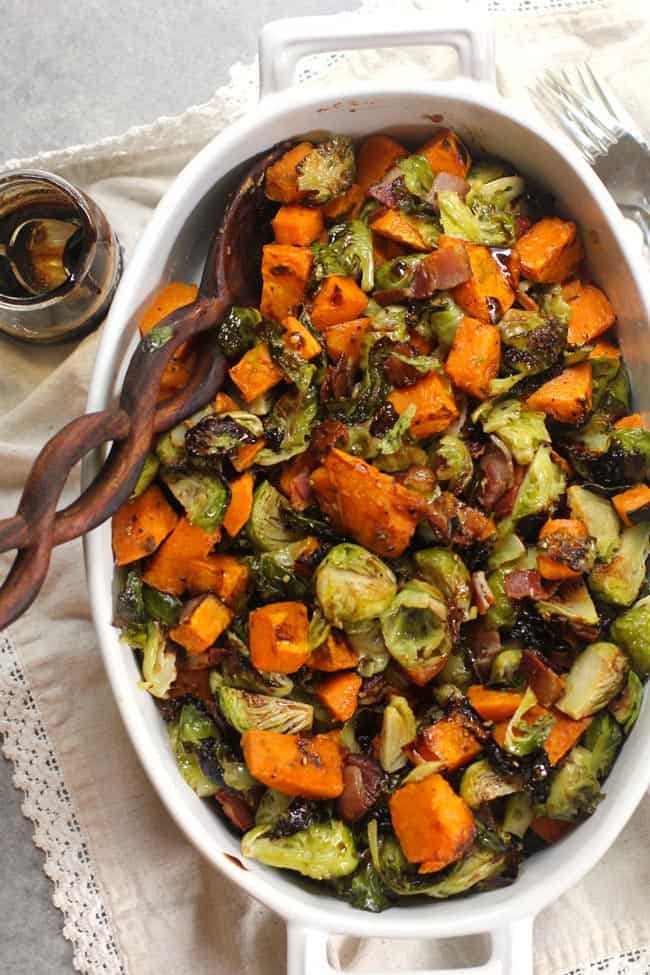 ---
Quick and Easy Mac and Cheese is ready in under an hour and made with five simple ingredients (plus seasonings). This is kid and adult approved, and should be on your table soon!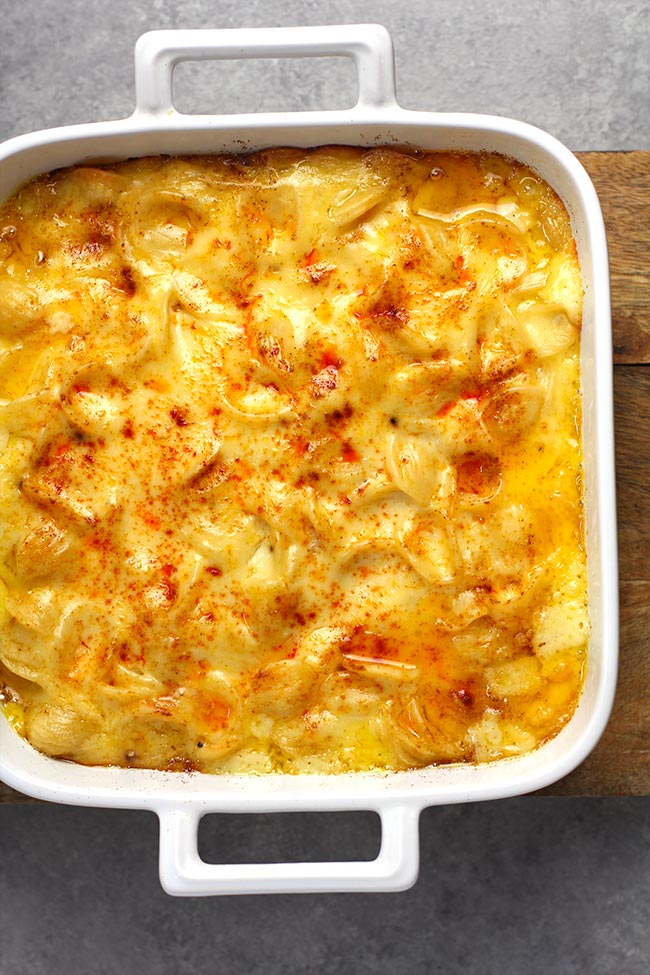 ---
Best Creamy Corn Casserole is an old family recipe, consisting of just six ingredients. Simple and indulgent, this one is usually on a special occasion menu at our home.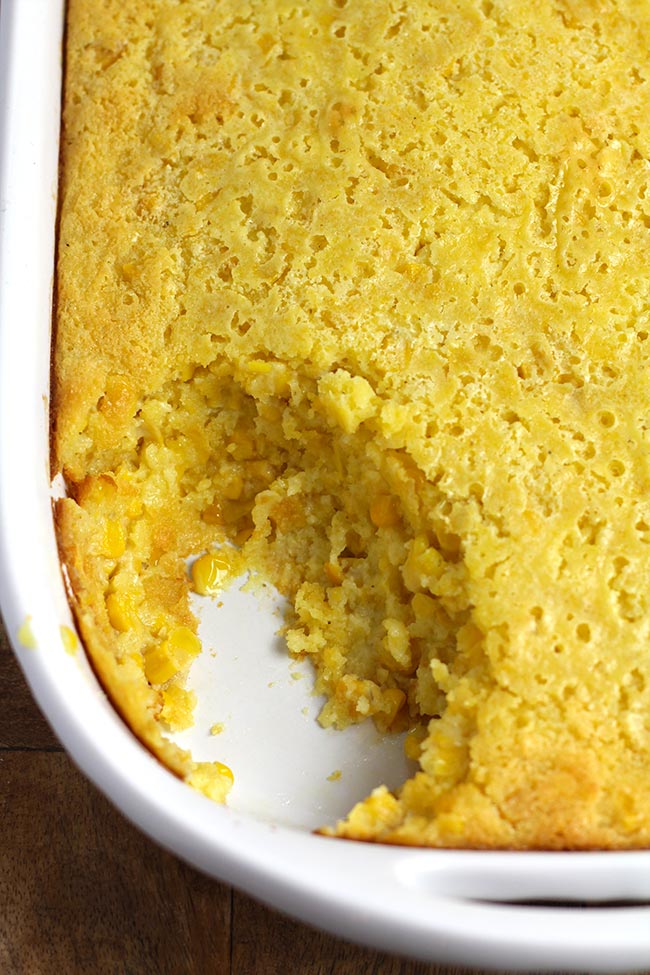 ---
Maple Roasted Butternut Squash is the perfect fall side dish and should be on your holiday table. Combining roasted butternut squash with maple syrup, toasted pecans, and dried cranberries, your guests will be asking for seconds!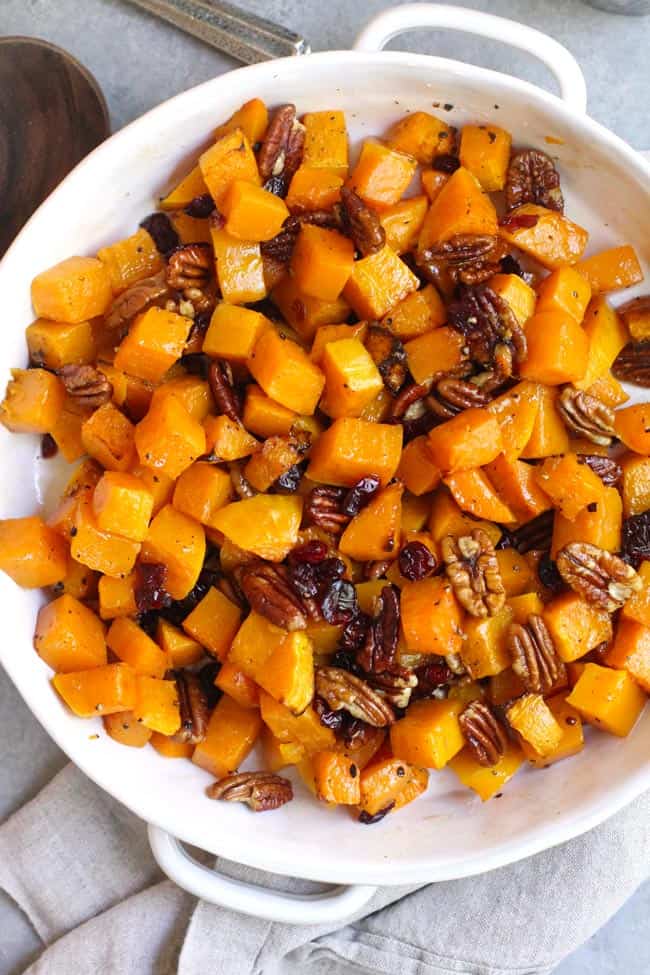 ---
Butternut Squash Quinoa Salad combines roasted butternut squash, tri-color quinoa, green onions, shaved almonds, Craisins, and a simple Honey Dijon Dressing. This is a healthy fall recipe that can be served warm or cold, and makes a perfect special occasion side dish!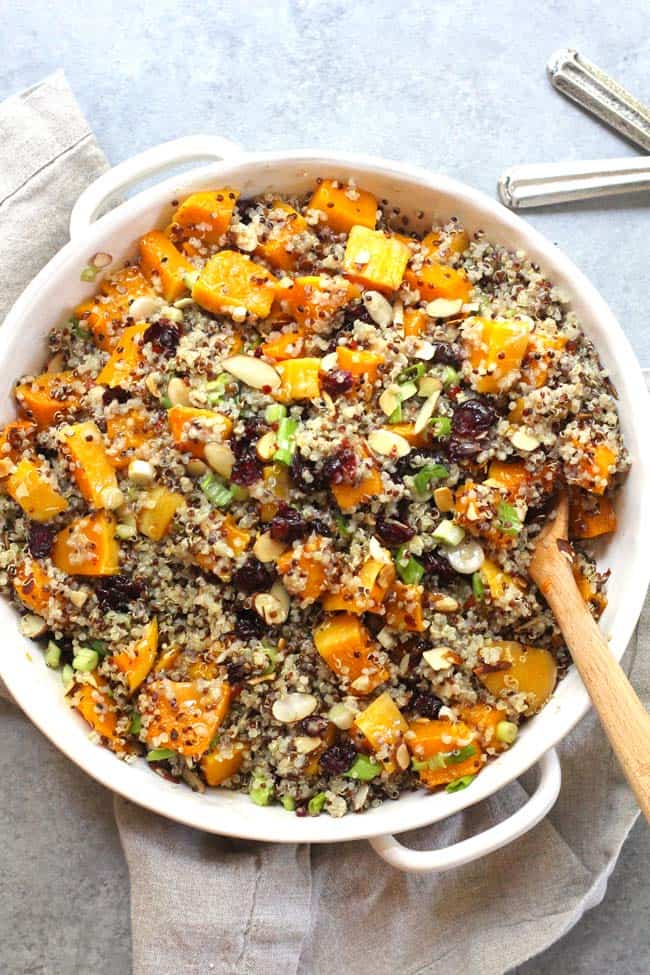 ---
Wishing you the happiest of times this Thanksgiving. Make it a day of family, fellowship, food, and many blessings. 😀