Make Ahead Creamy Mashed Potatoes are the perfect Holiday side dish. Ultra indulgent, sooo creamy, and delicious. Plan ahead and make it a day in advance. You'll be happy you did!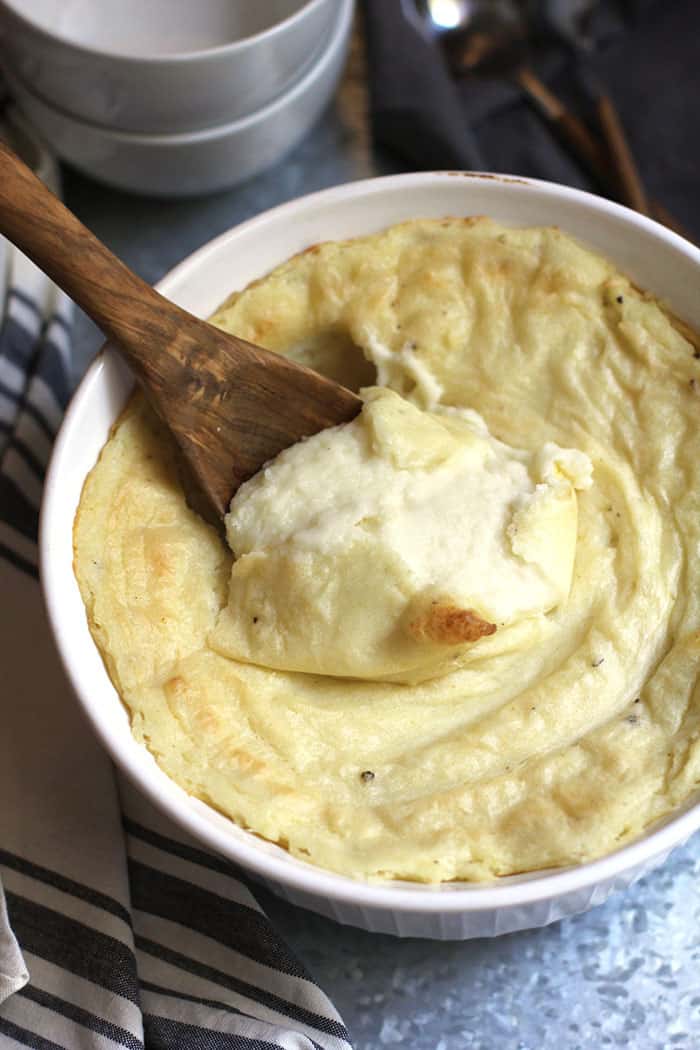 My mom made these make ahead potatoes for many family gatherings over the years. She had a VERY large group to feed, and was the ultimate planner who loved to prepare in advance. There were many Christmas celebrations where she and Dad hosted 25 of us, and preparing for all the activity at their house made her so happy. I can remember her  going to their freezer in the basement and pulling out casseroles, breads, and treats galore. We always joked that Mom and Dad could survive a six month long famine if they needed to.
These Make Ahead Creamy Mashed Potatoes were usually made well in advance of the holidays. Mom doubled the recipe and stored two casserole dishes in the freezer prior to our family parties. Because what goes better with a big slab of prime rib than these creamy potatoes? Nada.
Other dishes that Norma Jean made?
green beans and bacon
stuffing
broccoli salad
some type of green salad
raspberry pretzel salad
bread, OF COURSE
and sweet treats and dessert galore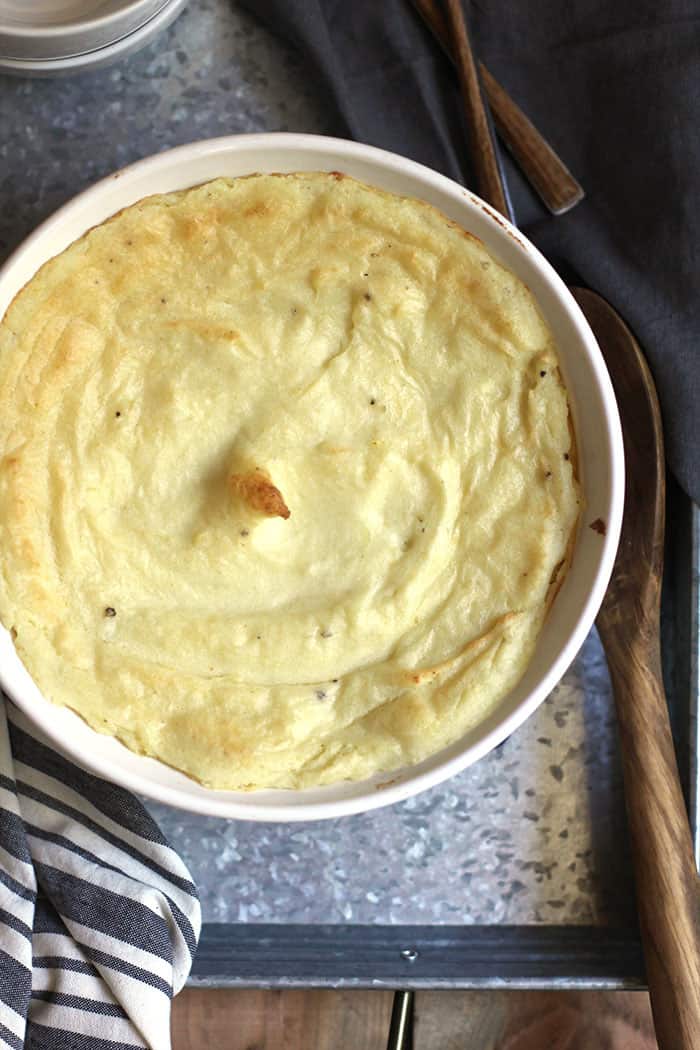 Make Ahead means…
Make the potatoes, cover with foil, and store in the refrigerator up to two days in advance.
Want to freeze it? Just wrap tightly, and freeze for up to three months.
While you COULD cut back on the indulgent ingredients, or use a lighter version, I recommend you use the straight-up full fat version for your holiday side dish.
cream cheese
butter
half and half
Just go for it with no regrets.
To get these potatoes ultra creamy (and I mean, CREAMY), do these two things.
Boil the potatoes until they are VERY tender. If some are still a little too firm, your result will be lumpy. Trust me, you don't want lumps.
Use a large standing mixer, throw all the ingredients in, and let it mix mix mix – until they are nice and creamy.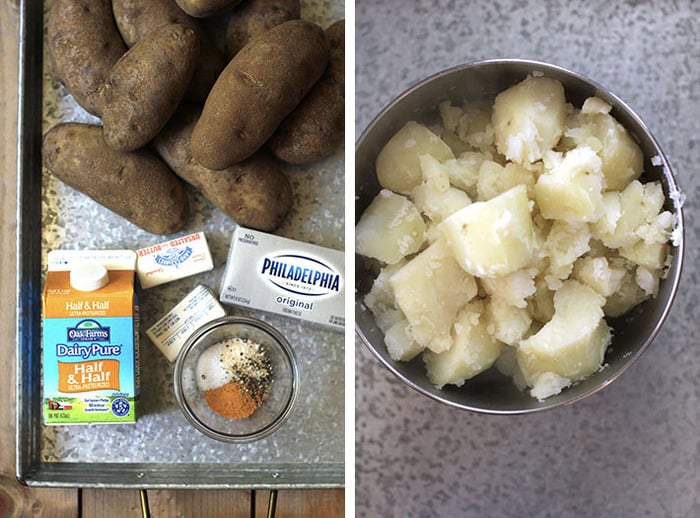 Our Holiday table will most definitely include these mashed potatoes. Also, on the list – a turkey and a ham, Sweet Potato Casserole, Spinach Salad with Honey Dijon Dressing, my mom's Chewy French Bread, Strawberry Pretzel Salad (that's actually not really a salad!), and desserts – French Silk Pie, and Pumpkin Streusel Cake.
I LOVE the holidays. The friends and family gatherings, the surprises, the love, and of course, the FOOD. 🙂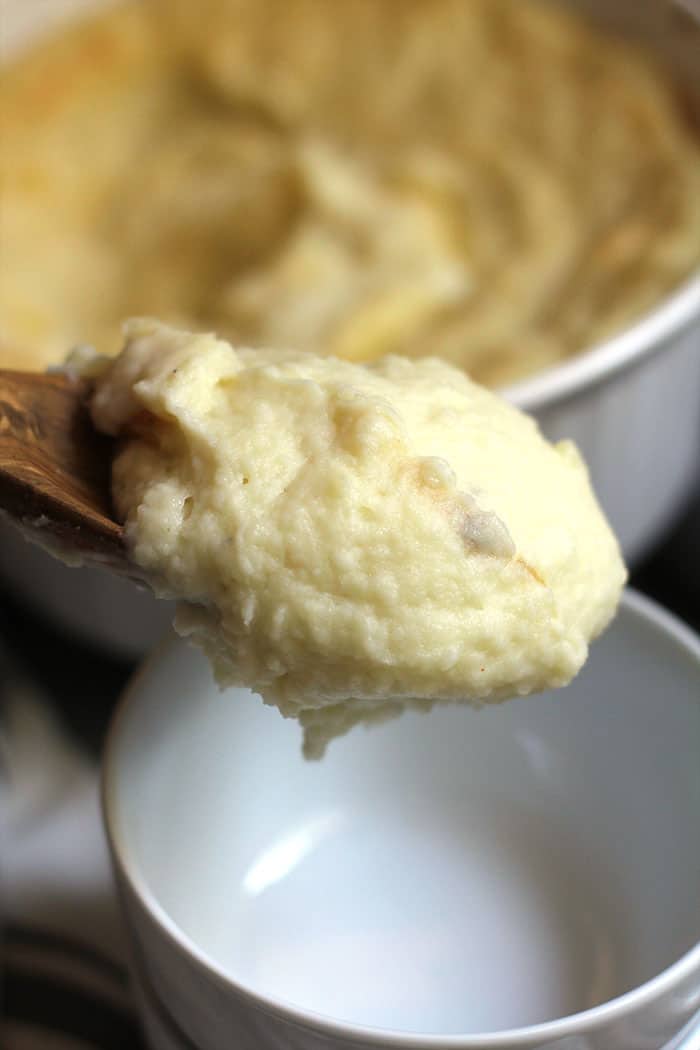 Make these potatoes next: Baked Hasselback Potatoes
Please let know if you try this recipe. Be sure to comment and leave a review on the blog so I can see what you think. You can also like my Facebook Page, follow me on Pinterest, and catch me on Instagram.
xoxo ~Sue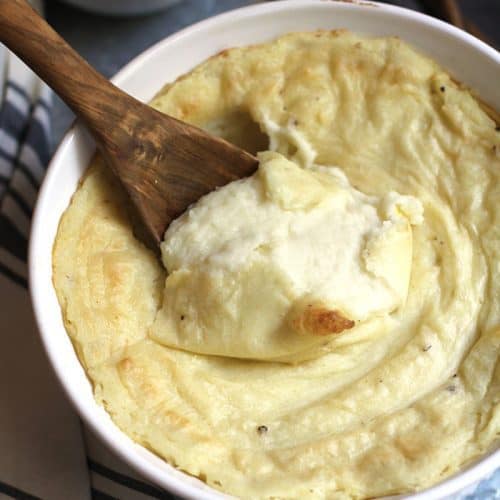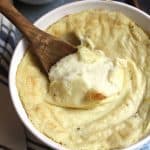 Make Ahead Creamy Mashed Potatoes
Make Ahead Creamy Mashed Potatoes are the perfect Holiday side dish. Ultra indulgent, sooo creamy, and delicious. Plan ahead and make it a day in advance.

Total Time
1
hour
30
minutes
Ingredients
5

pounds

russet potatoes

8

ounces

cream cheese

1

cup

half and half

1/2

cup

unsalted butter

1

teaspoon

Lawry's seasoned salt

1

teaspoon

onion salt

1

teaspoon

kosher salt

1/2

teaspoon

freshly ground black pepper
Instructions
Peel potatoes and slice in two inch pieces. Place in large stock pan, add some salt (to taste), and cover with water. Boil until soft inside.

Drain potatoes and place in large standing mixer (or a hand mixer works fine too). Add cream cheese, half and half, butter, and seasonings. Mix until creamy.

Pour into a 9 x 13 (or round) casserole dish. Bake in 350 degree oven for 45 minutes, or until slightly browned on top.

If making for the next day, let potatoes cool, cover in saran wrap, and refrigerate overnight. The following day, bake on 350 degrees for one hour or until heated through.
Recipe Notes
Boil the potatoes until they are very soft inside.
Let the mixer run for awhile to get the potatoes ultra creamy.
You can prepare these potatoes a day or two in advance, and store in the refrigerator.
This potato dish can also be frozen (covered and wrapped tightly).
Nutrition Facts
Make Ahead Creamy Mashed Potatoes
Amount Per Serving
Calories 369
Calories from Fat 171
% Daily Value*
Fat 19g29%
Cholesterol 58mg19%
Sodium 792mg34%
Potassium 1008mg29%
Carbohydrates 43g14%
Protein 7g14%
Vitamin A 675IU14%
Vitamin C 13.1mg16%
Calcium 80mg8%
Iron 2mg11%
* Percent Daily Values are based on a 2000 calorie diet.