It's amazing to me how quickly we went from Halloween to Thanksgiving to planning for Christmas. Every year. The same thing happens. My favorite time of year passes in the blink of an eye. This year has been especially fast though, since I've been out-of-town four out of the past seven weekends. It time to stay home. In a BIG way.
Don't hate me – but I almost always decorate for Christmas BEFORE Thanksgiving. Yes, I'm one of "those people". But I just love the Christmas season so much that I try to get a little jump on things. When I get criticism (even from my boys!), I just say, "I'm being extra thankful for Christmas." I like that explanation and I'm sticking with it.
I'm definitely not alone in my pursuit of Christmas. I was in Hobby Lobby on Friday and the Christmas decor was flying off the shelves. I even saw a fight over the last of the red ribbon.
KIDDING! 🙂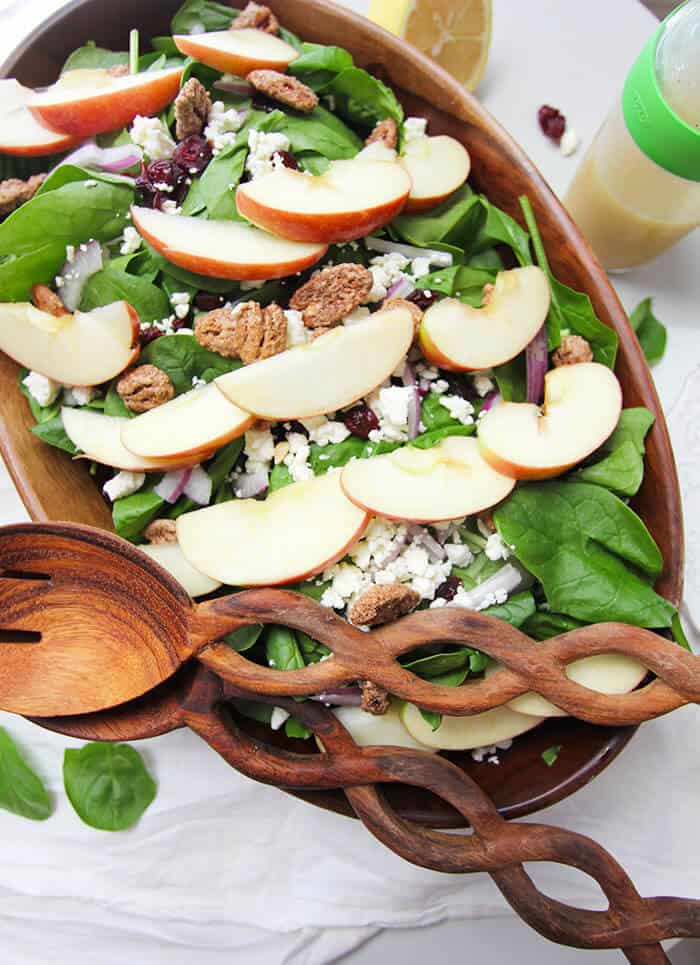 And about this Candied Pecan and Apple Holiday Salad. It's so delicious! I highly recommend you try it this holiday season. I just posted my Candied Pecan recipe that you will need for one of the toppings. And then there is feta cheese, Craisins, apple slices, and greens, along with a delicious honey dijon dressing (or use whatever dressing you like).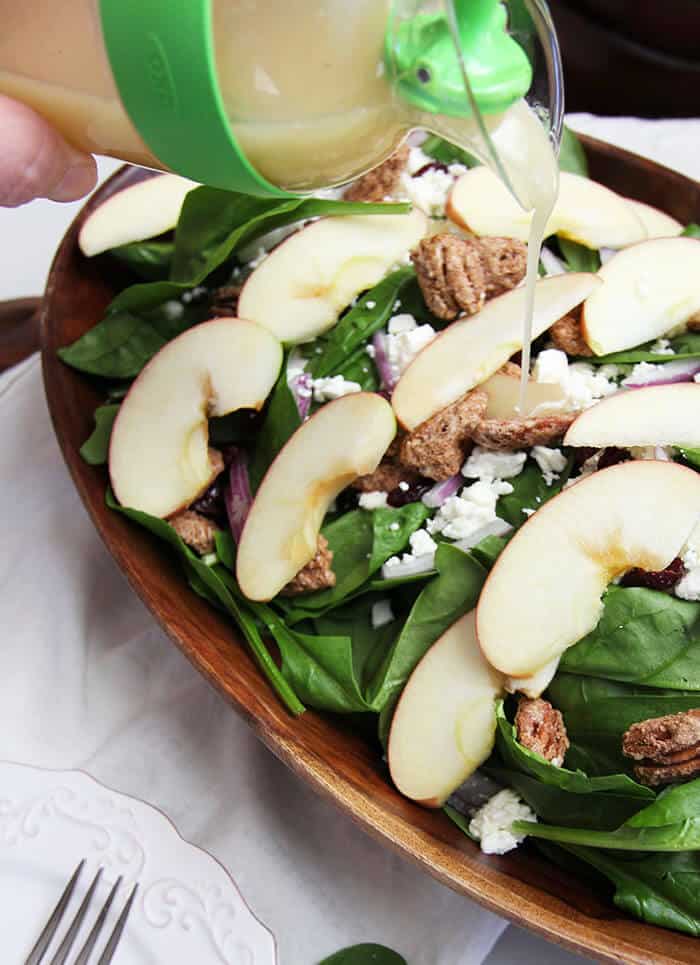 This salad dressing bottle
is perfect for whipping up dressing. It holds about one cup which is a perfect amount for most occasions.
If you are taking this Holiday Salad to a party, you can slice the apples ahead of time as long as you give them a nice coating of lemon juice. The lemon will prevent them from turning brown and you can barely taste it.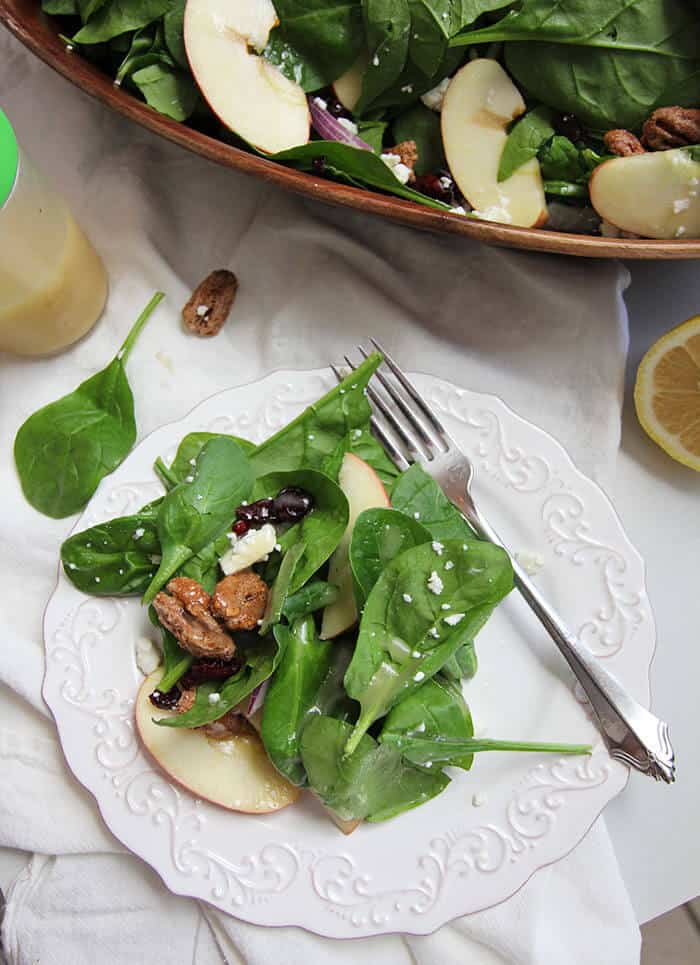 My hubby took this salad to his MK department Thanksgiving lunch. It will also make its appearance on our Thanksgiving table this year as well. You MUST (says me!) have something green on your holiday table, and who doesn't love a salad with such sweet toppings? We will pretend it's all super healthy.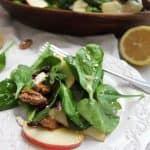 Candied Pecan and Apple Holiday Salad
a delicious Holiday Salad with fresh greens, candied pecans, Honey Crisp apples, feta cheese, and Craisins
Ingredients
For the salad:
12-14

cups

baby spinach leaves

or other greens

1/2

cup

red onion

sliced thin

1/2

cup

feta cheese

crumbled

3/4

cup

Craisins

1 1/2

cup

candied pecans

see homemade recipe

2

large

honey crisp apples

sliced thin

1/2

large

lemon

freshly squeezed
For the dressing:
1/3

cup

olive oil

2

Tablespoons

apple cider vinegar

2

Tablespoons

honey

1

Tablespoon

dijon mustard

salt and pepper

to taste
Instructions
Mix the dressing ingredients in a salad dressing bottle or a mason jar. Shake vigorously and set aside.

Core and slice the apple. Coat with freshly squeezed lemon to preserve color.

In a large serving bowl, arrange spinach leaves, red onion, feta cheese, Craisins, candied pecans, and apple slices. Right before serving, pour dressing over salad and mix to combine.

You may not need all the dressing so be conservative with the pouring.
SHARE THIS POST TO YOUR FRIENDS: