Spinach Salad with Honey Dijon Dressing is the perfect salad for entertaining. Easy to prepare, hearty enough for the biggest appetite, and the tangy dressing adds an extra punch of flavor. I've been making this for several years and it never gets old!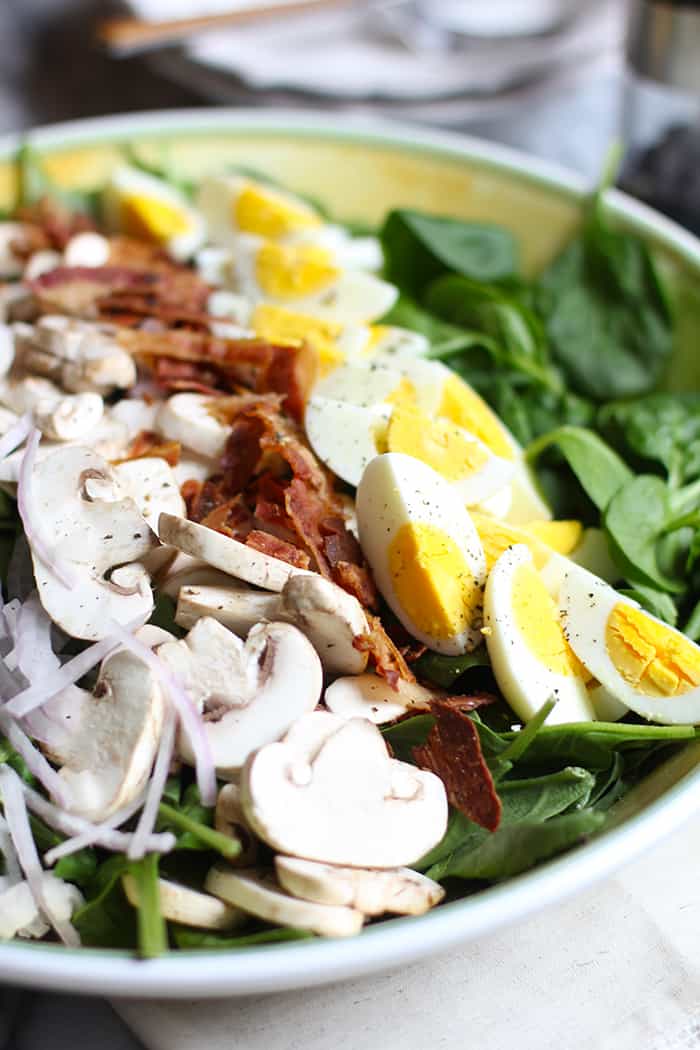 I've been on a salad kick lately. It's a good thing, because for awhile, I was on a cupcake kick. And a muffin kick. And so this salad kick? Yay for me AND my boys.
You see…I've sort of put us on all a "wholesome eating" plan. No D I E T S in this house. I just call them phases, or like in this instance, it's a "wholesome eating" phase. There will be others, just watch and see. But since I remained on the cupcake and muffin kick a little too long, I'm hoping to stall on our current plan. At least until we all regroup.
We are primarily focused on cutting refined sugars and processed food. Like LIMITS on snacks, candy, sweets, and so on. So if there are less of those, there are automatically more fruits, veggies, lean meats, and healthy grains.
And oh, btw, if you see a sweet recipe on here in the next month or so, it's most likely been made BEFORE our new phase. Or maybe it's on a cheat day. I just wanted to clarify. 🙂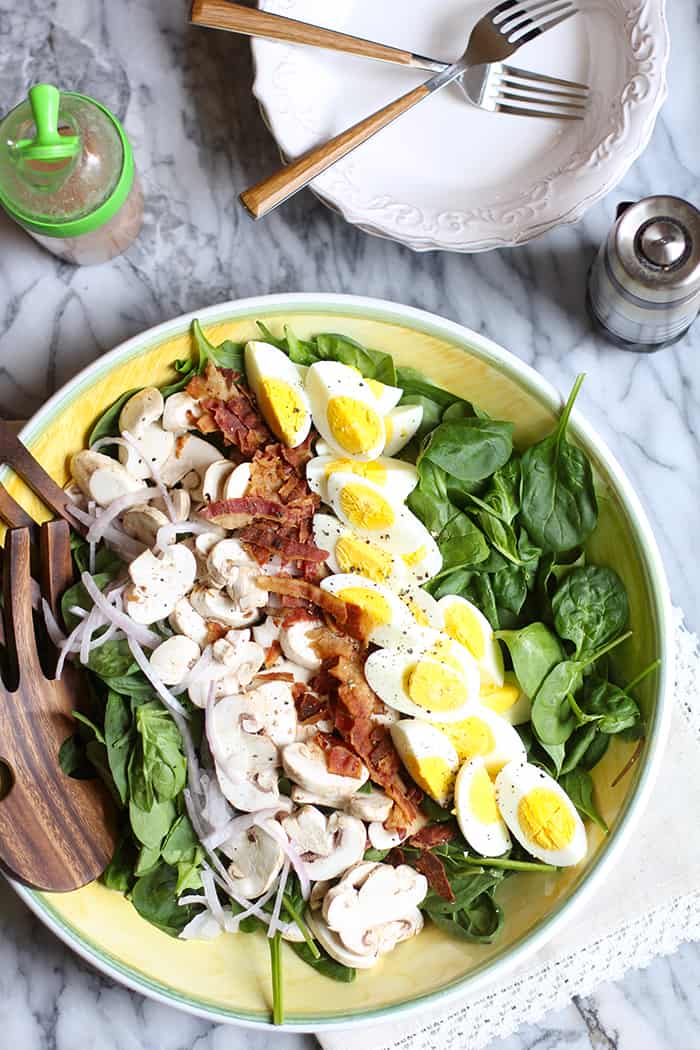 This salad. It's filled with all of my favorite things.
The tangy dressing is one that you can use on other salads too. It uses honey to sweeten it, and the red wine vinegar provides the tang. My family loved it.
My handy little salad dressing shaker
always comes in handy when I make homemade dressings. It has a very easy-to-pour spout that opens and closes with your finger.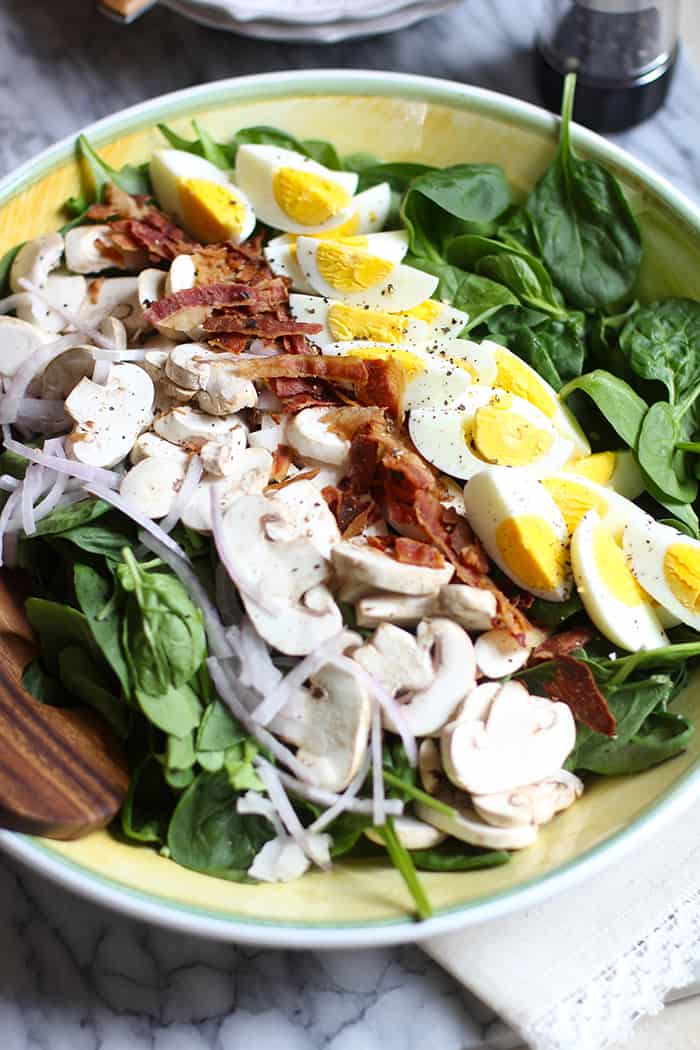 BTW, this recipe is a re-do. I'm trying to get all of my recipes up-to-date with best SEO and make sure my site doesn't get bogged down with large pictures. There are many steps involved in every single recipe. It all takes time, but the end result is worth it.
I love having these recipes to come back to. You would be surprised how many times I print out one of my own recipes, or pull it up on my phone – especially at the grocery store!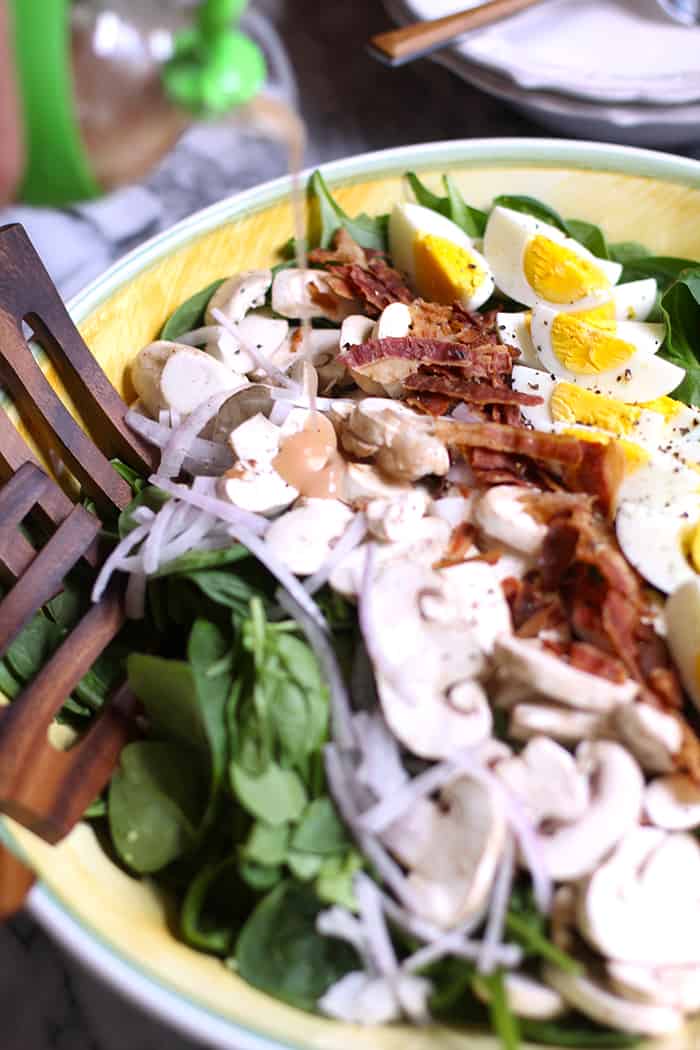 Did you know that my recipes have a feature that you can use to adjust quantities? You just click on the number showing the serving size and adjust it to any serving size you'd like. So if I wanted to double this recipe for company, I'd change the 4 to an 8. Very simple to do, and I hope you use it when you need to.
Also, as a short-cut, you can buy pre-cooked bacon. You just cook it slightly to get a crunch. I also used the pre-washed spinach leaves.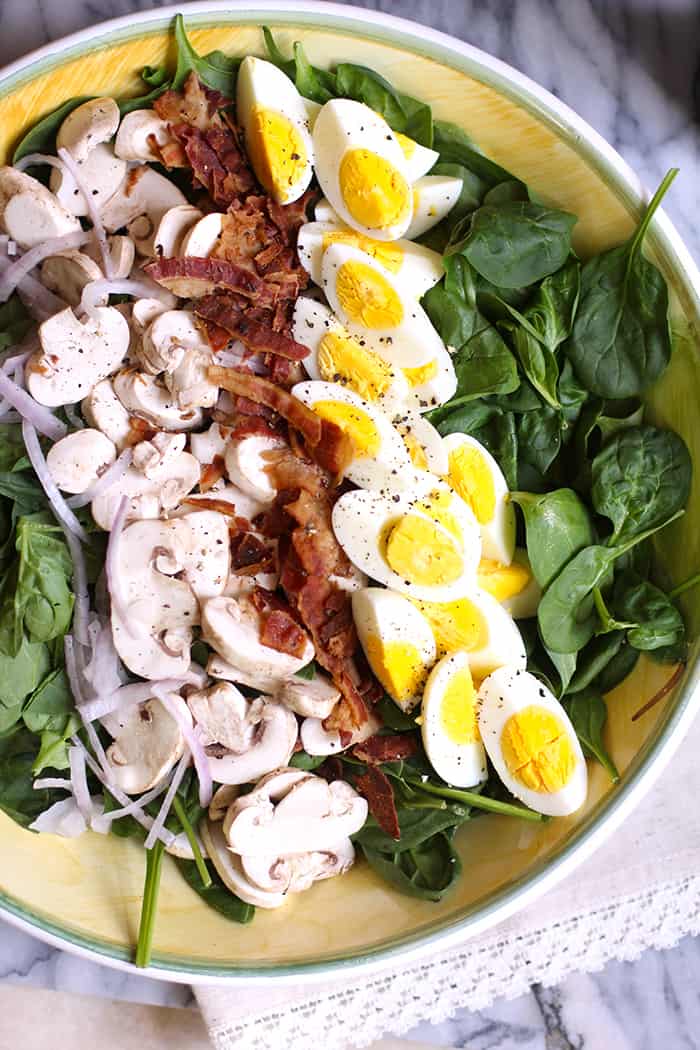 Please let me know if you try this Spinach Salad with Honey Dijon Dressing, and how you like it (or not)!
You can stay up-to-date with SueBee Homemaker by signing up for post updates (top right-hand corner of my blog) or liking my Facebook Page. I'm also sharing tidbits of my life on Instagram. 🙂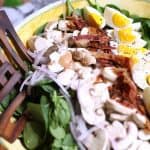 Spinach Salad with Honey Dijon Dressing
A mix of salad greens, mushrooms, red onion, crispy bacon, and eggs topped with a tangy dressing!
Ingredients
Salad
8

cups

baby spinach

- pre-washed

8

ounces

mushrooms

- sliced

1/3

cup

red onion

- thinly sliced

6

slices

bacon

- can also use pre-cooked

5

eggs

- hard boiled
Dressing
6

Tablespoons

olive oil

3

Tablespoons

red wine vinegar

1.5

Tablespoons

honey

1

Tablespoon

dijon mustard

salt & pepper to taste
Instructions
Slice the bacon into bite sized pieces. Fry until crispy. Drain bacon onto paper towels. (Or you can use pre-cooked.)

Arrange the spinach, mushrooms, and red onion into large bowl. Add bacon and eggs.

Make the dressing by mixing all ingredients and firmly shake until well mixed. Drizzle on salad and serve immediately.

SHARE THIS POST TO YOUR FRIENDS: