Roasted Asparagus is a go-to side dish in my kitchen. Adding some prosciutto and parmesan makes it extra tasty, and your family will be asking for seconds!
Asparagus is one of my favorite vegetables. Actually, it is my ABSOLUTE favorite vegetable, provided I cook it correctly. Grilling it with a bit of olive oil and seasonings is the way we usually prepare it. We being Mike – since he does most of the grilling.
Baking it in the oven is also really good, especially when you happen to have prosciutto on hand. And if you are asking, what is prosciutto? It's a salt-cured, dry-aged Italian ham. Prosciutto is a bit on the salty side, but it's also sliced VERY thin, and a little goes a long way.
See below for a picture of what this looks like BEFORE baking.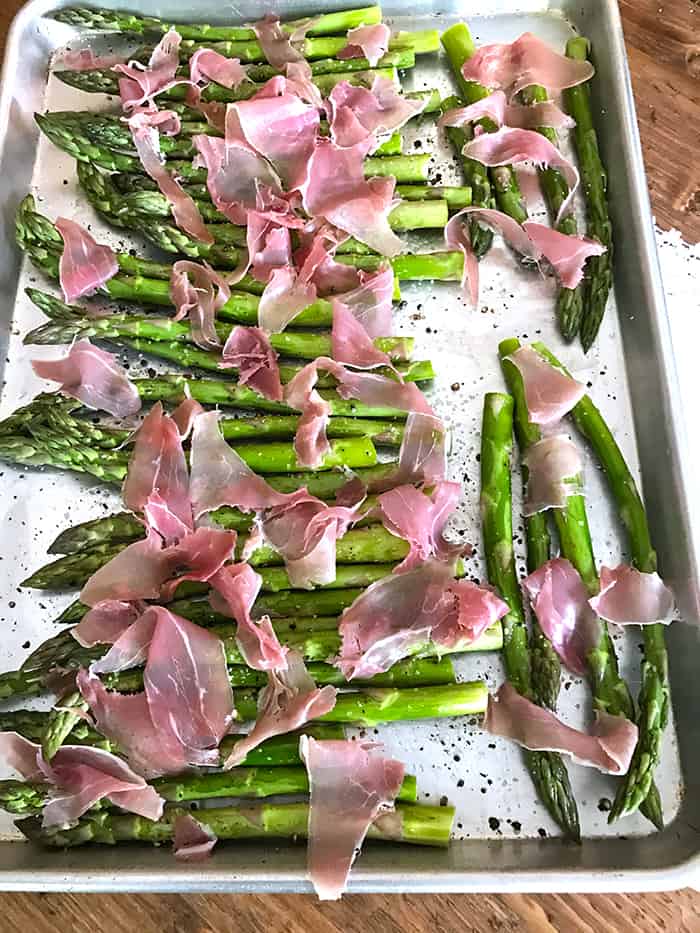 And then again, you can see what it looks like AFTER (see photo below) I took it out of the oven, and sprinkled some parmesan cheese on top.
Besides the incredible taste, roasting asparagus is an incredibly easy side dish to make. You just:
Trim the ends off (two inches is a good rule of thumb).
Rinse in cold water and pat dry.
Lay on baking sheet.
Drizzle with olive oil, salt and pepper.
Tear prosciutto in pieces and lay on top.
Bake for 13 – 15 minutes, or until asparagus is fork tender.
Sprinkle with parmesan cheese.
Serve and enjoy.
This literally only takes 20 minutes, from beginning to end.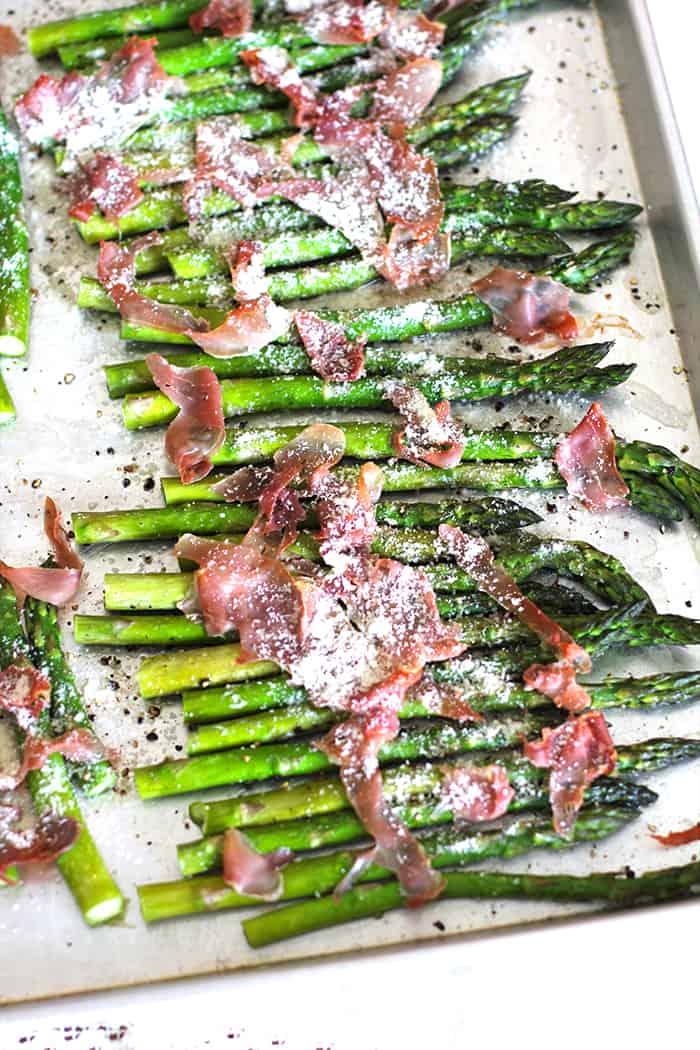 Roasted Asparagus with Prosciutto and Parmesan is great on top of salads – as seen in the photo below. I also like to serve it over a bed of rice or a baked potato – for a full meal.
If you are looking for another side dish that would work great with roasted asparagus, try my Baked Hasselback Potatoes. Throw a big juice steak on the grill and dinner is served.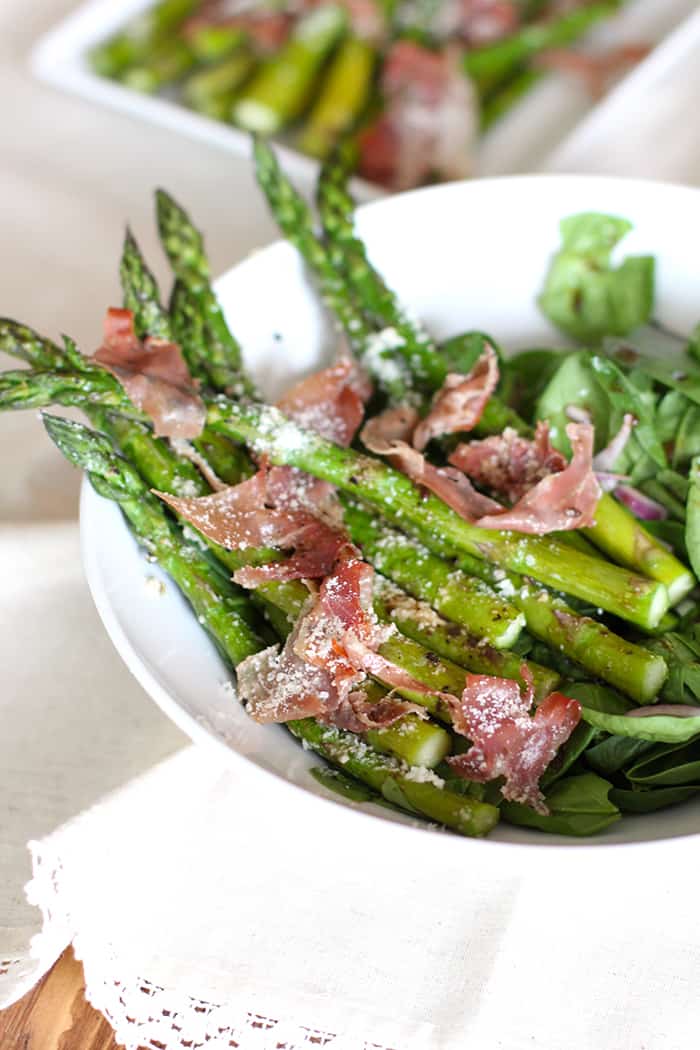 Please let me know in the comment section below if you make this Roasted Asparagus with Prosciutto and Parmesan, or any of my recipes! I love to hear from my readers. You can also tag me on social media! I'm on Facebook, Twitter, Instagram, Pinterest, Bloglovin', and Yummly. 🙂 Thanks for reading along!
AND…if you want to receive an email to notify you when I post, please sign up in the top right corner of my site! 🙂
Roasted Asparagus with Prosciutto and Parmesan
Ingredients
2

pounds

asparagus

- ends trimmed

2

Tablespoons

olive oil

kosher salt

to taste

freshly ground black pepper

to taste

2

ounces

prosciutto

- torn into pieces

2

Tablespoons

parmesan cheese
Instructions
Preheat oven to 400 degrees.

Wash asparagus and trim about two inches off the ends. Pat dry, and lay flat on baking sheet.

Drizzle olive oil over the top, and then salt and pepper.

Tear prosciutto into pieces, and lay on top of asparagus.

Bake for approximately 13 minutes, or until fork tender.

Remove from oven and sprinkle the parmesan cheese over top. Serve immediately.

SHARE THIS POST TO YOUR FRIENDS: