Homemade Cinnamon Applesauce
This post may contain affiliate links which won't change your price but will share a commission.
Fall is the perfect season for Homemade Cinnamon Applesauce. My simple recipe combines apples, some fresh lemon juice, a bit of sugar, and cinnamon. We love this applesauce served warm, but it's great cold out of the refrigerator too!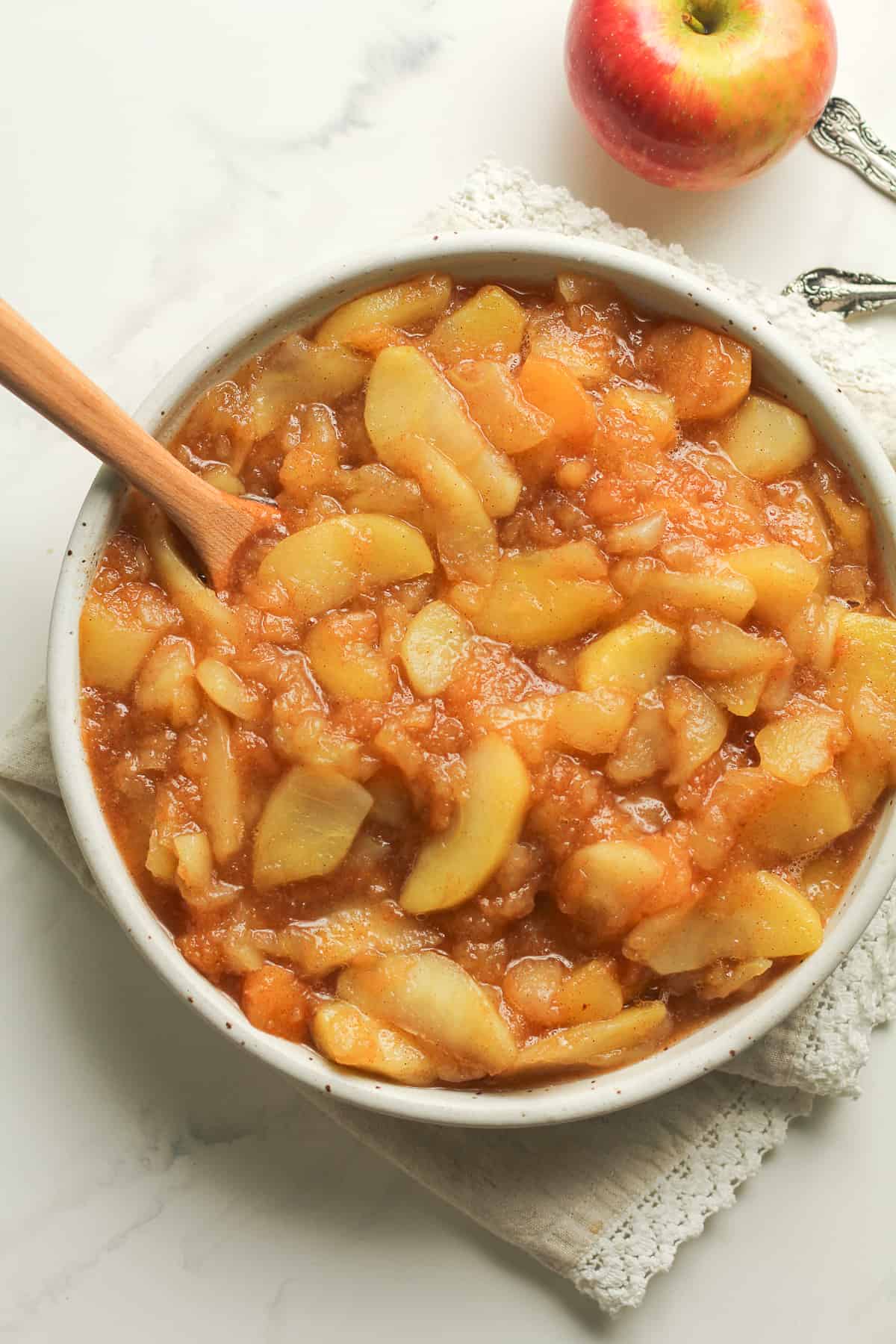 The BEST Homemade Applesauce
One of the things I miss most about living up north is the apple orchards. As kids, we'd go pick our own apples quite often. I have vivid memories of roaming the apple orchard, picking, and eating at the same time.
Mom and Dad had an apple tree that finally started producing after we'd grown up and left the house. But they had several years of good harvests and Mom loved to cook with them – apple crisp, apple cobbler, apple pie, applesauce, and the list goes on.
Cooking with apples is definitely a thing when you grew up in the land of apple orchards. Next, try my Apple Cinnamon Cobbler, fan-favorite Apple Pie Banana Bundt Cake, or my latest Apple Crumb Bars!
Why We Love This Homemade Applesauce Recipe:
CHUNKY – No need for a food processor, immersion blender, or blender with a chunky applesauce recipe. We love the texture of this easy recipe but adjust to YOUR desired consistency.
FULL OF FLAVOR – Apples are naturally sweet which allows for a minimal amount of added sugar. Feel free to add some pure maple syrup to this applesauce recipe, if desired. The best applesauce!
HEALTHY – Apples are rich in fiber, which aids digestion and helps control appetite, and they also provide essential vitamins and antioxidants that support overall well-being. Skip store-bought applesauce and make your own healthy version.
MEMORIES – I have so many childhood memories of going to the orchards and running around the apple trees. We always purchased a bunch of apples and headed home to make all of the delicious things. Making my own applesauce always brings me back to the "old days"!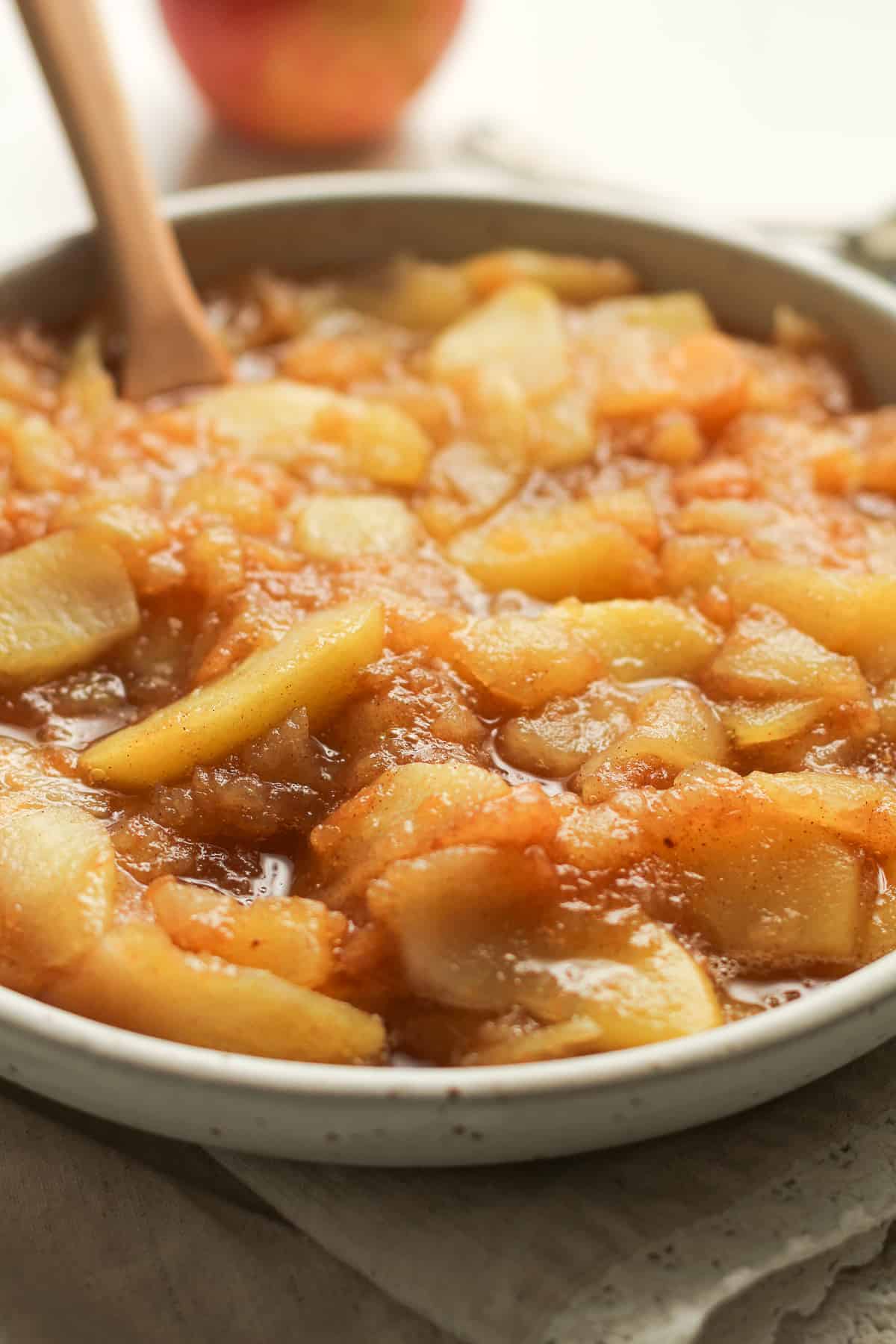 Ingredients Used:
This homemade cinnamon applesauce recipe requires simple ingredients easily found in your grocery store (or apple orchard).
Crisp Apples – Use any good baking apple. I normally use Honey Crisp, but often use a combo of sweet apples I find at the grocery store.
Water – This is used to help the apples cook down.
Lemon – For some freshness.
Granulated Sugar – This recipe calls for a minimal amount of white sugar. If you like yours sweeter, add more sugar. Brown sugar (or real maple syrup) could also be substituted for granulated sugar.
Ground Cinnamon – Start with a couple of teaspoons and add more as desired. Cinnamon always adds the best flavor to anything apple.
I recommend using any of these apples for homemade sauce: Braeburn, Fuji, Gala, Granny Smith, Honey-crisp, Jonathan, or Pink Lady. Keep in mind that the type of apple will change the taste of homemade applesauce. We prefer using sweeter apples for our sauce but I encourage you to explore all the different varieties of apples during apple season.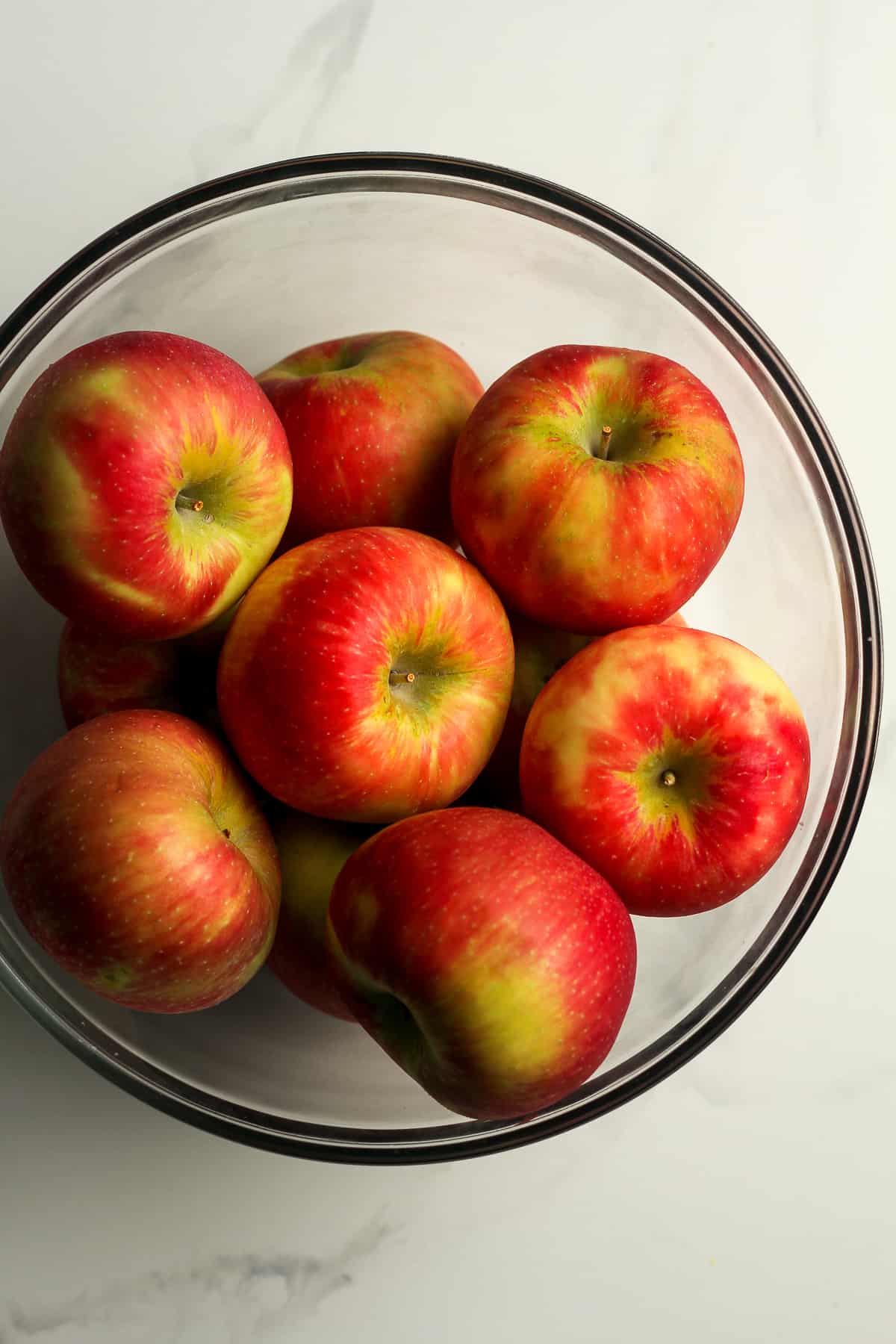 How to make Chunky Applesauce:
Step 1
Prep apples. Use a sharp knife to cut the apples in fourths. Then use a paring knife to peel the skins and remove the core. If you have an apple peeler/corer, use that!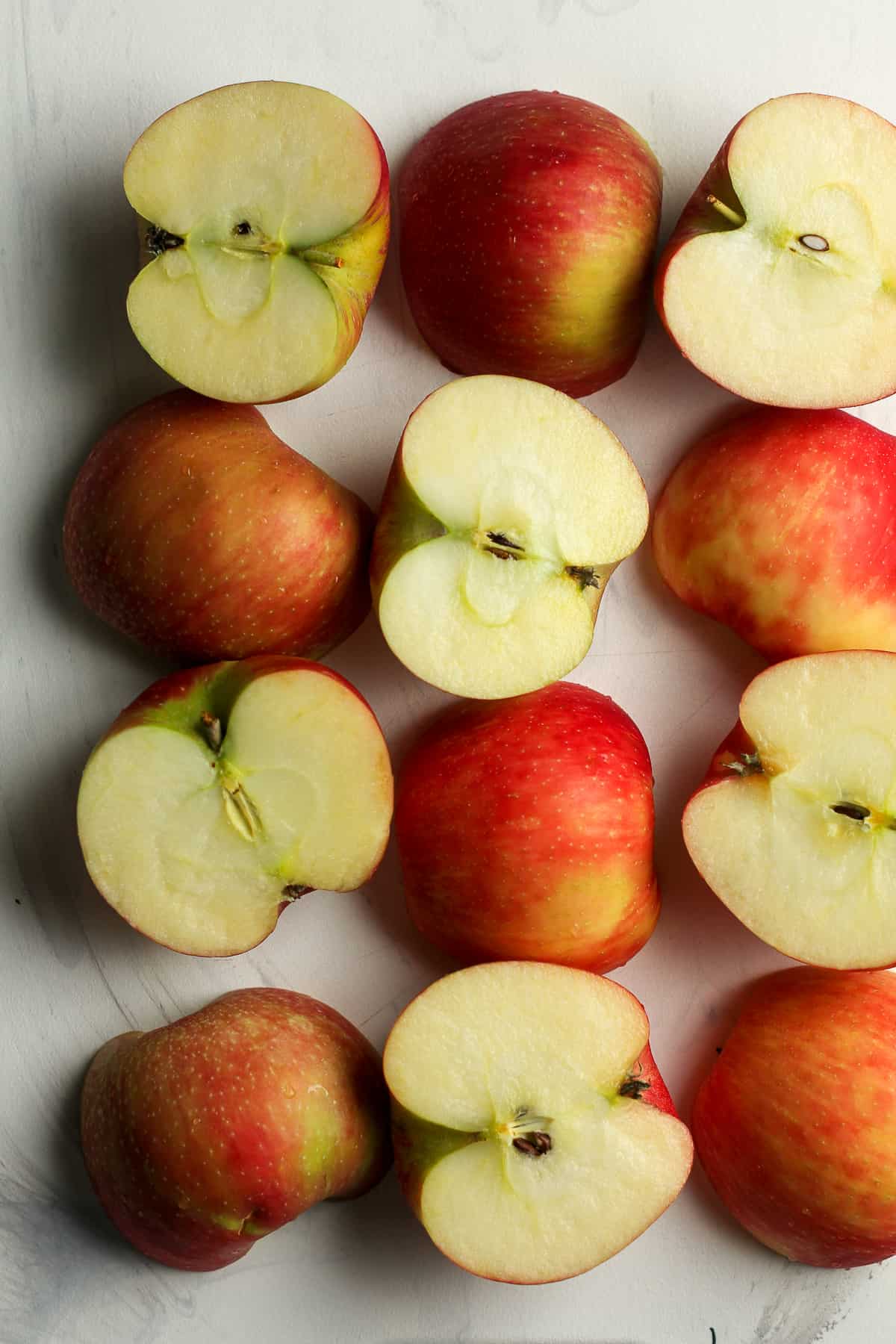 Step 2
Cook apples. Place the apples in a stock pot and add the lemon juice and water. Cook on medium heat until the apples are tender and partially broken down, using a wooden spoon to stir frequently. Cooking time will vary. Remove cooked apples from heat.
Step 3
Add sugar and cinnamon. Then add the sugar and cinnamon and stir to combine well.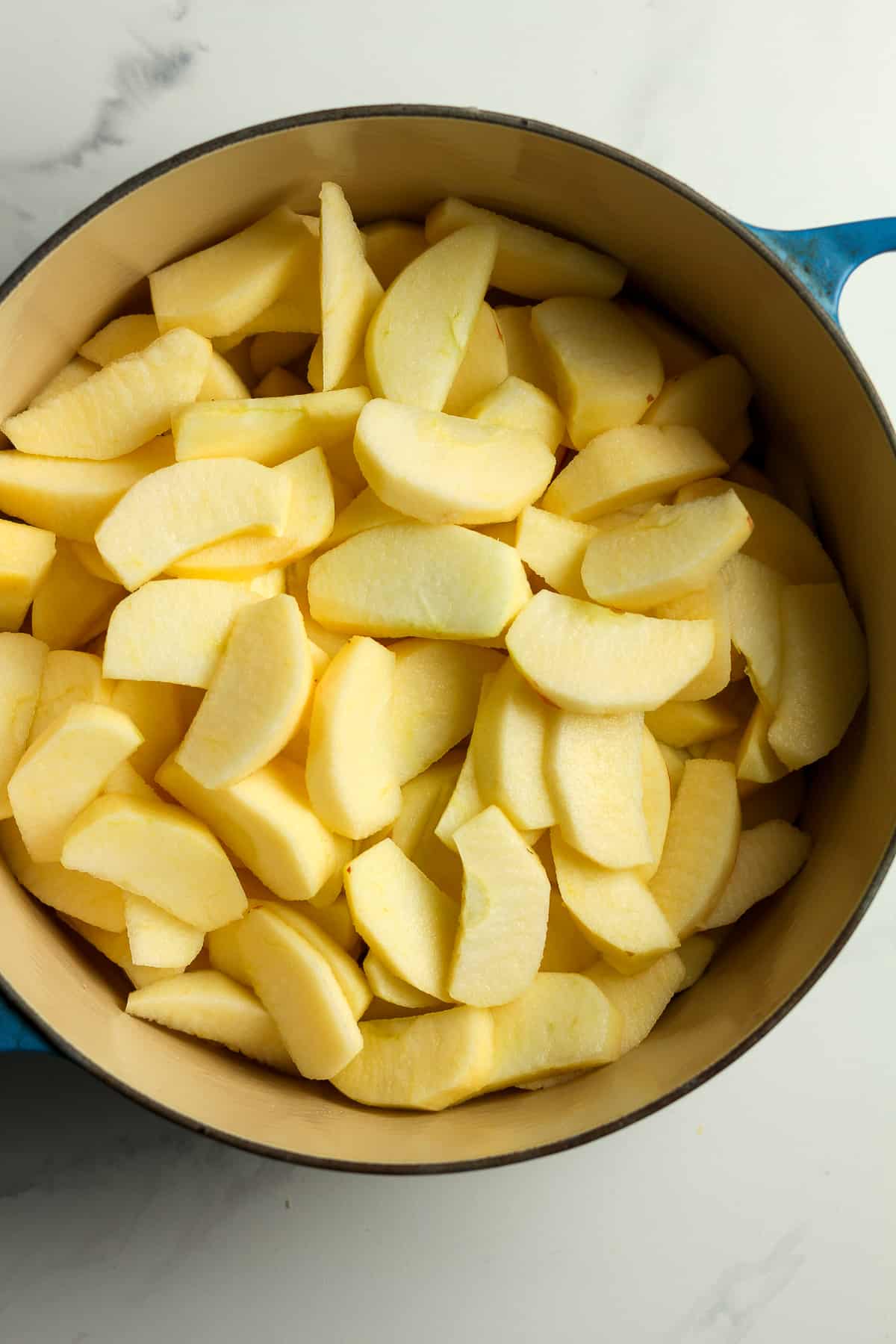 Step 4
Serve. Pour hot applesauce into a serving dish. Serve warm, if possible, or store in the refrigerator for later.
Store leftover applesauce in an airtight container in your refrigerator for up to five days. Reheat in the microwave if desired.
What to serve with Homemade Cinnamon Applesauce:
Pork Chops – Gotta love the Brady Brunch and Peter's "pork chops and applesauce" comment! Am I aging myself? LOL.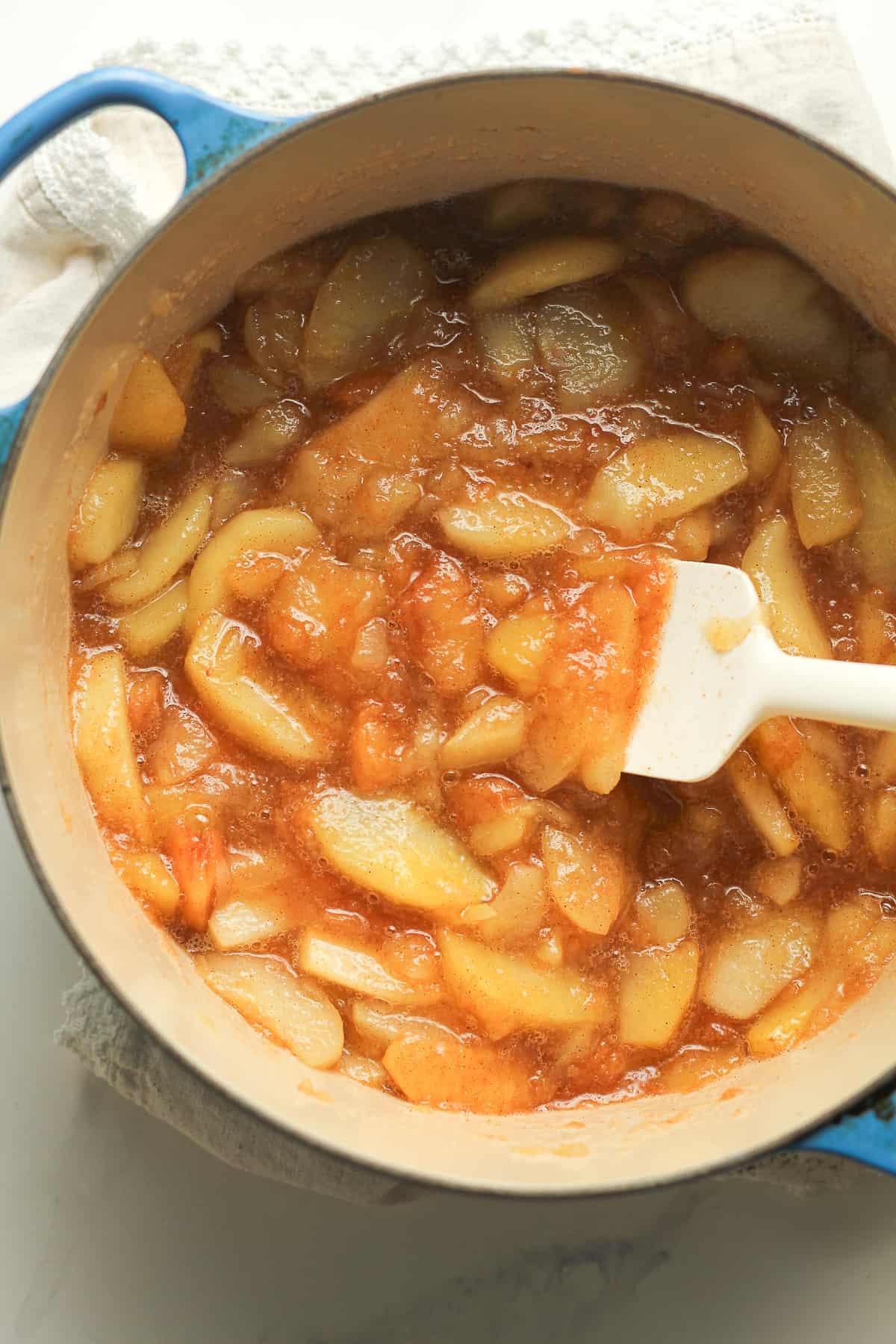 Tips for making chunky applesauce:
If you have one of those fancy apple peeler/corers, use that. I prefer to use my very dull pari knife to peel them.
Use ten LARGE apples for this Chunky Cinnamon Applesauce. Apples cook down a lot, so while it looks like way too much, don't worry. You will end up with only about eight cups of applesauce.
Feel free to use any good baking apple. There are so many to choose from, especially if you live in the land of apple orchards.
Use more sugar (or maple syrup) if you like your applesauce extra sweet.
Resist adding more water to the apples. Once they begin to cook down, there will be much more liquid in the pan.
This applesauce is great served warm or cold.
Surprise a friend or neighbor with a mason jar of chunky applesauce! Just tie some twine around the top, and you've got a sweet homemade gift to give. 😀
Yay Fall!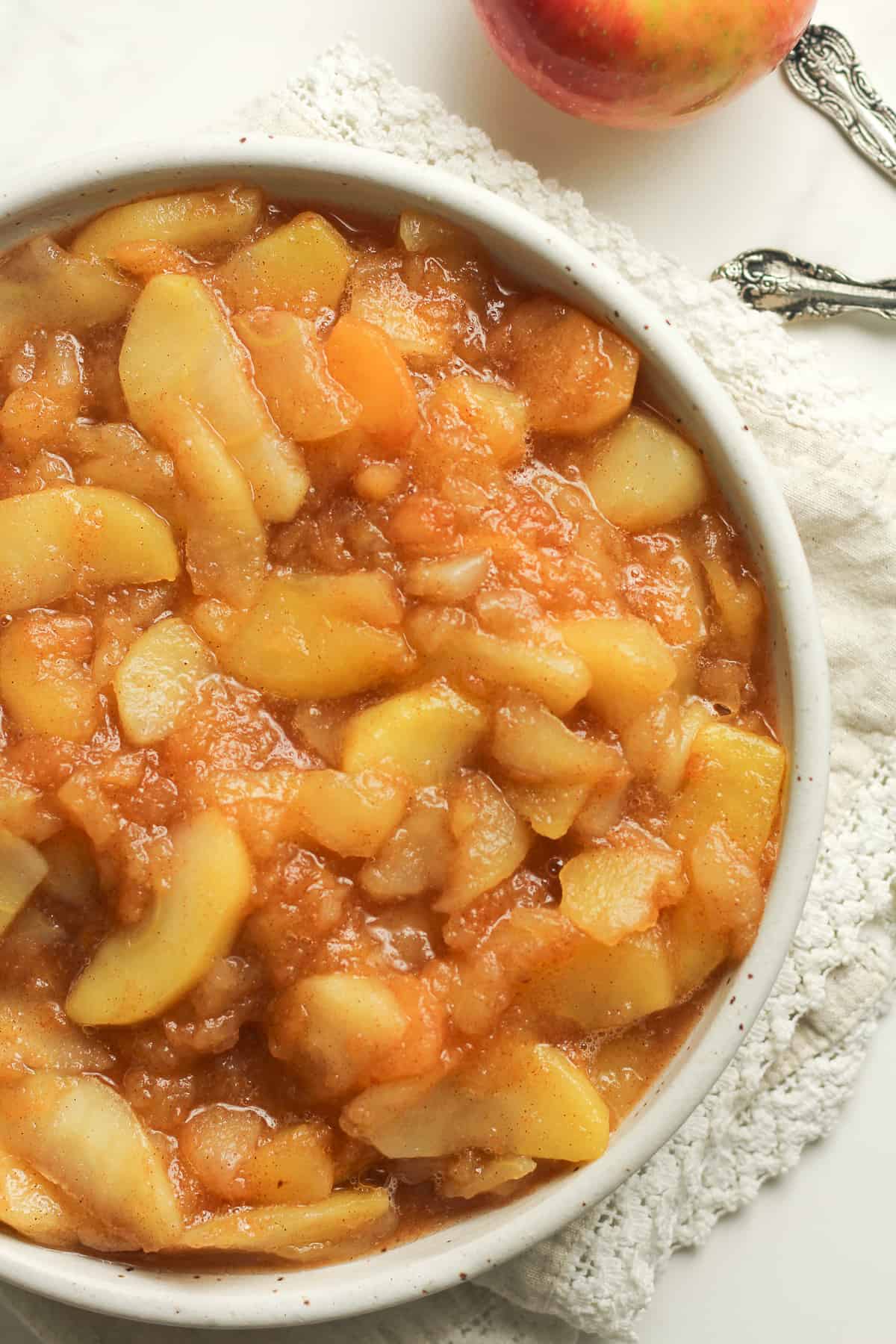 Kitchen Tools Used: (affiliate links)
XOXO ~Sue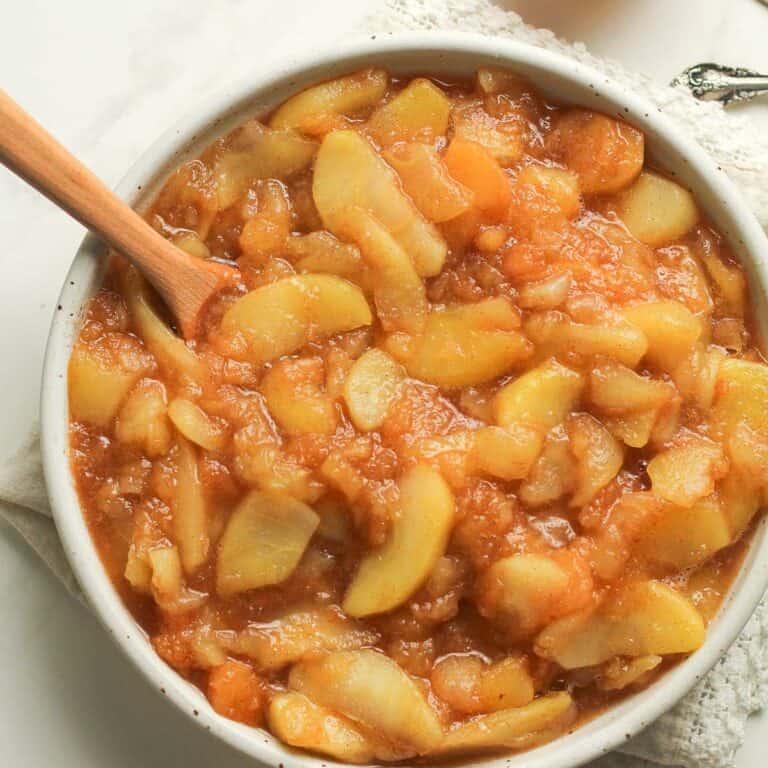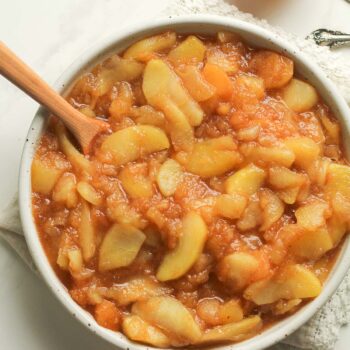 Homemade Cinnamon Applesauce
Fall is the perfect season for Homemade Cinnamon Applesauce. My simple recipe combines apples, some fresh lemon juice, a bit of sugar, and cinnamon. We love this applesauce warm, but it's great cold out of the refrigerator too!
Print
Pin
Rate
Ingredients
10

large

apples

– peeled and sliced

1

cup

water

1/2

large

lemon

– freshly squeezed

⅓

cup

granulated sugar

2-3

teaspoons

cinnamon
Instructions
Peel, core, and slice apples in 1/4 inch slices.

Place apple slices, freshly squeezed lemon juice, and water in large stock pan. Heat to boiling, and then reduce heat to medium. Simmer until apples are soft, stirring often, for approximately 20 minutes.

Remove from heat, and add sugars and cinnamon. Stir well, and pour into large bowl or storage container.
Notes
Use any good cooking apple for your applesauce.
Avoid adding too much water when cooking the apples. They will naturally break down, providing more liquid.
If you like a sweeter applesauce, add more sugar.
This applesauce stores well in the refrigerator for up to five days.
Give it as a gift, in a mason jar tied with twine!
Nutrition
Calories:
241
kcal
|
Carbohydrates:
64
g
|
Protein:
1
g
|
Fat:
1
g
|
Saturated Fat:
1
g
|
Polyunsaturated Fat:
1
g
|
Monounsaturated Fat:
1
g
|
Sodium:
6
mg
|
Potassium:
413
mg
|
Fiber:
10
g
|
Sugar:
50
g
|
Vitamin A:
205
IU
|
Vitamin C:
22
mg
|
Calcium:
33
mg
|
Iron:
1
mg