Watermelon Lime Frosè is the perfect summertime drink, and summer isn't over YET (because I said so)! Go grab yourself a big watermelon, a bottle of Rose, a few limes, and let's celebrate the warm weather. Because when it's warm, it's still time for summertime drinks! 🙂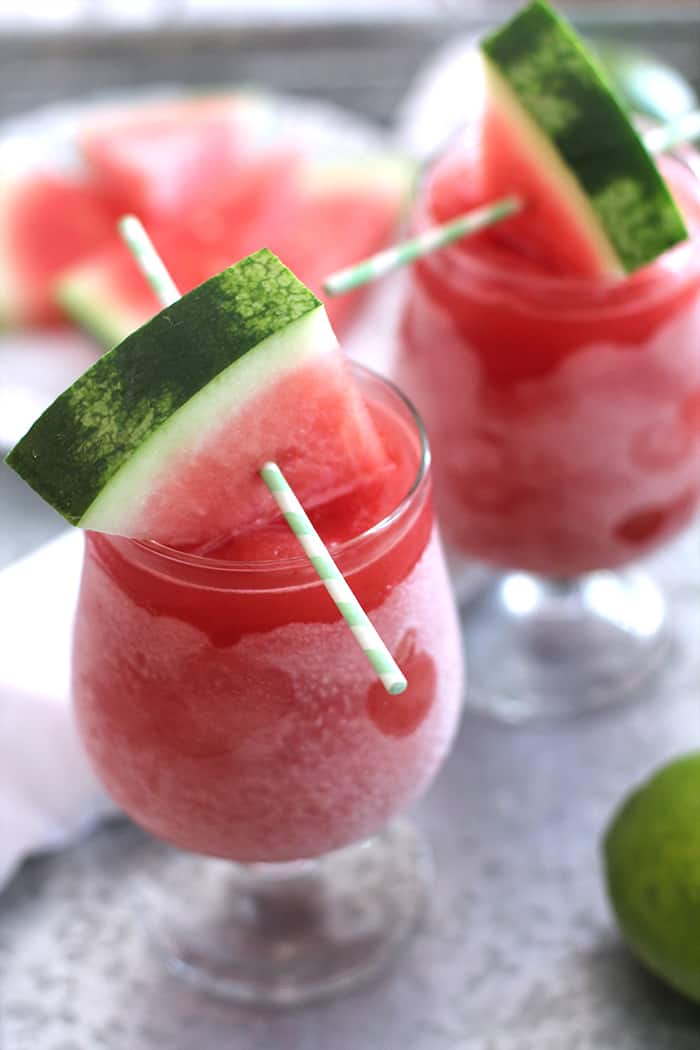 While I'm totally ready for fall, I'm not ready to stop buying watermelon. We average three a week during the summer, and Mike and I do most of the eating. Watermelon for lunch, watermelon for snack, and watermelon for dinner. Since they contain about 92% water, guess where we spend a lot of our time during this crazy-watermelon-eating season? 🙂
Umm, yes. The bathroom.
My recipe for Watermelon Lime Frosè is simple. Only four ingredients.
watermelon cubes – frozen
freshly squeezed limes
our favorite Rosè – ours is this Ryder Estates pictured below
honey for sweetener – optional
I recently purchased these ice cube trays
 from Amazon and used them for freezing the wine. They are extra large cubes, and I'll be using these for other future recipes. I love how big they are!
This citrus press
 is another "over-used" kitchen gadget of mine that I absolutely love. I was squeezing manually for ages and my smart sister (thanks Shari!) insisted I get one. So I did! I used it again for the limes in this recipe.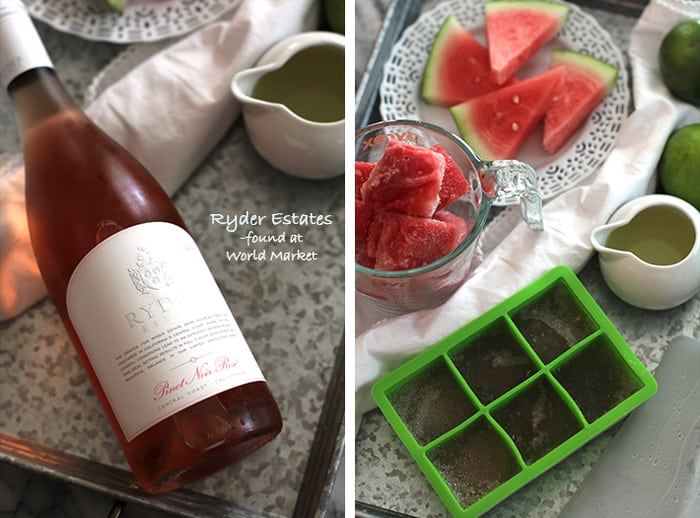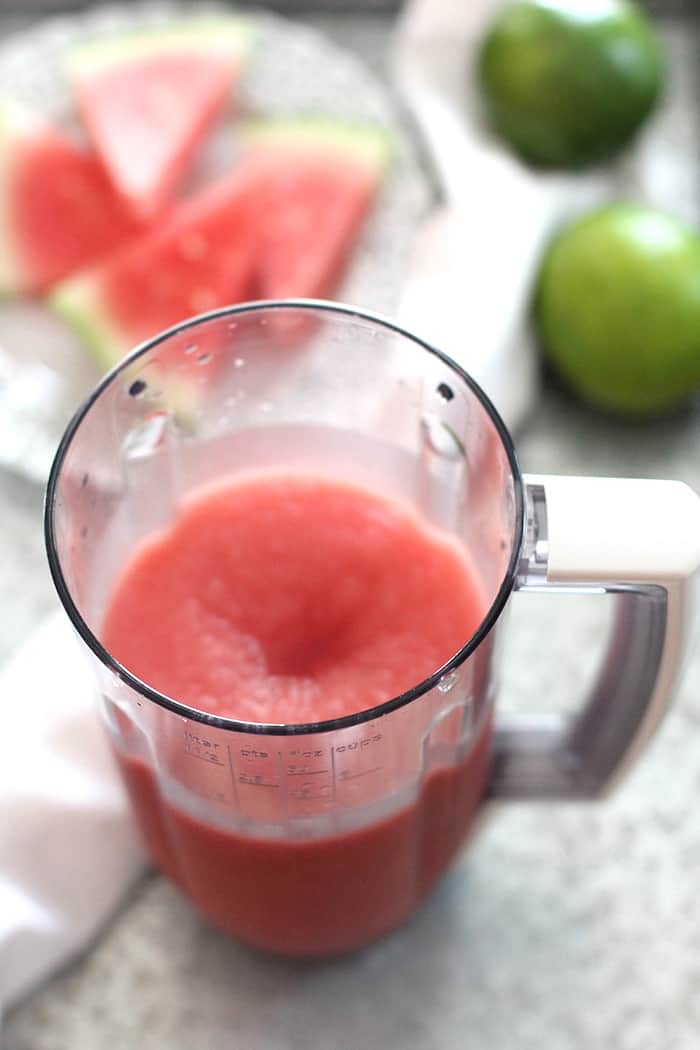 Some quick tips for making a perfect Watermelon Lime Frosè are the following.
Prepare the day before, or at least 10-12 hours before your event, by cubing and freezing the watermelon. You will need about 7-8 cups of cubes for a full recipe.
Another advance prep is the wine. Freeze it into cubes well in advance, at least 10-12 hours to guarantee completely frozen cubes.
Buy some nice big juicy limes. I have best luck buying the bags at Sam's Club.
Use YOUR favorite Rosè. Any kind will work, as long as YOU like the wine you are using. You can find the Ryder Estates brand at World Market.
I absolutely love frozen drinks on warm summer nights. Rosè is great on it's own, but adding the watermelon and lime juice definitely takes it to a new level. And that watermelon garnish. So cute!
I'm squeezing every last bit of summer out of the time we have left this year. Zach just began his senior year in high school, and I'm treasuring the moments, because next year, we will truly be empty nesters.
Oh summer. Won't you please slow down?!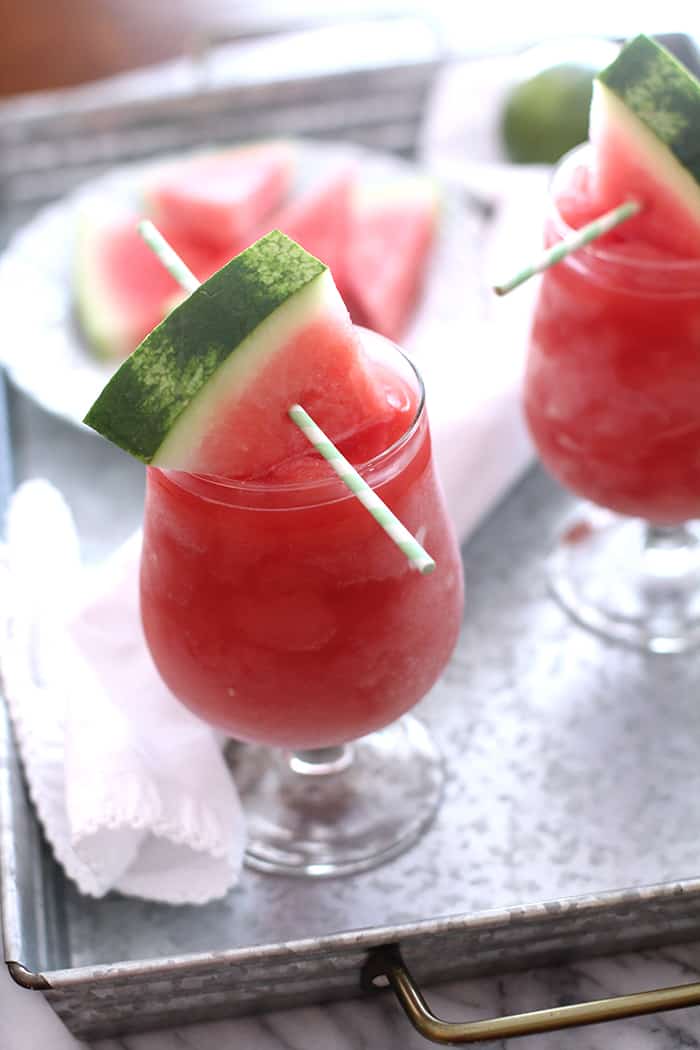 Please let me know if you try this Watermelon Lime Frosè, and how you like it!
You can stay up-to-date with SueBee Homemaker by:
signing up for post updates (top right-hand corner of my blog)
liking my Facebook Page
and following me on Pinterest
I'm also sharing tidbits of my life on Instagram.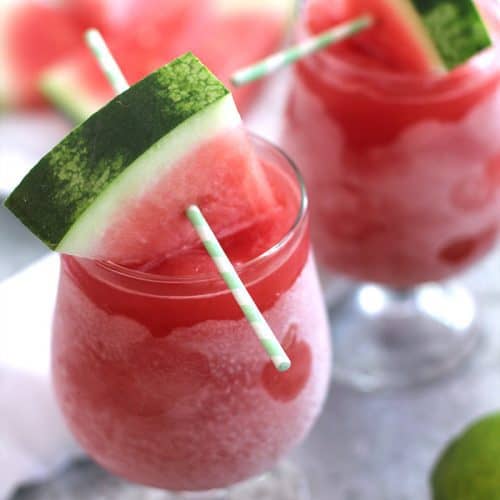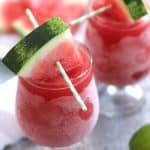 Watermelon Lime Frosè
Ingredients
1

bottle

Rose

- I used Ryder Estates Pinot Noir Rose

8

cups

cubed watermelon, frozen

2/3

cup

lime juice - freshly squeezed

- from approximately 4 limes

1/4

cup

honey

watermelon wedges

- as garnish
Instructions
Pour wine into ice cube containers and freeze overnight.

Cut a watermelon into chunks, and measure out about 8 cups. Place in freezer overnight to freeze completely.

Take about 4-6 limes (depending on size) and squeeze juice into a measuring cup. You should get about 2/3 cup of juice. Place in refrigerator to cool.

When ready to blend, place half of the frozen watermelon and half of the frozen Rose cubes into blender. Add 1/3 cup of lime juice and 2 Tablespoons of honey - and pulse until smooth.

Make a second batch using remaining ingredients.

Serve watermelon frose with a garnish of watermelon.