This post may contain affiliate links which won't change your price but will share a commission.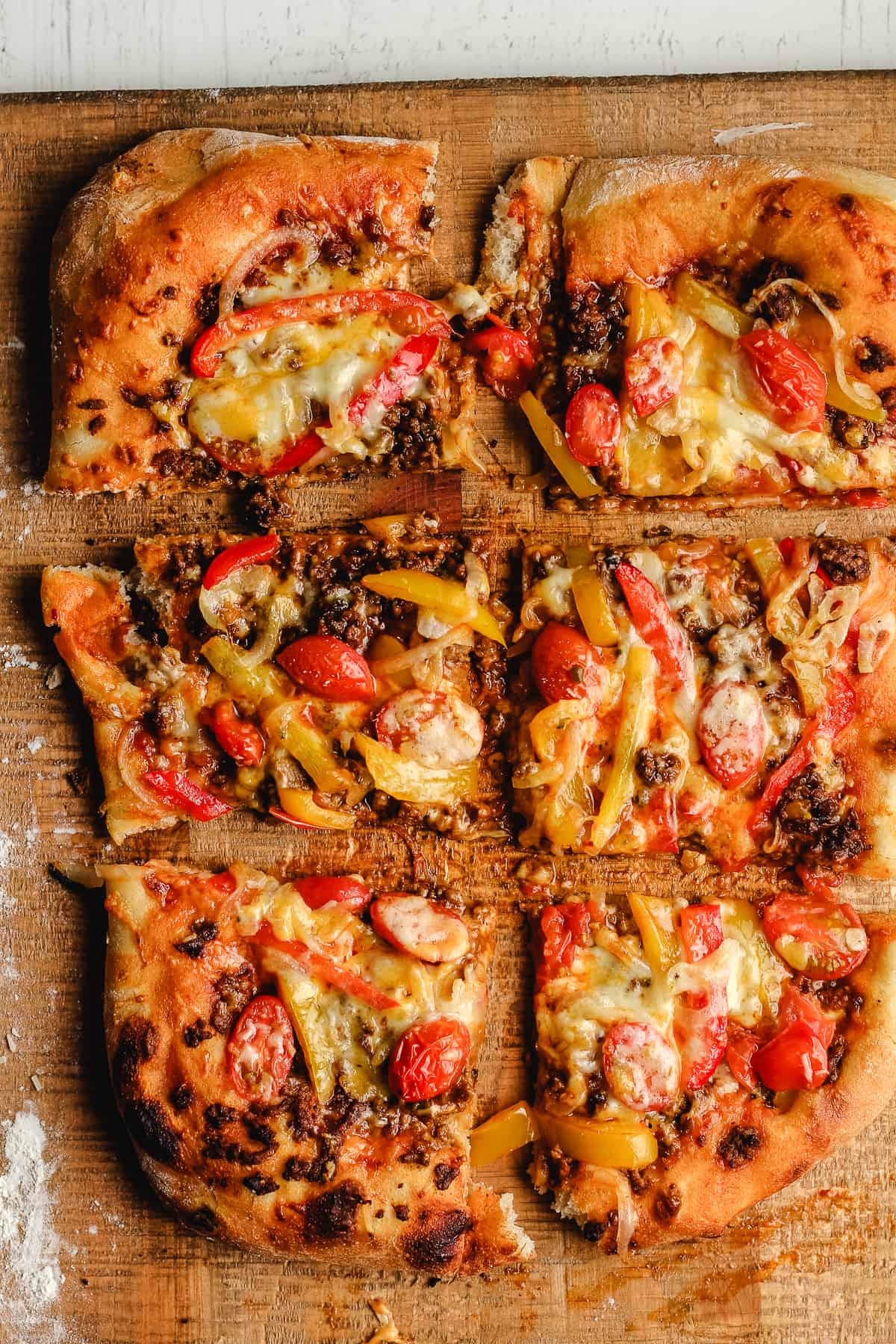 Godfather's Taco Pizza
Some of you know that my hubby and I are high school sweethearts. We met in the 3rd grade, when his family moved to town, and went to the same private Catholic school through high school. We had secret crushes on each other on and off during our childhood, and then we started dating after Mike got his license at 16.
So sweet, huh? He must have really liked me, because I was sporting two black eyes on our first date, after colliding with my friend's elbow during basketball practice.
So what's all this have to do with pizza?
Mike and I ate Godfather's taco pizza almost EVERY weekend during our high school dating years. You see, our small town didn't have many options, but we didn't care because we loved Godfather's. So much.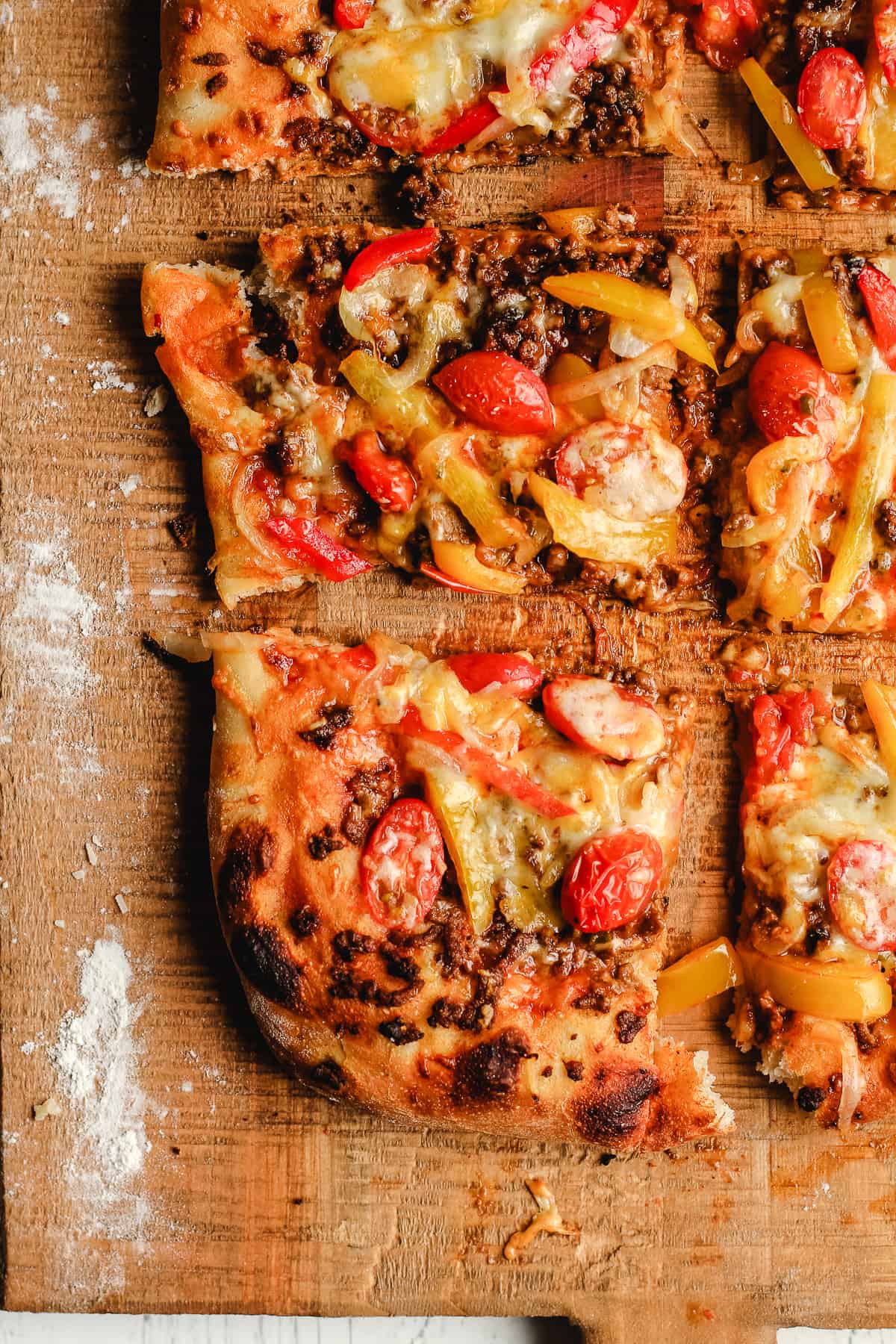 Ingredients you'll need for taco pizza:
Homemade Pizza Dough (or use store-bought) – My homemade recipe is simple. I highly recommend!
Taco Sauce – We love the spicy bottled version!
Ground Beef – I usually go with a lean ground beef. You could also use ground sausage or turkey, or even a combo.
Homemade Taco Seasoning (or use store-bought) – It's a time-saver to make up a large batch of seasoning and keep it in a mason jar. We love our taco nights!
Veggies – Onions, bell pepper, jalapeño, and tomato.
Cheese – A combo of mozzarella and cheddar, or use whatever you have handy.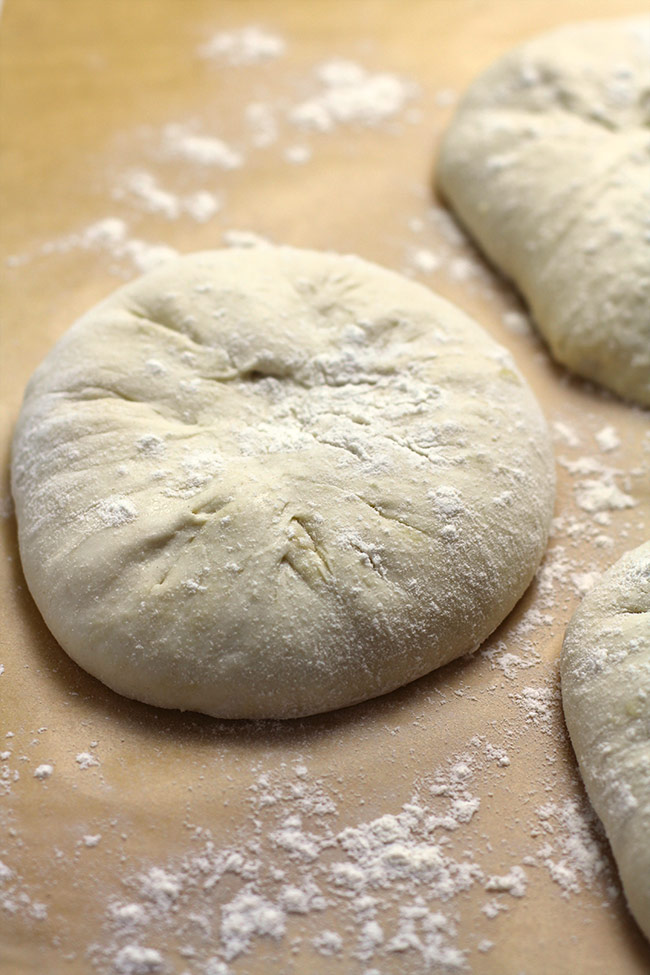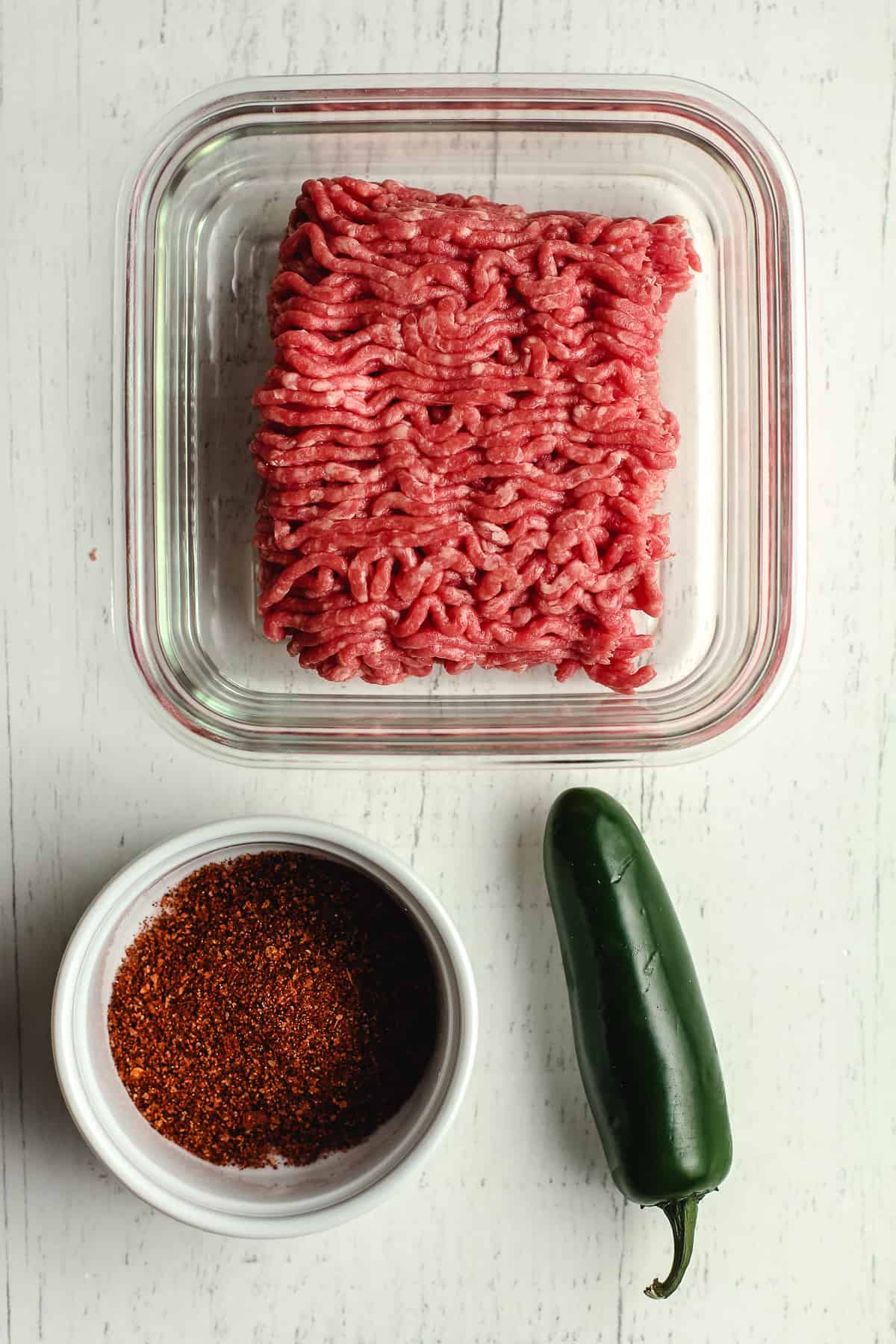 How to make taco pizza:
Make dough. Use my homemade recipe to make the BEST DOUGH. Here in Texas, it doesn't take long for it to rise because of our warmer climate. My recipe makes three medium sized pizzas, so I double it when I'm having company.
Sauté onions and peppers. In a cast iron skillet, sauté the onions and peppers until softened, approximately 5-7 minutes.
Cook taco meat. Use the same skillet to cook the taco meat. Simply add the beef and jalapeños to the pan and cook until the meat is cooked through. Then add the taco seasoning and cook for a few more minutes. You can strain the meat (before adding seasoning) if you have a higher fat content.
Arrange dough. To start, roll out the dough. For this occasion (pictured), we grilled the pizza on a stone on our smoker. You can also press the dough into cast iron skillets or use stones – and bake in your oven. You just want to cook at a high temperature.
Add toppings. Spread a generous amount of taco sauce on the dough. Then add the taco meat, sautéed veggies, cherry tomatoes, and cheese.
Bake (or grill) – Cook pizza at a high temp. We use 450 degrees in our oven or at least 500 degrees on our grill/smoker. The pizza is done when the crust is nice and browned on the bottom.
Serve – Serve pizza with some shredded lettuce and an extra drizzle of taco sauce. I occasionally add a few dollops of sour cream. (I forgot to add the toppings here!)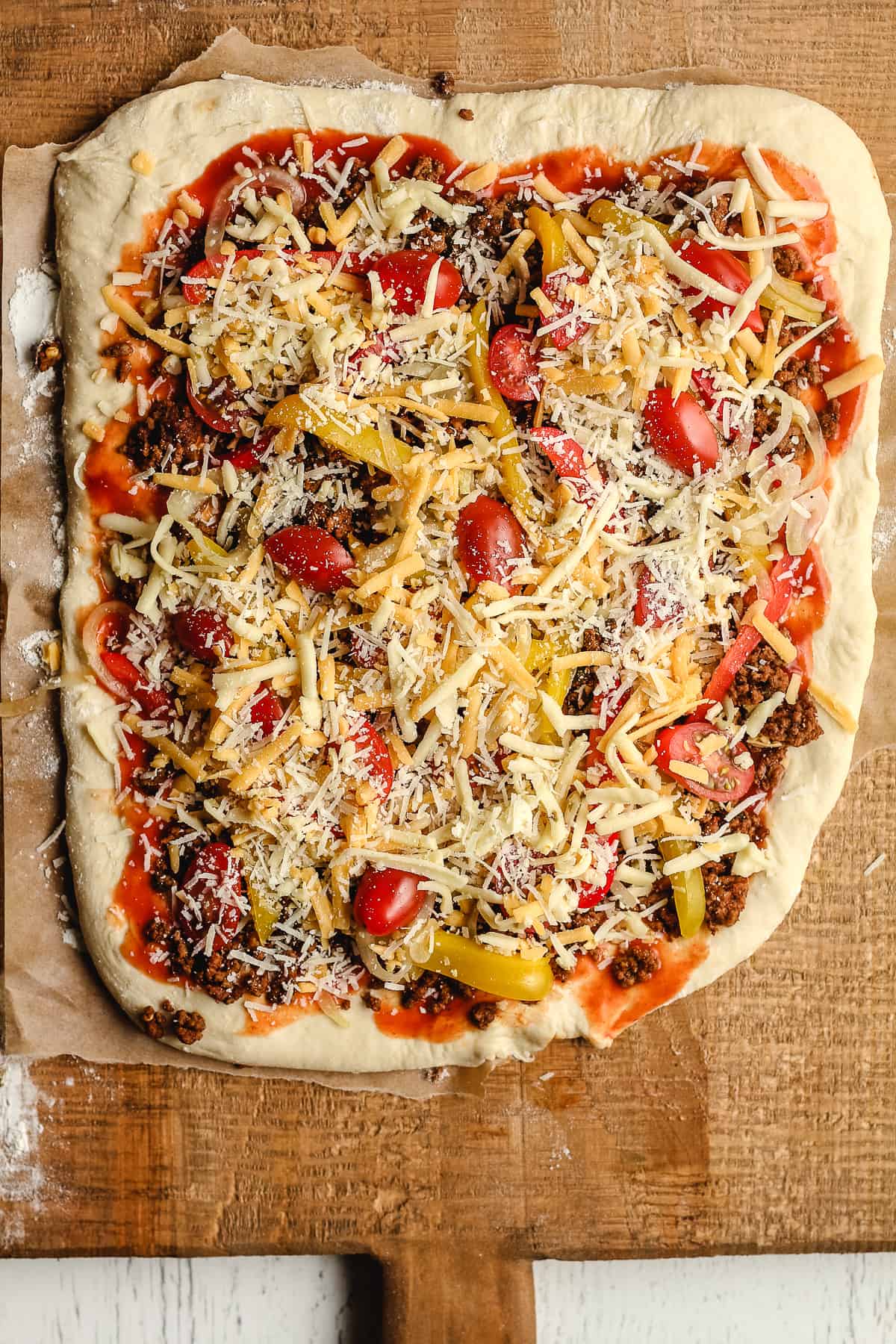 Frequently Asked Questions:
Is making homemade pizza dough worth it? YES! The secret to great pizza is the dough. My recipe is simple and delicious, and I've passed this recipe on to so many people.
Should I pre-cook the dough? I personally never pre-cook the dough. But if you want a thicker crust (using more dough than normal), then you should pre-cook it.
Can I make the dough in advance? Yes, you can make the dough several hours in advance and store it in the refrigerator. About an hour before using, remove it and let it come to room temperature before rolling out.
What pans can I use for homemade pizza? If grilling the pizza, you'll need either a pizza stone or a cast iron skillet. If baking in the oven, you can use a stone, a skillet, or even a baking sheet.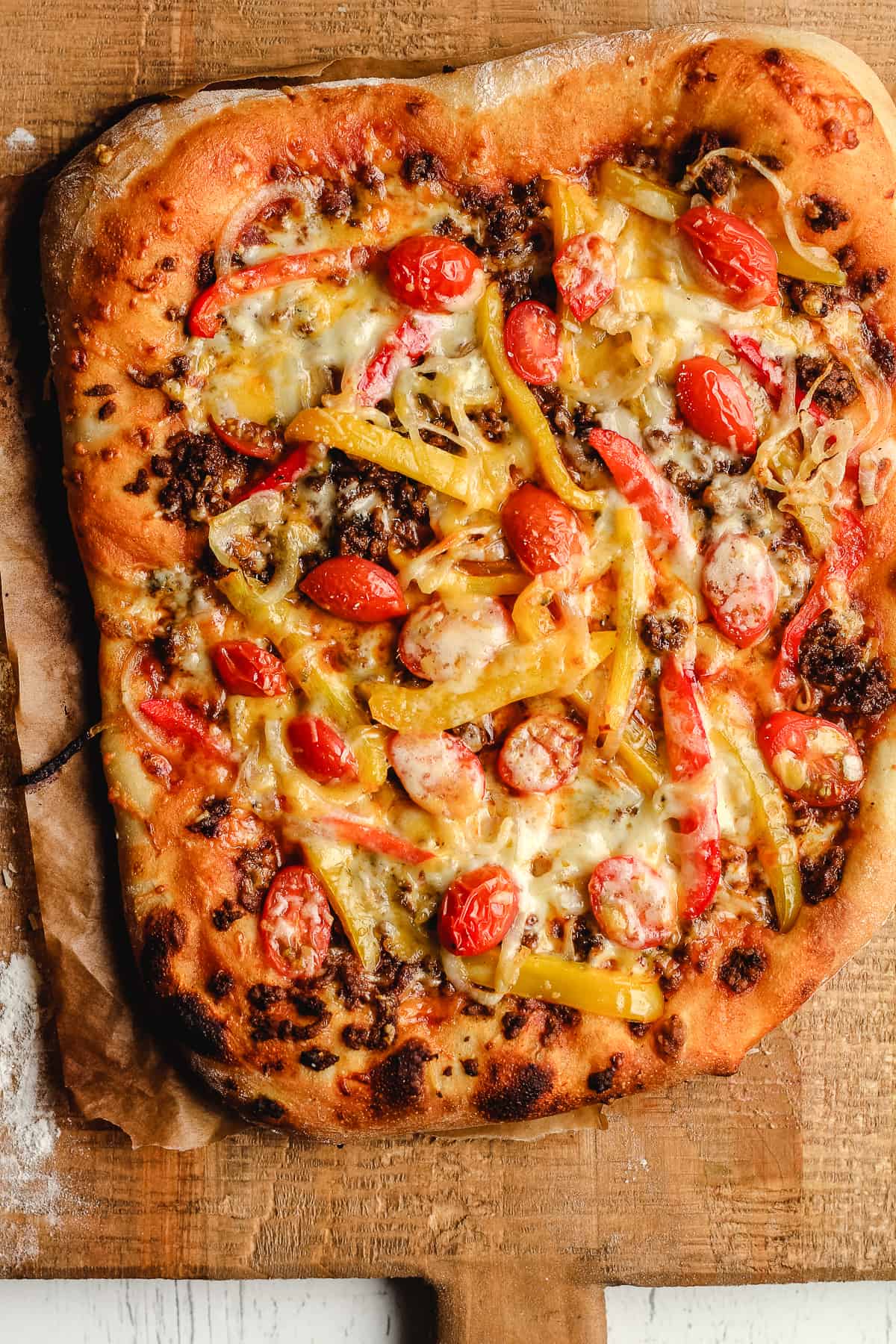 What to serve with homemade pizza:
Pizza Night done RIGHT! 😀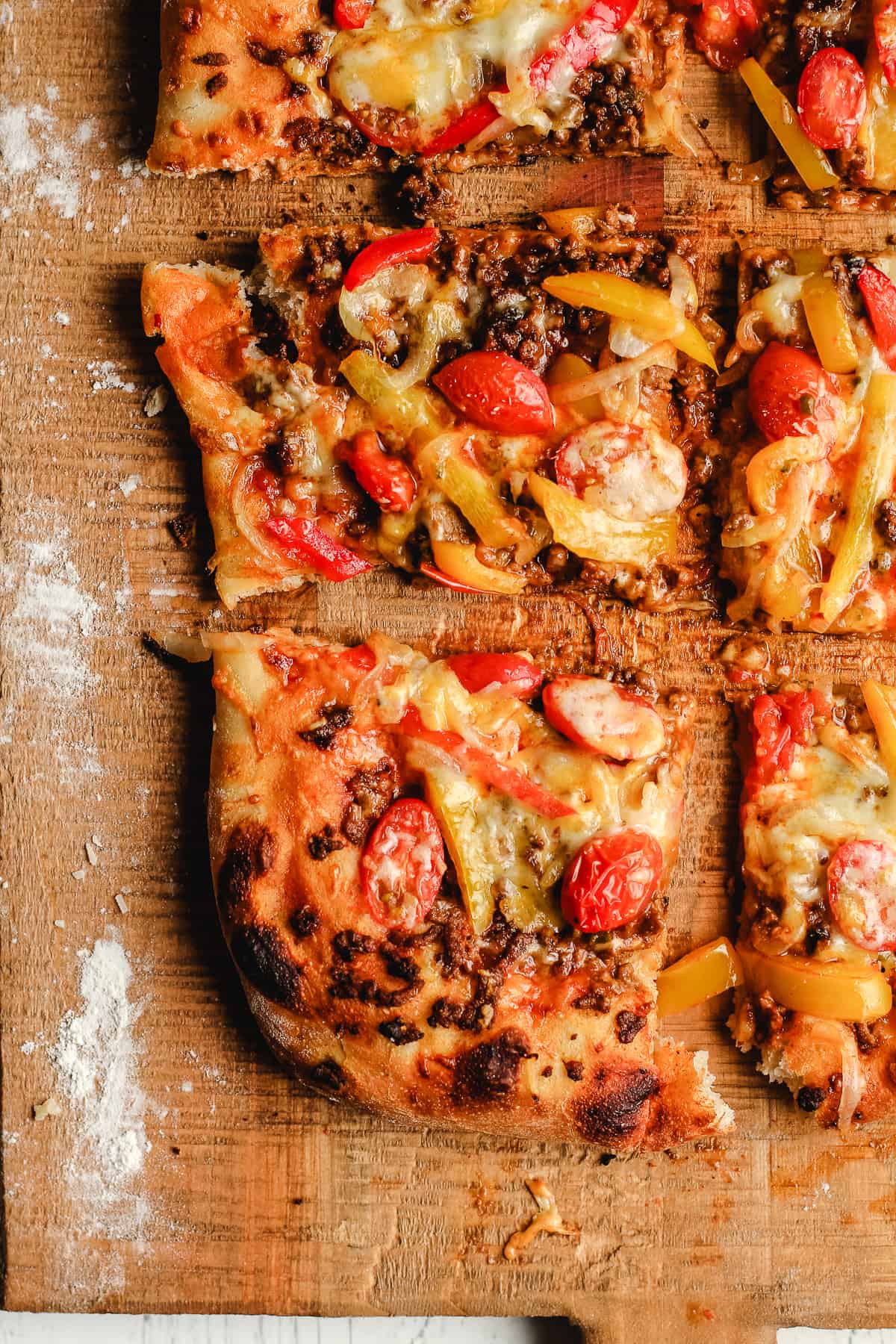 Kitchen Tools Used: (affiliate links)
Make this taco recipe next: Beef and Bean Nachos
Please let know if you try this recipe. Be sure to comment and leave a review on the blog so I can see what you think. You can also like my Facebook Page, follow me on Pinterest, and catch me on Instagram.
xoxo ~Sue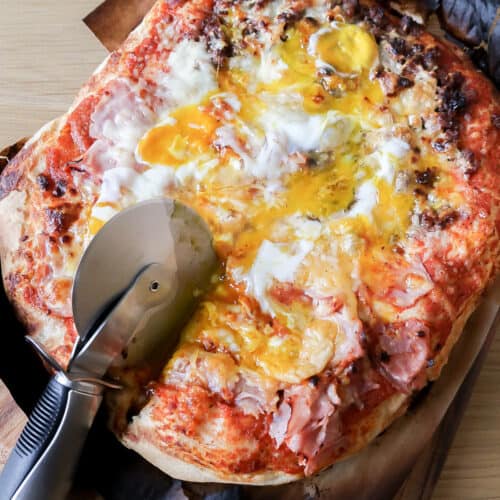 Eggcellent Breakfast Pizza
Eggcellent Breakfast Pizza combines homemade pizza dough with homemade pizza sauce, honey, sliced ham, and sunny-side-up eggs. Make it for breakfast, lunch, or dinner!!
Print
Pin
Rate
Ingredients
1

pound

breakfast sausage

– if making this recipe with sausage

5

slices

Bacon

– if making this recipe with bacon

1

pound

freshly sliced ham

– if making this recipe with ham

1/3

cup

homemade pizza sauce

– from my site (or use store bought)

1

medium

homemade pizza dough

– from my site (or use store bought)

4

tablespoons

honey

1/3

cup

shredded mozzarella cheese

1/3

cup

shredded sharp cheddar cheese

1/3

cup

shredded parmesan cheese

3

cracked eggs

– per pizza
Instructions
NOTE on dough: If making homemade pizza dough, follow my steps on that recipe. Or if preferred, use store bought dough.

Prepare my homemade Pizza Sauce. If you're making my homemade Pizza sauce, you can prep this ahead of time.

Prepare breakfast meat. If using Breakfast Sausage use a cast-iron skillet and cook until done (160 degrees Fahrenheit). If using bacon, bake in oven to your liking- we like ours crispy. If using ham, cut into bite-sized pieces.

Preheat oven to 450 degrees or a grill/smoker to 500 degrees or more.

Arrange dough. Press the dough out (or use rolling pin to flatten) on pizza stone or cast iron skillet. If using skillet, prepare with baking spray. If using pizza stone, use plenty of flour to roll out. I normally place pizza on parchment paper (for high heat).

Add toppings. Spoon pizza sauce on top of the dough. Drizzle with honey. Add prepared breakfast meat. Top with cheese.

Crack Egg. Bring eggs out to grill and crack them as soon as the pizza is on.

Or if baking is your baking method of choice, put eggs on the pizza before putting the pizza in the oven.

Cook pizza. Cook pizza until crust is golden brown on the bottom and cheese is melted. This will take approximately 15 minutes in the oven or 8-10 minutes on the grill. Serve with extra honey. Enjoy!
Notes
If grilling the pizza, you'll need either a pizza stone or a cast iron skillet. If baking in the oven, you can use a stone, a skillet, or even a baking sheet.
Nutrition
Serving:
6
g
|
Calories:
297
kcal
|
Carbohydrates:
13
g
|
Protein:
21
g
|
Fat:
18
g
|
Saturated Fat:
7
g
|
Polyunsaturated Fat:
2
g
|
Monounsaturated Fat:
7
g
|
Cholesterol:
63
mg
|
Sodium:
1140
mg
|
Potassium:
284
mg
|
Fiber:
0.2
g
|
Sugar:
12
g
|
Vitamin A:
212
IU
|
Vitamin C:
1
mg
|
Calcium:
133
mg
|
Iron:
1
mg