Church Supper Cocoa Cake is indeed a church recipe from back in the day. My mother, Norma Jean, used to make this for special occasions during my childhood. The Five Minute Chocolate Frosting is the icing on the cake – literally! So good!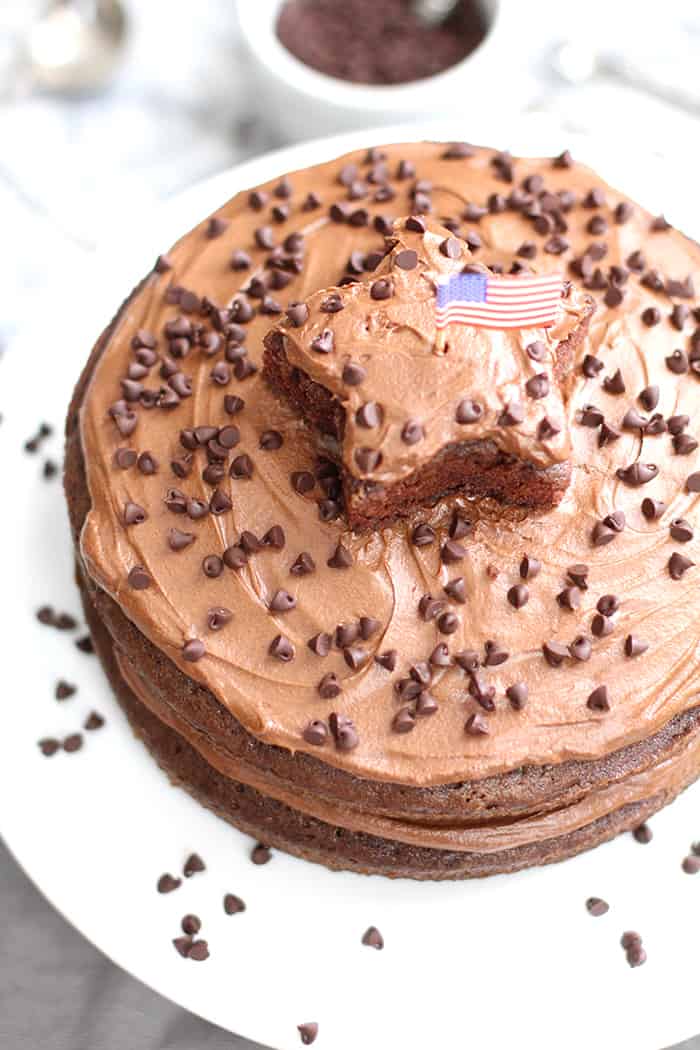 Today's cake is in honor of my dad's 89th birthday (today). Happy Birthday Dad!!
My mom used to make this church cake when we were kids. It's in the St. Joe cookbook, and is a recipe I've used many times over the years. Even when I was in high school, I'd make it in a heart pan for Mike. (I know…awww!) I've also made it for our boys for their birthdays, but usually with the Caramel Frosting I used on my Cinnamon Rolls. The frosting I used this time, is a Five Minute Chocolate Frosting.
Church Supper Cocoa Cake has always been unbelievably great, which is why I keep going back to it. However, this time around, I adjusted it ever so slightly. I added a bit more flour, an extra teaspoon of baking soda, and 1/2 cup of hot water (to thin it). I basically wanted a little bit more batter for this layered version.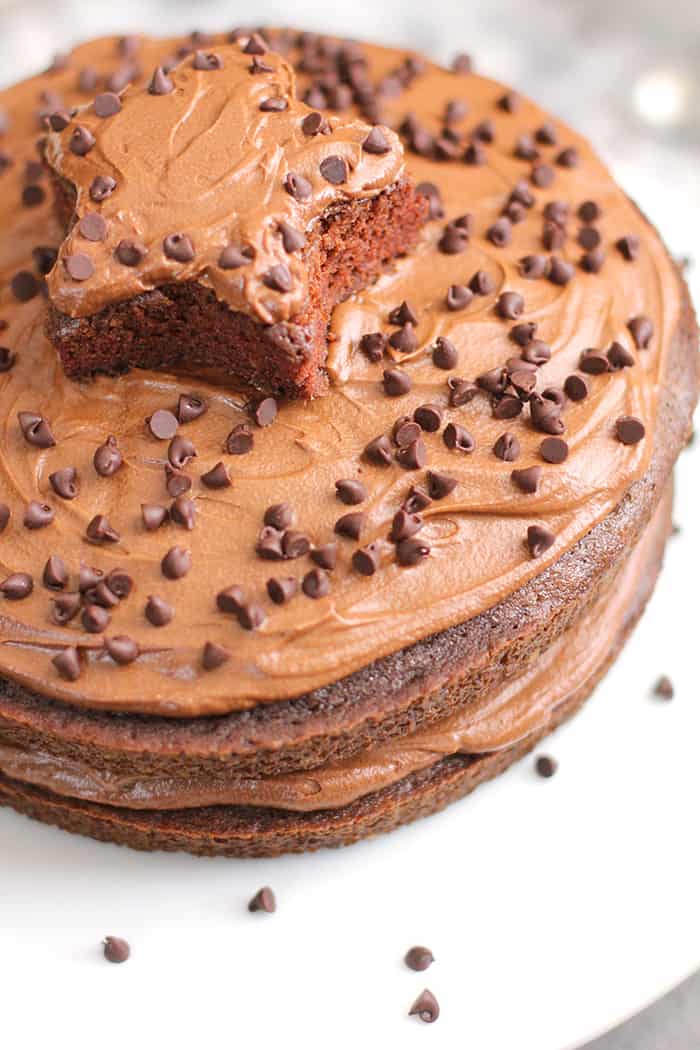 It took me four tries to get this cake to turn out the way I wanted it.
I made the original recipe, in two round pans for layering, and frosted it with white frosting.  –> pics were bad, taste was good
I made it in a star-shaped pan (for the 4th), and it took too long to bake in the center so the edges were over-done. –> it fell apart when I removed it from the pan, so straight to the garbage it went
I made half of it in a star-shaped pan, put the rest in four small round dishes, and frosted it with the Five Minute Chocolate Frosting. –> I didn't like how flat the star was, but taste was good
I made this version, two round pans + one small round (see below), with same frosting. –> PERFECTION 🙂
One of the reasons I had so much trouble getting this cake right, was because I wanted it to look appropriate for the 4th of July AND serve as Dad's birthday cake. And since he is a Veteran, why not turn his cake into a Patriotic one?!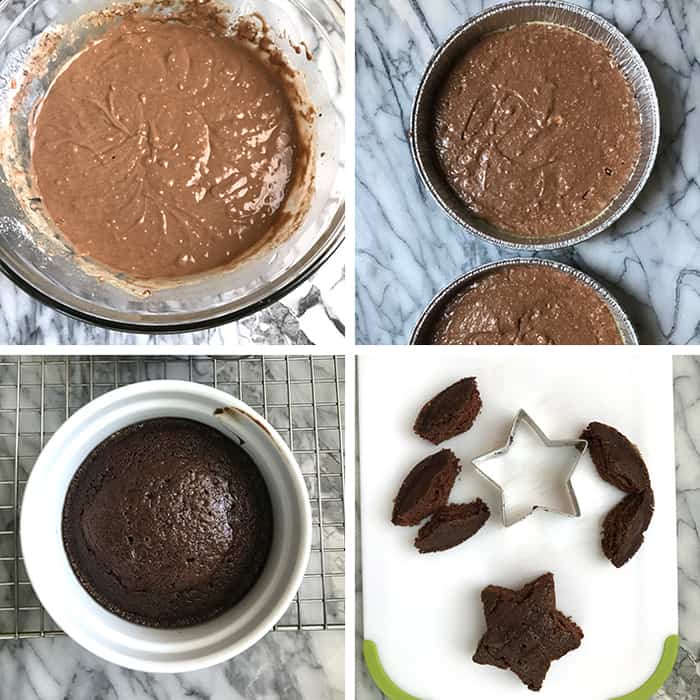 You can see above, that I used a star cookie cut-out to make the star for the top of the cake. I was relieved to finally get the look I wanted, without having to pull out the red, white, and blue sprinkles. Believe me, I was tempted!
Make sure your butter is at room temp for this cake, which means you should set your butter out a couple of hours before you make it. It takes 3/4 cup for the cake + 1/2 cup for the frosting. Trust me on this. It's worth it!
Since I live 1,000 miles away from my dad, I won't be able to give him this cake. But the baking of it was a labor of love for HIM. He has a serious sweet tooth, and I'm sure he would have loved every bite. The good news is that I'll be seeing him (and Mom) in three weeks.
If you are wondering if my family ate four cakes recently, that's a NO. We ate the first one (the one with the cream cheese frosting), threw the second one in the garbage can (it wasn't baked properly), gave the third ones to friends, and I just delivered the fourth one (the one pictured here) to my friend, Lauren, who has a birthday in a couple of weeks.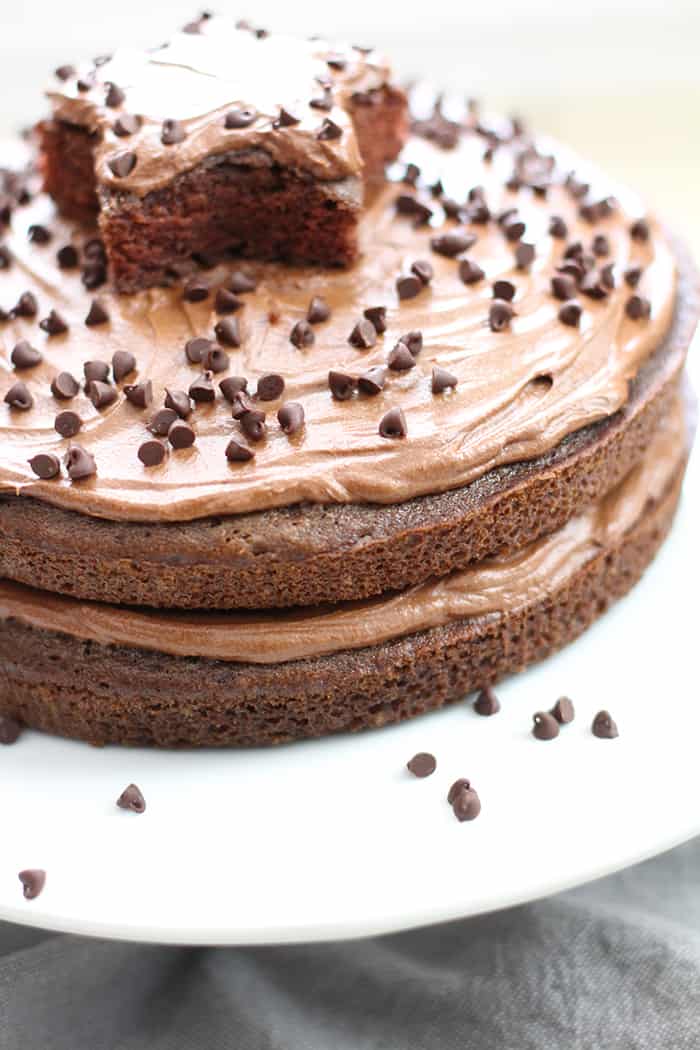 A couple of my practice versions are pictured below. They aren't ugly by any means, just not what I was hoping to achieve. You can make any size or shape you want, just make sure you don't pour too much batter into any one pan.
Happy Birthday Dad, and Happy Birthday USA!! 🙂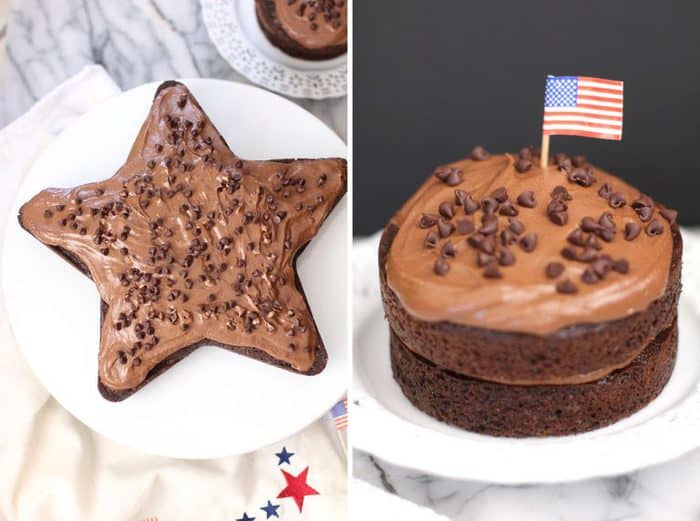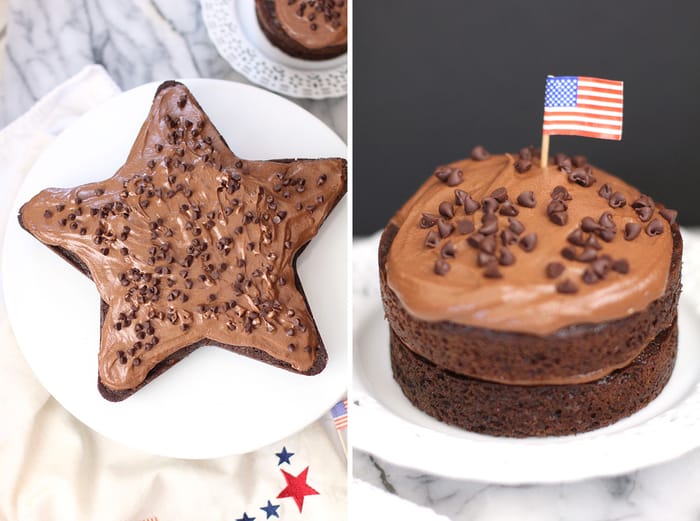 Make this cake next: Glazed Lemon Bundt Cake
You can stay up-to-date with SueBee Homemaker by:
signing up for post updates (top right-hand corner of my blog)
liking my Facebook Page
and following me on Pinterest
I'm also sharing tidbits of my life on Instagram.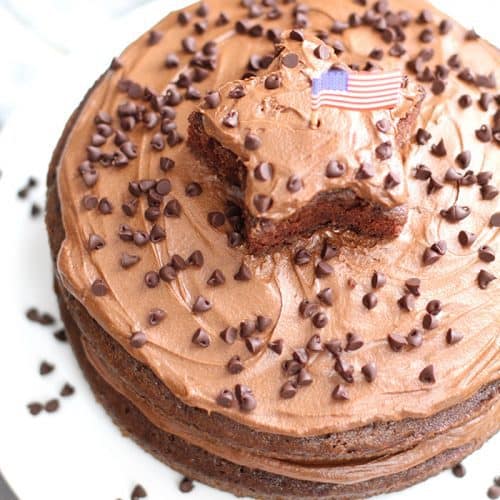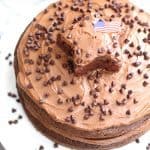 Church Supper Cocoa Cake
An old childhood favorite, good old fashioned church cake
Ingredients
3/4

cup

unsalted butter

- at room temperature

1

cup

sugar

1

teaspoon

vanilla

1

cup

buttermilk

2

large

eggs

2

cups

flour

3

Tablespoons

cocoa

2

teaspoons

baking soda

1

teaspoon

salt

1/2

cup

hot water
Instructions
Preheat oven to 350 degrees. Prepare two round pans (I use disposable pans) with baking spray. If you are making the star for the top, take 1/2 cup of batter and add to small baking dish.

In a large bowl, using a hand held mixer, cream butter and sugar together until creamy. Add vanilla buttermilk, and eggs - and mix well.

Combine remaining dry ingredients together - the flour, cocoa, baking soda, and salt.

Add dry ingredients to mixer and mix until just combined. Add hot water and mix again.

Pour cake batter into pans, and bake for 20 minutes, or until toothpick comes out clean when inserted into middle of cake. If baking the small dish for a star, this will take less time.

Remove cakes to cooling racks.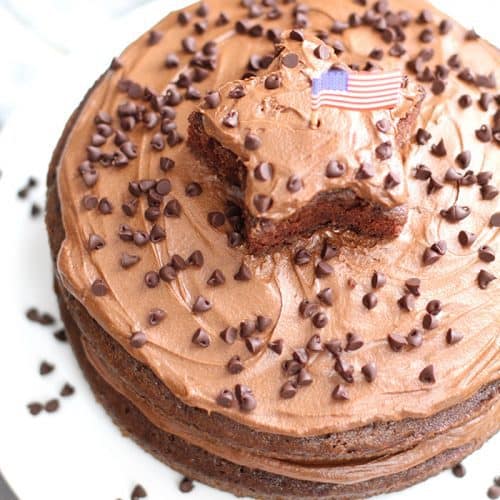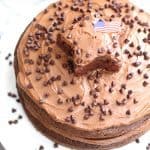 Five Minute Chocolate Frosting
Ingredients
1/2

cup

unsalted butter

- at room temperature

1/2

cup

cocoa

1

Tablespoon

vanilla

1/2

cup

heavy cream

2 1/2

cups

powdered sugar

- or to right consistency

mini chocolate chips

- for sprinkling on top
Instructions
Using a hand held mixer, cream butter for one minute. Add remaining ingredients and mix well. You may need to add more cream if frosting is too thick, or more powdered sugar if frosting is too thin.

Spread frosting on first layer of cake. Gently add second layer, and frost. Top with star (this step is optional) and frost. Sprinkle cake with mini chocolate chips.