Making a large interesting salad at the start of each week will encourage healthy eating all week long. My Italian Chopped Salad fits the bill this week, and I love having a stash in the refrigerator ready to go at any time. The creamy dressing is made with healthy ingredients and only one teaspoon of sugar. Gimme all the greens!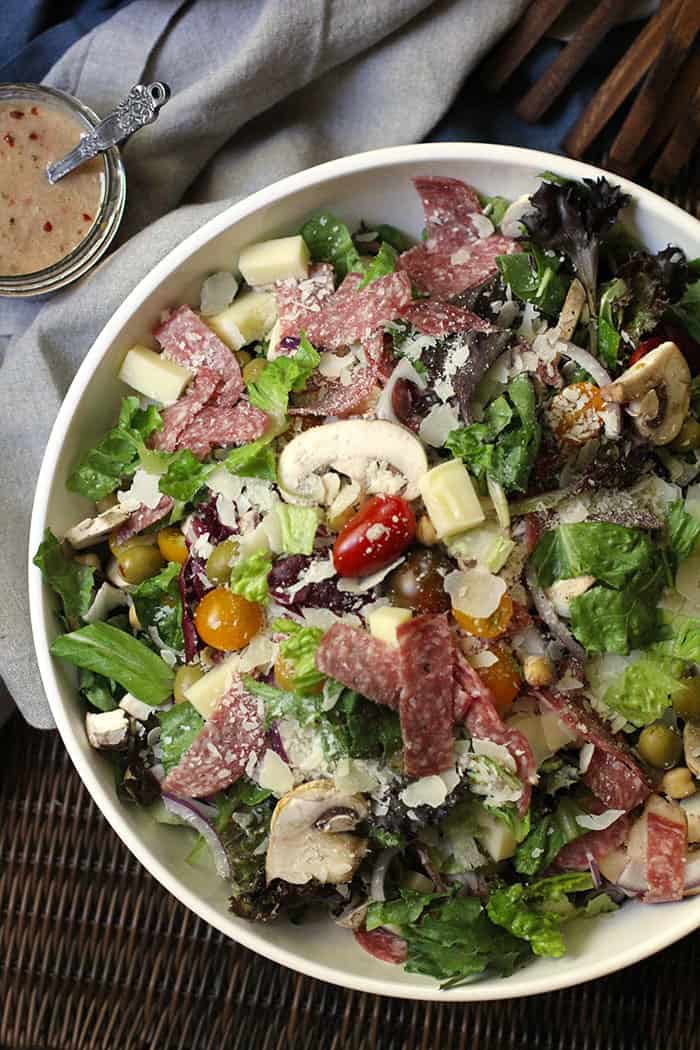 Mike and I recently went out for pizza at a new place in our area, and started out with a huge Italian Chopped Salad. It was similar to this one, and I enjoyed it SO much – maybe even more than the pizza. GASP! I knew I needed to recreate it because I get tired of the same old salads.
Variety of ingredients is key to enjoying salads. When I was in college, I ate the most dull combo over and over again – iceberg lettuce, carrots, cottage cheese, croutons, and French Dressing (remember that orange bottled dressing?). Maybe that's why I always craved candy after dinner.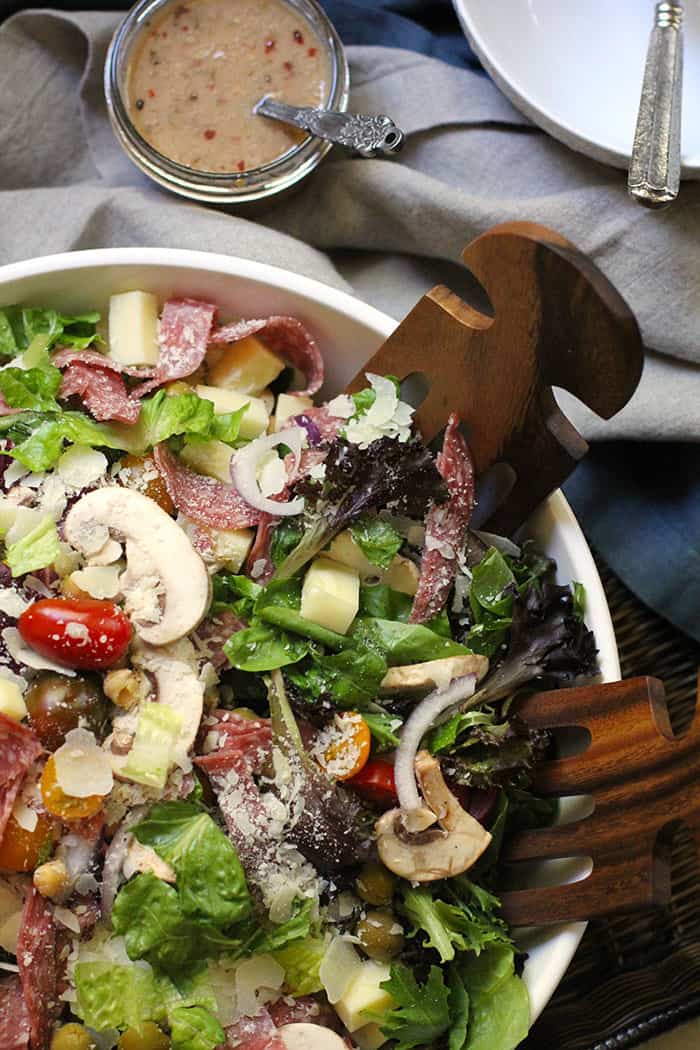 THIS salad though. Just look at all the bright, colorful ingredients!
romaine lettuce (get your salad spinner out or you can buy packaged as well)
pre-packaged Veggie Spring Mix (or something colorful with cabbage, radicchio, and other veg)
sliced mushrooms
plum tomatoes (I used a colorful variety mix)
red onion
chick peas
green olives
hard salami
mozzarella cheese
shaved parmesan cheese
You won't get bored with this salad. I promise.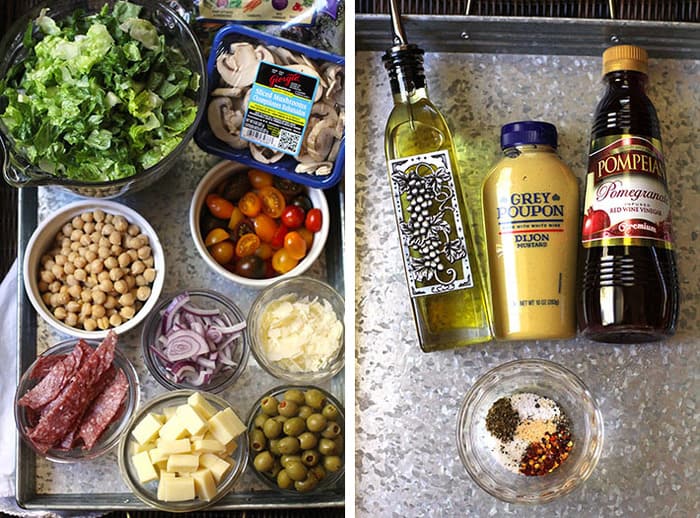 Let's talk about this Creamy Italian Dressing next.
I used two parts olive oil to one part red wine vinegar, a tablespoon of Dijon Mustard, a teaspoon of sugar, and a delicious spice combo of salt, pepper, oregano, red pepper flakes, and garlic powder. Seriously creamy and yes, JUST one teaspoon of sugar.
Skip the Ranch Dressing and go for this one.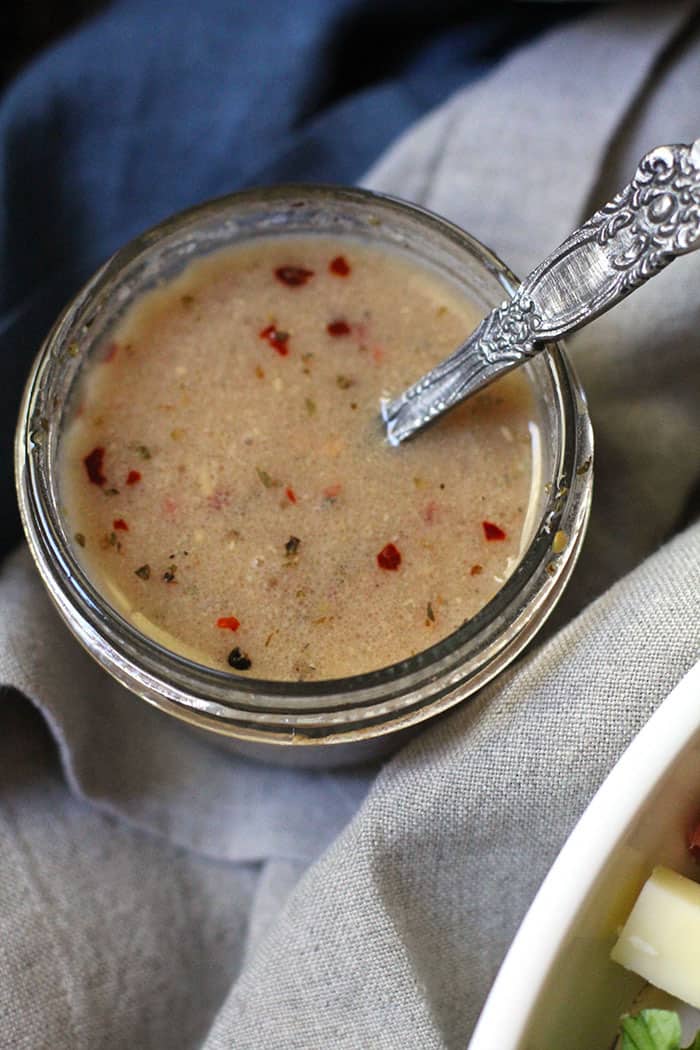 Here's what I recommend if you want to make this salad last all work week.
Buy your ingredients on the weekend.
Prep all your ingredients on Sunday. Wrap the veggies in paper towel and keep them in storage bags or containers. Make the salad dressing as well and keep everything in the refrigerator.
Mix up half of the salad on Monday at dinner time (except for the dressing), and store in airtight container.
When the first half is gone, mix up the remaining ingredients.
Enjoy it ALL week!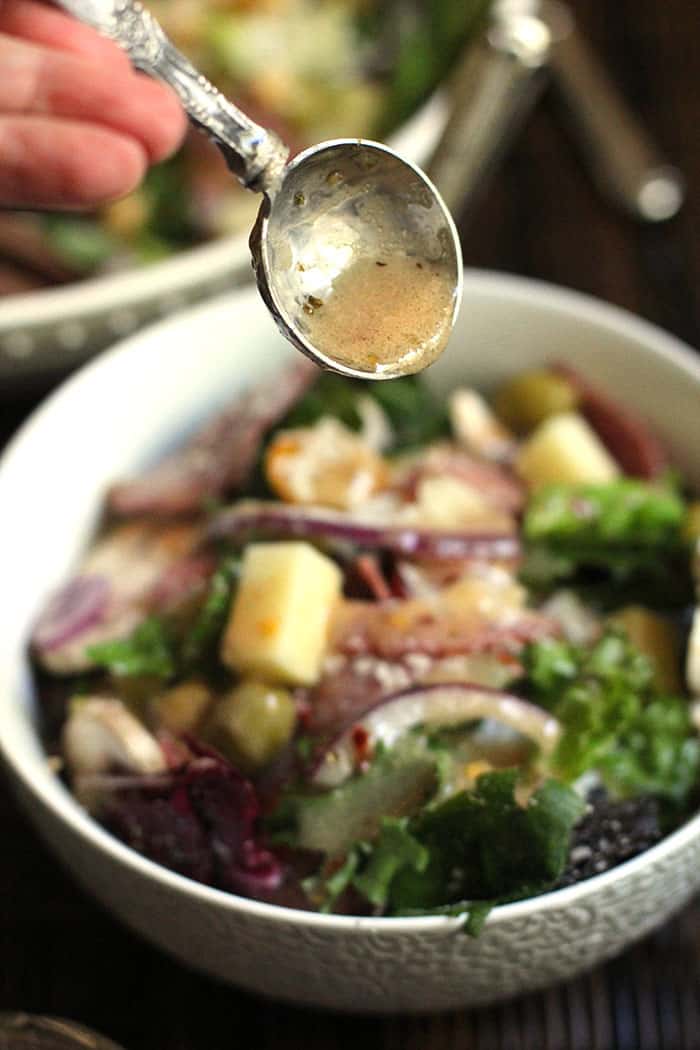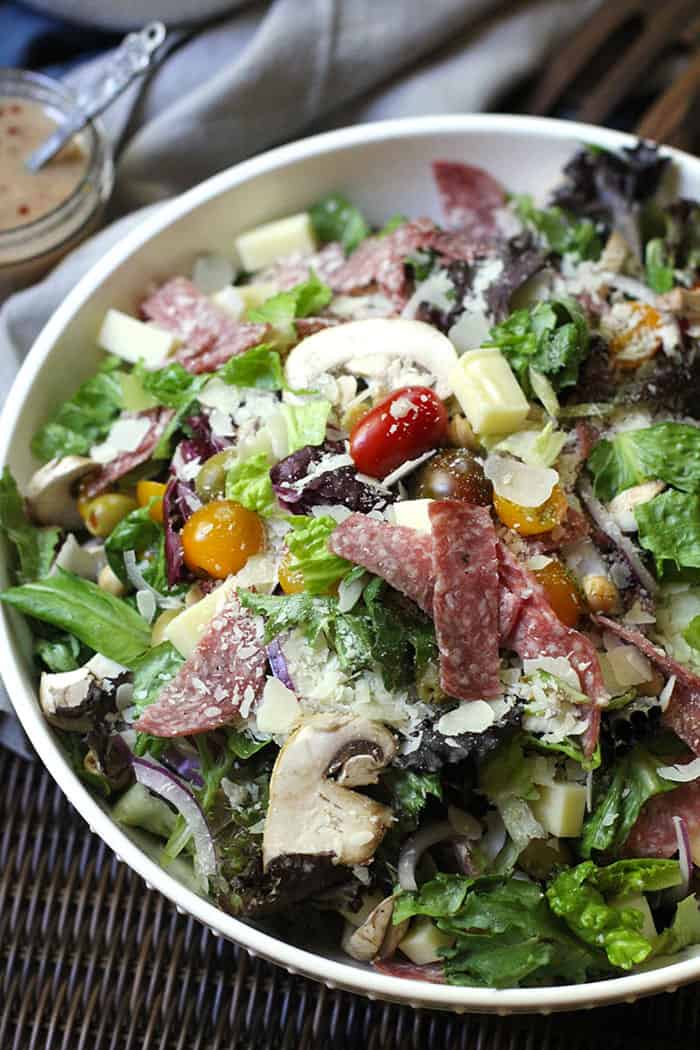 Please let me know if you try this Italian Chopped Salad with Creamy Italian Dressing, and how you like it!
You can stay up-to-date with SueBee Homemaker by:
signing up for post updates (top right-hand corner of my blog)
liking my Facebook Page
and following me on Pinterest
I'm also sharing tidbits of my life on Instagram.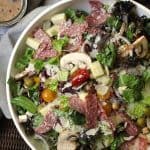 Italian Chopped Salad with Creamy Italian Dressing
Ingredients
For the salad:
10-12

cups

romaine lettuce

- cleaned and chopped

7

ounces

Veggie Spring Mix (or 1 head radicchio)

- chopped

1/4

cup

red onion

- sliced thin

1

cup

grape tomatoes

- halved

8

ounces

sliced white mushrooms

1

can

garbanzo beans

- rinsed and drained

1/2

cup

green olives

4

ounces

salami

- sliced in strips

8

ounces

mozzarella cheese

- cubed

1/2

cup

shaved parmesan cheese
For the dressing:
1/2

cup

olive oil

1/4

cup

red wine vinegar

1

Tablespoon

dijon mustard

1

teaspoon

sugar

1/2

teaspoon

oregano

1/2

teaspoon

garlic powder

1/2

teaspoon

red pepper flakes

kosher salt and freshly ground black pepper

- to taste
Instructions
For the salad: Combine all salad ingredients in a large bowl, or six main dish serving bowls.


For the dressing: Combine all dressing ingredients in a salad shaker or a mason jar. Shake well, and drizzle over salads to serve.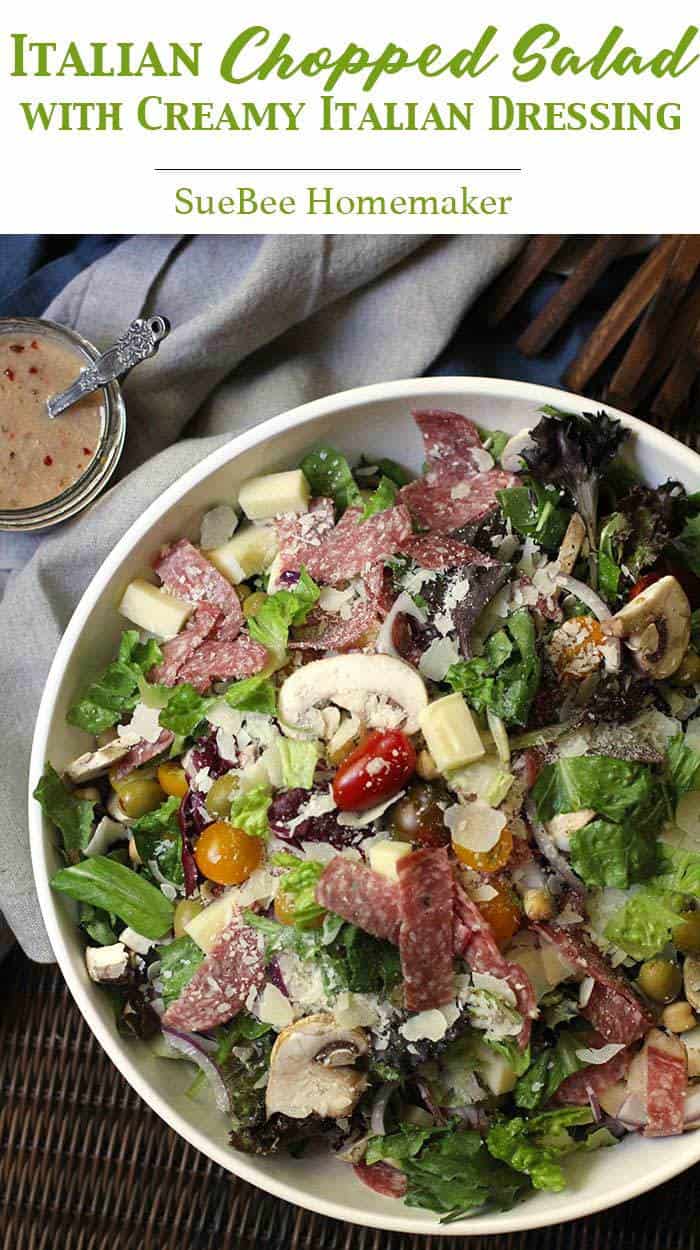 SHARE THIS POST TO YOUR FRIENDS: