Huevos Rancheros Tostadas is a classic Mexican dish, made with pinto beans, sunny side up eggs, cotija cheese, avocado slices, jalapeños, and a spoonful of salsa.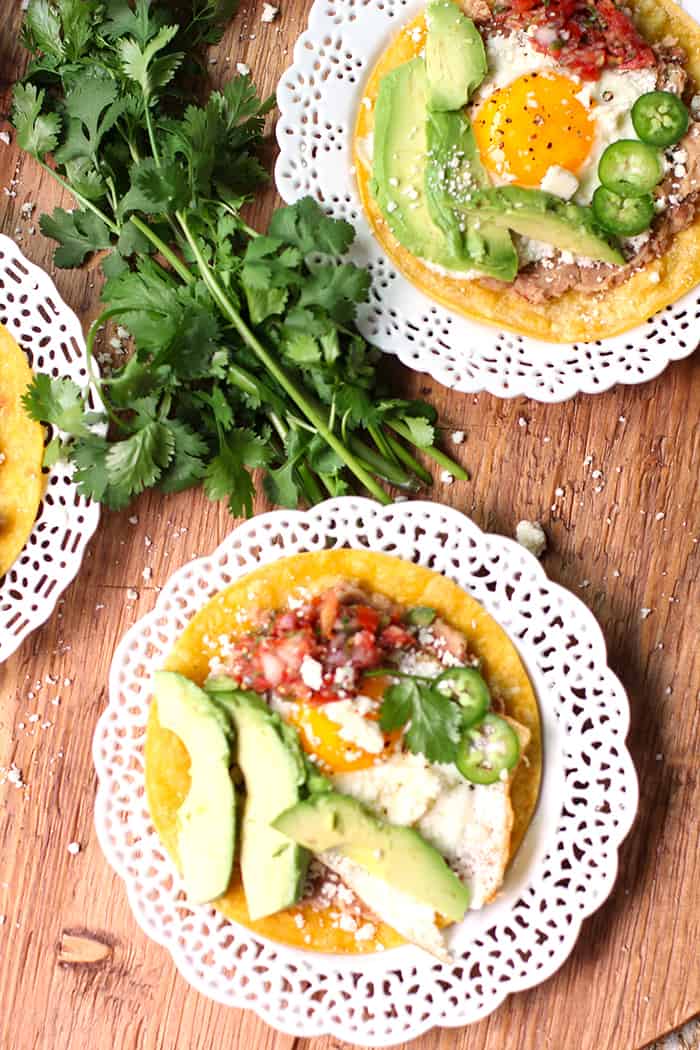 The countdown to Cinco de Mayo is on! If ya'll haven't noticed, I LOVE me some Mexican food. The spicier, the better. Jalapeños have recently become my new love, and you can find MORE of them in the following recipes.
Easy Fish Tacos with Avocado Crema
Chicken Fajita Salad with Fresh Salsa Dressing
Sweet Potato and Black Bean Quesadillas
Bacon-Wrapped Jalapeno Poppers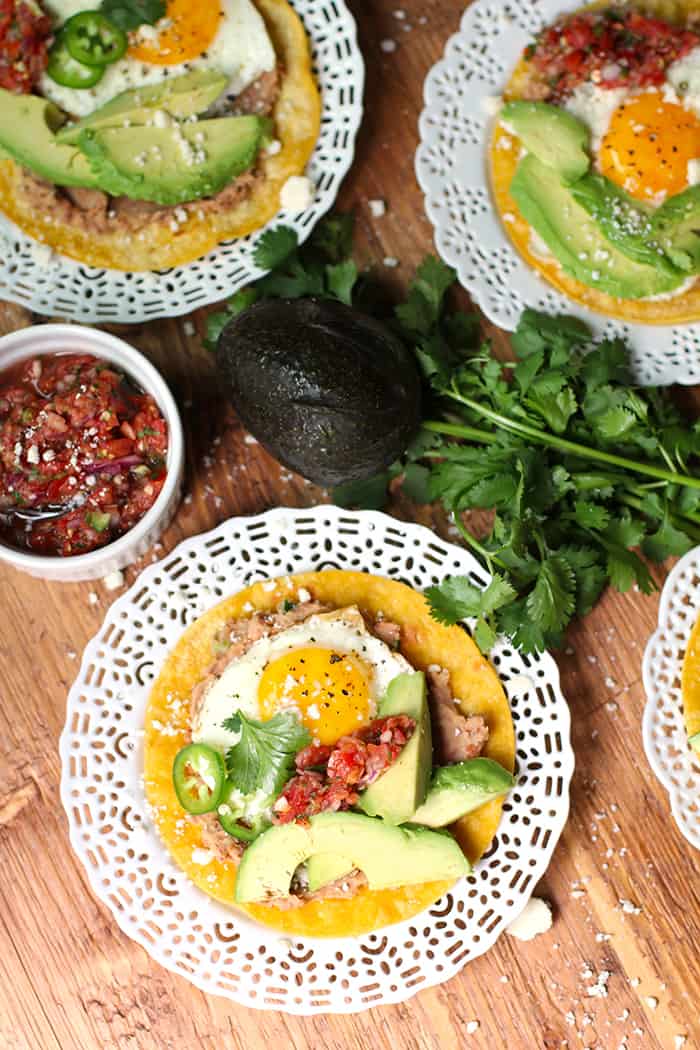 My sister, Shari, was recently visiting from California, and we made these Huevos Rancheros Tostadas together. By the way, she was my hand model for this and a few other recipes. Dainty hands run in the fam and hers look simply elegant in these photos, don't you think? 🙂
Shari and I also made a kick-butt margarita, some chunky guacamole, and our momma's Bloody Mary Cocktails. I think I'm going to hire her as my assistant, in exchange for lots of Mexican fare, heavy on the jalapeños and tequila.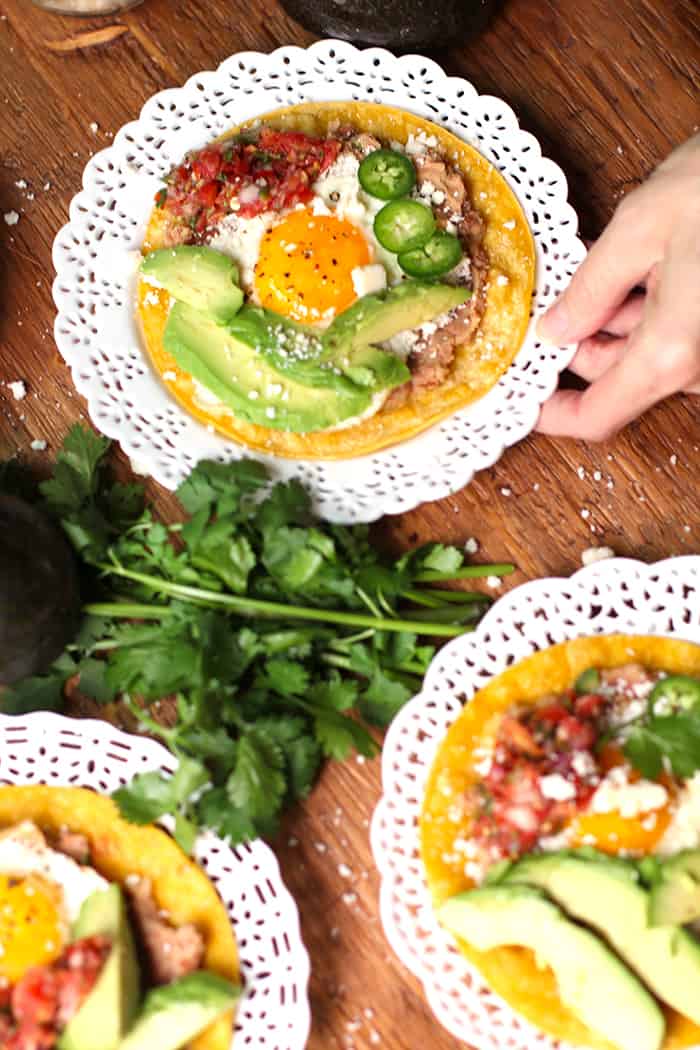 These tostadas were super easy to make. If you want to make them even easier, you could use refried beans instead of the bean mixture we made. You could also use store-bought salsa instead of my homemade version – which is truly kick-butt, in my opinion.
You can eat these tostadas for ANY meal of the day – breakfast, lunch, or dinner. Or for all three. OR – for a snack. Two of these filled me up for lunch and I was satisfied until dinner time.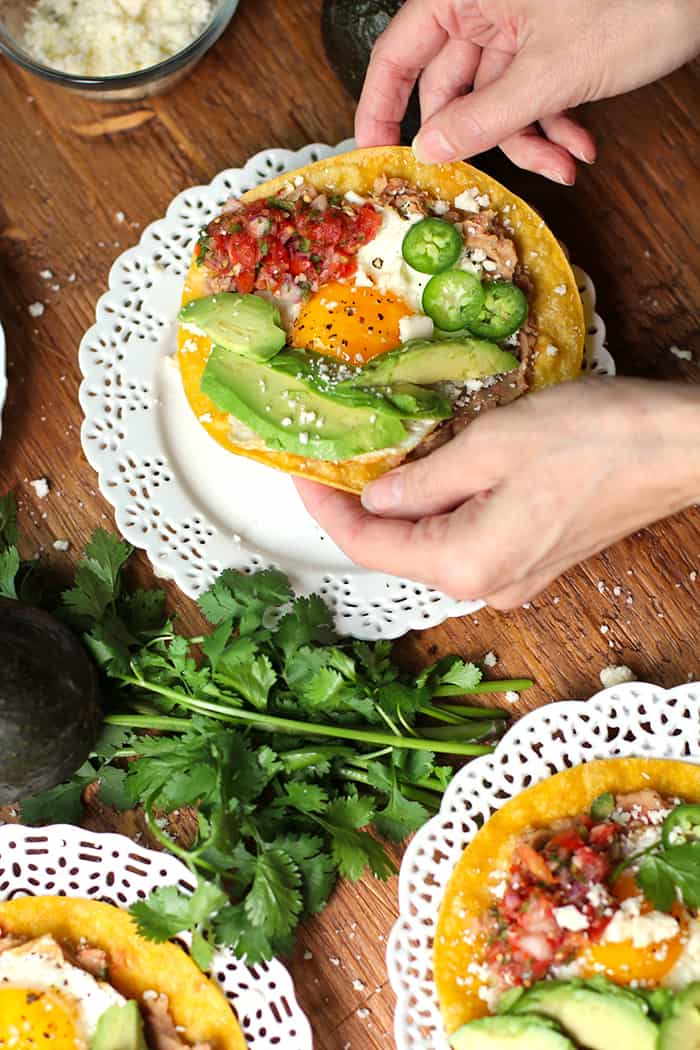 For all you history buffs out there, Cinco de Mayo is NOT Mexico's Independence Day (which is actually September 16). Cinco de Mayo is an American-Mexican holiday, celebrating the David-over-Goliath victory of a rag-tag group of unemployed Americans over the well-organized French forces of Napoleon III. This victory took place at the Battle of Puebla on May 5, 1862, under the leadership of General Ignacio Zaragoza.
SO, we started celebrating this day to educate Mexican Americans about their cultural heritage. And now, I think we celebrate as an excuse to indulge in our favorite Mexican food and drink.
Like margaritas. (coming soon..)
And guacamole. (coming soon..)
And fish tacos.
And chips and salsa.
And these Huevos Rancheros Tostadas!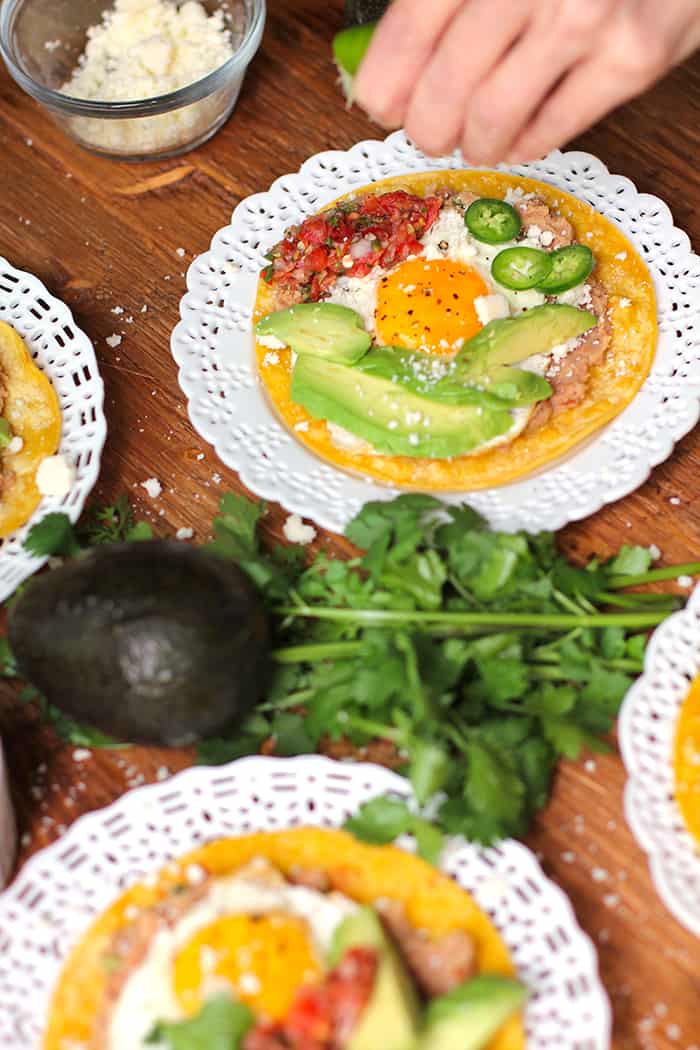 Please let me know in the comment section below if you make these Huevos Rancheros Tostadas, or any of my recipes! I love to hear from my readers. You can also tag me on social media! I'm on Facebook, Twitter, Instagram, Pinterest, Bloglovin', and Yummly. 🙂 Thanks for reading along!
AND…if you want to receive an email to notify you when I post, please sign up in the top right corner of my site! 🙂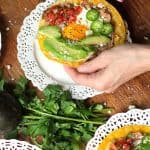 Huevos Rancheros Tostadas
Ingredients
4

6 inch

corn tortillas

1

Tablespoon

canola oil

1

15 oz.

can pinto beans

- rinsed, drained, and smashed

1/2

whole

jalapeno

- diced

1

teaspoon

cumin

1

teaspoon

red pepper flakes

1-2

whole

limes

- freshly squeezed

1

teaspoon

olive oil

- optional

4

large

eggs

1

large

avocado

- sliced

cotija cheese (crumbled)

- to serve

fresh salsa (use recipe from this site)

- to serve

jalapeno slices and cilantro

- to serve

salt and pepper

- to taste
Instructions
Add a bit of canola oil to large pan warmed to medium-high heat on stove top. Crisp up two corn tortillas at a time, flipping once to get both sides slightly browned. Remove and set aside.

Combine smashed pinto beans, jalapeño, cumin, red pepper flakes, and lime juice in small pan. Cook slightly, until beans are smooth, about two minutes. You can also cook in microwave if desired.

Using same large pan (as used for the corn tortillas), fry up four large eggs in a little bit of oil, sunny side up. This should only take a few minutes. You want the egg yolk to be soft.

To assemble, spread one fourth of pinto beans on each tostado. Top with egg, avocado slices, cotija cheese, fresh salsa, jalapeño slices, and cilantro. Add salt and pepper, and serve.

SHARE THIS POST TO YOUR FRIENDS: