How to Store Sourdough Bread
This post may contain affiliate links which won't change your price but will share a commission.
Whether or not you're making your own sourdough or bringing it home from the store or bakery, you'll need to know how to store sourdough bread for maximum freshness. There are a variety of options and I'll cover my favorites in this post.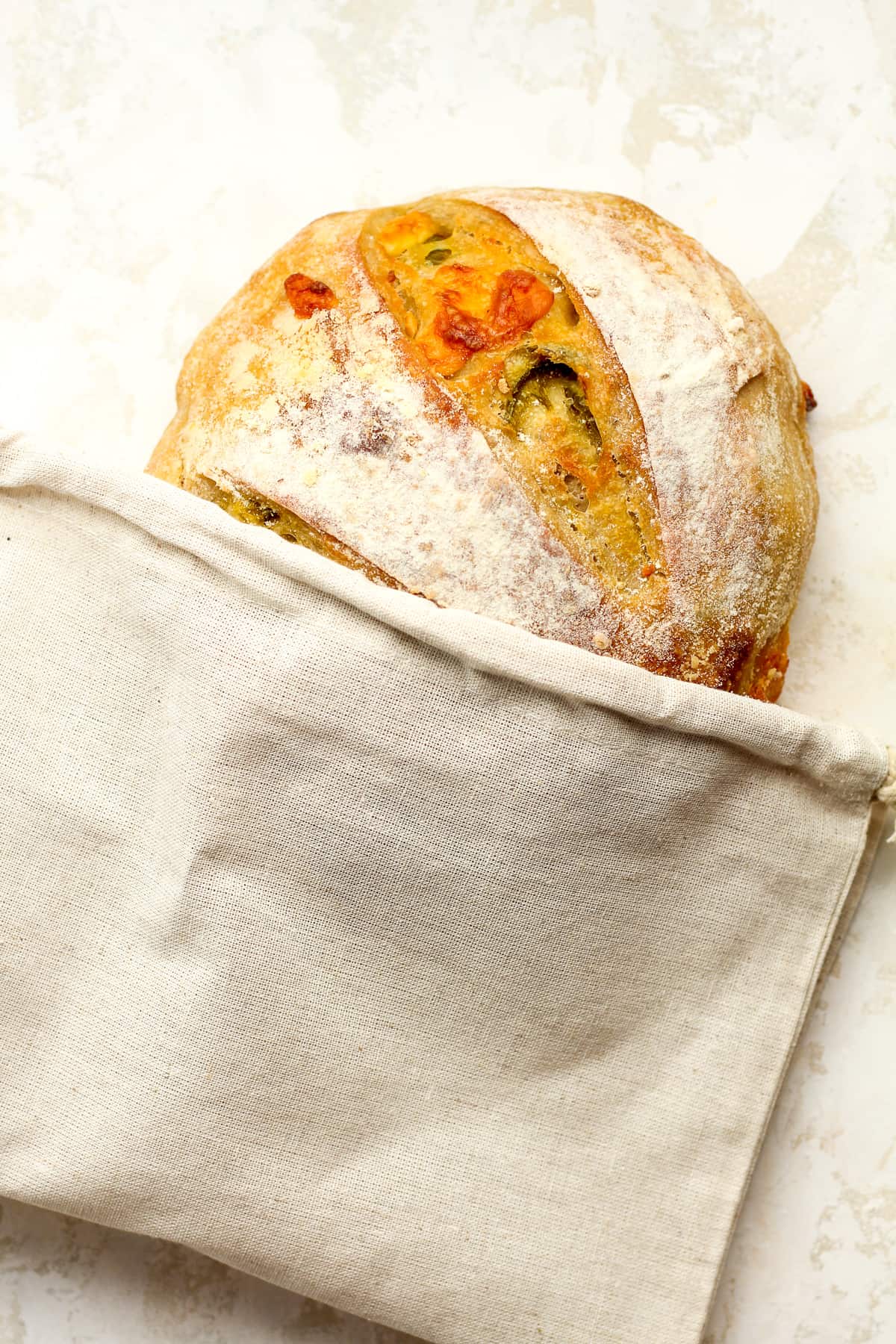 Best Ways to Store Sourdough Bread
Baking sourdough is an art, speaking from experience. I've spent the last two years developing this skill and now I really do think of it as artwork. I've grown two different starters, and am currently maintaining Justine, my starter named after my beloved grandmother.
If you have an active starter, It's a good idea to name him or her. She or he is a REAL LIVE thing (i.e. fermentation) that needs to be loved and maintained on a regular basis.
While baking with a sourdough starter isn't all that difficult once you practice a few times, it does take time and effort. So let's not let our hard work go to waste and savor every single morsel of sourdough. Let's focus on a longer shelf life for this incredible bread!
One thing to keep in mind is that homemade sourdough lasts longer at room temperature than MOST homemade breads. The good bacteria in sourdough breaks up some of the starch molecules, decreasing the rate of staling.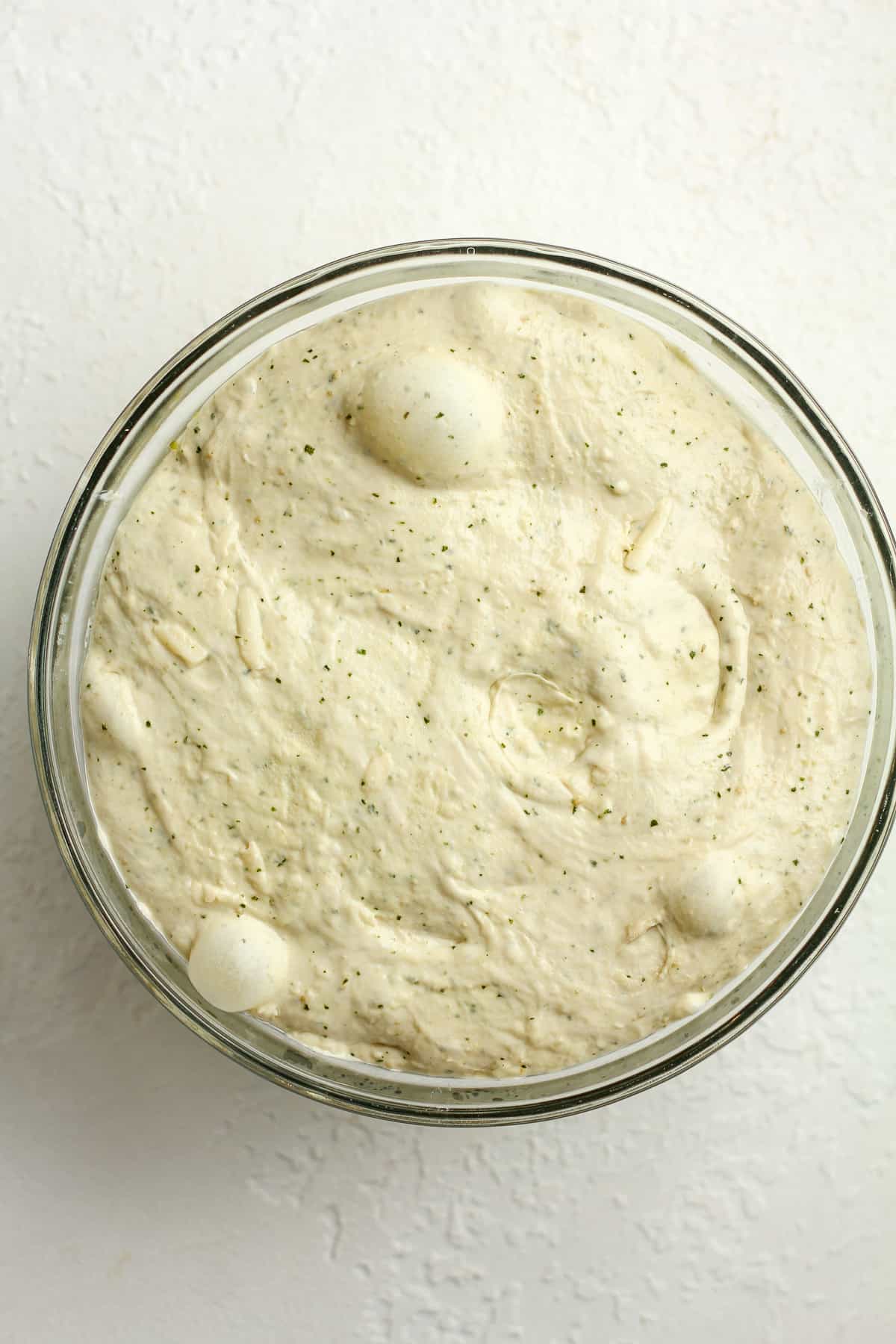 Why does bread go stale?
Now I completely understand why my mother made fresh bread the day of a gathering, bake sale, or church event. She knew that maximum freshness meant right out of the oven!
In actuality, the moisture in fresh bread immediately starts moving outward toward the crust. Staling starts in soon after the bread cools, losing the crispy crust and the chewy, soft interior.
During the staling process, two things happen.
Moisture moves into the crust.
Starch converts to a different form.
While stale bread doesn't taste good, mold is a whole other thing. It's dangerous to eat and should always be tossed in the garbage.
Best Ways to Store Sourdough
First of all, NEVER store fresh bread in the refrigerator. The cool temperature will speed up the staling process.
Here are options for answering the big question. How to Store Sourdough Bread?
FREEZER. The best way to store sourdough is actually in your freezer. After I bake it and let it completely cool, I slice it and place in a freezer bag. Placing small sheets of parchment paper, aluminum foil, or plastic wrap between each slice helps to keep the slices from freezing together as well. To avoid freezer burn over time, make sure you squeeze as much air out of the bag and use it within a reasonable amount of time (a couple of months).
BROWN PAPER BAG. Using a paper bag helps to keep the loaf of sourdough bread fresh and is a great way to store bread at room temperature.
A BREAD BOX. While I don't personally use one, I know people have success with keeping their bread fresh in a bread box. The Brabantia Bread Box looks like a good one to try and you can store a couple of loaves at once.
You can store entire loaves of bread or half loaves, cut side down.
ON A CUTTING BOARD. This may seem crazy, but if the humidity levels in your house aren't too high, you can place partial loaves cut side down on a cutting board for a day. It's a good way way to have the fresh bread handy for a gathering of some kind.
LINEN BAGS. Linen is a breathable and durable fabric that provides an excellent environment for storing fresh bread. Since it's a natural product, using and reusing a linen bag is a more ethical choice than plastic. Unlike plastic bags, linen bags allow the bread to 'breathe', thus keeping the crust crisp.
PLASTIC BAGS. While this isn't the best choice, you should be able to store your sourdough in storage bags on your countertop for a couple of days. Make sure you squeeze all of the air out of the plastic bag by folding it over and then seal the bag.
PRO-TIP: Always let your bread cool on baking racks for about an hour before slicing and two hours before storing.
My Favorite Ways to Use Bread that is Stale (but not moldy):
The good news is that a sourdough loaf that goes a bit stale can still be used in many different ways, including the following!
French Toast – Use it in my Blueberry French Toast Casserole or a simple Overnight French Toast Casserole.
Bread Salad (Panzanella)
Paninis – Try this simple Roasted Vegetable Pesto Panini!
Croutons
Stuffing – My mom's Thanksgiving Stuffing Recipe is a good way to use up sourdough bread!
Favorite Sourdough Recipes:
I'd be remiss to avoid the big question. What are your favorite sourdough recipes? Here are my top five and all are fairly simple recipes for you to try!
Chocolate Sourdough Bread – coming soon!
I've got even MORE sourdough bread recipes on the blog and MORE coming soon!
Storing Tools: (affiliate links)