Honey Sriracha Chicken Kabobs are THE perfect summer grillin' recipe. Healthy, easy to prepare, and unbelievably sweet-and-spicy delicious! I've been on a big honey sriracha kick lately and so my family is too – and they love it! 🙂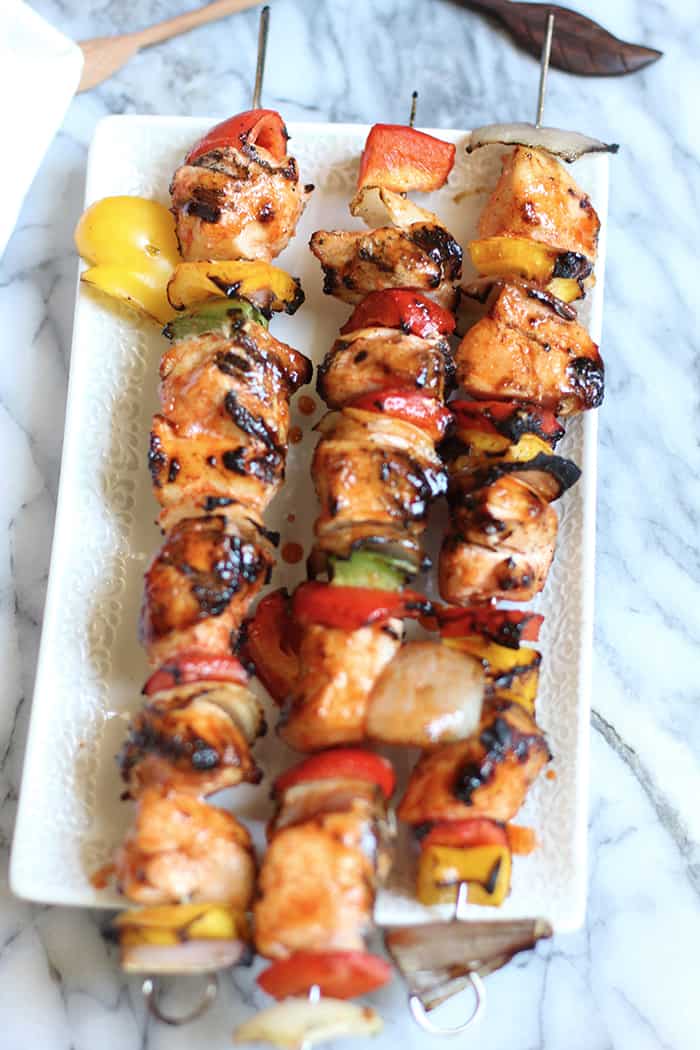 I love summer grilling. Since we live in Texas, we can pretty much grill all year round. But there is something about summertime.
hot, sticky weather
the pool just inviting us in
the taste of a cold beer alongside the grill
special guests to feed
listening to the Beach Boys and remembering the good ole' days 🙂
and the smells of a grill cooking up something yummy for dinner
I'm in. I'm all in for summer grilling.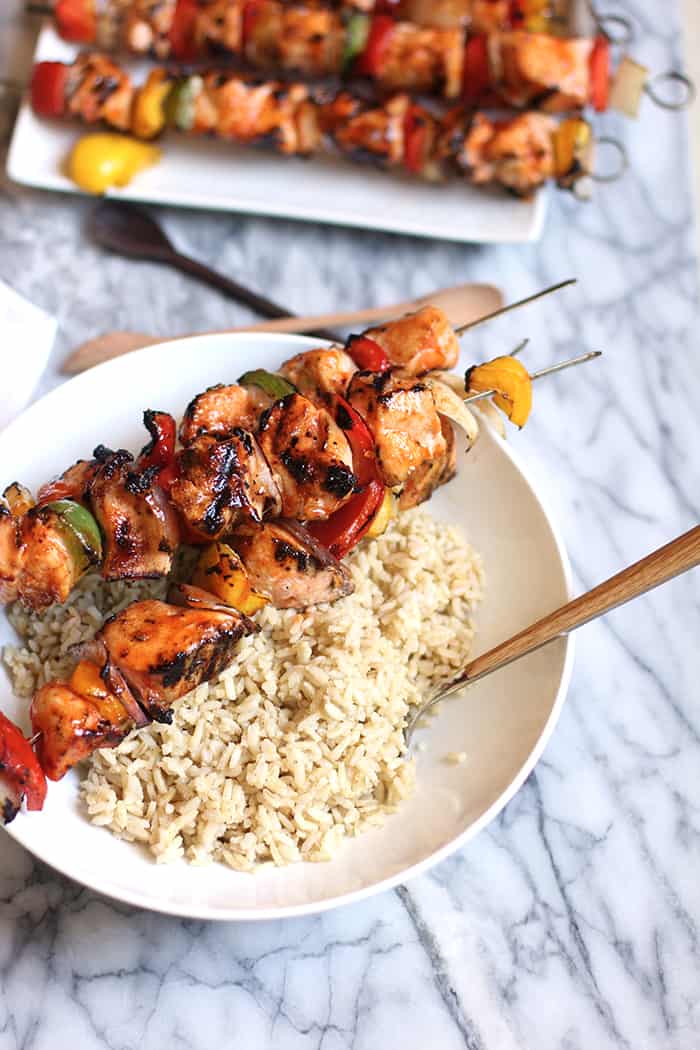 Since I'm a fairly new blogger, I'm trying to build up my grilling recipes, slow but steady. I've already got a couple of favorites on here, like my Spicy Jalapeño Burgers and my Beef Vegetable Shish Kabobs. It's definitely time for some chicken recipes, because that's what I make most.
I've made several other recipes on the grill lately, but the photos didn't turn out to my liking. I'm pretty fussy when it comes to my photography, and if the meat doesn't look JUST right, I'm going to serve it to my family but delete the pics – making a note to re-make it. I've got more of those than I care to admit.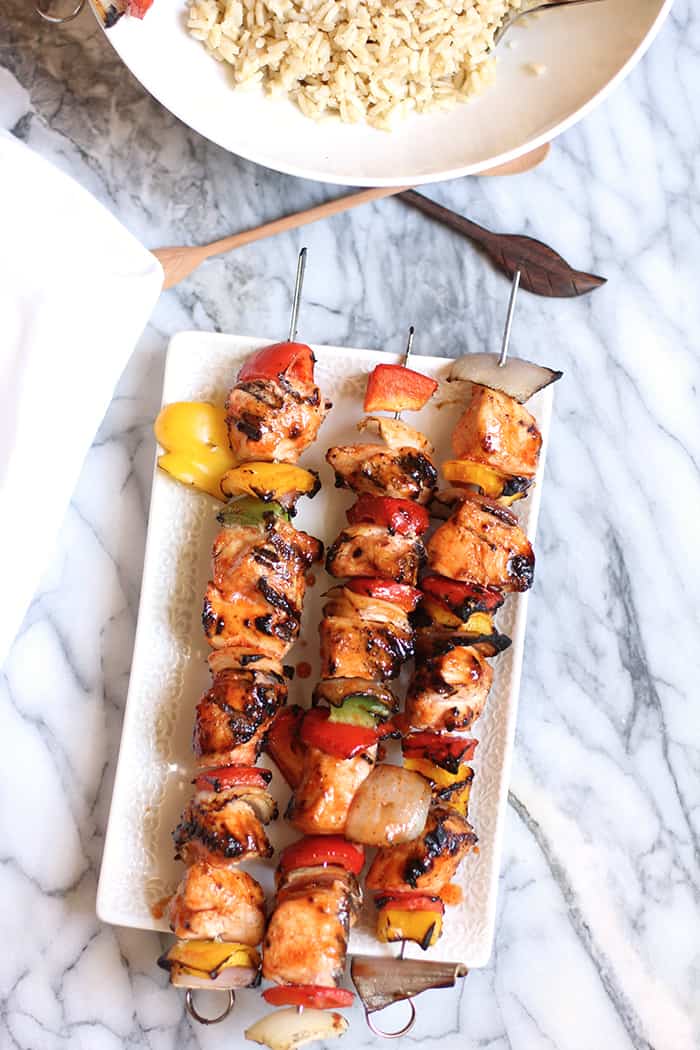 We are on a honey sriracha kick lately. I've used it to marinate shrimp, salmon, and now these chicken kabobs. The taste is both sweet and spicy, both of which I love dearly – but are SO good together. I was surprised when I made these, along with my Hawaiian kabobs – that my honey sriracha went first. Even Mike loved them, who tends to be more of a SWEET person (well, sometimes!) and usually likes mild spice!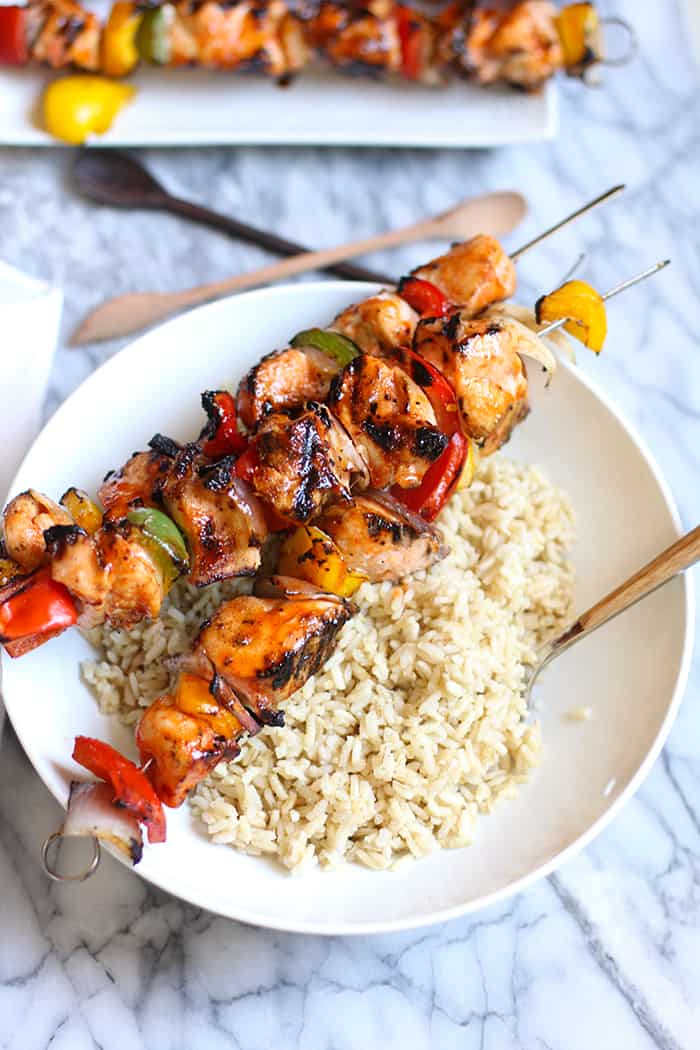 There is only ONE thing I don't like about summer grilling when it involves blogging. You have to grill early in the day if you want your photos to turn out well. Because natural light is ALWAYS the best light.
I ended up grilling these kabobs on a Friday around noon. I actually left coffee with friends EARLY (because our coffees our usually lengthy – so we can solve ALL the world's problems…ha!) to get started cooking and still have time to take some pics in natural light.
Two more things to note:
We LOVE our BGE (Big Green Egg)!! So much.
I don't do coffee with my friends every day, only when we can juggle our schedules. Just wanted to clarify! 🙂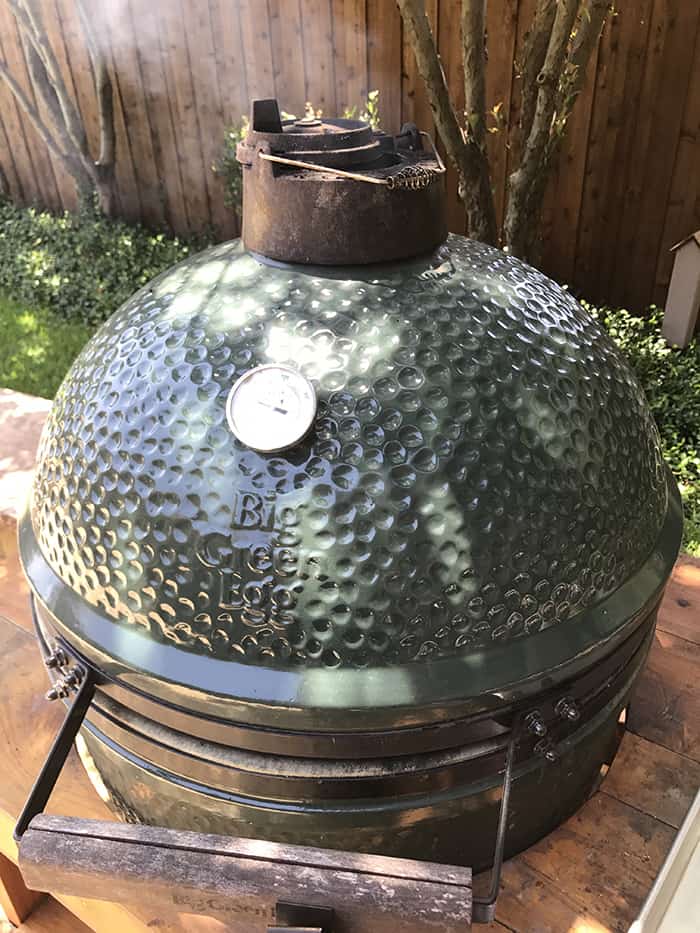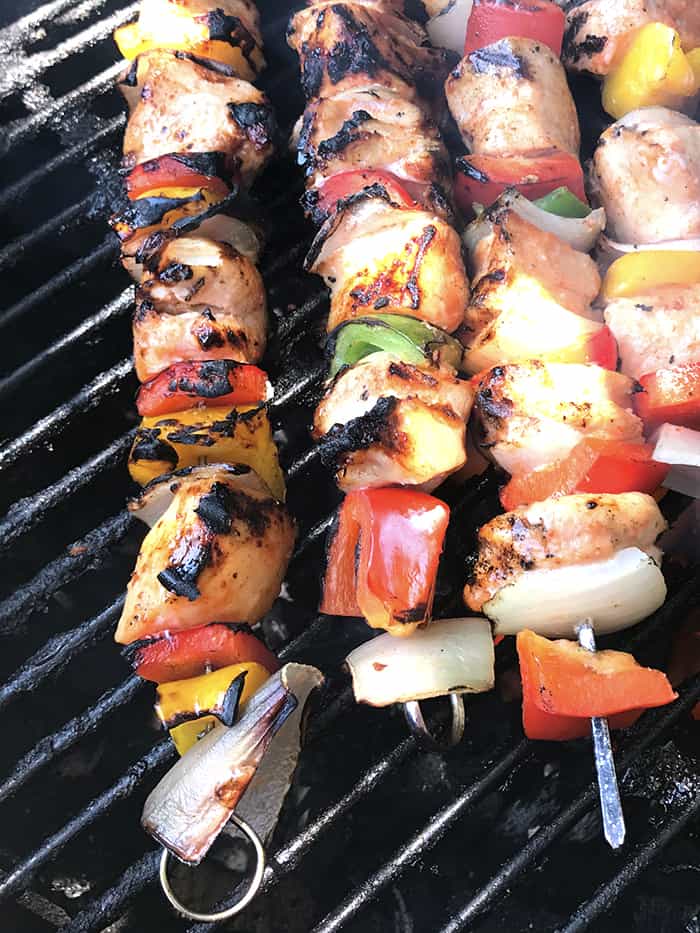 Please let me know if you try these Honey Sriracha Chicken Kabobs, and how you like them (or not)!
You can stay up-to-date with SueBee Homemaker by signing up for post updates (top right-hand corner of my blog) or liking my Facebook Page. I'm also sharing tidbits of my life on Instagram. 🙂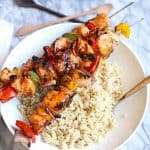 Honey Sriracha Chicken Kabobs
Ingredients
2

pounds

boneless, skinless chicken breasts

- cubed

1/2

large

yellow onion

- cubed

1/2

large

red bell pepper

- cubed

1/2

large

green bell pepper

- cubed
For the marinade:
1/3

cup

honey

1/3

cup

Sriracha

2

Tablespoons

rice vinegar

1

teaspoon

red pepper flakes

salt and pepper

- to taste
Instructions
Cut chicken breasts into one inch cubes. Place in gallon sized freezer bag or airtight container. Cube onion and bell peppers and store in refrigerator.

In a mixing bowl, combine honey, Sriracha, rice vinegar, red pepper flakes, and salt and pepper.

Reserve 1/2 cup marinade in small bowl and set aside. Pour remaining marinade over cubed chicken breasts.

Place chicken in refrigerator for at least two hours, or overnight.

Let chicken reach almost room temperature before grilling. Skewer chicken and vegetables.

Light grill to 375 degrees. Grill skewered chicken and veggies until done, approximately 7-8 minutes per side.

Serve over rice, and drizzle reserved marinade if desired.

SHARE THIS POST TO YOUR FRIENDS: