I'm updating this Chocolate Zucchini Muffins post since it was originally done last September, before my blog went live. I've learned a ton about photography since then, and the old pictures needed to be edited and lightened up. Taking pictures of food is much easier than taking pictures of people because food doesn't move. But I still have a lot more to learn.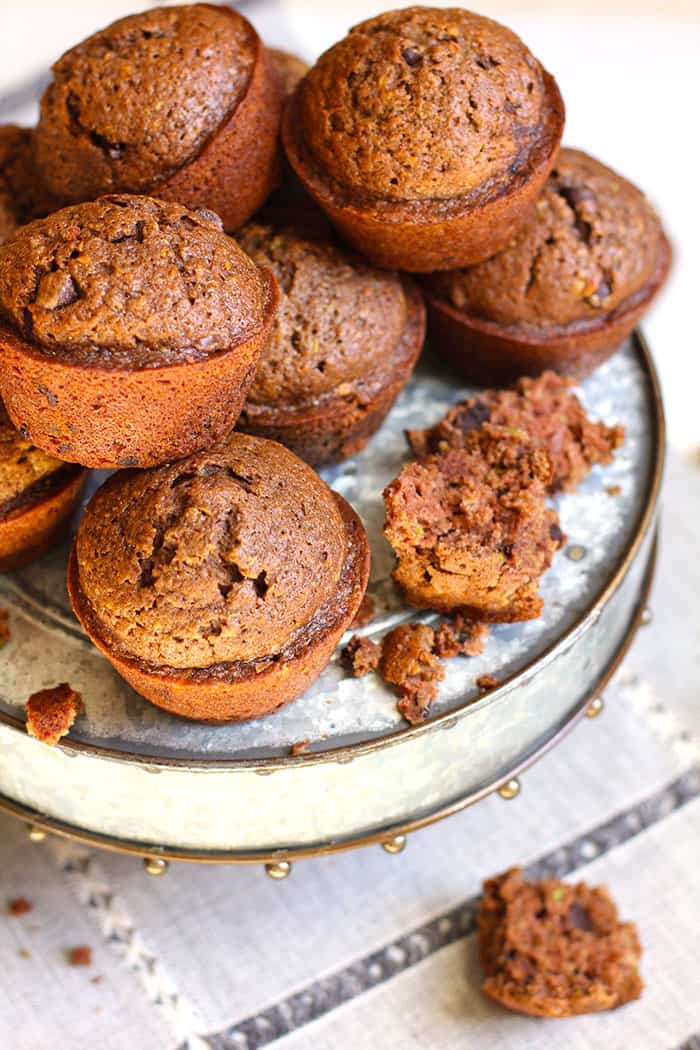 This is another recipe from Norma Jean's Kitchen. My Mom believed in GIGANTIC muffins, and I love that one of these is almost always enough.
When I first started making these muffins, my family was a little nervous about the "zucchini" part when describing them. But after just a couple of bites, my boys were all hooked. They'd say, "Mom, can I have another one of those HEALTHY zucchini muffins?" haha. But I'd like to believe that the zucchini cancels out some of the sugar and fat. That's my story and I'm sticking to it!
There are a couple of tips to making perfect Chocolate Zucchini Muffins.
Don't skimp on the zucchini. That's what makes them SO moist.
Be careful when melting the chocolate to avoid burning it. I always cook for two minutes at 50% power in the microwave and then let it sit a bit before stirring. If you overcook it, it will be stringy and the muffins won't be chocolatey (bummer)!
Add a teaspoon or two of flour to the chocolate chips before adding them to the mixture. This will ensure that all the chips don't sink to the bottom of the muffins.
Watch the oven really closely when they are close to being done. We like the centers just a tiny big gooey.
Make sure you use jumbo muffin tins so you only need to eat one!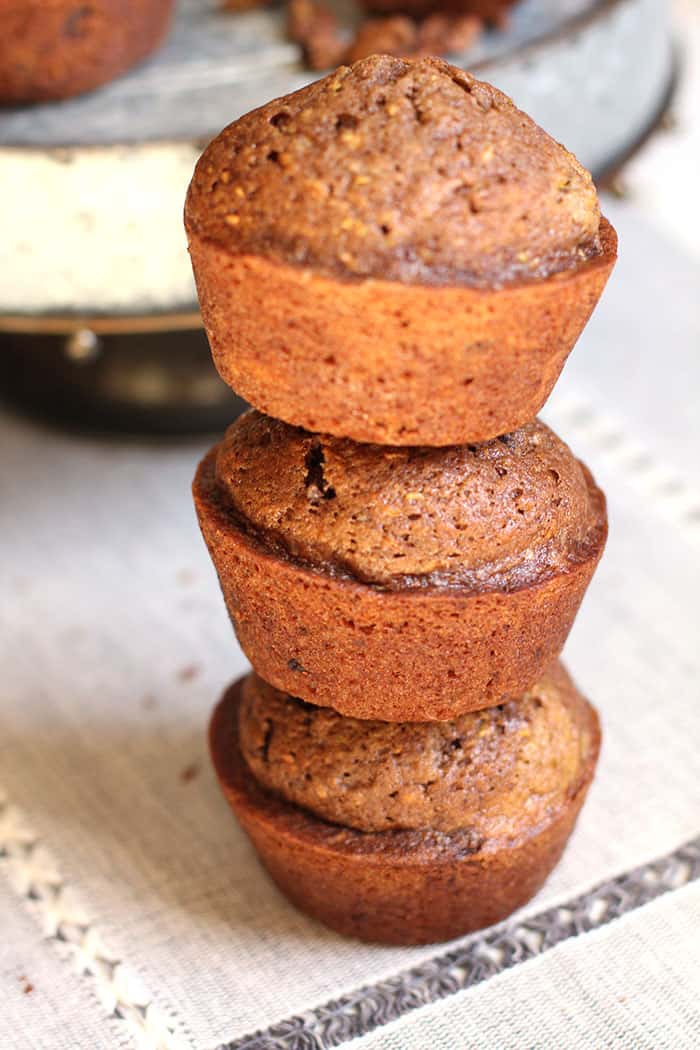 Mom used to make these and freeze them for our family vacations to Lake Okoboji. She'd warm them up, cut them in half, and slather some butter on them. Because they don't have enough calories already!
No wonder I LOVE butter so much. Speaking of which, have you tried my Chocolate Peanut Butter Banana Muffins or my new favorite lightened-up Banana Nut Bread? 🙂
Most of my friends already have this Chocolate Zucchini recipe. One year for Christmas, I made OODLES (that's an Iowa word, I think!) of chocolate zucchini bread and gave them as Christmas presents with the recipe attached. Yes, you can make this recipe into loafs. And yes, Merry Christmas everyone!! You now have one of my favorite all-time Norma Jean recipes at your fingertips.
You're welcome! 🙂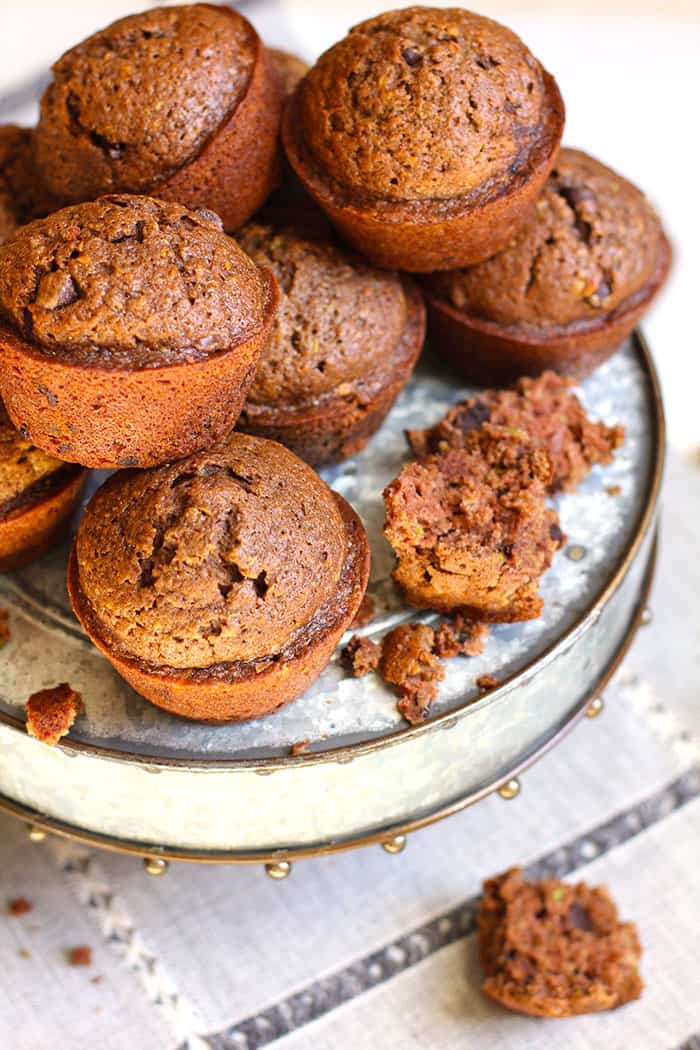 Chocolate Zucchini Muffins
a delicious muffin with a blend of fresh zucchini and decadent chocolate
Servings
:
12
large muffins
Ingredients
3

eggs

at room temperature

2

cups

sugar

1

cup

canola oil

1

teaspoon

vanilla

3

cups

flour

2.5

cups

shredded zucchini

1

teaspoon

salt

1/4

teaspoon

baking powder

1

teaspoon

baking soda

2

oz.

unsweetened chocolate, melted

1

cup

chocolate chips

2

teaspoons

flour

add to chocolate chips
Instructions
In a large standing mixer, add eggs and beat.

Add remaining ingredients, except for the unsweetened chocolate and the chocolate chips. Mix well.

Melt the unsweetened chocolate in microwave cooking it at 50% power for approximately 2 minutes, depending on microwave. Be careful not to burn! Add to mixture.

Mix 2 teaspoons flour with chocolate chips to prevent them from sinking to bottom of pan and then add to mixture. Stir gently.

Pour into extra large muffin pans that have been sprayed with Pam. Fill about 3/4 full.

Bake on 350 degrees for 25-30 minutes or until toothpick comes out clean. Watch them very close so you don't over-bake.

These freeze well.
SHARE THIS POST TO YOUR FRIENDS: