Classic Chicken Parmesan Recipe
This post may contain affiliate links which won't change your price but will share a commission.
My Classic Chicken Parmesan Recipe is lightly sautéed in oil and then finished off in the oven. Serve this delicious chicken over pasta or veggies, and use my homemade marinara sauce for an even healthier spin!
Looking for other chicken recipes? Try our Grilled Chicken Skewers or these Chicken Hummus Bowls.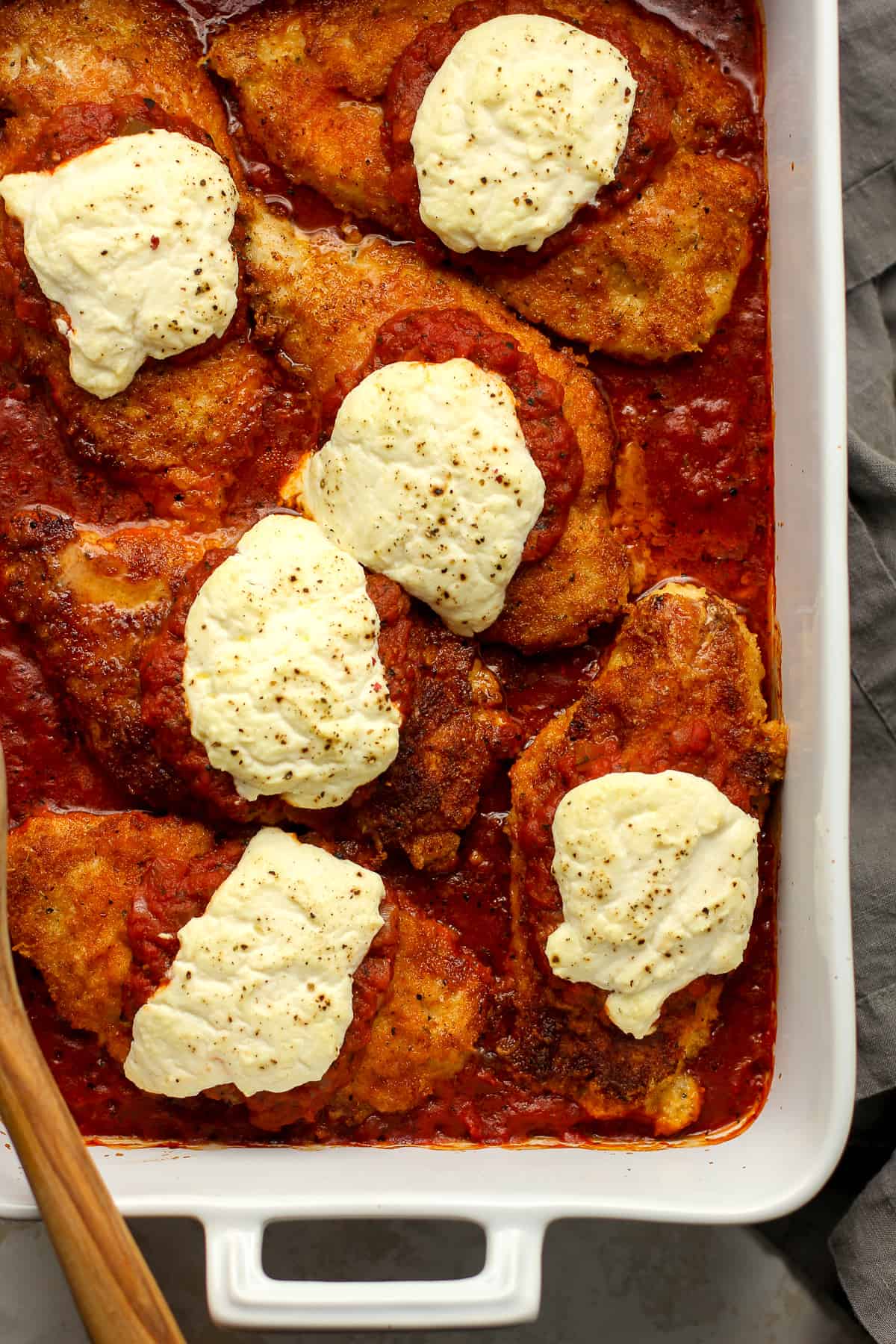 Chicken Parm Recipe
Italian food is my "second favorite" cuisine after Tex-Mex, but it's a very close second. I'm pretty sure I could live on pizza and pasta, with some ricotta, parmesan, and mozzarella cheese thrown in. I love creating new recipes and sharing with my family, because food is what brings us together. So here you go, fam. Let's eat Chicken Parm!
This is a classic recipe that I've made several times, but just never wrote it down. You will probably see many others that are similar because it is a classic. However, I prefer using ricotta cheese instead of the more classic mozzarella cheese on top.
I recommend making my Homemade Marinara Sauce instead of using store-bought sauce. The flavor is outstanding, it's quick and simple, and it makes a fairly large amount. Some for this recipe and then some to freeze.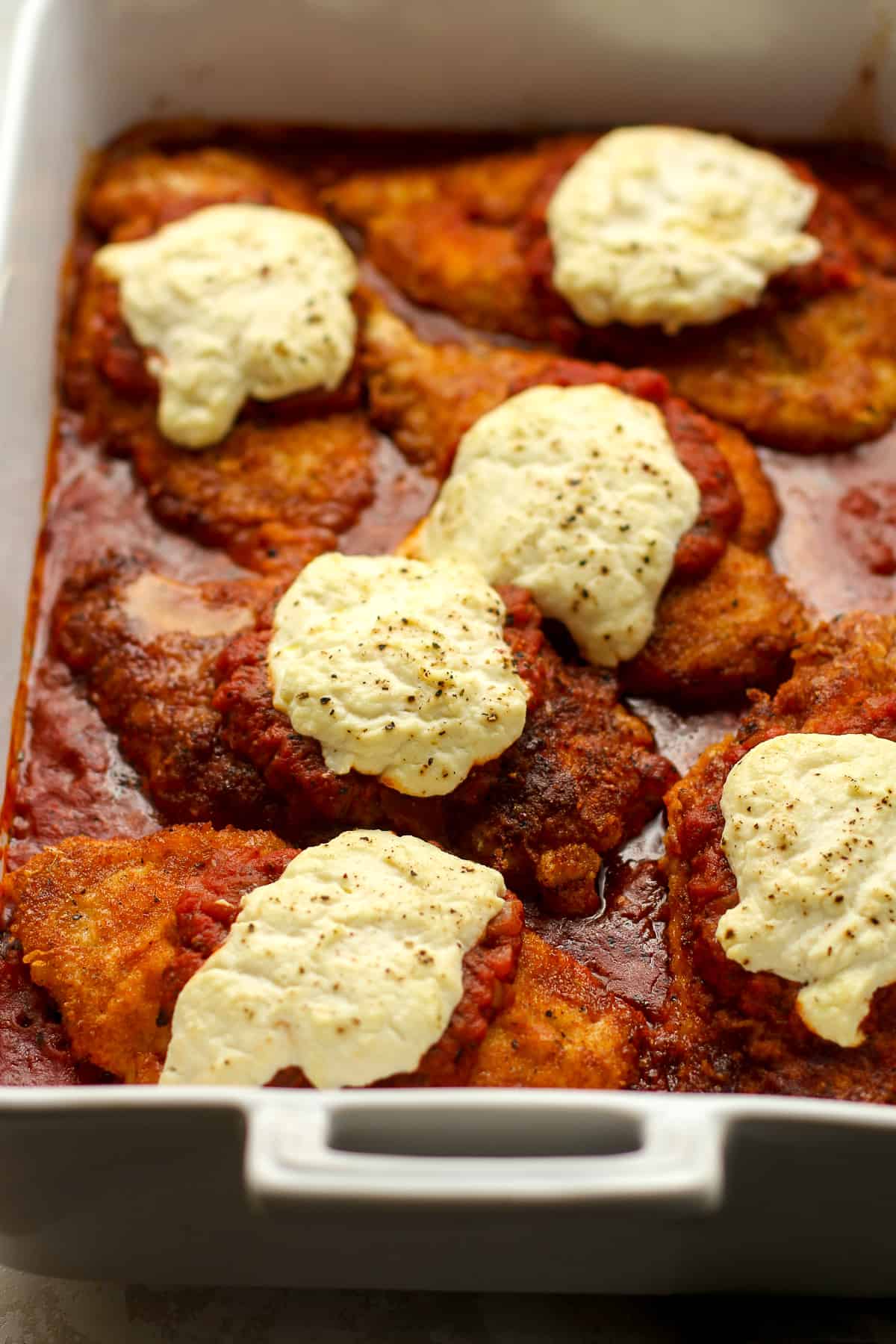 Ingredients needed for Classic Chicken Parmesan:
Chicken – This recipe calls for three chicken breasts, butterflied and cut in half. See pictures below. If you are using extra large chicken breasts, you may want to pound them to make them thinner.
Flour – Use all-purpose flour.
Eggs – Just two eggs needed.
Bread Crumbs – I used Italian bread crumbs, but you could use Panko, or even a combination.
Parmesan Cheese – For best results, use a block of parmesan cheese and freshly grate it.
Seasonings – Kosher salt and freshly ground black pepper.
Avocado Oil – Avocado Oil works best because of its high smoke point. You could also use canola oil.
Marinara Sauce – You can use store-bought sauce, or try my homemade version for a healthier spin.
Cheese – Use either ricotta cheese or a shredded mozzarella cheese.
To serve – This classic dish is normally served over spaghetti, but you could serve it over veggies too like zucchini noodles or spaghetti squash.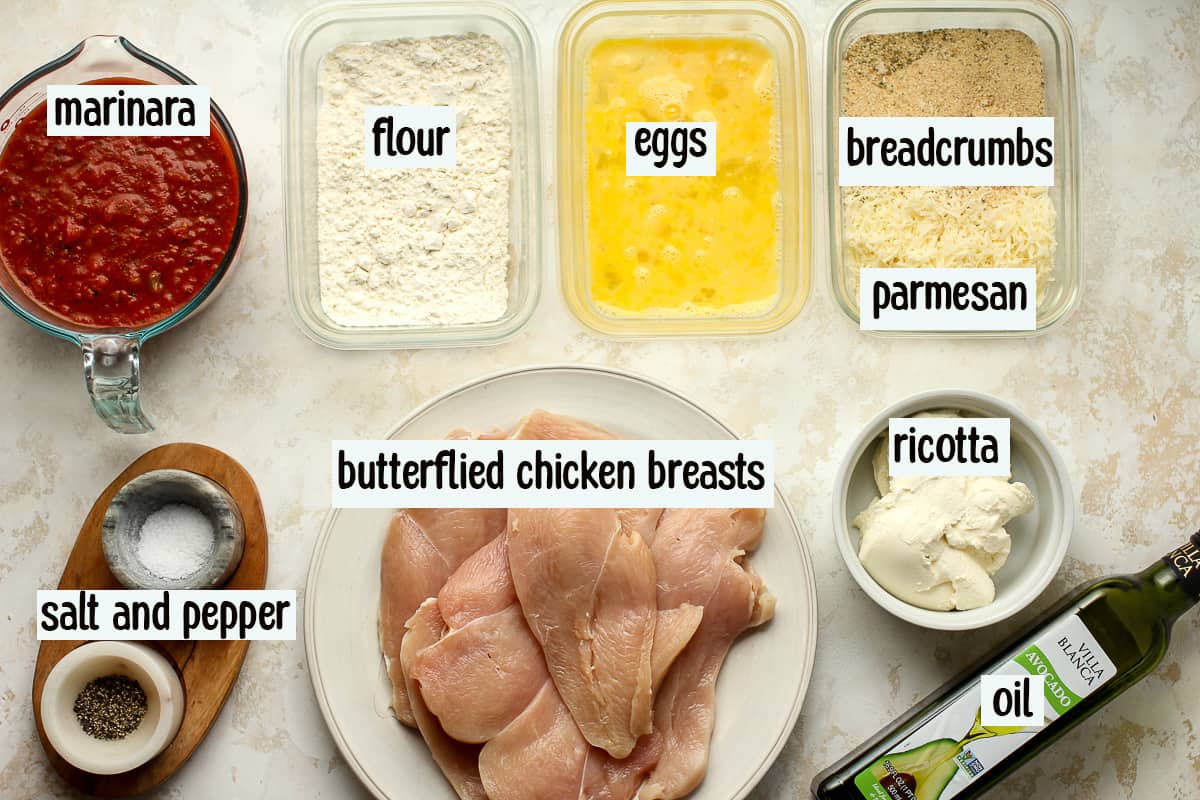 How to make Classic Chicken Parmesan:
Step 1
Prep. Preheat oven to 400 degrees. Prepare a large baking dish with about two cups of marinara sauce. Spread to all sides of dish.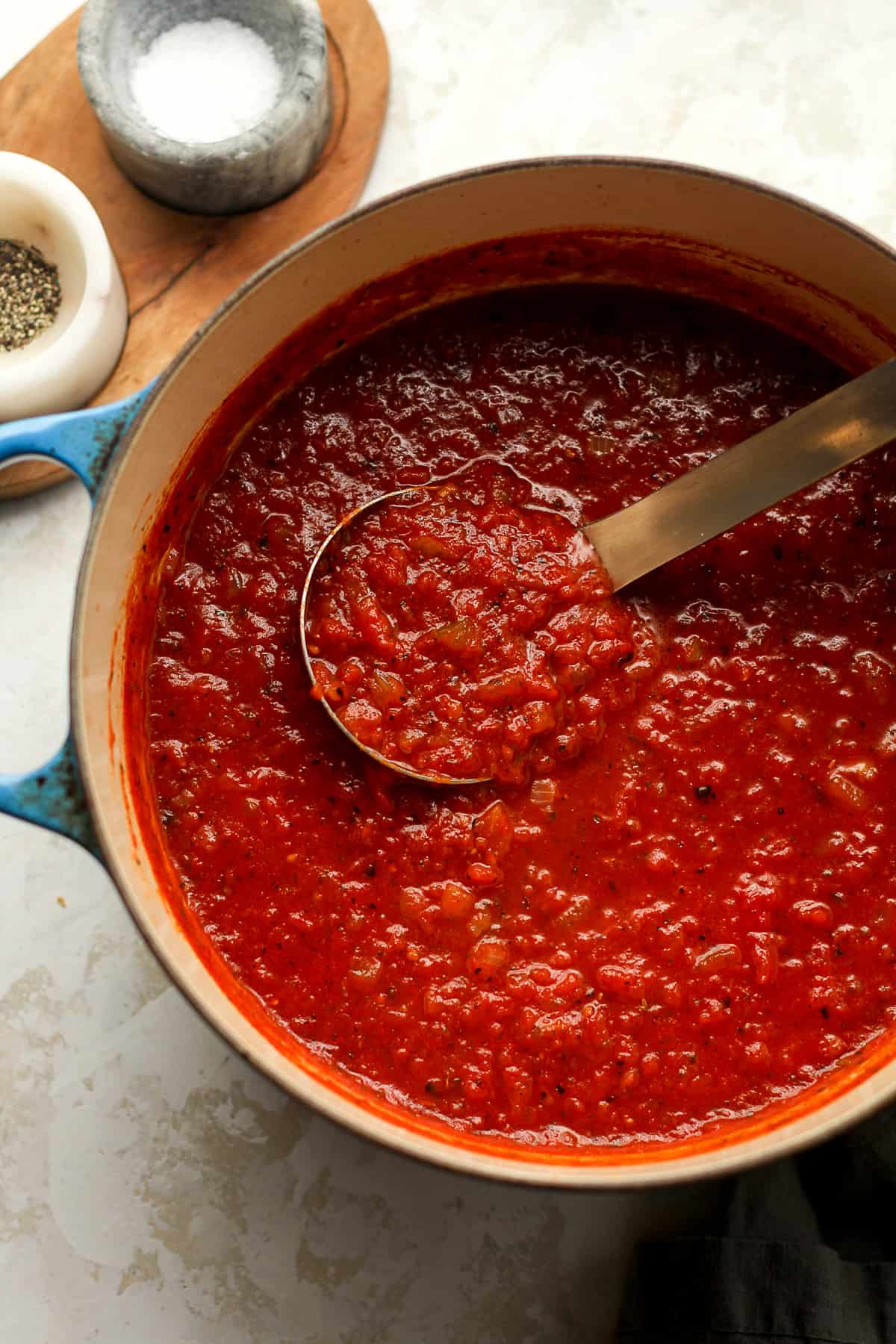 Step 2
Prepare the chicken. Using a cutting board, butterfly the chicken breasts, and then cut in half. You should have six equal sized portions.
Step 3
Prepare the coating ingredients. In one dish, add the flour. In another dish, add the eggs, and whip with a wire whisk. In a third dish, combine the bread crumbs, freshly grated parmesan cheese, kosher salt, and freshly ground black pepper.
Step 4
Coat the chicken. Take one piece of chicken at a time and dip in the flour, coating on both sides. Then dip in the eggs, shaking off excess, and finally, coat in the bread crumb/parm cheese mixture. Repeat for all the chicken, and set aside on a separate plate.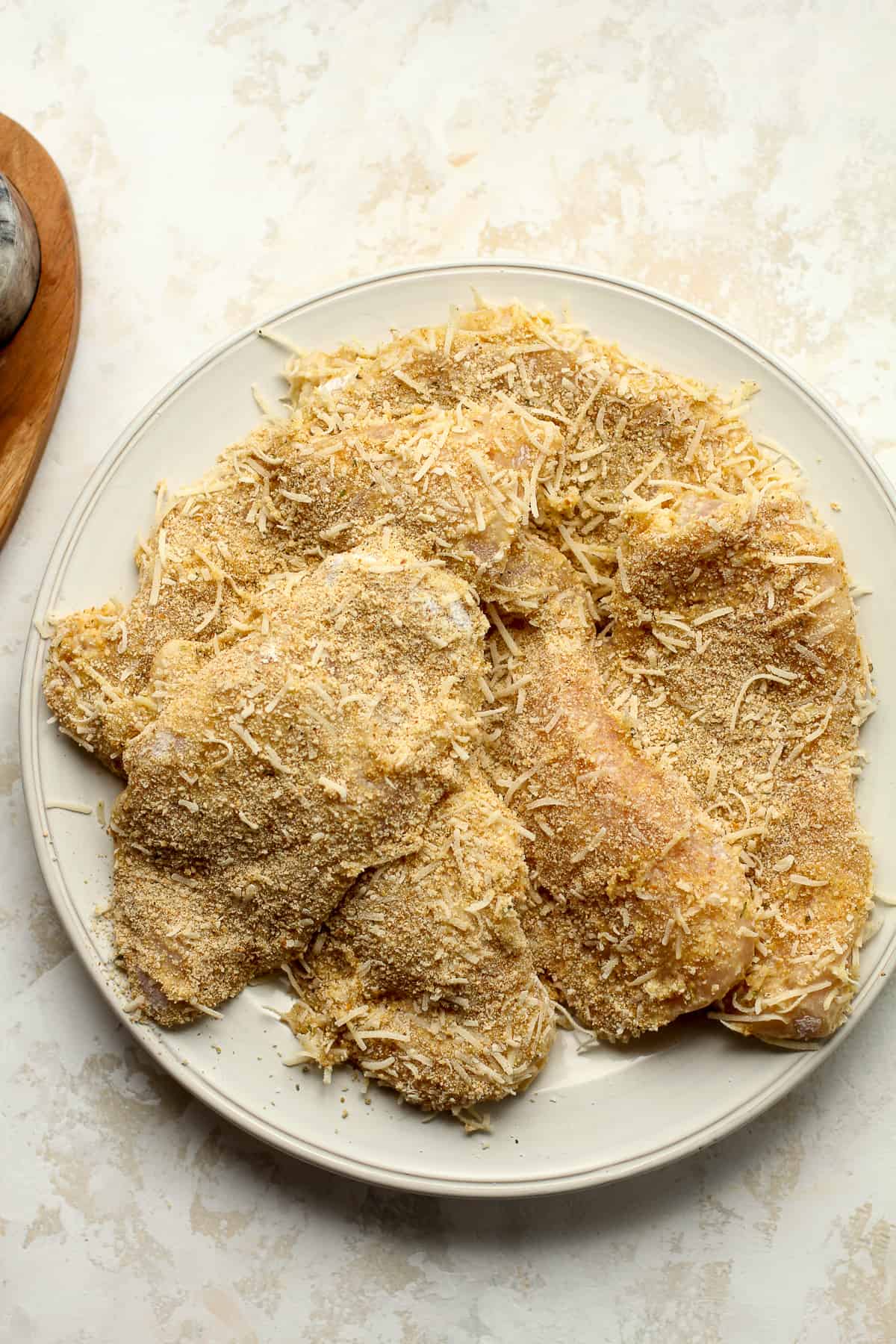 Step 5
Sauté chicken. In a cast iron skillet, add a tablespoon of avocado oil (or canola oil) over medium high heat. Add two pieces of chicken to the pan and cook for a minute or two on each side, or until the chicken is slightly golden brown. Remove chicken to the prepared baking dish. Repeat with the remaining chicken.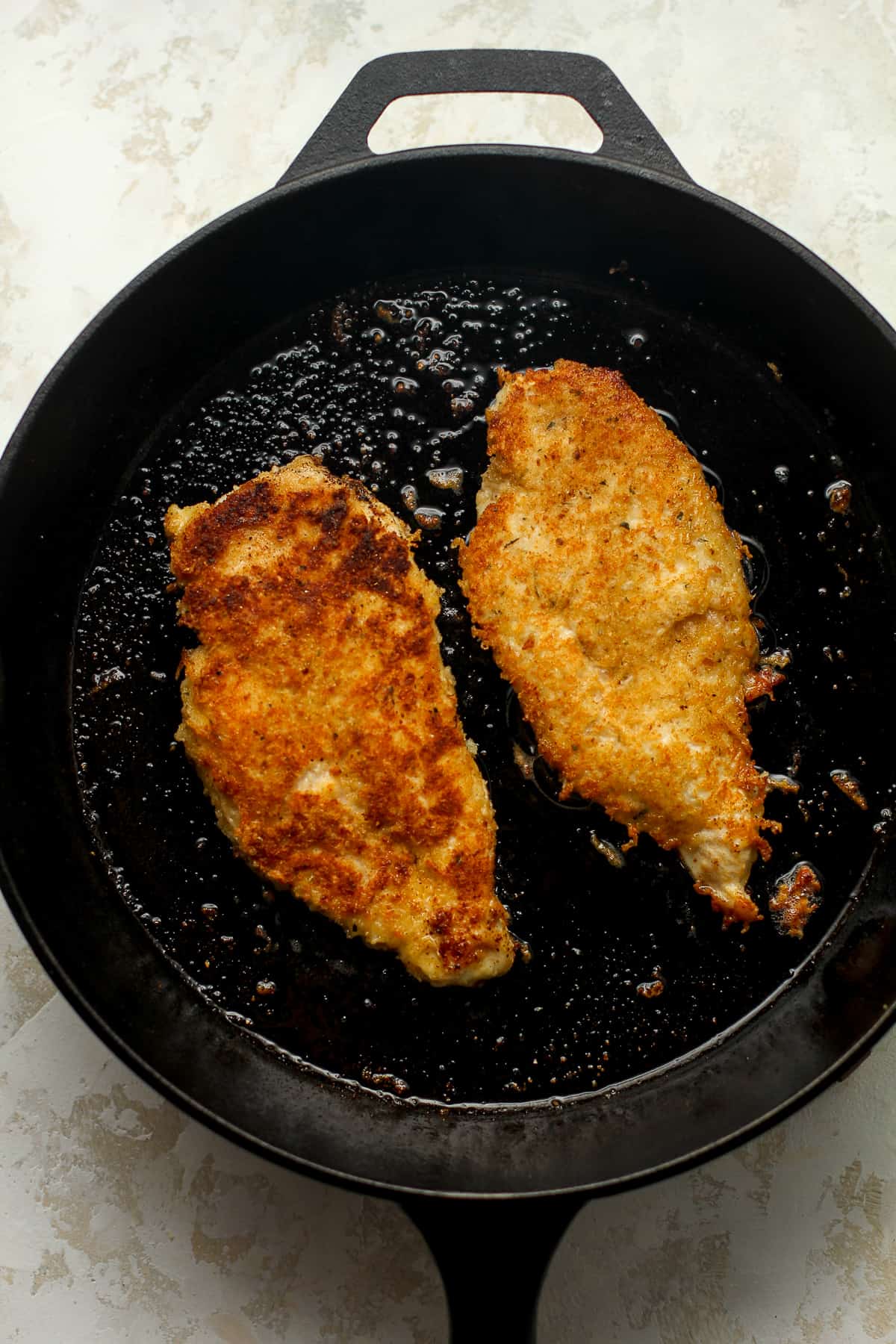 Step 6
Add toppings to chicken. Add a spoonful of marinara sauce to each piece of chicken, followed by either some ricotta cheese or mozzarella cheese.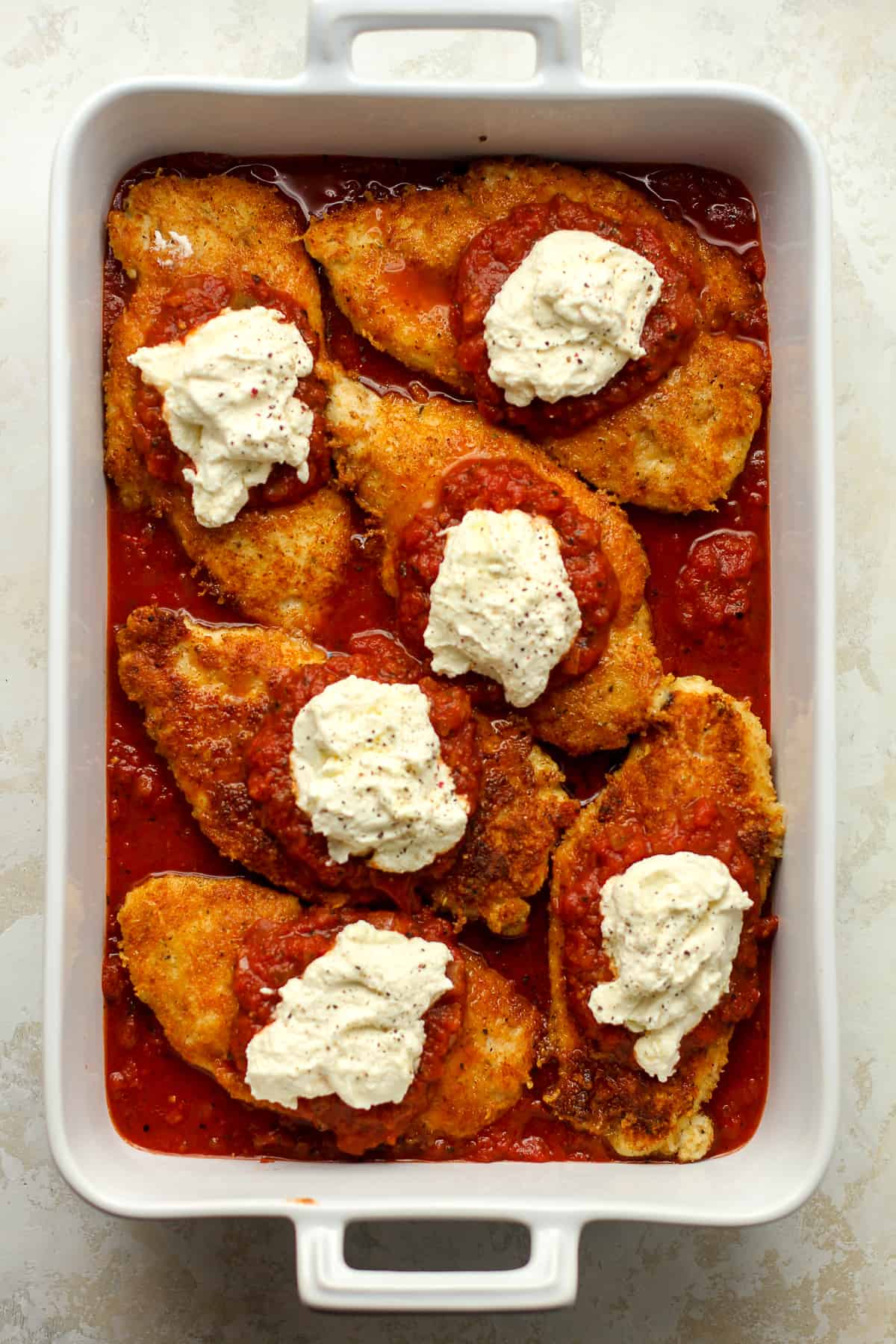 Step 7
Bake. Bake the chicken parmesan for about 15-20 minutes, or until cooked through. A digital thermometer should read 165 degrees when inserted into the thickest part of the chicken.
I normally cook until the chicken is at 160 degrees and plan for some carry-over cooking.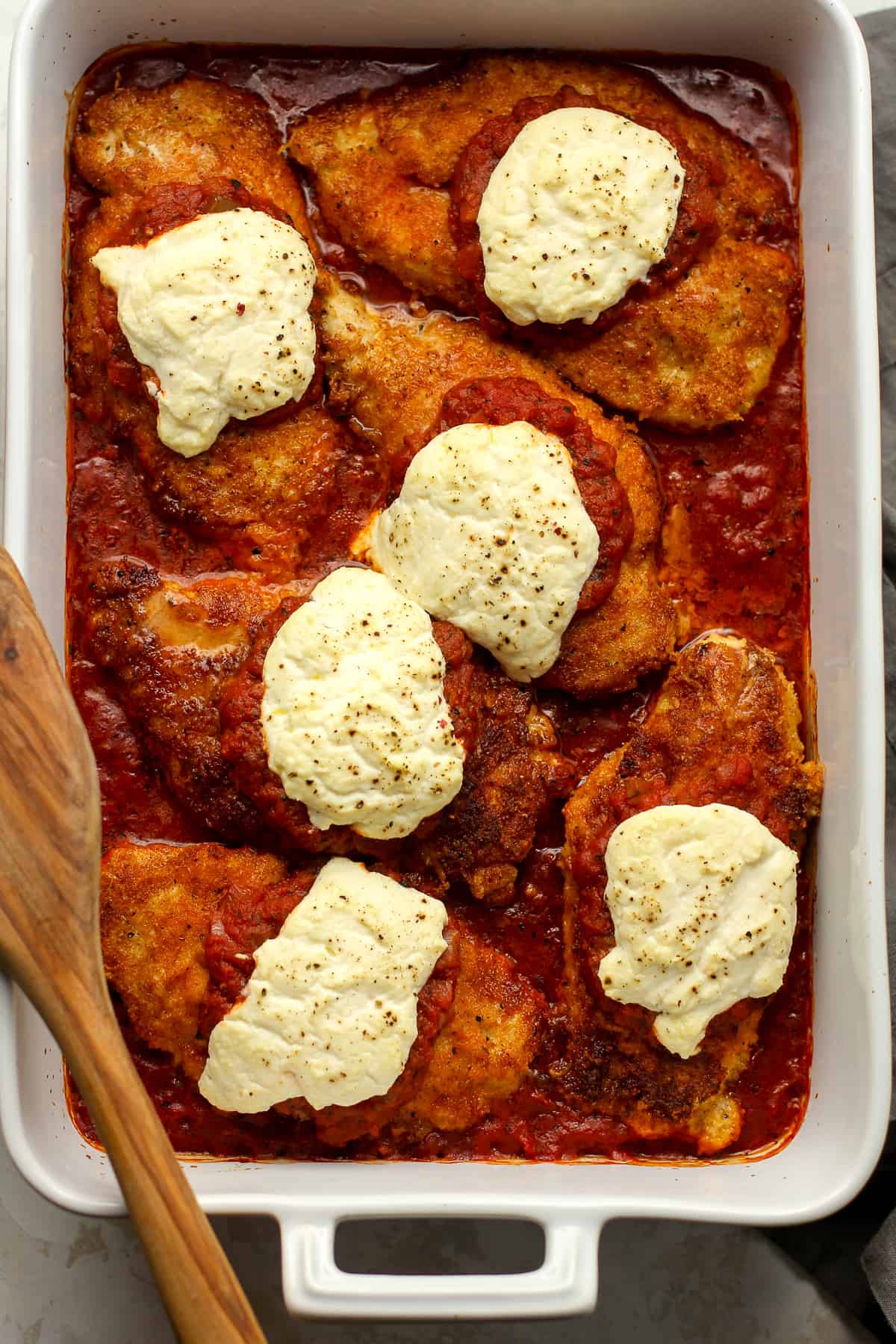 Step 8
Serve. Serve the chicken over pasta or veggies of your choice.
What to Serve with Chicken Parmesan:
In addition to the bed of pasta or roasted/sautéed veggies, I recommend a salad and some bread of your choice!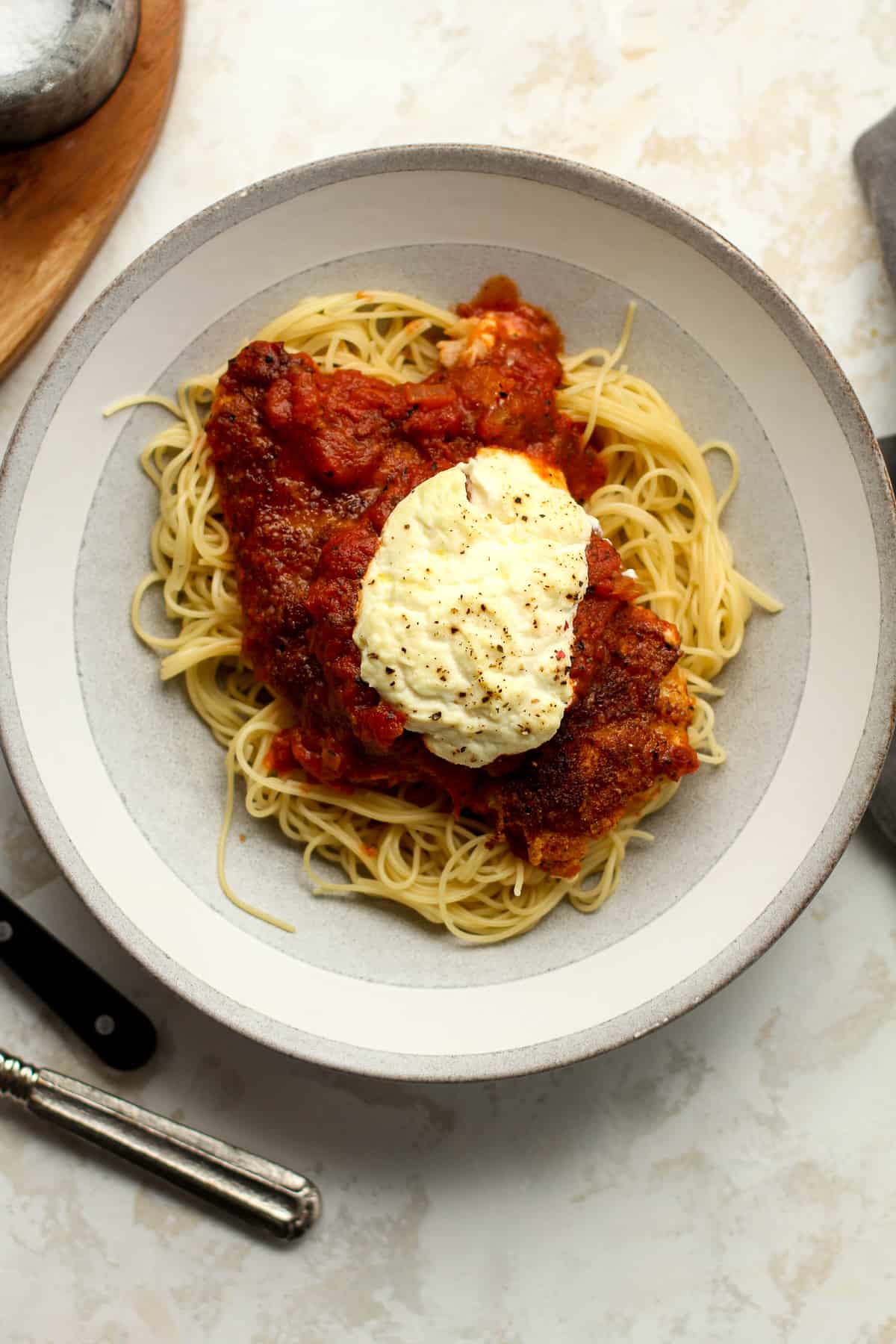 Storing and Freezing:
STORE the leftover chicken parmesan in an airtight container in your refrigerator for up to four days.
FREEZE leftover chicken parm in a container stored in a freezer bag for up to three months. Thaw completely in your refrigerator and then heat up before eating.