Lemon Orzo Pasta Salad is a perfect warm weather salad. Super delicious and light tasting – with a lemon, honey, and olive oil dressing!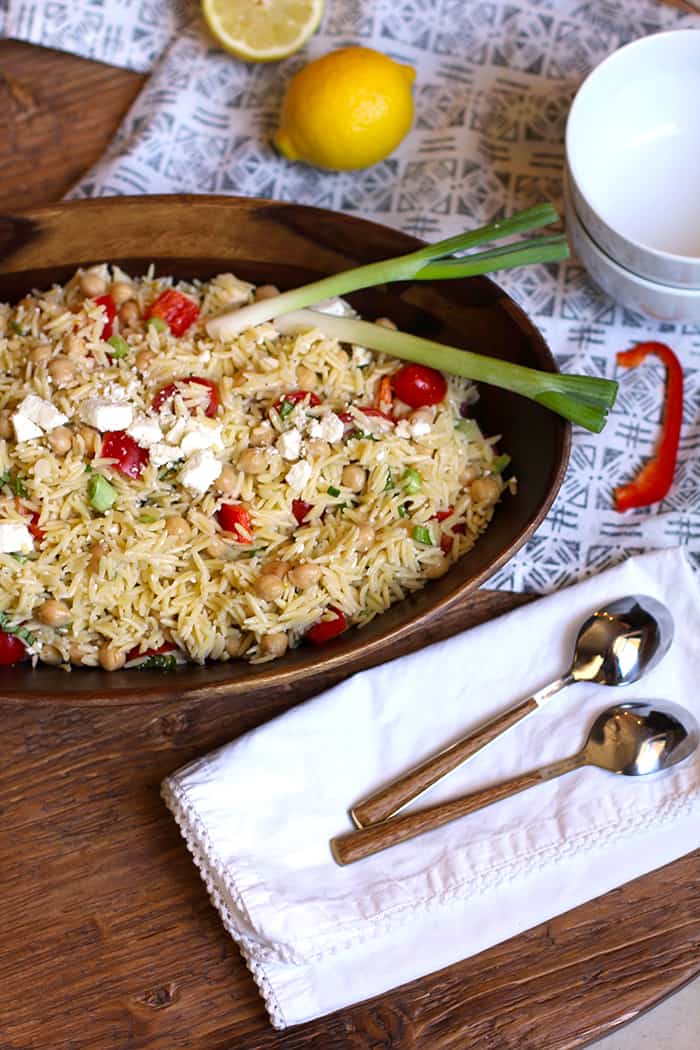 Another recipe re-do, and just in time for summer cook-outs. This Lemon Orzo Pasta Salad is unbelievably light tasting due to the fresh lemon in this recipe. There is just a touch of honey in the dressing to give it the perfect mix of sweet and salty.
As you can see from the picture below, there are only seven ingredients in this salad – plus a three ingredient dressing, not counting the salt and pepper. It's a breeze to whip together, and making it ahead of time is a good idea, because the flavor gets better as it sits.
Mix the salad up –> store it in the refrigerator –> work or play –> flavors get better –> ENJOY!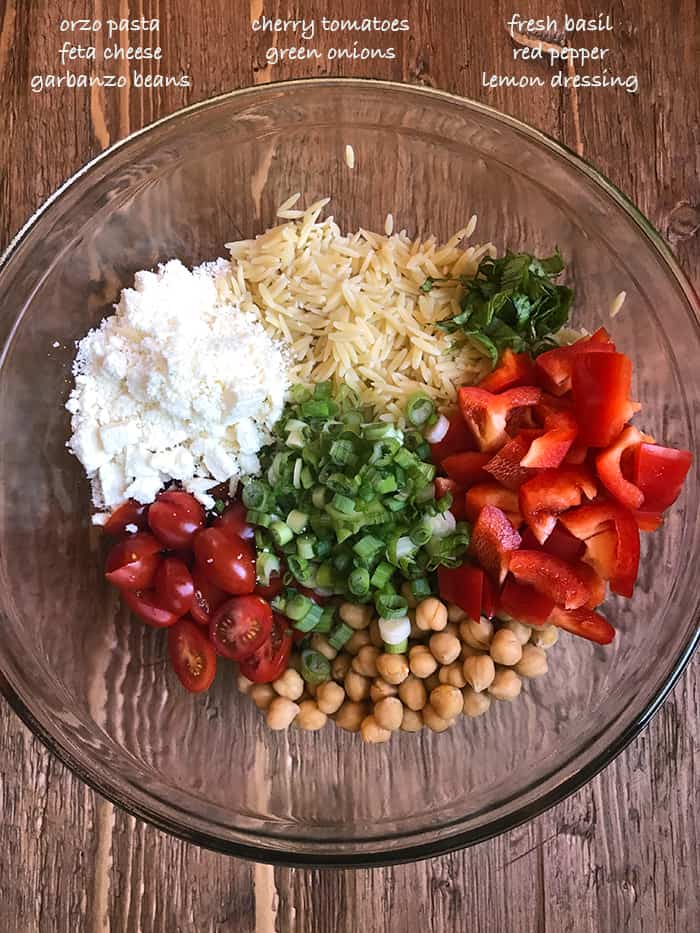 I'm always looking for ways to make my green salads more interesting. So tonight I topped my greens with this pasta salad and a grilled chicken breast. There was tons of protein in my dinner, including the feta, chickpeas, and chicken. And the lemon flavor took the taste to a new level. This orzo pasta salad will make a recurring appearance on our dinner table all summer long.
I'm currently brainstorming other salad ideas to share with ya'll. Like a greek salad, tuna salad, Cobb salad, Caprese salad…and the list goes on. If you have any ideas for me, please leave them in the comment section below. I'd love to hear from you.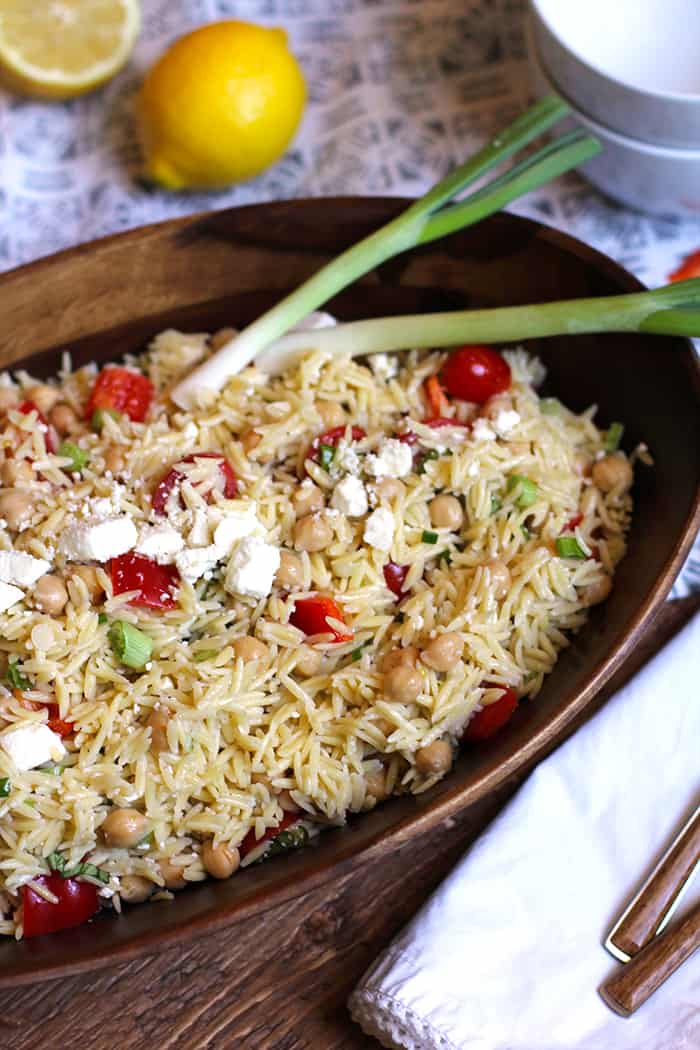 Have you tried my Loaded Veggie Quinoa Salad yet? It's another yummy salad and great for any time of year. Oh, and it's super high in protein and full of veggies. Always a good thing when we're getting ready to hit the beach/pool this summer.
I love eating light during the summer months. It gets HOT in Texas and sometimes I opt for leaving the ovens off and maximizing the A/C. Gotta admit. I'm not ready for the heat. Ready or not, here it comes!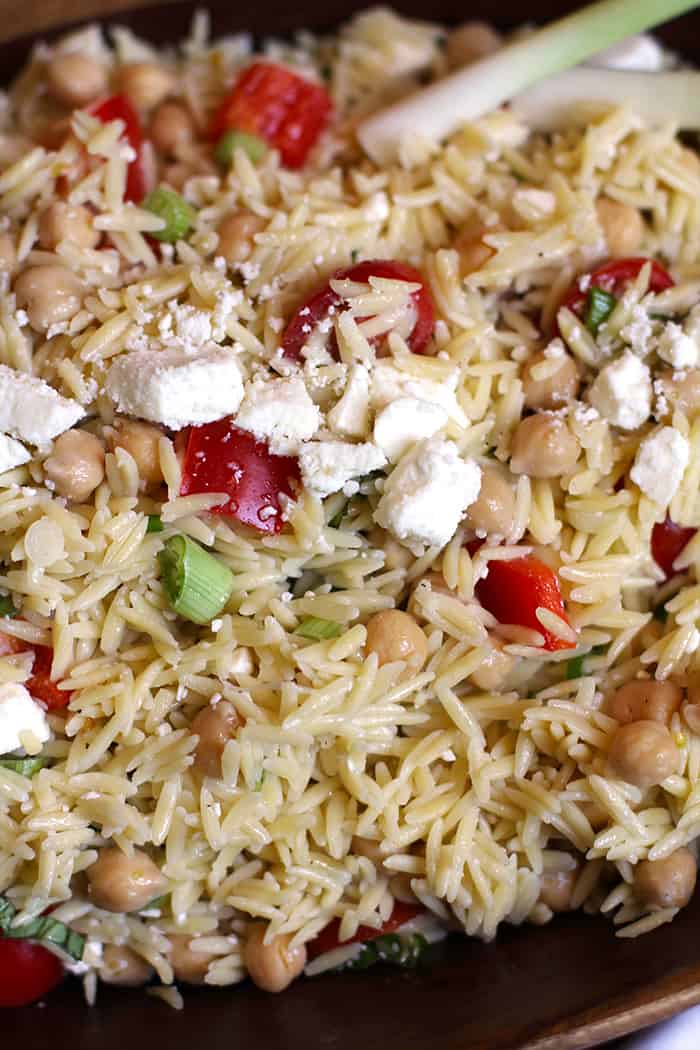 Please let me know in the comment section below if you make this Lemon Orzo Pasta Salad, or any of my recipes! I love to hear from my readers. You can also tag me on social media! I'm on Facebook, Twitter, Instagram, Pinterest, Bloglovin', and Yummly. 🙂 Thanks for reading along!
AND…if you want to receive an email to notify you when I post, please sign up in the top right corner of my site! 🙂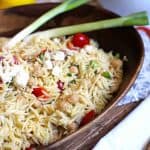 Lemon Orzo Pasta Salad
Ingredients
4

cups

chicken broth

1.5

cups

orzo pasta

1/2

cup

feta cheese

1/2

red pepper

- cut in chunks

1

cup

plum tomatoes

- sliced in half

1/4

cup

fresh basil

- torn into pieces

4

green onions

- diced

1

15 oz can

chick peas

- rinsed and drained

1/3

cup

olive oil

1

large

lemon

2

tsp

honey

salt & pepper

- to taste
Instructions
In a medium sauce pan, bring the chicken broth to a boil, add orzo pasta and cook until al dente. Rinse with cool water and drain.

Chop up the red pepper, tomatoes, green onion, and basil.

Rinse and drain the chick peas and combine all the dry ingredients in a medium bowl.

Make the dressing by combining olive oil, honey, and freshly squeezed lemon. Add salt and pepper to taste. Shake well.

Drizzle the dressing over the dry ingredients and combine. Serve chilled or at room temperature.

SHARE THIS POST TO YOUR FRIENDS: