I made my Greek Tortellini Pasta Salad for a party recently, and it was a hit. Fresh cheese-filled tortellini pasta, combined with feta cheese, kalamata olives, garbanzo beans, and tons of veggies – all topped with a delicious Greek vinaigrette!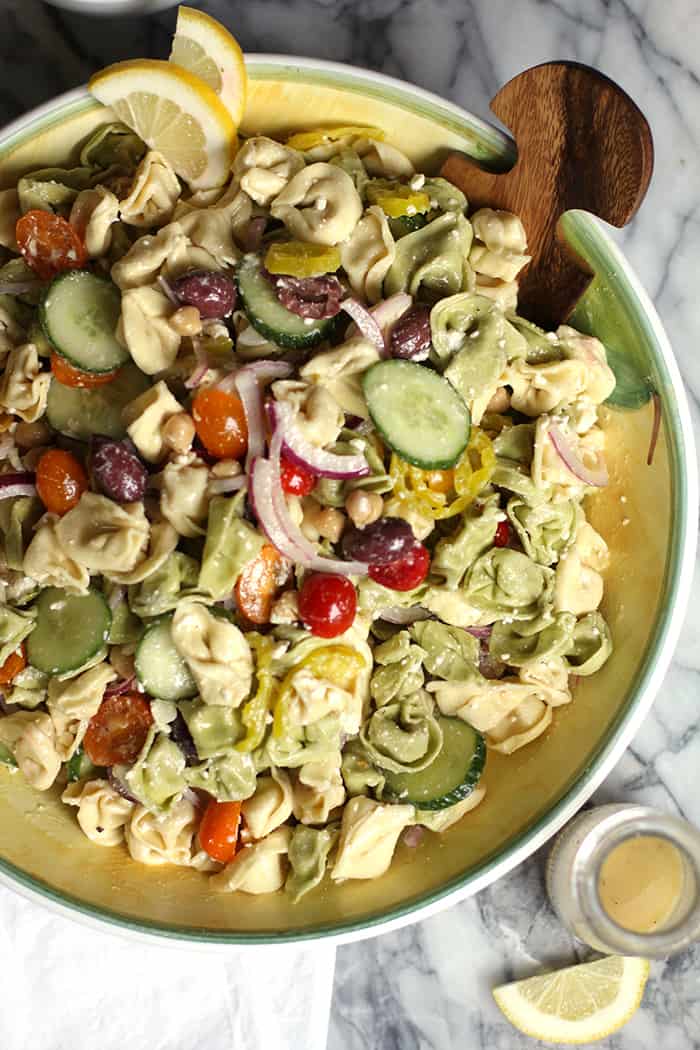 Ever since I posted my Traditional Greek Salad recipe, I've been thinking of making a pasta version. So here it is. The dressing is pretty much the same in both recipes, and makes it delicious. Try either one and you will see!
I always think of My Big Fat Greek Wedding when I make Greek recipes. I LOVE that movie, and have watched it 20 times or so. I love their BIG family get-togethers and how they are always in each other's business. It's how I imagine my family to be – if we didn't live in six different states! The characters make me laugh and I will never look at a bottle of Windex the same.
I also love Greek food so there is that.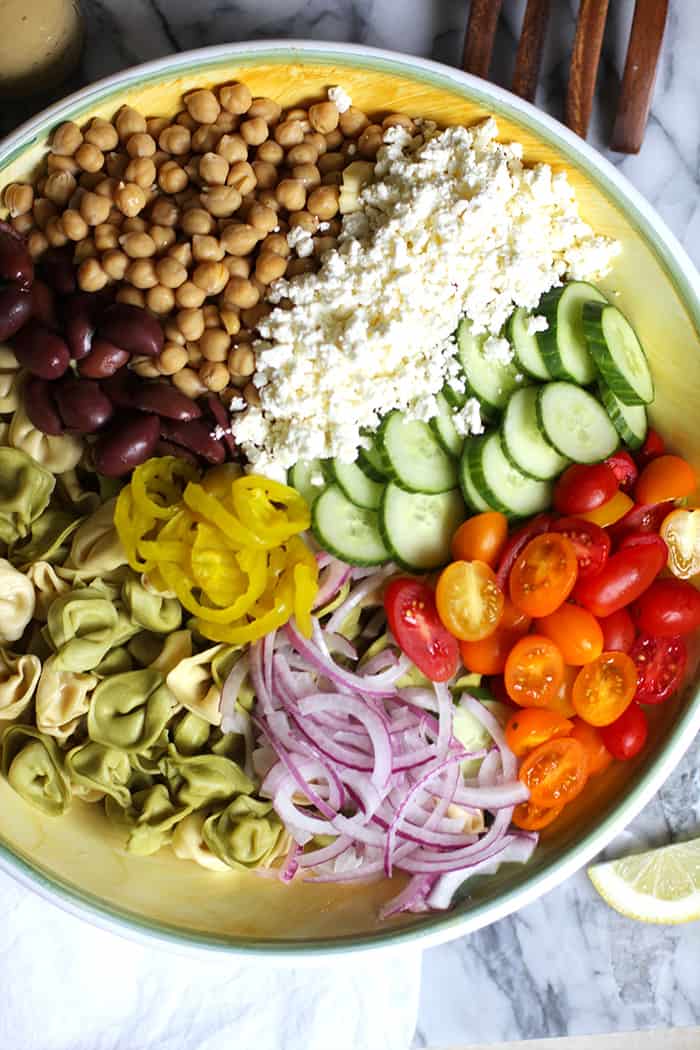 This recipe is VERY large. Something you would make for a big party, or maybe a big Greek wedding. So feel free to cut the recipe down if you are making it for a smaller group.
Did you know you can adjust the quantities to any of my recipes by changing the number of servings? If you want to cut this in half, just change the 12 to 6 in the actual recipe and you will have the exact ingredients you need.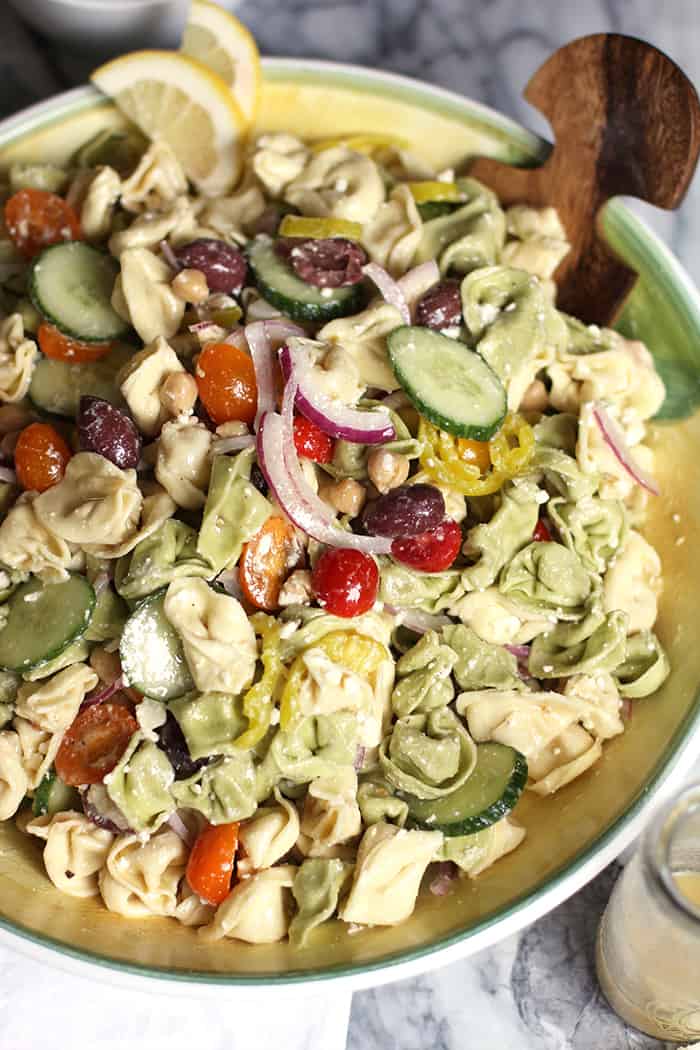 I used refrigerated cheese-filled tortellini in this Greek Tortellini Pasta Salad. They cook up super fast, so just make sure you don't overcook them. The other ingredients are usually ones I have on hand.
garbanzo beans
feta cheese
kalamata olives
cucumbers
cherry tomatoes
red onion
banana peppers (optional)
This is a great salad to make for a party, like I did. And the leftovers are great too, btw.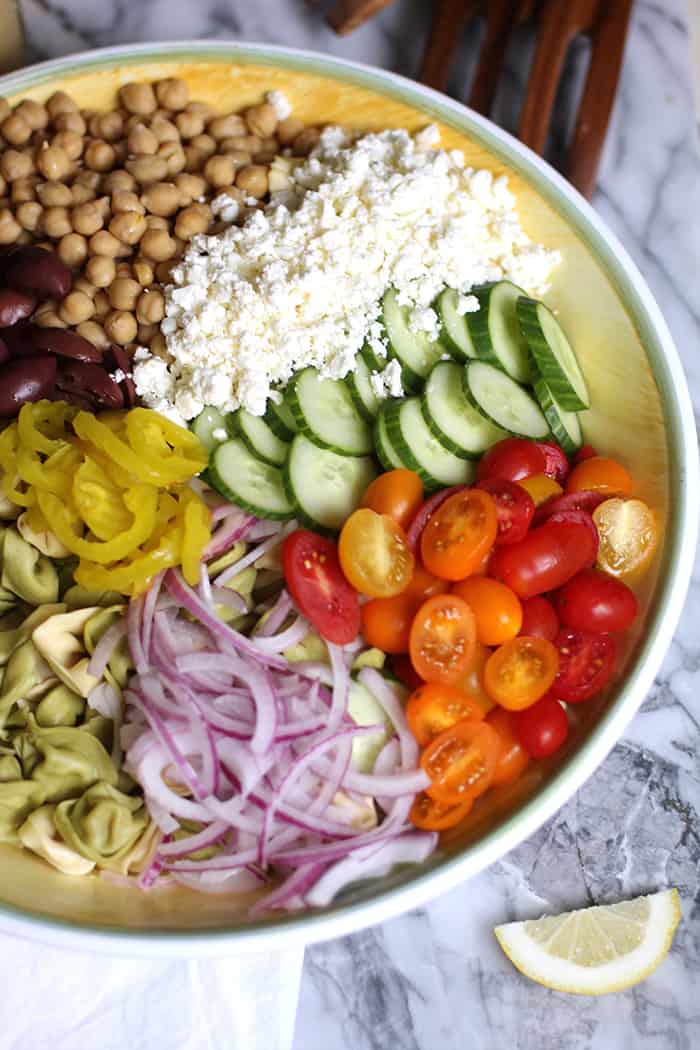 Please let me know if you try this Greek Tortellini Pasta Salad, and how you like it!
You can stay up-to-date with SueBee Homemaker by:
signing up for post updates (top right-hand corner of my blog)
liking my Facebook Page
and following me on Pinterest
I'm also sharing tidbits of my life on Instagram. 🙂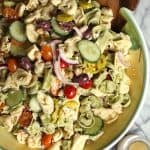 Greek Tortellini Pasta Salad
Ingredients
For the pasta salad:
40

oz.

package tortellini (two 20 oz. packages)

- refrigerated version

1

cup

english cucumber

- sliced thin

1

cup

cherry tomatoes (variety)

- sliced in half

1/4

cup

red onion

- sliced thin

1/2

cup

kalamata olives

- sliced in half

15

oz.

can garbanzo beans

- rinsed and drained

1

cup

feta cheese

- crumbled

1/2

cup

banana peppers

- drained
For the Greek Vinaigrette:
1/2

cup

olive oil

1/4

cup

apple cider vinegar

1 1/2

Tablespoons

honey dijon mustard

2

teaspoons

sugar

1

teaspoon

garlic powder

1/2

large

lemon

- freshly squeezed

salt and pepper

- to taste
Instructions
Cook the tortellini according to package directions. Rinse, drain, and cool.

Combine the cooled tortellini with the vegetables and other salad ingredients.

Mix the vinaigrette by combining the olive oil, apple cider vinegar, mustard, sugar, garlic powder, lemon, and salt & pepper.

Pour enough Greek Vinaigrette over the pasta salad to coat. Refrigerate for at least an hour before serving.

Add extra dressing right before serving. (You probably won't need all of the dressing.)

SHARE THIS POST TO YOUR FRIENDS: