This Grilled Chicken Cobb Salad is a hearty and satisfying main dish salad, with plenty of proteins and good fats. Top it off with a delicious apple cider vinaigrette!
After 24 years of Texas living, I'm finally getting used to the HOT summers. I still don't like them and I know people who actually LOVE the hot summers. CrAzY, if you ask me. But I'm glad I'm not in the midst of a pregnancy (like I was with my oldest back in 1996). And I'm pretty happy to not be sitting out at ballgame after ballgame with the kids during their summertime sports.
We've had a pool for 16 years of our 24 years in Texas, but I admit that we don't use it like we used to when the kids were young and wanted to swim 24/7. I miss those days. But I'm pretty ok with taking a quick dip in the pool after a long bike ride with Mike, or laying on a pool mattress for 30 minutes on a Saturday (because any more than that…and wrinkles).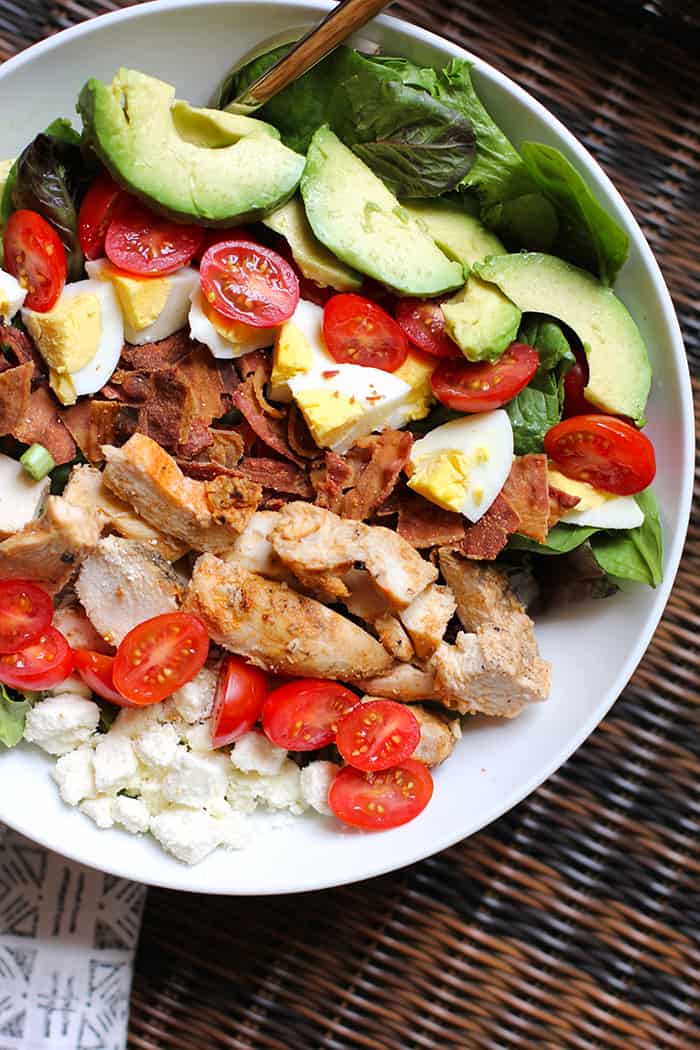 Speaking of hot weather, the things I crave the most when it's hot and sticky outside, are BIG salads. The bigger, the better. This Grilled Chicken Cobb Salad uses leftover chicken we grilled the other night. I always make a bunch of extra for these types of meals. I used pretty much the same marinade that I used for my Chicken Fajita Salads.
olive oil
Frank's hot sauce
red pepper flakes and S & P
Worcestershire Sauce (this is an added ingredient)
I've recently been using an Instant Read Meat Thermometer
 and it's just pure genius. We've had the most perfectly cooked chicken since investing a mere $10. All I have to say is, BUY ONE! Mike took the chicken off the grill at 160 degrees and we let it sit for about five minutes before slicing.
PERFECTION.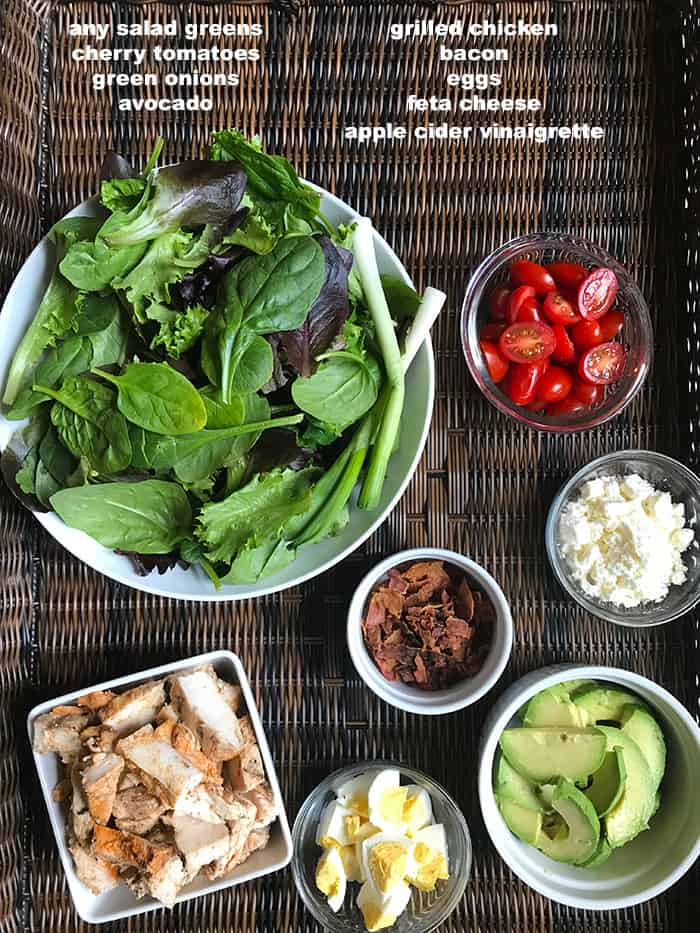 This salad is protein packed.
grilled chicken
bacon
eggs
feta cheese
So you see, even the boys in your family will be content after a meal like this one. And then you can afford to eat dessert.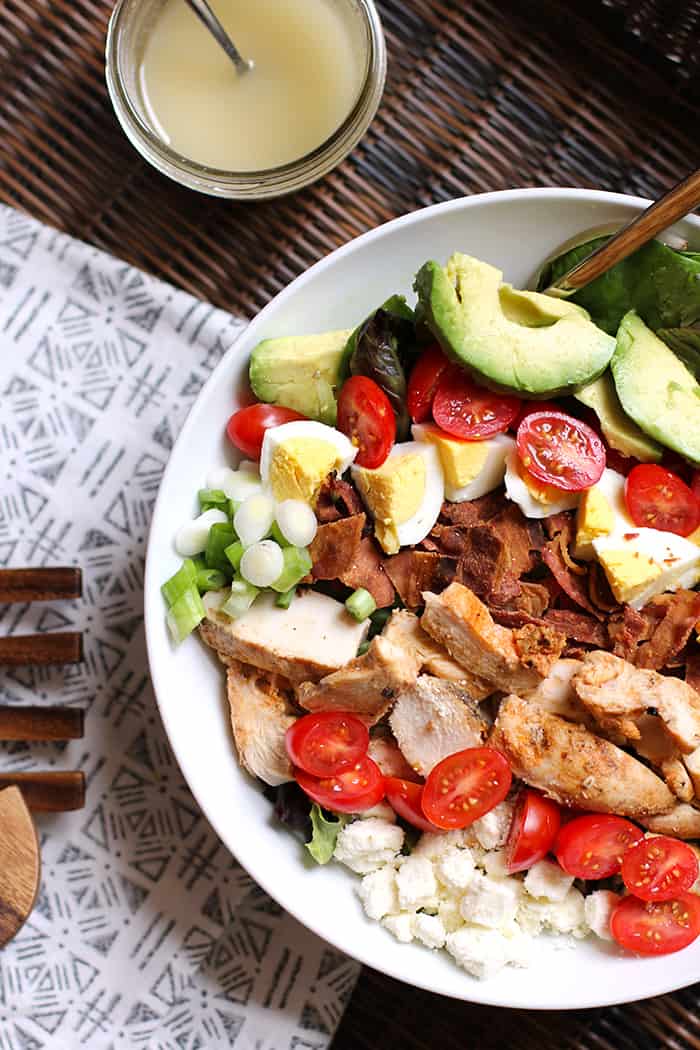 If you make this Grilled Chicken Cobb Salad, or any of my recipes, please let me know in the comment section below. I LOVE to hear from my readers! You can also tag me on social media. I'm on Facebook, Twitter, Instagram, Pinterest, Yummy, and Bloglovin'. Thanks for following along! 🙂
AND…if you want to receive an email to notify you when I post, please sign up in the top right corner of my site! 🙂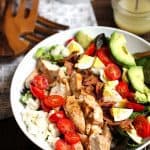 Grilled Chicken Cobb Salad
Ingredients
For the salad:
8 - 10

cups

salad greens

- any greens

1/4

cup

green onions

- chopped

1

cup

cherry tomatoes

- sliced in half

2

large

hardboiled eggs

- cubed

6

slices

bacon

- chopped

2

cups

grilled chicken

- chopped

1/2

cup

feta cheese

- crumbled

1

large

avocado

- sliced
For the apple cider vinaigrette:
1/2

cup

olive oil

1/4

cup

apple cider vinegar

2

teaspoons

dijon mustard

2

teaspoons

honey

salt and pepper

to taste
Instructions
Mix together the vinaigrette by combining all ingredients. Shake well and store in refrigerator until serving.

For the salad, arrange lettuce in four main course salad bowls. Add all ingredients, arranging in any pattern you like.

To serve, drizzle dressing on salads.

SHARE THIS POST TO YOUR FRIENDS: